moses sumney wants to make flower arrangements with you this weekend
The enchanting singer-songwriter is celebrating his debut album, "Aromanticism," with the most blissful listening party in recent history.
|
20 September 2017, 9:59pm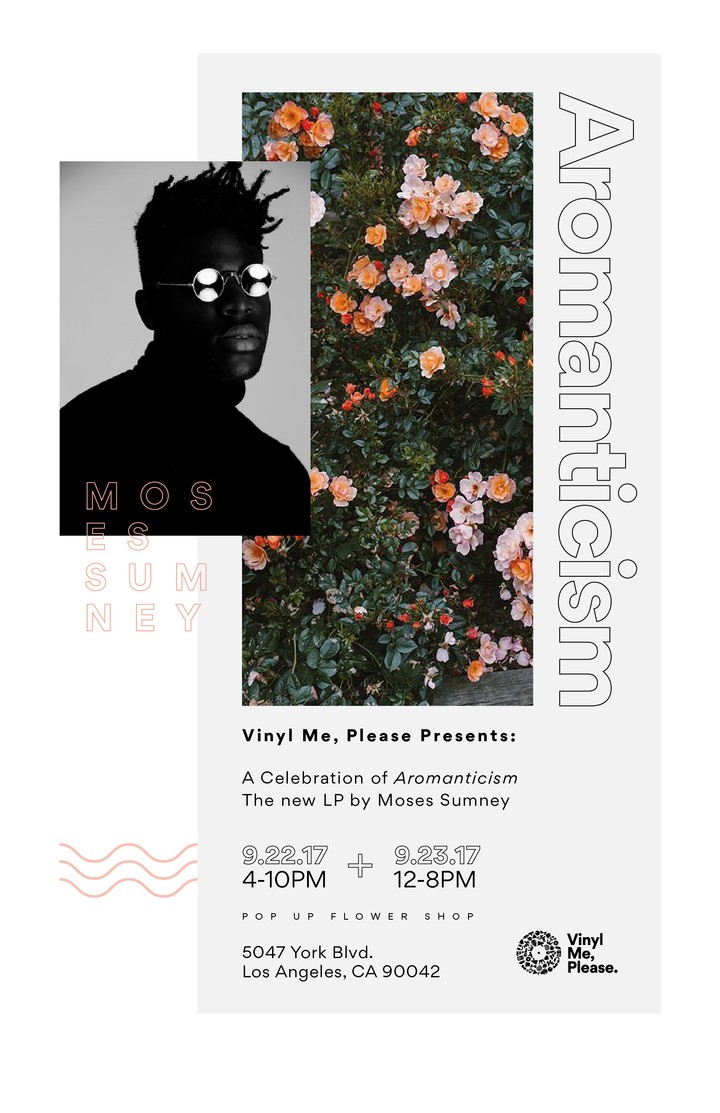 Image courtesy of Vinyl Me, Please.
As indicated by its title, the first album from Moses Sumney is not about normative romance. Nor is the listening party the atypically enchanting singer-songwriter is hosting in his hometown, L.A., this weekend. To celebrate Aromanticism being selected as "Record of the Month" by Vinyl Me, Please, Sumney and the record club are inviting fans to an experiential pop-up flower workshop in Highland Park this weekend. The event will take up the album's overarching theme of "lovelessness as a sonic dreamscape," as Sumney described it in a blog post earlier this year, by turning a romantic act into two days of chillaxing communal fun. It'll all be set to the devastatingly exquisite sound of Sumney's music.
Sumney, a close buddy and collaborator of Solange and Thundercat, is deeply inspired by the act of making things with friends. At Eckhaus Latta's sublime spring/summer 18 fashion show the other weekend, he created a hypnotic live score that reinterpreted Lauryn Hill and Donna Summer, turning their greatest hits into an ecclesiastical soundscape that harmonized with the afternoon sun. We've no doubt the Aromanticism listening sesh will be equally blissful. Hit up Highland Park early to snag a copy of the album pressed on half-black and half-white wax, accompanied by a custom cocktail recipe and an art print by Jonathan Zawada. What better way to celebrate the final hours of summer?
Moses Sumney Flower Shop (5047 York Boulevard) is open September 22 from 4-10pm and September 23 from 12-8pm.