giggs' new mixtape features 2chainz, young thug, dave and d double e
Wamp 2 Dem is ice, ice cold, baby.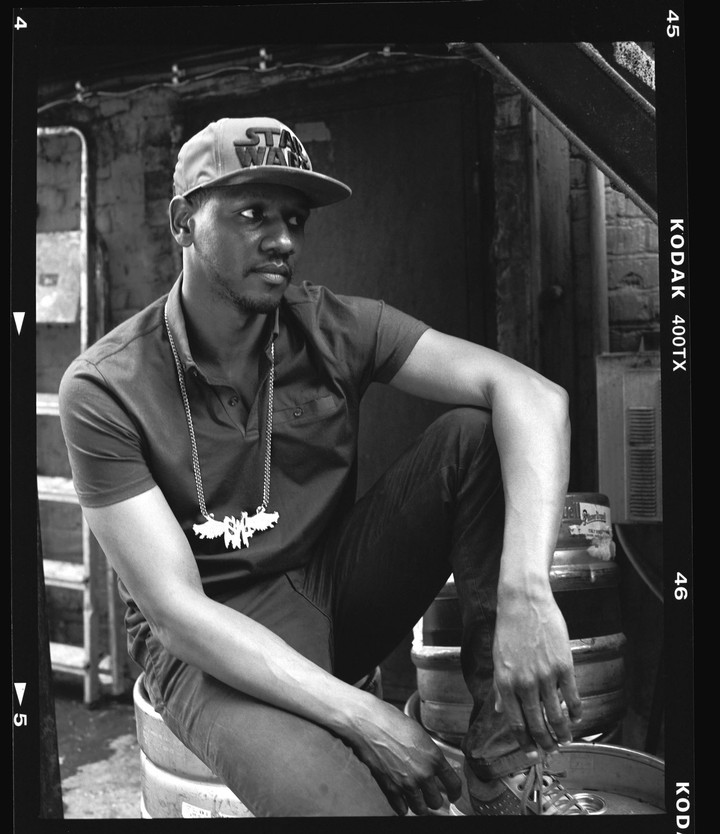 Since his independently released album Landlord went to number two in the popular music charts in 2016, Giggs has had quite a career renaissance. There have been headline shows at the Eventim Apollo and scene-stealing appearances on Drake's More Life. In August, he bought his mate Aubrey out for an appearance at Reading and the internet melted a bit. Since the release and subsequent success of Landlord, Giggs has grown from street star to the UK's most successful -- and credible -- rap export.
As his star rises so does Giggs' confidence; he knows he's good, that's why he's a star and he's ok with that. Confidence positively beams from Wamp 2 Dem, the brand new mixtape from the Peckham rapper.
"It's hard," grinned Giggs when we interviewed him for our forthcoming Winter issue last week (watch this space). "It's very, very hard."
He's not wrong. Wamp 2 Dem is a solid piece of work, more fully-formed album than vaguely-realised mixtape. Featuring 13 tracks and plenty of big-name collaborations, Wamp 2 Dem picks up where Landlord left off; an intimate insight into the mind of a man who is able to be both menacing and mischievous at any given moment. Dropping at midnight last night, here's what we have learnt about the album in the 13 hours since its release.
Giggs is still scary
Haunting. Menacing. Macabre. It can only mean one thing -- it's a new Giggs release. Gully Niggaz borrows a horror theme piano riff as Giggs spits about burners, Top Boy and fuck bois. Ultimate Gangsta is built around an unrelenting siren and the most sinister of synths. It's like being trapped in the drain with IT. It's not all ice-cold though, Giggs does mischievous really, really well. His libido pops up throughout the record most notably on Moist Pussy (it's not about a cat left out in the rain), but also elsewhere where he muses on the brilliance of breasts and how much he likes a nipple.
But he's still vulnerable too
Giggs let the mask slip a little on Landlord to great effect; a little vulnerability suits the rapper well. He continues this idea on Wamp 2 Dem, softening both sound and similes on The Essence. "I'm mentally fucked, I'm mentally scarred, I'm meant to be up/ I'm meant to be high, I'm meant to be chuffed/ Fam, I fought for my life, I'm mentally stuck." It provides a welcome respite from the surrounding darkness and is a nice reminder how very human Giggs of course is.
Stormzy is a fan of the mixtape
"Giggs the GOAT. NO ONE in this country has done what this legend has done," Big Mike tweeted earlier.
There's some great guests, but none greater than D Double and Footsie
Thanks to two killer verses on More Life, Giggs's name holds real weight in the US (and Jamaica) these days, hence he's able to enlist an a-list line-up for Wamp 2 Dem. Cool & Dre (DJ Khaled/ Lil Wayne) are on engineering duties, while Young Thug, 2Chainz, Lil Duke and Popcaan pop by for a verse or four. The very best moments though are left in the hands of his British buddies, as Giggs reunites with Donae'o for another Afrowave accented banger in the form of Linguo. Dave's verse on Peligro is quite killer but it's the pairing of Giggs with D Double E and Footsie that provides the mixtape highlight. "We don't like outsiders, we don't like outsiders." Oh my GARSH!
Young Thug is reliably illegible
And don't get us started on Lil' Duke. It doesn't matter what Thug is rapping on, or with who, he never makes any sense, ever. But it's ok cos he sounds great.
Wamp 2 Dem is one big f-u to Americans
KMT really, really confused Americans. They couldn't understand Giggs. They didn't get him. At all. Their loss. Wamp 2 Dem solidifies why Giggs is so very popular. Funny, sharp, imaginative, scary as hell, to know Giggs is to understand Giggs. Maybe it's a British thing. They'll catch up.
He really knows what he's doing
He's a clever sod Giggs. He really is. He has a brilliant way with words and seems to have an innate understanding of how to create a single out of any song. It's in his flow, it's in the way he builds particular sentences to a crescendo, making them ripe and ready for a live show. Giggs is at the peak of his career. He's understands what works for him really, really well, but doesn't stick too religiously to it. There's always space for him to try something else, while reliably providing complete and utter club/ festival bangers. This is the sound of a confident musician who knows how to translate his talents to tape. This is the sound of a confident musician who is only getting better and better with each release.
Credits
---
Photography Olivia Rose
Styling Jack Borkett
Photography assistance Rowan Hall, Menelik Simpson
Fashion assistance Caio Reis