Phoebe Collings-James. Photography courtesy of 315 Gallery.
phoebe collings-james explores identity and self in 'expensive shit'
The British artist navigates belonging and diasporic fantasy in her first New York solo show.
|
26 September 2017, 10:19pm
Phoebe Collings-James. Photography courtesy of 315 Gallery.
Rick James's "Hollywood," reimagined Adele songs, and field recordings of Punjabi music seep out of 315 Gallery's second floor space, where Phoebe Collings-James's first New York solo show is currently on view. These clips are part of the sound installation Primordial Soup, one of many different pieces that examine identity, self, and global movement in "Expensive Shit." Collings-James frequently makes work about sense of place, and particularly in-betweenness (she lives in New York, but grew up in London in a British-Jamaican family). She also explored these ideas in depth in her recent show "Atrophilia" with London-based artist Jesse Darling.
The themes of identity and displacement that she navigates in "Expensive Shit" feel especially relevant in 2017, when conversations about immigration and colonialism are louder than ever. Collings-James's evocations of diaspora, revisiting homelands, and existing in the in-between are both deeply personal and infinitely relatable. The collection of work acts as a figurative intersection between the places the artist is most connected to: her birthplace, London; Kingston, Jamaica, where branches of her family live; and New York, the city where she lives now. In the pieces Gossip Folks 1&2, the movement of reflective Mylar alludes to Collings-James's memories from a recent trip to Kingston. The images found in the framed collage Sorrel relate to her Jamaican roots. And the use of safari straps in several pieces calls to mind the idea of global mobility.
Collings-James spoke to i-D about heritage and experience, mythological creatures, and how different cities affect her creative process.
What does the show's title, "Expensive Shit," represent for you?
The phrase came to me in the final stages of making the work, and it was only as I said it out loud that I remembered the Fela Kuti song of the same name. I had wondered why it felt so familiar. For me it's another layer to the poetry of the show: it relates to the high and low qualities of the materials — Mylar, cargo nets, plywood sheets. I think it also connects to the desires of the protagonist in the Rick James song included in the sound work: "I'm going to do good in Hollywood." I like the inherent contradiction in the show title, and I thought it was reflected in "Hollywood" — it's ambition and potential failure wrapped up in a melancholic fantasy. [The title] also relates in a way to the nature of producing art shows. There is the suggestion of exhaustion in the phrase that recognizes the strange futility of the art market, and art making. In contrast to this, through the show I am trying to locate the essence of what art can provide for us as a place to think and feel.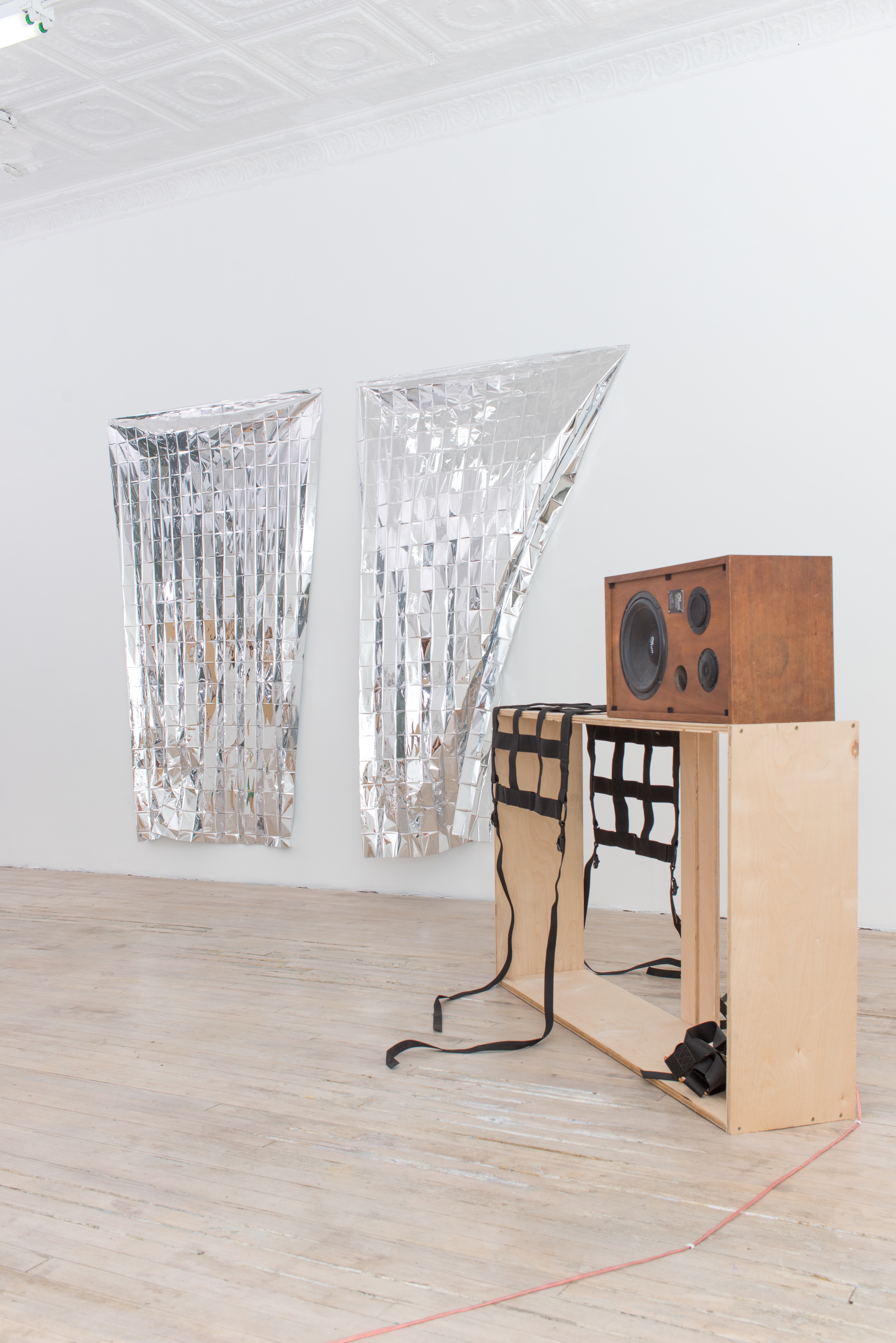 One ink drawing depicts a chimera, a mythological creature that is made up of parts from various animals. How does this symbol relate to the topic of identity?
I liked the chimera for its complexity — embodying many creatures at once. There's also a mythological thread through much of my recent work. Certain creatures have been used throughout history to explain intangible emotional concepts — in that I'm trying to represent ideas or modes of being without a pre-existing vocabulary, it's useful to include symbols which have already come close to representing them.
Do you feel that there is a deep correlation between the geographic displacement of people and displacement of identity and self?
Definitely. But it is also very different depending on your generation in that movement. For people currently seeking refuge, or going through the process of migration, their hopes and fears are going to be completely different to mine.
How would you define "diasporic fantasy," a phrase you've used to describe themes in the show?
Diasporic fantasy is a term I have used to evoke a home that would feel like home, in that living in London has at times felt like an occurance that happened by chance — somewhere I've just ended up. In the show text I talk about it as a conceptual location found in the in-between space of the varied identities that make us whole. For me, it gives a sense of stability to the inevitable pain and disappointments of diasporic feeling.
The work in the show is linked to the three places you are connected to: London, New York, and Jamaica. The sound piece Primordial Soup contains recorded conversations with your British grandmother and your Jamaican great-aunt; the movement of the Mylar in Gossip Folks 1&2 is reminiscent of experiences in Jamaica.
I think the movement mostly reminded me of talking, literally gossiping — of light reflected from buildings, and of the corrugated roofs on a lot of the homes in my family's yard near Kingston. The rhythm of the fan blowing across the Mylar also helped me set the scene for the sound work. The conversations were had on my aunt's porch in Saint Andrew parish. I sat with three generations of women, listening to them tell stories about our family and the island. I noticed how present the fan was in the sound recordings, giving the only bit of motion to the fabrics and plastic flowers that decorated her space.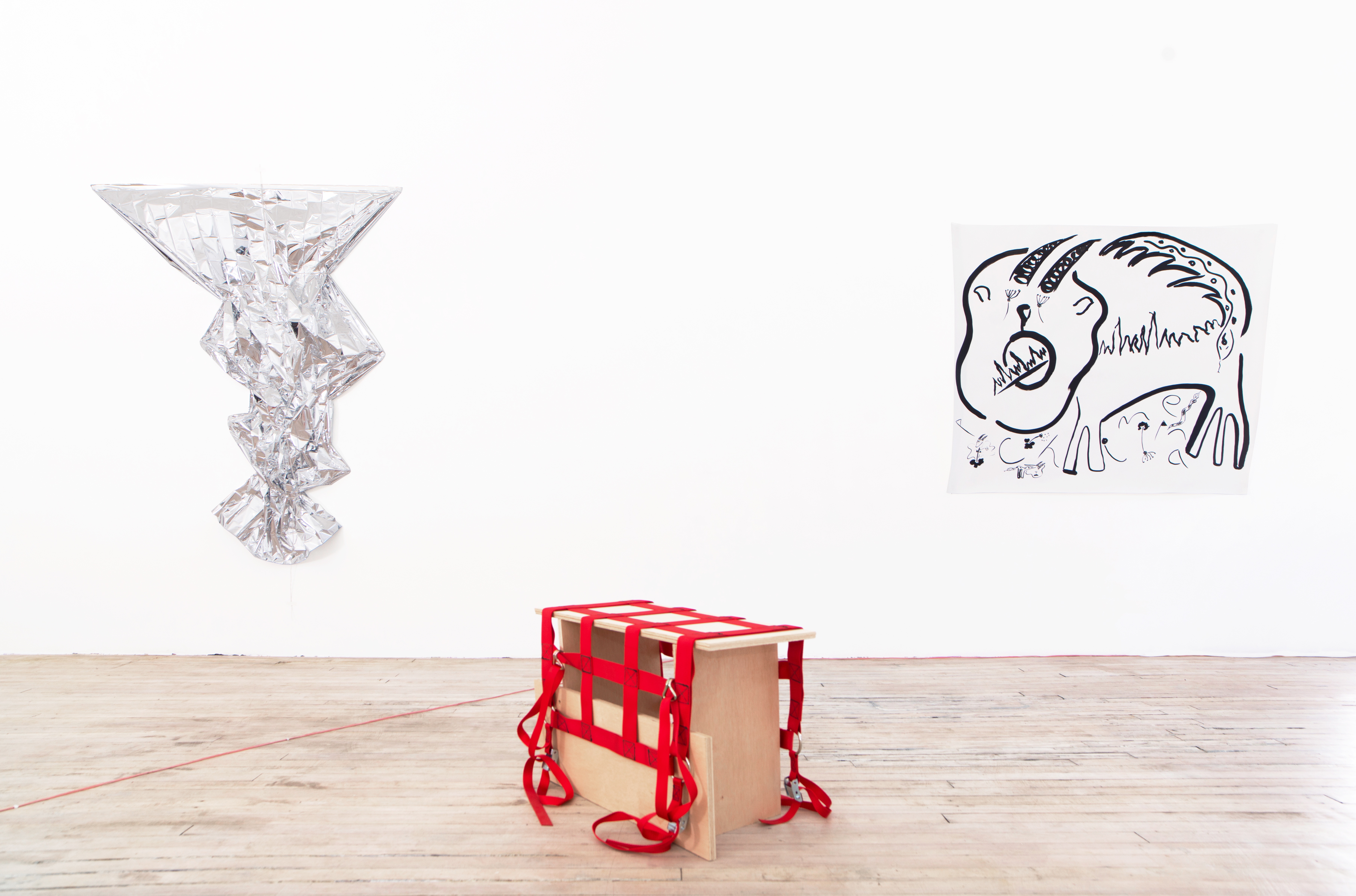 Do these different places evoke different emotions or feelings?
Yes, definitely. I think that [experience] mostly revolves around a sense of belonging. For the sound work I collaborated on vocals with Amanda Khiri. I had some idea of what I'd like her to do, but in discussing the work she immediately understood what I was feeling, and shared her own family story with me. We spoke about trying to give form to a home or place that we have never known, something that often occurs in a patchworking of memories both lived and imagined. And it also involves impressions of that place that can be mixed in with an oppressive gaze. To be more specific, I often think about how much my impressions of Jamaica before I first visited were affected by the subjectivity of living in the UK, aware of how my own fantasies of a homeland that felt so close to me were interrupted by the reality of looking at it from afar.
The musical elements of the work are recordings made while in transit, in the back of taxis and the road coach in Jamaica. I like the fact that you can hear the sound of the road underneath them and some of the passing noise from the streets. Being in a car does something strange to sound, too — you can feel completely isolated from the outside world even though you are quite literally moving through it. Amanda for the most part worked on a capella versions of these tracks, but for the "Tere Bina" track (by Prabh Gill) she created a new melody. "Rolling rolling, sailing sailing, this is my home, this is my home."
How does your relationship to each place affect your artistic process there?
In Jamaica, I found myself making lots of sound recordings — without much direction at first — recording the movement in the trees, rain, birds, and music in the streets. It felt like the best way to capture something of the essence of my experience there, with its own unique materiality. Those recordings went on to form a piece last year that I made with Jesse Darling, and the sound in this show. In London, I was definitely using materials more traditionally, working a lot with sculpture, casting, and painting. Then in New York I found my magpie-like trash foraging intensified, related I'm sure to a hyper-awareness of the waste and excess here.
What role do found and repurposed objects, including the field recordings in Primordial Soup , play in the show?
I think to find clarity in our experiences of identity we have to accept the chaos. I wanted to find a way to speak about my specific roots and the only way to do that was through a myriad of sometimes conflicting sounds. I was thinking a lot about what makes culture and for me it can never be singular, it is always gossip — a call and response. Jamaican music culture builds on uniquely Jamaican sounds and influences, but it's also ever changing, and totally elastic. There's a willingness to transform or incorporate anything. Like hearing a cover of "I Want You Back" by Take That, which was a crazy throwback to hear played out of a sound system. I've been reading Bass Culture by Lloyd Bradley and found myself stuck on this quote about sound systems in Jamaica at their genesis in the 1950s: "the defining aspect of them as the crux of ghetto life was that they were cultural, as opposed to merely a culture." What I think he is identifying and reclaiming here is that it was not simply something to be consumed, it was not product as culture so often can be. It was life. It was part of survival, loving, it was vitality and expression and even as "brand Jamaica" was capitalized on and repackaged for a global audience, it continues to be for the people first. However naive it may be, especially considering the vulgarity of the "white cube" gallery system, I do see potential for art to also be cultural and not just culture.
"Expensive Shit" is on view at 315 Gallery in Brooklyn through October 8. On Thursday, September 28 from 7-8pm, in conjunction with "Expensive Shit," 315 Gallery will host an evening of readings by five artists: Phoebe Collings-James, Gabby Bess, Tiffany Wines, Precious Okoyomon, and Heather Johnson.