nobody panic but kendrick lamar just announced a new european tour with james blake
Look, just take my money. Take it all.
|
02 October 2017, 12:22pm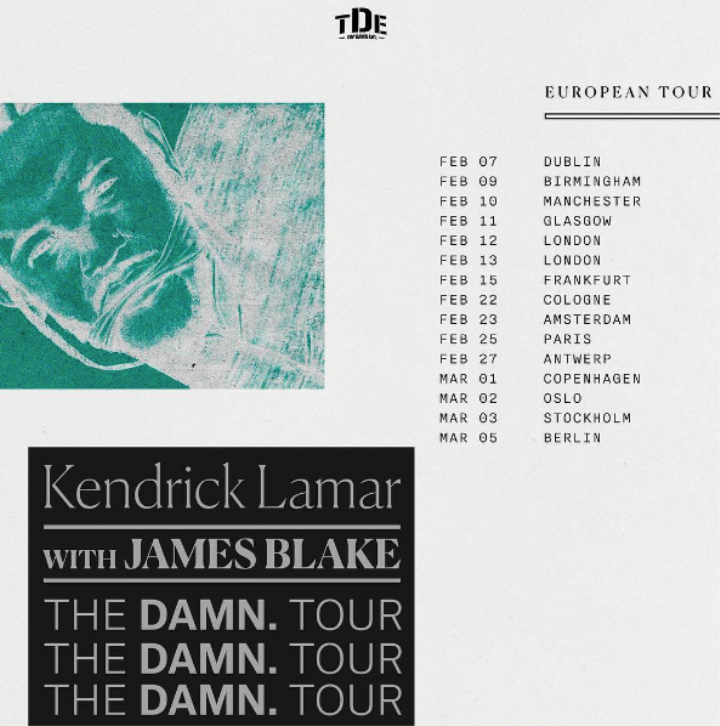 Stormzy released a new video, Supreme are collabing with Stone Island, L7 are back - as Monday mornings go, this has been a biggie. It's not even midday yet and just Kendrick topped the lot with the announcement of a new European tour, so the excitement isn't even close to ending any time soon.
Well, okay, he announced European and UK dates for his DAMN tour, but the point is you get to see Kendrick Lamar, and as early as February and March 2018. Dropping the details in an Instagram post, casually, the way most of us would post a latergram selfie and be happy when it gets to 10 likes, Kendrick announced UK shows to take place in Birmingham, Manchester, and Glasgow, with two huge shows in London's 02 arena on the 12 and 13 February. Then it's off to Europe, stopping in at Dublin, Frankfurt, Cologne, Amsterdam, Copenhagen, Oslo, Stockholm, Berlin, Antwerp, and Paris.
Better still, Kendrick will be joined by DAMN collaborator and universally beloved sadboi James Blake in a support slot. This is gonna be a biggie. Like, group-chat arguments over who has the fastest wi-fi, payday loans, slamming down on the refresh key for 20 minutes, big. According to the poster pre-sale tickets are available this Thursday, with general sale opening on Friday 6th October.
Get. Ready.