yayoi kusama's life story has been turned into a vibrant picture book
A children's book we're eager to flip through.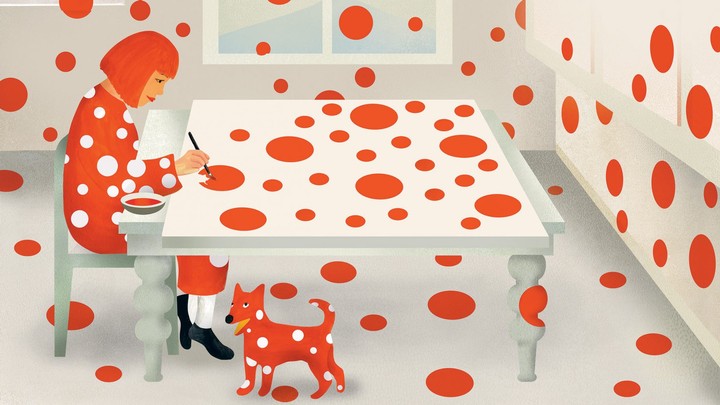 Courtesy Yayoi Kusama: From Here to Infinity!
This article was originally published by i-D Australia.
The life of legendary Japanese artist Yayoi Kusama has been captured in a charming children's book, penned by MoMA curator Sarah Suzuki. Yayoi Kusama: From Here to Infinity! offers insights into the artist's youth and her most famous artworks, with illustrations from Ellen Weinstein.
Created with insights from Kusama's studio in Japan, the book traces the artist's journey from her childhood in Matsumoto, to her time studying at a Japanese art school, and her eventual move to New York. The children's book closes on Kusama's return to Japan, and her move to the psychiatric facility she now voluntarily calls home.
Yayoi Kusama: From Here to Infinity! also looks at the creation of a number of seminal Kuama artworks, including Pumpkin, the iconic sculpture on the island of Naoshima, and The Souls of Millions of Light Years Away from her ever-popular Infinity Mirrored Room series.
Earlier in the year, Kusama's Infinity Room - All the Eternal Love I Have for the Pumpkins, an installation on show in Washington D.C., was forced to close after a guest taking a selfie damaged a polka-dotted, LED-lit pumpkin with an estimated value of $800,000. Hopefully the book's launch later this month goes a little more smoothly.
READ: why yayoi kusama is the most popular artist in the world