the female designers taking centre stage at copenhagen fashion week
Forget minimalism. Things are changing in Scandinavian fashion.
What do you think when you hear the phrase 'Scandi style'? Perhaps it's Ikea flatpack homeware and meatballs, or the enduring appeal of modernist furniture designer Arne Jacobson. Maybe it's chunky-knit jumpers worn by The Killing's Sarah Lund or the precise leather jackets favoured by Steig Larson's protagonist Lisbeth Salander in The Girl With the Dragon Tattoo. It may even be Cheap Monday jeans or the structured, monotone clothes that line the rails at commercial juggernauts such as Arket, H&M and Cos.
Think again. In 2018, Scandinavian style has evolved beyond the point of clean, restrained and, at times, boring, design. For evidence, look no further than Copenhagen Fashion Week, which took place last week. Not only was it all about bold colour, bravura prints and eclectic layering — there wasn't a navy wool overcoat or grey sweater in sight.
What's more, it was women who took centre stage in the Danish capital. A generation of female designers of varying ages staged shows that spoke to what women want to wear, reflecting the pragmatism of the city's cycling population. Walking around Copenhagen, you'll see a stream of women in floaty dresses and practical shoes whizzing around the streets on two wheels.
Copenhagen girls have a laid-back femininity without the froufrou, and the city has borne social media pin-ups such as Pernille Teisbaek and whole host of supermodels such as Frederikke Sofie, Freja Beha Erichsen, Caroline Brasch Nielsen and Emma Leth. As a result, it's become a key player on the international fashion map, also largely thanks to the success of labels like Ganni, which draws in high-profile international buyers and press.
The knock-on effect of that can be felt by the city's emerging designers, such as Cecilie Bahnsen and Saks Potts, who are all part of a close-knit community that is supportive of one another. In the last few weeks, however, Denmark has been the centre of a political whirlwind following its burka ban — the one that inspired Boris Johnson's controversial comments — which came into effect last week.
Reza Etamadi, the designer behind MUF10, made the most overt political statement about it by sending hijabi models down the catwalk in modest sportswear with Arabic slogans, while niqab-wearing women emerged at the end of the show to be presented with flowers by Danish police officers.
Elsewhere, the message was clear: Copenhagen is no longer about following the norm; it's about being individual. Here, we introduce the female-led brands taking centre stage.
GANNI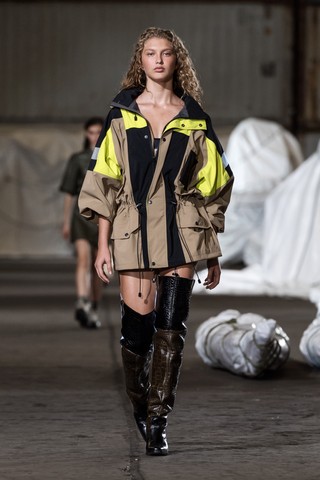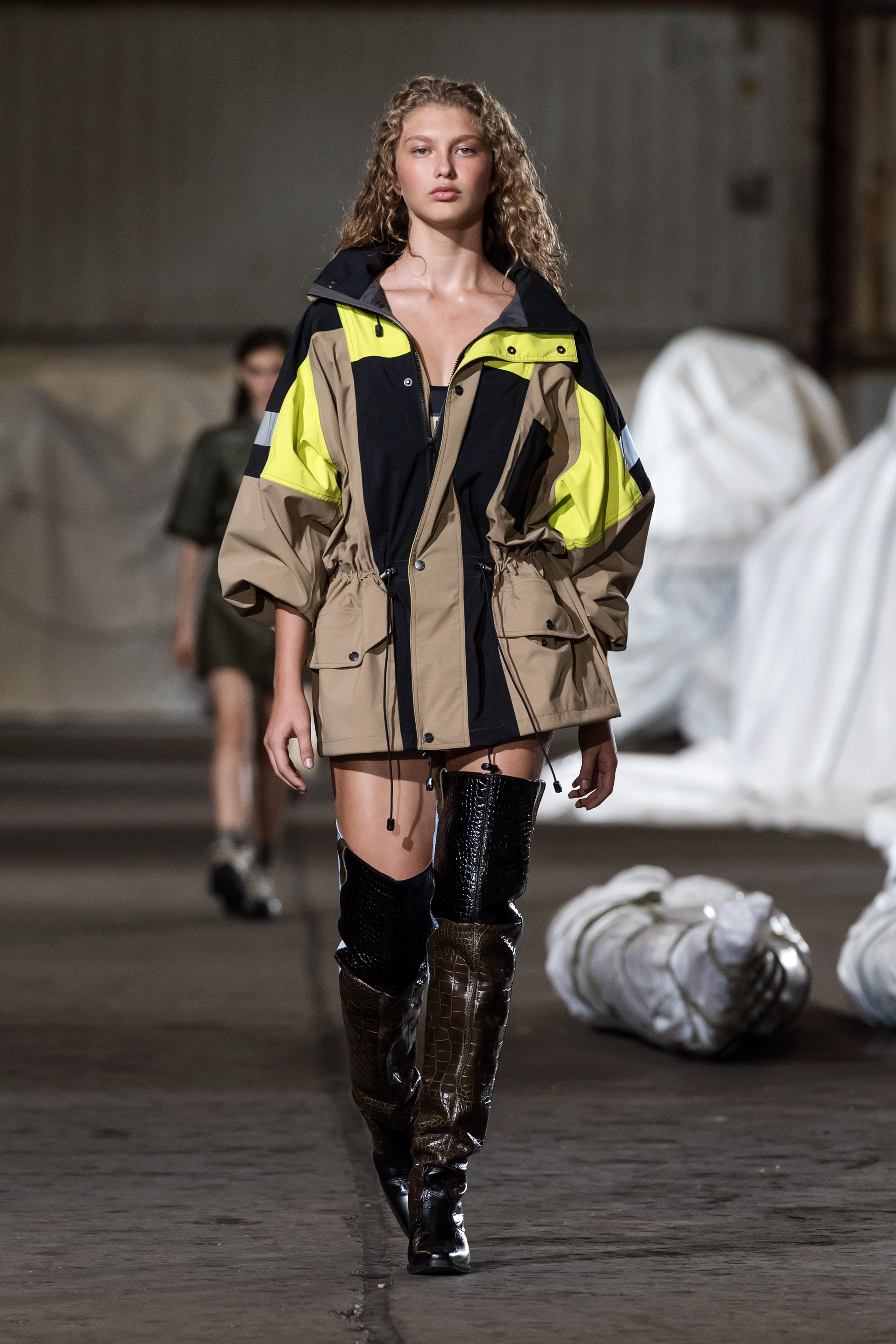 Ganni is arguably the largest success story to come out of Copenhagen in the last few years — something that is evident by the sheer scale of its most recent show in a vast warehouse lined with Ganni-branded steel containers. The label is the baby of husband-and-wife duo Ditte and Nicolaj Reffstrup (Ditte is the creative lead; Nicolaj takes care of business). Why is it so successful? The answer is simple: The Reffstrups came up a winning formula; to make uncomplicated clothes that women actually want to wear and look good in. The label's floral dresses, sinuous leopard silks and cowboy boots are among the wardrobe staples of well-dressed women everywhere and available at some 400-plus retailers around the world. Earlier this year, the label received investment from LVMH partner L Catterton, accelerating Ganni's meteoric journey to world domination.
For spring/summer 19, however, the Danish label's show took an unexpected turn. It was less whimsical than usual, veering towards a harder, utilitarian outlook with the great outdoors in mind. "This was the most emotional show I have ever done," Ditte said, collecting herself after bursting into tears watching it from backstage. "Being a kid in a small fishing town, nature was a big part of it and it's something you take for granted at the time. You grow up and realise it's not going to happen for the next generation." The designer was referring to environmental damage of the wilderness and reminisced about smoking in bunkers as a teenager, listening to Nirvana and running around the wilderness barefoot. It's an image that may be lost for a generation of kids who might be more likely to be found indoors on Snapchat than frolicking in a field.
Within the collection there were still the hallmarks of the brand — broderie anglaise button-down dresses with balloon sleeves; striped lurex knits; silky leopard separates; spliced floral print panels — as well as new propositions courtesy a collaboration with Icelandic performance-wear brand 66° North. Those artfully cinched-yet-baggy cagoules will likely be a winner, especially when worn around the waist of a long leopard slip with clunky hiking boots. The overall vibe was camping chic, enough of a reason to get outside and take in some fresh air.
CECILIE BAHNSEN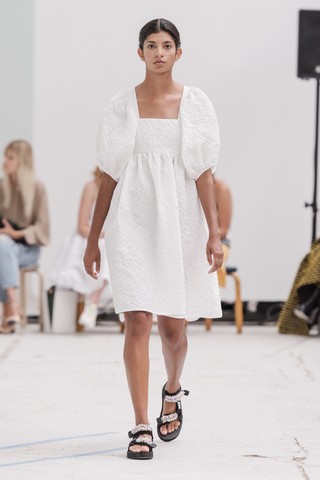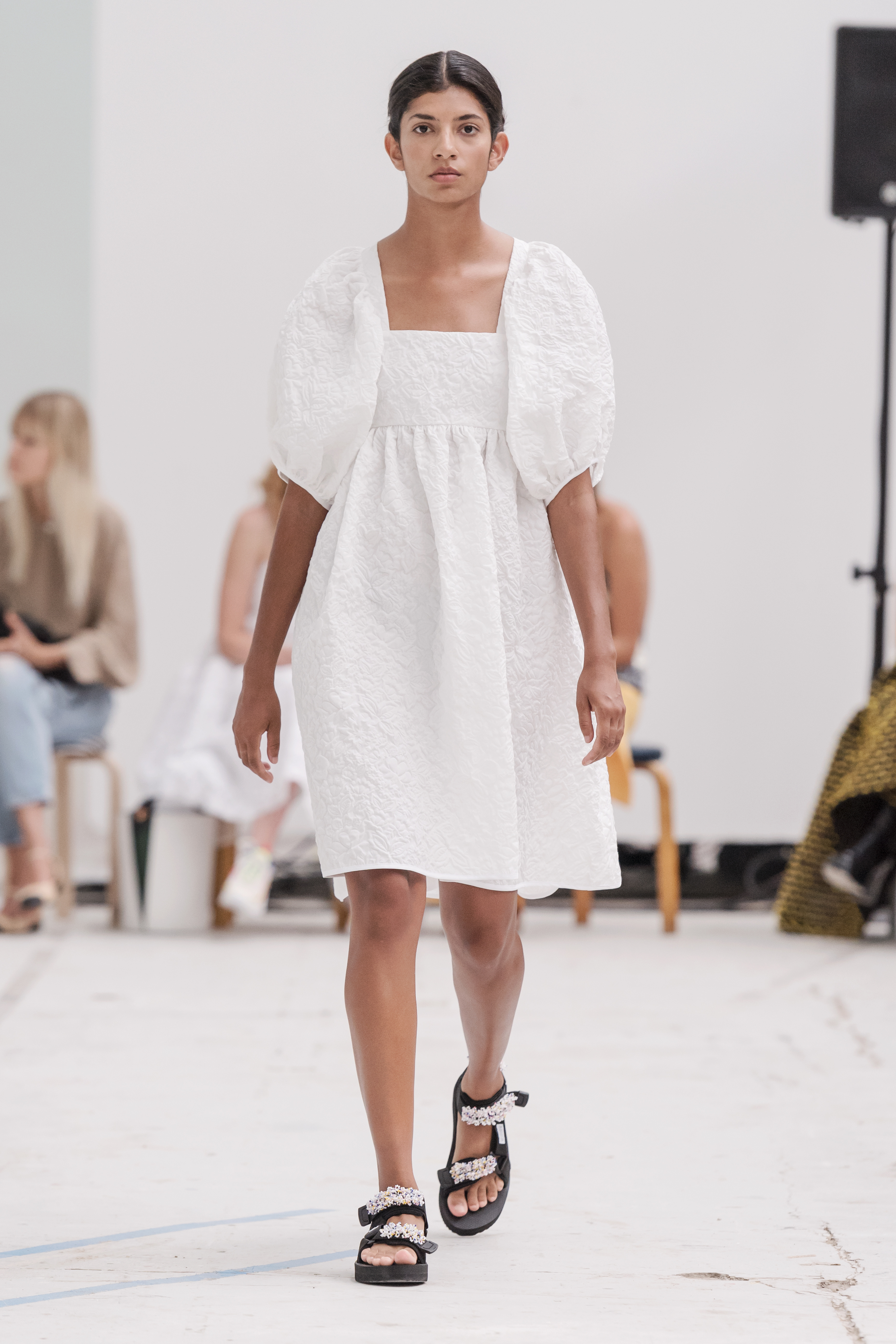 Cecilie Bahnsen is the Danish designer known for her take on girlish staples such as babydoll dresses, crisp organza smocks and puffed-sleeve ruffled shirting. The label is unapologetically feminine, following in the footsteps of films like 70s classic Picnic at Hanging Rock and Sofia Coppola's The Virgin Suicides. Despite being in the nascent stages of building a brand after working for Erdem and John Galliano, her label has already won over plenty of women around the world; one buyer at Matches even mentioned that most of the retailer's stock of Cecilie Bahnsen has sold out.
"What I've learned is that I'm happiest when we're not trying to start again every season," said the designer. "I want to refine and perfect what we do; it's about evolving our DNA with each collection." The starting point for her latest collection was Japanese photographer Osamu Yokonami's book Assembly, which largely depicts groups of girls all wearing the same clothes, mostly their school uniforms.
There were groups of dresses that were renditions of the same fabrics — pistachio, pale pink and white frayed fil-coupé satin; Renoir-hued guipure lace; white cotton with friendship-bracelet beaded flowers. "I think it's about a simplicity and femininity and a very strong, extreme love for craftsmanship," explained Bahnsen, who can often be found in one of her own white cotton shirts or dresses. "You can wear it every day and throw it on with trainers and a T-shirt, which is what I love about it — it's not too precious."
The narrative of the show came full circle when, following it, Danish model Caroline Brasch Nielsen got married over the weekend in a lace and organza dress designed by Cecilie. Her 10 bridesmaids included Helena Christensen, Saks Potts designer Barbara Potts and sister-in-law and jewellery designer Sophie Bille Brahe — all in Cecilie Bahnsen, too. Together, they embodied the spirit of Bahnsen's spring/summer 19 show: collective femininity in its purest form.

SAKS POTTS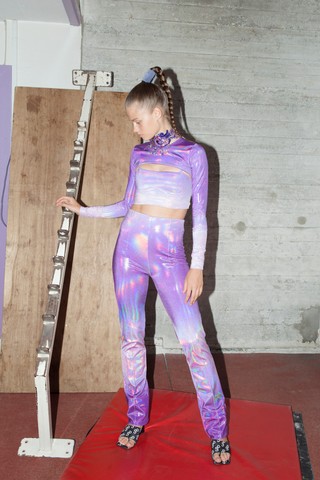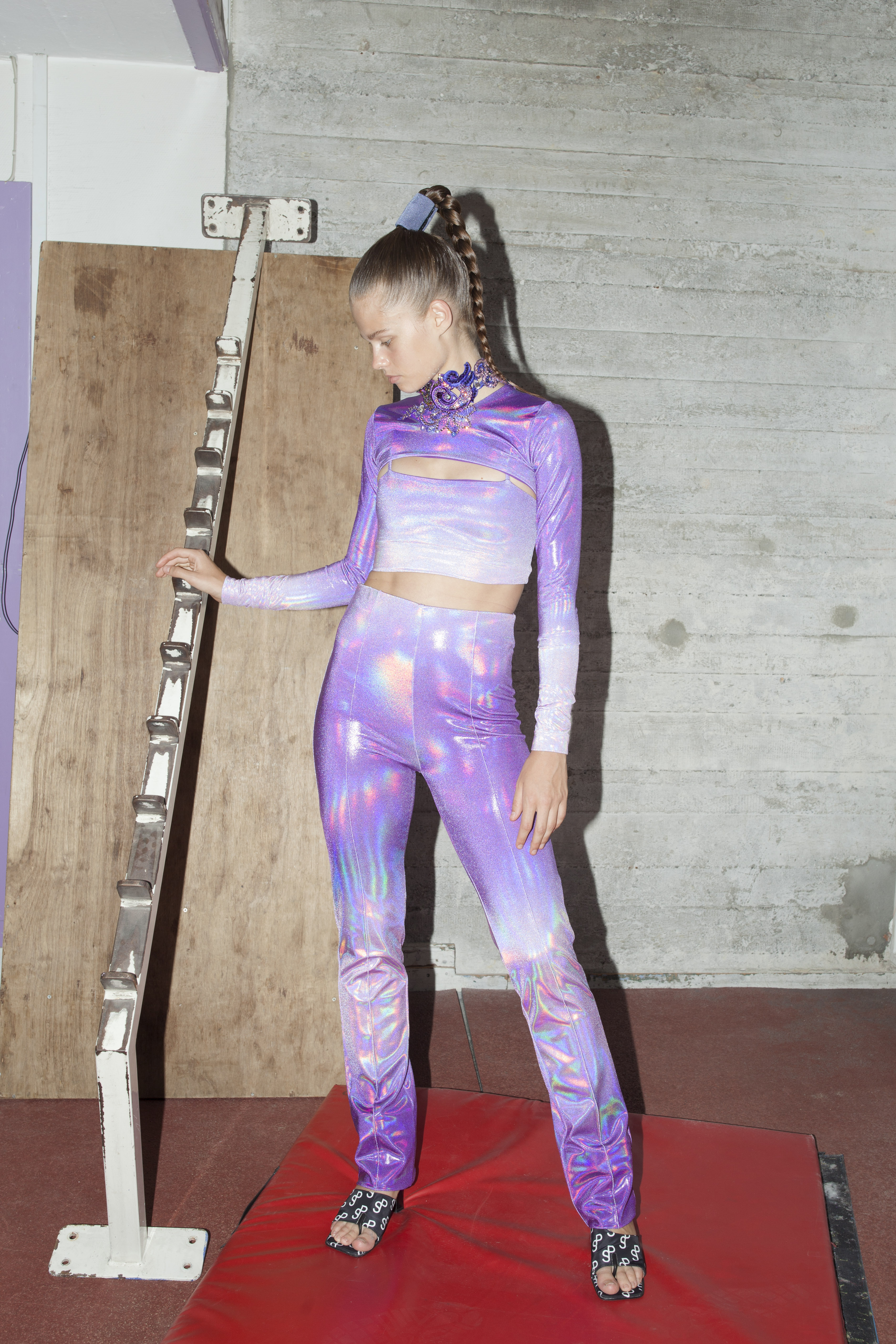 If there was a designer to illustrate how far Scandinavian design has come, it's Saks Potts, the label of 25-year-old duo Cathrine Saks and Barbara Potts. The young designers started their label in 2014 while still students, making colourful coats and jersey pieces. Today, their label has evolved to a veritable feast of noughties nostalgia and off-kilter colourways — their latest collection was titled 'Olympia', an ode to the figure skaters in the recent PyeongChang Winter Olympics in South Korea. Perhaps a dash of I, Tonya was in there, too.
Staged at a public sports stadium, the show opened with a synchronised performance by 40 young gymnasts, followed by the spot-lit entrance of Princess Olympia of Greece and Denmark in a panelled white ball gown. Cue slinky metallic leotards and vivaciously printed tracksuits, all worn with scraped-back high ponytails. There were more classic renditions of outerwear — the duo's trench is one of the bestsellers; this time in patent lilac leather — as well as plenty of boldly printed puffa jackets. As a former figure skater, this writer can attest that we used to wear puffers over our lycra leotards; far too much bronzer and high buns, too.
"Outerwear was a conscious decision from the beginning," says Cathrine. "In Copenhagen, it's quite cold a lot of the time, so the outerwear shows as much personality as the clothes. When we started, people only had one winter coat in blue, grey or black. That was the only thing you saw on the streets." It's true: in Scandinavia the coat is akin to a visual handshake.
Their colourful jackets and coats soon helped brighten things up — and will continue to do so. It's their accessories, however, that could be the next big thing — think gradient-hued baguettes, graphic tights and printed scrunchies. They capture the pendulum of good taste / bad taste native to the 00s of Saks' and Potts's youth. In their hands, it's back with a vengeance.

BRØGGER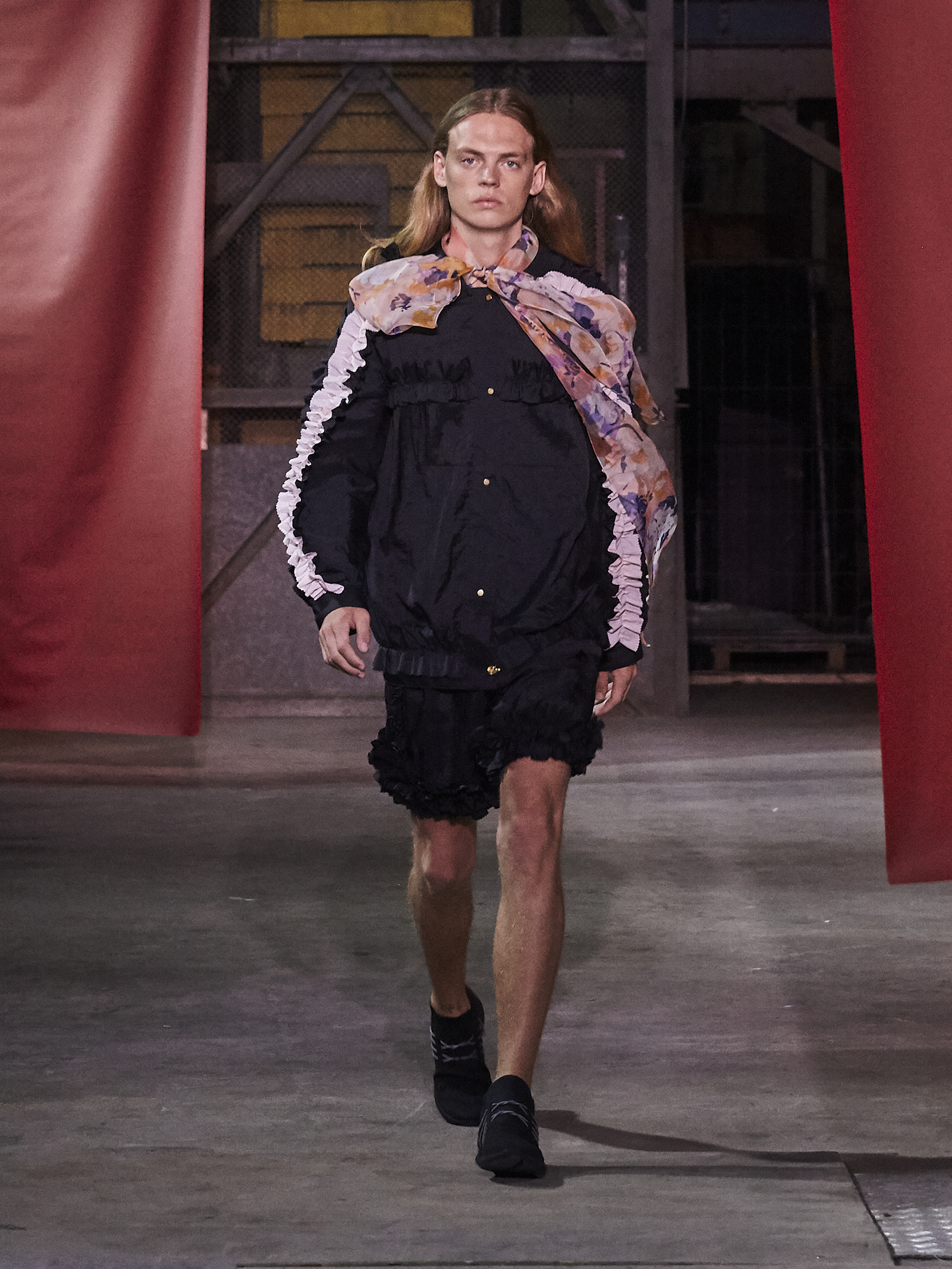 Julie Brøgger's catwalk debut was all about theatrical splendour, bold colour and dressing daringly. The collection was titled 'Margrethe' as an homage to her mother, who passed away in June, as well as Denmark's monarch Queen Margrethe II. As it turns out, both shared more than a name — they both approached dressing with a sense of theatrical glamour in the 80s and 90s.
Julie's formidable late mother, Margrethe Brøgger, was a prominent lawyer who was outspoken on sartorial matters; she advocated that women needn't burn their bras to be a feminist, and should be able to wear red nail polish, slip dresses and stilettos in the workplace. In hindsight, she was light years ahead of her time. Meanwhile, Queen Margarethe was always the exception to the image of pared-back Scandi minimalism, often appearing in outré Balmain gowns and dripping in jewels.
"Queen Margarethe is different to the rest of Scandinavians," attests Linn Norström Weile, co-founder of the label. "If most people had to describe her style, it's not typically Danish; in fact, it's incredibly un-Danish." The result was a collection that evoked the sovereign's favourite Danish dressmakers — Erik Mortensen, Holger Blom and Jørgen Bender — and combined it with a daughter's rebellious disposition for classic dress codes of her mother's sharp-suited wardrobe. Think ruffled colour-block tailoring, swathed and saturated floral dresses and pleated techno-organza balloon sleeves.
Now in its fourth season, the label is well on its way to international success. Julie Brøgger honed her craft in London working for JW Anderson, Preen by Thornton Bregazzi and Erdem, while her Berlin-based business partner, Linn Norström Weile, previously held down roles at Net-a-Porter and Vestiaire Collective; both grew up together north of Copenhagen.
"We have a strong attachment to the city," says Norström Weile, acknowledging that it is much easier to stand out in a less saturated market than London. Despite this, she's also keen to point out the cultural differences. "One of the reasons we moved to london is because Copenhagen is a wonderful place when you grow up, but it's not diverse in terms of culture, looks and ethnicities. In London, there's room for differences and diversity. When you have something like the burqa ban, it feels like a step in another direction, which is why we had such a diverse cast in our show. We didn't choose traditional Scandinavian beauties. It was something we were very aware of."
STINE GOYA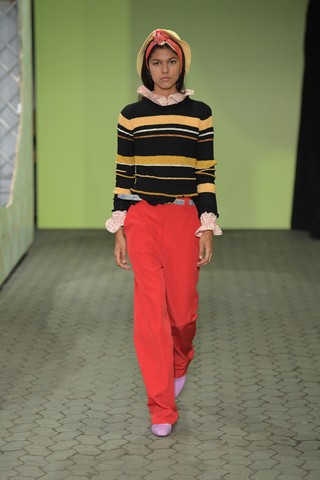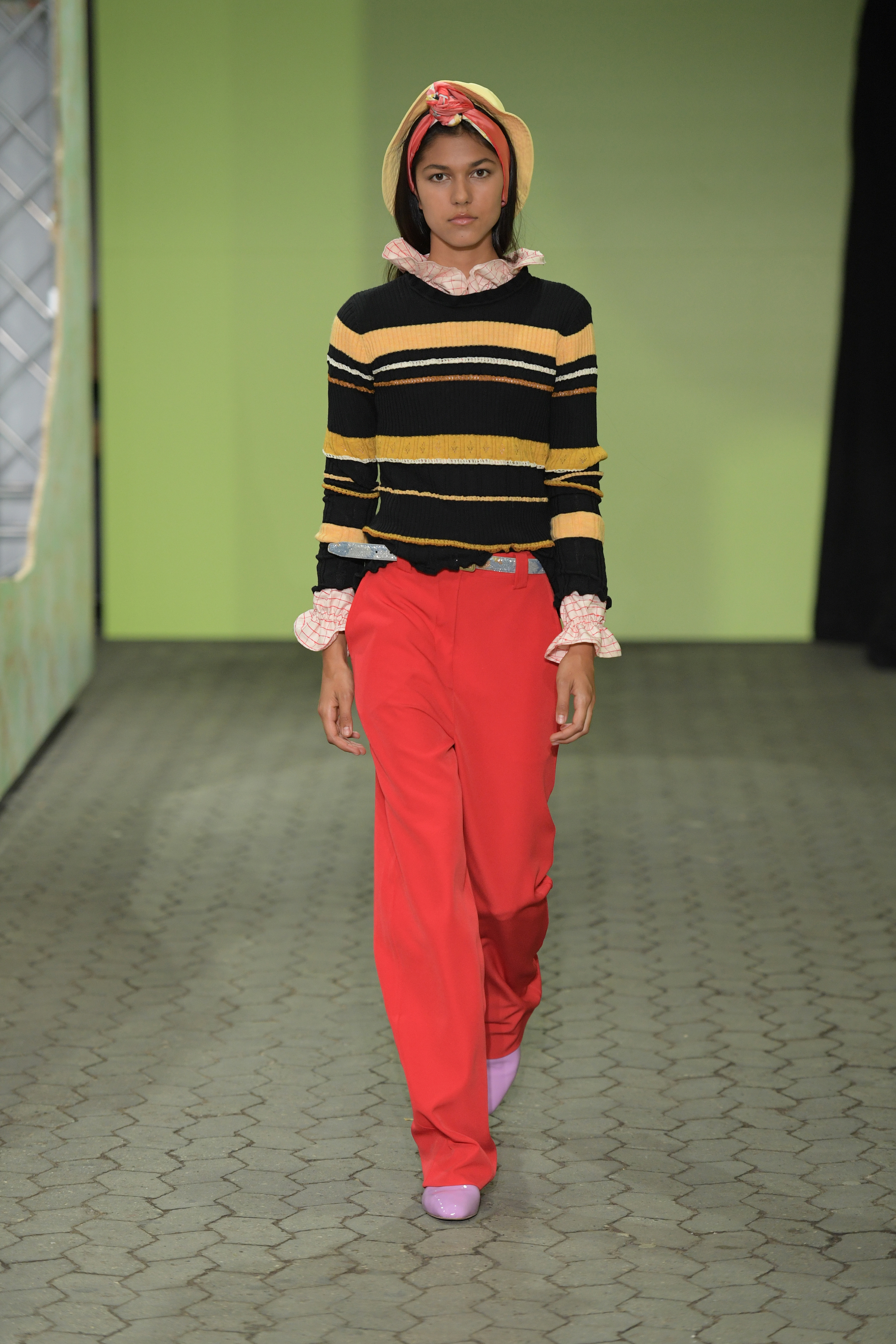 Stine Goya recently celebrated the 10th anniversary of her namesake label, which means the Danish designer has been making colourful, hand-drawn prints for a full decade. For her spring/summer 19 collection, Goya staged a show in the Freetown Christiania area of Copenhagen, a district known for its hippie culture and open attitude to marijuana. "We were searching for a location that could be transformed into an immersive space, where our guests could enter the Goya universe," she said. "As it happens The Grey Hal, where we based our show, is on the outskirts of Christiania, and upon entering you do in fact step into another part of Copenhagen, one which is not often frequented by our guests."
The Stine Goya show itself was a veritable feast of colour and print, best described as an eclectic mash-up of references and styles. "We find much of our inspiration from the art and design world, where references are lasting," explained the designer, who studied fashion at Central Saint Martins. "Creating lasting and timeless pieces is part of our design ethos, and so is staying clear of the traditional trend cycle."
Goya was keen to point out that Copenhagen has particular advantages for the creative community. "The fashion scene itself is also a small community, where creatives know and support each other," she said. "There is also a synergy between the different creative industries that are thriving in Copenhagen at the moment, such as the fashion, food and design scene, causing inspiration and energy to be transferred between the different mediums."
---