15 songs you never knew were meant for other artists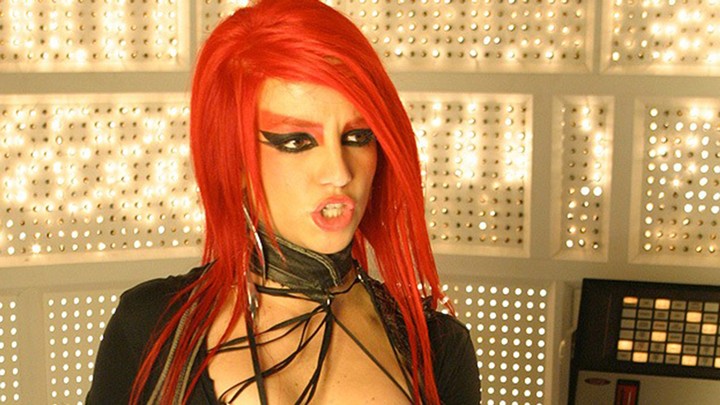 Still from Britney Spears' Toxic.
It's impossible to imagine anyone but Her Majesty Britney Spears singing Baby One More Time, but, if you can believe it, the 90s banger was originally meant for TLC. In fact, it made the rounds of some familiar pop names, being roundly rejected before the stars aligned and Britney picked it up. Obviously it was meant to be, but it gives pause for thought -- how different the musical landscape would be if a different voice was on a different track. And Baby One More Time is just one of hundreds of songs that ended up in the hands of other artists. But we managed to manage to whittle those hundreds down to the best 15.
1 -- Baby One More Time
If co-producer Max Martin had had his way with Baby One More Time, it would have been a TLC hit. The full story is that he offered it to the band, who interpreted the lyrics about loneliness and, well, being hit, as being about domestic abuse. They weren't keen. "Was I going to say 'hit me baby one more time? Hell no!" said T-Boz back in 2013. In a bizarre twist though, after Simon Cowell heard the song he wanted to give it to his new band Five. Luckily it was already earmarked for Britney by that point. Phew.
2 -- Telephone
It's impossible to imagine anyone other than the dream duet that was Lady Gaga and Beyoncéperforming Telephone, but actually Gaga originally wrote the track for Britney Spears. Supposedly the song was written for Britney's Circus album, but was rejected. Psst, there is a pretty great demo version that leaked online though. Ah, what could have been. Also, did you know that LGBT also stands for Lady Gaga Beyoncé Telephone? And the day it was released was the day that all of homophobia was abolished.*
*We wish
3 -- Call Me
Call Me was famously written for American Gigolo as a disco classic about a prostitute, and although it fits Debbie Harry's voice perfectly, it was originally intended for Stevie Nicks. Producer Giorgio Moroder composed the original track and asked Stevie to provide vocals and lyrics, but unfortunately contractual issues meant that the collaboration wasn't meant to be.
4 -- Ni**as in Paris
Before he was the man who uncovered Drake's secret son, Pusha T was offered the opportunity to record Ni**as in Paris by Hit-Boy. Pusha however, wasn't impressed by the track's production. "It sounds like a video game," he complained. "Get that shit outta here!"
Fair enough.
5 -- Don't Cha
Most of us know the musical talents of Paris Hilton because of her undeniably terribly-good banger Stars Are Blind, but did you know she could have been the voice behind this Pussycat Dolls track? Paris has since said she regrets passing on the song, explaining: "I think I did hear it, but not in the format we all came to know and love. If I'd heard that, of course I'd have jumped at the chance." That's not hot.
6 -- Toxic
Britney features on this list a lot, arguably because she's been lucky enough to snap up a lot of bangers that other artists let slip through their fingers. Toxic is one of those bangers. It was originally intended to be the follow up to Kylie's huge hit Can't Get You Outta My Head, but it wasn't meant to be. Discussing it afterwards, Kylie said: "I wasn't at all angry when it worked for her. It's like the fish that got away. You just have to accept it."
7 -- Chandelier
When it comes to casually handing out bops to other artists, nobody is quite as prolific as Sia. The Elastic Heart star has written for Christina Aguilera, Flo Rida, David Guetta and Beyoncé, to name but a few. And true to her generous nature, Sia offered Chandelier out to both Rihanna and Beyoncé before taking it for herself. Very kind of her, really.
8 -- Shape of You
If you find Shape of You impossibly catchy, but also get squicked out by the idea of Ed Sheeran purring "put that body on me" then trust me, you're not alone. The weirdness is probably explained by the fact that Ed never anticipated he'd be the one singing Shape of You. In fact he intended it to be recorded by Rihanna.
"I was like 'this would really work for Rihanna'", Ed told Nick Grimshaw. "And then I started singing lyrics like 'putting Van the Man on the jukebox', and I was like, 'well, she's not really gonna sing that, is she?'. And then we sort of decided halfway through that we were just going to make it for me.
9 -- How Will I Know
It's a quintessential Whitney Houston bop, but How Will I Know was originally written for Janet Jackson. Unfortunately for Janet (and fortunately for Whitney), the former passed on the track because she thought it was too weak in comparison to the rest of her material. While it went on to become a huge hit, at the time songwriter George Merrill was gutted, saying: "We were pretty upset because we thought it was perfect for her at the time. We had written it with her completely in mind."
10 -- Milkshake
Kelis' milkshake brought all the boys to the yard, but those milkshakes and boys were originally meant for Britney. The song was originally created for Brit's In The Zone album but was rejected for unknown reasons and went on to become a smash hit for Kelis, featuring on every teen movie soundtrack of the noughties and beyond.
11 -- All About That Bass
Sometimes songs are rejected by artists and it's baffling. You wonder how they could let huge hits like Toxic or Milkshake slip through their fingers. Other times you hear about songs being rejected by artists and you think "yep, they dodged a bullet there". Such is the case for Meghan Trainer's pseudo-body-posi viral hit All About That Bass, which was originally offered to Beyoncé. Bit of a stretch, that.
12 -- Umbrella
Who was Rihanna's breakout megahit Umbrella originally intended for? You've guessed it, as with most other songs on this list, it was originally earmarked for Britney Spears. Umbrella was intended to be a huge comeback hit for Britney, who in the mid-noughties was dealing with personal and professional setbacks, but ultimately her label rejected the song, saying that they had enough material to work with at the time.
13 -- I Don't Wanna Miss A Thing
Of all the songs on this list, Aerosmith's hair rock anthem is the only one with the dubious honour of winning a Golden Raspberry Award for Worst Original Song (mind you it was also nominated for an Academy Award for Best Original Song). If that wasn't weird enough, consider this: the song was originally intended to be recorded by Celine Dion.
"When I wrote it I thought it would end up being like Celine Dion or somebody like that [singing it]," said songwriter Diane Warren. "But it's so much cooler to hear someone like Steven Tyler -- this gruff, macho rock star, this amazing tough guy -- it just brought a whole other dimension to it. I don't think it would have been the same hit, or the same standard, if it wasn't for someone like Steven Tyler doing that song."
14 -- Halo
Remember when Beyoncé did a duet with Leona Lewis on the X Factor? That was peak Saturday night telly, Leona and Beyoncé performing as equals. But things weren't always so cosy between them. Supposedly they went head to head over Halo, when the songwriter Ryan Tedder offered it to Leona Lewis, sparking controversy.
Speaking about the supposed bidding war later, Ryan said: "There was this huge scandal that originally Halo was meant to go to Leona. That was never the case. That song was written for Beyoncé. What happened was that Beyoncé waited long enough to record that song... What I did was foolishly say to Leona's camp, "I have it on hold for another A-list artist and I'm pretty sure they'll take it, but if they don't, I just want to know if you like it enough to consider it". I sent it to them and they flipped on it. They loved it and instantly said they wanted to do it. I was like, "Wait, wait, wait, no, it's not free yet!"
15 -- Miss Independent
Personally, I believe an artist can never have too many pop songs about being an independent lady. However Destiny's Child would apparently disagree. Not tempted to add Miss Independent to their own Independent Women back catalog, Destiny's Child passed on this eventual Kelly Clarkson hit. It was created by Christina Aguilera originally, who wrote the track with Kelly Clarkson for her album Stripped, but decided to ultimately give it a miss.
Tagged: