why is street harassment such a part of french culture?
As awareness grows around sexual harassment and assault, France needs to move away from its local, ingrained macho culture.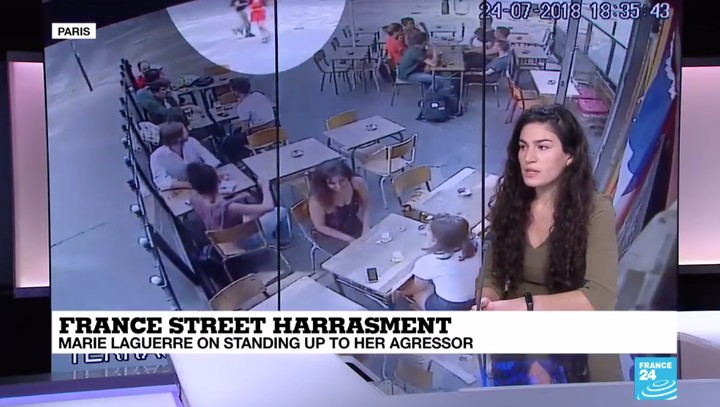 Image via Twitter
On 24 July, 22-year-old Marie Laguerre was walking past a café in heatwave-struck Paris. A man passed her whistling and making graphic, degrading noises at her. She told him shut up. He was not, as she told CNN, the first man to harass her that day. The man responded by throwing an ashtray at her, which luckily missed. Then he punched her in the face. Little did Marie know, the incident was captured by the café's surveillance camera and would go viral in record time, to become a worldwide symbol of street harassment.
After the attack, Marie set up a platform, Nous Toutes Harcèlement, aiming to help women share and denounce daily aggressions against them by men in both public and professional spheres. It slots in alongside Time's Up, Why We Wear Black, #MeToo, and an expanding worldwide movement rebelling against ancient patriarchal institutions and deeply ingrained sexist behaviours. In this particular case, it confronts a specific Gallic twist. Laguerre, like French women in general, comes from a culture where being whistled at in the street has long been seen as a normal part of everyday life — where flirtatious, unwanted advances (nicknamed "la drague" in French) are perceived as an essential ingredient of "Parisian-ness".
Take Serge Gainsbourg, possibly France's most famous French man. He wrote a song entitled Lemon Incest with a music video that shows him lying half-naked in bed with his pre-teen daughter Charlotte. In 1986, live on a French TV show, Gainsbourg, who was being interviewed alongside Whitney Houston, said to the host "I want to fuck her" -- and it seemed everyone in the country, except Whitney herself, thought it was hilariously rebellious. He later decided to nickname his wife, Caroline Von Paulus, of German-Vietnamese descent, "Bambou" and wrote a song about the "tropical fever" she gave him.
To this day, these examples are thought of as funny and charming rather than deeply wrong. When, in 2012, French minister Cécile Duflot wore a skirt to the National Assembly she found a room full of politicians whistling at her. Convicted sex-offender Roman Polanski and rockstar-who-murdered-his-wife Bertrand Cantat still land the cover of magazines and retrospectives, as if their genius had the power to outshine their crimes.
More baffling still was France's split between women supporting other women on one side — and women standing up for men's right to "interfere" with women on the other. The latter were, surprisingly, seen to be progressive as well. Earlier this year, in a now notorious open letter published by Le Monde and signed by 100 women, it was stated that men should have "la liberté d'importuner" — that is, the freedom to bother women.
The first signatory was none other than Catherine Deneuve, who rose to fame in Luis Buñuel's Belle de Jour, a film about a middle class housewife who turns to prostitution out of sheer boredom. The film led to controversial and vital discussions being had in France about women's rights and freedom. Yet here, in 2018, was Deneuve heading up a list of women who explicitly stood in disagreement with the French version of the #MeToo campaign, "#BalancetonPorc" (Call Out Your Pig), which they consider is a new form of puritanism, and worse still denounce feminism as something "which represents a hatred of men and sexuality".
The hundred signatories are mostly all known for their sexually liberated careers: actresses, a radio host and former porn star, artists, writers, psychoanalysts, journalists. Among them is Catherine Millet, the author of highly explicit The Sexual Life of Catherine M, who actually helped draft the letter; Catherine Robbe-Grillet, known for her writings about BDSM culture; and the conservative journalist Elisabeth Levy who has, in the past, called out feminists "for male-harassment".
For the first time in France, second generation feminists (who, in their heyday, coined the term 'male chauvinist pig') and the Catholic right are in agreement about the vital importance of supposedly traditional masculine French values.
"What do these women have in common? They're white, highly privileged, older and have based their personal freedom on judging experiences alien to them; by choosing to support men, they brush aside all the real work on this taboo subject and sorority that has been put into place," says Rebecca Amsellem, founder of French feminist platform Les Glorieuses. Indeed, the self-centred stance taken by the signatories and their lack of solidarity or empathy for other women — who might not have the power to publish an article in Le Monde — shows a clear break between two waves of feminism: the second wave, which ultimately was very bourgeois and grew out of the sexual liberation of the 60s, largely due to access to contraception — and the next, schooled in post-colonialist and intersectional thinking with a vivid awareness of social and race-based injustice in France.
It's obvious that for my generation, growing-up surrounded by violently misogynistic media, all of this would lead to a totally different notion of sexual freedom, as well as a more cautious relationship to classic values of French society in general, and men in particular. We are acutely aware of other forms of male domination: omnipresent pornography, open racism (see Christiane Taubira, the former Justice Minister harassed throughout her years in the government ), ageism (the many sexist comments regarding Brigitte Macron, as one example).
Today's world of real harassment and sexual aggression is alien to this older generation. Would Millet, if she were 20 again, really say that she "wished she had been raped so she could testify that one recovers from it", and that "being ugly is difficult for women because they get hit on far less"?
As for Paris, it's time that local culture stops being romanticised, and finally seen for what it is: 'la drague', whistling and machismo are all imbedded in an ancient history of patriarchy, and enable daily aggressions, macro and micro — all while masquerading as 'charmant'. And as for French women today, Marie's outcome reminds women of all ages that refusing to be 'importunées', is not only a right, but also an expression of French feminism by new a generation.
---
Read more
This article originally appeared on i-D UK.