Tschabalala Self, Floor Dance, 2016. Courtesy the artist.
5 boundary-breaking young artists exploring gender beyond the binary
Meet the fresh-faced standouts from the New Museum's intergenerational show "Trigger: Gender as a Tool and a Weapon."
Tschabalala Self, Floor Dance, 2016. Courtesy the artist.
If you were to exit the fifth floor elevator in New York's New Museum at this moment, you'd feel as if you were transported into another dimension. Emerging into a dimly lit room, you'd look to the right and see three large fabric figures. Above you: a chandelier of antenna-pierced terra cotta breasts. Ahead: a massive projection of a blonde-wigged queen sweeping a landscape of glittering streamers.
The museum's just-opened show "Trigger: Gender as a Tool and a Weapon" is about disrupting categorization. Moving past either/or binaries like "male" and "female," the exhibition places gender at the intersection of race, class, sexuality, and disability, and the artists featured — though their work may not expressly be about gender — offer up ways for using gender to build on, dust off, or tear down culture.
There's a joke in the exhibition catalog that the museum could hold a "trigger festival" to see if it could offend everyone. The title, "Trigger," is itself loaded, immediately bringing to mind "trigger warnings" and traumatic recall. However, a trigger is also a mechanism that, if set into motion, can ignite radical change.
Buzzy title aside, the exhibition is massive and represents an equally vast range of views. Showcasing the work of over 40 intergenerational artists across three floors, it is the largest major museum show to date to turn the microscope on gender fluidity. Entire worlds are created within, as in the work of Justin Vivian Bond who's installed a wallpapered sitting room adorned with framed watercolor self-portraits of herself beside former Estée Lauder model Karen Graham. Art game veterans including Vivian Bond as well as Vaginal Davis, Harry Dodge, and Liz Collins are displayed beside fresh-faced newcomers. And of the freshest of the fresh, these are the names to know.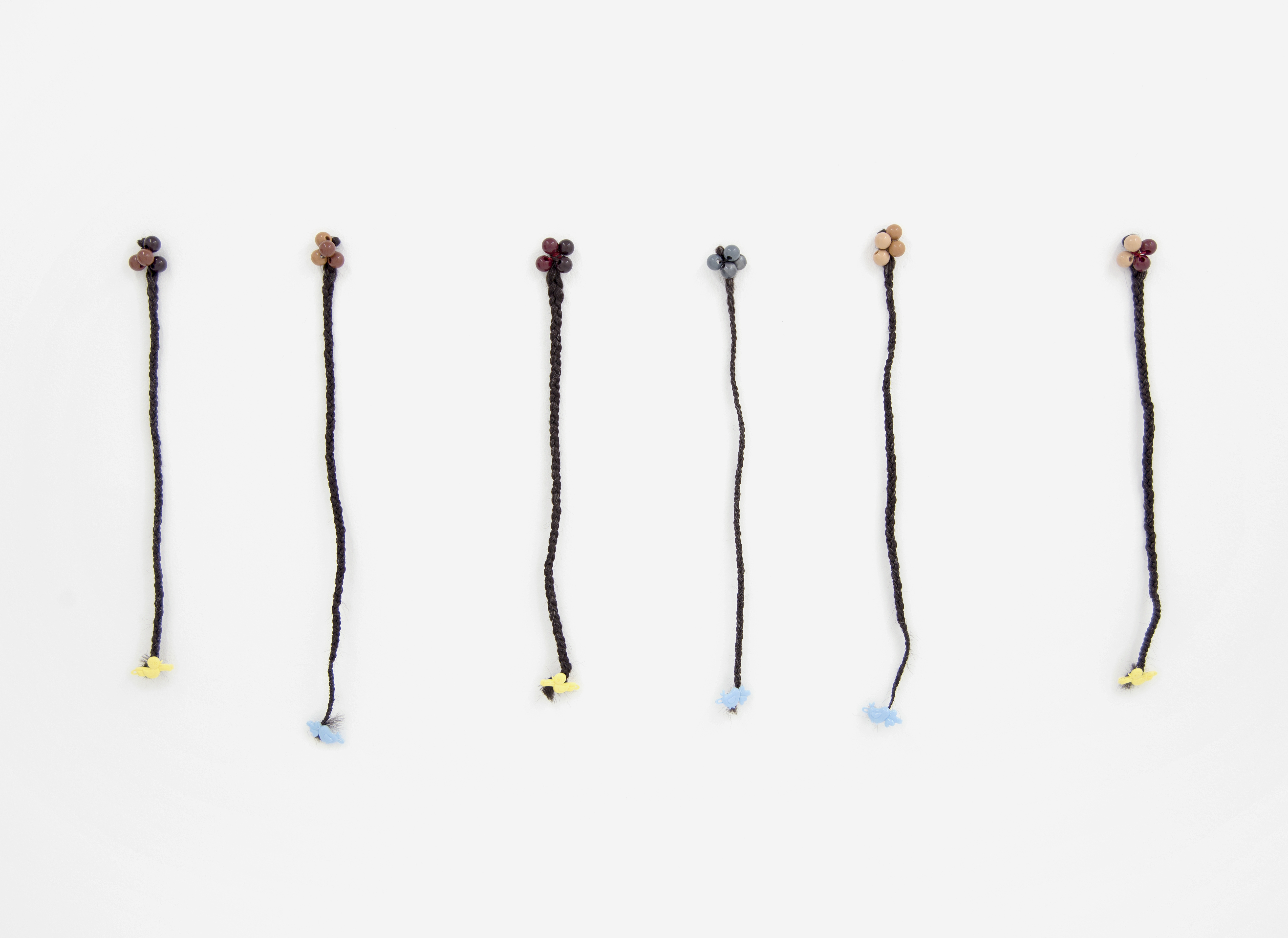 Diamond Stingily
One of the first artworks you encounter in "Trigger" is Diamond Stingily's Kaas 4C, a continuation of her ongoing Kaas series of sculptures named for the snake character in The Jungle Book. Hailing from the West Side of Chicago and now living in Brooklyn, the 27-year-old artist spent much of her childhood hanging out and working in her mother's hair salon. So it feels only appropriate that Kaas 4C is comprised of one long synthetic-hair braid. The sculpture pierces vertically through each gallery floor, collapsing in a spiraling bundle at the base level, cinched by brightly colored barrettes. Aesthetically minimal, Stingily's work engages with the traditionally gendered practices of weaving and braiding while evoking the everyday in black community and home life.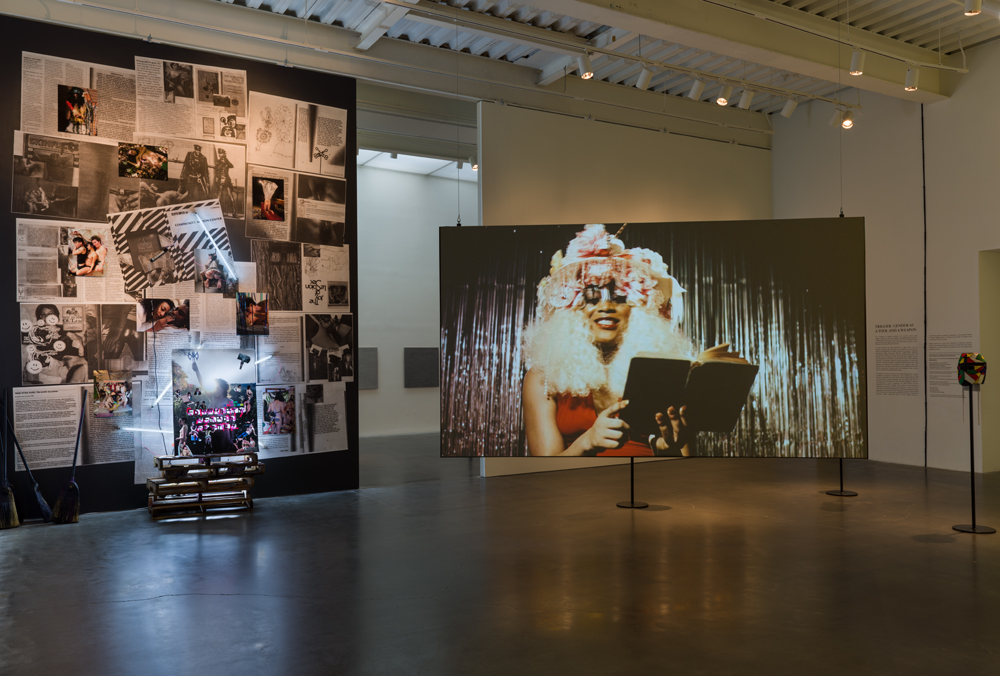 Reina Gossett and Sasha Wortzel
Reina Gossett recently made headlines when accusations arose that director David France capitalized on her concept and archival research for his documentary The Death and Life of Marsha P. Johnson. Currently Activist Fellow at Barnard College's Center for Research on Women, Gossett is a filmmaker and trans activist whose work counters erasures of women of color from historical narratives of political resistance.
In "Trigger," Gossett and her collaborator Sasha Wortzel showcase their short film Lost in the Music, in which actress Mya Taylor plays Marsha "Pay It No Mind" Johnson, decked out in full makeup, a blonde wig, and a crown of beads and flowers. The viewer looks on as she incants a poem asserting glamour and fantasy as means for survival, amidst a dreamscape of tinsel and shimmering lights. Marsha is also the subject of the filmmakers' related project Happy Birthday, Marsha!, slated for release in 2018.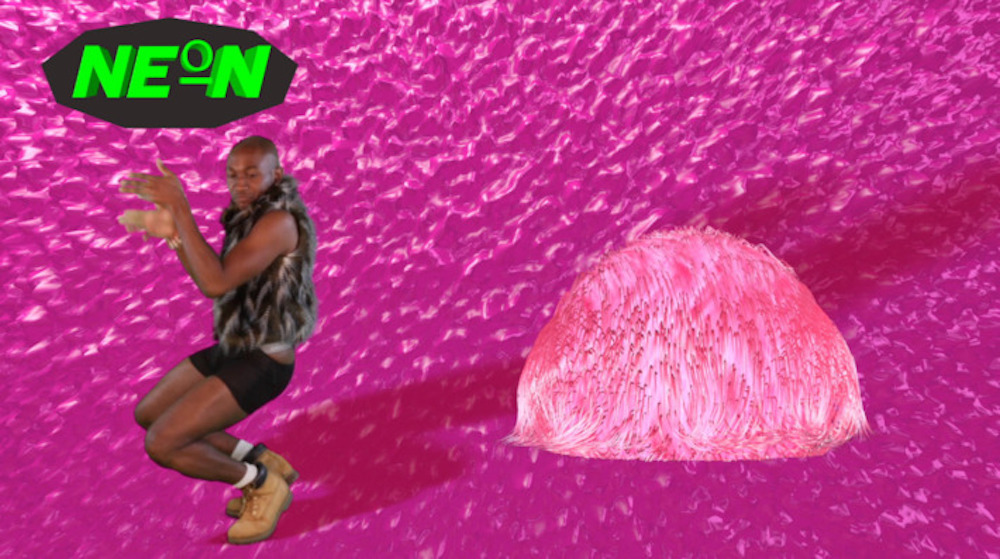 House of LaDosha
"Trigger" marks the 10-year anniversary of House of LaDosha, a New York-based collective of genre-bending, gender-blending queer artists minted in 2007. A staple within the city's nightlife scene, the crew explores "house" philosophy and ballroom culture, mixing aspects of fashion, music, video, and performance to create multi-dimensional experiences. The collaboration unites Cunty Crawford, Neon Christina, Magatha, Paz Off, YSL, General Rage, and La'fem Ladosha, each successful solo artists in their own right.
For a vinyl installation displayed in the museum's foyer, the collective created a poem comprised of social media conversations in an effort to demonstrate the uses and limits of language as an object of appropriation. The takeaway? "97% don't know what ham is."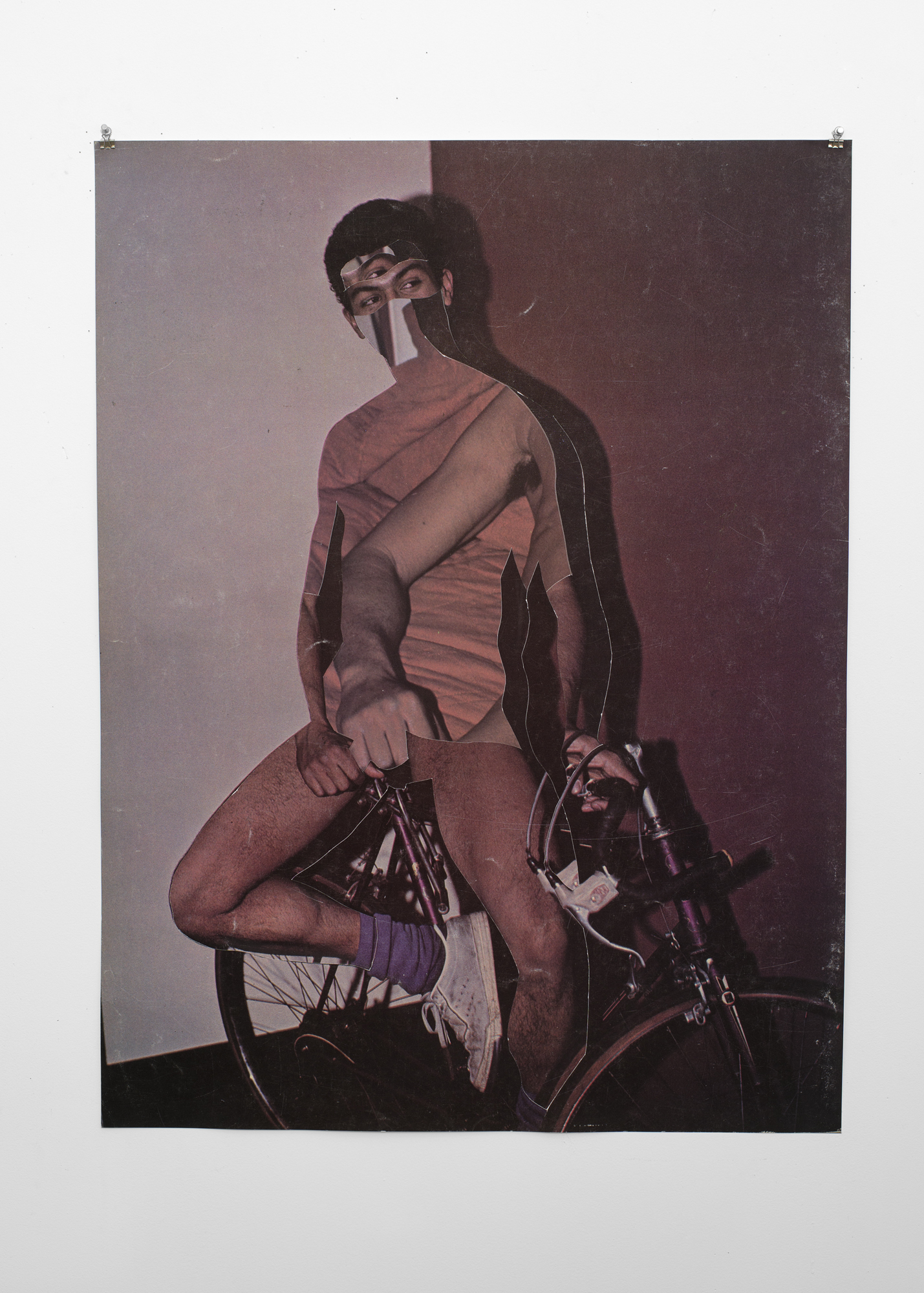 Troy Michie
Troy Michie literally takes scissors to a historical narrative that prioritizes some stories and bodies over others. The El Paso-born and Yale-educated artist navigates intersections of race and gender in works comprising cut-up and rearranged photos of black men from pornography. For example, in Nobody Knows My Name, he references James Baldwin's book of essays by the same title, to confront racial and sexual stereotypes by shifting the perspective. The result is sexy, yes, but also humanizing: the figures are stripped of the exotification of their original context. This December, New York's Company Gallery will play host to a solo exhibition of Michie's work titled "Fat Cat Came to Play."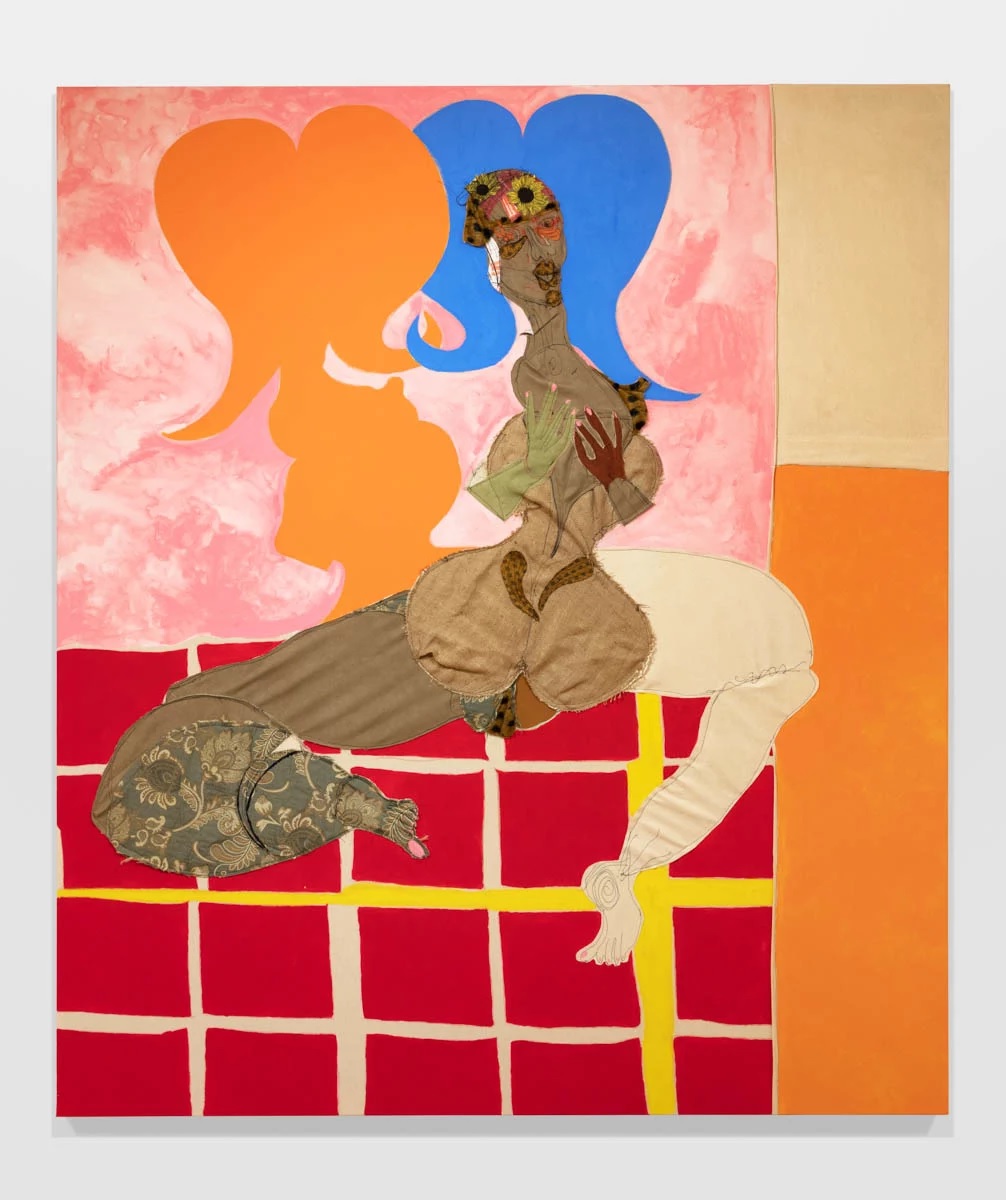 Tschabalala Self
Harlem-born and New Haven-based Tschabalala Self creates multi-textural paintings that reflect the complexities of black identity and discuss the visibility of the black female body. At just 27, her work has been compared to that of Kerry James Marshall and Picasso. Self combines velvet, linen, and corduroy — recycled materials the artist has collected over the years — with paint, oil pastel, and charcoal to form what she calls "avatars": larger-than-life figures that dance or recline across canvases. Take Floor Dance, which focuses on one such avatar, a woman comprised of animal-print fabrics and linen. Her legs are splayed, tongue out, stilettos on, toenails painted. Her multiple arms seem to be waving, or perhaps she's dancing at the club. Self's images are rich with layers upon layers of narrative.