Images courtesy of gorunway.com
Impactful simplicity defined Prada's SS23 menswear collection
For their latest show, Miuccia Prada and Raf Simmons played with oddness in crisp tailoring, straightforward denims and clean fetish leathers.
Images courtesy of gorunway.com
In fashion, framing is everything – a shift in the context in which you see a particular look or garment can dramatically affect how you perceive it. It was of note, then, that on walking into the Deposito of the Fondazione Prada for the house's SS23 menswear show, guests were greeted by a vast, white-paper-walled room, accented with drapes of red gingham curtains. Debrided of distraction, it offered a clean, clear space for the clothes to speak for themselves.
In what felt like an about-turn from the campy frou-frou of last season – you know, the bright leathers, the fuzzy shearling armbands – the message, however, was relatively simple. Rather than opt for exuberance, this season saw Miuccia Prada and Raf Simons lean into a decidedly more wardrobe-focussed state-of-mind, offering quietly innovative riffs on piece you either already have in your wardrobe, or have seen plenty of out in the world at large. Opening with slim, single-breasted black wool suits and closing with light khaki gabardine car coats, this was a collection that celebrated "simplicity as a concept, as a choice," as Miuccia put it: "clothes that people could really wear, but with an impact."
Staples such as boxy gingham overcoats, blue denim separates, and striped crewneck pullovers – knitted in varying combinations of fine chocolate, scarlet, rose, lemon, cerulean, mint and lime yarns – lacked pretence, but the simplicity of their effect belied the complex series of choices it took to produce their desired impressions. They were clothes "that appear simple but are the result of a process, of choice," Miuccia continued, "there are hundreds of coats, why is this the right one? It is a combination of a long process of design and decision, and then of instinct," instincts that lead Miuccia and Raf to pursuing a logic of radical reduction, removing collars from jackets and poplin shirting, pulling the silhouette close to the body, and abbreviating lengths. These choices were all, as Miuccia said, "a matter of style.'
And indeed style – or rather styling – choices, were once the key means by which the ostensible normality of the pieces was cleverly skewed. In isolation, the instinctive associations you'd have of most of the garments would be pretty innocent, or even humdrum. Recontextualised and reimagined in new fabrications, however, they tapped into new nexuses of meaning. A vest and a pair of shorts with a double-front zip that might typically recall the hot-weather uniform of blue-collar worker, were rendered in black leather, thereby taking on a fetish-y timbre; pedestrian blue denim jackets and shorts styled with Cuban heels with flicked up toes suggested a queered vision of hearty Americana.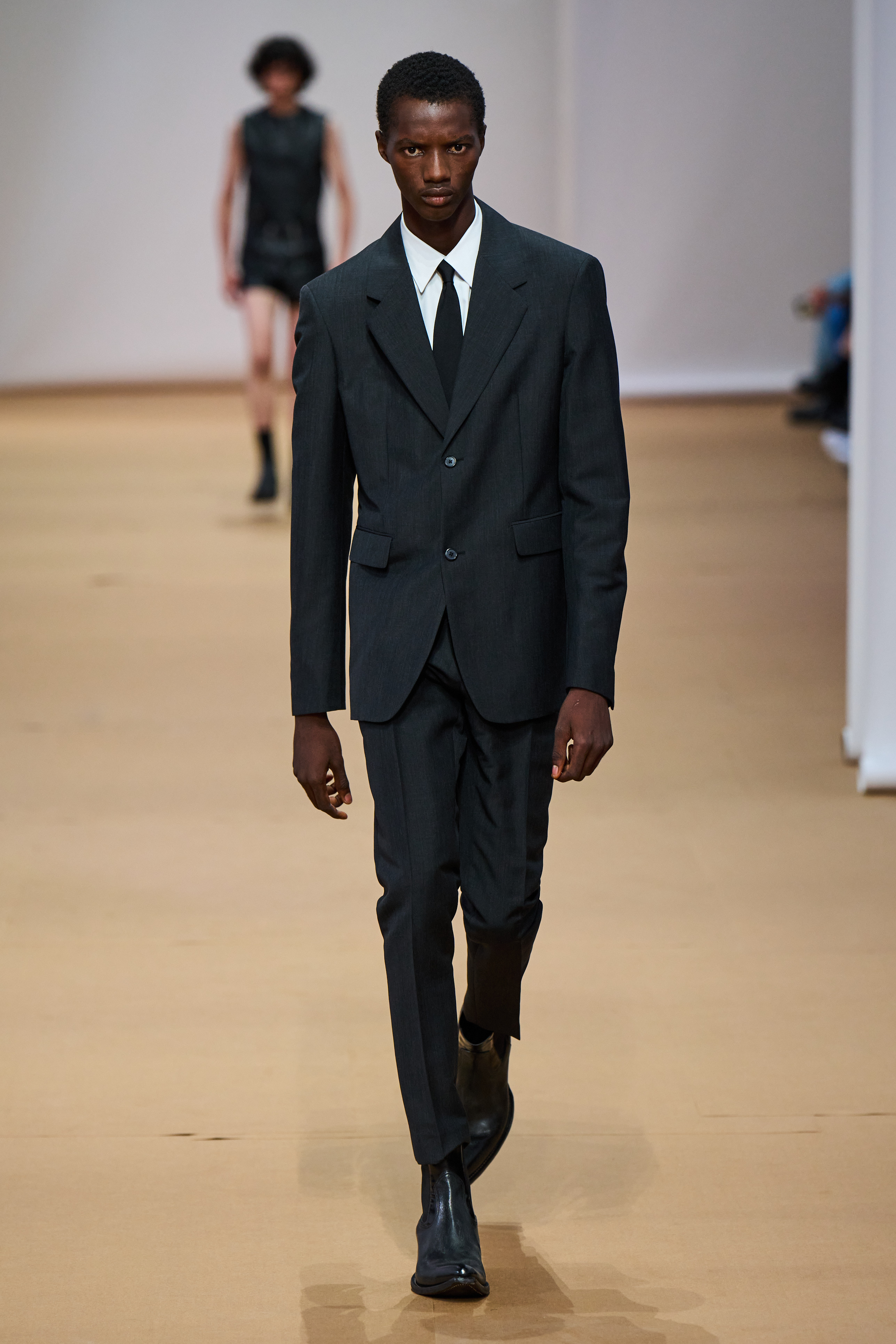 Elsewhere, though, it was less a matter of playing with the archetypes we pin to clothes, and more about scrambling the assumptions of how they should be worn. "Every garment is simple, direct, pure, but there is a complexity to their combinations and context," Raf explained. "The garments are classic, but their mix contradicts, making them exciting and new. There is leather against the body, then cotton on top - there's a kind of anti-logic to the combination of the clothes, an oddness" — that uniquely Prada quality that elevates a pristine leather jacket, a peak-lapelled double-breasted blazer or an expertly cut pair of jeans to become so much more than that.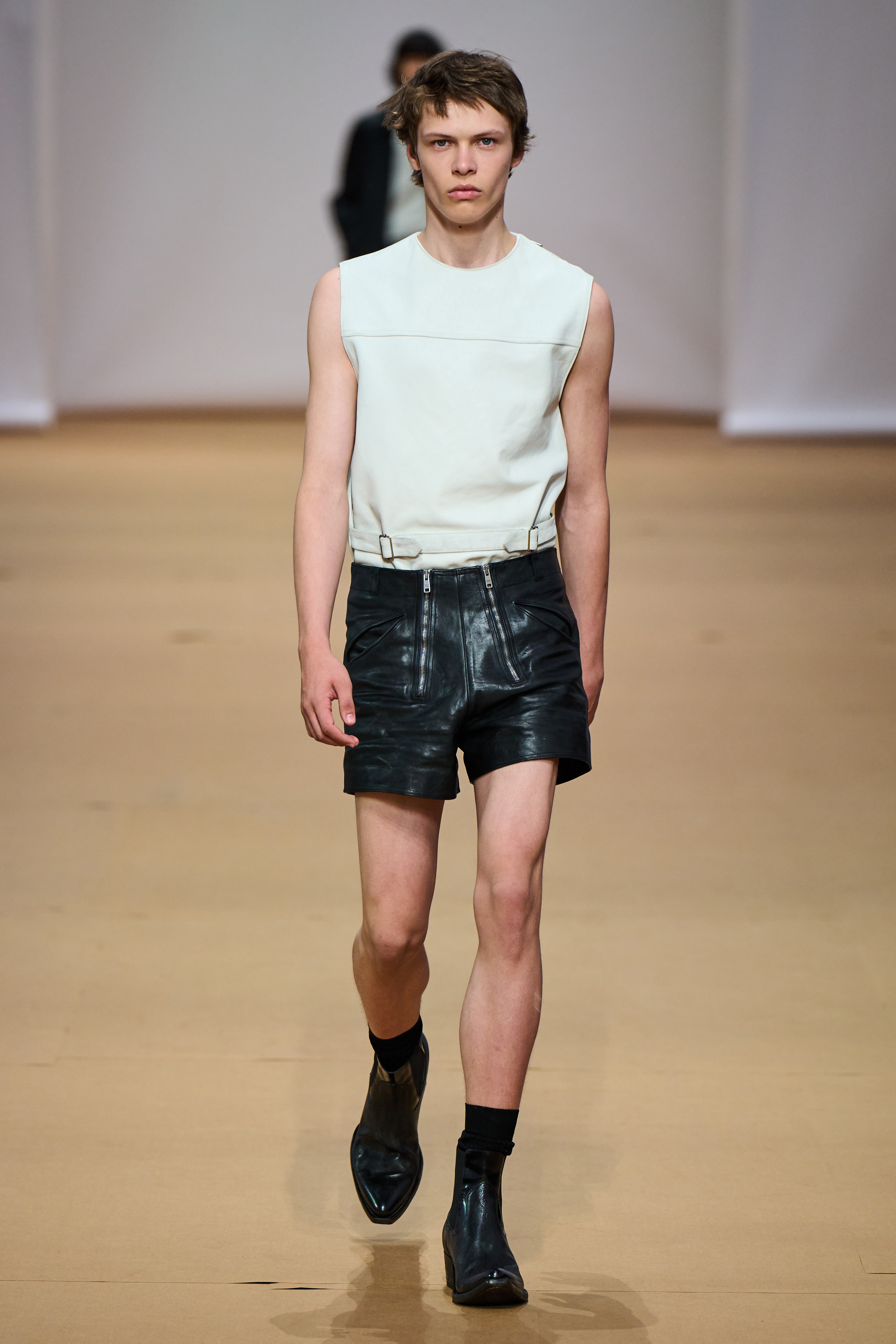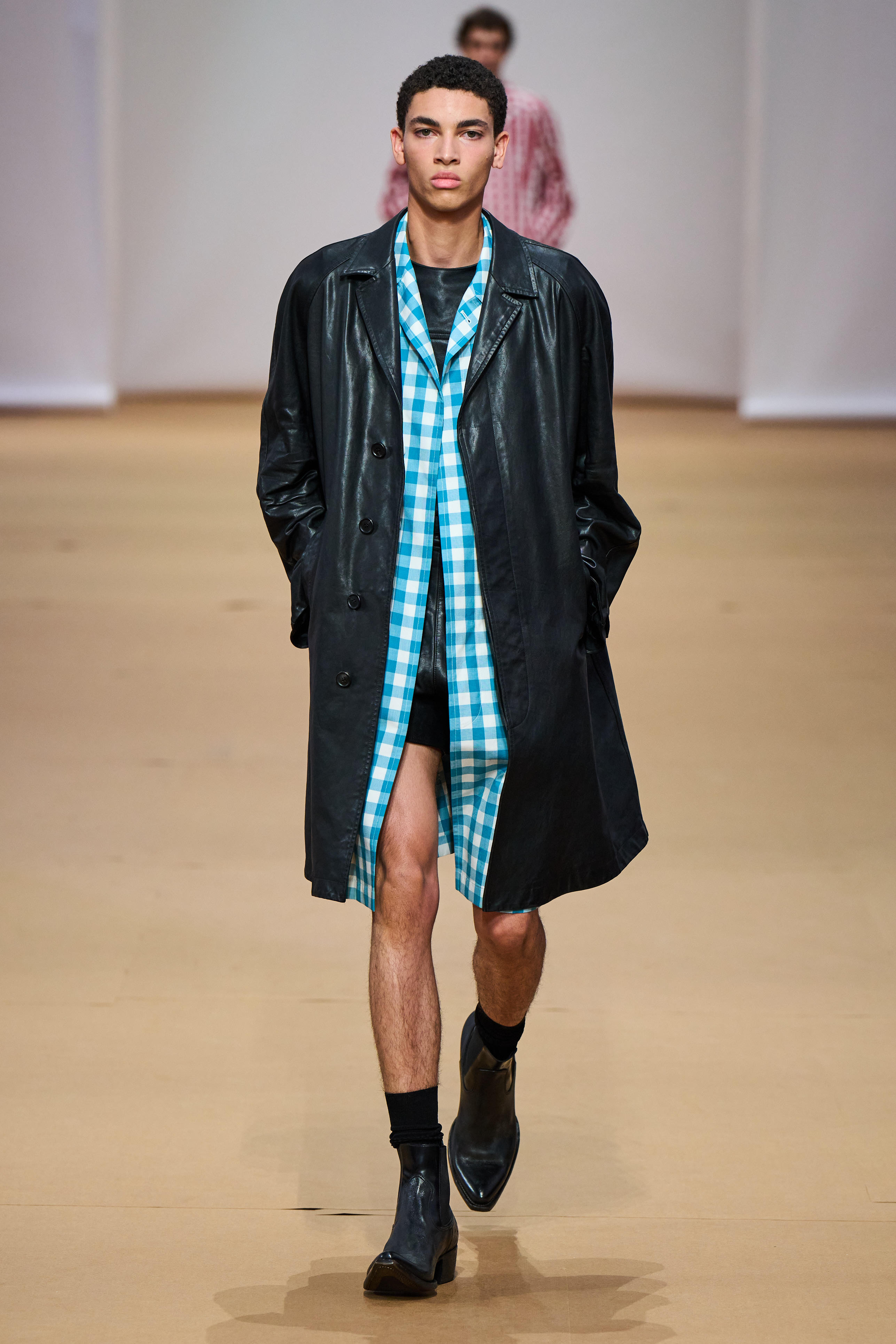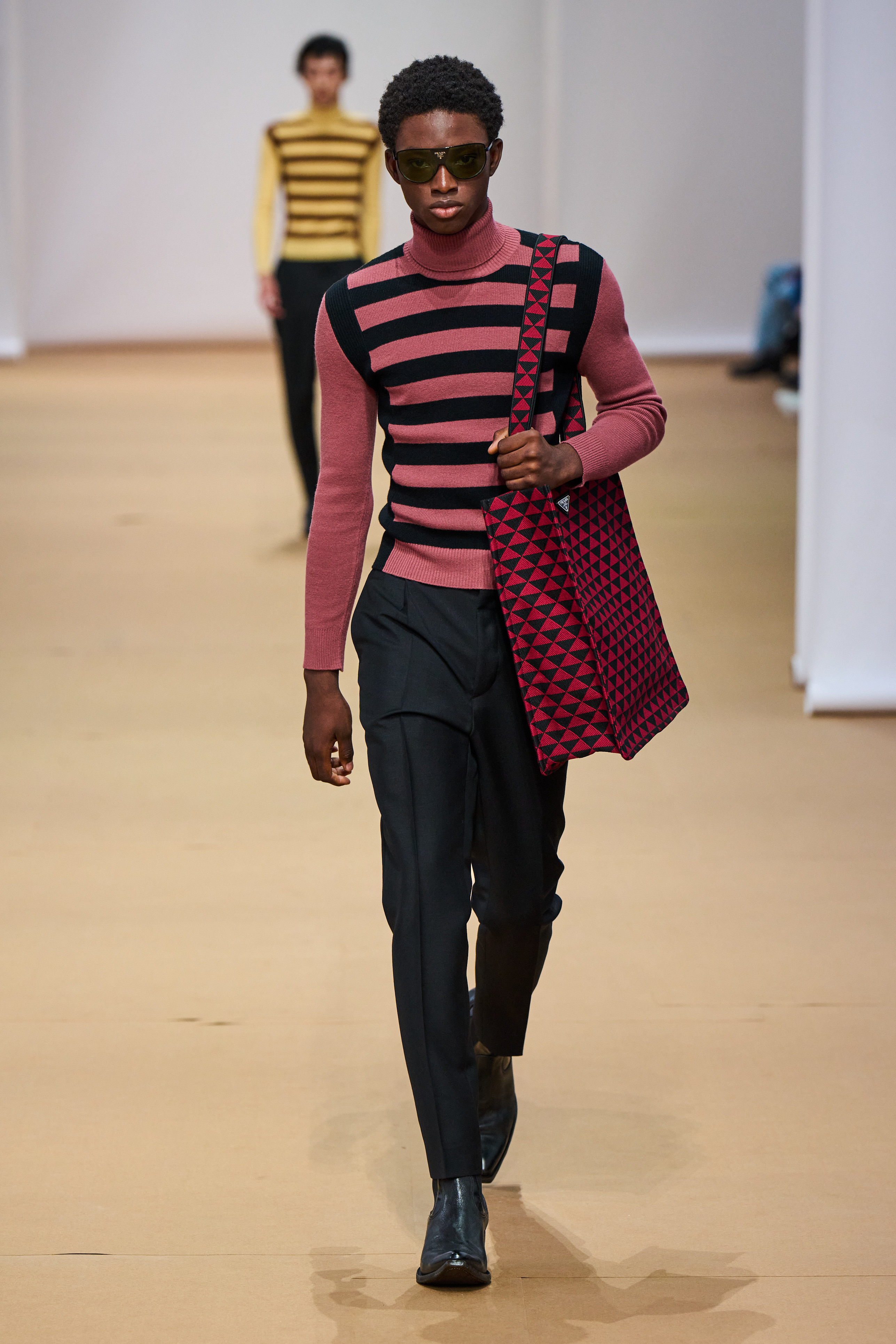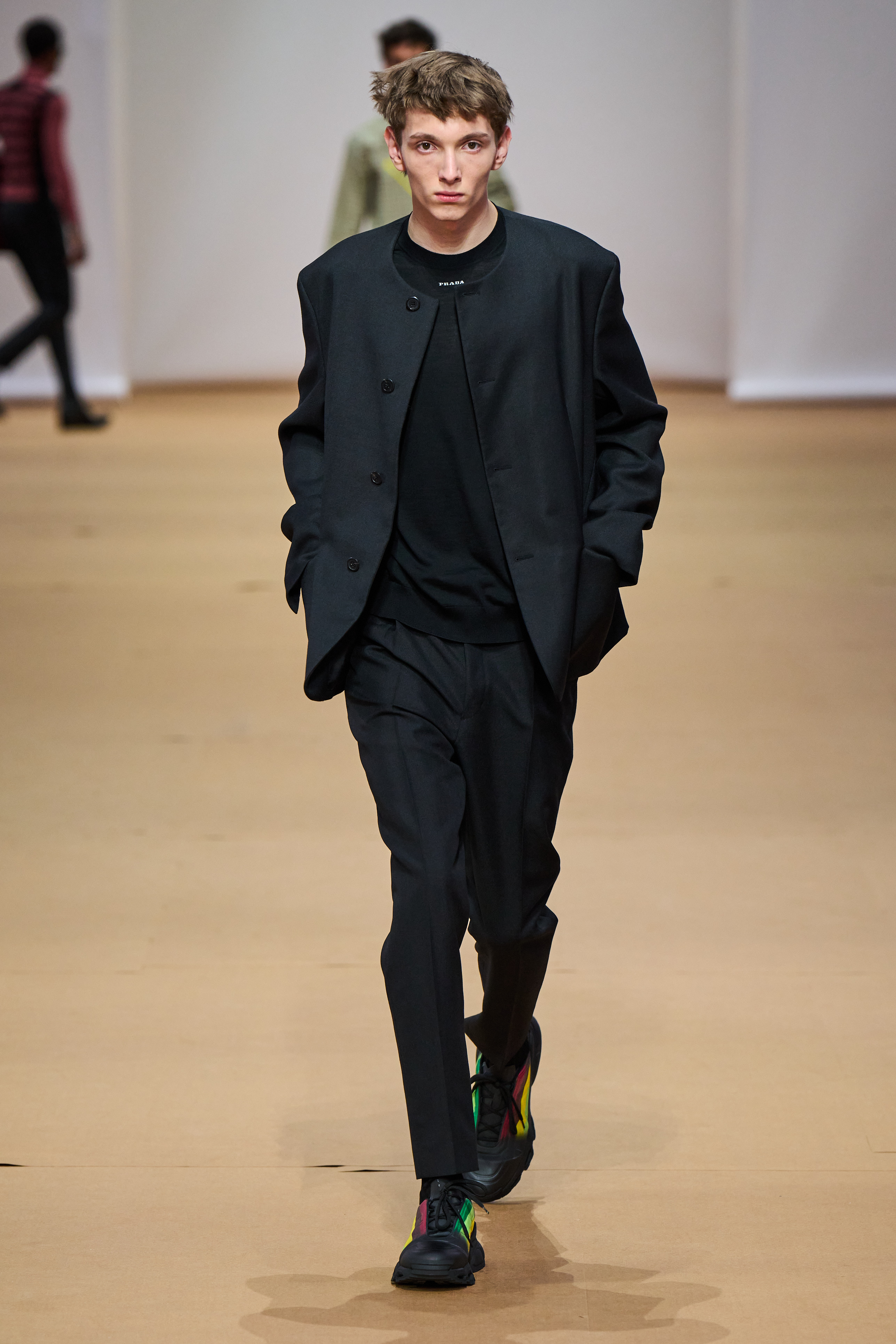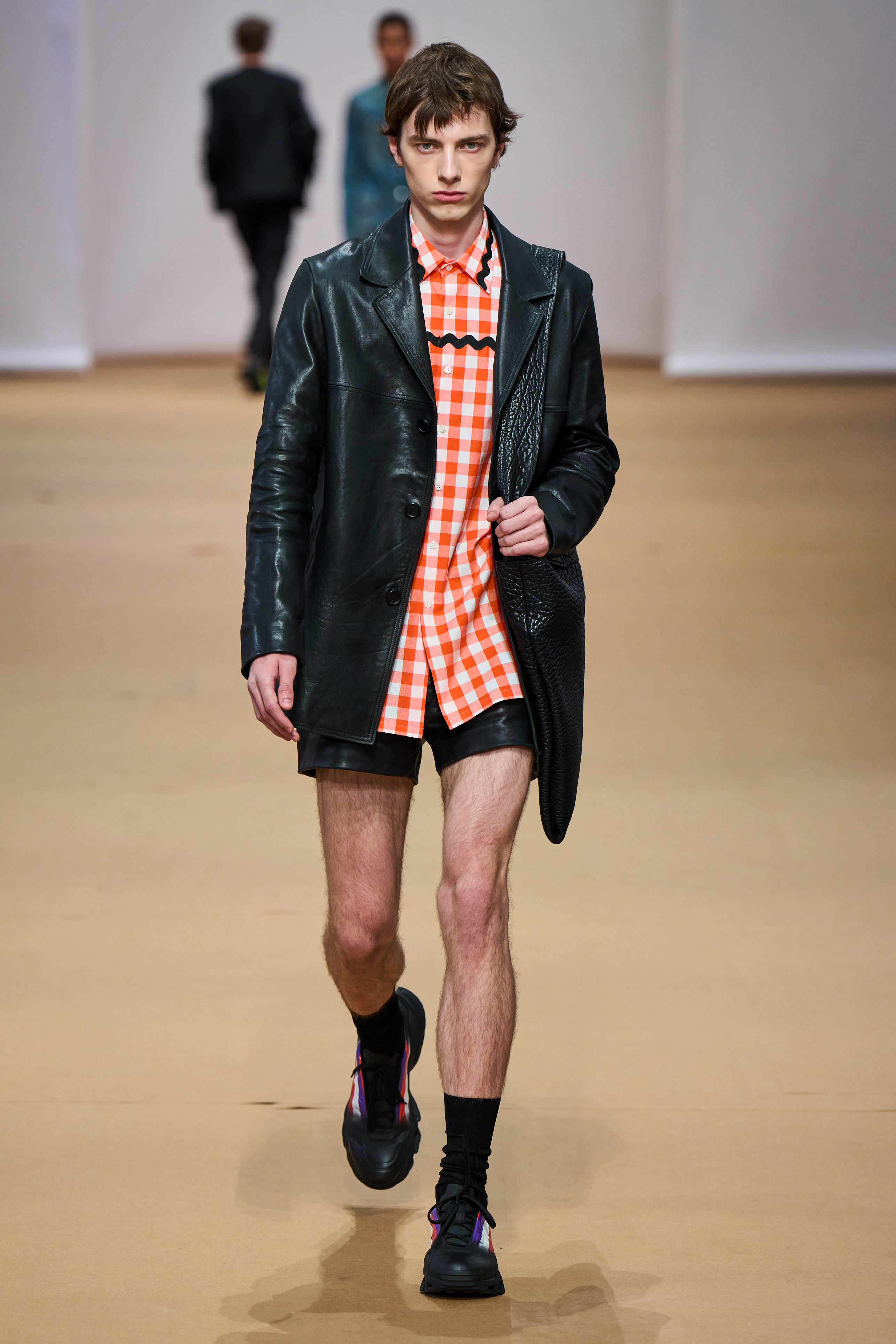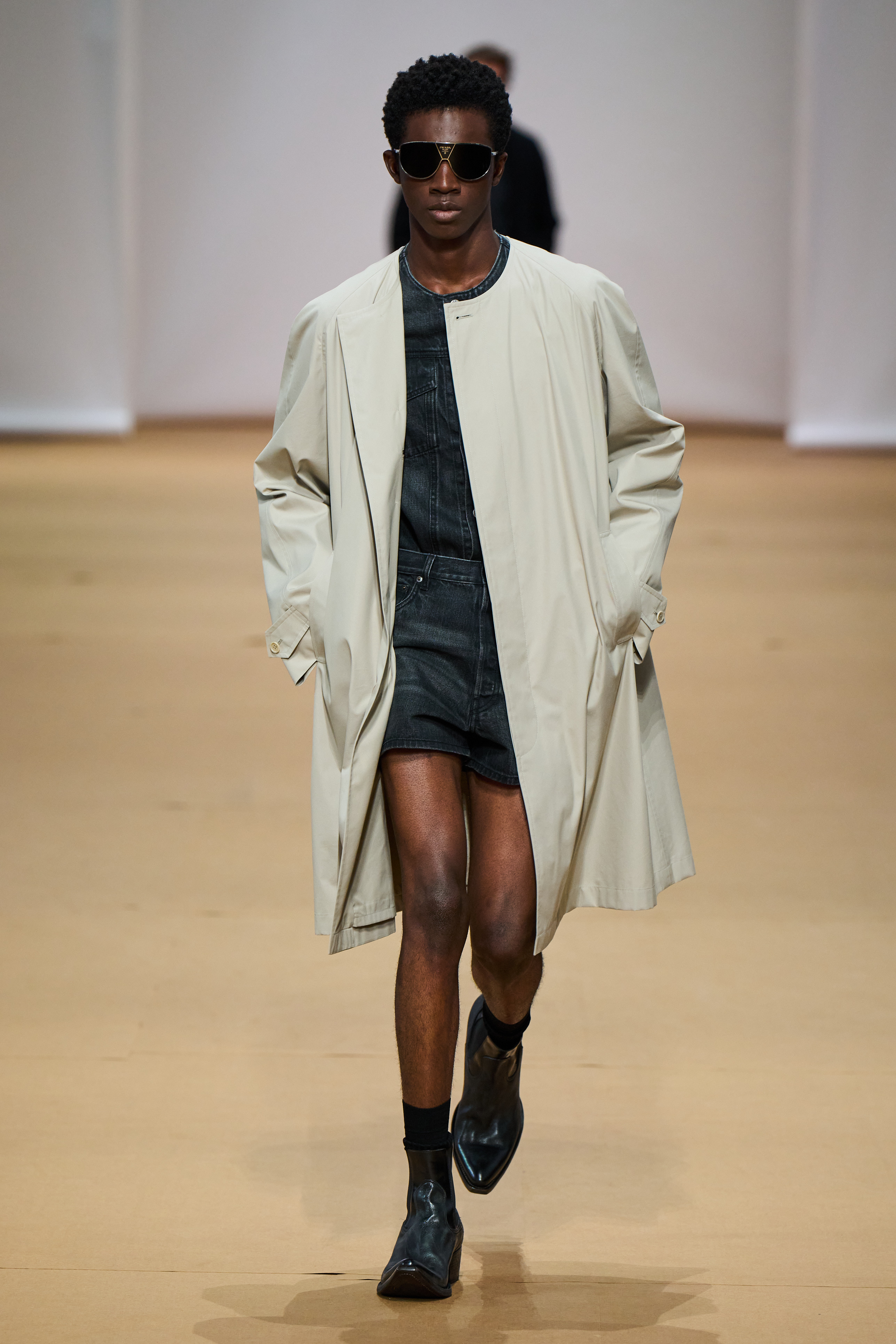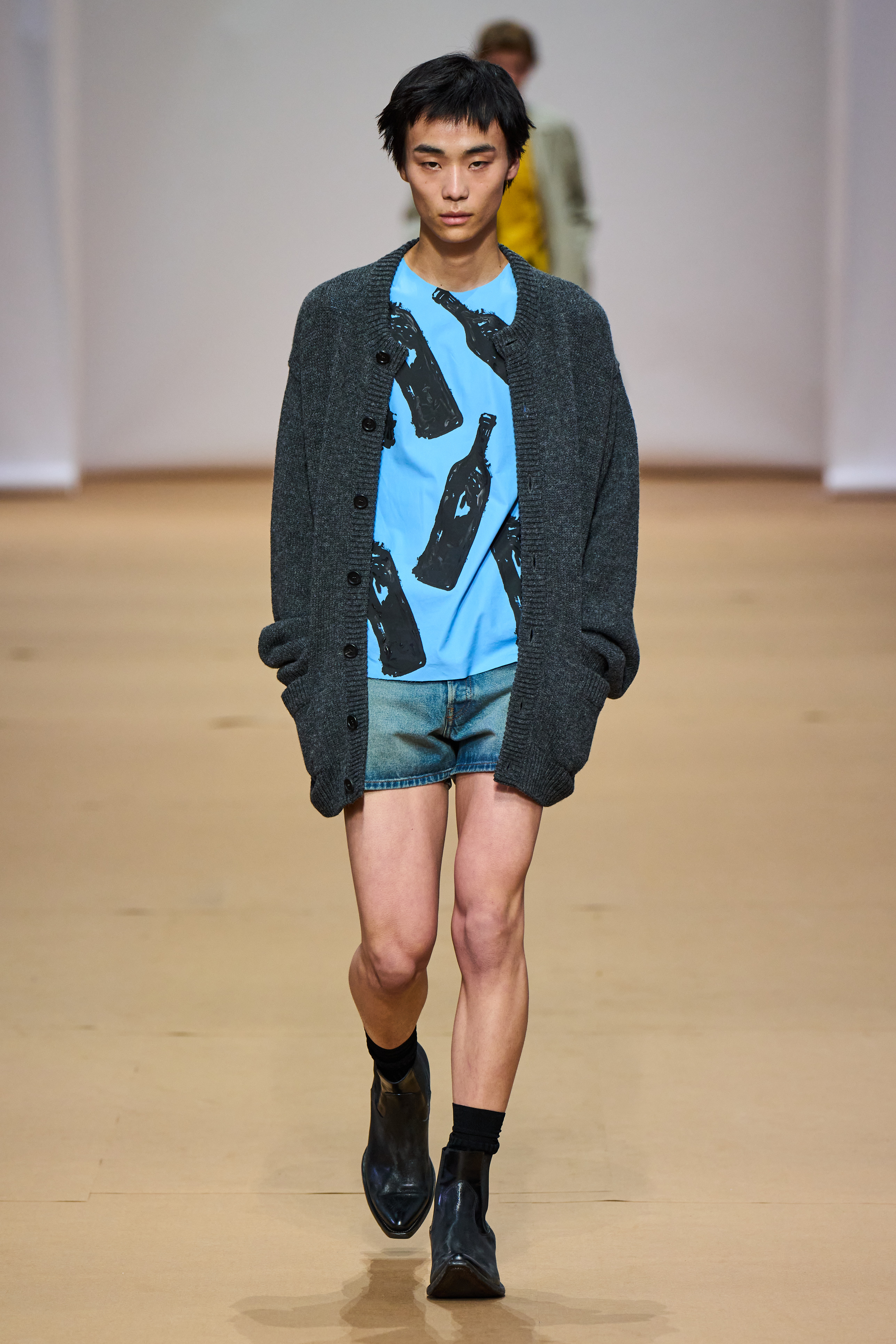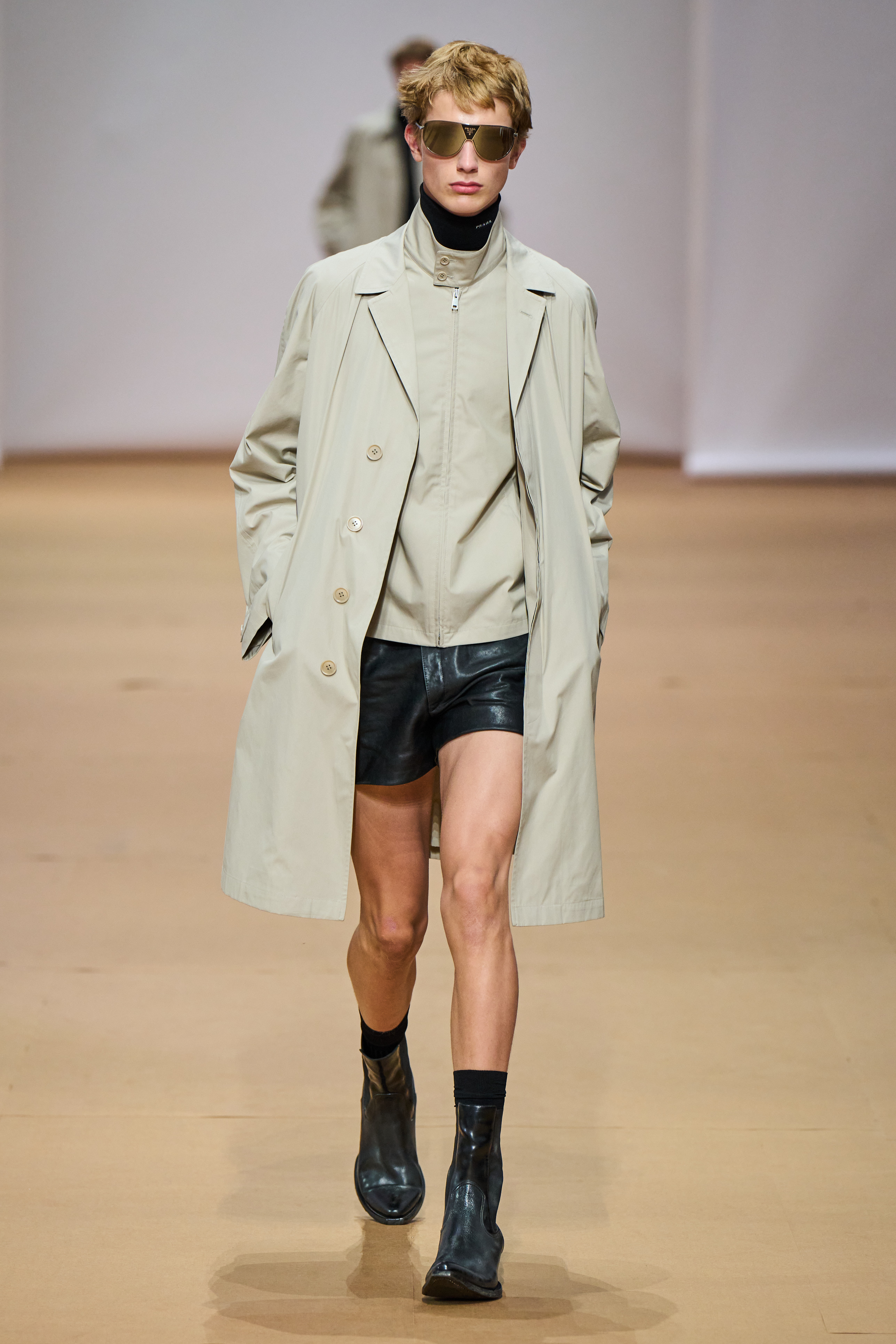 Follow i-D on Instagram and TikTok for more on SS23 Menswear.
Credits
---
All images courtesy of gorunway.com