This doc examines the murky story behind Victoria's Secret
'Victoria's Secret: Angels and Demons' will premiere on Hulu this month.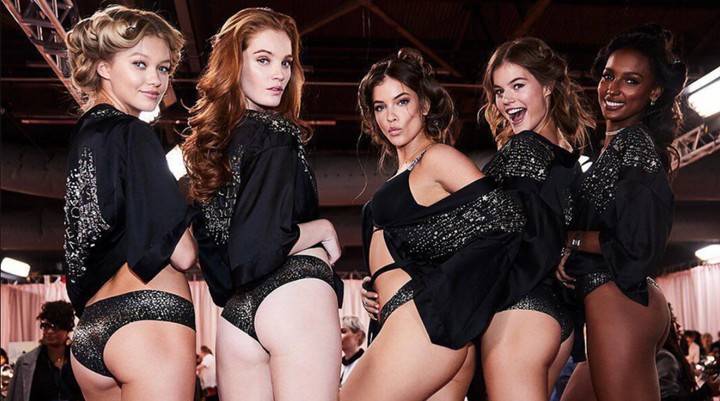 Image via Instagram
A new documentary, investigating the notoriously murky history of Victoria's Secret, will finally premiere on Hulu later this month, it's been announced. Victoria's Secret: Angels and Demons will chart the rise and fall of the lingerie company, which (despite still existing) halted its famous fashion show in December 2018 after 23 years. The show came to an end after concerns about the objectification of women and comments from the company's Chief of Marketing Ed Razek about the casting of plus-size and trans models. It coincided with the departure of CEO Leslie H. Wexner, whose former "close personal advisor" was convicted sex offender Jeffrey Epstein.

It's that "mysterious relationship" between enigmatic billionaire Wexner and Epstein that the documentary, from investigative journalist Matt Tyrnauer, explores in depth. "Truth is not what it seems," reads a Disney+ teaser for Victoria's Secret: Angels and Demons, "as the underworld of fashion, the billionaire class, and Jeffrey Epstein are revealed to all be inextricably intertwined with the fall of this legendary brand". The doc will drop on Hulu on 14 July.

Tyrnauer is no stranger to documentaries that delve deep into the history of fashion in America and beyond. Before his work on Victoria's Secret, the director released 2009's Valentino: The Last Emperor, and in his capacity as a writer (he was previously Editor-at-Large and Special Correspondent for Vanity Fair) he has contributed to books about everything from Bottega Veneta to shopping in California.

As well as investigating Wexner's ties to Epstein, the Hulu doc also explores corporate and shopping culture in America at large, as well as the forces behind the scenes that allowed Victoria's Secret to become such a giant in the US lingerie market, and how they struggled to retain that standing in the wake of the late 2010s cultural shift, as a "broken culture" infiltrated the company.

"It's a very complex story that's about not only fashion but the world of power and influence, and what I like to call the fashion industrial complex," the director said in an interview with WWD. "It's about the design era: the world of design and marketing, fast-fashion, but also the people behind it and the power and influence that they wield… Since a lot of my films are about power and influence in the way that certain people manipulate the various power structures, this became interesting to me."

The three-part series will also speak to former Angels such as 80s supermodel Frederique van der Wal, and unearth archival footage of some of fashion's biggest names as they appeared in marketing for Victoria's Secret over the years — including a baby Naomi Campbell! Don't miss it.