Photography Luna Kolberg. Image courtesy of Sophia Ford-Palmer
3 new fashion magazines and films to know
George Johnson, Yelena Grelet and Sophia Ford-Palmer are all graduates of Central Saint Martin's BA Fashion Journalism course in 2022.
Photography Luna Kolberg. Image courtesy of Sophia Ford-Palmer
Across the UK, final year students are completing their university degrees and getting ready to graduate. The BA Fashion Journalism course at Central Saint Martins is no exception, with its annual Final Major Project spawning a mix of newly-launched and innovative print and digital magazines, documentaries or podcasts, created by diverse students exploring eclectic subjects.
Identity and individual style are notable themes recurring within some of these fresh fashion platforms: George Johnson's INCROWD magazine, for example, celebrates flamboyant male style, sexiness and glamour, through carefully curated interviews, features and editorial, which collectively probe not only clothes and hair, but also the relationships between fashion, art and music. Yelena Grelet's documentary, What's Sape?, episode one of the Dig Deep series, converges new and rare archive footage – much of which was filmed in Paris - to investigate the history and ongoing relevance of La Sape: a seriously well-dressed social movement originating in Congo in the 1920s, which initially embodied the style and elegance of its colonial masters and has since become a global phenomenon. Meanwhile, Lash magazine, from Sophia Ford-Palmer, examines modern beauty and subcultures, through in-depth interviews with fashion industry leaders, and stories covering everything from glammed-up Liverpool style, to London teens swapping knife crime for nail art.
With alumni from BA Fashion Journalism at CSM currently working for some of the best and brightest titles and organisations in the business – yes, including i-D! – this year's talented crop of graduate writers and film makers will no doubt soon be joining their ranks.
Here, we catch up with Sophia, Yelena and George to find out more…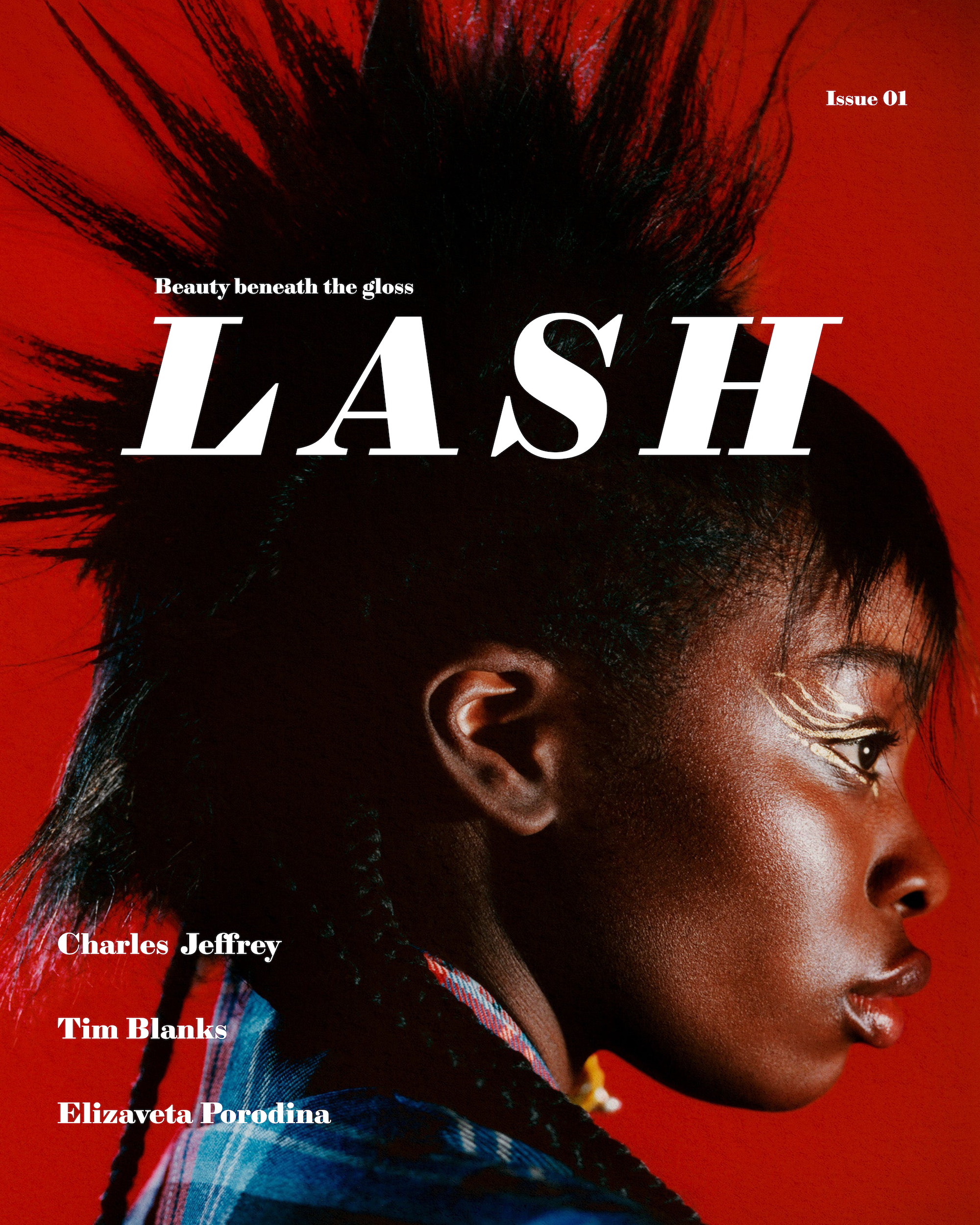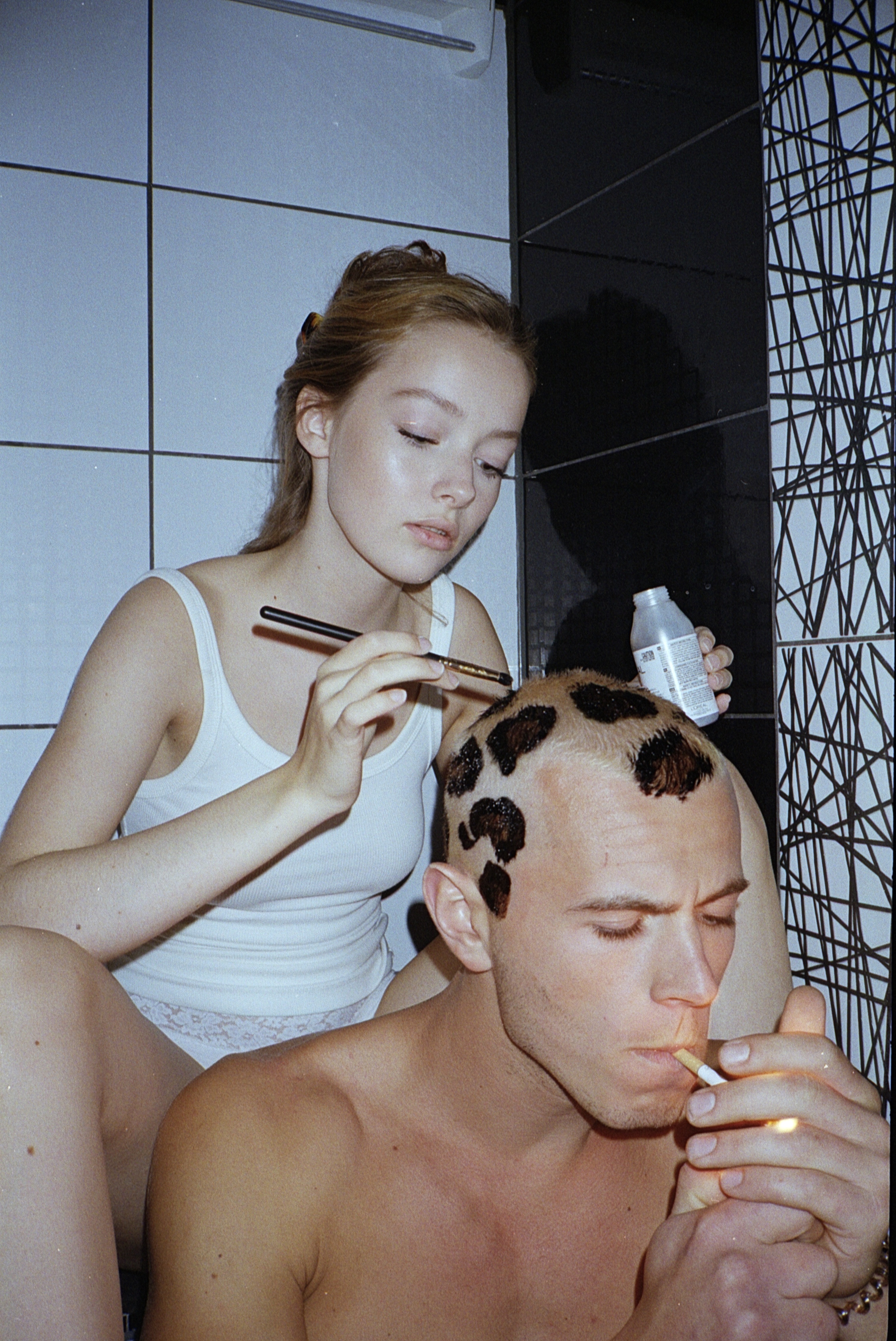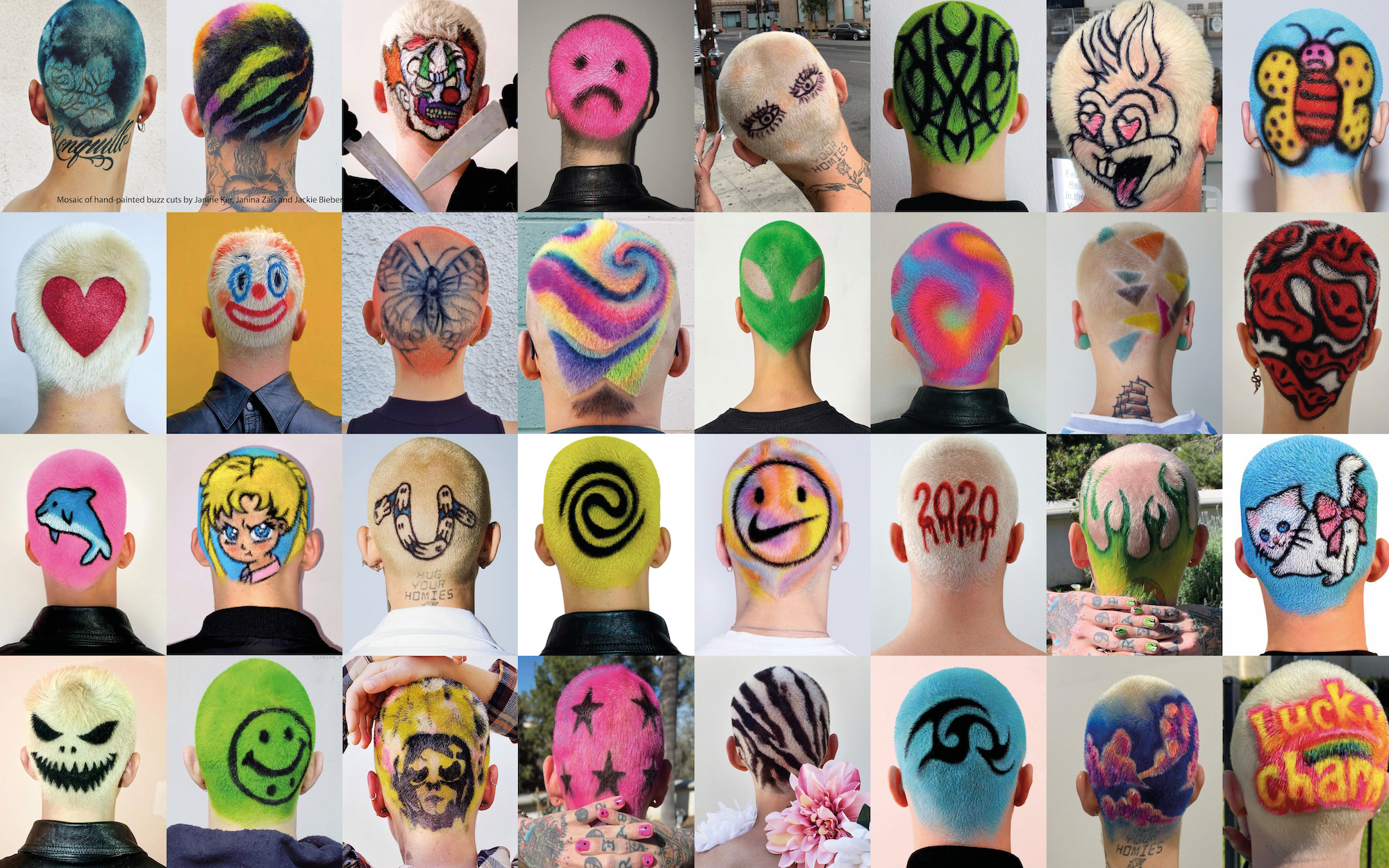 Sophia Ford-Palmer, Lash magazine
What is the concept behind Lash**?
**I wanted to probe beneath the glistening skin and bee-stung lips of modern beauty and uncover fresh, unpredictable stories. For example, I investigate the impact of gentrification on Brixton's black-owned salons. I also commissioned Hannah Karpel to write about In Our Hands, a charity supporting young girls to swap knife crime for nail art on the Dollis Valley Estate. Both stories bring a much-needed analytical lens to modern beauty. I wanted Lash to really radiate a sense of warmth through submerging myself into situations first-hand as a writer and reporting on features with a very vivid, classical style of journalism that drops the reader straight into the story. I designed Lash to exist as a clarion call to creativity and self-expression, using the make-up you already own.
**What did you learn from your interviews with high-profile industry figures, such as the designer Charles Jeffrey, the writer Tim Blanks and the photographer Derek Ridgers?
**It was an incredible privilege to speak to them. Tim Blanks said something that I felt encapsulated the transformative properties of beauty: "I think of fashion as being alchemy and I honestly believe hair and makeup is intrinsic to that alchemical process." As we accelerate into the era of fast fashion, we often forget there is a magic to how certain designers can spin a worn piece of fabric into sartorial gold that not only mirrors our current reality, but projects a vision of their own. Likewise, with Charles Jeffrey, it is a similar refrain of fashioning the most fabulous clothes from what you have, especially with his seminal DIY Loverboy club nights. Jeffrey comes from a working-class background akin to my own and I believe he is a fashion designer exemplifying that if you remain ambitious and work hard, you will succeed. As a legendary documenter of youth culture, Derek Ridgers again has been on fashion's frontline for more than three decades, capturing many of Britain's greatest beauty images. His photographs of powdered punks and inked skinheads are really a testament to defiant self-expression and originality that should inspire us all.
Who is defining a new type of beauty?
As Derek Ridgers mentioned to me, we are slowly progressing towards a fairer society where people can beautify themselves as they wish, irrespective of gender or age. To me, beauty-focused photographer Jackson Bowley – who is also featured in Lash – has really ripped up the rule book of beauty today. Scribbling paint onto his subjects, dousing their body in a deluge of glitter and decorating their faces in a strip of Lamborghini-shaped stickers discovered in the dark depths of Poundland, his beauty images are both playful and provocative. Yet they also prove that if you think creatively, beauty can be accessible to all. I also think makeup artist Isamaya Ffrench has dismantled the beauty-by-numbers approach of modern makeup. Offbeat, otherworldly and often unnerving, the spectacle of her work reveals the storytelling power of beauty in editorials and campaigns.
What would you advise for someone in urgent need of a contemporary beauty makeover? Definitely invest in a selection of wigs!
Yelena Grelet, What's Sape? documentary
Can you recall when you first ever become aware of La Sape?
As I was born and raised in France, where my area is very diverse, I had always been surrounded by La Sape when attending family friends' events. I was young and not aware of the movement at that time. After seeing a brief video about it on a French programme called Tendance XXI, in 2020, I realised their eccentric way of dressing and theatrical demeanour was what I had always been exposed to. This compelled me to dig deeper…
Why was it important to you to make this documentary? Although there have been a few documentaries covering La Sape in Congo and Belgium, there weren't any that covered Paris, where its community is also prevalent. Many of the documentaries tend to focus on the stark contrast between their socioeconomic background and the designer clothes they purchase, but forget that La Sape is more than a social movement and subculture - it's a lifestyle. I believe that it is also important to shine a light on the creativity and talent in Africa, and show that they exist beyond the social and political turmoil their country might be facing.
While filming, was there anything particularly surprising that you discovered about La Sape that you hadn't known previously? What made me admire La Sape even more was finding out how knowledgeable they are about fashion and its global influence. Their genuine passion and understanding of the industry indicated that it's not just about the clothes to them. They understand the social, environmental and political influence of collections and the personal connection one can have with clothing.
Who was your favourite interviewee? Although Monsieur Robby is of the 'new' generation of Sapeurs, he still embodies the beginning of the movement which was all about exquisite, subtle tailoring but he adds a creative spin with the addition of bold colours, and ditching moccasins for spiky Dr. Martens boots. His mentality of a Sapeur - being an elegant, African dandy - is not just down to the way you dress but also about your body language, and the way one presents himself.
**Which piece of archive footage, or which archive images, were you most excited to have discovered?
**I came across a screen grab on Instagram of an article about the club La Main Bleue, from Playboy magazine's December 1977 issue. It talked about this particular nightclub being a haven for marginalized people, especially the African and French Caribbean community, where the Sapeurs would transform into fabulous dandies- almost like Cinderella going to the ball and having to return before midnight. Although La Main Bleue did not stay afloat for more than a decade, it was highly influential with endless, riveting stories that not many people know about - so much so that a documentary about it is currently in the works.
How can i-D **readers be as stylish as La Sape? Got any tips?
**Don't be afraid to experiment with different prints, fabrics and bold colours. Style also trickles down to your attitude and demeanour - it's all in the walk!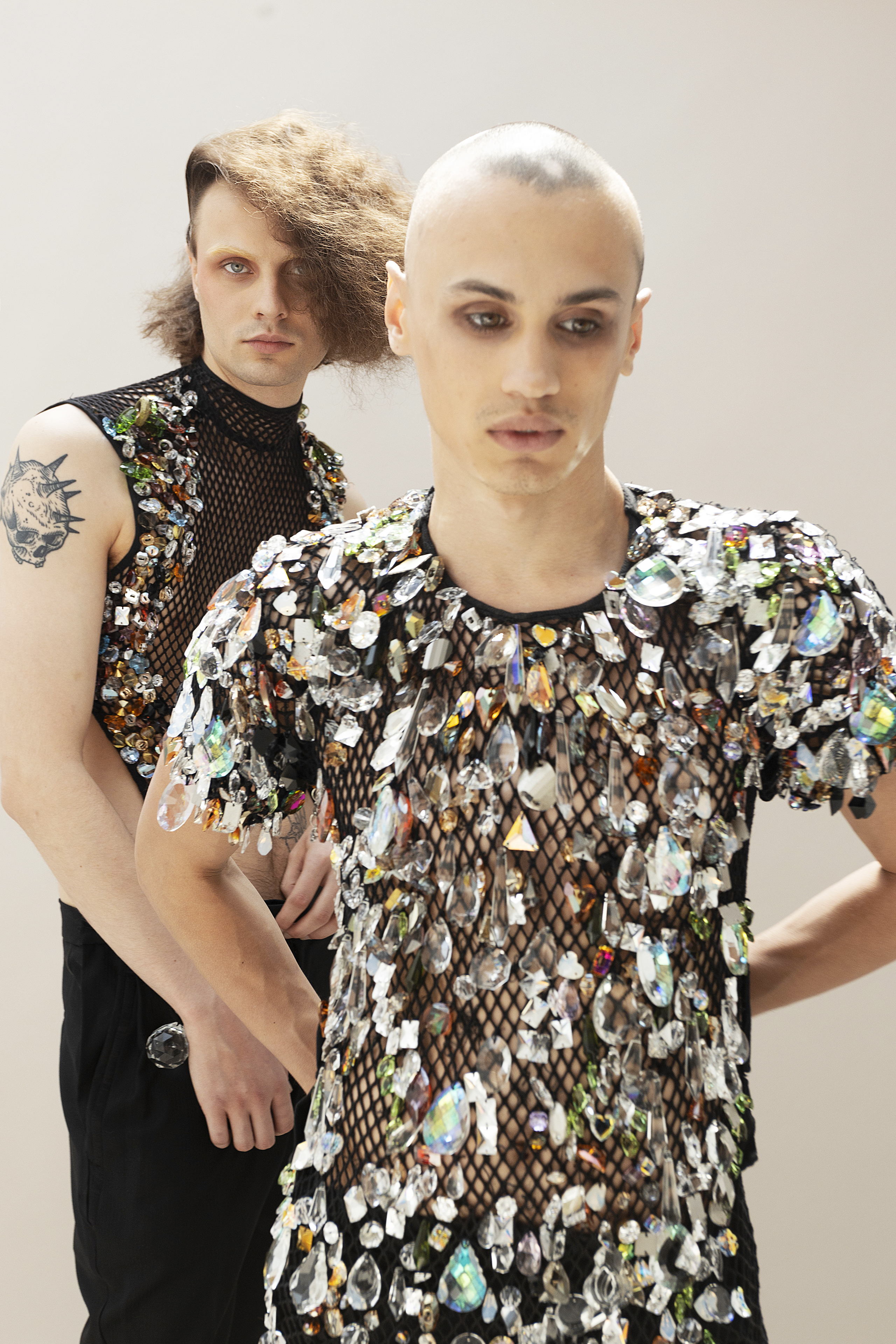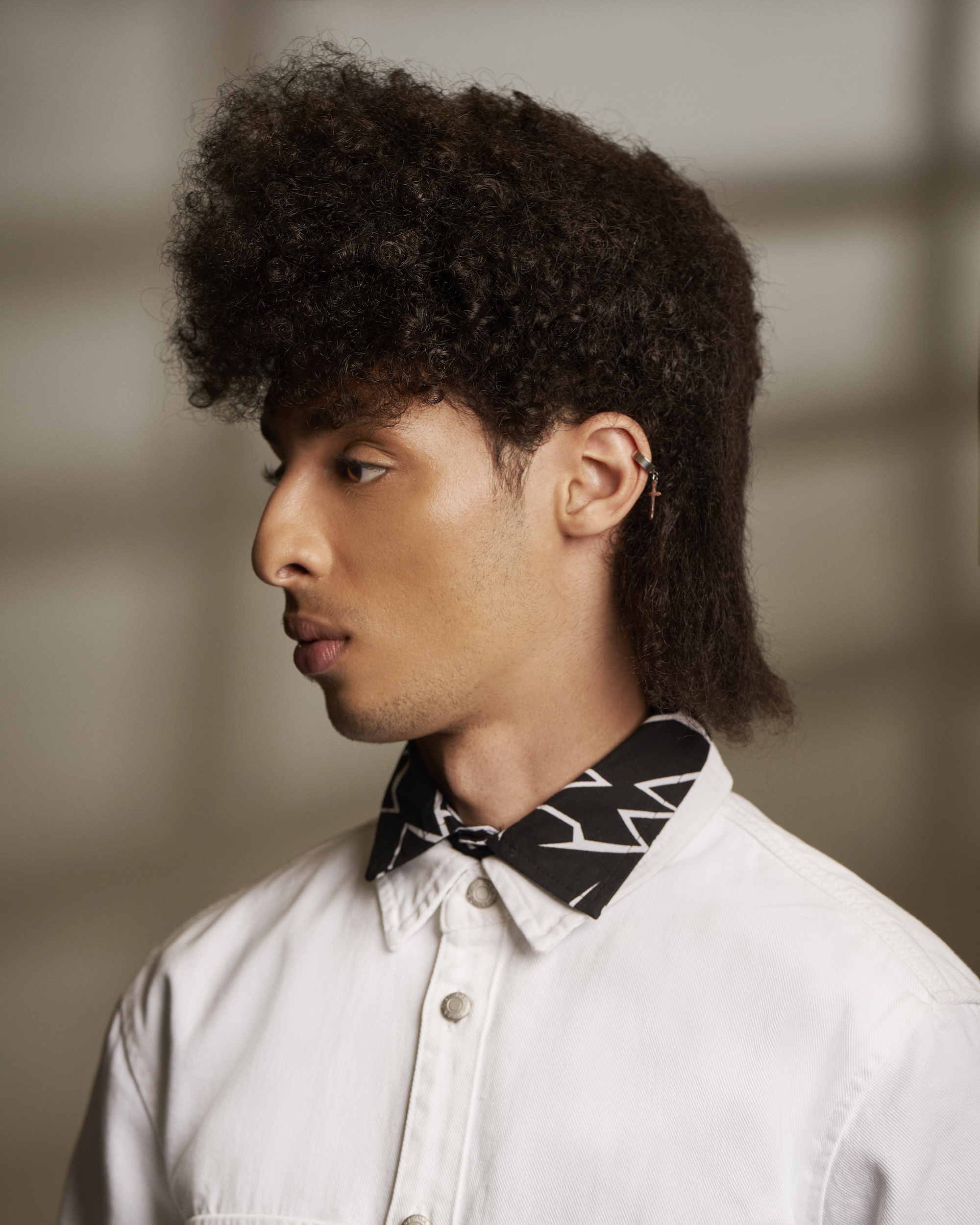 George Johnson, INCROWD magazine
What initially prompted you to create INCROWD?
For as long as I can remember I have been fascinated by image-making, fashioning the self and the ideal of making yourself look as extraordinary as possible by dressing up. That desire to be one of a kind has stayed with me ever since and INCROWD very much embodies this spirit of individuality. But it also has two very special ingredients added: glamour and sex! As a result, the magazine explores artifice, decadence, desire, the male form, vanity and glitz, themes which I felt were really missing from men's fashion magazines, those which are quite straight, bland and predictable in their outlook.
Which are your own favourite stories within the magazine?
My favourite story within Issue 01 of INCROWD without a doubt has to be 'Asking Price' in which I commemorate the fact that it's been 50 years since Roxy Music released their debut album and single. Roxy Music obviously had a phenomenal sound but they also had a brilliantly original, high-glam and alluring image to match, thanks to the fashion designer and image-maker Antony Price. He grew up in Keighley, the same town in West Yorkshire as me. As such, the feature revolves around an in-depth interview with Price in which we spoke about how he was a blueprint for the Roxy Music looks, how as a master tailor he transformed the male silhouette and made the lead singer Bryan Ferry into sex symbol and how as a fashion designer, he made men look at themselves differently. As Antony told me, "I understood how to make men irresistible and how to turn them into sex symbols." Speaking to Antony was just fantastic; he is a real character and is unapologetically outspoken but he is also one of those very rare people that just exudes talent and intelligence.
Which designers do you feel are currently offering men a truly modern sense of glamour? Within the magazine I feature Gregory Assad and Christoph Rumpf, two designers who are both exploring and redefining what glamour means, looks like and feels like today. I also wrote an in-depth profile on Edward Crutchley who is redefining what luxury means. There are more designers beyond INCROWD's pages though that are offering glamour. There's obviously Tom Ford who's known for it, but there's also Ernest W. Baker, Saint Laurent, Mithridate and Capasa Milano, all of which I'm a big fan of. But Pressiat is a lesser-known brand that I'm currently following too. From Paris, its designer – Vincent Garnier Pressiat – offers a dark, intimidating and excessive take on glamour that has a high dosage of sex appeal, too. I'd love to have them feature within the second issue.
**Who would your ideal cover star be for issue 2?
**I'd love to feature Lil Nas X in an ideal world. It would be fantastic to discuss his uncompromising and unapologetic approach to making music and looking stunning.
Follow i-D on Instagram and TikTok for more on up and coming talents.