Everything we know about the upcoming Madonna biopic
Julia Garner has reportedly beaten out Alexa Demie and Florence Pugh in a "gruelling" casting bootcamp for the movie.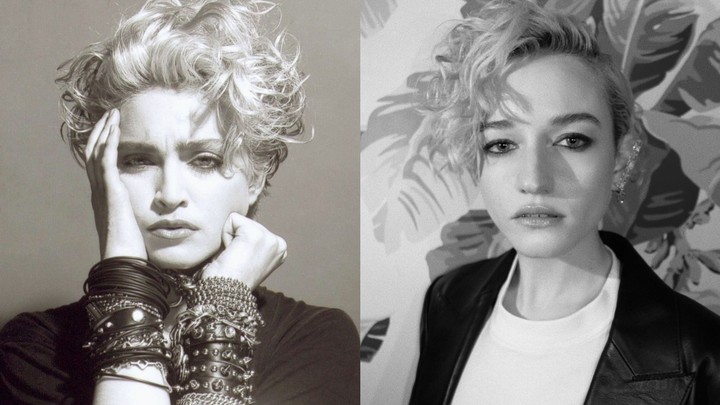 Of course, we're already excited for the mysterious upcoming Madonna biopic from Universal (and directed by the legendary pop artist herself). But what we really want is an eight-part series on the intense Hunger Games-esque bootcamp some of our fave actors, hoping to frizz up their hair and overload their neck with chains to play Madonna, have been taking part in for months.
While it is not confirmed, Variety has reported that Inventing Anna's Julia Garner has beaten out Don't Worry Darling's Florence Pugh, Euphoria queen Alexa Demie, indie sleaze icon Sky Ferreira, pop girlie Bebe Rexha along with up and coming actors Odessa Young and Emma Laird. Although she is the frontrunner, it is unclear exactly what stage the deal with Julia to take on the role is in.
But what did Julia have to do to get the highly coveted role? Was the boot camp like that deranged 00s West End reality show led by Andrew Lloyd Webber to find the next Maria, Nancy and Joseph? Did each of the Madonna hopefuls get given a colour-specific rhinestoned cone bra and when they're eliminated have to hand it back to Madge herself while they dejectedly sing "Don't Cry For Me Argentina"? Maybe it was more of a Rupaul's Drag Race situation, with the girls completing a set of challenges till one is crowned the winner (if so, we know for a fact Alexa killed the runway challenge).
Well, here's what we do know. According to The Hollywood Reporter, the casting process was led by Carmen Cuba who has previously worked on Stranger Things, The Idol and Nope, and reportedly involved "gruelling" choreo sessions that could last up to 11-hours-a-day with both Madonna and her personal choreographer. Apparently, Madonna also did readings with the girls and singing auditions too, with the whole process whittling down its list of hopefuls over the course of several months.
Julia has won two Emmys for her role as Ruth Langford in Ozark, and her work as fake heiress Anna Delvey proves she no doubt has the range to take on all of Madonna's changing eras through the years. As for her ability to sing, the only publicly-shared evidence of this we could find is this cursed video of her, Beanie Feldstein, Kaley Cuoco and John Stamos singing TV show theme tunes. She's not even really singing — more doing spoken word — but hey, she does the most haunting version of the Friends theme song we've ever heard. Besides, with Madonna, one of pop history's most exciting and iconic performers, the most important aspect is the attitude and the vibe.
So far little is known about the current plot of the movie, nor does it have a release date, but it is being produced by Amy Pascal (Little Women) and written by Erin Cressida Wilson (who was behind The Girl On The Train and the upcoming live action Snow White), and will reportedly culminate in what is considered one of the greatest world tour's of all time, The Blonde Ambition Tour. That means likely songs featured in the movie will be the singer's biggest hits of the 80s including "Holiday", "Express Yourself", "Like A Virgin" and "Like A Prayer", as well as the 1990 hit "Vogue". Unfortunately, for "Bitch, I'm Madonna" apologists, the more recent discography is less likely to feature.
"The reason I'm doing it is because a bunch of people have tried to write movies about me, but they're always men," Madonna told Jimmy Fallon in October 2021. With Universal behind it, the biopic is sure to have a big-theatrical release and potentially be an award-season magnet in the same way as Bohemian Rhapsody and Rocketman. Julia Garner EGOT winner incoming.