Burberry SS21 was a surreal, aquatic fairytale
In his latest collection for the British house, Riccardo Tisci explored the absurdity of our times
|
20 September 2020, 9:26am
via Burberry
Once upon a time in a locked down land far away (an enchanted forest just outside of the North Circular) a mermaid and a Great White shark fell in love. So the story began at Burberry's surreal fairy-tale audience-less fashion show, where the clothes were designed by Riccardo Tisci, and the dramatic mise-en-scène by artist Anne Imhof. The pair collaborated on the first fashion show to be live-streamed on gaming site Twitch; Bella Hadid, Steve Lacy, Rosalía and Erykah Badu introduced the show from the comfort of their own sofas. Two minutes later, it cut to Anok Yai getting dressed in a claustrophobic mirrored box (an analogy for months of lockdown perhaps?) before stepping out into the woods and being escorted by a mob of suited-and-shaded bodyguards -- like Little Red Riding Hood with a security detail. Where was she going? Who were those men? What do they need to protect her from? Eventually, more models emerged to form some kind of ritualistic circle in the forest -- Mariacarla Boscono, Joan Smalls et al. Eliza Douglas -- a Balenciaga model, in fact, who is also Anne's girlfriend -- was crooning live surrounded by those scary-looking bouncers. There were also white-clad dancers Martha Graham-ing in the centre, releasing billowing plumes of orange smoke, wrestling with each other one minute, sensually embracing the next. It was all very shamanic, very pagan. All very surreal. But what on earth did it all mean?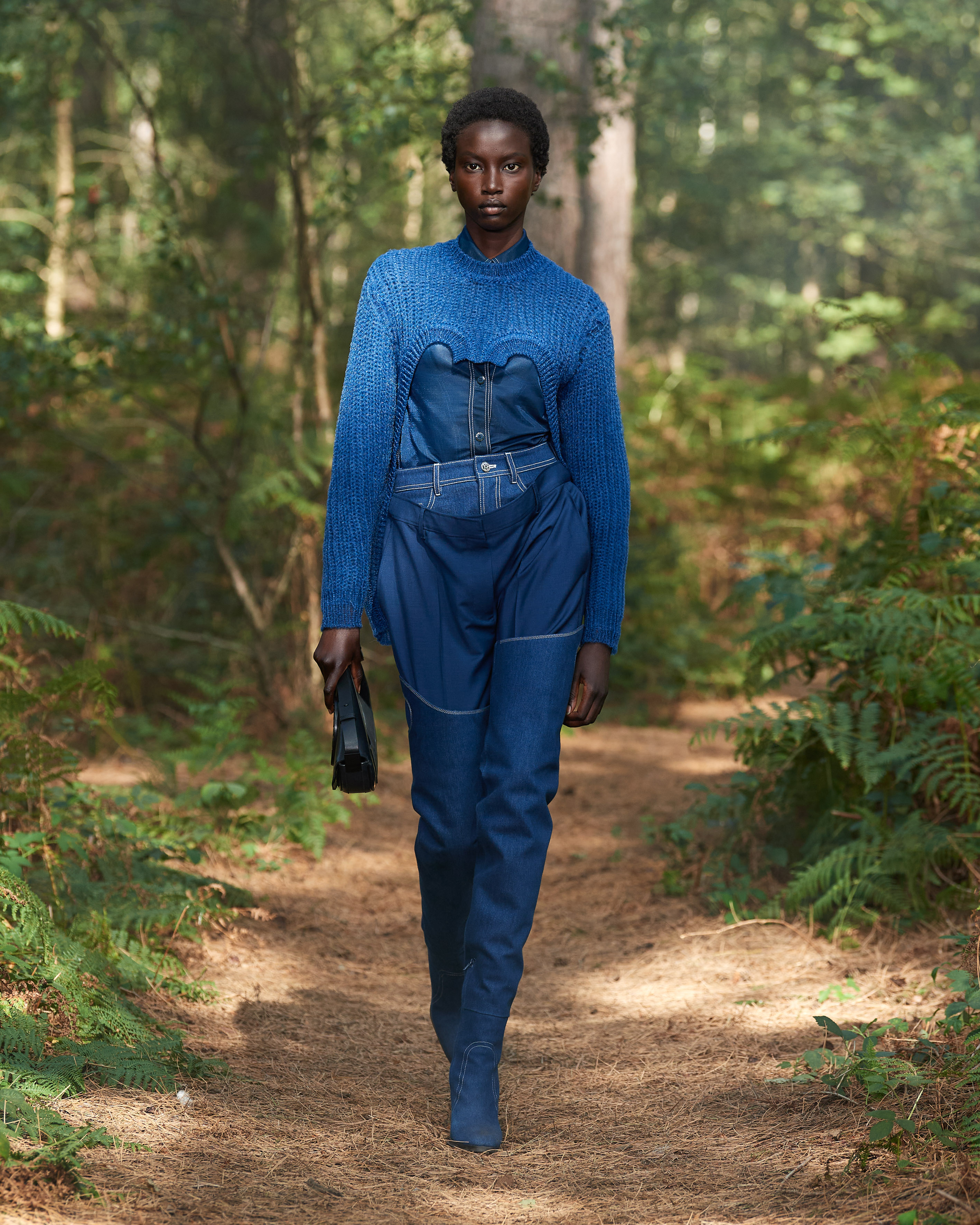 Riccardo explained that it began with him thinking about British summertime, even though he spent lockdown with his 92-year-old mother in Italy. The love affair between a shark (a leitmotif throughout his career -- remember those Givenchy sweatshirts?) and a mermaid became an analogy for the confusing absurdity of this year. Part Jaws (fear!), part Little Mermaid (romance!), and part fantasising about nature and the open expanse (or the maddening isolation, depending on your angle) of being out at sea. Water was a big theme -- arguably, British downpours are the reason Burberry's trench coats exist -- and there were motifs plucked from under the sea. Shark-fin prints, naive illustrations of mermaids and rococo sea shells, patches that read 'Swim with the Great Burberry At Your Own Risk', shimmering fish scale sequins, and crystal-strewn fishing nets worn as bodices over check shirts. In lieu of Burberry-trench beige, the key colours were deep-sea blue (obvs) and the high-vis orange of a fisherman's coat.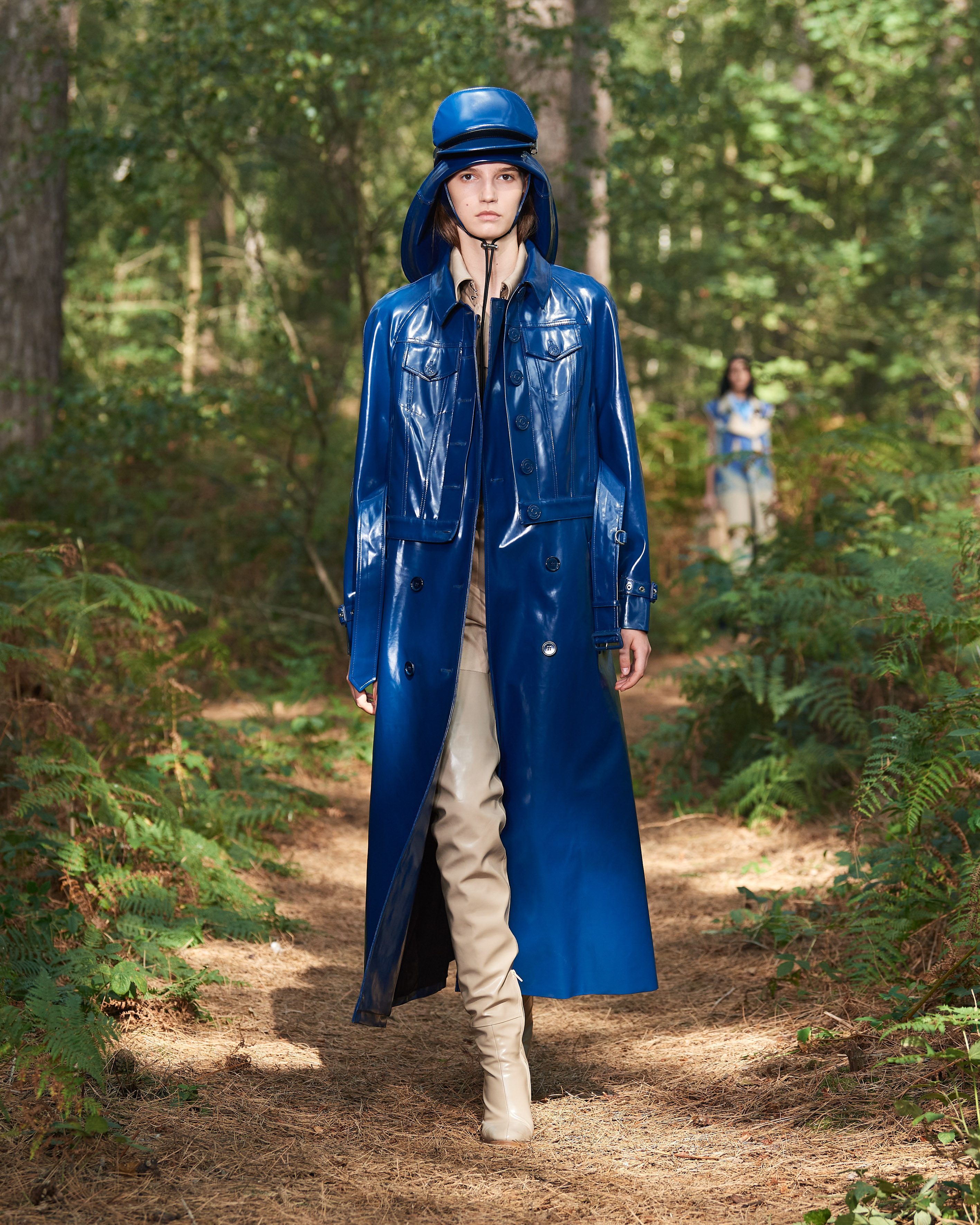 Look closer and there were also circles everywhere -- not just in the cut-out panels on leather trousers and oversized graphic tees (the kind he set the world alight with at Givenchy), but in the formation of the scaffolded set and the choreography of the dancers. "The circle is hugely symbolic -- regrowth, renewal, the circle of life," he added. "The collection is called 'In Bloom' because I was thinking about regeneration, about dynamic youth, about nature constantly recreating itself, always growing and evolving, always alive." Burberry is arguably London Fashion Week's biggest show, so there was a lot resting on them to offer a blueprint for what the foreseeable future of fashion shows will look like amid a resurging pandemic. At their best, fashion shows can feel like glittering, primeval ceremonies in a strange ecosystem -- arcane, shamanic celebrations stumbled upon by an intrepid explorer. Here was one that checked quite literally ticked that box. Nature is healing, so is fashion's power to transport us to fabulous pastures -- albeit from the comfort of our own homes.