How TikTok colonises trends started by Black creators
"You can't enjoy the fruit of something that is rooted in our lived experience without acknowledging where it came from."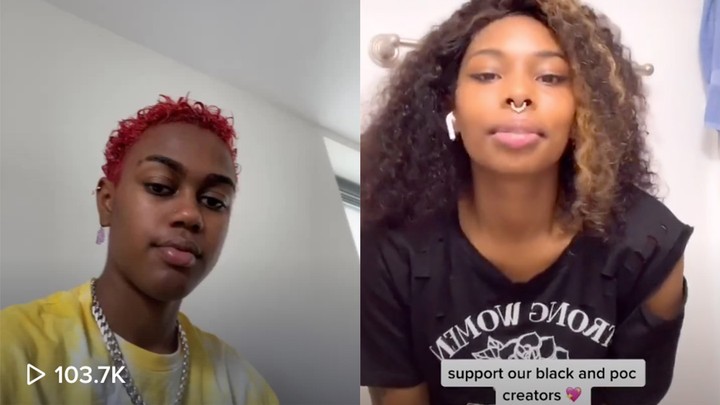 Without a doubt the biggest lockdown success story has been the reign of TikTok. Over quarantine the app exploded in popularity, and now boasts over one billion users around the world. But while many of us enjoy endlessly scrolling the FYP and enjoying its memes, trends and dance challenges without looking any deeper, Black creators are struggling on the app as their content is co-opted and colonised by white TikTok influencers, often without credit or recognition.
One recent video by white Tik Tok user @mistkifan42 draws attention to the issue. As he nonchalantly and satirically dances to the sound of Then Leave by BeatKing, the caption reads "Why are all the super popular creators white? When you ignore race, you ignore racial bias as well," it continues. In the video, he also mocks the way in which white creators have brushed off the issue. "White people aren't taking over this sound! It's just that all of the super popular creators are using it lmao, stop making everything about race for no reason," another caption says.
You only have to briefly scroll through the app to see that those getting the most views are predominantly white, often members of the hugely popular Hype House collective. And these white creators — popular enough to be signed by record labels or score their own reality show — are dominating the digital space. Notably Charli D'Amelio, who only recently left the Hype House, was criticised back in February for not crediting the creator of the Renegade dance, Jalaiah Harmon. After a swathe of Twitter backlash, Charli eventually retrospectively credited the creator.
Artificial intelligence researcher Marc Faddoul demonstrated that there may be a glitch in the Tik Tok algorithm that reinforces racial bias. His findings suggested that if the majority of popular TikTok creators are white, this can prevent Black and PoC creators with smaller followings from being recognised for their work and recommended as often on the platform. "This is not a scientific research methodology, just anecdotal evidence that kind of highlights a phenomenon that seems pretty clear and distinct and encourages further investigation," Faddoul said.
A whitewashing of Black-led internet culture is of course, not just specific to TikTok, or to the internet itself. You only have to look at the appropriation of AAVE words — "finna", "slay", "fleek" and "yas" to name a few — in meme culture to see that. Yousman delves into this in a 2003 study, explaining the phenomenon using the term Blackophilia — white people's fascination with Black culture and music. "One clear trend in the history of American popular culture is 'Black = cool'," he says. "It is far too easy for white youth to adopt the signifiers of Blackness when they do not have to deal with the consequences of Blackness." But with most of us stuck at home, the age-old issue is currently playing out on our FYPs.
As it becomes more prevalent, some users are trying to reclaim and rediversify the space. Ebony (@ebunnie__) created a video encouraging users to 'take over' the Then Leave soundbite with videos by Black creators. Using the infamous routine (originally created by @myaa_monaa, she dances to the song. "I got a proposition for y'all," the caption reads. "When you see a Black/PoC using this sound, signal boost the hell out of it. We need to reclaim our sound!!!".
"It really bothers me," Ebony says. "There are Black creators that are really out here spending all of their time and money trying to launch off on the app and you have the same group of 'straight TikTok-ers' that can post almost the same thing with no effort and get millions upon millions of likes."
"There have been a couple of times I've seen someone copy a video of mine almost word for word, but it was a smaller account," she adds. "It doesn't bother me that much, it just would be appreciated if I got some credit".
"I have no problem with [The Hype House] having such a big platform but if you take a look at any popular dance sound on TikTok, more than likely the top videos are by Charlie, Dixie, The Lopez Brothers, Bryce, Avani and their other friends. People say we gave them that platform and that fame, but what about Black creators? Who has as much hype as The Hype House?" Ebony continues.
Lily-Rose (@itslilyrose) another UK-based Black content creator says that she hasn't had content stolen but claims she has seen other users blatantly draw inspiration from her work and "claim it as their own". "It's frustrating but at the same time I'm not really fussed because I know that I did it better," she says.
Although this isn't a new concept or issue, it has amplified the conversation and reaffirmed that the system of cultural appropriation needs to be dismantled. Jess Mally, a London-based multidisciplinary creative who runs racial justice and antiracism workshops echoes this view. "Colonisation didn't stop when Europeans stopped taking the treasures that didn't belong to them. It's so entrenched in the mindset of white supremacy that it continues in the form of cultural appropriation on a daily basis," she tells me.
For artist Foushée (@kungfou) using TikTok has been a great lesson. Tapping into the app during the peak of quarantine, she was amazed at how supportive the Black community on TikTok were. "When protesting began, I saw how people were utilising it to share information," she tells me. "We see how privilege is allocated in society and it definitely aligns with how it's allocated on social media." She went on to experience her vocals being sampled on the Deep End track by Sleepy Hallow, which was later distributed throughout the app without credit.
As a young Black woman trying to progress in the music industry, Foushée's journey hasn't been easy and she tells me that her scenario was an "example of how [Black women] go unheard". It's clear that systemic change is needed, with Foushée explaining that artists need more protection, which would take "a big re-evaluation of how we share and post content".
She also suggests that "adding a site sourcing feature and being more proactive about making sure misinformation isn't being shared" would be a step in the right direction. TikTok has not commented on this particular issue, but they have recently announced a new $200million fund to pay US-based content creators for their videos. TikTok's GM Vanessa Pappas said the fund seeks to "encourage those who dream of using their voices and creativity to spark inspirational careers".
Jess Mally believes this issue of content plagiarism is "modern day colonisation" and that while the solution is not to tell white people to stop listening to or being inspired by music of Black origin, Black people must be paid for their work in the same way that a white person would be. "Those in power have to start paying their dues to those who keep the machines running," she says. "You can't enjoy the fruit of something that is rooted in our lived experience without acknowledging where it came from."
Tagged: