Let Silver Sphere transport you to a galaxy all her own
With the release of her latest video, 'Handle Me,' the 20-year-old artist solidifies herself as pop's next supernova.
Photo by Jess Farran.
Gen Z has garnered much justifiable hype. There's the gender fluidity. The social awareness. Their effective dismantling of the right. Then there's the unshakeable self-respect of Silver Sphere. Whether you're 14 or 40, the 20-year-old Chicagoan pens the anthems you need in daily rotation to remember and retain your dignity. She wants you to forget "boys in bands". She claims losing her only "sucks 4 you". And she hopes you're already well aware that "boys r dumb! duh!"
These concepts are as mutually familiar and foreign as Silver Sphere herself. Eclipsing her landlocked origins as Sophie Cate — an eight-year-old strumming Taylor Swift songs and performing in school musicals, balancing her studies with YouTube covers and uploading rudimentary pop compositions to SoundCloud — to become the ethereal Silver Sphere full-time. Now, New York-based and weeks from releasing her debut EP, all my boyfriends, Silver Sphere is rocketing toward astronomical success. On the project, she waxes and wanes lyrical about her worth, punctuating melodic philosophies with irreverent, fourth-wall-breaking whines about her weakness for time-wasters.
"[I wanted] the EP to detail the many stages of love," she explains. "It's specifically about one of my first encounters with the intensity and variety of emotions that love can bring. But the story is told through Silver Sphere's first trip to Earth, where she encounters things she's never seen or felt before. After all, there are no fuck boys in The Silversphere."
Derived from and designed for digital dwellers, Silver Sphere's output unravels the social dynamism of a generation that have known anything other than endless interconnectivity. The singer's own uncomplicated purity makes for music that defies galactic roots: empowering both the broken-hearted and heartbreakers with universal truths. Sophie Cate doesn't need to be your pop princess — because Silver Sphere is already ruling your cosmic consciousness — and that certainly warrants some hype.
How does 'Silver Sphere' differ from Sophie Cate? Where does she come from?
Silver Sphere rules her world. She comes from a planet where everything is beautiful and boys don't break hearts. So she is able to look at things from a self-assured, yet vulnerable perspective. Sophie Cate is a bit more stubborn and clueless at times.
What was the process behind developing your style, sonically?
I would describe my music as pop from another planet. It's pop music with hints of otherworldly and sometimes jarring sounds. I never really tried to develop a specific sound. I think because I like so many different genres and pull inspo from so many different places, my music just became an amalgamation of that.
When did it occur to you that this could be a viable career? Was there a moment when you noticed the music gaining traction?
I remember when "boys in bands" came out how excited and surprised I was by the amount of people posting it and supporting it. That was my first time getting on a Spotify playlist and seeing the streams go up so quick was super wild. And at that point I had so much unreleased music, I was so excited to share it with the people who had discovered me. I feel like even this early on in my career I've had 'made it' moments. On tour with Omar Apollo, I felt that every night.
[I would love to sell out] any of the venues I went to as a teenager. That would be a mind-boggling full-circle moment for me. Live shows and my favorite artists very literally saved my life growing up, so getting to play at any of those places would mean a lot to me.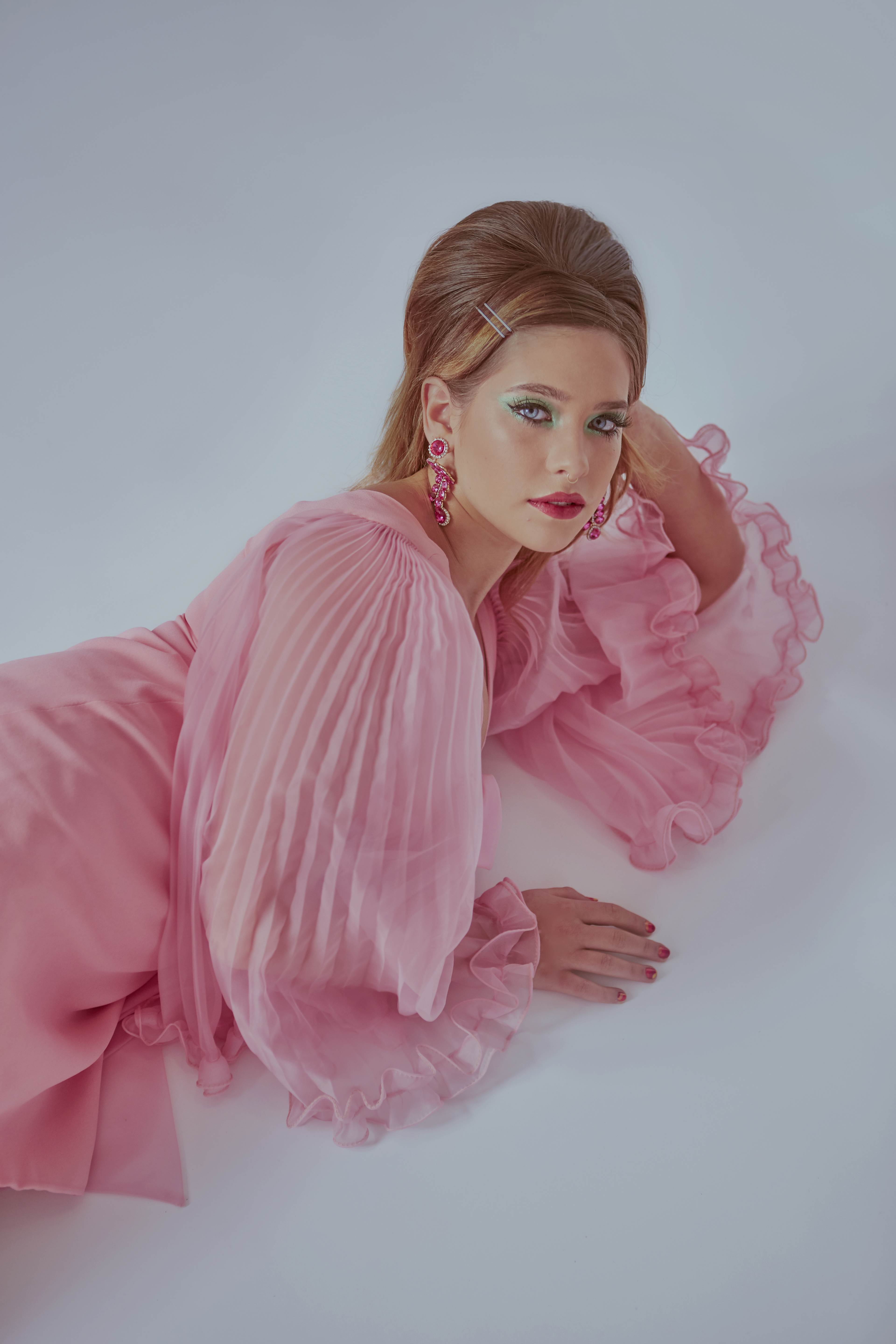 You're still new to the music business, but is there anything about it you would like to see change?
If I'm honest, a lot has to change. Women need to get credit for their work, men need to listen to our ideas and trust our visions, and there needs to be more representation and opportunity for LGBTQ+ artists. They're out there! They just need to be given the resources. Oh and no more boys in bands, of course!
I know you love Taylor Swift — why do you look to her as an industry leader?
Taylor changed the game. Not only is she one of the best writers of our generation, but she led the way for other women and girls to be allowed to be vulnerable in their music, confident in their music, and took so much shit from people along the way. She's an inspiration in music and in life. There are so many people I look up to in the industry, basically any woman doing her thing and doing it her way.
You've been branded as the ultimate modern pop star in the making, what does that title mean to you?
Wow. It means so much to me. When I hear stuff like that I just want to give my 10-year-old self a hug and say, "You did it!!!" I've always loved pop. But I think in recent years, people who would have written pop off as "vapid" or "easy" have changed their minds and started respecting it and even making it! There's so many ways to take on a pop sound now, and it's so exciting to see and hear what different people can do with it.