Photography Andrew Price.
Open your purse for Brooklyn's Black Lives Matter Sidewalk Sale
The bi-weekly event, started by Aaron Wiggs and friends, has seen all your favorites from Chloë Sevigny to Paloma Elsesser come together for the cause.
Photography Andrew Price.
"We had this feeling like it's time to step up and do something. It was when the world really started to burn down and after the exposure of George Floyd," explains Aaron Wiggs, who, alongside a handful of friends including Perry Goodman, Sachiko Clyde and Andrew Price, started the now hugely popular Black Lives Matter Sidewalk Sale in Greenpoint's McGolrick Park. "All of us that birthed the idea were active in protesting. And you kind of need a break from that atmosphere — marching and handing out supplies, it gets exhausting. We were trying to think of what else we could provide." Since its first iteration back in June, the bi-weekly sale has raised nearly $150,000 for an array of charitable causes. "None of us expected it to be like this. It was shocking how many people were showing up and just offering to help," Wiggs continues.
The list of those willing to donate items is impressive and the sale's community continues to grow: actress Chloë Sevigny, model Camilla Deterre, costume designer Miyako Bellizzi and stylist Hailey Wollens have brought clothing from their closets; artist Tony Tafuro sold handmade tie-dye shirts, hairstylist Dylan Chavles has given out haircuts, photographer Brianna Capozzi made ceramics and Bronze56K and Quartersnacks offered skate goods. "After months of being in solitude in NYC, the sense of family that's felt with these sidewalk sales has been really beautiful," Bellizzi says. "It's so reassuring, knowing that everyone has each other's back and we can make a difference financially and within our communities — it's amazing to remember that," Deterre adds.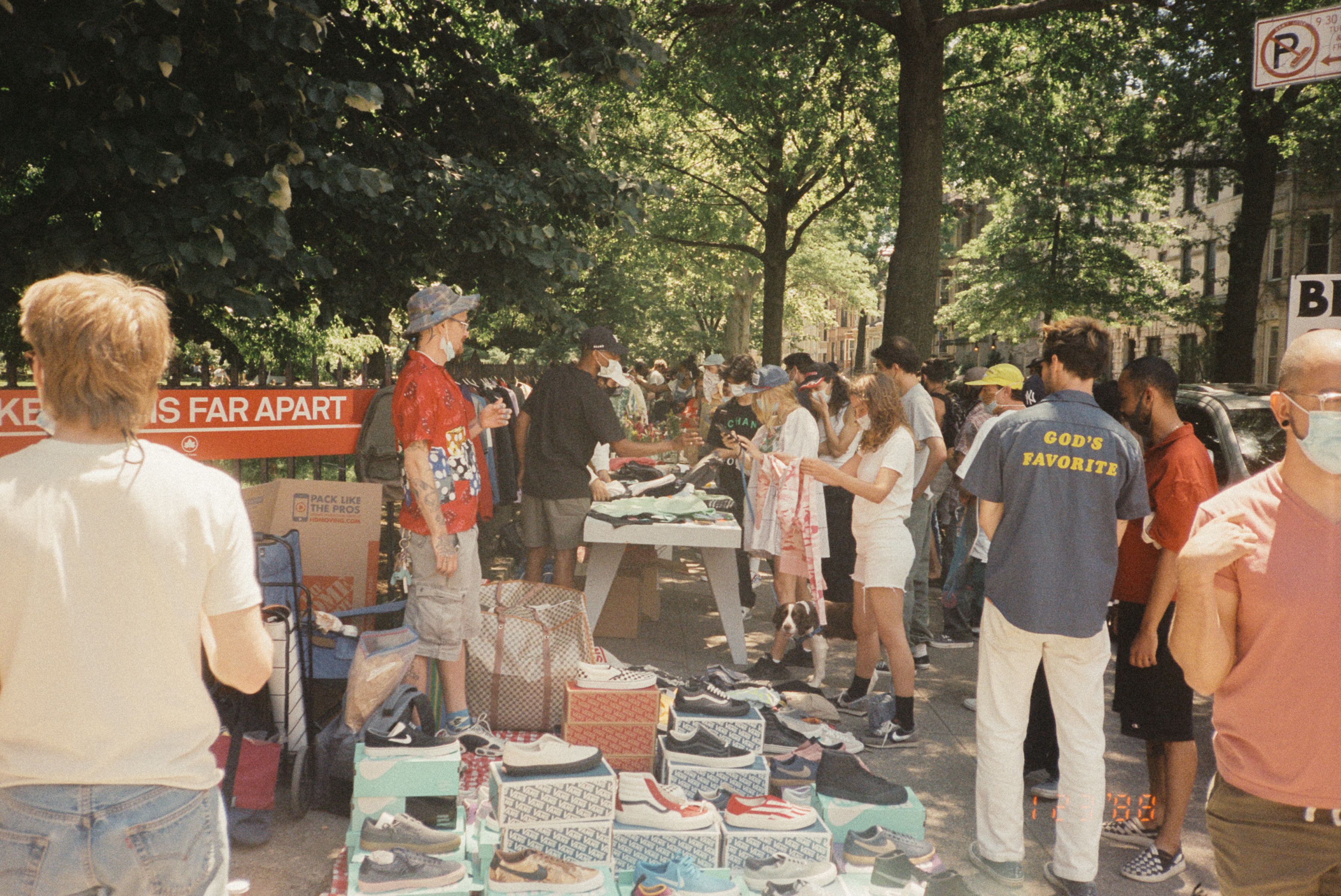 Last Sunday, i-D took a trip to the sale and in between slices of donated Williamsburg Pizza and sips of Goldies' frozen margaritas in the park, we spoke with a few of the participants about the community project.
So, how'd it all come about?
Aaron Wiggs: It was birthed on a bench in McGolrick Park on a gloomy-ass day; I was with Perry and Sachie and suggested the idea to them. Knowing that we had resources to raise some kind of money, we were just like, 'Okay we should do this.' From there, I spoke with Andrew and we decided to film a commercial to help promote it. Everything really trickled down into place. The idea came from us being frustrated and angry. And trying to transform that into something positive — something we could do on a communal standpoint and raise money. A lot of people don't know where to direct their money. People began to come to me because of all of the money that we've raised, asking where they should donate. We have these circulating organizations. We direct them to the right places. A lot of people that show up want to get involved. It's a very timid time and a scary time in the world. And they don't know where to put their money. And our message is: come relax, come take a break and breathe. Come buy things that make yourself feel good but know also that your money is going to something specific.
Perry Goodman: The part of the story that not too many people know — that I just now feeling comfortable telling — happened just before I met with Sachiko and Aaron. I was on the phone with my mother. She wanted to check in to see how I was processing the death of my grandmother, who passed due to complications of COVID-19. She wanted to see how I was processing the events that have been unfolding all around us, the names of Black men that have been sketched in all of our brains at this point: George Floyd, Arbery Ahmaud, so many names … The tone of the conversation was interesting. You could tell that both my mother and I were trying to be strong for one another. I think that conversation helped me turn my anger and sadness into first compassion for the world we live in, and then into action. It is not easy to put aside anger and channel it into strength, so you can help someone. It was something that I was taught as a child, so that call was affirming — a reminder of the kind of human being I need to be in times like this. It is ok to be angry, but I found it better to be useful.
Can you expand a little bit on some of the organizations you aim to raise money for?
PG: Education for Black and brown communities is something that we definitely want to focus on. For this past sale we worked with an organization called Skaters Vote. By the end of the day, 26 kids registered to vote. This was huge for us. Aaron and I want to enact change in any way we can. Educating kids on the importance of November 6 is a big step towards that, especially the importance of smaller local elections and their impact on their community.
AW: The crazy thing is that something pops up every single day. The world is literally burning down. Perry and I will discuss one organization and get juiced about the idea, but then something like the explosion in Lebanon will happen and we shift our focus. For every sale, we're trying to just cover as much as we can: Black-owned businesses, Black organizations that focus on art, education and rebuilding a community, Black trans communities... We're getting a lot of help from friends; it's a collaborative effort.
That's a pretty incredible part of the project — the inpouring of communal support.
AW: People will text me Saturday night asking, "Same time, same shit?" They know exactly what to do. People like Paul Coots and the Ready Set guys, who have helped out from the jump, are the backbone of what we do. They wake up so early every weekend to open up the studio that they spent their whole week at, just to get us the tools we need. And they're there to break everything down at the end of the day.
How did you guys come up with Uncle Leroy? Those ad videos are so good!
Andrew Price: The ads have been a lot of fun to make. We both knew we wanted to make it funny, so we thought of going for the idea of this used car salesman [type], this "everything must go go go"-type parody. The funny thing is Aaron came up with the whole Uncle Leroy character on the spot, as soon as I said action he just improvised; it was hilarious and so impressive. We had something with the first take. And then I just kept egging him on to be crazier and do funnier things, and then we just cut together what we thought was the funniest. Of course the Shania Twain song is the best part; that's become his calling card. And I want to give a major shoutout to Max Henderson, who also helps create these with me, he's been a mastermind in editing and making the videos way funnier than I could alone.
With "A Sidewalk Story," you convey the sincerity and love so well.
AP: I wanted to make sure that the real heart and earnestness of the message of what our community is doing was conveyed in a more poignant way. The interviews I did with Aaron, Sachie and Perry also set the tone for the film; they were so honest and sincere.