Gay art documentaries and Kim Kardashian: what i-D loved this week
Your weekend reading is right here.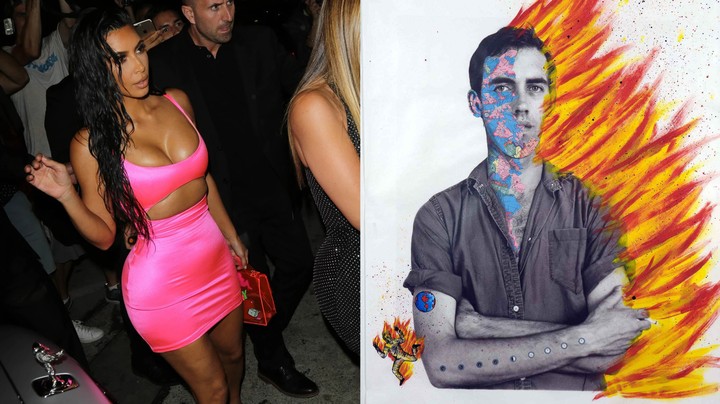 Left: PHOTO BY HOLLYWOOD TO YOU/STAR MAX/GC IMAGES. Right:
DAVID WOJNAROWICZ WITH TOM WARREN SELF PORTRA IT OF DAVID WOJNAROWICZ, 1983 - 84. COURTESY OF THE ARTIST, THE ESTATE OF DAVID WOJNAROWICZ AND P.P.O.W.
In i-D Loves, we look back upon the last seven days in our calendar and pinpoint the pieces that best represent the current moment. No matter what you're in the mood for this weekend — be it Kim K's fashion wardrobe or weird Wikipedia wormholes — we've got you covered. Here's what i-D loved this week.
Your guide to Kim Kardashian's style evolution
From the Juicy Couture days of yesteryear through to her custom Mugler Met Gala moment, Kim Kardashian's wardrobe truly contains multitudes. Taking into consideration her initial ascent to fame and where she is now, arguably the planet's most influential woman, this is your i-D approved breakdown of how we all fell for Kim K's wild style. Read it here.
Come down this weird Wikipedia wormhole with us
If there's anything the pandemic has taught us, it's that free time is not so precious when you have bucketloads of it. But spending endless hours diving down a deep hole of needless trivia, we'd argue, is extremely important. Here, Frankie Dunn speaks to the admin of @depthsofwikipedia, an Instagram account that uncovers the really obscure shit you can find on everyone's fave online info resource.
The pandemic changed grieving, but is Instagram the remedy?
After losing someone, the communal experience of funerals and wakes help you heal. But the pandemic's limitations on public ceremonies and contact means most haven't had that opportunity. Instead, Instagram has become a forum for expressing your bereavement — but can the app made for thirst traps and #sponcon be a gracious home for grieving? Some, it seems, have found it comforting. Read more here.
Scenes from the London vigil for Sarah Everard
Last Saturday, a peaceful vigil for Sarah Everard became symbolic of the tragedy and injustice that many were there to protest once the police began making unnecessary arrests. Photographer Nora Nord was there, from beginning to end, capturing the moment in history as it unfolded. See Nora's pictures here.
Add this queer art documentary to your weekend watchlist
If you are starved of the gallery experience like we are, this weekend brings good tidings with the long-awaited digital release of Wojnarowicz: Fuck You F*ggot Fucker. The documentary examines the life of 1980s queer cultural provocateur David Wojnarowicz. For those seeking an incendiary IRL art experience, this might be the closest thing you get to it: two hours of archived audio from David and new interviews with the icons he called his friends. Read an interview with its director here.