The trans community organisers taking healthcare into their own hands
Trans and gender non-conforming people are turning to trans-led centres like Casa Kuà in Berlin and CliniQ in London to have their needs met.
|
04 November 2020, 3:25pm
Back in 2018, Stonewall released an in-depth report which confirmed what trans and gender non-conforming people have known for decades: traditional healthcare systems aren't built with them in mind. Figures showed that 47% of respondents who wanted access to hormones or surgeries were deterred by long waiting lists, and 24% either feared discrimination or didn't know how to access what they wanted. For years, determined trans activists worldwide have been fighting these systems by building their own alternative services, usually with a focus on sexual health and HIV. These grassroots, trans-led health care services are steadily cropping up more frequently — and given the global political shift to the right, their role has never been more important.
In Berlin, an unexpected safe haven can be found in an abandoned chocolate factory. For the last few months, QTIBIPOC (Queer, Trans, Intersex, Black and Indigenous People of Colour) advocates have been working tirelessly to launch Casa Kuà, a groundbreaking, trans-led health centre. Together, they've been cleaning, painting and crowdfunding relentlessly to bring their vision of a community-led, holistic service to life. Driving the vital project, which aims to "bring alternative, traditional and conventional medical treatments together," is a belief that experience is expertise.
"It's important to have these trans-led services because trans people have the most knowledge about trans needs," explains yoga teacher Lee, who describes their own experiences of healthcare in Germany as "dehumanising". Although they describe their current, "racially aware" GP as an outlier, they often have to take the lead and advise when it comes to hormones and post-surgical care. "My GP is at least cooperative," Lee explains. "She understands that I have to educate her, because most medical professionals know nothing about handling trans patients." Issues aren't always down to a simple lack of education, though; on other occasions, they describe being "humiliated, ignored and mocked." Unsurprisingly, these past experiences means that Lee seeks healthcare only as a last resort.
Founding members Naikee and Tzoa highlight other barriers to access for QTIBIPoC, such as "precarious legal statuses, insurance or financial situations." Casa Kuà remedies this with a judgement-free environment, but launching a project of this scale during a pandemic hasn't been easy. Their crowdfunding campaign has already cleared €10,000, but more is needed to pay for "equipment, materials for workshops and peer-to-peer groups, and renovations," as well as to ensure that prices remain accessible. Naokee and Tzoa also explain that traditional funding sources have dried up during the pandemic, making the fundraiser even more important.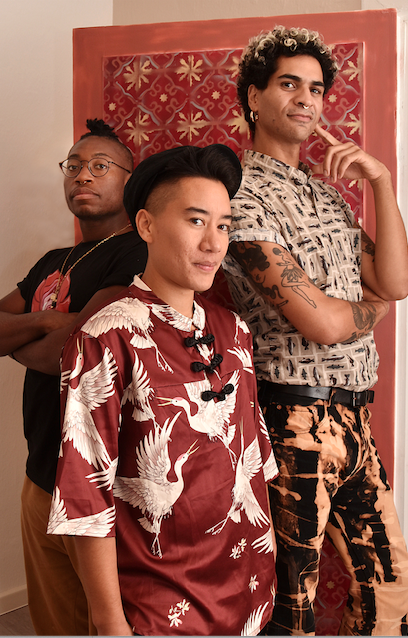 Trans-led initiatives like these have blossomed in popularity over the last decade: from LA's Trans Wellness Centre, which offers everything from self-defence classes to housing advice, to Bangkok's HIV-focussed Tangerine Clinic, activists worldwide are taking their healthcare into their own hands.
When London's trans-led sexual health centre CliniQ first opened its doors back in 2010, the team soon realised they had an enormous challenge on their hands. "Hardly anyone came! I've got photos of that first night, and the room is filled with friends – people we knew would come," recalls co-founder Michelle Ross, who speaks passionately of her decades-long advocacy. "Why should people trust us? They didn't know who we were, so it took a few months. We had familiarisation sessions and invited people in, and we often heard stories of pretty terrible experiences when accessing sexual health services."
Throughout the last decade, Michelle explains that the service has become a kind of one-stop recommendation shop not just for trans and non-binary people, but for their cisgender partners, too. "We're big on referring access to healthcare that we don't provide," she says, alluding to difficulties that trans people face in more conventional healthcare settings. "Someone might come for issues around hormone management, but they might also want relationship counselling or house advice. We connect them with services that we've worked with for years – services that we know won't cause them any problems."
This seal of approval is crucial – it makes a referral the equivalent of a close friend's recommendation. 26-year-old Griffyn has used CliniQ's service in the past, and reasons that he's more likely to be treated with empathy within trans-led services. "Trans people have to do so much research and advocacy on their own," he explains. "They often know a lot more about their care than GPs do. Not only do these organisations tend to be more knowledgeable, they just tend to provide better care full stop."
Since moving to the UK from the US four years ago, Griffyn has racked up a list of horrific experiences with doctors who don't know how to treat trans people, or otherwise blame his testosterone for issues ranging from fatigue to depression, with no evidence or explanation whatsoever. "The first NHS therapist I met here told me to go to church to help me 'deal with' my trans identity," he recalls of one particularly awful encounter. "A psychiatrist at a mental health assessment even told me that my mother's chronic illness, which caused her to look underweight, 'turned me trans' as a child because I didn't have a female role model with large breasts!"
Structural differences – namely, a lack of free healthcare – make it difficult to compare the US and the UK, but Griffyn argues the main difference is that the UK has 'gender specialists', whereas US doctors are generally trained to treat trans-specific issues. That comes at a cost, though. "I found two surgeons on my own and worked extra and saved up to pay for all my costs," he says of his surgeries and hormones. "The stress of doing that while studying full-time and having to pay all my bills, rent and costs at was immense, and definitely contributed to the mental breakdown and suicide attempt I had a few years earlier."
Still, waiting lists at UK Gender Identity Clinics are so lengthy that trans people are often left with no choice but to go private anyway, and crowdfund their expenses. After four years, Griffyn is still waiting for a consultation.
In the US, Trump's administration has waged a sustained war on trans-inclusive healthcare, making trans-led services even more vital. "National policies have set an anti-LGBTQ tone that has prevented many trans people from accessing care," explains Joaquin Meza, Trans Life Coordinator at the San Francisco AIDS Foundation. In response, there's a newly-created trans health team dedicated to restructuring the care system, and ensuring patient-centred services: from hormone checks to [HIV preventative medication] PrEP, the foundation has the community covered.
Better still, the judgment-free environment makes it easier for trans people to give feedback without fear. "We strive to create a care model where practitioners understand that learning how to best support trans people is not an end-point," says Joaquin. "It's a continual process that takes reassessment, because our needs are ever-changing." The San Francisco Community Health Centre shares similar goals, although its Trans:Thrive program is as much about care as it is about mentorship. Niko Kowell, Associate Director of Health Equity, points to the importance of supporting and equipping young trans leaders with vital skills, as well as working with "allied trans programs" to ensure a better standard of care across the board."
Transphobia is, of course, the biggest global barrier to access. Trans-led services are routinely denied funding and government support; those that do survive are often based in big cities, leaving trans people in small towns with no choice but to travel or risk the more traditional route.
Navigating the minefield of trans healthcare in the UK has also taken its toll on 35-year-old CJ, who argues that government reluctance to stand with trans people is causing irreversible harm. As it stands, a visit to the doctor requires a level of self-preparation which can begin to feel daunting in and of itself. "When I go, I know the first thing they'll do is ask me about my transition," they explain. "This is appropriate when getting my bloods checked for testosterone, but not when I have tonsillitis." It's creating a strain on their mental health, too. "If I'm having issues with my mental health medication, I'm unlikely to want to talk about the state of being trans in the UK," CJ continues. "My mental health issues are predominantly anxiety-based, so that just kicks things into an uncomfortable place."
Institutions can't change overnight, but they can start listening to feedback from actual trans people. In a nutshell, all that CJ asks for is professionalism. "I don't want to know what my doctor's take on anything is. I would just like them to be medically aware of potential health concerns for me, in the same way they should for every other person."
In the meantime, trans communities are taking care into their own hands by creating accessible, community-led services. As the pandemic continues, many are either operating with strict restrictions or offering online resources -- at CliniQ, Michelle says the pivot to digital has actually broadened the team's geographic reach, although they have had to contend with a whole new list of safeguarding procedures.
Casa Kuà offers a new beacon of hope, too: it's proof that crowdfunding campaigns can shift the axes of power, giving queer and trans people of colour the resources to build their own micro-systems free of medical racism and transphobia. It's a glimpse into a utopian world where community leaders care for those in need with a sense of compassion and understanding that's often impossible to replicate on a larger, institutional scale. "As we move towards an even more digitised future, healthcare through mutual aid will absolutely become more common," predicts Lee. "I'm certainly looking forward to barriers being broken, and to communities looking out for each other and with each other."
Tagged: