Why 'thrift flipping' clothes isn't as ethical as it seems
The sustainable fashion trend sweeping TikTok has some unfortunate roots in fatphobia.
|
18 January 2021, 10:27am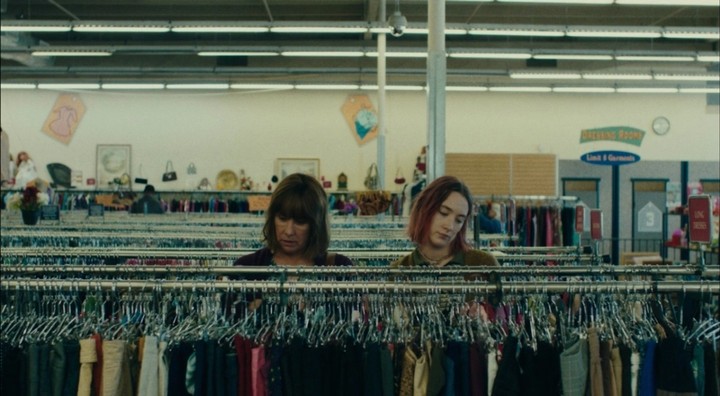 Still from Lady Bird (2017)
Back in June, TikTok user Mariel Guzma took a set of fabric scissors to a pale blue pair of size 44 men's denim shorts. She put together a set of brief instructions, detailing how she went about tailoring and distressing them to her liking, in a TikTok that amassed upwards of 500,000 likes and 3,000 comments -- some considerably less favourable than others.
As increasingly eco-anxious Gen Zers turn toward more sustainable ways of consuming fashion, thrifting is having a moment, and so is 'thrift flipping' -- the act of buying and altering second-hand garments. On TikTok, the hashtag #thriftflip currently has 704 million views. When the fashion industry contributes to 10% of global carbon emissions and nearly 85% of textiles go to landfills in the US, it feels like an environmentally healthier, more creative solution to the problem than most, as well as having the distinct advantage of affordability.
But whether this fast-fashion alternative is really as ethical as it seems is up for debate. While the transformations are always on-trend, there's been criticism of its role in subtly promoting fatphobia. Videos of young, thin women purchasing clothes from thrift stores and turning them into nearly unrecognisable garments have quickly become a mainstay of the thrift flip genre. Indeed, when thrift flippers source clothing for their projects, they tend to buy clothes that are far too big for them, which becomes a problem when larger sizes at thrift stores are already in short supply due to the high demand from people who actually need to wear plus-size clothing.
'Before' and 'after' shots in thrift flip videos echo an ugly truth about the way society thinks about bigger clothes and the bodies that fit them. In these videos, the usually thin creator slouches in the 'ugly' garment. After the garment has been 'fixed', suddenly it's considered attractive. It's also much smaller.
Fat bodies and aesthetics have always had plenty of negative connotations, explains Amanda M. Czerniawski, an Associate Professor of Instruction in Sociology at Temple University and author of Fashioning Fat: Inside Plus-Size Modeling. "[These videos] conform to our societal expectations and beliefs about bodies, particularly fat, larger bodies, as being unhealthy, undisciplined, lazy and undesirable."
In these clothing transformations, Amanda describes the thought process at work: "I'm going to take this extra-large garment, and I'm going to reshape it. I'm going to work at it, just like the fat body needs to be worked on and disciplined to put it into the correct shape."
The most common defence you hear from thrift flippers is that if they don't take these larger clothes, no one will, and they'll end up in landfill eventually anyway. But looking past the saviour complex, there really isn't much truth to this argument. Vaughn Stafford Gray, a lifestyle writer and former adjunct professor of Business at Humber College, explains, "The items that are on the shelf for almost a year go back into the bin for the homeless or soup kitchens, and then whatever is really left over gets recycled or sent to landfill [if recycling isn't an option]." He continues, explaining that "most of the things do actually sell because there are families who depend on thrift stores".
Though thrift stores will vary in selection, plus-size women tend to be disadvantaged across the board. Fat influencer and writer Chaya Milchtein describes her experience of thrifting: "If I go to Goodwill, there are no clothes that fit my body there. And if there are, it's like, incredibly frumpy and totally not something that me, as a 25-year-old, would want to wear."
Chaya does mention that she has been to plus-size exclusive thrift stores, but notes that they are only in major cities. "I've been incredibly lucky to be able to experience plus-size thrift stores that are exclusively for plus-size fashion. There's Two Big Blondes in Seattle, and there's Fat Fancy in Portland, and there's the Plus Bus in LA."
Most women, though, are left with standard thrift stores with a lacklustre size selection. And as a result of TikTok driving more traffic to thrift stores, larger sizes are even less likely to be found on the racks. So where can eco-conscious fat people find fashionable clothes? If you're thinking about sustainable brands online, think again. Most popular sustainable brands, like Everlane and Reformation, only cater to 'standard' sizing, stopping usually at a size 16 -- not to mention that a size 16 means different things for every brand. And then, of course, there's the problem of price.
Many TikTokers are unsure of how to address the thrift flip controversy. For Kimberly Lee, a plus-sized fashion creator, there is a fear behind calling fellow creators out: "I'm so scared to speak on these types of issues on my platform because I've seen my fellow creators just get ripped to shreds about it." Indeed, the comments section of TikToks addressing this form of fatphobia are full of dismissals: "It just clothes, it's not that deep,'' one user writes. "Are you gatekeeping the thrift store?" asks another.
Sustainability activist and TikToker Megan McSherry took to her platform to address her thousands of followers about the importance of thrifting consciously especially when thrift flipping. In her TikTok, Megan acknowledges her size privilege as a straight-sized woman. She can easily find items in her size when thrifting.
In her popular TikTok, she explains that she has stopped purchasing clothing that isn't her size or close to it. She ends the TikTok by encouraging her audience to, "Use your privilege to make space for the people who are left out of the sustainable fashion industry."
When discussing the problem, she points out the double standard around whose voices are heard within the community: "It sucks that it has to come from a straight-sized person for people to actually consider it to be a real issue."
But, of course, the blame doesn't lie solely with the eco-conscious and fashion-savvy TikTok teen; the wider fashion industry is largely to blame. As Chaya says, "The TikToker that is making a 'my size' shirt into her crop-top or whatever is not really hurting me, but the people who are not giving me enough shirts to wear that are sustainable? They're the ones that are actually creating the problem."
Tagged: