Ariana Grande, newly engaged, just dropped her Sweetener movie
Just in time for her engagement to now-fiancee Dalton Gomez, the pop icon's new tour movie has finally hit Netflix.
|
21 December 2020, 3:55pm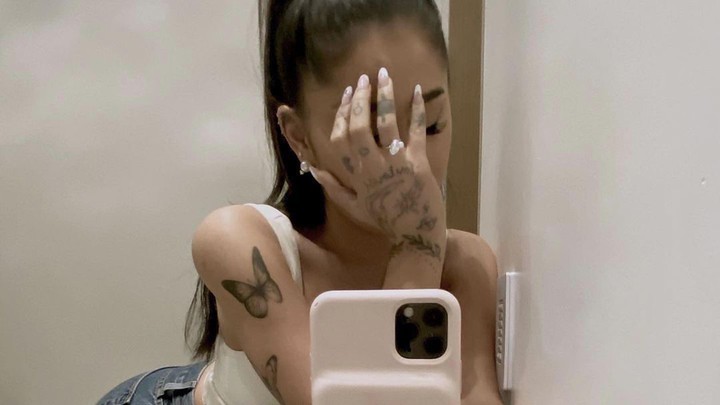 via Instagram
Ariana Grande seems to be having a good time, eh? In a year where most pop stars decided to take some time off from dropping music, she's managed to rack up three Billboard Hot 100 number ones in the space of seven months, rapidly adding to the two she'd already acquired as a popstar over the course of seven *years*. Her surprise number one album Positions, um, positioned her as the horny popstar du jour, joining forces with Megan and Cardi. She also got engaged, just last week, to her new man Dalton Gomez, who sells bougie houses for a living. Oh, and she also found time to partake in the creation of a new Netflix concert movie, titled Excuse Me, I Love You, which captures her time on the road in support of her Sweetener-slash-thank u, next eras.
The movie, which drops today on Netflix, was mainly shot during her three-night run at London's O2 Arena, and gives us the first professionally recorded Ariana live show to date. It's also in some pretty accomplished hands: the Grammy-nominated Central Saint Martins graduate Paul Dugdale directed the project; he's also worked on concert movies for everybody from Taylor Swift to One Direction and Adele.
Ariana first teased the project earlier this month with a series of throwback photos from the tour, which ended a year today, on her Twitter account, tagging Netflix the post. Rumours had been swirling the Sweetener tour being documented for a while now, and earlier this summer, the bidding for who would secure the rights commenced. It was an expensive battle (apparently YouTube were also interested in buying the project too), but in the end the war was won by everybody's favourite streaming platform, who are rumoured to have paid at least £4 million for the movie, according to British tabloids.
For those sorely missing live music, or failed to snag tickets to what was one of the best shows of 2019, here's your chance to live like coronavirus and its weird mutation doesn't exist for a bit!
Click here to stream Ariana's Excuse Me, I Love You on Netflix.
Tagged: