Watch the trailer for the spooky new anthology series from Lena Waithe
'Them', an Amazon Prime limited series, will explore terror in America in the 1950s.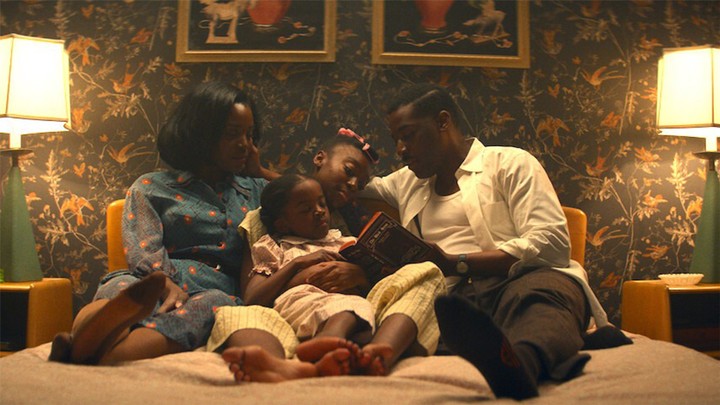 The eerie trailer for Them, an Amazon Prime limited TV series from Little Marvin and Lena Waithe, is finally here, and while it might be another seven months (seven!) until Halloween, it's already got us in the mood for spooky season.
The anthology series, the first season of which drops in its entirety on 9 April, is set to explore terror in America through the lens of mid-century Americana. The trailer introduces us to the Emory family, through whom we'll see the story told. Our creepy tale begins when the Emorys, a Black family from North Carolina, move to a seemingly idyllic all-white neighbourhood in Los Angeles during the Great Migration of the 1950s. As you might imagine, things are not quite as lovely as they first appear!
Instead, the Emorys' dream home in Palmer Drive becomes a nightmare, with the family soon being terrorised by their white neighbours and confronted by malevolent forces from this world and the next. Neighbourhood racists outside their home and bullying at school become secondary when the Emory's youngest daughter is tormented by a spiritual force that seems to be emanating from the basement, and at one point kidnaps her through a closet. Think The Stepford Wives meets Poltergeist.
With a strong cast -- Deborah Ayorinde, Ashley Thomas, Alison Pill, Shahadi Wright Joseph, Melody Hurd and Ryan Kwanten will lead the series -- and executive producers Lena Waith and Little Marvin on board, this looks like it could be the horror anthology which might just be able to steal the crown from American Horror Story. While Them premiered at SXSW last week, we still have a while longer to wait until we can binge the entire first season. Until then, check out the full spooky trailer below.