André Aciman stans Lil Nas X
The 'Call Me by Your Name' author approves of the rapper's music.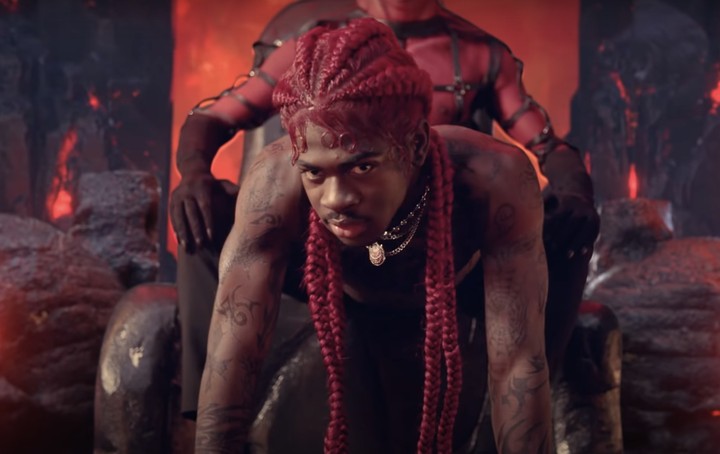 Still from "MONTERO (Call Me By Your Name)"by Lil Nas X
It's been quite the weekend for Lil Nas X. On Friday, the video for his track "MONTERO (Call Me By Your Name)" dropped, in which he descended to hell on a stripper pole then gave Satan a lap dance. The gays, girls and theys went nuts, the straights (mainly Big Sean and Lil Nas X's dad) approved, and right-wing Conservative pundits were shooketh and offended. All in a day's work for hip-hop's queer icon. What's more, the man that may have inspired the track's title, Call Me by Your Name author André Aciman is a stan, too.
In a newly surfaced exchange with them, André revealed his thoughts on Lil Nas X's track, which shares a name with the contemporary classic novel he wrote, which of course inspired the 2017 movie starring Timothée Chalamet. "If Call Me by Your Name had even the slightest influence on Lil Nas X's music, then that's beyond anything I could have ever imagined or hoped for," he told them. "It's gratifying, it's humbling, and it reminds me that how others relate to and interpret this novel is often more meaningful than the actual words on the page."

He also revealed that he learned of Lil Nas X's music through his son, after hearing his breakout Billy Ray Cyrus-featuring hit "Old Town Road" at the gym. "I called to ask him about this song that I kept hearing at the gym," he told them. "I wanted to download it on Spotify. After a series of bad imitations and descriptions, he was finally able to figure out what I was talking about."
While there are similarities between the subject matters of the book and Lil Nas X's song, the rapper has clarified that the two aren't linked in any way other than their shared titles, though the way he responded to a question regarding how they were tied suggests that he's skirting the association fearing a lawsuit. Well, with André's approval, we think you'll be okay.
In addition to the André Aciman revelations, the issue of homage and how it can be bent into the realms of creative plagiarism were raised in the wake of the release of the "MONTERO" video. It's been revealed that the scene of Lil Nas descending into hell on the pole, which shared similarities with FKA Twigs' brilliant "Cellophane" video, may not be coincidental.
The director of Twigs' video Andrew Thomas Huang has revealed that he was initially approached by Lil Nas X's label, Columbia Records, to see if he would direct the music video. In the end, the video was co-directed by Lil Nas X and Tanu Muino, who worked on Cardi B's video for "Up". Following the video's release, with fans noting the similarities, Andrew posted a thread on Twitter and Instagram.
"When an artist is in a position of power (amplified with the help of major record labels, social media, PR, etc) and repurposes someone's labour and ideas to serve their brand image, they cause harm by displacing the efforts of the artists who did the original leg work," Andrew said. "Intentional or not, copying other artists' work happens. Making music videos is a labour of love. The demand for content pushed by major labels renders our work disposable and pits artists against each other."
You can read his thread in full here, and watch Lil Nas X's video for "Montero (Call Me By Your Name)" here.