The controversial Studio Ghibli movie has a release date
You won't have to wait much longer to witness the three-dimensional chaos of 'Earwig and the Witch'.
|
08 January 2021, 11:12am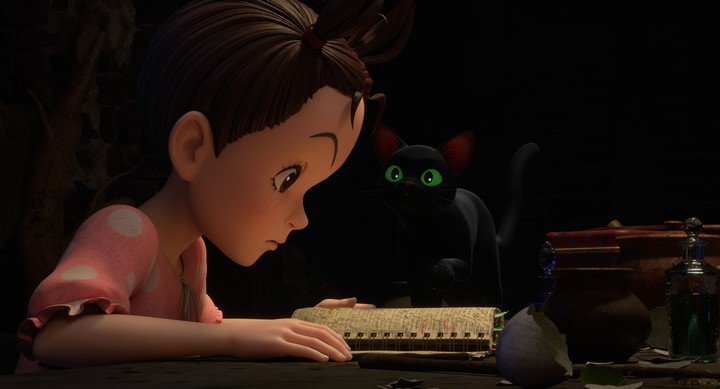 Image courtesy Studio Ghibli/Elysian Film Group
Studio Ghibli, famed crafters of sensitive, hand-drawn animations such as My Neighbour Totoro and Spirited Away, came under fire from genre purists when they announced the arrival of Earwig and the Witch: their first foray into the world of 3D moviemaking.
As is the case with most things that swirl around the sinkhole that is the internet, everybody seemed to make up their mind and either dig or diss the movie, called Earwig and the Witch, before a wider audience had even seen the damn thing.
Well, after a release in Japan, it seems like sniffy Westerners gatekeeping the artistic output of a legendary Asian studio will finally be able to make our minds up: the film's US and UK distributors have announced Earwig and the Witch's release date.
Both the English language dubbed version -- which features the voices of Kacey Musgraves and Richard E. Grant -- and subtitled version of Earwig and the Witch are expected to hit US cinemas for a short run on 3 February, before arriving on HBO Max, the American streaming partner of Studio Ghibli, on 5 February. As it stands, the film's UK release is slated to follow a month or two later in the spring.
Directed by Gorō Miyazaki, famed Ghibli founder Hayao Miyazaki's son, Earwig and the Witch is the studio's first film in four years. It tells the story of a confident, boisterous orphan who moves into the home of a self-absorbed, arrogant witch. When she gets there, she soon learns of the spells and magic that exist within every corner of the house, and of a man who lives in a siphoned-off section of it, who she must never, under any circumstances, disturb. The film is based on a book of the same name by Diana Wynn Jones, the late British author who also wrote the source material for Howl's Moving Castle.