The most chaotic moments of 2021
Mapped month by month for your convenience, buckle up.
|
08 December 2021, 8:00am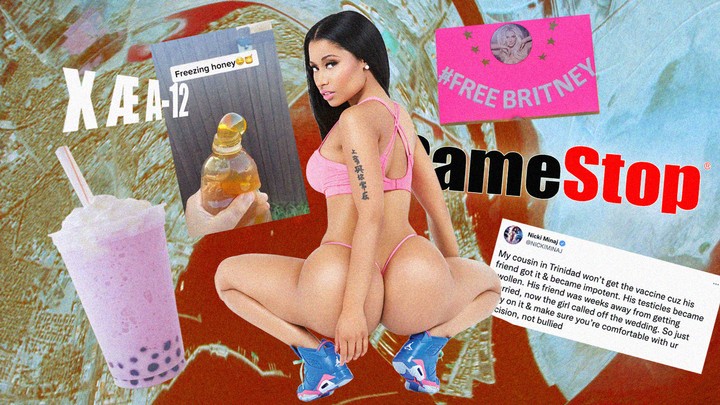 "Chaotic" — despite what the Merriam-Webster dictionary might proclaim — is the official word of the year for 2021. Bringing with it a glimpse of hope as vaccines become widely accessible (sparking their own anti-vax chaos in the process, of course), the past 12 months have been marked by a zest for life and a return to semi-normality, but also an exposure on just how weird we became in 2020. So think of this year less of an annus horribilis (that was last year), and more of a walk through the uncanny valley. And if it's been such an odd period of time that you've forgotten what actually happened, let us walk you through the chaos of the past year, as a little reminder of how far we've come, and just how weird we might continue to get in 2022.
January
The year started as it meant to go on: chaotically. Somewhere between Trump's loss in the November election, and Biden's inauguration on 20 January, right-wing extremists stormed the United States Capitol seeking to overturn the Democrats' win and reinstate their omnibenevolent Republican leader. The footage that followed was chaos by its darkest definition, as the mob of violent Trump supporters broke into government buildings, destroyed property and had a little read of Nancy Pelosi's emails. Despite these dramatic and surreal events, the rioters failed in overturning democracy. But just days later, the moral and spiritual fibre of America was shaken anew by rumours of Jeffree Star ending Kimye's marriage.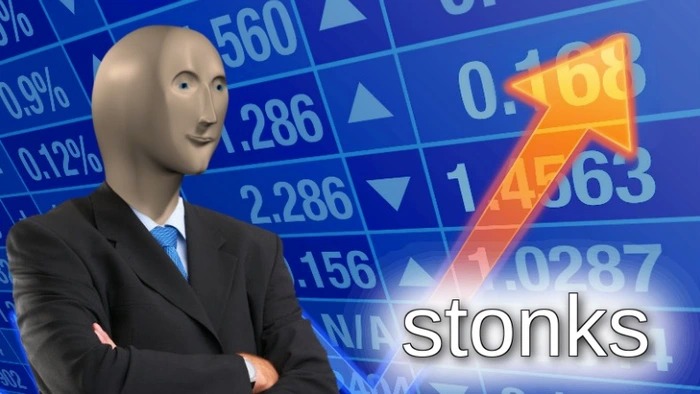 February
In February, a bunch of people on Reddit got really rich by fucking about with stocks and shares at Gamestop. Right, I'm just gonna be honest with you. Didn't understand it then, don't understand it now. Only watched 20 minutes of The Big Short before switching off. But some people got rich and bankers got annoyed about it, so that's chic? Maybe? IDK.
March
In March 2021, a big boat called the Ever Given got stuck in the Suez Canal for six days. This in itself sounds quite boring. In a normal year you might look at this news and think, I don't care about the Suez Canal! I have no interest in ferries and their ephemera! But this is not a normal year. There was just something unexpectedly so funny (and also chaotic, of course) about the idea of this ship blocking up one of the world's most important and busiest trade routes; not least because this was how most people found out that this was one of the world's most important and busiest trade routes. And because in March 2021 we were all still very much stuck at home, deeping the fact that our two-week-long pandemic had now officially been going for a YEAR, we empathised with her. She became not just a vessel for… whatever goods she was carrying, but also an iconic and necessary piece of the year's internet folklore.
April
We still didn't have a huge amount of actual stuff to look forward to in April. So when news of a US boba shortage hit the web, thanks to importation issues and a growing demand caused by TikTok, everyone promptly lost their minds.
May
Remember the one meme that everyone went absolutely nuts about this spring? The meme of four lads in circulation-destroying tight jeans, ready for a night out, that went viral at the beginning of 2021? Yeah, that one. I know what you're thinking. Well it's a meme! A meme is not inherently chaotic! A meme, in the year of our lord 2021, is commonplace! And yes, you are correct. But 2021 was also the year when NFTs became a thing people cared about and understood (the writer is not one of those people). So it was perhaps inevitable that the four meme lads in question in May auctioned off an NFT of their viral photo for £1 million for cyber-bullying charity CyberSmile. Also: Grimes and Elon Musk had a baby and named it X Æ A-12.
June
In June, a video emerged of Conservative MP Matt Hancock getting off with his closest political aide Gina Coladangelo, and my life has never known peace since. It was a peak chaotic moment in the UK but not for the reasons you might first think. It's a politician cheating on his wife, firstly, and the leaked video was apparently filmed during lockdown, meaning they were absolutely not social distancing. But, most significantly, it's Matt Hancock. It's also the deranged Freshers Week behaviour of the actual video. Why is he feeling her ass like that? Look at his slippery hands? Virgin and horny energy at the same time? I hate it. I hate it so much even now. Also in June, and almost as devastating: Trisha Paytas quits the Frenemies podcast, marking the end of podcasts.
July
This summer was supposed to be the ultimate hot girl summer. The post-lockdown ultimate horny summer. The summer of single life and blistering heat and sexual promiscuity and joie de vivre! Of course, like all overhyped things, it failed to deliver. For some of us at least. Others found the return of horny ex energy. And by others we mean Jennifer Lopez and Ben Affleck, who got back together after nearly 20 years and sent us normies into a frenzy. If Bennifer can return, then honestly, anything can happen. Believe, achieve, shag your ex! Maybe! Oh, July was the month they made it Instagram official.
August
It wouldn't be a cursed year without a cursed food trend. During the world wars it was rationing, during the recession it was rainbow bagels, and in 2021, it was frozen honey. Towards the end of the summer, TikTokers became truly obsessed with this forbidden lollipop, racking up nearly a billion views on the platform for the "frozen honey challenge", which is exactly what it sounds like. If you were blessed enough to miss out on this, it entailed putting a plastic bottle of honey in the freezer for a few hours and then squeezing it out and eating it whole, like an ice pop. It flopped as soon as it popped, really, this trend, because everyone kept pulling out their fillings, shitting themselves and throwing up after eating an entire jar of frozen honey. Bring back conscription x

September
As vaccinations picked up speed, and the Met Gala invites (requiring proof of a double vaxx to enter) were sent out, the WHO and Conde Nast were simultaneously rocked by the revelation that Nicki Minaj's cousin's friend's balls became monstrously swollen after taking the Pfizer shot, meaning she would not be receiving the vaccine, and thus not attending the gala. In the spirit of somehow everything becomes discourse Nicki's cousin's friend's big old balls became a story that scientists were forced to comment on. The Trinidad and Tobago health minister declared the story to be false, and the White House's resident Barbs offered Nicki a phone call with a doctor to allay her vaccine fears. The UK's Chief Medical Officer Chris Witty, not a Barb, also got involved, saying Nicki should be "ashamed of peddling untruths on social media". This was a sentiment cosigned by BBC Boris Johnson, which goes some way to explain the sound-clip Nicki later uploaded to Twitter.
October
Bennifer and Megan Fox/MGK might have vied for the crown, but the true king and queen of PDA in 2021 were Kourtney and Travis. While technically they got together back in January, their social media posting has been steadily ramping up until October, the month we reached peak Kravis with an extremely extra engagement post. Is Kravis a chaotic coupling? In essence, yes. But that's not necessarily a negative thing. RIP to the woman Kim branded the least interesting of all the sisters back in 2018. Long live Kourtney 2.0, a woman who is carrying the manic pixie dream boyfriend era on her back, when not getting off with her goth fiancé at other people's weddings. Everyone predicted that 2021 would be an incredibly horny year, but nobody really truly lived up to that pressure and promise quite as well as Kravis. Also in October, on the opposite end of the romance spectrum -- millions of people on TikTok decided that they'd like to murder "couch guy", after a video went viral where he didn't look too happy to see his long distance girlfriend, who showed up at his dorm unannounced.
November
In November, Britney Spears was finally freed from the oppressive conservatorship that her father held her under for 13 years. This, of course, is not a chaotic moment in itself. But revisiting Britney's situation, through the lens of the Framing Britney Spears doc, did at least expose how absolutely unhinged it was that this situation was allowed to continue for as long as it did. And to add to that, practically the first thing Britney did when she was finally free was post nudes to Instagram, which is deliciously chaotic. Love that for her.
December
And here we are! The month is still young, and so much festive chaos unveils itself before us. The promise of a truly unhinged end to a truly unhinged year! Okay fair, we only have a couple of weeks left, but in a month that's already given us the aforementioned cementing of Pete Davidson's sex symbol status, the end of the relationship that gave us "it's giving Cher", Peppa Pig Gate, and [EXTREMELY OMINOUS RADIO KLAXON NOISE] the omicron variant, on top of the previous deranged 11 months of the year, the sky is truly the limit.