Every Anya Taylor-Joy performance, ranked
As she stars in Viking thriller 'The Northman', we look at Anya's best roles – from chess prodigy to gangster wife, teen mutant to possessed puritan.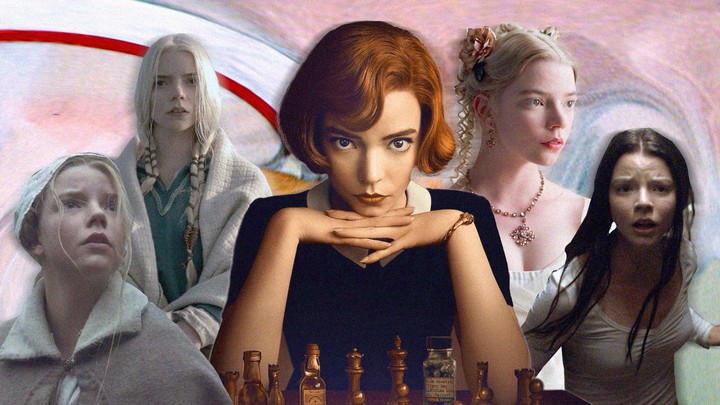 Anya has been so present in our minds over the past twelve months that you'd be forgiven for not realising she's been killing the game for seven years now. A style icon beloved by designers and make-up artists for her distinctive cupid's bow, impish gaze and gracile frame, when she's not experiencing bilingual panic, she's keeping stan accounts fed with her affable, open charm and keeping her foot on our necks with her red carpet looks. But far more impressive than any of that, she's been starring in a string of independent and studio films that demonstrate her wide-ranging skills. And finally, she's starting to get recognition.

Anya's subtle talents cannot be overstated – she's able to beguile the viewer with both a sly sense of wit and a wide-eyed, ingénue-like vulnerability that belies the complexity of her roles. After breaking out in the film that spawned a thousand memes, The Witch, she continued to, erm, live deliciously in a string of horror films, working with everyone from Edgar Wright to M. Night Shyamalan as the ultimate scream queen of the past decade.
And she's not slowing down anytime soon. Anya currently has three films in post-production, including a role as Princess Peach in an untitled Super Mario Bros movie; Silver Linings Playbook director David O. Russell's next movie Canterbury Glass; and The Menu, a black comedy co-starring Nicolas Hoult. That's not including The Northman, the A24 epic out this week that sees her reuniting with The Witch director Robert Eggers. To celebrate its release (it stars Björk as a literal witch and Alexander Skarsgård as Nordic princeling with daddy issues – run, don't walk), we're ranking all of Anya's best roles to date.
So, from acceptable to Oscar-worthy, here they are:
19. Viking Quest (2015)
Baby Anya's first ever film role was a kidnapped princess in this ultra-low budget TV movie. Everyone has to start somewhere I guess, but respectfully, it's giving CBBC's Raven.

18. The New Mutants (2020)
Considering this is demonstrably a film for children, it maybe would have been better, in the year 2020, to not have one of your main characters be very racist for no reason. Especially while doing a terrible Russian accent, and having the name 'Illyana Rasputin'. A little nuance for the people at the back, please!
17. Endeavour (2014)
In just one episode of Endeavour's second season (a blink and you'll miss it role), Anya appears as a schoolgirl who may or may not know something about the murder of an elderly man in an Oxford museum. She basically spends her short screen time slagging off her classmate "Bunty", serving St Trinian's vibes and flirting with Inspector Morse. Good for her.

16. Barry (2016)
Playing a privileged, east coast American with vocal fry and rich parents, Anya's role as Barack Obama's college girlfriend is one-note and a waste of her talents. It's by no means the worst film on the list, granted, but her thankless character literally exists as an uneasy metaphor – one scene where she takes him to Harlem and buys him a James Baldwin book is particularly eesh.

15. Marrowbone (2017)
Anya plays George MacKay's love interest in this weirdly paced horror film that – spoiler alert – gives its lead character schizophrenia in the final act in order to paper over gaping plot holes. Among all the bonkers scenes of cracking glass, jump scares and rotting corpses, Anya's performance is pretty dead-eyed and uninspiring. Go girl, give us nothing.

14. Radioactive (2019)
The sort of biopic that feels robotically delivered by an A.I that has read the subject's Wikipedia page, director Marjane Satrapi found every single possibility to shoehorn physics into this rote biopic of Marie Curie. She goes to the ballet? The dancers become rays of electricity. Her husband dies? A drop of his blood becomes a chemical spill. We get it, the woman liked a test tube. Anya only turns up after 85 minutes as the physicist's daughter Irène, and by that point we're so exhausted by all the tired symbolism it's irrelevant whether she's good in the small part.

13. Here Are The Young Men (2020)
A poundshop Trainspotting that tries and fails to replicate the youthful chaos of the 90s classic, Anya is, ironically, the only light in a film called Here Are The Young Men. She nails the Dublin accent (and has the ginger locks to match), the ultimate Joy Division-singing manic pixie dream girl that a teenage boy would believably be in love with. It's just a shame that the film itself is terrible – and her only purpose is to, er, be sexually assaulted by her boyfriend's psychopathic mate.

12. Glass (2019)
Anya's appearance in Glass is expected, rather than needed; as the sequel to 2016's Split, her character Casey has little to do now her erstwhile captor is in a psychiatric hospital. Still, by reprising the role in the final instalment of M. Night Shyamalan's Unbreakable trilogy, she has one or two important scenes with James McAvoy, with whom she has undeniable on-screen chemistry.
11. Atlantis (2015)
As the bald, multilingual truthsayer of the fictional city of Atlantis, Anya feels oddly at home in this BBC TV series. Though it was cancelled after two seasons, Anya had a five-episode arc that saw her having That's So Raven-style visions as the island's Oracle. Her – as she calls them in her Insta bio – 'dragicorn space oddity' features are perfect for the series' otherworldly, mythology-inspired vibes.

10. Morgan (2016)
An otherworldly presence, more alien than real: Anya didn't need to strain that hard to play Morgan, an ethereal, genetically-engineered 'human' with bleached brows and a mean right kick. That said, the cast is pretty stacked – Kate Mara, Rose Leslie, Toby Jones, Michelle Yeoh, Jennifer Jason Leigh, etc – for a film full of characters which technically do not even exist.
9. The Miniaturist (2017)
We're not sure if we should be happy or concerned that Anya always feels most at home when playing a spooky little bitch from the past. This miniseries can't quite draw out the uncanny power of the source novel, but Anya is still a delight to watch – she seems straight out of a Dutch Golden Age painting. Great gowns, beautiful gowns.

8. Thoroughbreds (2017)
In Never Trust A Horse Girl: The Movie, Anya plays a popular high schooler who falls in with Amanda (Olivia Cooke), a girl who cannot feel any emotions other than hunger and tiredness. Relatable. A twisted, hilarious film about female friendships with major Heathers vibes, Cory Finley's deadpan satire keenly explores how the rich lose empathy for real issues and hyperfixate on their own mindless problems. As the spoilt brat determined to murder her stepfather because he's sending her to the wrong boarding school, Anya has never been funnier.
7. Peaky Blinders (2019–2022)
Joining the hit show in the last two series as the polarising Gina Gray, Anya holds her own among the Birmingham bootleggers as a scheming, Lady Macbeth-like influence on her husband Michael. Her character is a smug, controlling narcissist (sure!) but have you seen her in all her Gatsby-era glory? Would let her ruin our lives too, tbh.

6. The Witch (2015)
Anya flirts with a goat named Black Phillip, who is possessed by actual Satan himself, and does it incredibly well. As That Very Witch, Anya's first movie role catapulted her into the limelight – and for good reason. Her scenes as Thomasin are alight with Satanic frisson, her memorable face being the ultimate tool in bringing director Robert Eggers' vision into focus. As one of the most twisted coming-of-age films in recent memory, Anya's handle on all the folkloric madness, then aged just 19, is pretty remarkable.

5. Last Night In Soho (2021)
While Edgar Wright's horror-comedy set partly in Swinging Sixties London drew some ire for is tired attitude towards sex work and slapdash ending, Anya was an undisputed highlight. With her captivating song-and-dance performances and enviable Mod outfits, we can't really blame Eloise (Thomasin McKenzie) for becoming obsessed with her, eventually mimicking the way she dresses and styles her hair.

4. Emma (2020)
"Emma Woodhouse, handsome, clever and rich." So begins Jane Austen's regency-era novel of 1816, which director Autumn de Wilde transformed to an exquisitely production-designed romp of visual excess – as sweet and colourful as Turkish delight, Austen for the Insta generation. In the titular role, Anya perfectly embodied the meddlesome heroine who orchestrates society's romantic affairs while undergoing her own enemies-to-lovers storyline with rugged dreamboat Johnny Flynn. Bridgerton could never.
3. The Northman (2022)
When you're in captivity, there are only small ways you can assert your dignity – for instance, Anya's 'Olga of the Birch Forest' (a name that goes hard) smears her own menstrual blood right in the face of her enslaver. A petty queen. Using "earth magic" and her Valkyrie-like locks to woo and aid her hunky new beau in his quest for vengeance, Anya fully inhabits her role in the hotly buzzed Viking epic; obstinate and exquisite in equal measure.
2. The Queen's Gambit (2020)

Anya's gone on record saying that chess genius Beth Harmon is the role she gave the most of herself to – she even invented her own fragrance for the character that included drops of vodka. Eau de walk of shame aside, her commitment to the role is clear in this performance of surprising quietness and subtlety; she had us hooked as she cornered her opponents, locking her saucer-wide eyes on them like a kid sizzling ants with a magnifying glass.

1. Split (2016)
Some people think M. Night Shyamalan is a genius. Others think his 'twists' are so egregious, his dialogue so stilted, that he should basically be in jail. The Guardian may describe Shyamalan's brand as "affable dumbness", but in our view, leaning into his earnest chaos is all the more fun – and that's exactly what Anya does here, respecting her director's request for sincerity while also going full-on Final Girl in what is, essentially, a pulpy B-movie. As traumatised teenager Casey she completely holds her own, even when she's up against James McAvoy in full goblin mode, locked in a dingy bunker as his 24 different personalities take turns fighting for dominance. Rooted in anguish and empathy, her moving performance is everything.
Tagged: