All photos by Axelle/Bauer-Griffin/FilmMagic.
7 iconic outfits from the 2022 Grammys
Bieber in Balenciaga, Billie in Rick – and *that* Versace moment.
All photos by Axelle/Bauer-Griffin/FilmMagic.
It's time to wave goodbye to the red carpet season until… *checks notes* the Met Gala next month! But until then, there's the Omicron-delayed 2022 Grammy awards, which finally took place last night — a full three months later than scheduled — to keep us going.
And with it came the Grammys' own wave of statement fashion: a coterie of popstars finally getting to don their gladrags for a real, meaty awards ceremony. So who sent the D*ily M*il into a spiral, flaunting their lengthy pins? And who, might we ask, had the audacity to look good in Crocs for the paparazzi flashbulbs?
These are the seven most iconic looks from last night's Grammy awards red carpet.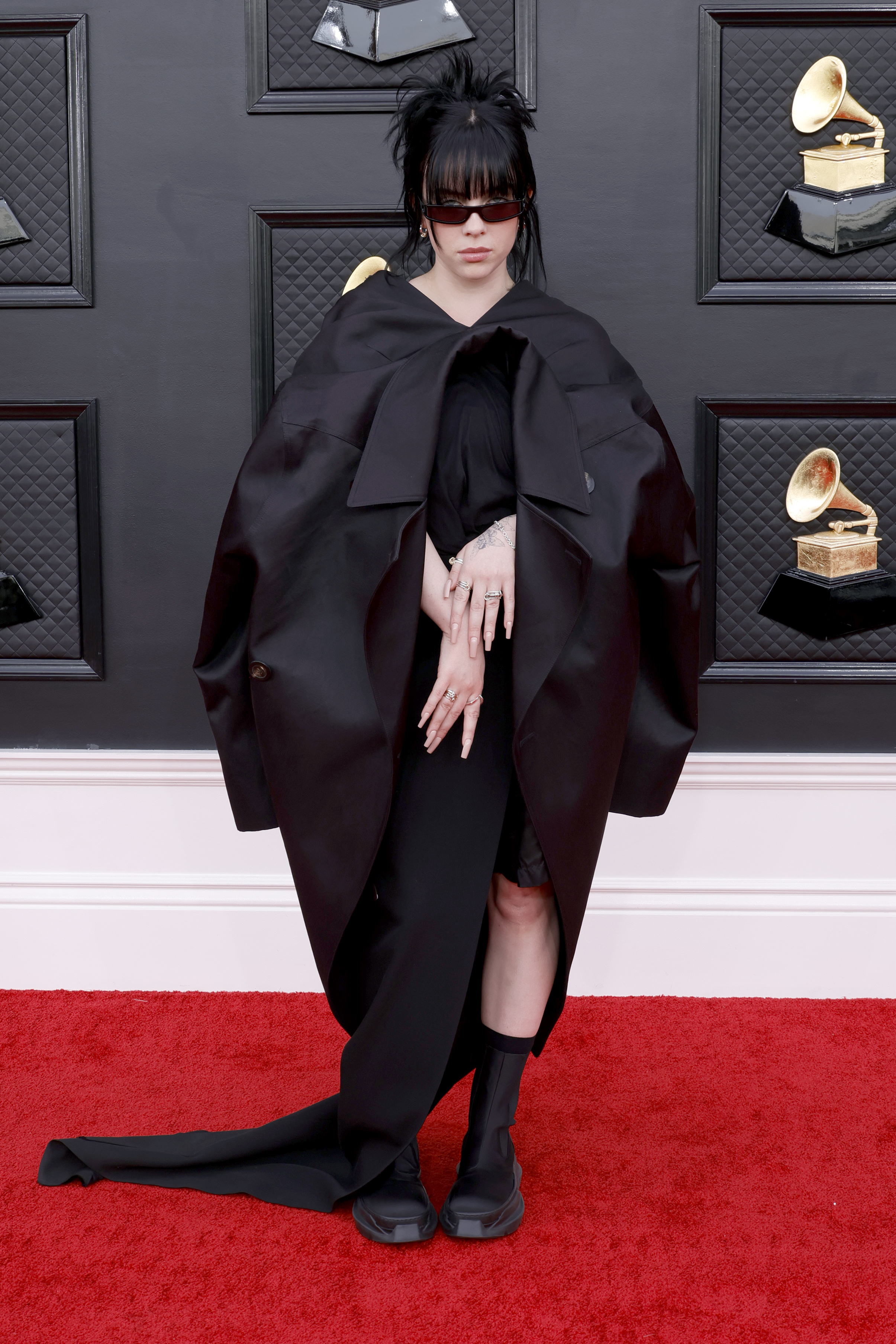 1. Billie Eilish donned Rick Owens
Billie has had such a stellar few years awards-wise (never forget her historic 2020 sweep), we can't imagine she was too peeved to walk home empty handed last night. After all, she continued her trail of left-of-centre looks last night with an elaborate black Rick Owens gown, composed of what appears to be layered slip dresses with a trench coat thrown over her — head poking through the back vent. It was all very Lydia Deetz, and made the top of the D*ily M*il's worst dressed list. Naturally, that makes it our favourite!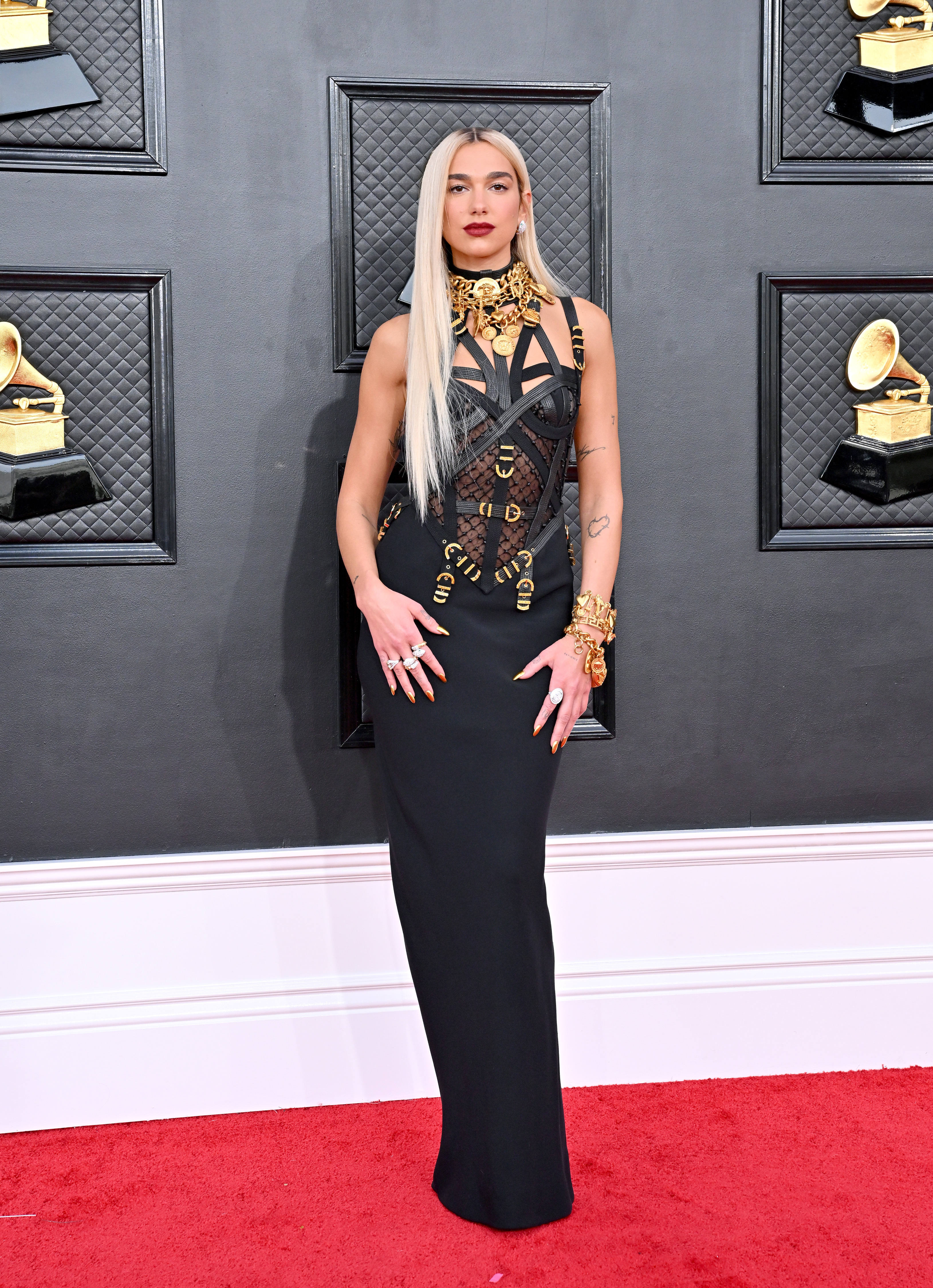 2. The birth of 'Donatelipa' (that's Dua Lipa x Donatella)
The red carpet had been graced with a series of traditionally ball-gown esque looks leading up to the arrival of Dua Lipa, who returned to her early Future Nostalgia days with a blonde wig and a look straight out of Versace's AW92 archives. Last worn by Donatella herself, the outfit was christened "Miss S&M" by the designer — iconic enough for real fashion heads to instantly get the reference. Fashion critic Louis Pisano dubbed the crossover "Donatelipa". The throwback references continued through the night — with Dua and Megan Thee Stallion presenting the Best New Artist award, and recreating the famous Mariah x Whitney 'same outfit' skit from years back. Donatella herself even took to the stage!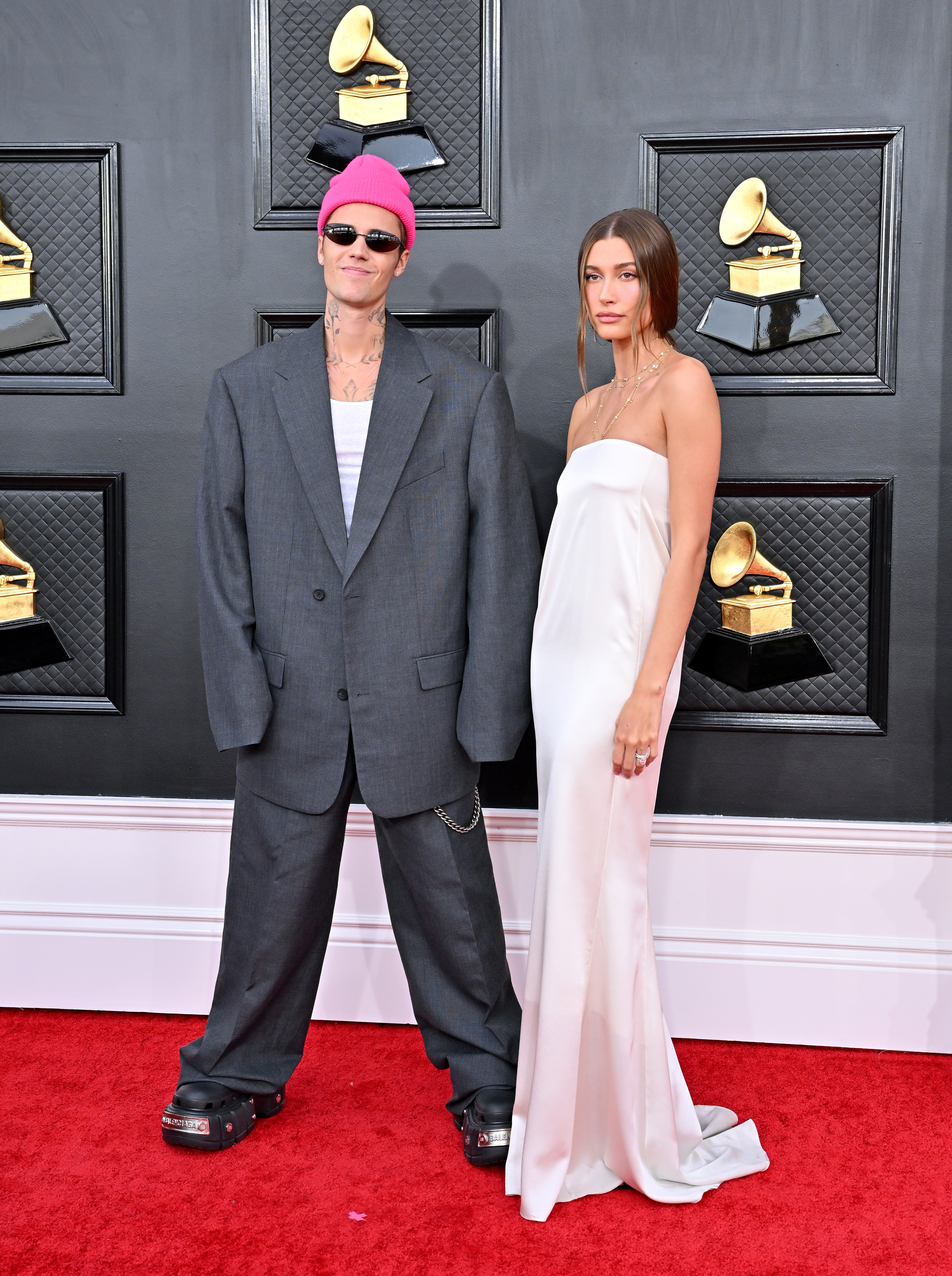 3. Justin Bieber repped Balenciaga – Crocs included
The strict red carpet codes for menswear continue to be deconstructed (thank god). First Timmy had his top off at the Oscars, now Justin Bieber is wearing fucking Crocs to the Grammys! They are, of course, Balenciaga ones. Justin wore one of Demna's instantly recognisable, super exaggerated custom designs to last night's ceremony, having been nominated for a handful of prizes. He was accompanied by his wife, Hailey Bieber, who wore Saint Laurent.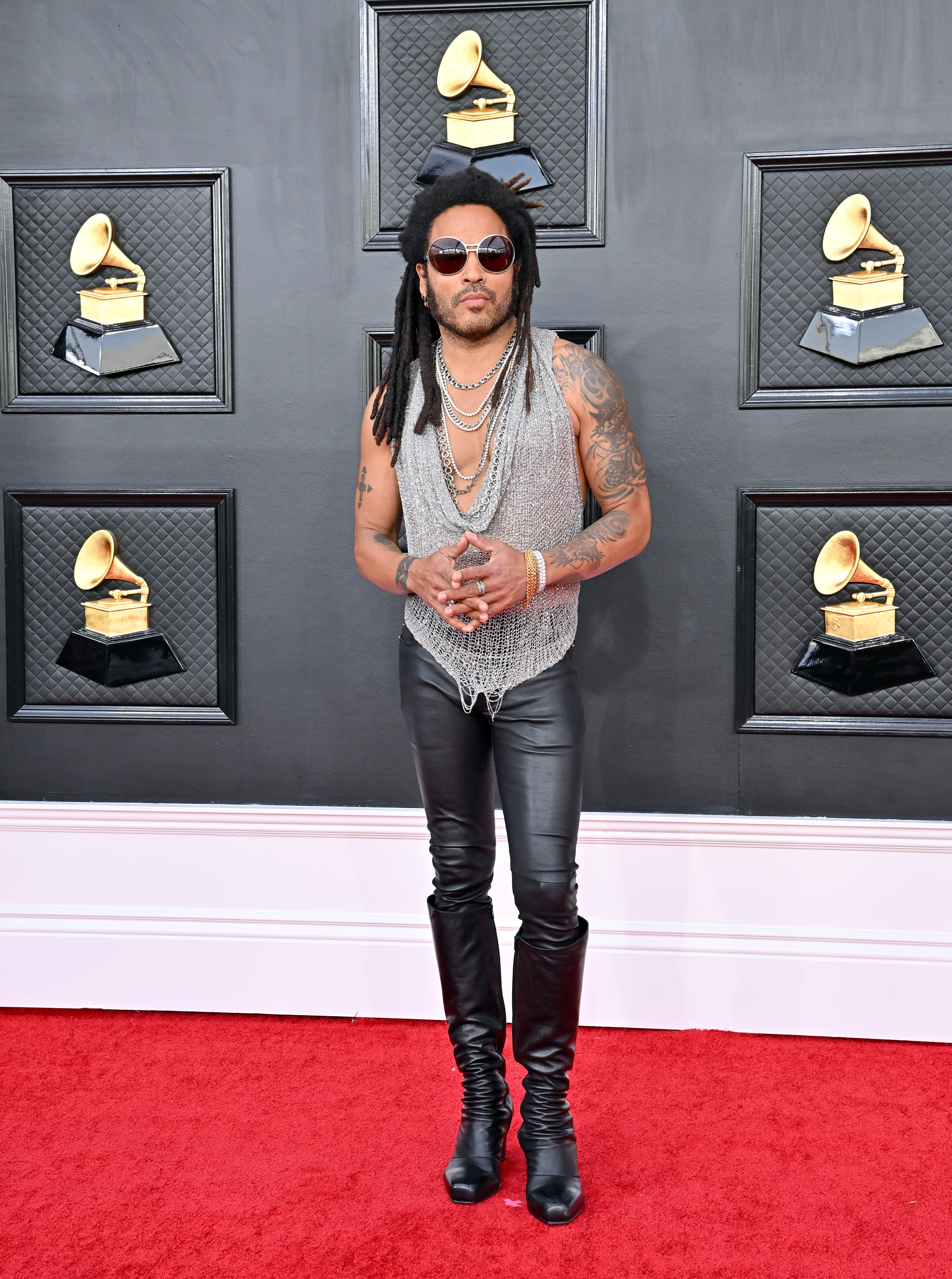 4. Lenny Kravitz put his 'going out' top on
Continuing the streak of men subverting red carpet gender norms was Lenny Kravitz, who got his best 'going out' gear on and stole the show. The tux was out the door – instead, Lenny donned a swingy 90s chainmail top from Natalia Fedner, some skin tight Saint Laurent leather trousers and matching boots. He's got a longstanding history of making statements on the Grammys red carpet – never forget his 1997 look, comprised of a floor length leather coat and a fluffy yellow hat that would make Groovy Chick herself green with envy.
5. Doja Cat swung the Coperni bag
Doja may be rethinking her decision to abscond from the music industry after winning her first Grammy last night for Best Pop Duo Performance. She almost missed picking up her award, shared with SZA for "Kiss Me More", because she was in the bathroom. Still, the red carpet look she donned was excellent: a sheer, heavily-stoned seafoam Versace dress with a matching custom glass swing bag from Coperni and Heven, Breanna Box and Peter DuPont's elaborate and iconic glass-blowing fashion sculpture venture. She wasn't the only one carrying the coveted accessory: Tinashe brought one along too.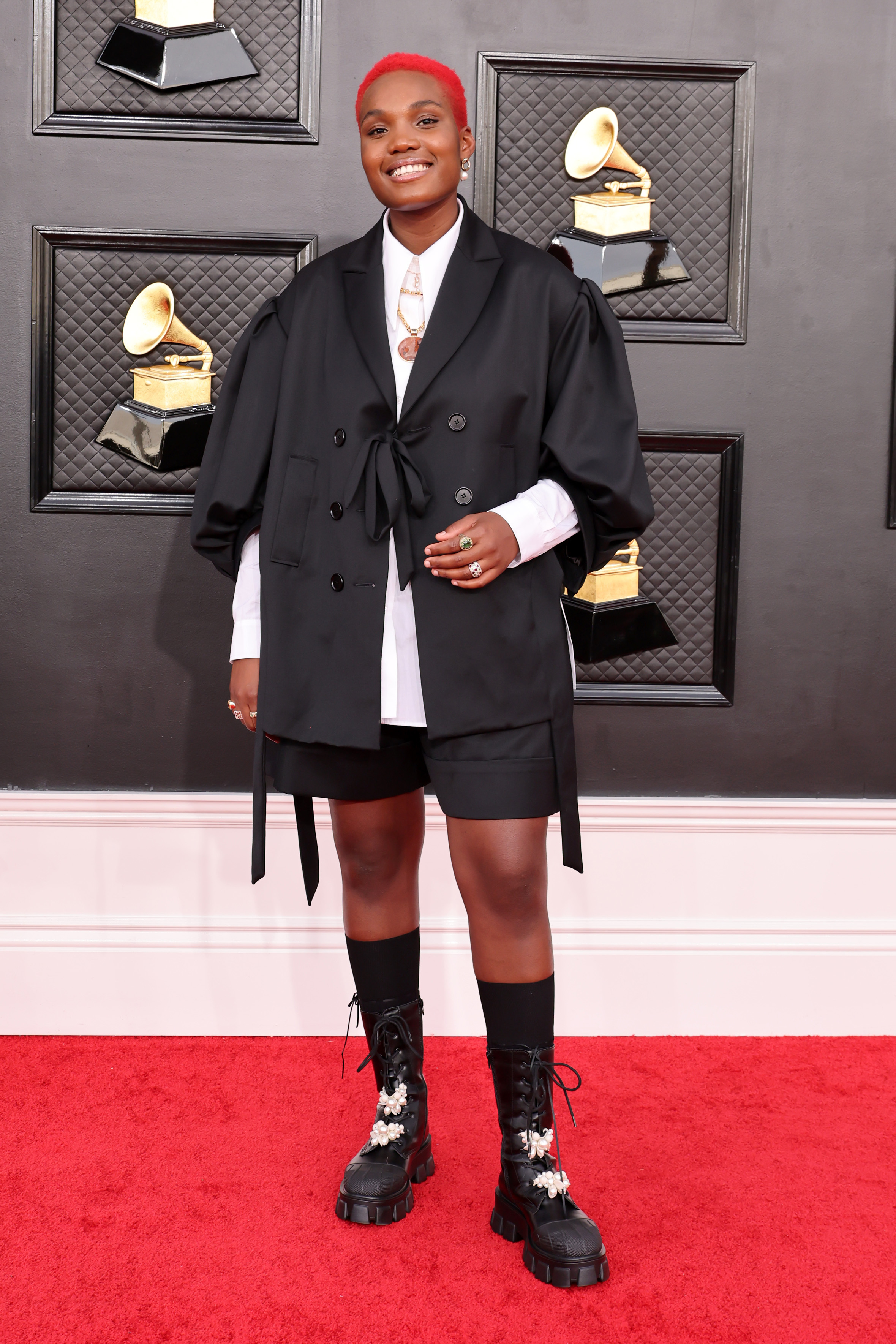 6. Arlo Parks in Simone Rocha
Brit fave Arlo Parks made her mark in the States when she earned two Grammy nominations this year, for Best New Artist and Best Alternative Album. She might have gone home empty handed, but no matter — the music, and her outfit on the night, both remain great. Absconding from the traditional big house designs, she wore a Simone Rocha look that felt formal but not dressy: a shirt and silk tailored blazer with a pussybow tie, shorts, and some industrial boots with pearl floral embellishments.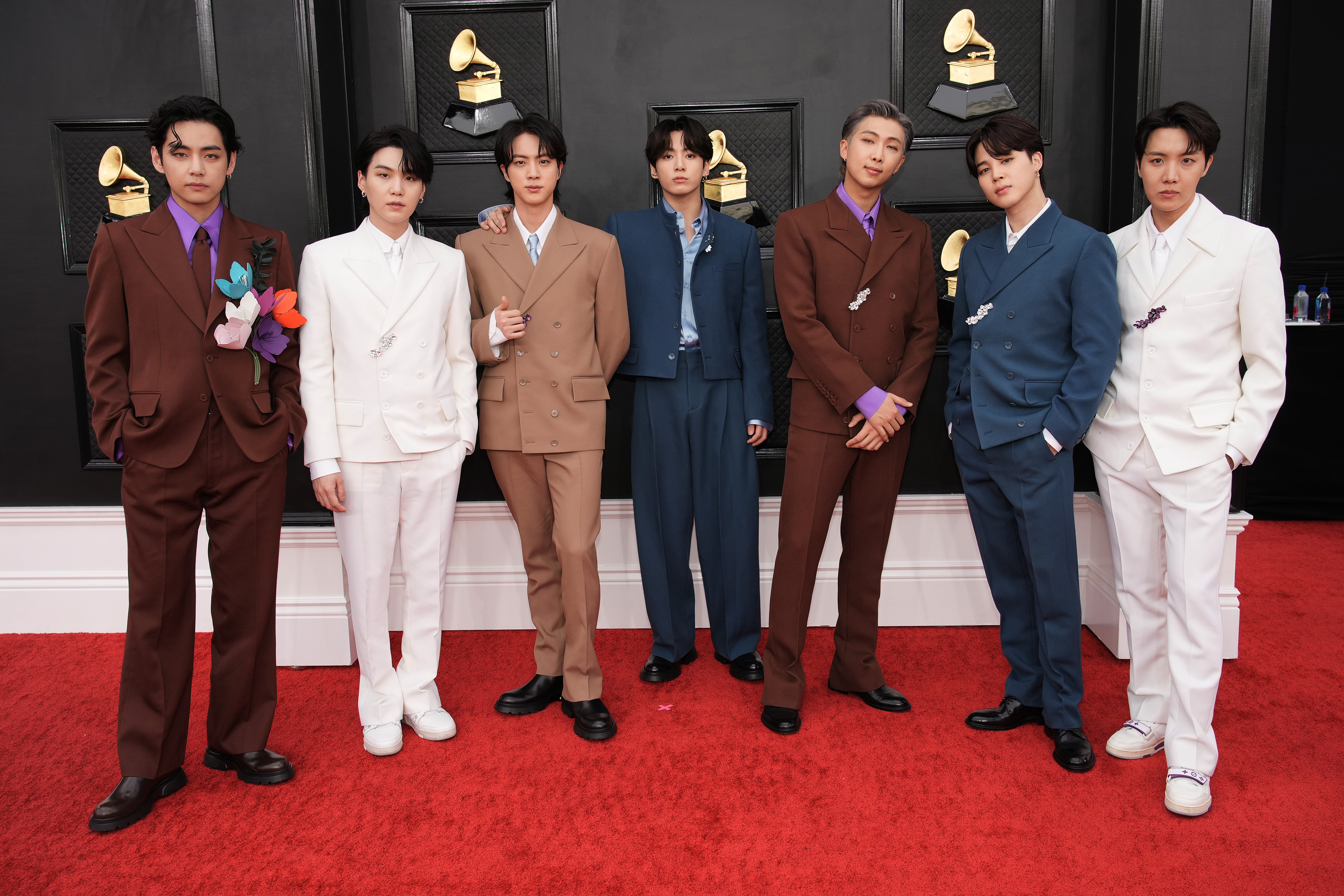 7. BTS wore Virgil's Louis Vuitton
The boys of BTS have dabbled in custom looks with many a brand, but they clearly feel most at home in Louis Vuitton. The suits and shoes they wore to the Grammys last night were all custom LV, inspired by Virgil Abloh's beautiful final AW22 collection. Everything came in shades of navy, white, camel, and lilac, but it was V's elaborate floral brooch that drew the most attention. A reminder that, no matter who rocks up to the red carpet, Korea's biggest boyband -- and the work of Virgil -- will always command attention.
Tagged: