Interviewing the cast of Everything Everywhere All At Once
Stephanie Hsu, Ke Huy Quan and the Daniels on making the craziest movie of the year, its unforgettable fashion, and Michelle Yeoh's auntie behaviour.
A24
This interview contains mild spoilers for Everything Everywhere All At Once.
How do you explain a movie like Everything Everywhere All At Once? It's a heartfelt kung fu flick from the Daniels: the director duo who brought you Swiss Army Man, and that deeply weird video for DJ Snake and Lil Jon's "Turn Down for What". The other A24 sci-fi film that has you crying to a Mitski song in its closing credits. The one that features a tour-de-force performance from Jamie Lee Curtis.
It's also a treatise on the Asian-American condition The New York Times called "an exuberant swirl of genre anarchy"; it's a two-hours-plus-long trigger warning for queer immigrant kids containing homages to both Pixar's Ratatouille and the cinema of Wong Kar-wai. The Michelle Yeoh-starring sci-fi epic has been said to have helped "heal generational trauma", its campy absurdism belying an emotional and powerful story about a Chinese-American woman and her fractured family.
So what exactly is going on in Everything Everywhere All At Once? Between a tax audit, a Lunar New Year party, and a matter-destroying bagel, Evelyn Wang (Michelle Yeoh) is perhaps living her worst life. Evelyn's relationship with her depressive daughter Joy (Stephanie Hsu) is strained at best and homophobic at worst. And though her husband Waymond (Ke Huy Quan) may be the most happy-go-lucky, earnest man in the world, even he's printed out the divorce papers. Through a quirk of multiversal destiny, Evelyn's enduring flop era has put her in position to save all of reality. But confronting the universe-destroyer proves difficult when Evelyn realises that they might be more familiar to her than expected: the villain is Jobu Tupaki, an iteration of her own daughter.
Here, Stephanie Hsu, Ke Huy Quan and the Daniels tell us about their parents' reception of the movie that was truly our multiverse of madness, their toughest shoot days, Michelle Yeoh, and more.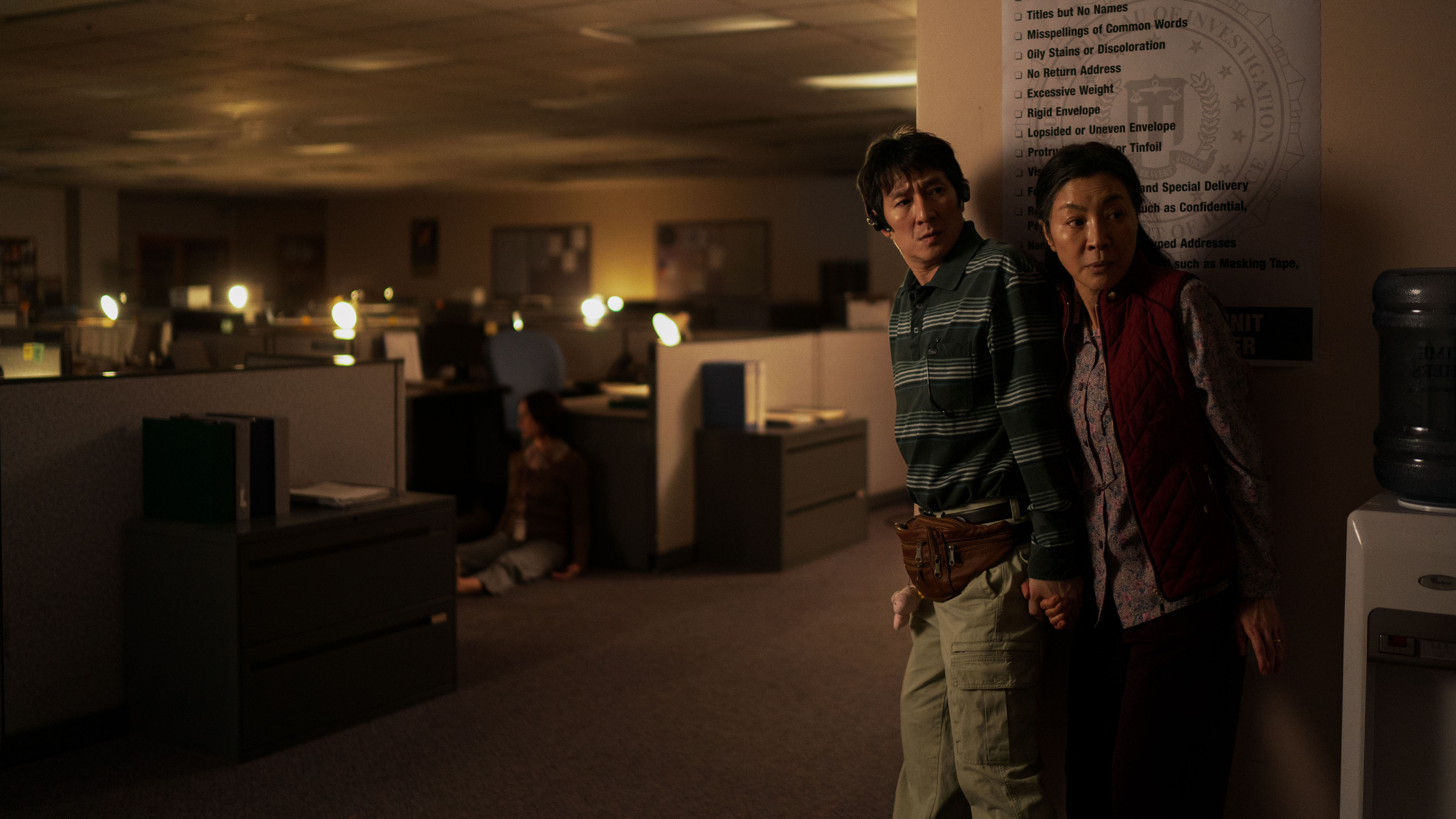 On their primary influences
Daniel Scheinert: There's playful sci-fi literature like The Hitchhiker's Guide to the Galaxy and all of Kurt Vonnegut's stuff, but also Satoshi Kon and Miyazaki films. There's something so fun about taking animated films and trying to apply them to a live action story. I also love Jackass. That one's really important.
Daniel Kwan: We also ended up looking really closely at movies like It's a Wonderful Life and Groundhog Day, which are both pretty mind-bending for the time they came out in. Both are high concept ideas that go to the depths of what a human can feel. But what we ultimately wanted to put into the DNA of this film was a message about family and community.
Stephanie Hsu (Joy Wang / Jobu Tupaki): We tried to make Jobu very singular, a type of female villain you've never seen before. So a lot of the research I was doing was around the permission that men have had to create these wild and scary and grotesque characters, from the Joker to Jim Carrey. I just wanted to see what they had done with a permission that I have seen a lot less women access.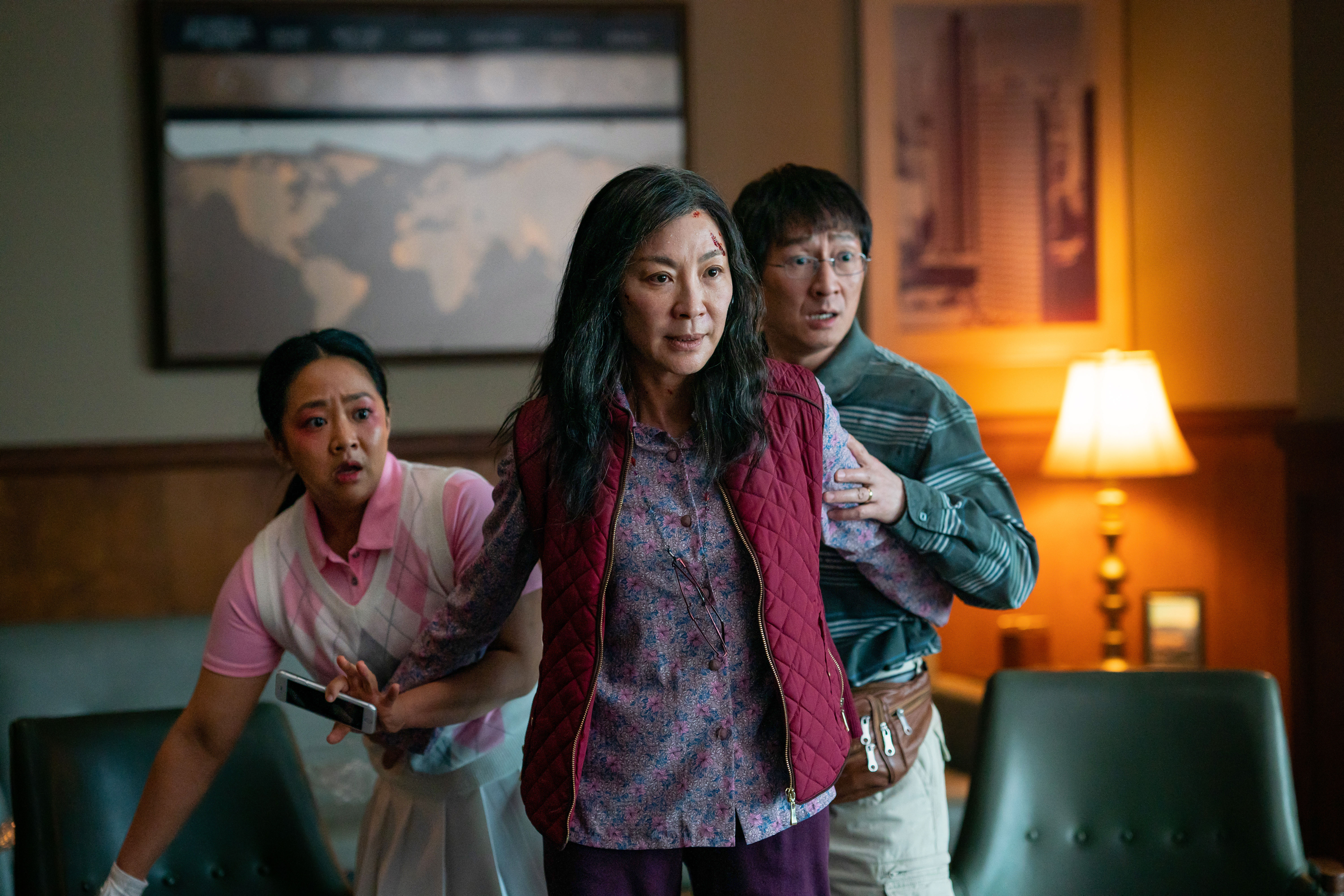 How their own parents felt about the film
Ke Huy Quan (Waymond Wang): My mom was so sweet. She rented out the whole of this theatre near her house to watch the film with all her friends. Because none of them drive – they're all past the legal driving age – we hired a car service to pick them all up, all 15 or 20 of them. She's 84 years old and speaks very little English, so I don't think she understood the movie, but getting that support from my mom and her friends was incredible.
Daniel K: My family is very weird in that my dad and my mom are almost polar opposites from each other in every way possible. When it comes to film, my dad watches everything, but he grew up on Hong Kong action movies and loves Michelle Yeoh. So when he saw this movie he was just so excited, and he totally got it, even though it's very complicated. Meanwhile, my mom falls asleep at everything, she never makes it through a movie, ever. So the greatest compliment my mom gave was, "I didn't fall asleep." So there's that!
Stephanie: My mom came to the LA premiere. I asked her what she thought after, because she was very quiet, and she said, "I liked it. I cried." Then she pointed at the movie screen and she said, "That's me." I've been reflecting a lot on what she meant by that, but I just think that no one tells the story of an older Asian immigrant woman, the trials and tribulations they go through to keep their family afloat while also focusing on the part of their family that they have to leave behind. And my mom was born in Taiwan, she is an immigrant, and she left her family for a better education when she was in high school. I think she's never seen that version of her story before on a screen.
And the toughest days on set
Daniel S: It's very challenging to pull off a kung fu movie on a tight schedule. On the fight scene days we'd have a comically ambitious shot list, trying to get through 50 or 60 setups in a day. They're complicated, and the actors are gonna get tired. So those days were very hard, but I think the whole crew was excited that it was hard, because we all really wanted to make this.
Daniel K: For instance, the fanny pack fight. Normally with a fight scene like that, you would get at least a week or two weeks to shoot. Because every single shot is a different lighting setup, you have to move the whole set around each of these little shots. And with our crew, we managed to pull that one off in a day and a half.
Ke: There was a lot of pressure in pulling off the fanny pack scene, and I did the majority of the action myself – there are only two shots where we used a stunt double. Physically, that was really hard. And when you're in a movie with Michelle Yeoh, you're doing an action sequence, and she's the queen of martial arts movies, you better bring your A-game.
Stephanie: A lot of things were shot practically, which means if you see papers flying all around the IRS office, instead of that being CGI or edited into the movie, it was actual papers that we had blowing in front of fans. And then after a take, we would all get on our hands and knees and pick up the papers, hand it back into the stack, and then do another take. I will say I think that the hardest day of filming was the very last day, and that is because it was March 16th 2020, which was the Monday that everything started shutting down. We had no idea what was happening.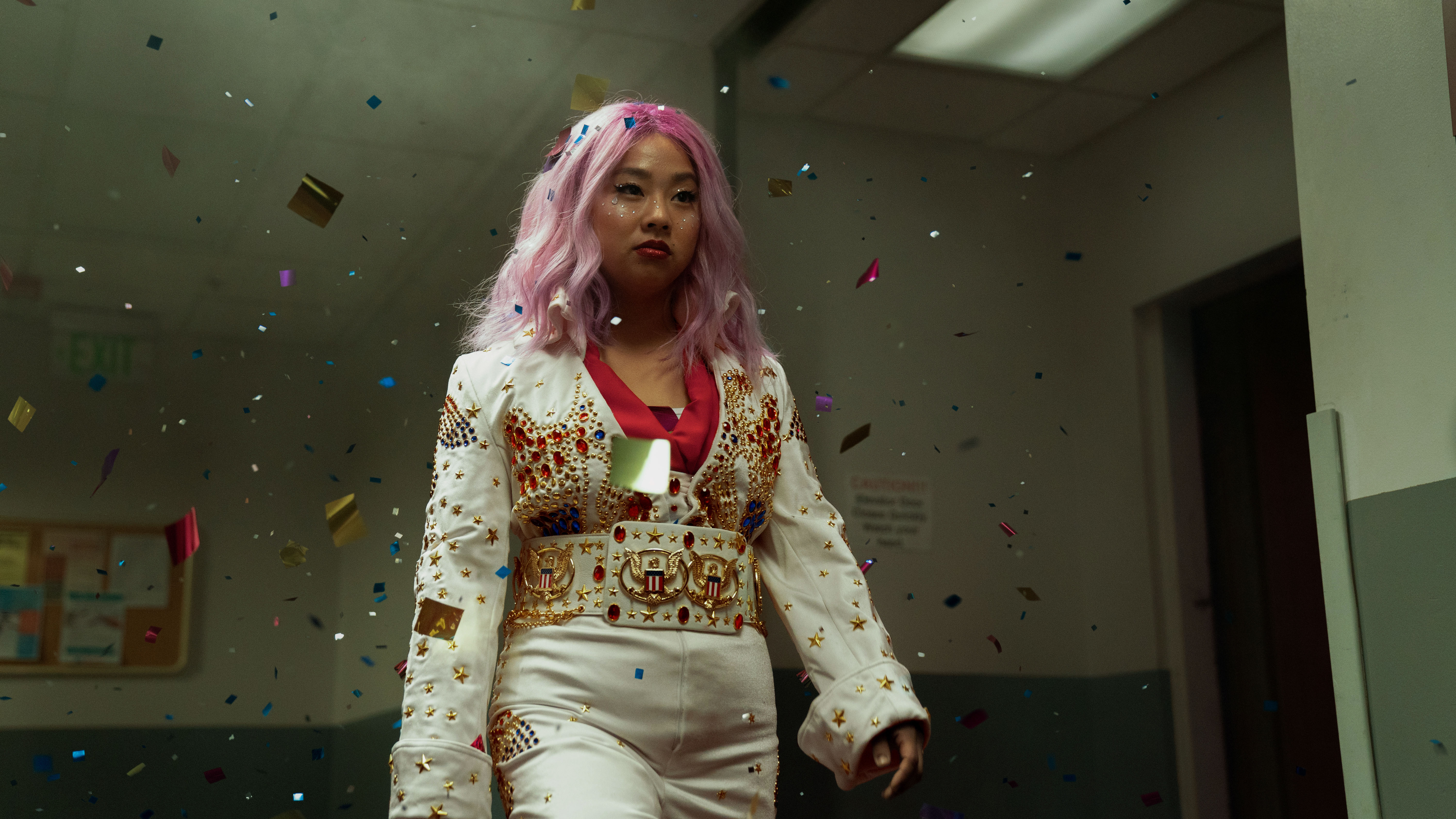 On the movie's most iconic fashion moments
Daniel S: ​​There are so many Jobu costumes that are gone too soon and they leave you hungry. I think my favourite is this one anime baddie look where she's in all-black, wearing these crazy tall platform shoes and holding a giant gun. Our makeup team did these little black hearts on her cheeks.
Daniel K: For me it's Michelle Yeoh's normal costume, with the pink vest and generic brand sneakers, all of that. Because I have had so many people reach out to me and be like, "This is exactly what my mom wears."
Stephanie: My favourite look is one we call K-pop Jobu. She's wearing a jacket with teddy bears for sleeves, her bangs spell out "Jobu" on her forehead, and she's wearing yellow pleather pants. I'll never get over the bangs, though.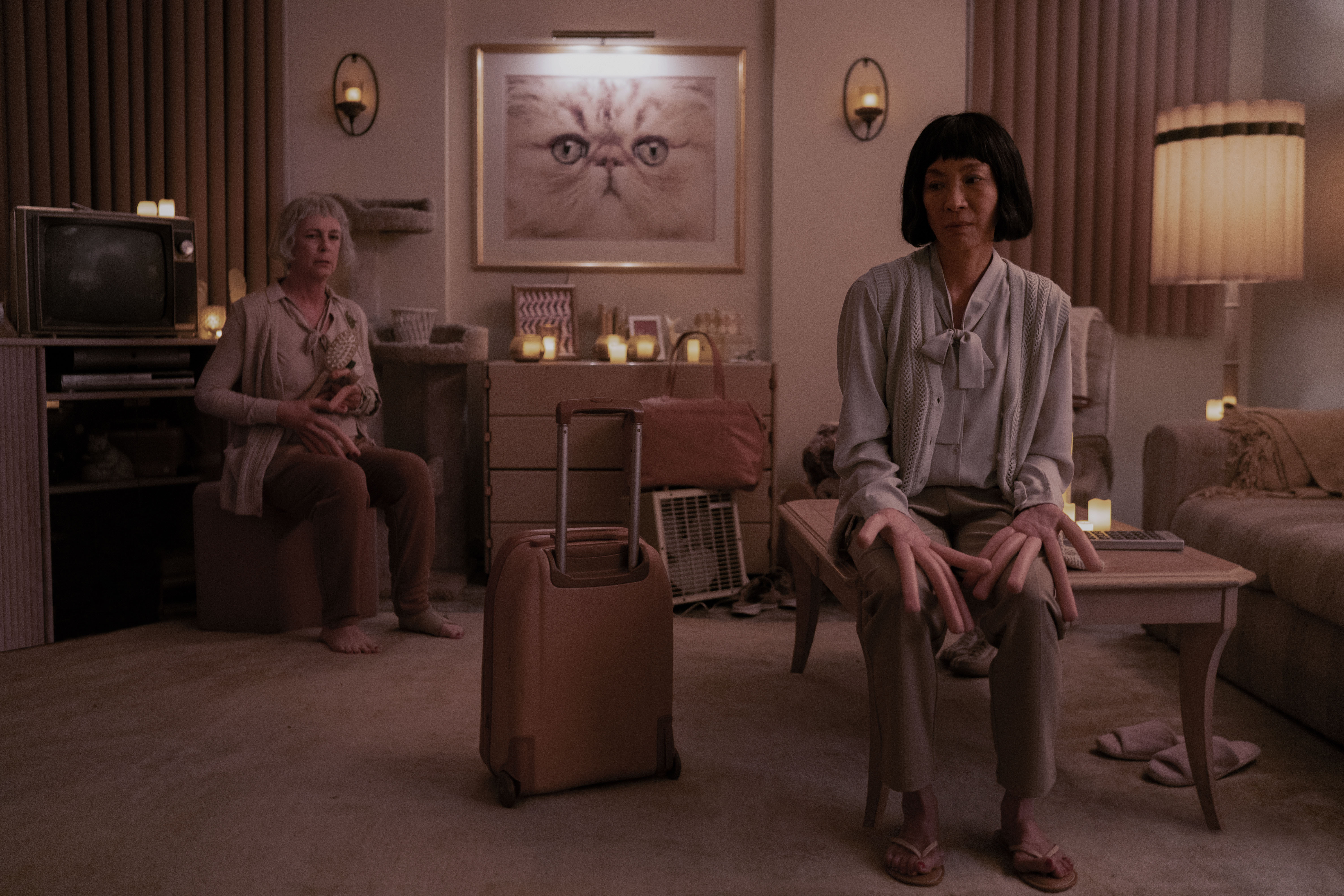 And the real question: what's it like working with goddess Michelle Yeoh?
Ke: It was a dream come true for me. We both started in the business at the same time, in 1984, but in different parts of the world. But I've been a fan of hers for decades, I've seen all her movies. I stepped away from acting for more than two decades, and it was her movie Crazy Rich Asians that got me thinking about it again. So to be in this movie, with Michelle, was really special. I don't think I could have done it with anybody else.
Stephanie: I mean, she is truly a legend. She is honestly just one of the most fun and loving people to be around, besides the fact that she's also one of the most excellent actresses on Earth. She really operated and worked with such open heartedness and compassion. I'm so grateful for her generosity of spirit and of craft. I feel like I got to work with the best of the best. And I can't believe that she played my mom!
Daniel S: We wrote a part [for her] that no one else could play. So it was like: "Oh, I hope she's nice. And I hope she likes it. Or else we've just spent a year and a half writing something that'll never get made." And she did! When we met her she was immediately playful, teasing us for being weirdos who'd written something so strange.
Daniel K: There were a couple of moments where she was truly nervous. The hotdog fingers universe was something that she was not comfortable with, and we had to keep explaining to her why it all made sense and fit into the bigger project. But it was still something she did not fully understand. And to her credit, she trusted us. I think once you have Michelle Yeoh saying yes, taking risks and being so fully on board, it's really easy to get everyone else to do the same thing.
Daniel S: I still see clips of us standing next to her and go like, "Whoa!" or I get a text message from her and I'm like, "WHOA!"
Daniel K: Sometimes she'll just text me like, "Send me a picture of your son." And that's it. She's such an auntie.

Everything Everywhere All At Once is in US cinemas now, and will be released in the UK on 13 May. Follow i-D on Instagram and TikTok for more on movies.
This piece is comprised of interviews conducted with members of the Everything Everywhere All At Once cast individually, that have been condensed and edited together for clarity.