Why is Scream's Ghostface in so much OnlyFans porn?
As the chaotic, flirty killer of the 'Scream' movies returns to cinemas this week, we investigate the recent rise in NSFW Ghostface content online.
|
13 January 2022, 11:45am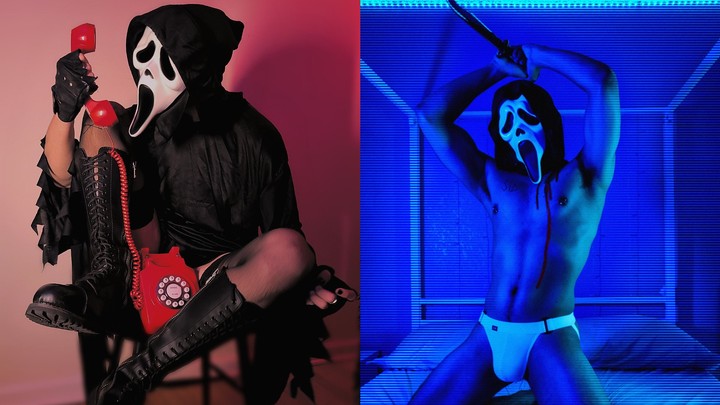 L: @starshooter_apollo, R: @cybrangel
For Halloween 2020, 24-year-old cosplayer Carlos from Texas rewatched Wes Craven's 1996 classic Scream and decided to do a photoshoot wearing the mask of its notorious and iconic antagonist — Ghostface. "I didn't have the full costume, and so I decided to just throw on a jockstrap and turn it into a fun pin-up style shoot," he says. In the first picture in the post on his Instagram, Carlos sits on a bed holding a retro wired phone in one hand and a bloody knife in the other under the iconic movie quote: "Do you like scary movies?". In the next, a knife is threateningly raised above his head as blood drips down his naked chest. It soon became his most liked photo on the platform. This October, Carlos created two more sexy Ghostface photoshoots in celebration of Halloween: one again as the menacing character; another as one of his victims.
The villain of the Scream franchise has been popping up in an increasingly horny way on social media recently. A quick search of #ghostface across most platforms will lead you towards similar content to Carlos's. With oiled up chests and tightly corseted bodies covered in fake blood, each post contains the same Halloween shop ghost mask that the movie producers stumbled upon 25 years ago and selected as the veil for their serial killer. On TikTok, the hashtag has over 3.4 billion views, with videos showing users transitioning from a threatening clothed Ghostface into a lingerie-clad sexy one instead. More invested users have also taken part in TikTok's #ghostfacecult (which alone has 665 million views at time of writing) and showcased their appreciation for the fictional (and ever so camp) killer by changing their profile picture to the parody version in Scary Movie (2000). Sexy Ghostface's reach even extends beyond the confines of Instagram and TikTok, with the haunting mask getting its real horny re-up on Onlyfans and Patreon.
Carlos began making sexy horror themed content in 2019. He got into cosplaying around the same time after attending a comic book convention — his first recreation was Johnny Depp's character in A Nightmare on Elm Street ("the iconic scene where he's wearing a crop top and sweatpants - already very sexy"). Though the pandemic pushed his cosplaying entirely online, it helped build his digital audience. Now, the bulk of his income comes from his Onlyfans and Patreon accounts, where he shares "lewd photos too risky for Instagram", behind-the-scenes content and NSFW videos both in and out of the Ghostface mask.
"The white mask and black cloak allow for fantasies and you wonder: 'Who is this person chasing me? Are they hot? What are they wearing under that?'"
Carlos cosplays year-round but saves the horror content for October "since that's when people seem to be most in the mood". He's also done a jockstrap-wearing himbo version of Michael Myers from the Halloween franchise, but it's Ghostface that the fans truly adore — particularly those in the queer community. "They're definitely the demographic that enjoys the sexy horror villain content the most," he says. "Queer people love horror and the majority of my following are gay. When I dress up as Ghostface or Michael my mentions are filled with 'please stab me!' and 'I'm leaving my doors unlocked'. It's all about the fantasy and role-play aspect. There's a certain sexiness tied to the feelings of danger, adrenaline and mystery."
He's not wrong. Film professors Carol Clover and Linda Williams argue that pornography and horror both fit into the umbrella "body genre" because they both "privilege the sensational" to try and create a bodily reaction within their viewers. They argue that naturally, then, there's going to be some crossover between the two; both aim to get our blood pumping. Additionally, both were banned under America's Hays Code, an enforced and rigid censorship over cinema until the 1960s, which made sex and horror contentious taboos for directors to explore together long after it ended. The Scream films play on sexuality from the offset — it's no surprise to learn that their late creator, Wes Craven, started as a porn director. In turn, the masked character has made its way into multiple porn parodies with names like Scream XXX and Moan.
As Carlos points out, in the first Scream's infamous opening scene, Ghostface flirts and toys with Drew Barrymore's character Casey Becker on the phone. "It's the horror killer's equivalent of foreplay," Carlos points out. "I knew it had to be a sexy voice and something interesting enough to keep [Casey] on the phone, even though she clearly wants to hang up," Roger L. Jackson, the actor who voiced Ghostface, told VICE. "He sounds interesting. There's this texture and erotic colour to his voice. It's like a cat that seems sweet and playful, but then all of a sudden the paw comes down onto the mouse's tail. I wanted the voice to change colour as Ghostface goes in for the kill, sort of like a cat does." Sex plays a major role in much of the rest of the film as well, with the 'original sin' that sparks the killings being the affair had by the mother of its main character, Sidney Prescott, played by Neve Campbell. Then there's Billy and Stu, played by Riverdale's Skeet Ulrich and Scooby Doo's Matthew Lillard: two teenage boys (and the OG Ghostfaces) who have a somewhat homoerotic relationship. In fact, throughout the franchise, most of the faces behind Ghostface are horny pent up teenagers.
"I noticed a lot of simping in the comments of my Ghostface Tiktoks and was like, 'Maybe I can feed into this'," 21-year-old New York cosplayer Apollo says. He started with anime cosplay in 2014, only more recently trying out Ghostface after watching the film last year, which he posts alongside other unorthodox characters, like Edward Scissorhands. "The outfit [for Ghostface] is pretty easy. It's mostly clothes that I wear everyday with a bit of a punk, alt twist." An Amazon wishlist of garters, fishnets, underwear and more means fans can buy the specific outfits he removes or reveals. "Ghostface being masked is what people like because of the mystery of who could be under it. It's up to our imaginations."
In the films, the straightforward mask and gown adds to our thrill as a viewer: Ghostface could be anyone, from the handsome Billy Loomis to his vengeful middle-aged mother. "That's what makes him sexy," Apollo says, "Ghostface isn't just one person but many. He could be anyone." Carlos concurs: "The white mask and black cloak allow for fantasies and you wonder: 'Who is this person chasing me? Are they hot? What are they wearing under that?'"
He adds: "There's something inherently sexy about an anonymous stranger wanting to get you that bad."
Follow i-D on Instagram and TikTok for more on horror movies.