Want to go to the BFC's Fashion Awards this year? Here's how you can
With Daniel Lee, Bianca Saunders, Nensi Dojaka and Miuccia Prada among the designers up for prizes, it's gonna be a biggun! 
|
29 October 2021, 10:55am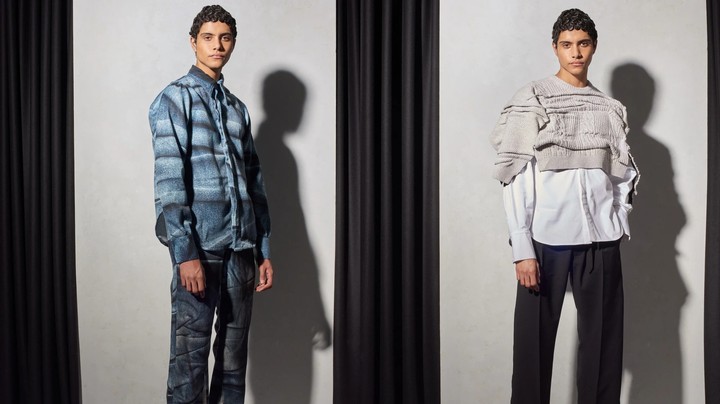 Bianca Saunders AW21. Image courtesy of Bianca So
What do Daniel Lee, Demna Gvasalia, Jonathan Anderson, Kim Jones, Raf Simons and Miuccia Prada all have in common? Well, other than that they're all, like, totally important designers, the answer is that they've all been nominated for the Designer of the Year gong at the British Fashion Council's 2021 Fashion Awards.
Returning in the flesh for the first time since the start of the you-know-what, the BFC's ritzy prize-giving ceremony – one of the industry's most prestigious – is back, and it's bigger and better than ever. Taking place on November 29, and presented in collaboration with TikTok, the awards ceremony will also return to its home at Royal Albert Hall.
Additionally, this year sees the expansion of the award's remit, with a "broadened focus [that] aims to platform those who are creating positive change across all levels of the industry while continuing to spotlight global creative excellence," says Caroline Rush, the organising body's current Chief Executive. Alongside the announcement of the winner of the main gong, the celebratory soirée will also see the BFC Foundation Award – a prize that, according to a press release, "recognises an emerging designer talent, who over the last 12 months has had a major creative impact on global fashion" – given to one of following nominees *drumroll*: Bethany Williams, Bianca Saunders, Nensi Dojaka, Priya Ahluwalia and Richard Quinn.
But wait! They're not the only ones you'll be raising a glass to on the night. For the second year running, the BFC will be doffing their caps to 15 Leaders of Change – people who, over the past 12 months, have been at the forefront of affecting positive development in three categories; Environment, People and Creativity – as well as the 50 new gen fashion creatives that make up this year's NEW WAVE: Creatives list.
Who's on there, you ask? Well, you'll either have to turn up or tune in on the night to find out! That's right, this year you – yes, you! – can pitch up to one of the most stylish events in the global fashion calendar by clicking here and copping yourself a ticket! See you then, sweeties!