Celebrating the art of the boyfriend soft launch
Phoebe Bridgers, we salute your contribution to the craft.
|
09 November 2021, 4:49pm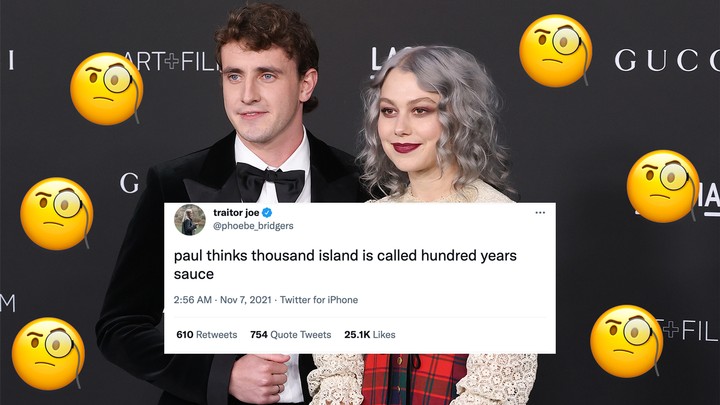 There is something so uncouth to me about posting your life milestones to social media. Ultrasound photos on Instagram? Unchic. Changing the surname on all your handles and usernames after getting married? Desperately uncool. Celebrating a promotion with a carefully crafted caption, containing just the right amount of self-deprecation and always the phrase "so… I did a thing"? I would rather sign my first born child over to the Metaverse, to be sacrificed by an AI Mark Zuckerberg atop a virtual volcano.
The ubiquitousness of social media in all our lives and the requirement to cultivate a 'social media persona' is off-putting to an increasing number of people because of the meticulousness required to repackage all the landmark events in our lives to fit into a certain amount of characters, and appeal to particular demographics of followers (our friends, co-workers, and weird distant relatives). It's why increasingly, we're turning our backs on social media altogether or, if not going that far, then at least embracing the antithesis of the formal, uber-curated vibe of the Instagram aesthetic, embracing photo dumps, finstas, chaotic short form videos (thanks to TikTok's world domination) and the art of the soft launch.
Rather than the formal social media announcements of the past -- "I have a new job!" "here is my boyfriend" "look, we had a child!" -- the soft launch takes a different tack. Take, for instance, a new partner. Rather than introducing the partner formally to your feed (and then having to go through the sadly inevitable task, after the break-up, of miserably archiving the posts which charted the highlights of your relationship), the soft launch merely hints at the idea of romance. A restaurant photo, focusing mostly on an artfully created plate of food, where just the suggestion of an arm is seen in the corner of the shot. Here's a lovely selfie, and is that… whose head is that in the background? It's too blurry to tell, and nobody is tagged. A stereotypically couple-y adventure is shared with, instead of happy selfies of you two frolicking on the beach or through lush verdant countryside, a simple "best weekend" caption, with some lovely scenic shots. "But who were you there with?" The post begs the question. The question goes unanswered.
The practice supposedly reaches its zenith in September, as hot girl summer segues into cuffing season. Writing about the phenomenon for The Cut, Laura Pitcher traces the origins of the September soft launch to Shiva Baby's Rachel Sennott, who coined, or at least popularised the term last summer, and then proceed to soft launch her own boyfriend. Genius. "I was quarantining at home with my family and my sisters, and I noticed how on Instagram all the girls who had locked down with a quarantine boyfriend were starting to subtly post them," the comedian said. "We were joking about how people were posting their boyfriends the same way companies tease a product, like a sneak peek but not the whole thing."
Since then, the soft launch has become more than just a Twitter joke or even a side-effect of quarantine. The soft launch is the du-jour way to introduce any life-change online: be it a new partner, a move to a new city or country, or even a life-changing illness, in suitably unhinged, TikTok fashion. Even the celebrities are at it. On Sunday night -- we would argue, given everyone is mindlessly scrolling, post-weekend events, pre-working week, this is peak soft-launch time -- Phoebe Bridgers soft launched her own boyfriend, Normal People star and shorts-shorts aficionado Paul Mescal, to the world and her 488,000 followers, with a throwaway joke about condiments.
It's the kind of announcement that in the past, celebrities might have delegated to tabloids through their publicists. Or if they were a different kind of famous person, they might have staged some paparazzi photos, or (the absolute worst option) arranged for a joint interview, where they gush about their love to one another and their plans for the future. But constant access to celebrities through social media, and the deranged parasocial relationships we've developed with our favourite famous people in the process, mean that they don't need to court photographers or journalists to put to bed rumours that they're shagging. Phoebe and Paul speculation has been circulating online since last year, but rather than give into the temptation of making some big public announcement, the pair have chosen the mystery and the allure of the soft launch which is, for celebrities in the age of social media, perhaps the only way to retain some semblance of privacy.
As the website went into a stan meltdown in her replies, Phoebe, we can presume, simply put down her phone and absolved herself of the chaos, returning once more to her beautiful, non-virtual life. This, surely, is what we all want from our social media presence. Reject formality, embrace simplicity. Long live the soft launch.
UPDATE: Phoebe has just teased another stage in her soft launch strategy of Paul.