Boos Cruise is the queer skate collective tearing up the LA scene
"We're all hot. We're all queer. We're all just here to vibe."
|
06 December 2021, 10:28am
Los Angeles is often portrayed as a paradise, where skateboarders, roller-skaters and surfers kick back, with their sun-kissed skin and a certain youthful lustre that seems laced into the West Coast drinking water. This depiction is not a fallacy, but perhaps a more temporary truth — one that fades away to reveal rifts and exclusionary tales in an ideal landscape. When it comes to the skate scene, this laid-back essence can shroud a culture that lacks inclusivity, with the sport typically associated with, and thus reserved for, cis-heterosexual white men.
"Skateboarding is very much an 'outsider' activity," Cerise Castle says over Zoom. "We exist on the fringes of society and don't necessarily subscribe to the rules. We're happy existing in our own communities with our own hierarchies, fashion, culture and all that goes along with that. But what's interesting is, it's still so insular. You usually have to fit this profile of white cisgender man to be allowed to participate in that outsider community."
Cerise is a member of Boos Cruise, a queer skate collective co-founded by Roni Davis and YaYa Chavez in 2020. A Las Vegas native, YaYa spent several years in New York before moving to LA two years ago. Their time in different cities left them wondering why so many skate collectives had the same make-up, or seemed to be reserved for just one part of the LGBTQ+ spectrum (i.e. gay or lesbian). "There's this cliquey-ness to the skate community. The gatekeeping is like a defence mechanism, kind of like, 'Who the fuck are you?'" YaYa explains. "But it doesn't have to be like that. We're all trying to do the same thing."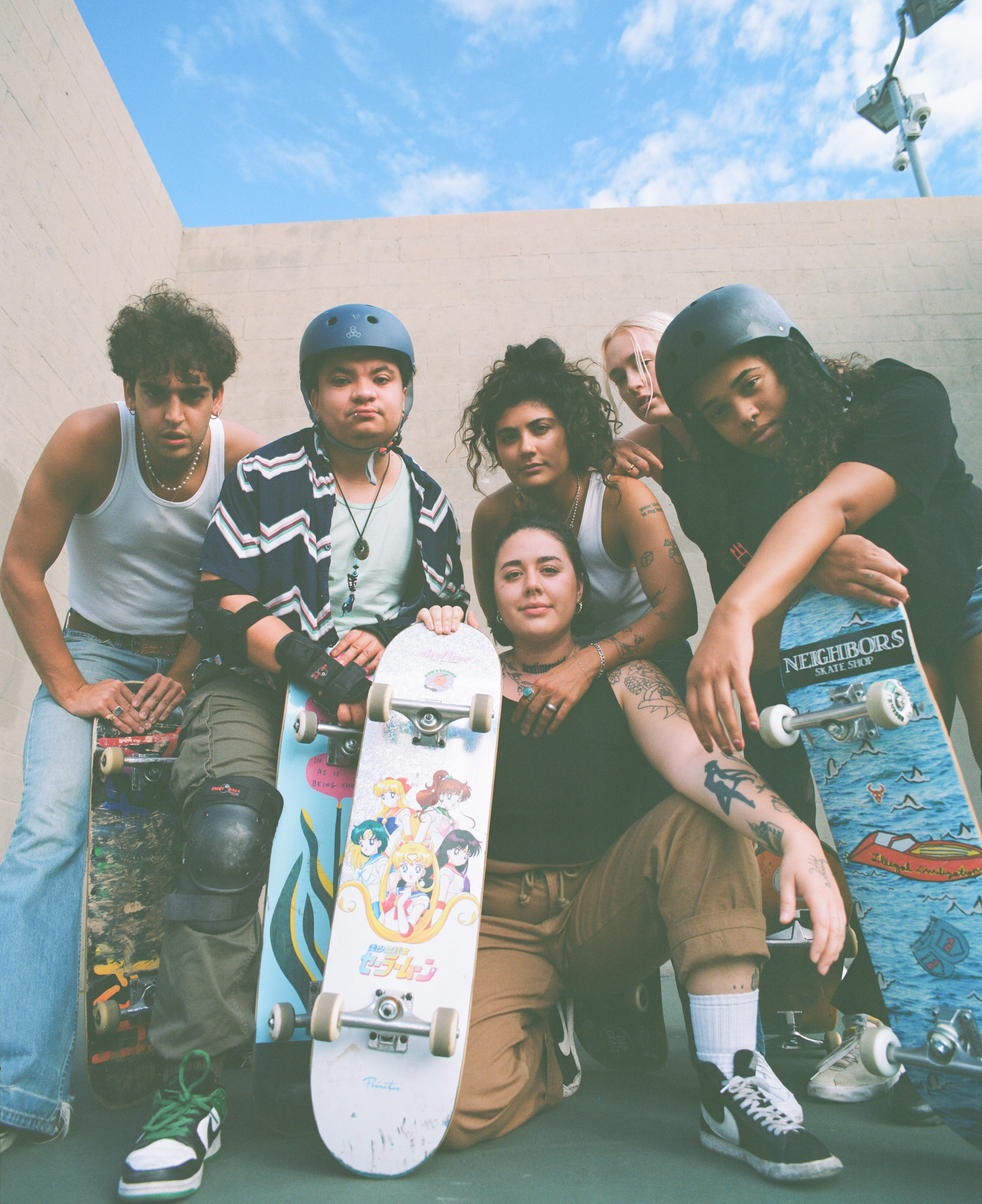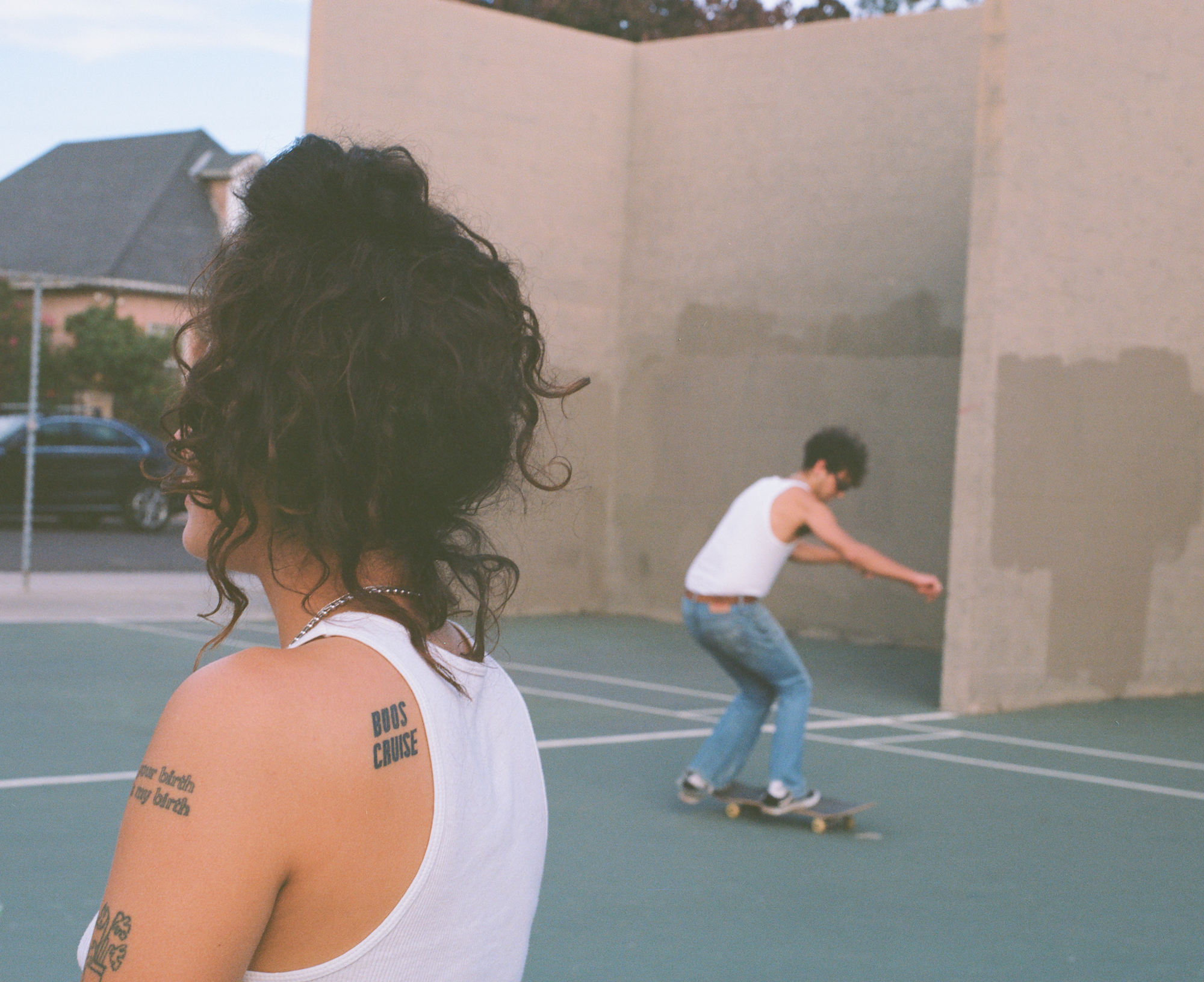 Boos Cruise aims to change all that, and is built on centering queer identities in totality, as well as BIPOC individuals. Carving out their own niche in the LA scene, the crew is insistent on inclusivity, openness and kindness. A new skater might attend a bi-weekly meet-up at Chevy Chase Skatepark, skeptical and reluctant, but once they see fellow attendees cheering each other on they'll hopefully have confidence to get on their board. "I think that should be okay more often," Roni says. "Skating is a slow progression. You don't have to get on the board the first or even the second time. We'll still welcome you, notice you're there and be excited that you came back, no matter what you want to get out of it."
Here, we meet some of the members of Boos Cruise and find out what it's like being a part of a queer skate collective, what community means to them and who their heroes are.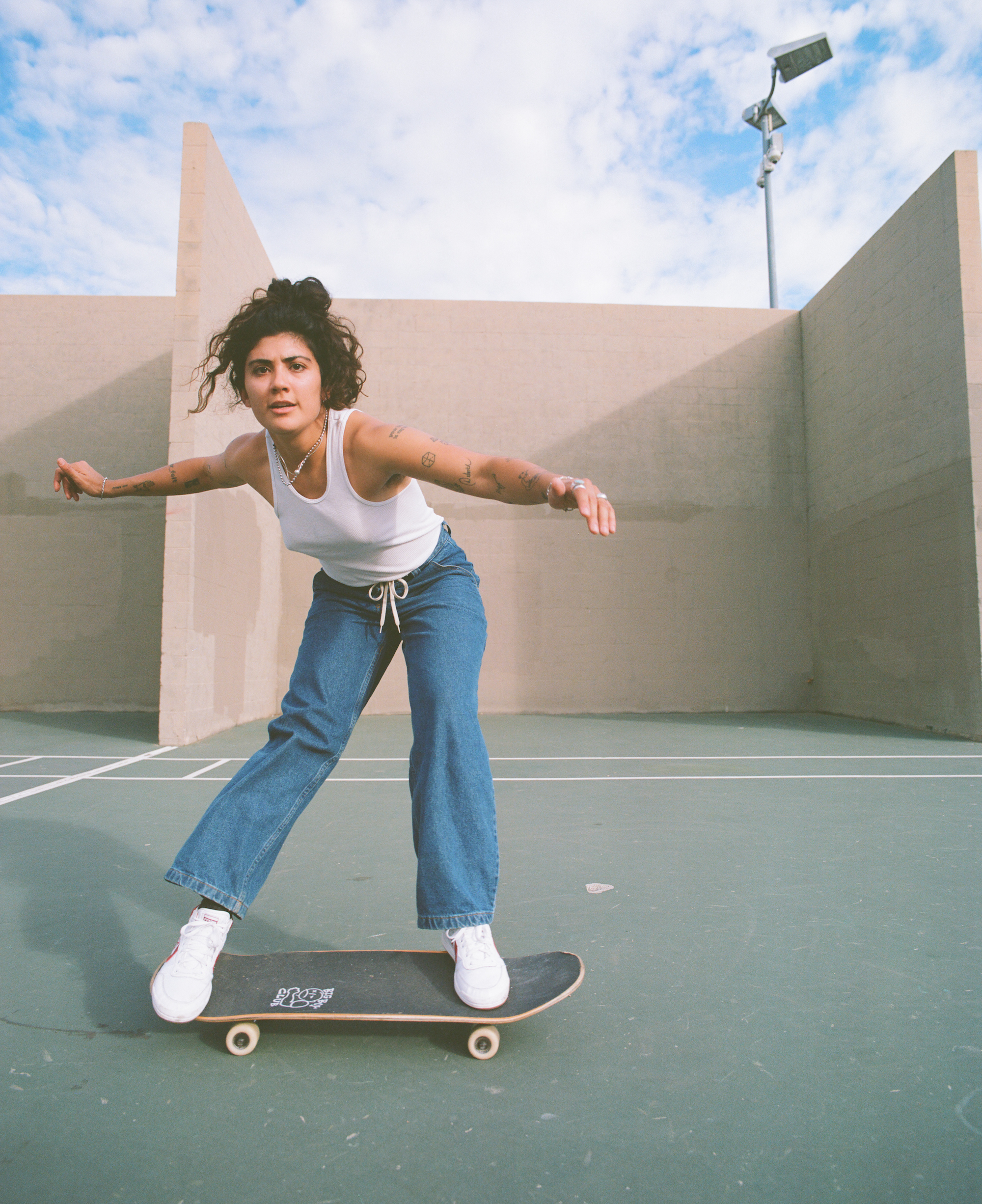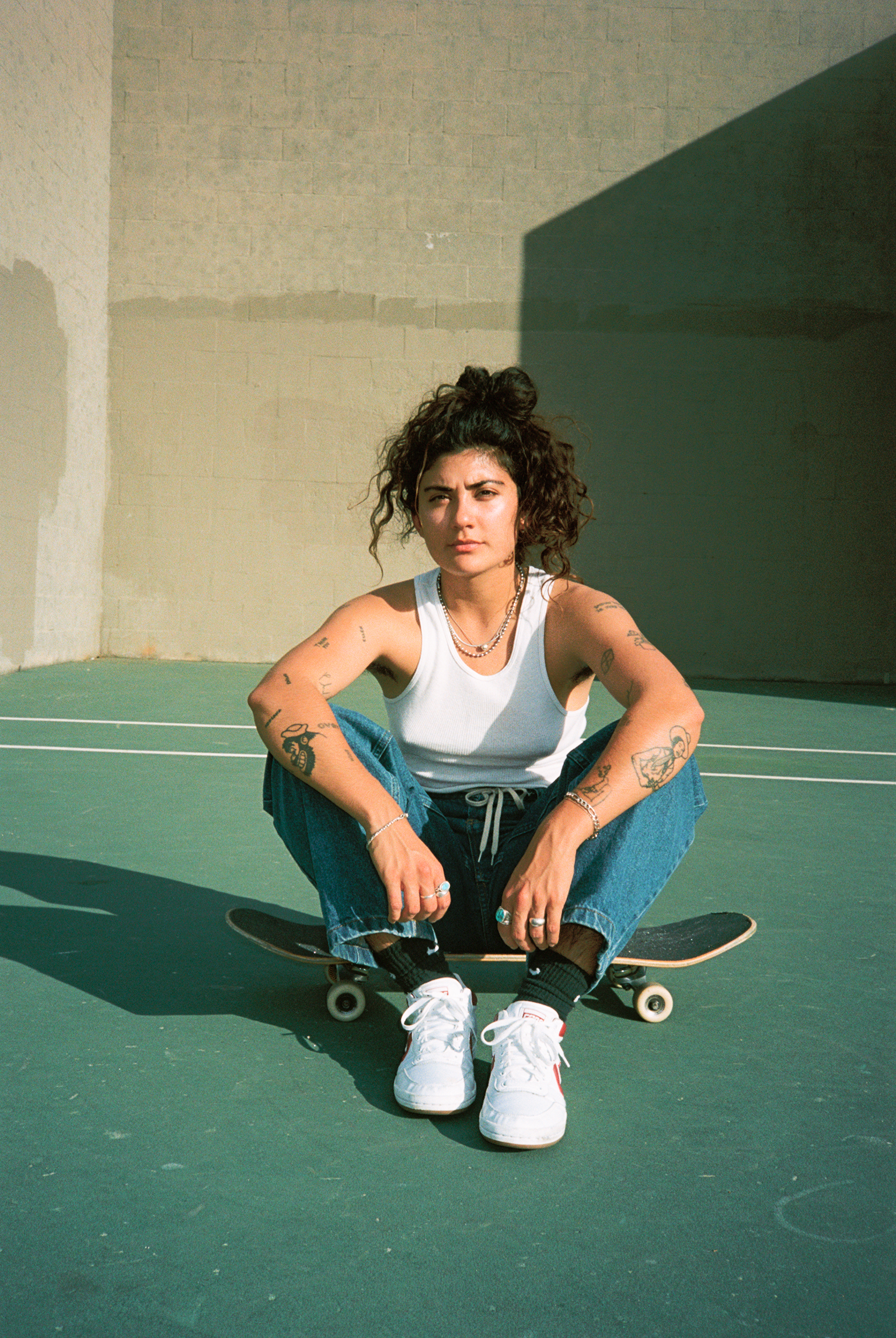 YaYa Chavez
When did you start skateboarding and why?
I've been skateboarding since I was in New York in 2016. It was a means of transportation and a form of meditation after getting sober. Being on the board was a really freeing way to get out of my head and focus on something. In the last four months or so, since Boos Cruise really started blowing up, I've actually cared to get better or get more tricks under my belt. Honestly, that's just because of the people who are in Boos. If it wasn't for Arian, I wouldn't know how to do an ollie. If it wasn't for people like Matt, Torrie, Cerise and Roni, I wouldn't be able to drop in. They were all cheering me on in moments where I didn't feel comfortable to do things on my own.
What led you to start Boos Cruise?
The other skate spaces that I was in didn't feel safe for me, in a multitude of ways. I didn't feel safe being non-binary or being Brown. I didn't feel safe being around men who throw their boards and have little to no respect for people who don't look like them. The collectives I saw didn't feel like they were for me. That's fine cause they're for someone else, but I wanted to create something for people who are like me, so we can feel sweet and safe at the same time.
What do you do when you're not on your board?
I'm a musician, but after we started with the collective, I kind of slowed down doing music. Boos became my bigger focus. Music is still a huge part of my life, but this collective has become my life.
Talk to me about community. How has your queerness informed your relationship with skating? Has that relationship changed since Boos?
Skateboarding can be ruthless. For me, community means being around like-minded people who have a common goal. For Boos Cruise, that goal is kindness. When you enter a usually-ruthless place with kindness, they're kind of shell shocked by it. Like, 'Oh, you're being nice to us, even though we're trying to be dicks to you guys.'
Also, as a kid, I didn't understand my gender. My gender expression was very masculine. I got called a tomboy because of the sports I was into or the way I dressed. I gravitated toward boys because the girls would always make fun of me. Being queer, especially in this skate community, just means being accepted. The fact that you get to be with a bunch of awesome human beings makes a huge difference. You can be accepted by the people that you're surrounded with. I think that's really rad.
Who are your heroes?
My friends. I would not be a sliver of who I am without my friends, my chosen family. Don't get me wrong, I love my biological family, but I think chosen family is everything. In a lot of ways, they're all the things you like about yourself. I used to speak a lot and didn't listen enough. My friends have so much to say, and I have so much to learn.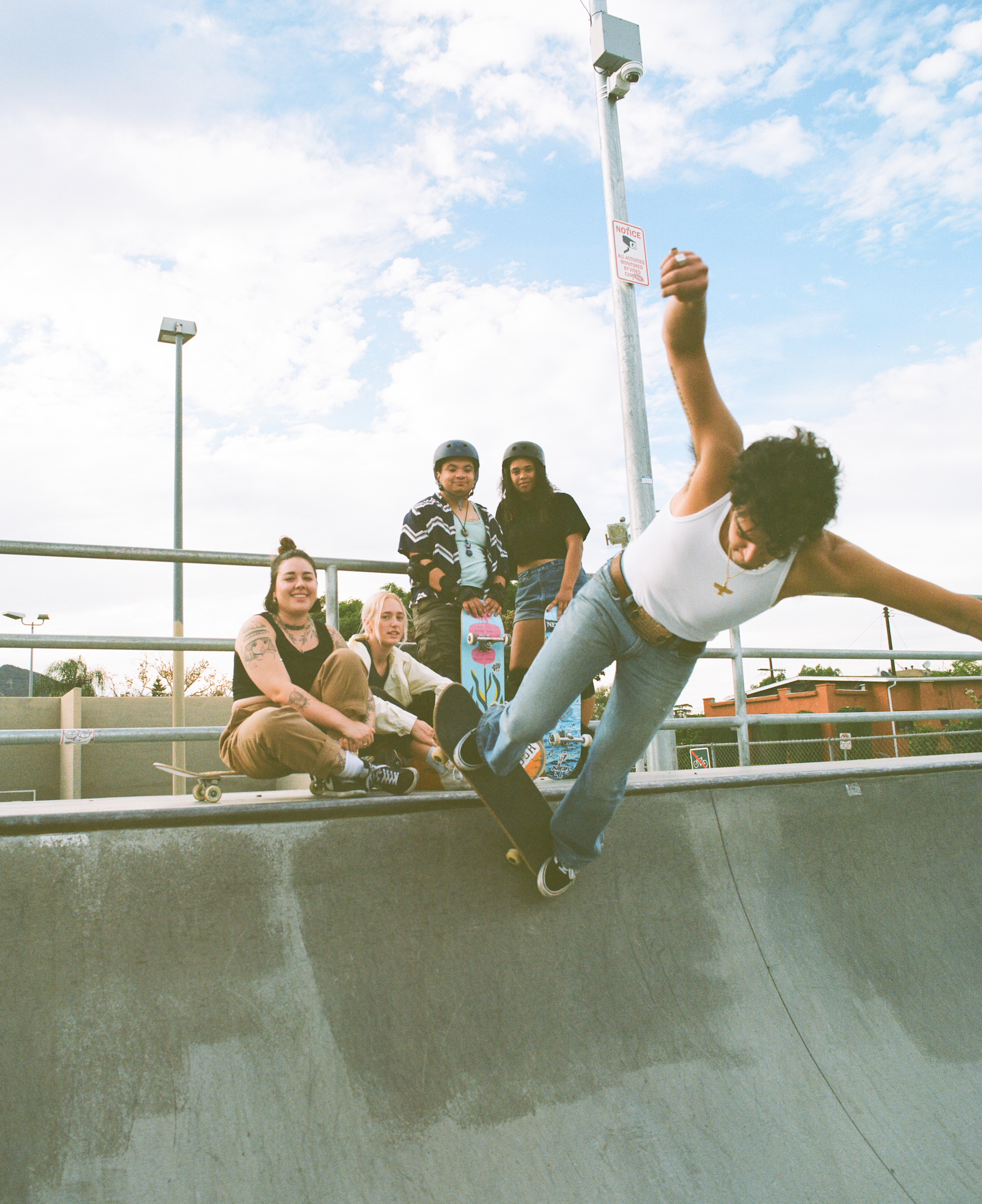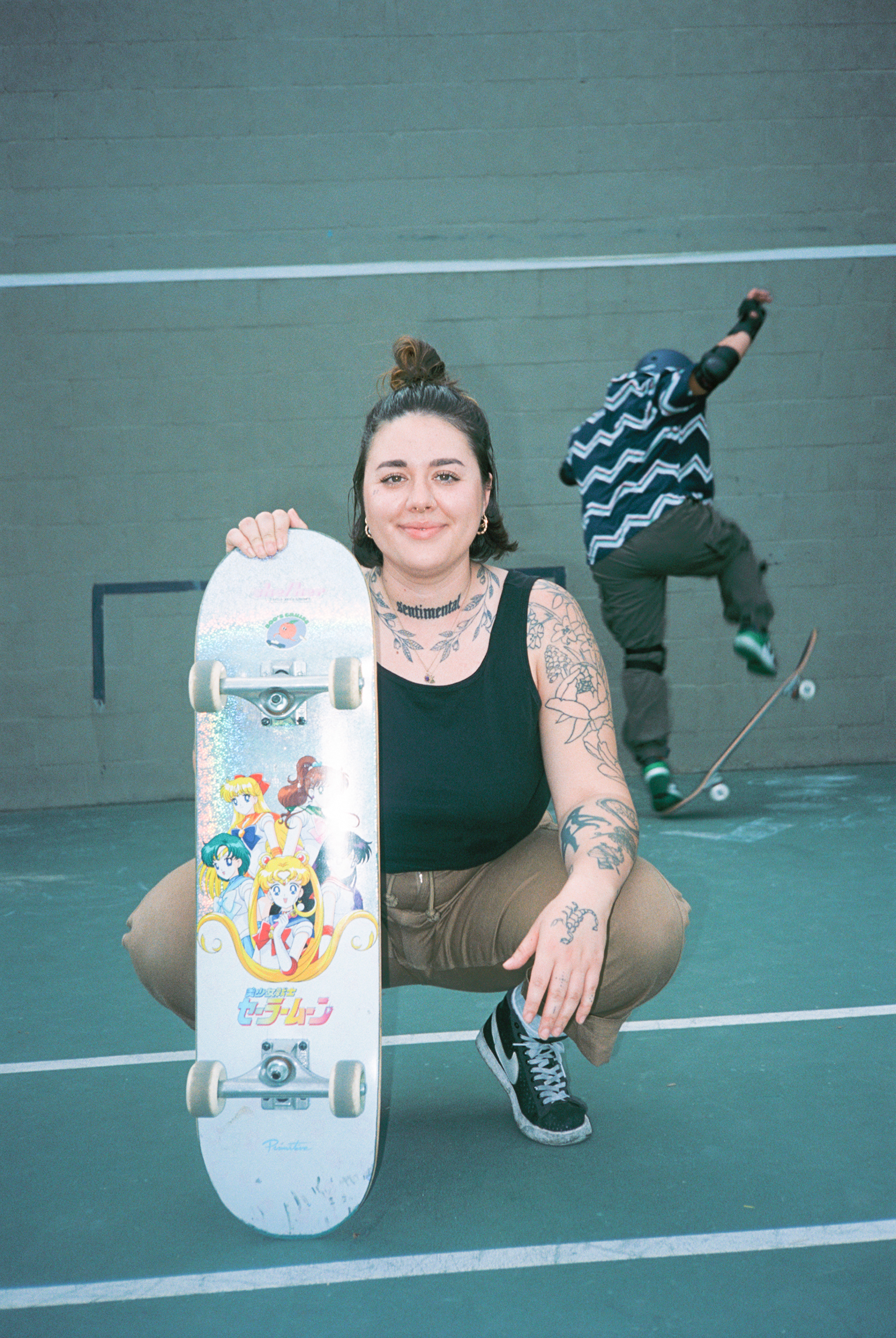 Roni Davis
When did you start skateboarding and why?
I skateboarded a bit when I was a kid in middle school. My dad's been a skateboarder his whole life, whereas my mom was very against it. I think because she saw my dad get hurt so much. It felt forbidden, so when I skated it was very much on the down low.
When I moved to LA I started skating by myself in a parking lot, near where I lived in Koreatown, but it wasn't anything serious. When I met YaYa, we started skating together during the pandemic. Obviously, everybody felt really isolated, and it felt so nice to make this beautiful friendship in spite of that. It just became a really good release in a freaking weird time when no one knew what the hell was going on. Skating became the only routine that I had. It was incredible to have that privilege — to be able to dedicate all that time and energy into a skill that I had never really properly practiced.
What led you to start Boos Cruise?
In this co-founder relationship, I have much more of a behind-the-scenes role. I'm not the face. YaYa is the face, the energy, the skateboarder. I got into it for the community, for the friends. I think it's really beautiful that we've created these bonds.
What do you do when you're not on your board?
By trade, I'm a chef. I work at a restaurant/bar here in LA. I'm also learning how to produce music, just for fun.
Talk to me about community. How has your queerness informed your relationship with skating? Has that relationship changed since Boos?Honestly, I don't ever want a straight person to say, "So you're, like, kind of a lesbian," ever again. I can't hear it again. I can't express how important it is to be able to be around people who you don't have to explain any part of your identity to unless you want to. Because nobody cares about that. As a femme-presenting person in predominately cis-male spaces it comes up constantly, and it's nice to have a community that's not based on judgment and has no pressure to put yourself in a box.
Who are your heroes?
I was born in the early 90s in Seattle, so there was a lot of instability, drugs, whatever, you know, crazy shit. But my parents were really fucking cool. My dad decided that skateboarding was for everybody. He's a Muslim-Asian man who came from a family of immigrants and often felt like he didn't have a secure sense of place and belonging. Skateboarding kind of became that belonging for him because he made it that way.
My queer icon is my mother who broke out of our extremely toxic Christian family and is a bad bitch queer with a green mullet and a hot wife who's a butcher and rides a motorcycle. Because of her, I never really had to come out of the closet. I started dating a woman and my mom was like, "Yeah? Thank God." Then I dated men later. My mom doesn't give a shit. My parents always let me know that I had a place anywhere I wanted to be.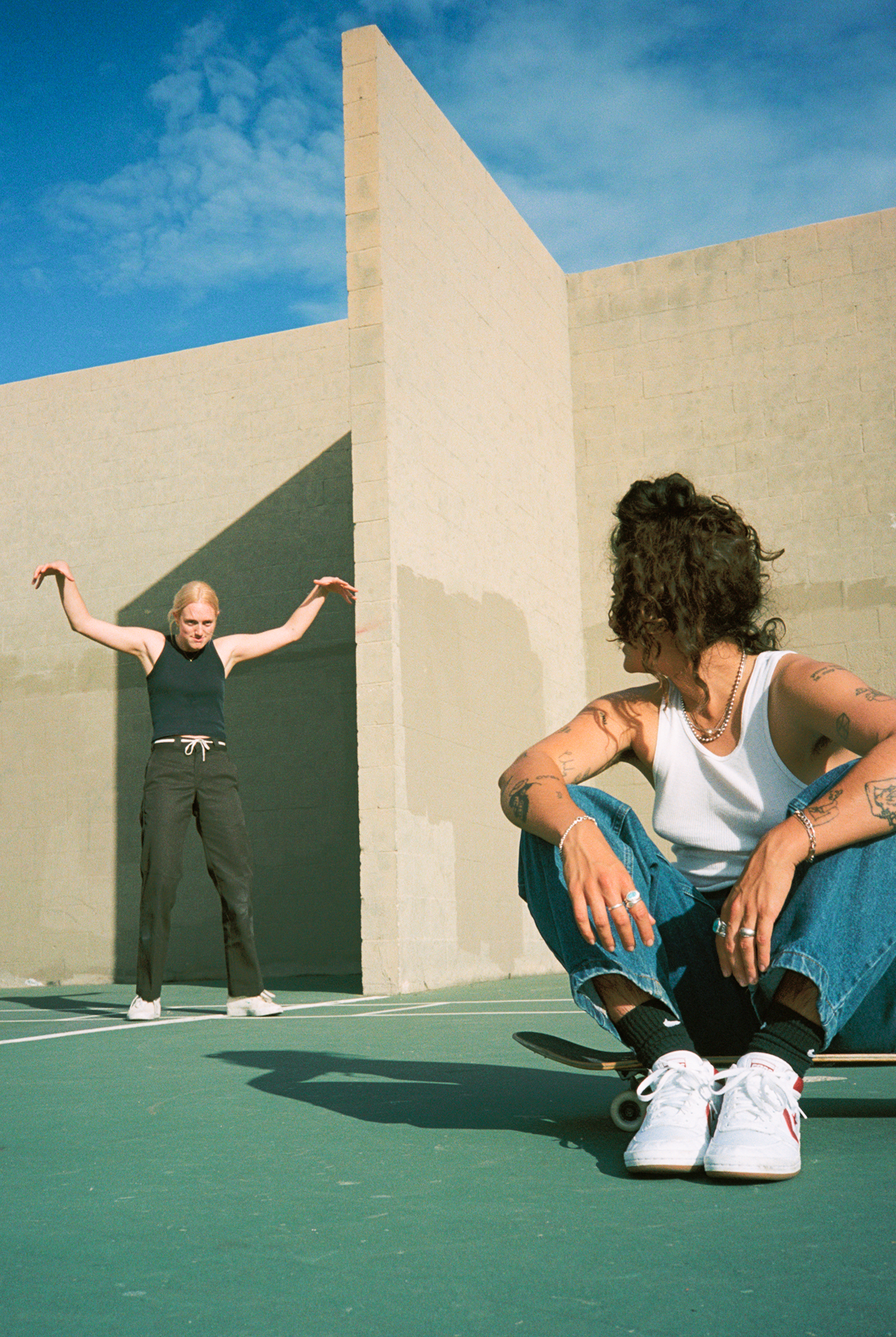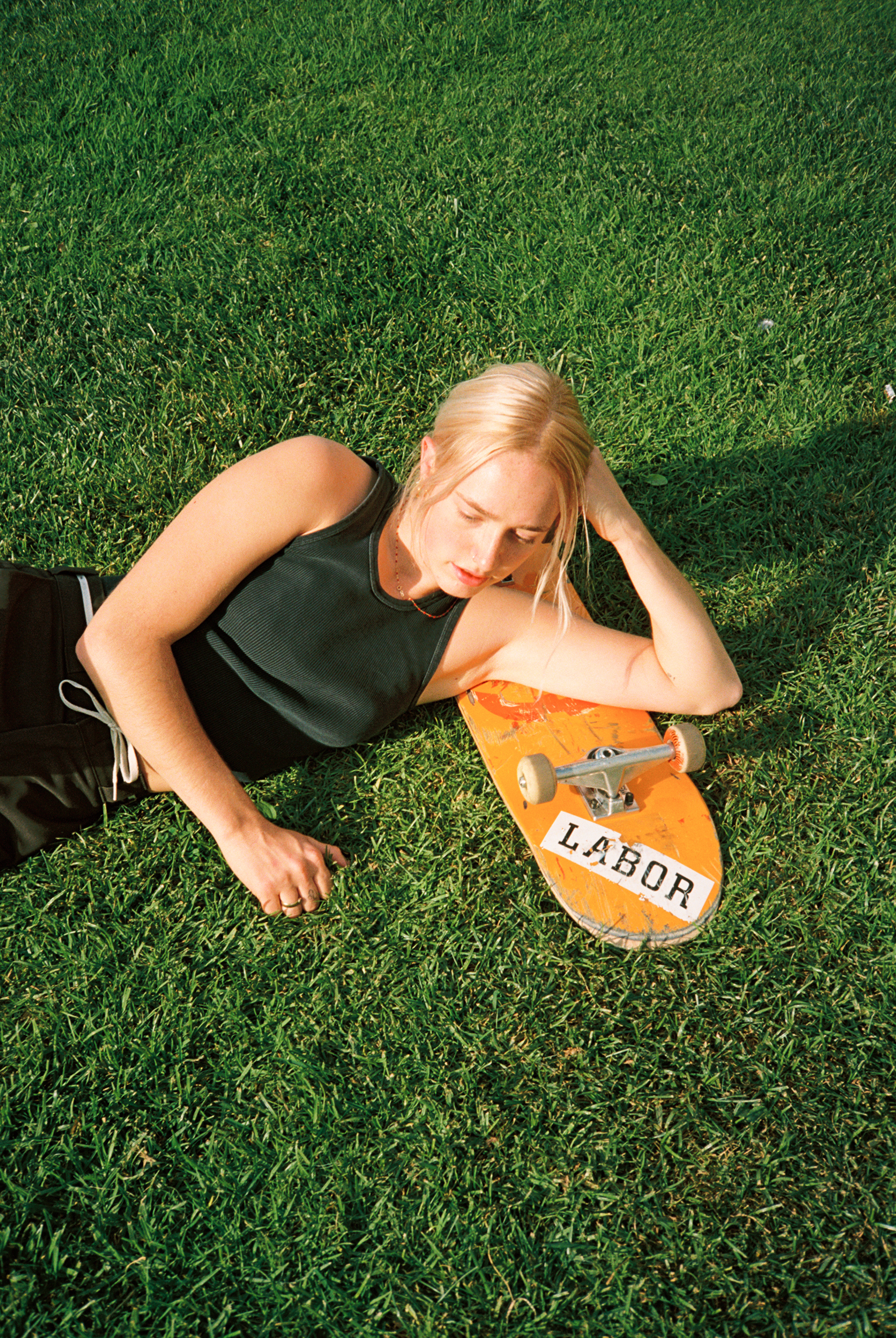 Torrie Krantz
When did you start skateboarding and why?
I spent about four years of my childhood in Colorado snowboarding every weekend. I feel like that was my first love, that freeing feeling of flying down a hill. Three years ago my ex-girlfriend bought me a longboard, and I would ride it to get to the beach and other spots. But I never got into tricks until I moved to New York.
In New York, a genderqueer co-worker and I had a skateboard at work. He'd teach me how to ollie and do other tricks. I thought he was so cool. I almost wanted to be him. So, I ended up getting a skateboard and shipped it back to California when I moved back here.
What led you to join Boos Cruise?
I had been searching for a queer collective that I fit into. When I met YaYa, they told me to come to a meet-up. When I went, I felt like I finally found what I had been looking for.
What do you do when you're not on your board?
I have three dogs, two cats — a zoo, if you will. I'm also in school right now. I'm in my first screenwriting class, and I'm really liking that. I hang out. I like my friends. I got into film photography a lot over the summer. I wouldn't call myself a photographer, but I do it for fun.
Talk to me about community. How has your queerness informed your relationship with skating? Has that relationship changed since Boos?
I'm in a lot of cis-het places. What Roni was saying, about the need to identify ourselves, it's in almost every conversation. Those interactions are really difficult. It's just so disgusting and boring. There's no substance. In Boos Cruise, it's just like, this is who we are, it is what it is. We're all hot. We're all queer. We're all just here to vibe. When you put marginalized people in an area to gather for community, beautiful things happen.
Who are your heroes?
I went to middle school with this person, and we didn't know each other at all. I just remembered they had super short hair and were more visibly queer. About three years ago, I was in a very weird place within my own sexuality. I ended up meeting them for coffee — this person I knew from middle school — and they just picked me up and held up the queer mirror for me. I have such a beautiful understanding of queerness because of this one person, Lucien, my best friend. I'm not going to tell them I shouted them out like that. They'll read this and have a good cry.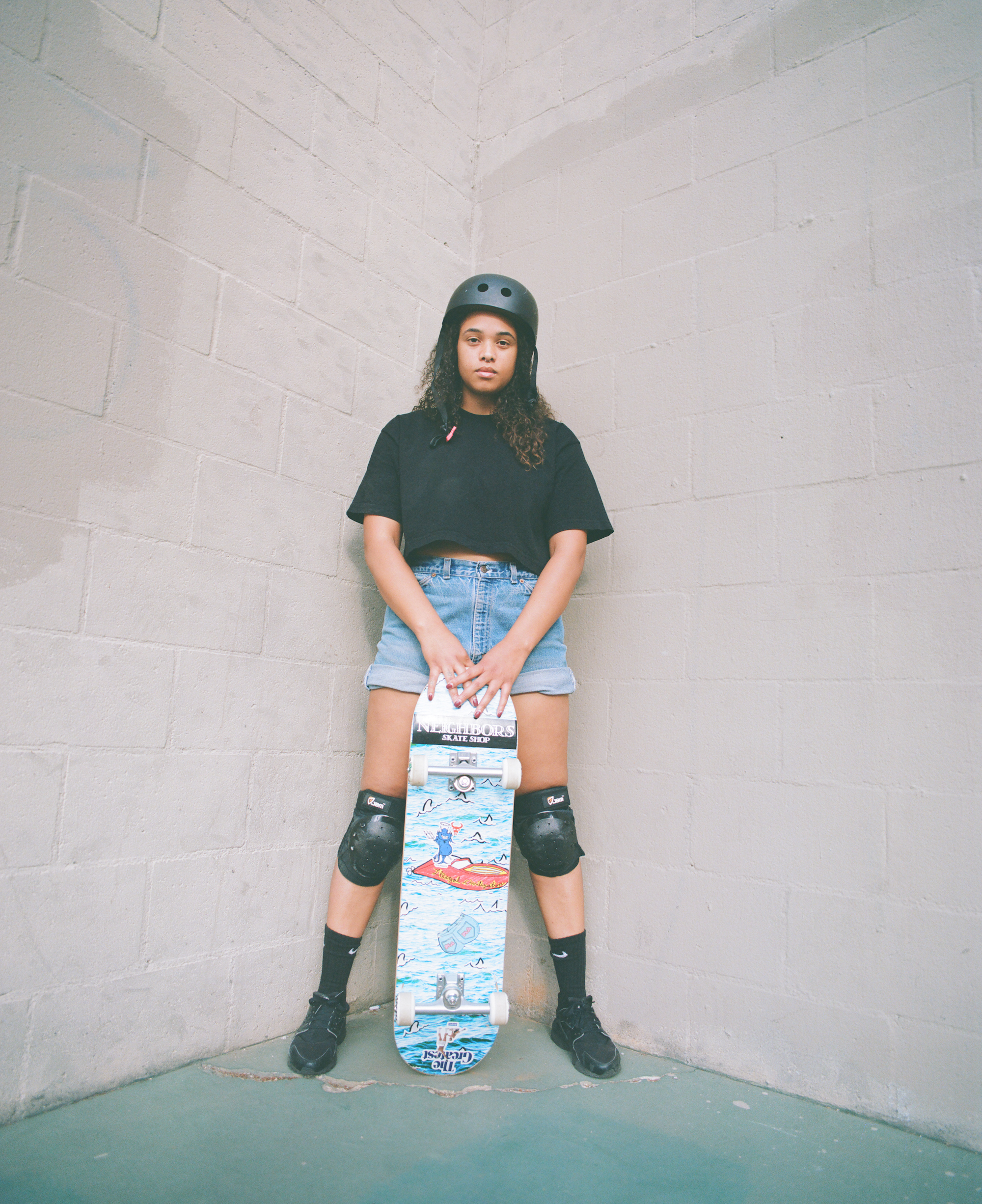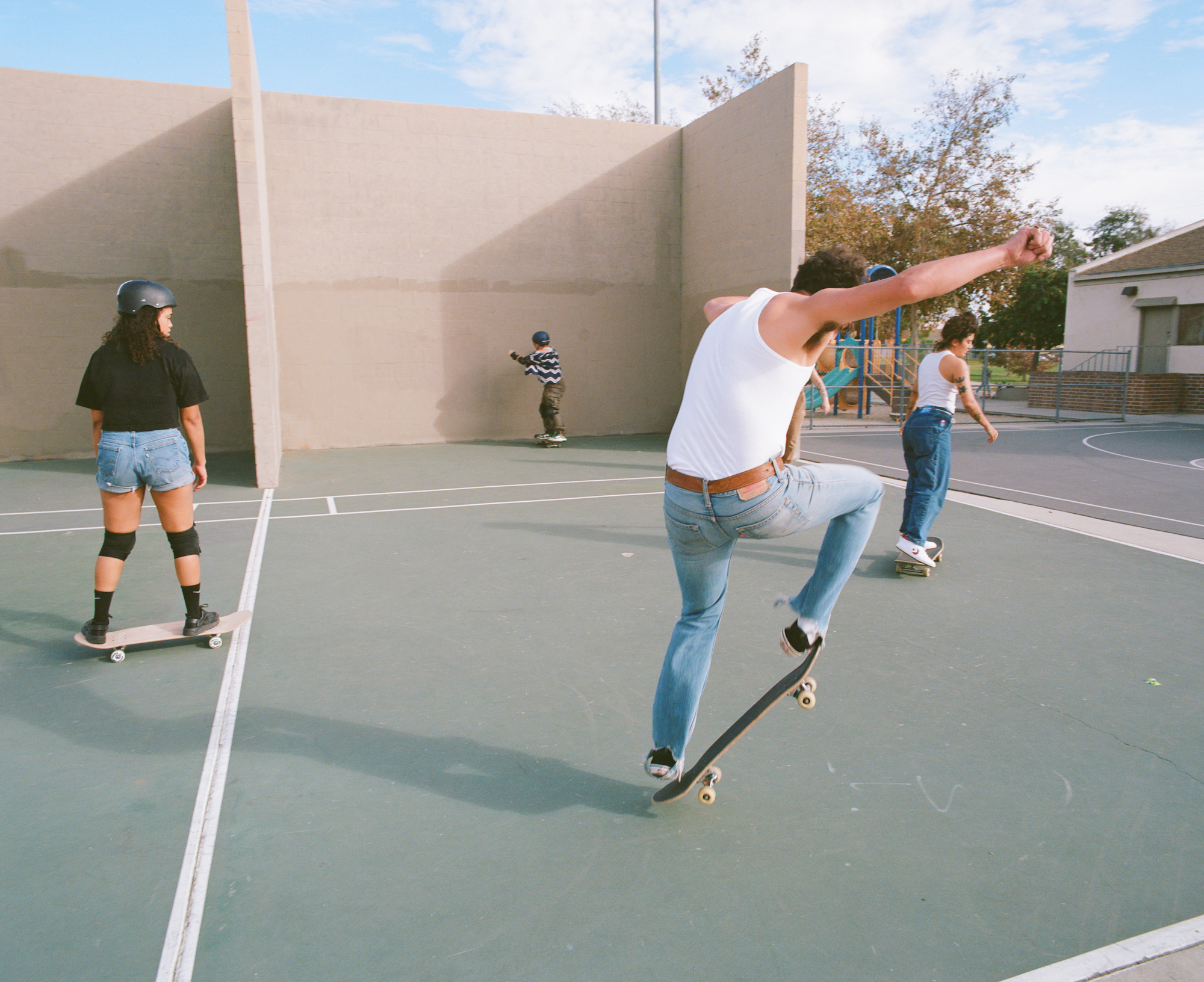 Cerise Castle
When did you start skateboarding and why?
I grew up out here in LA. I don't remember when I started skateboarding. It was always something that was available as a means of transportation. I didn't really feel welcome in skate parks. A lot of these places are homogenous, white, heteronormative, cis-gender spaces. As a child, although I wasn't visibly queer, I was definitely visibly Black and femme, so I didn't fit the profile of someone that would be allowed to participate in skating. It wasn't until I found Boos Cruise that I started engaging with skateboarding in this way.
What led you to join Boos Cruise?
I was really keen to engage with skating in a way that I wasn't hiding or ashamed of my identity like I had been in my youth.
I would love for skateboarding to be more accessible to people who don't fit in a very small box because it can be such a great community building tool, beyond just skateboarding. YaYa organises trash pick-ups and volunteer opportunities. I'm honoured to be part of something like this. I hope that their work continues to change skate culture.
What do you do when you're not on your board?
I'm a journalist. Over the last year, I've exclusively reported on police violence. I wrote a 15-part series that laid out the history of deputy gangs in Los Angeles county earlier this year. I don't know the word for going viral in real life, but that's what happened with that series. Not to sound like a capitalist cuck, but I really love my job. That said, it's also a really dark headspace to be in 99% of the time. I got shot by police with a less lethal munition and put on bedrest. So, to pull it back to this, I had to learn to skateboard all over again because I hadn't been walking for eight months.
I have days where I just cry all day. It's been really great having Boos Cruise to keep me grounded. It's nice to talk to people who live beyond the world I inhabit every day.
Talk to me about community. How has your queerness informed your relationship with skating? Has that relationship changed since Boos?
This might be controversial but it really reminds me a lot of church, specifically going to a Black church. There was always an inherent openness, a welcoming feeling of camaraderie. There's always someone at the door that's happy to see me. You have community in that way. I feel it when I pull up to Boos Cruise. When you're there, your mask comes off. You don't have to perform anymore, or fit into society's expectations. We like you being here, being you, and that's enough.
Who are your heroes?
Oh, man. Honestly, thinking back my skateboarding hero was probably Ryan Sheckler because he looked like a lesbian. Which is maybe hilarious, but there it is.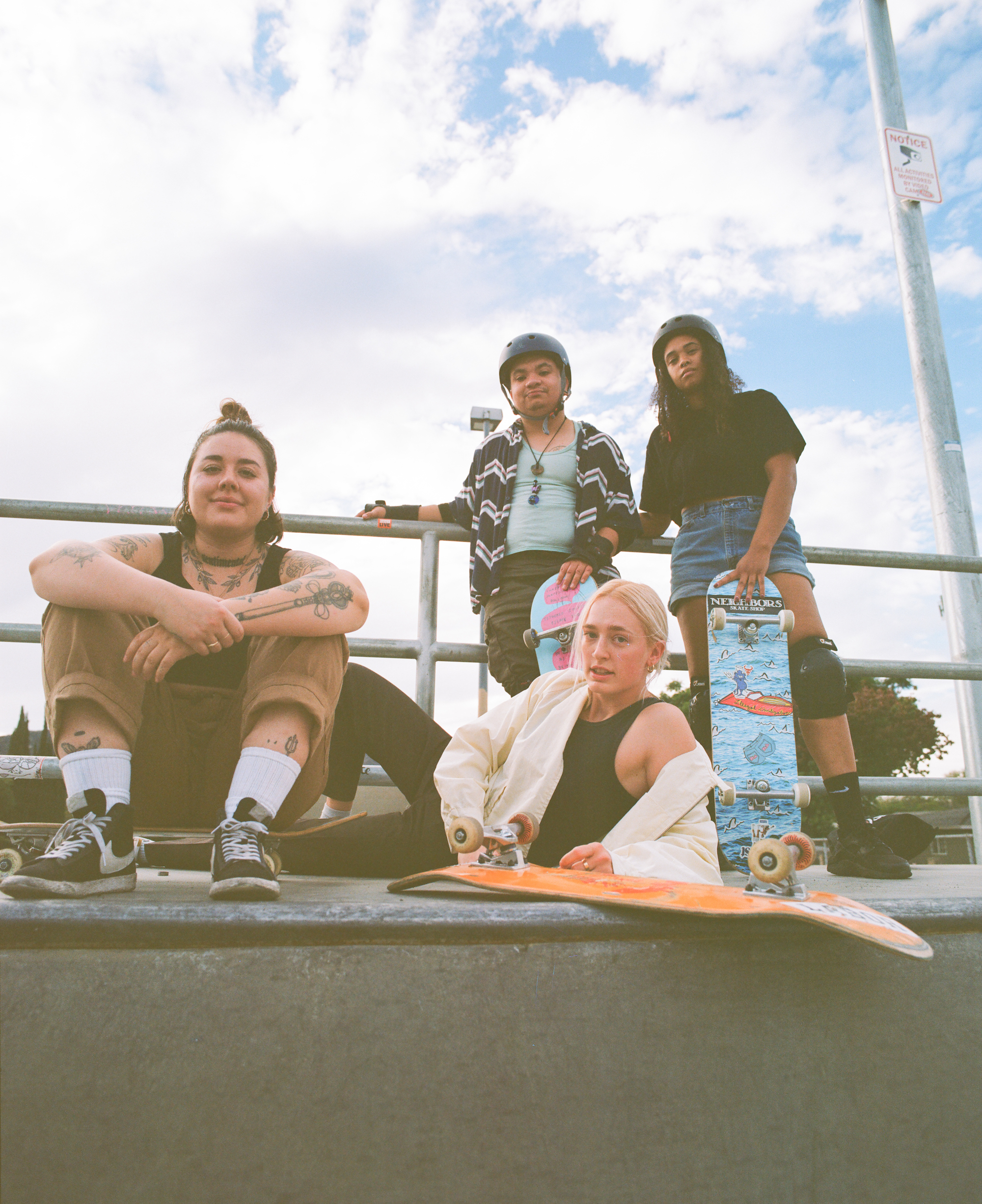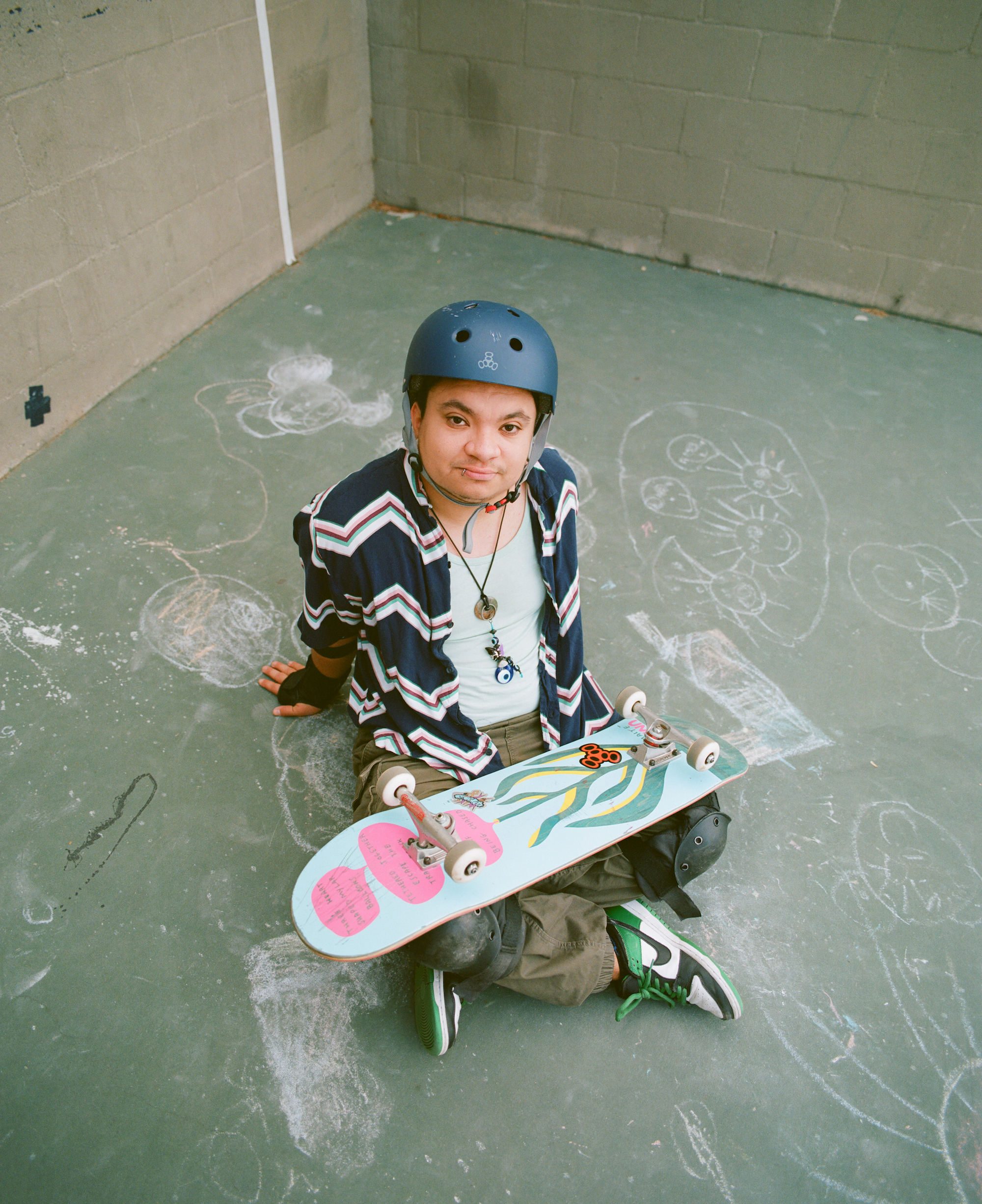 Matt Pasini
When did you start skateboarding and why?
I was a really active kid. Like, I was the scooter kid, I was the RipStik kid, I was Heelys kid. I'm trans, so perceived female in childhood, and what really turned me off of skateboarding was when I started to go to skateparks. I got laughed at by teenage guys. So I was like, "Cool, never stepping foot in a skate park ever again." Instead, I took up long-boarding and that became my sole means of transportation in New York from age 14 to 19.
What led you to join Boos Cruise?
I got really good at long-boarding, but I stopped because of some mental health stuff. Then I moved to LA mid-pandemic. I had been hyper-fixating on this anime Sk8 The Infinity, and then I randomly found Boos Cruise on my Instagram explore page, and I was like, I owe it to my inner child to learn how to skateboard, to give empowerment to that child who was shunned away by teenagers. Now I've been skateboarding for a little over five months, and I can do a lot!
What do you do when you're not on your board?
I'm an actor, but lately I feel like when I'm not working, I'm skating. I feel like that's just the only thing I do nowadays.
Talk to me about community. How has your queerness informed your relationship with skating? Has that relationship changed since Boos?
Growing up, I was always the outcast, the weird kid, especially being both autistic and having gender identity crises every few months. I was surrounded by white Republicans in Queens. I was born in Venezuela and adopted by some of those white Republicans who ended up kicking me out. I had no community for a while. I've always felt like I never truly belonged, even when I had a group of friends in high school and middle school, because I was masking and doing what I felt like people should do in society. It really exhausted me, and I ended up developing this mindset that I just hated being around people. I convinced myself I was an introvert.
But now, I can step into Boos Cruise and no one gives a single shit about any of my weird mannerisms or my gender identity. I'm just allowed to be me and completely drop the mask. I've allowed myself to really explore and piece together who I am, both gender identity-wise and autism-wise. Turns out, I don't actually hate being around people. I just hate how I communicated. I actually fucking love being around people.
Who are your heroes?
Is it cheesy to say that I'm my own hero? I've spent so much of my life in self-hatred, but the pandemic has forced me to sit with myself and consider how much growth I've had personally and as a skater. I think I'm pretty sick.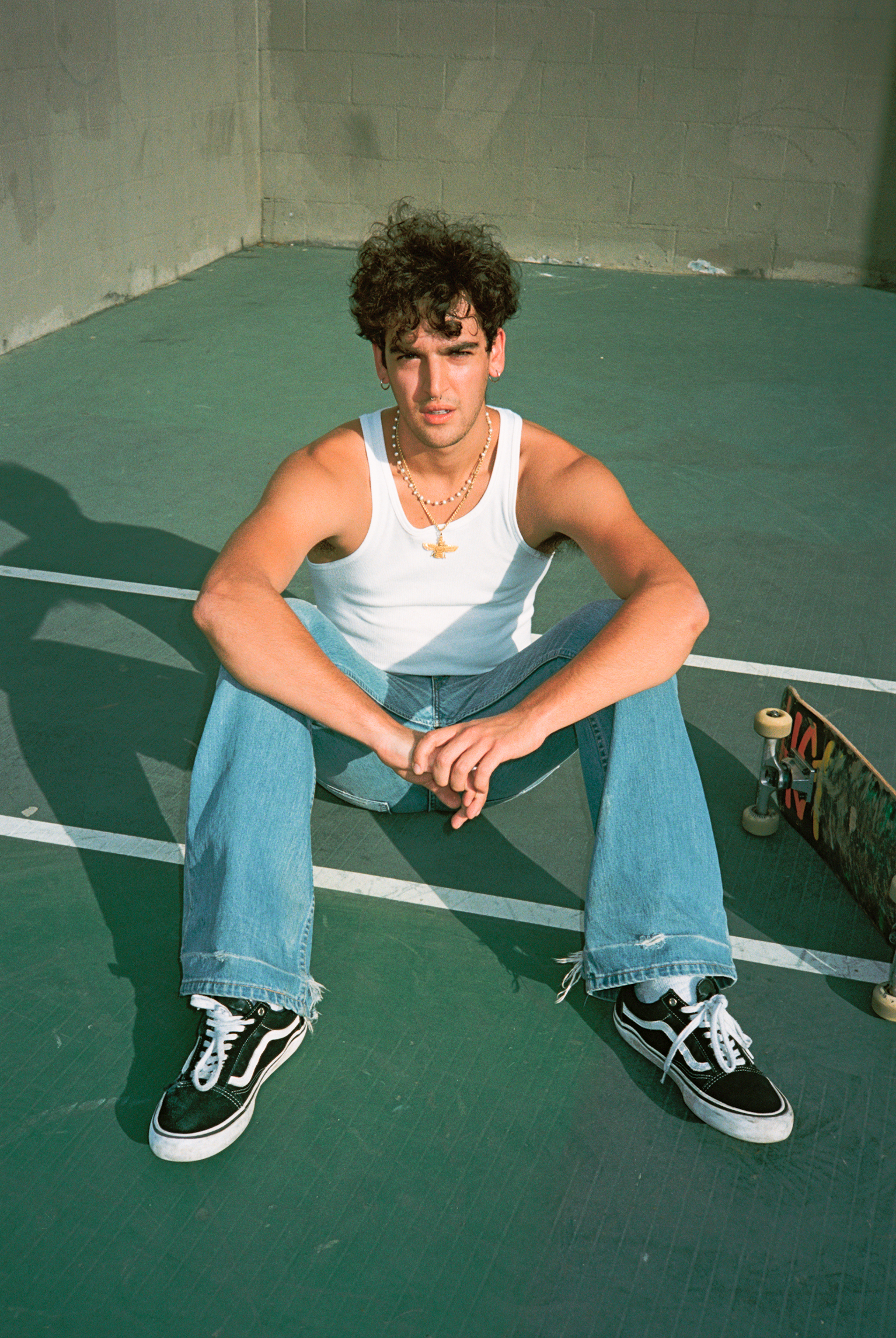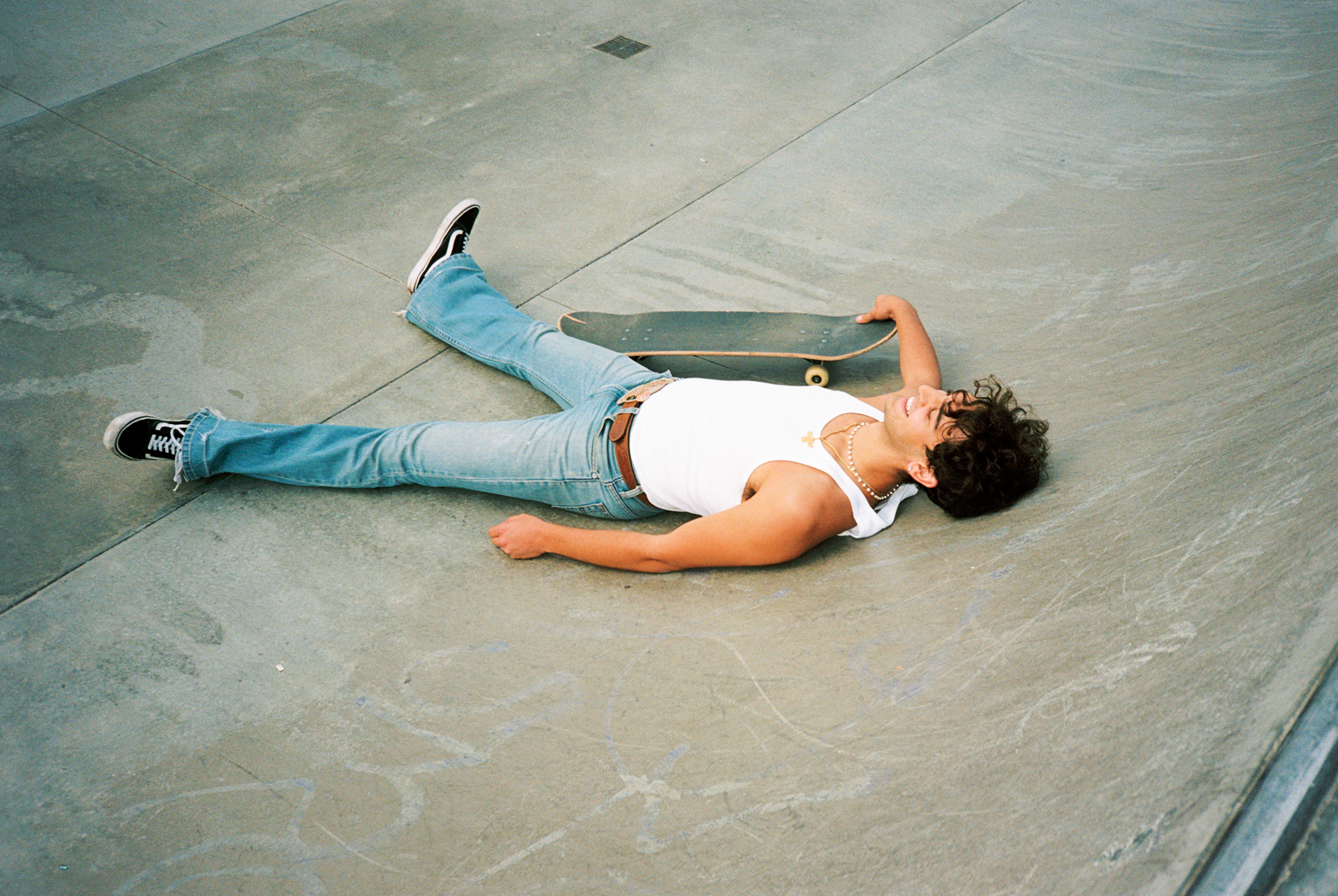 Arian Rad
When did you start skateboarding and why?
I started skating when I was really young, in third grade or something. It was a means of occupying myself. I grew up in upstate New York, and I didn't live close to any of my friends or any of my schoolmates, like 25 miles minimum. I needed an activity where I could run all of my energy out by myself. I quit around ninth grade. You know, we go through phases, stages, hobbies. I picked it up again senior year of college. I would go to — it's colloquially known as 'Fat Kid' — but it's Golconda Skatepark in DUMBO, Brooklyn. I would skate early in the day when nobody was there because I was terrified of the general demographic of super masculine straight dudes on a board.
What led you to join Boos Cruise?
YaYa and I knew each other from our New York days, so when I moved to LA, I asked them if they wanted to skate together. We met up for the first time in years, just the two of us. I taught them how to ollie, but they knew how to ollie the whole time. That day was when skateboarding really reentered my life again.
What do you do when you're not on your board?
I'm a musician. I've been working hard trying to get this album out that I recorded over the winter. I don't know if I'm allowed to plug my music, but it's Arian Rad on Spotify, Apple Music, wherever. It's folky, acoustic, bluesy, with a tinge of Midwest emo. I'm not going to talk about what I do for money, but that's what I want to do for money.
Talk to me about community. How has your queerness informed your relationship with skating? Has that relationship changed since Boos?
Skateboarding is traditionally clips of men hurling their boards, getting in fights with strangers or yelling at each other, whereas Boos Cruise completely undermines that. It's a community where nothing's expected of you and nothing's required of you either. You can go and skate until you're scraped and bloody, get some aggression out. Or you can show up, not even touch your board and just talk to people.
Who are your heroes?
This early 00s pro-skater named Corey Duffel. He was the only punk in the skate scene. He wore the skinniest, like painted on jeans, had a big, half-bleached mullet and was honestly, very hot.
Moving to New York City was also pivotal for me. It was really all of my queer role models and friends who taught me over and over again that I didn't need to subscribe to a certain label to be able to categorise myself. I am an individual that is impossibly infinite. How could I be categorised?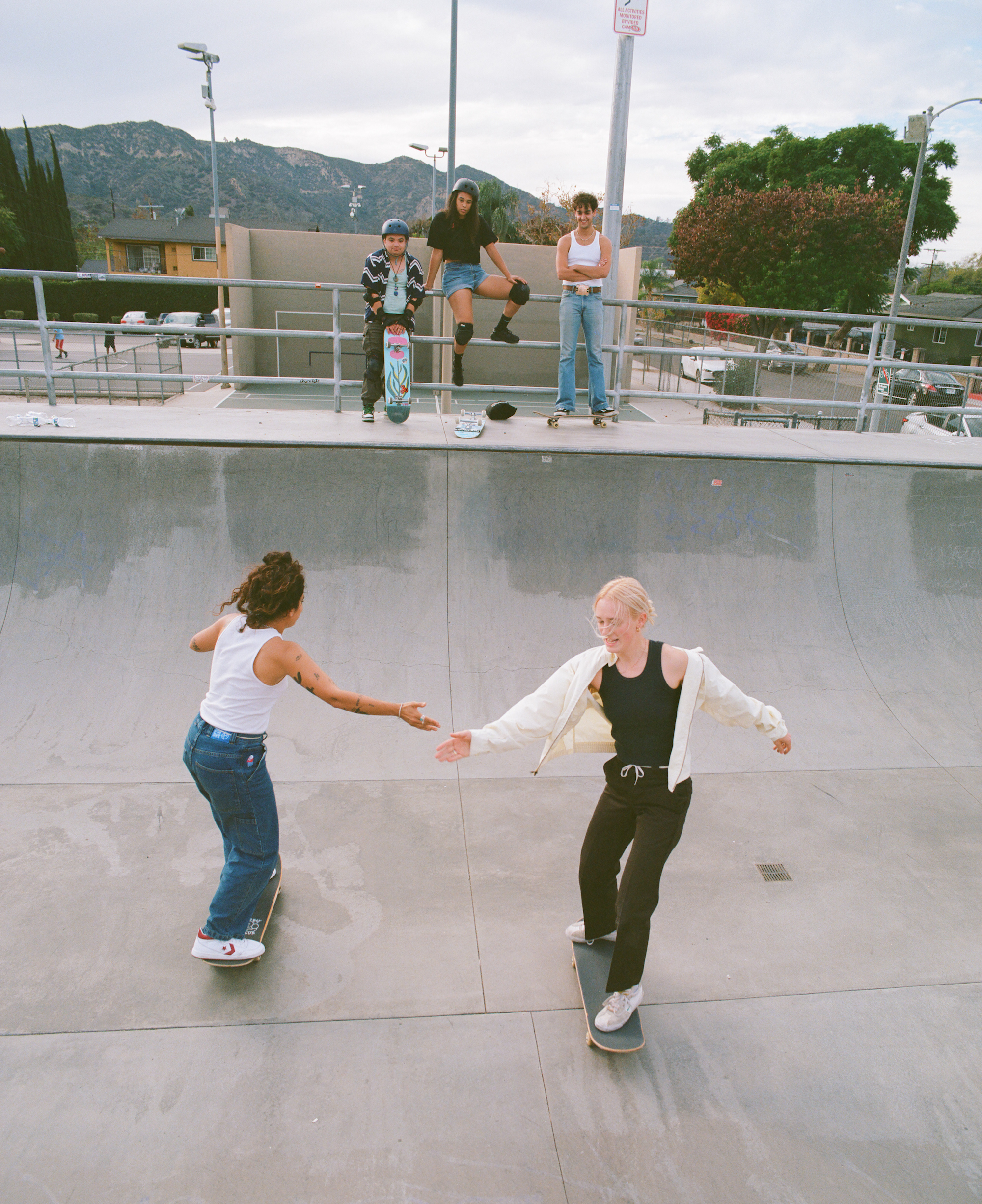 Follow i-D on Instagram and TikTok for more culture stories.
Credits
---
Photography Williejane Dent
Tagged: