Photo by Kevin Winter/Getty Images, Jon Kopaloff/FilmMagic and KMazur/WireImage
7 of Anna Nicole Smith's most iconic outfits
The Playmate, Guess model and reality TV star was the bimbo blueprint.
Photo by Kevin Winter/Getty Images, Jon Kopaloff/FilmMagic and KMazur/WireImage
Before Y2K's Paris Hilton and Holly Madison, and long before the rise of bimbotok, there was Anna Nicole Smith. Raised in rural Texas, Anna Nicole rose to national prominence in the 90s as a Playboy Playmate and then as a model, gracing billboards in black-and-white for mega-brand Guess. She was America's sweetheart, lauded as the next Marilyn Monroe… until she wasn't. As Sarah Marshall wrote in a revelatory Buzzfeed article, "From 1992, when she made her first appearance in Playboy, to her death on Feb. 8, 2007, Anna Nicole Smith occupied the story of the beautiful girl lifted up from the dust, and then the story of the beautiful woman destroyed." After marrying billionaire J. Howard Marshall in 1994, she became the butt of a nation-wide joke, mocked by the media as a gold-digger, a bimbo.
Anna Nicole Smith's tragic story reveals the specific kind of misogyny reserved for beautiful, culturally-powerful women. Today, however, her legacy as America's OG bimbo is being reclaimed by Gen Z as a lifestyle, a state of mind and a feminist fashion statement. From plunging Jayne Mansfield gowns to Von Dutch hats and bedazzled denim, we take a look back at the iconic outfits that made Anna Nicole the bimbo blueprint.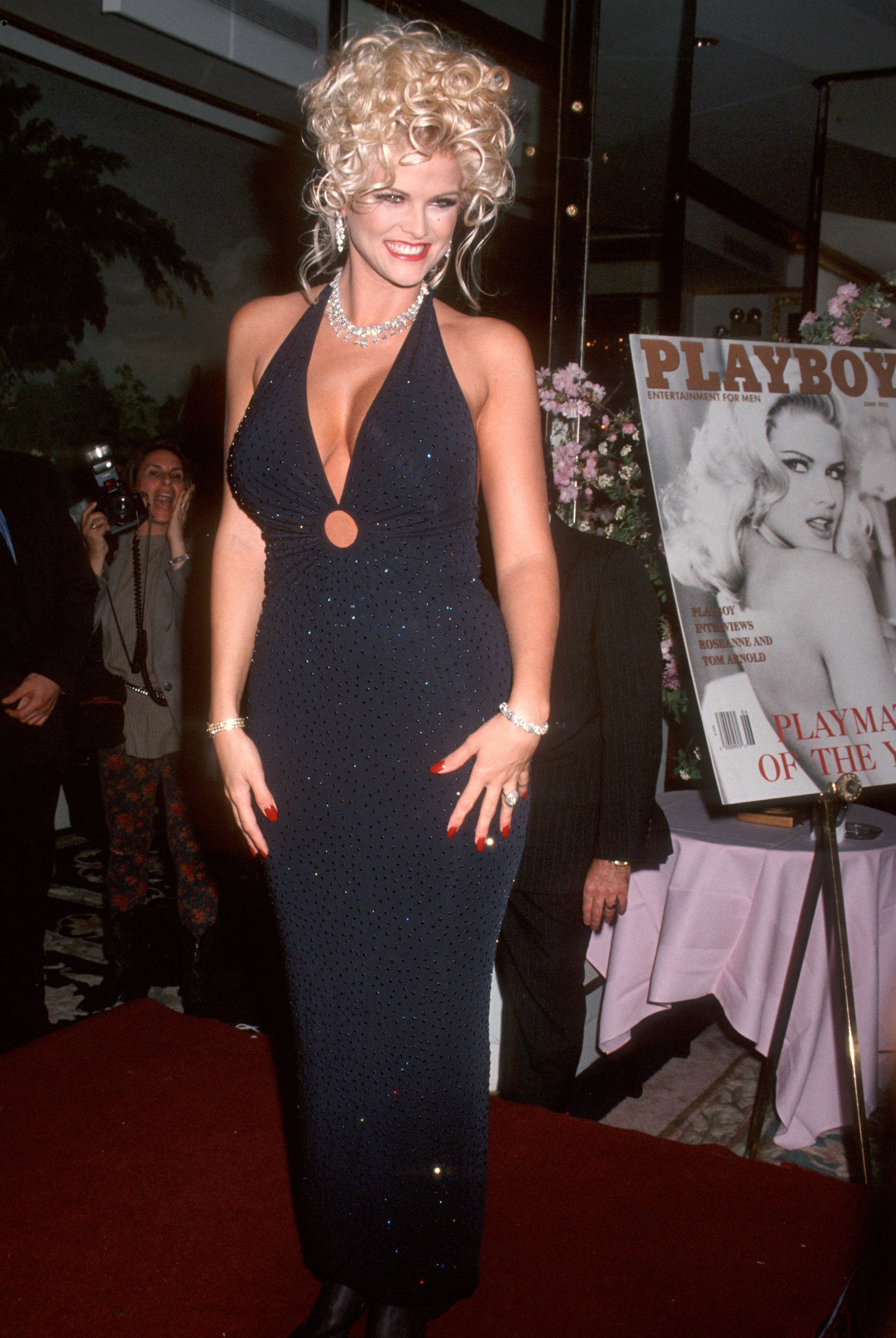 At the Playmate of the Year party, 1993
In 1991, Anna Nicole Smith attended an open call for Playboy Magazine. Less than a year later, she was posing for the magazine's centrefold and in 1993, she was named Playmate of the Year. Here, to celebrate the honour, Anna Nicole wears a sparkly, slinky halter gown that recalls the glamour of Old Hollywood.
At the Playmate of the Year ceremony, 1993
With her blonde hair and hourglass figure, Anna Nicole bore an uncanny resemblance to mid-century bombshells Marilyn Monroe and Jayne Mansfield. And when we say uncanny, we mean uncanny. Anna Nicole spoke often about her admiration of Marilyn and, at the beginning of her career, paid sartorial tribute to her predecessors in a series of red carpet looks, Playboy photoshoots and even a Guess! campaign (which recreated Jayne and Sofia Loren's infamous side-eye moment). Here, to scoop her award for Playboy's Playmate of the Year, Anna Nicole wears a white chiffon halter in homage to Marilyn's iconic Seven Year Itch subway grate dress.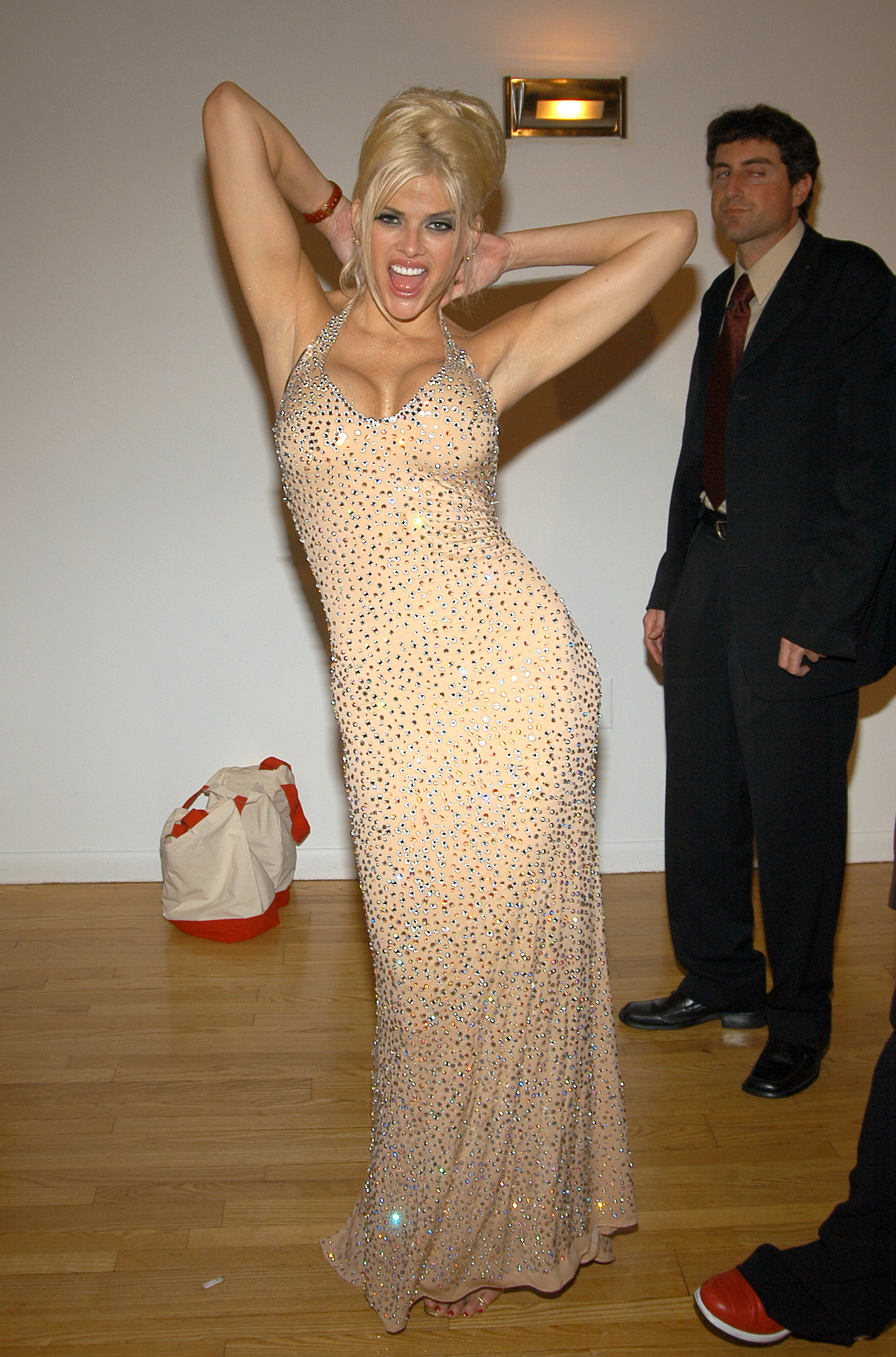 At New York Fashion Week, 2004
A decade later, another Marilyn homage. To 2004's New York Fashion Week, the model wore a crystal-embellished gown that referenced the Old Hollywood actress's iconic "Happy Birthday Mr. President" dress.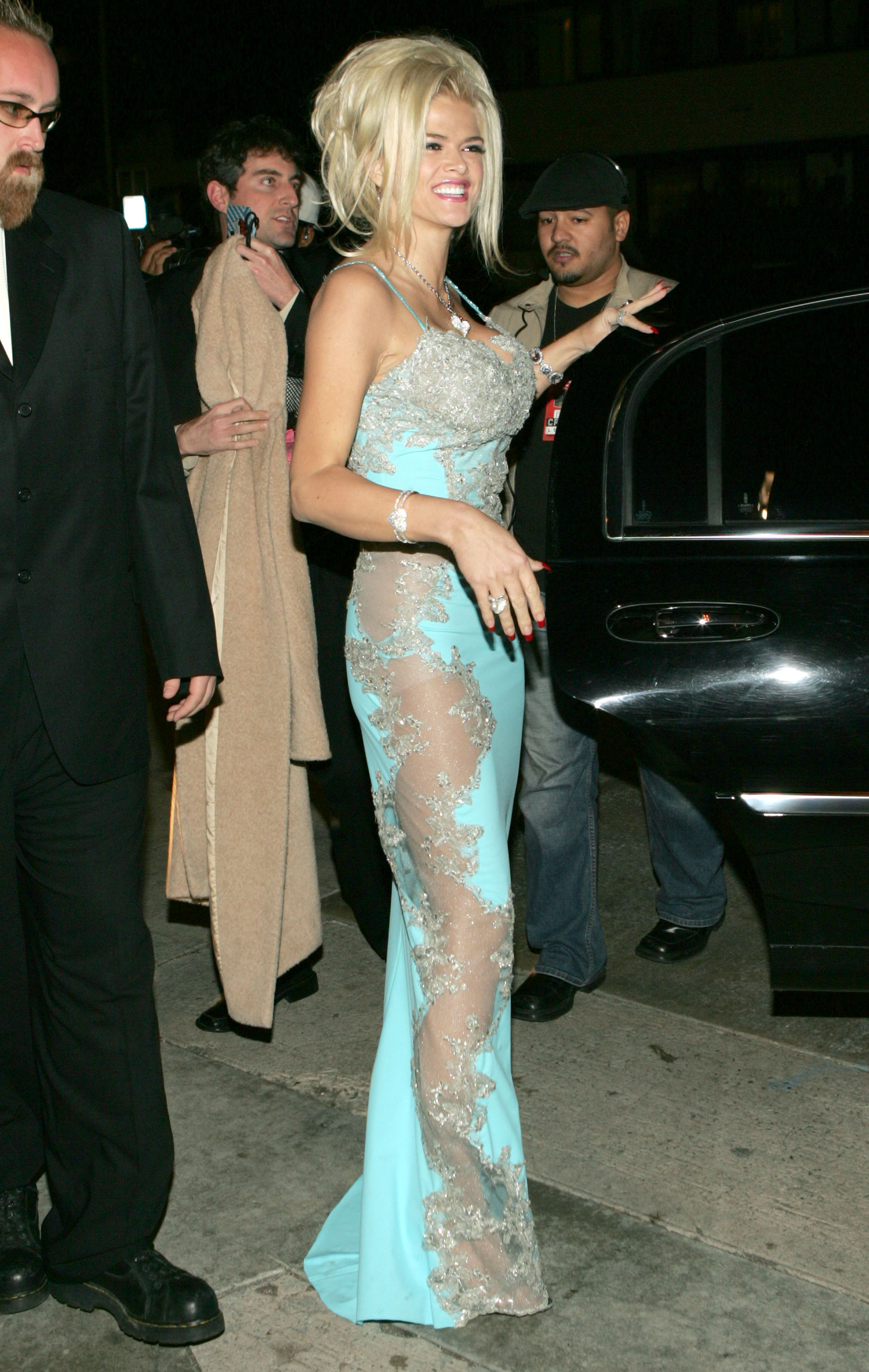 At VH1 Big in '04, 2004
In addition to being the bimbo blueprint, Anna Nicole is one of reality TV's OG stars. As the media's interest in Anna Nicole continued to grow in the early aughts, E! approached the model to star in a television show that would detail her private life. The Anna Nicole Show debuted in August 2002 with the highest cable rating for a reality show. Now a bonafide reality TV star, Anna became a staple at industry events, including the many awards shows hosted by reality programming channel VH1. Here, to the channel's annual "Big In" awards ceremony, she wears a stunning turquoise lace naked dress with her signature bouffant updo.
At the launch of her clothing label in Los Vegas, 2004
From Kimora Lee Simmons' Baby Phat to J.Lo's Sweetface, the aughts were all about the celebrity clothing label. In 2004, Anna Nicole followed suit, launching a namesake fashion brand that would capture her own "Tex-Sex" style, inspired by her Texan roots. To its Los Vegas launch party, the reality star wore a get-up that embodies her label's bedazzled, Southern Belle look: a corseted satin minidress with diamante jewelry.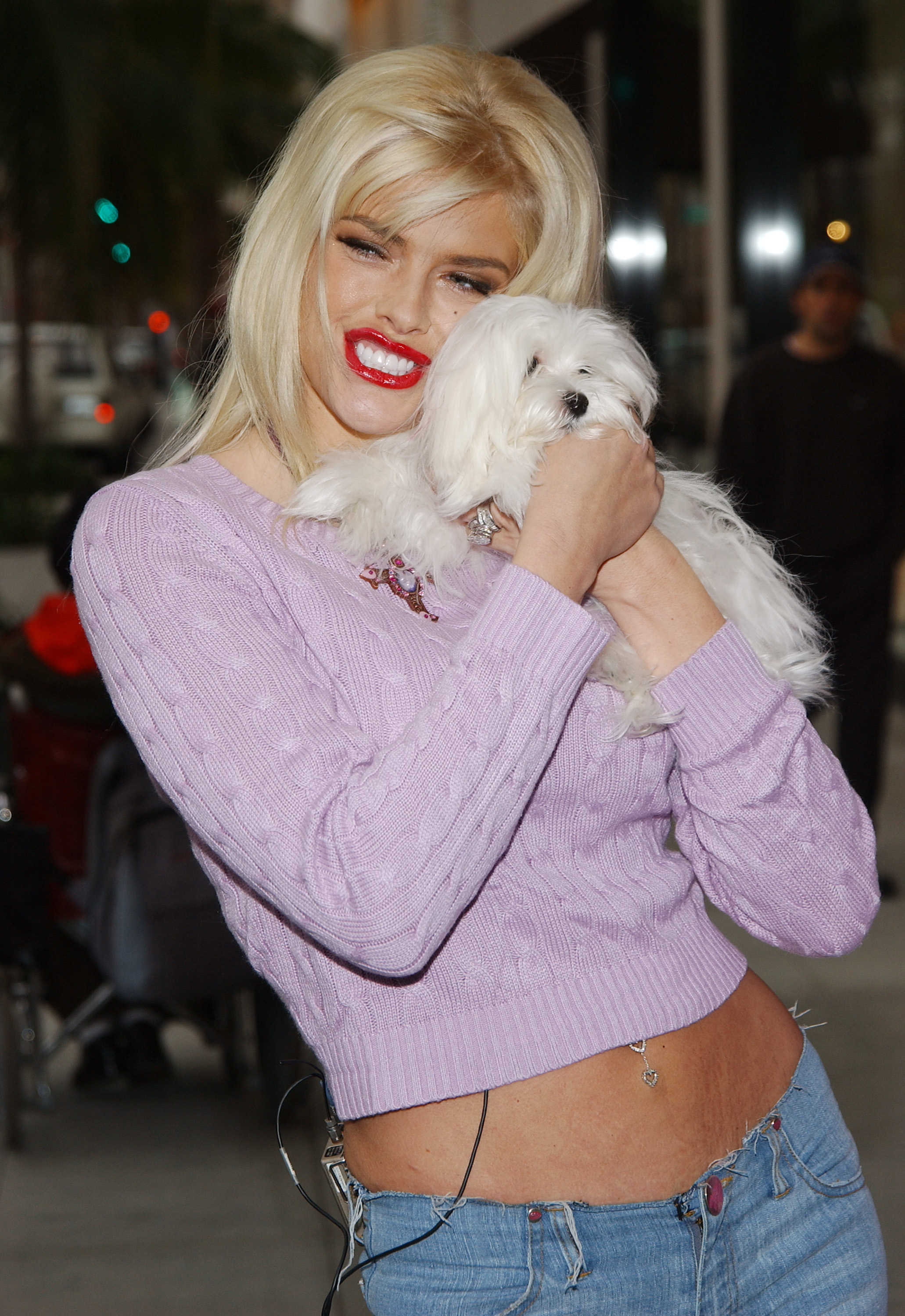 At a PETA campaign launch, 2004
In 2004, Anna Nicole graced billboards in yet another Marilyn homage. Rather than Guess, this time it was for PETA. Giving her best Lorlei Lee in pink evening gloves, Anna Nicole starred in one of the organization's anti-fur campaigns with the slogan, "Gentlemen prefer fur-free blondes." Here, at the campaign's launch, Anna Nicole poses with her puppy Marilyn (natch) in a cropped cable knit sweater and denim low-slung enough to reveal a crystalline belly button ring.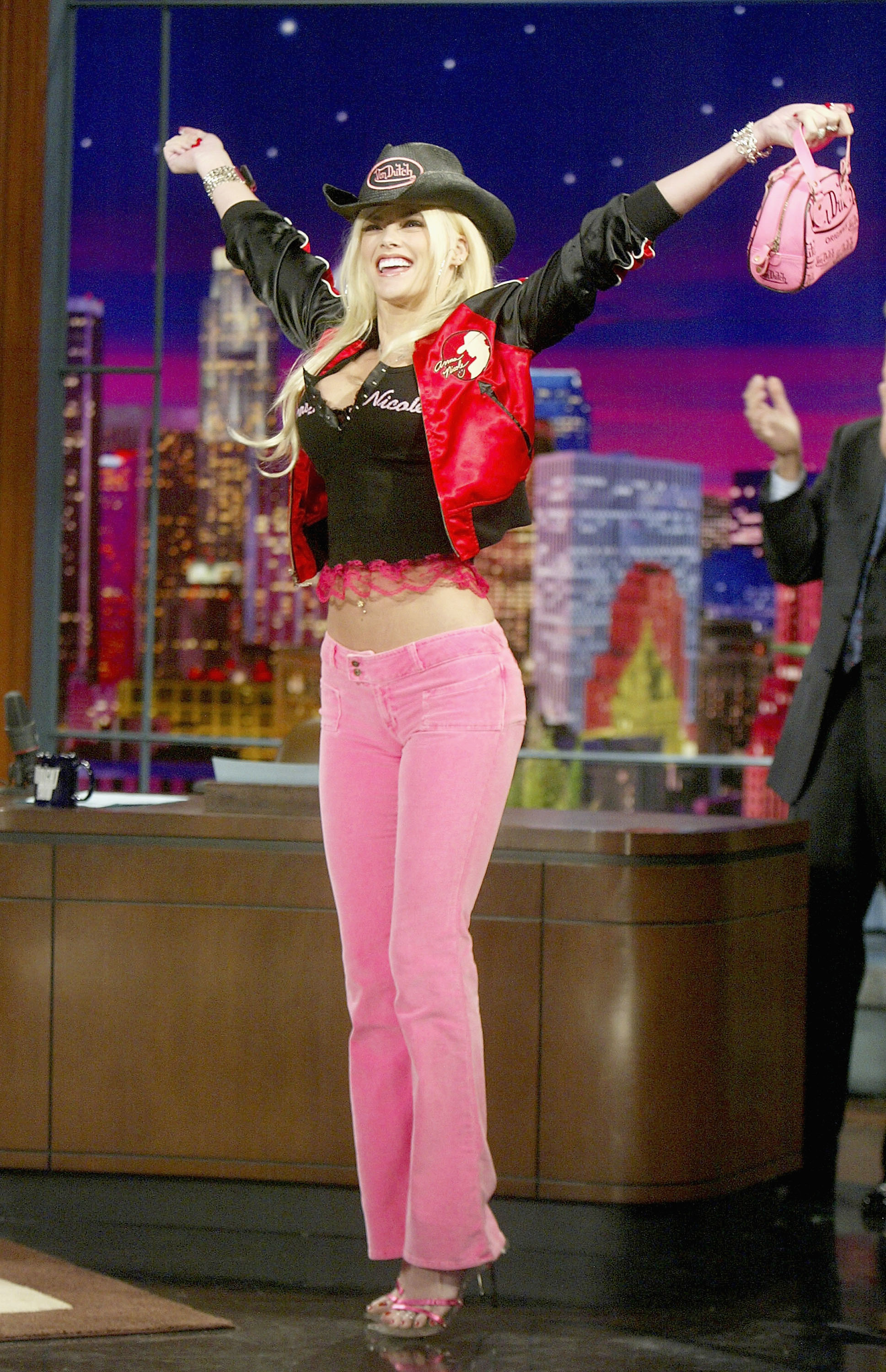 On The Tonight Show, 2004
Can you say Y2K? In 2004, Anna appeared on The Tonight Show decked head-to-toe in the 00s aughtiest signifiers: satin bomber jacket, Von Dutch cowboy hat and bowler purse, and a pair of bubblegum pink low-riders — with her name emblazoned across the ass, naturally!
Tagged: