Every movie worth seeing in 2022
From horror reboots to Harry Styles' erotic thriller.
|
06 January 2022, 10:49am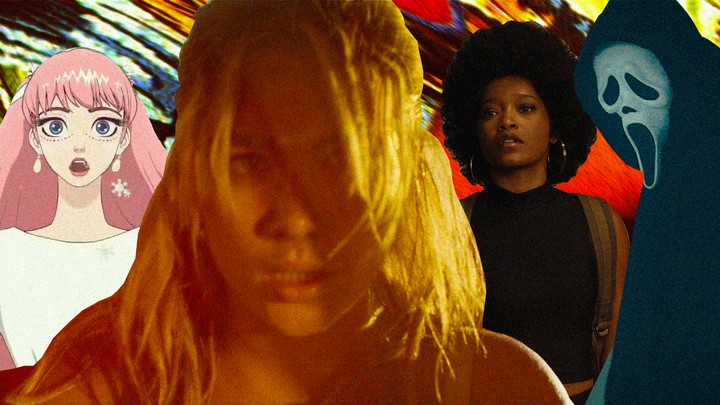 In 2022, we are praying that two years of movie calendar musical chairs is finally over. After lockdowns and restrictions caused a handful of big movies to change their release dates, like Bond and Dune and West Side Story, everyone's hopes are pinned on the dates for the coming year's movies staying in one place.
After all, there's a lot to look forward to in 2022: anime future classics, arthouse movies that arrive in theatres off the back of big Oscar hype, music documentaries and horrors are all on their way. Here are the ones we think you should keep an eye on.
Scream
The original cast converge on Woodsboro for the new entry in the hit horror series, set 25 years after the first film freaked us all out.
Release date: 14 January

Belle
A little like Beauty and the Beast set inside the Metaverse, this Oscar shortlisted anime received a 15-minute standing ovation at its Cannes Film Festival premiere.
Release date: 14 January

Compartment No. 6
The winner of Cannes' Jury Prize, this is a Finnish film about a woman travelling to the far edge of snow-buried Russia by train, accompanied by an unlikely cabin partner.
Release date: 26 January

Charli XCX: Alone Together
While locked down at the start of the pandemic, Charli XCX made her most critically acclaimed record yet, how i'm feeling now. This documentary captures how she did it.
Release date: 28 January

The Worst Person in the World
A word-of-mouth hit, Norwegian director Joachim Trier's latest follows a woman in her early 30s balancing a flailing love life and career with her own pursuit of happiness.
Release date: 4 February

Jackass Forever
Fans of crude humour and masochistic violence rejoice! The Jackass team are back for a fourth round on the big screen.
Release date: 4 February

Mothering Sunday
Josh O'Connor stars as a husband cheating on his partner with a family friend in this erotic period drama.
Release date: 25 February

The Devil's Light
When preparing for an exorcism, a nun unleashes an evil spirit that haunted her past.
Release date: 25 February

The Batman
R-Patz takes centre stage in this long-awaited entry in the Batman franchise.
Release date: 4 March

Alice
A woman enslaved on a plantation in the Antebellum South escapes to discover she's been living in 70s America all along. Keke Palmer stars.
Release date: 18 March

Everything Everywhere All at Once
A24 delves into the sci-fi action realm with this movie about a Chinese-American woman who's struggling to file her taxes.
Release date: 25 March

Nitram
Caleb Landry Jones earned rave reviews for his performance in this movie about the man who committed the worst mass shooting in Australian history.
Release date: 30 March

The Northman
Alexander Skarsgard, Anya Taylor-Joy and Björk star in Robert Eggers' epic Icelandic follow-up to The Lighthouse.
Release date: 8 April

Paris, 13th District
Famed French director Céline Sciamma co-wrote the script for this story about how and why a group of young Parisians have sex and fall in love.
Release date: 15 April

The Unbearable Weight of Massive Talent
A meta-tale of celebrity and performance, Nic Cage plays a fictionalised version of himself who accepts $1 million to appear at a super fan's birthday. Chaos ensues.
Release date: 22 April

Happening
The Venice Golden Lion winner, a dark adaptation of an Annie Ernaux novella about a woman trying to get an abortion in a France where it's illegal.
Release date: 6 May

Elvis
Baz Luhrmann makes his big screen comeback in this Elvis Presley biopic with Austin Butler in the leading role.
Release date: 24 June

Nope
Three years after Us, Jordan Peele brings Daniel Kaluuya and Steven Yeun together for his top-secret next movie.
Release date: 22 July

Where the Crawdads Sing
The movie based on Delia Owens' bestselling book about a girl in the marshes of North Carolina coming-of-age, only for the idyll to be upended by a murder case. Stars Normal People's Daisy Edgar-Jones.
Release date: 22 July

Salem's Lot
A writer returns to his modest American hometown to work on his next novel only to discover it has fallen victim to a vampire that lurks in the shadows and preys on its people. Based on the Stephen King novel.
Release date: 9 September

Bros
Billy "on the street" Eichner co-writes and stars in this big-budget studio rom-com about two men who may or may not be falling in love. The first of its kind to have a predominantly LGBTQ+ cast.
Release date: 12 August

Don't Worry Darling
Olivia Wilde's erotic thriller about a housewife spiralling out of control, starring Florence Pugh and Harry Styles.
Release date: 23 September

Hocus Pocus 2
The original trio of witches return for Disney's long-anticipated sequel to the 90s classic.
Release date: October TBC

Halloween Ends
Fingers crossed that housewife Kyle Richards takes (another) break from her botox and fillers to properly emote in the next Halloween horror. Give her the Academy Award already!
Release date: 14 October
Black Panther: Wakanda Forever
The jewel in the MCU's crown gets a sequel, fronted by Letitia Wright following Chadwick Boseman's death.
Release date: 11 November

Avatar 2
Only a decade after it was originally scheduled, James Cameron's sci-fi epic finally hits cinemas. Or will it?
Release date: 16 December

Babylon
La La Land director Damien Chazelle guns for Oscar glory again with this period drama about Hollywood's Golden Age. Brad Pitt and Margot Robbie star.
Release date: 25 December

2022 movies that remain undated:

My Policeman
The Emma Corrin and Harry Styles bi cop movie.
Disappointment Blvd.
Ari Aster's Midsommar follow-up is a dark comedy fronted by Joaquin Phoenix.
Blonde
Netflix are up-in-arms about this apparently deranged fable-like take on Marilyn Monroe's life, based on the book by Joyce Carol Oates. Ana De Armas plays the lead role.
White Noise
Noah Baumbach, Adam Driver and Greta Gerwig join forces for the first time since Frances Ha for this surreal, 80s-set story of paranoia, a Hitler professor and chemical spills.
Bones & All
Luca Guadagnino's cannibal collaboration with Timothée Chalamet looks set for festivals in 2022.
Follow i-D on Instagram and TikTok for more culture and movies.