Booba: "I don't believe in passports and I don't believe in borders"
The French rapper discusses his final album, past controversies and supporting the new generation of artists.
|
31 December 2021, 8:00am
This story originally appeared in i-D's Out Of The Blue issue, no. 366, Winter 2021. With thanks to Tiffany & Co. Order your copy here.
It's always a tricky exercise to decide what questions to put to a national treasure. Especially one who has been sitting on top of the French hip-hop scene and music industry for a quarter of a century. How to even begin to sum up Booba? Lyricist extraordinaire, athletic aesthete, charismatic big mouth, magnet for controversy, most famous French rapper of all time?
Booba, who was born Elie Yaffa, boasts gold, platinum and diamond records across four different decades, since first appearing on the scene with his group Lunatic in 1994. He has just announced his new record, Ultra, will be his last. The accompanying farewell tour could be the most anticipated in the history of French music; a final concert is planned for the Stade de France in September 2022. It's announcement sent his fans into a state of online hysteria, almost completely selling out the seventy five thousand seater stadium within a day. The album went platinum in mere weeks.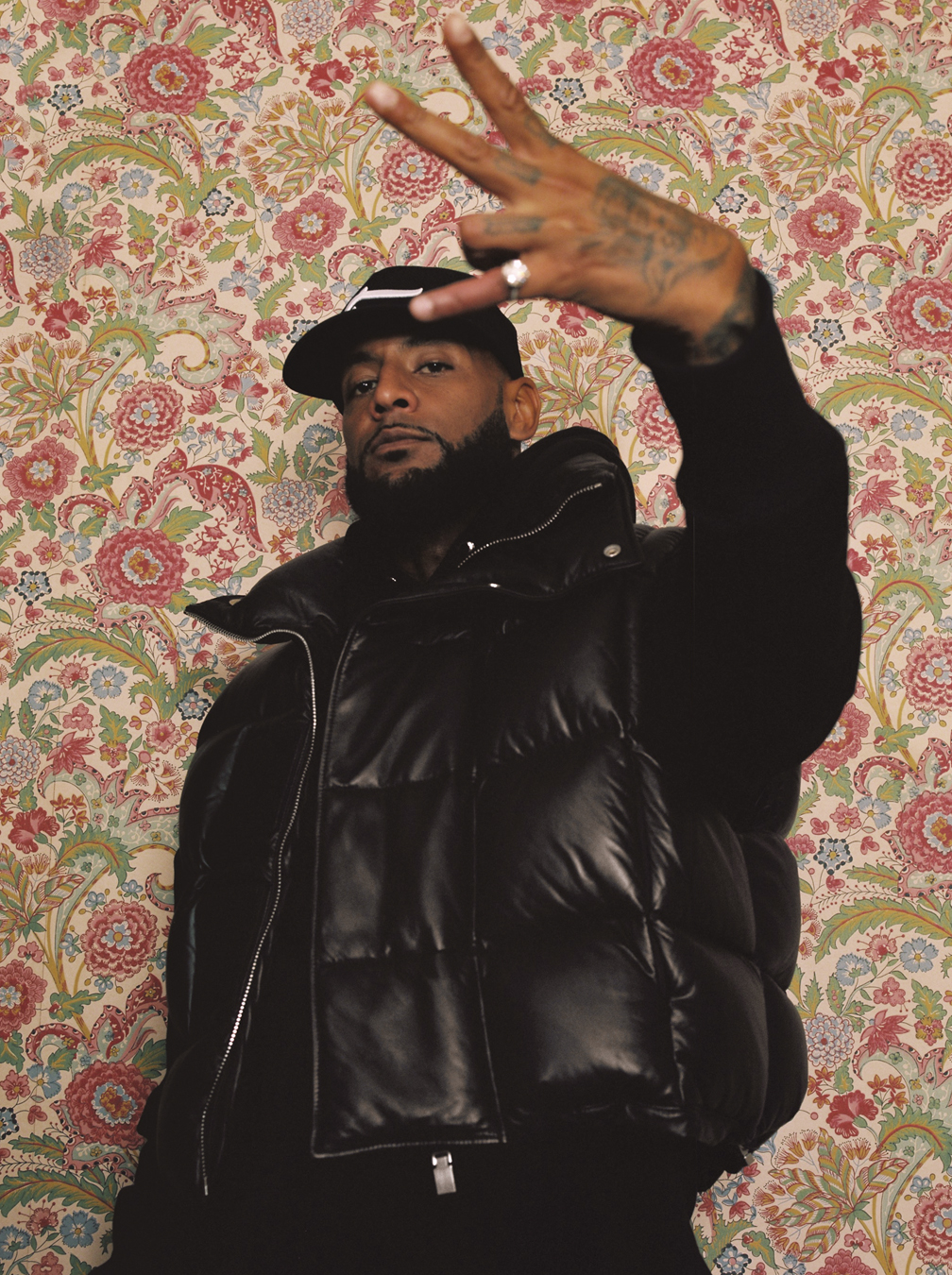 It's a damp, autumn afternoon when we meet Booba, on set at an extravagant 17th Century castle, forty kilometres south west of Paris, having his photo taken. Booba poses for the camera with the heightened awareness and sharp eyes of someone whose portraits have been taken regularly since the mid-nineties, someone who is fully aware of the perception everyone has of him. Although he's about to turn forty five years-old in December, you wouldn't doubt him if he claimed to be just over thirty. He's intimidating, but the familiarity of his face makes it more intriguing than fearsome. He is still emotional about the announcement of his final show at the Stade de France.
"I was not expecting it to sell out, or for people to show this much energy and this kind of love for it. I knew we could fill it up but I didn't think it would be this quick. It really touched me." His voice betrays the emotion of someone who, although he has been dominating contemporary French music for so long, had not fully grasped just how stratospheric his status was, or that it was as high as ever. "I'm very much a down-to-earth kind of a man," he continues, "but believing you can achieve it and actually seeing it happen are different things."
Moments of public introspection are rare for Booba, although it is clear how humbled and overwhelmed he is by the love he has received lately. "It's like playing in the final of the Champions League or fighting for the heavyweight title against Mike Tyson. It doesn't mean you've won either, but it means that you've worked yourself up to reach that level." The athlete in him appreciates the magnitude and symbolism of filling up the stadium the French national football team calls home – not an easy feat for someone whose hyper-realistic lyrics, divisive public persona and defiant demeanour has turned him into the antihero of French rap for many.
So much so, in fact, that a decade ago Booba decided to leave Paris for Miami. "Whether I was going to make it in music or not, it was inevitable that I would leave France. Miami feels like a great tavern of pirates," – he says, referencing the name his fans affectionately call themselves – "the entire city has a different feel and mentality. It's very Cuban-influenced, tonnes of Haitians, the first language is Spanish… I'm happy being in an environment that's void of judgement." While the choice of Miami might have raised eyebrows in France, it makes perfect sense for someone like Booba who has never given too much credence to a flag. "I don't care about a specific language or where you're from. My kids are American, they speak English and Spanish. I'm more attached to people and places where I have felt at home, than this idea that you belong with people just because you have the same passport as them. I don't believe in passports and I don't believe in borders." Like many heroes of French society such as Thierry Henry and Zinedine Zidane – or the one he's been most compared to, Nicolas Anelka – Booba feels at home far away from where he grew up.
Aside from the music, Booba has made headlines throughout his career for less positive reasons. He spent his teenage years in and out of prison, and once he found fame, he seemed to attract controversy constantly. He's been involved in numerous altercations, been shot at multiple times and sometimes, allegedly, been the one shooting. During one concert in 2008, coincidentally at the Stade de France, he threw a bottle of Jack Daniels at an audience member who was insulting him, and then there was an infamous incident when his mother and brother were kidnapped and held for ransom the week his third album came out.
Then most recently, in 2018, he was back in prison after fighting with his former protege Kaaris. The two had been trading insults over social media and on records since falling out, and by bad luck the two were scheduled to fly to Morocco on the same flight from Orly, and ended up trading blows. "It's like I'm on a schoolyard. If I don't like you for any reason, I take some malicious delight in pushing your buttons," he says, of the beef between him and Kaaris, but also more generally of his past confrontations. "It's a tough situation for them, because I'm funny and relentless when I tease them. Most rappers operate with an ego so they always tend to respond, which is a mistake."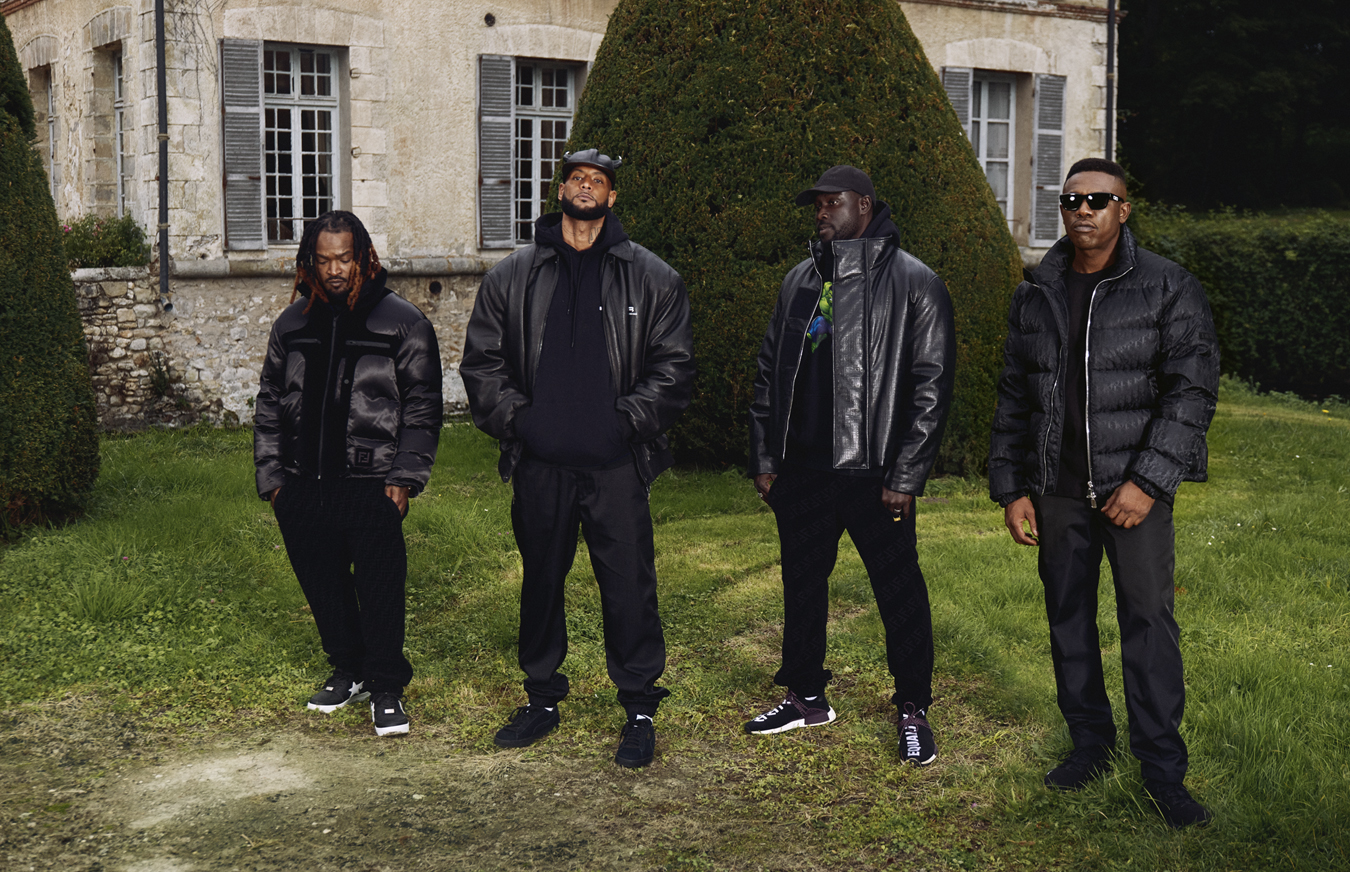 I ask him about the parallels between him and Napoleon, another French hero who was exiled from France but came back to rule again, Booba acquiesces, but becomes infinitely more engaged when I compare his style of teasing to that of Vladimir Putin, the only politician he'd like to have a conversation with. "There is something about that guy. He's like an emperor. He's determined, accomplished; his behaviour is perfect. He's smart, he's a black-belt, he's got a scary aura, he's a lot of things I admire. I feel like I already know him in a way. I think we see the world in similar ways."
There's a nihilistic streak to Booba. He has some bleak views on the world, but there's also humour. He is however loyal, trusting, in love with the craft of his music and doesn't feel many uphold the standards, although generous with the young rappers he wants to champion.
"Surviving is adapting. I've always been about transmission. I need to be aware of what is going on in the world. I am very competitive, and I like to help others like me win their way in the music industry." He owns three music labels – 7Corp, Piraterie Music and 92i Africa – and wants to change the way music is consumed in France. Booba wants to level the playing field and is about to launch his own app, called Ultra Radio, with his DJ and artistic partner Kyu Steed.
"We want to build a more organic system and give artists that are not yet within the music industry the opportunity to have their art heard all over the world. We want to get a song from an artist in Cote d'Ivoire and five minutes later put it into rotation without having to clear it with all these platforms," he says. Africa is obviously a topic of discussion between Booba and Kyu, who are respectively of Senegalese and Congolese descent. Booba launched 92i Africa during the pandemic. He is fully committed to helping artists from Francophone Africa break into the European market without having to jump on a boat and risk their lives in the desert or the Mediterranean.
"Africa is filled with resources," Kyu adds, "both natural and human resources. When a left-handed guitar player learns on a right-handed guitar, incredible creation happens. The talent is there, but it lacks information and structures of distribution. Look at our forefathers like Fela Kuti and Manu Dibango. The new generation is reaching incredible heights, because their work is finally being distributed on the same channels that Western artists are. We're helping that become a reality for more artists."
As the day wanes, everyone finishes the shoot with a very clear understanding of the mission at hand. This will be the introduction to the next chapter of Booba's career. That of the patriarch introducing a new generation of artists, each more talented than the next. He won't fight one combat too many. Booba will be sailing into the sunset wearing the belt. Ten albums in, and twenty-five years later, Booba calls it a career.
Credits
---
With thanks to Tiffany & Co.
Photography Julien Boudet
Fashion Daqui Gomis
Make-up Salome Segur
Lighting technician and digital operator Nathan Zaoui
Fashion assistance Diane Valliergues and Aude-Andrea Gbazi
Artistic director Kyu Steed
Production Margaux Denis
Retouching SHERIFF
Models Booba, Kyu Steed, Melou, Gato and La Piraterie
All jewellery (worn throughout) Tiffany & Co.