How to make money from Instagram Live
Instagram will now let users with over 10K followers get paid to go Live with their new 'badges' feature.
|
17 November 2021, 3:11pm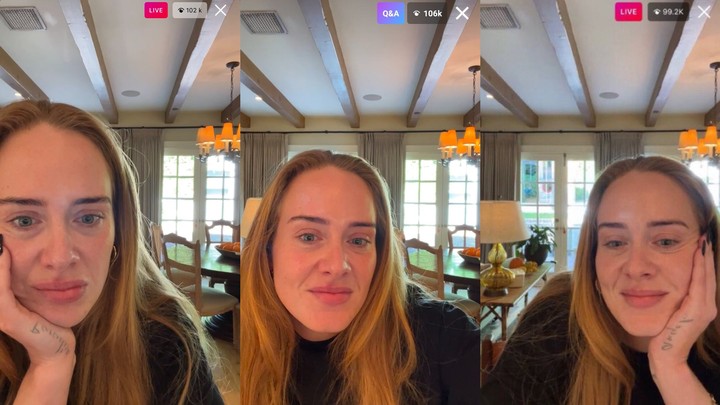 Instagram @adele
Having tested their badges feature for the past year with a small pool of creators, Instagram is now launching it to users across the United States. It means those with over 10k followers can now get paid to answer fan questions, share updates on their work or "clear the air" after a major scandal. Intrigued? Here's how…
The feature allows followers viewing your Instagram Live to support your content by purchasing badges in increments of $0.99, $1.99 and $4.99. Hearts by the side of profile names will indicate how much they've given, and by purchasing a badge, fans will receive a thank you message as well as more visibility on their comments and questions during the Live thanks to a glowing pinky-purple border on their profile picture. Badge owners will also appear in a list seen only by the creator for 90 days, which opens up possibilities for special gifts and thank yous to those who support them. At the bottom of the Live screen the creator can also see how much they've earned from the session, as well as a larger total breakdown in the "badge settings".
Currently, to be eligible for the badges feature you must be at least 18 years old and live in the United States, although it's likely the feature will eventually roll out globally. You also need to have at least 10k followers, be a professional rather than personal account, and meet Instagram's community and content monetisation guidelines. Currently, Meta have said that they won't be taking a cut of creator revenue until 2023 at the earliest, however the Apple and Google App Stores will take a 30% cut as per their usual charges for in-app purchases.
The hope is that badges will allow creators to foster stronger relationships with their most loyal fans, as well as be able to produce even more content with the additional financial support. It seems to be inspired by the subscription-based service of Onlyfans and Patreon that many creators, sex workers and celebrities use to share their content, while, of course, keeping to Instagram's very strict SFW guidelines. It also seems to be a direct response to the funds set up by TikTok and YouTube Shorts to reward the best-performing content and incentivise the creation of new videos. By making it possible to earn through Lives however, creators can then directly respond to their supporters, and fans are more likely to have their questions answered among the wave of incoming comments.
For artists and performers based on Instagram, it could be an incredibly effective way to crowdfund their projects without having to set up accounts and an entirely new following on other monetised platforms. On the other hand, we can also imagine some problematic beauty influencer wiping away tears as they thank their true fans for financially supporting them through this incredibly difficult time.
Follow i-D on Instagram and TikTok for more on social media.
Tagged: