Images courtesy of Jil Sander, Marni and Ambush.
The best of Milan Fashion Week AW22: Jil Sander, Marni and Ambush
Our must-read guide to the key shows of the season — as they happen.
Images courtesy of Jil Sander, Marni and Ambush.
Ciao, amori! Yes, after a knockout season in London, we've hopped to Northern Italy's most glamorous city: Milano! The hometown of global fashion stalwarts like Prada, Versace and Fendi (well, it's technically Rome for the latter, but it's here that they invariably show!), Milan Fashion Week is always one to look to for season-defining moments. That holds especially true this season, with two of the schedule's prodigal heavyweights – Gucci and Bottega Veneta – staging their homecoming shows, after two years of independent cinematic ventures and presentations in far-flung locales.
Just as it was with London Fashion Week, so will be with MFW – by which we mean that this will be your handy portal for getting all the tea on the week's shows as and when it's spilled. Get those cups ready, darls!
Bottega Veneta
On the penultimate night of Milan Fashion Week, Matthieu Blazy staged his debut show for Bottega Veneta. The Italian leather house is one the jewels in Kering's crown — so when French-Belgian designer Matthieu started work as the house's new creative director late last year, it must have been hard considering he's been involved with it for quite some time as a right-hand to his predecessor Daniel Lee. Nevertheless, he found a way of developing the Bottega offering, mainly by making it all cleaner, lighter and more focused on a broader sense of individualism, rather than any given concept or specific reference. In many ways, his debut collection felt more approachable — even if the extraordinary levels of workmanship elevated it even further into the fashion stratosphere. It also felt more fashion, given the dramatic silhouettes and extraordinary attention to detail. "The idea was to bring back energy, a silhouette that really expressed motion, because Bottega is a bag company, so you go somewhere, you don't stay home," he offered by way of explaining the collection. "Luxury in motion." To find out everything that went down at the show, read our full review here. OA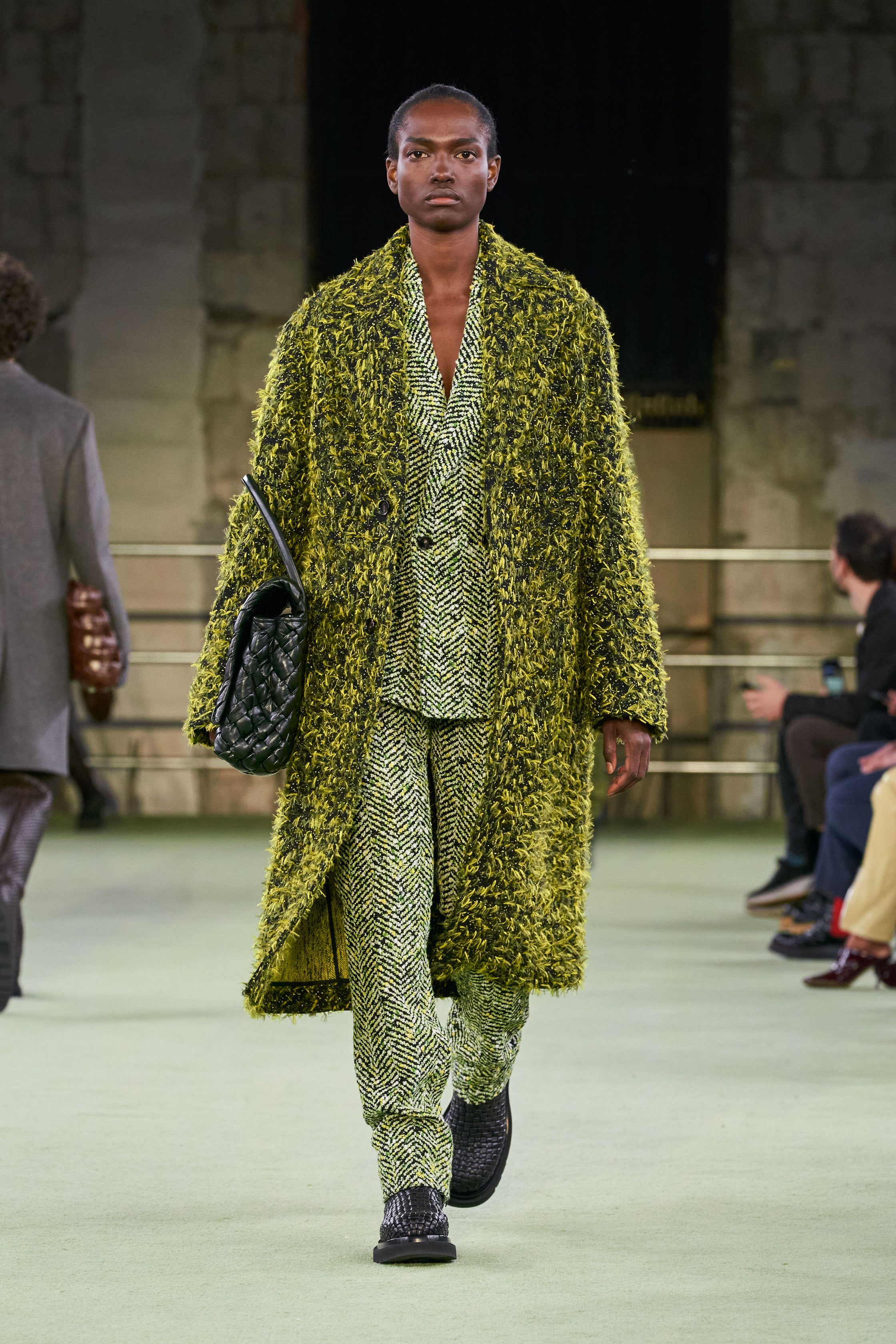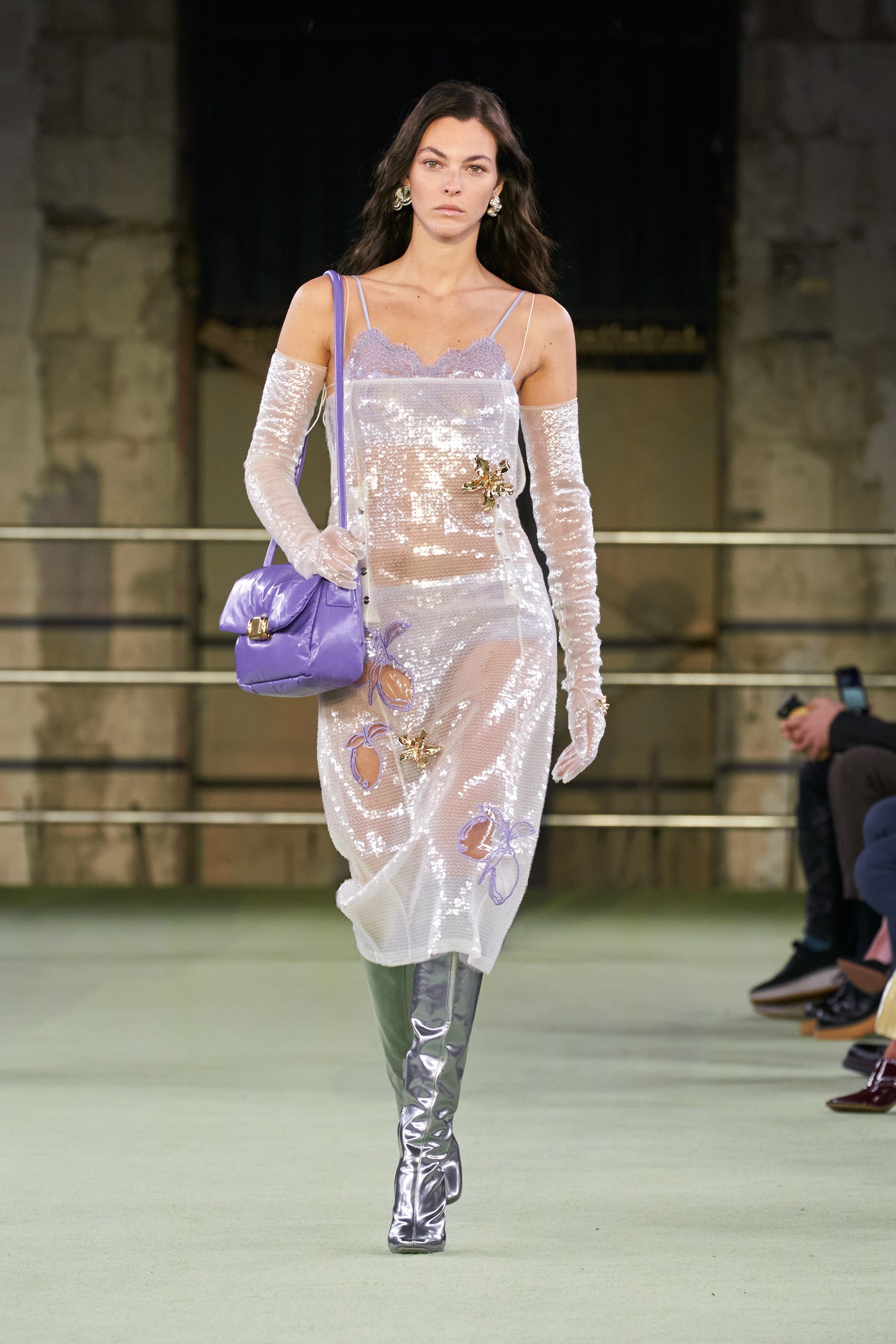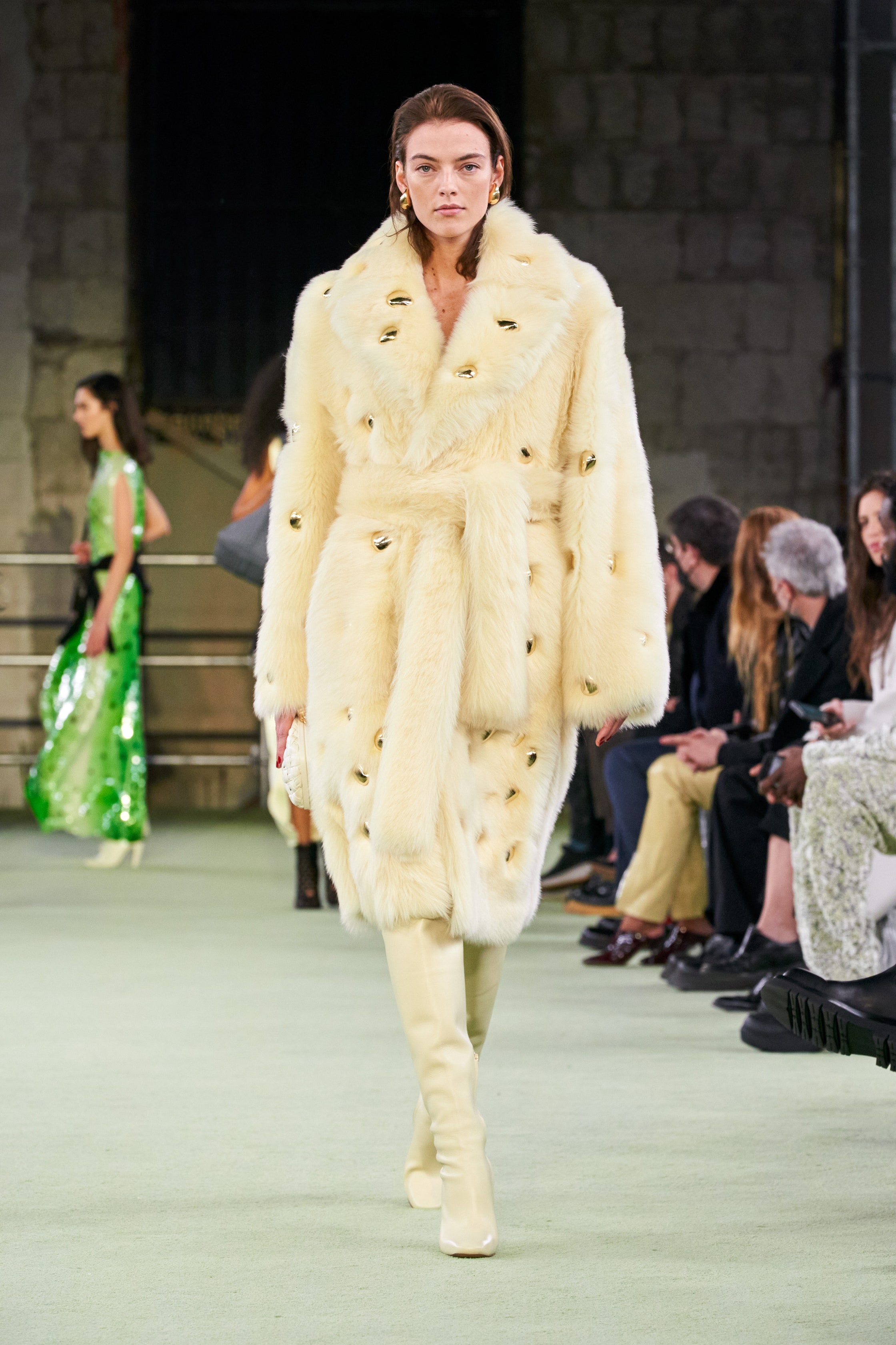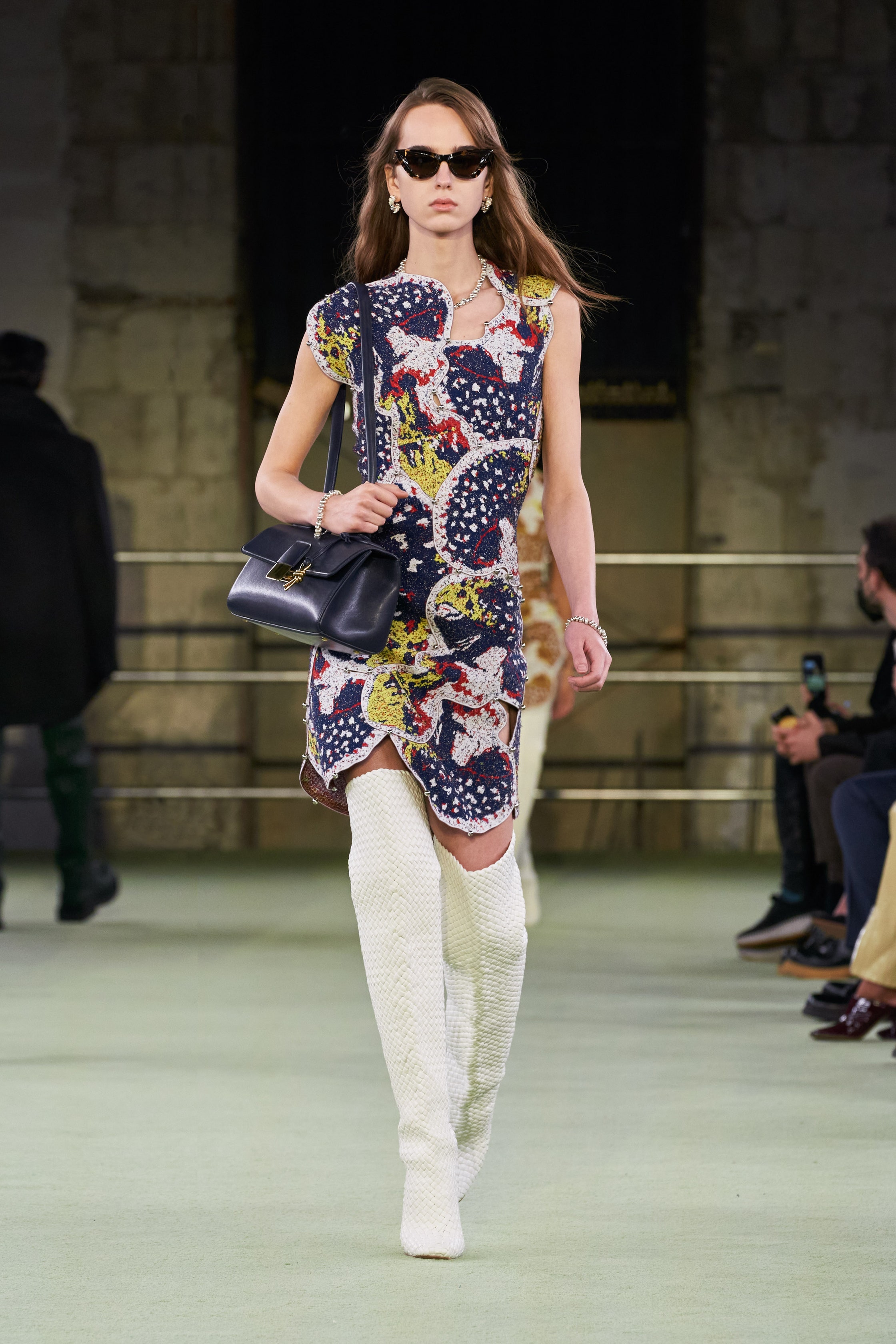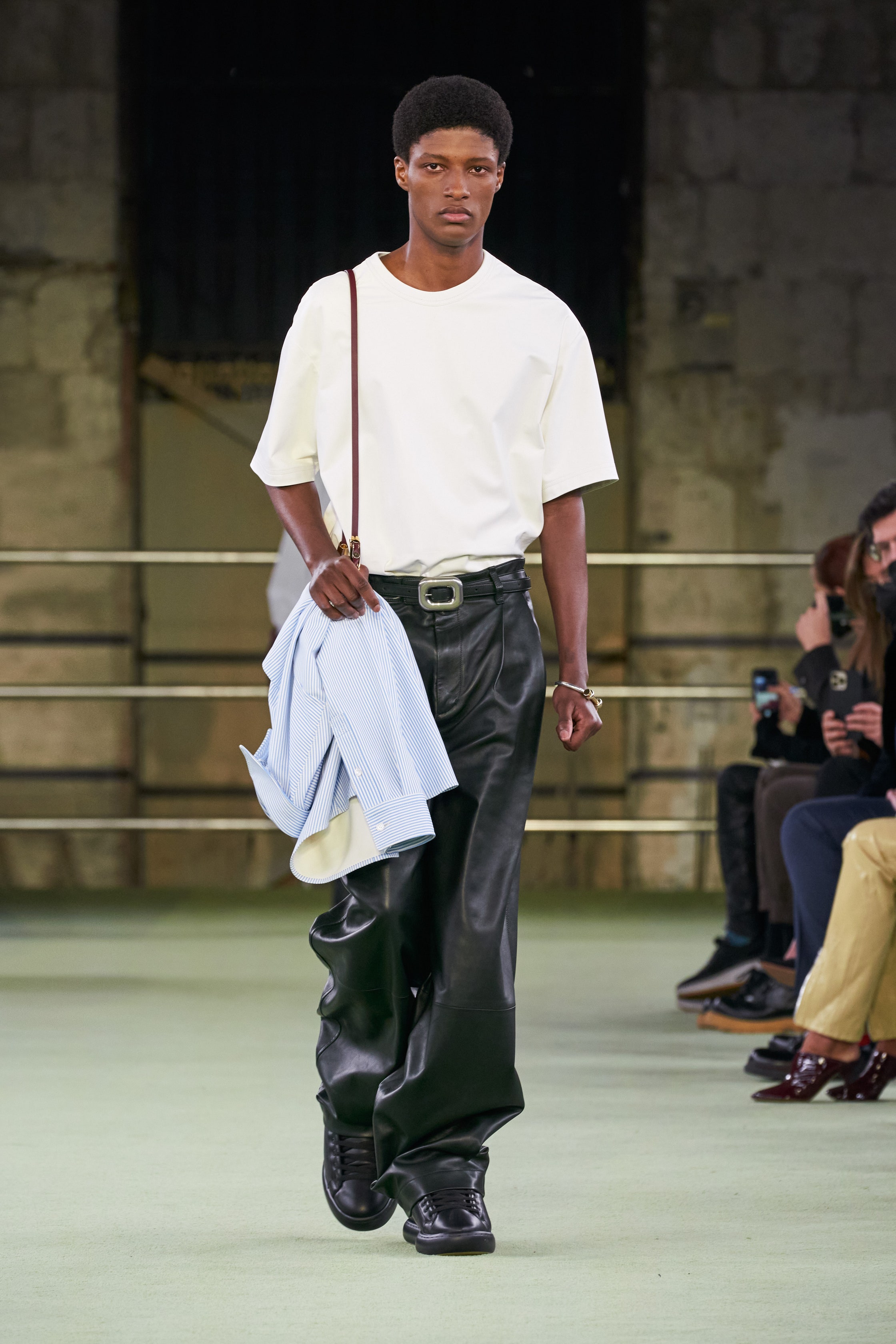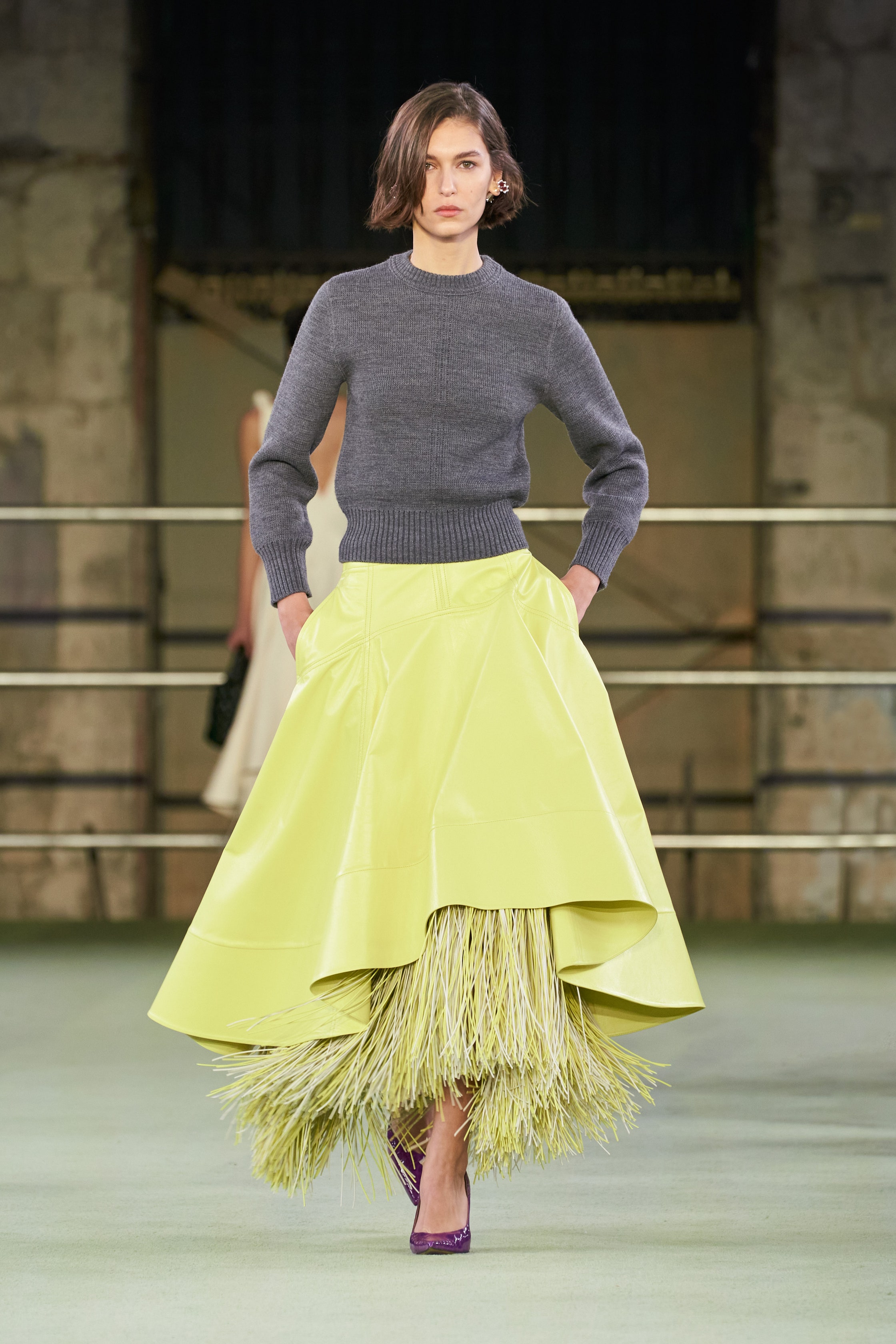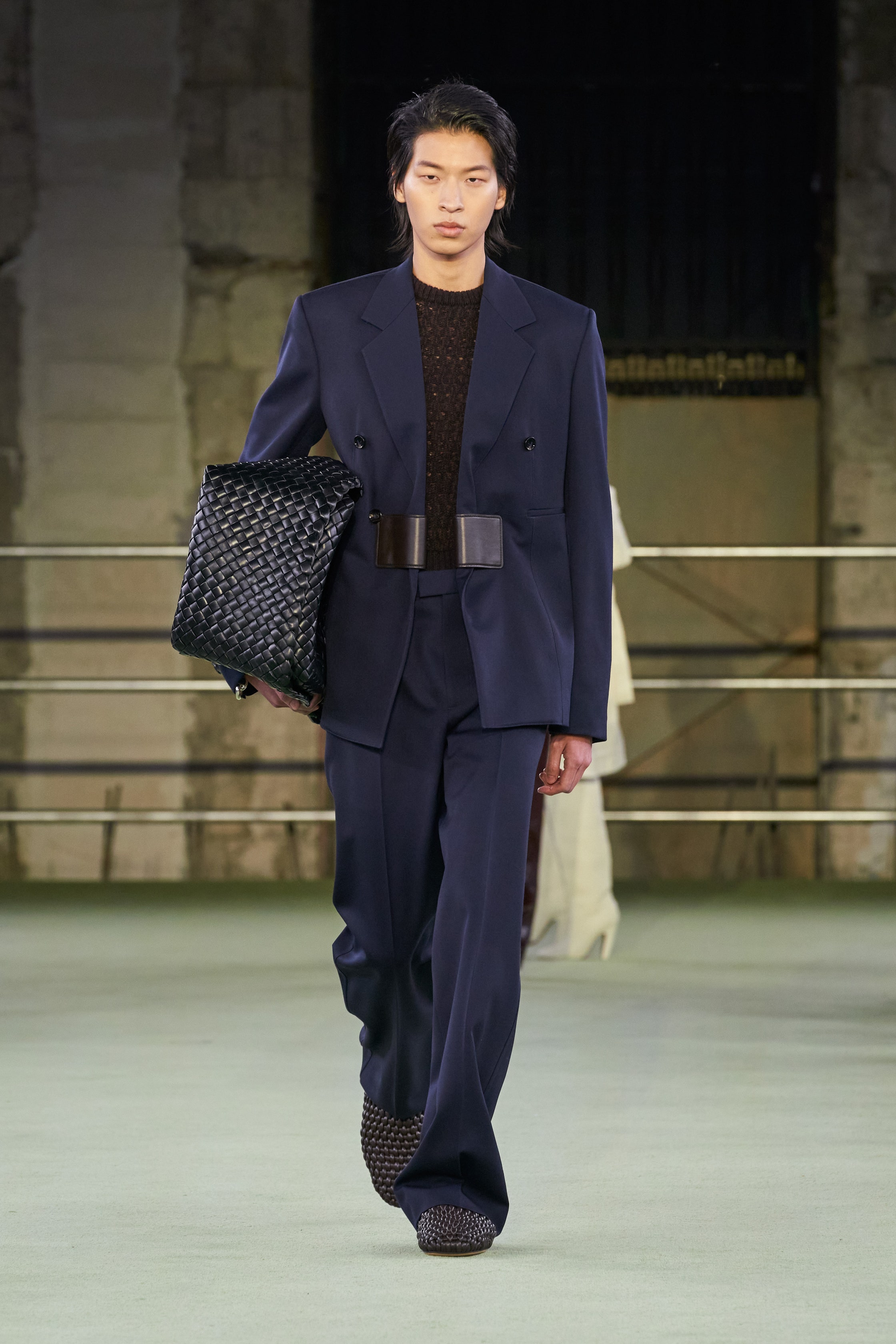 Ambush
Under the banner of her Tokyo-based label Ambush, Yoon Ahn has built a reputation as one of the most tech-friendly designer's out there.That's not just with respect to the clothes that she puts out, which often make use of innovative techniques, but also in terms of the moves she's been making to engage with topics that fashion has been slow to uptake. A few weeks back, she launched her first limited edition NFT, which sold out in a matter of hours, and she's also been investing in the creation of an Ambush metaverse.
As invested as she is in the opportunities that lie on digital horizons, though, the collection she presented yesterday – her first IRL show on the Milan Fashion Week schedule – was inherently rooted in the here and now. A study of the characters that figure in the Ambush universe, Yoon's exacting appreciation of craft was grounded in material reality. Fluffy shearlings and giant fuzzy hats were counterposed by thigh-high, slender leather boots with ladders of strap fastening running up the front, and wasp-waisted tailoring. A mini-dress crafted from trails of beaded fringe bounced with the model's step, vests were created from A-emblem metal chainmail – a techniqued echoed elsewhere in leather – and cowhide chaps came with heart shaped crotch cut-outs – a decision made to augur positive chakric energy, Yoon told us in a preview of the collection. Want to hear more from the designer herself? Check out our Milan episode of Fashion Show + Tell with Yoon here! MS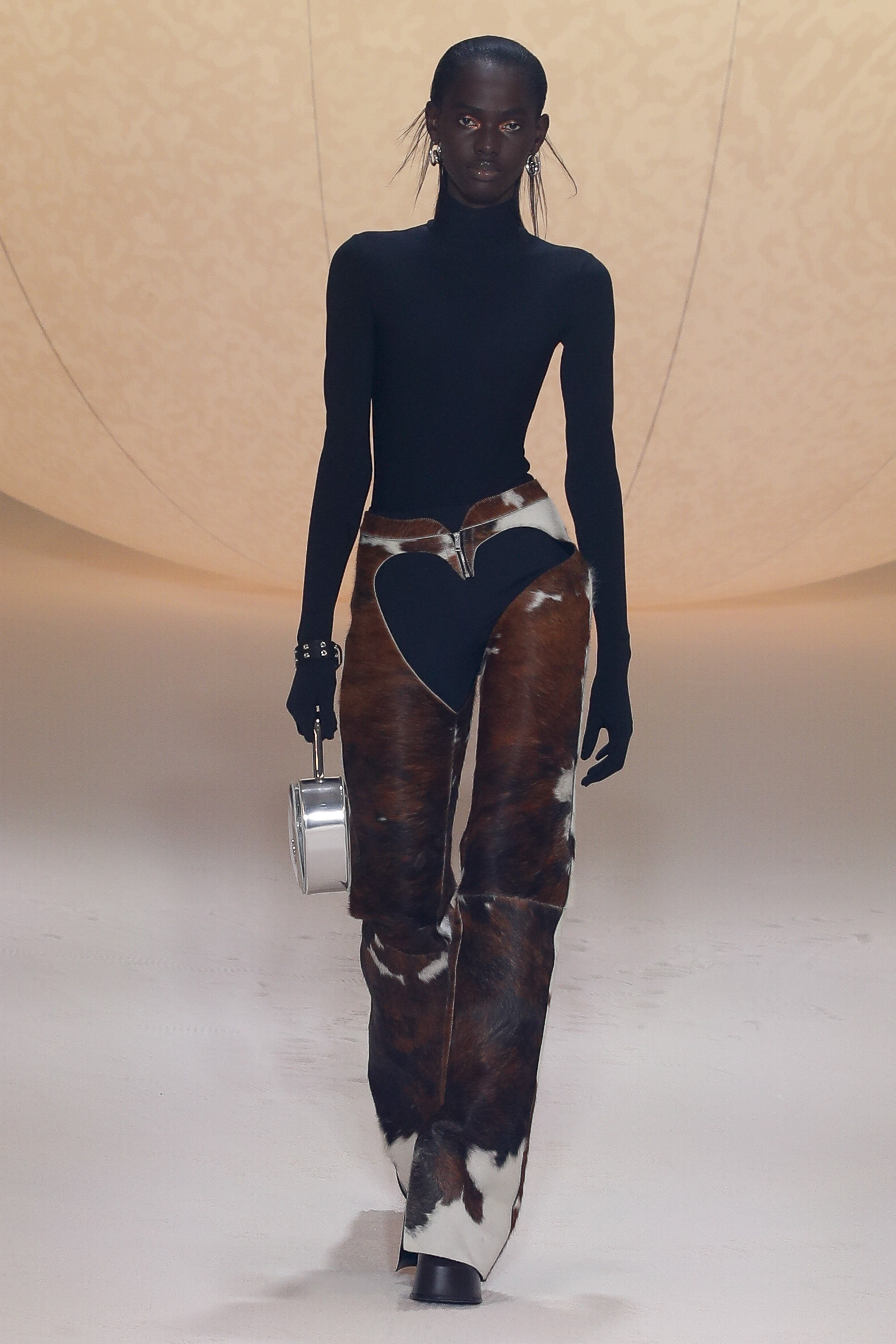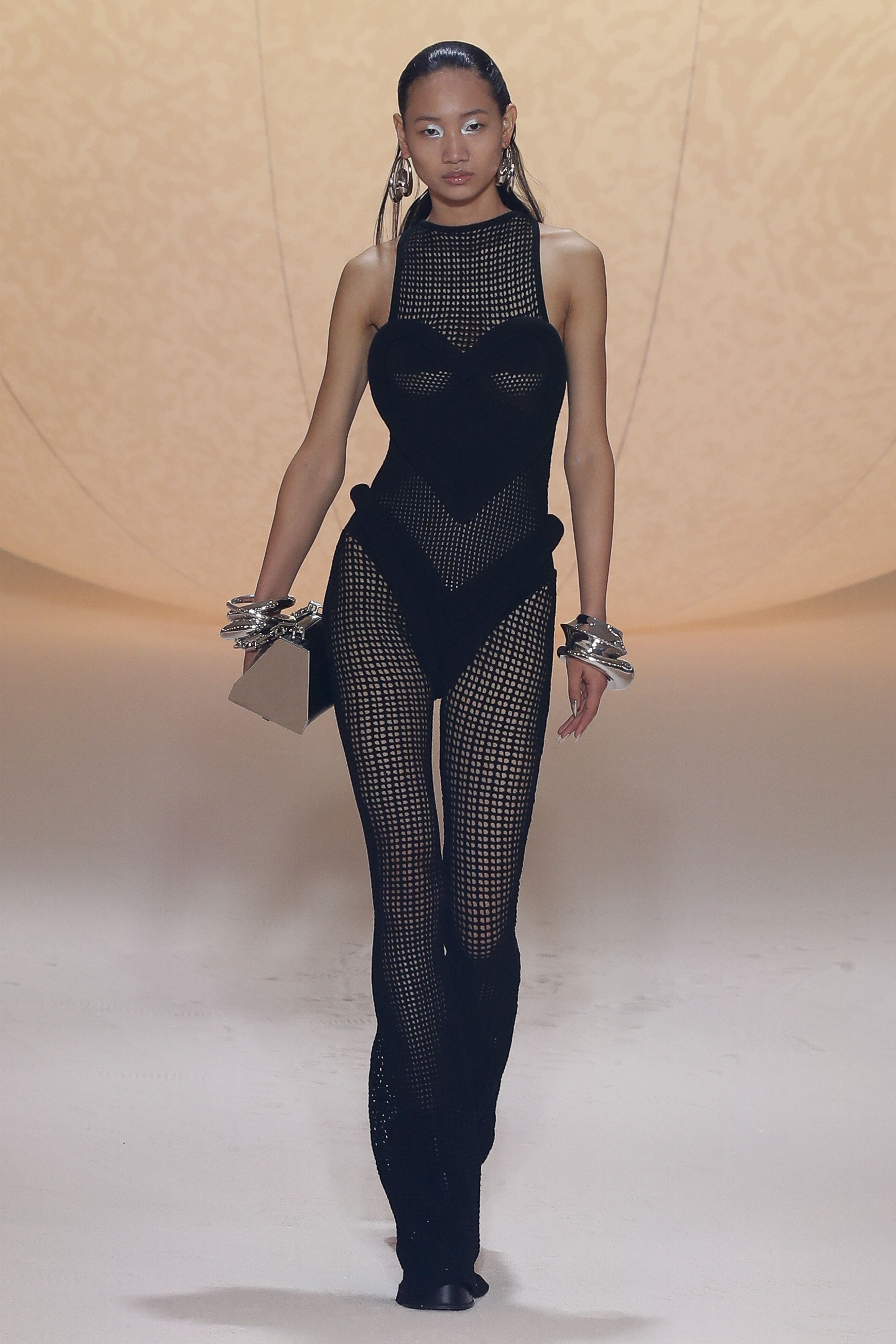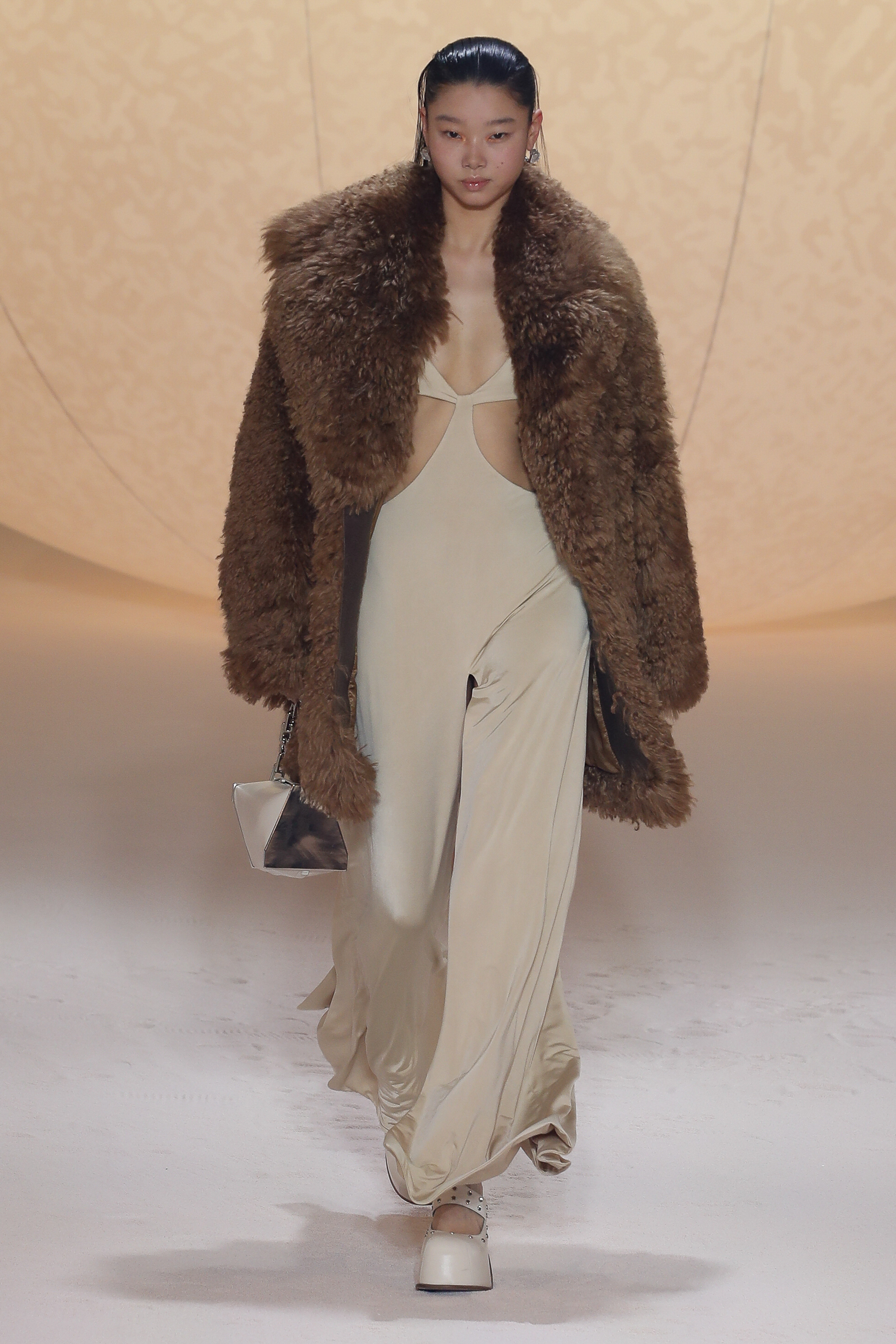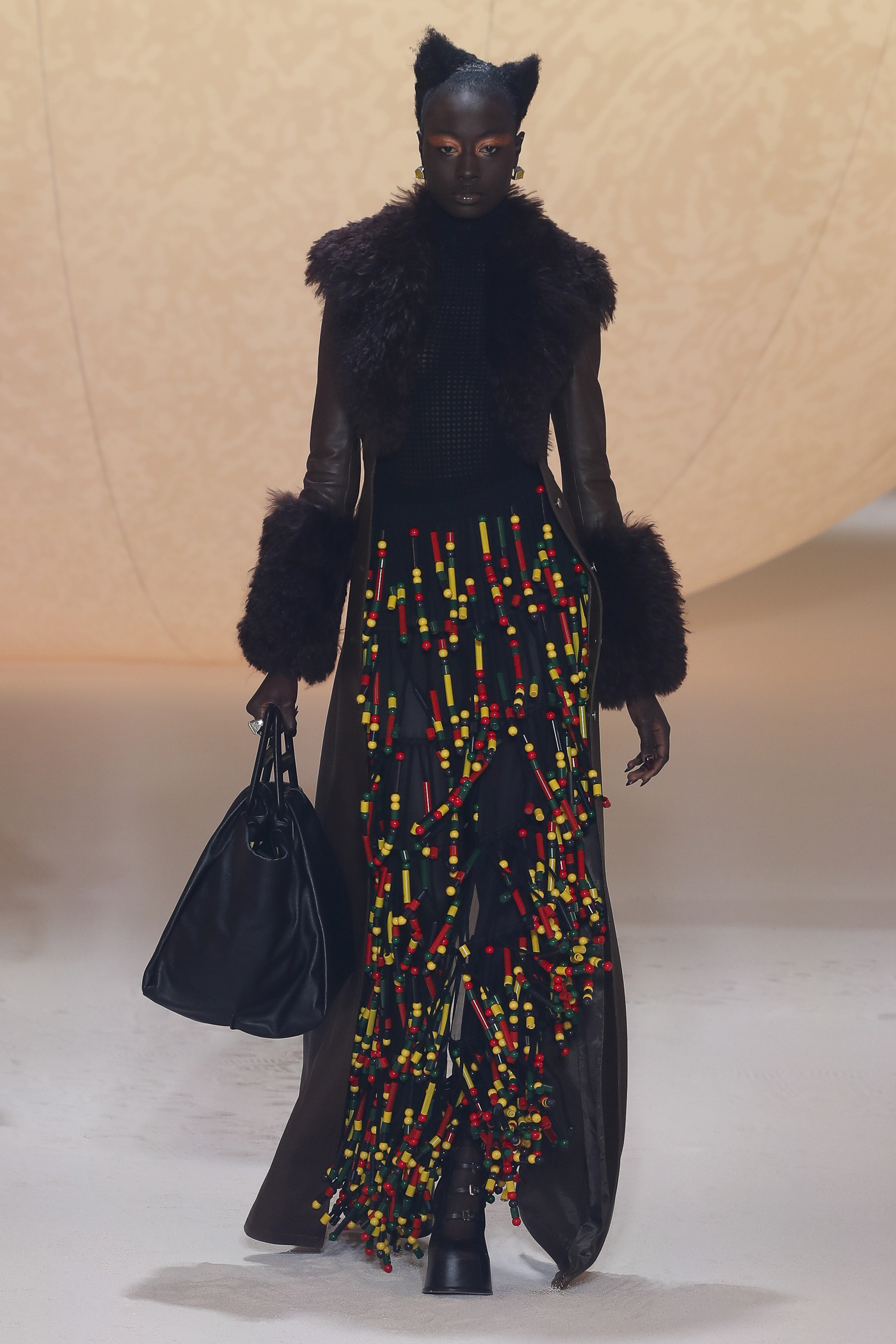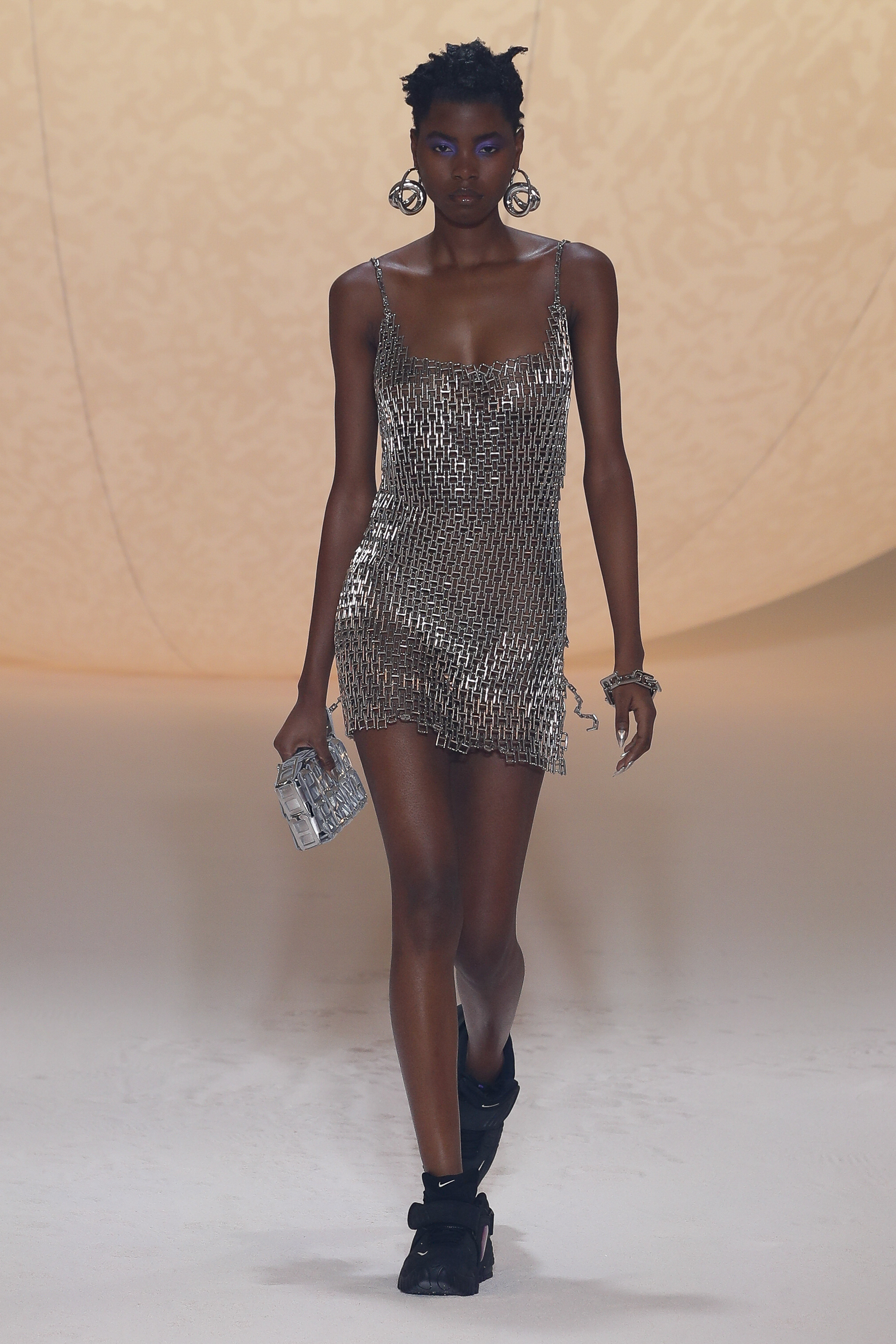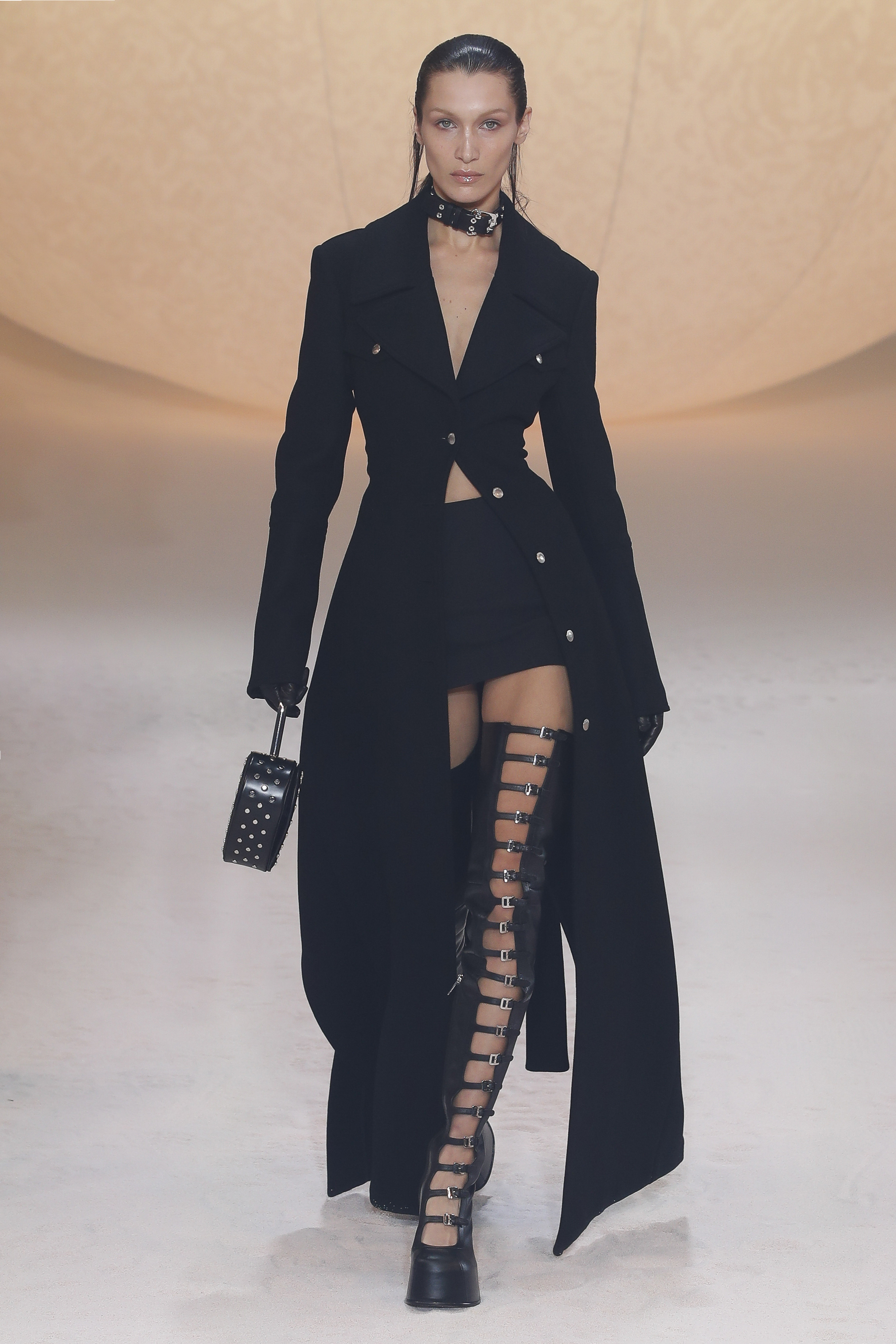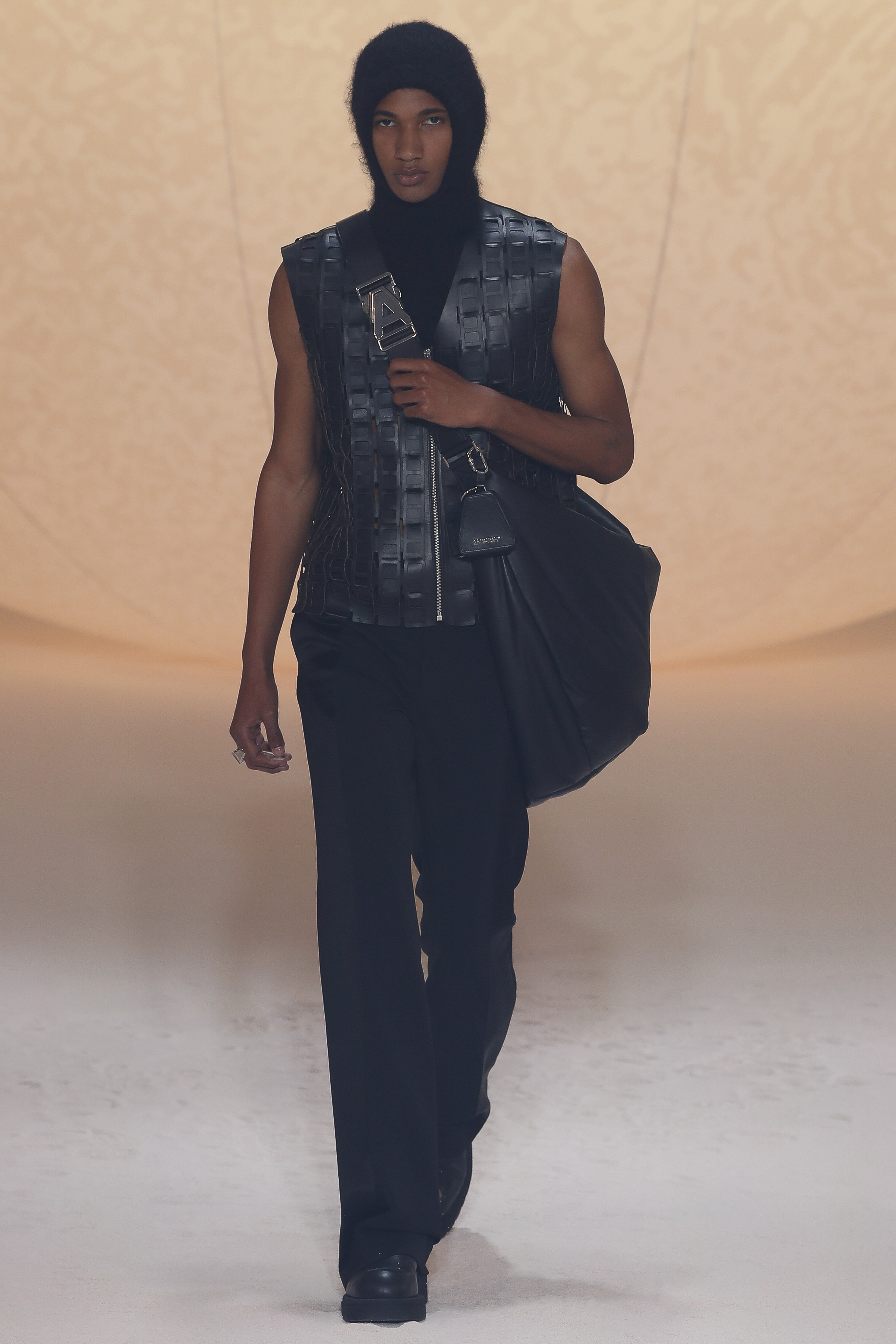 Marni
Often the best things in life are well worth waiting for. At Marni's AW22 show, staged in a cavernous, rave-ready warehouse on the northern outskirts of Milan, that sentiment was put to the test when the standing-only event had yet to kick off 45 minutes past its advertised start time. When things did eventually get going, though, the saying once again proved true. Slowly ambling amid and around the crowd, and up onto a ramshackle stone runway at the heart of a dimly lit forest-y set, models –trailed by torch-bearing chaperones – sported looks that exemplified the elevated, bobo craftiness that Franceso Risso has made the bedrock of his approach at the Italian house.
A reflection on ideas of breathing new life into the world by way of mending and repair, and the transfigurations of the old into the new, this was a collection imbued with a gleeful sense of play. Headpieces and crowns cobbled together from miscellaneous scraps of fabric and plush dolls spoke to an almost childlike, amateur-ish spirit at the heart of the collection. One that buoyed exacting attention to detail when it comes to the immediately evident quality of the lustrous velvets of crumpled, wide-leg trousers; the generous cut of this season's long-lined wool crombies and in shearling coats; and the reasuringly hefty knit of a patchworked jumper with sleeves that dragged along the floor – worn on the runway by Francesco himself. Ample, dandy-ish suiting was entirely handmade in collaboration with storied Italian tailors Attolini, and baggy denim jeans and silk dresses were shredded to a point of near-disintegration, and styled with spikey rubber loafers and wellington boots in black, silver and marigold yellow.
Eccentric as that all sounds, a through line could be found in the fact that the clothes on show were all evidently created with a keen sense of sensorial delight. That made itself most evident at the close of the show, when – after an hour in the dark – attendees filed out of the space into a sun-bathed courtyard, populated by the models who'd just walked and a lavish banquet. In this setting, the tenseness that typically presides over most fashion shows melted away for just a moment, giving way to the simple joy of enjoying cheeses, wines, jellies and fruits in glorious weather surrounded by intricately beautiful clothes. All that considered, an hour's wait feels like a pretty good deal. MS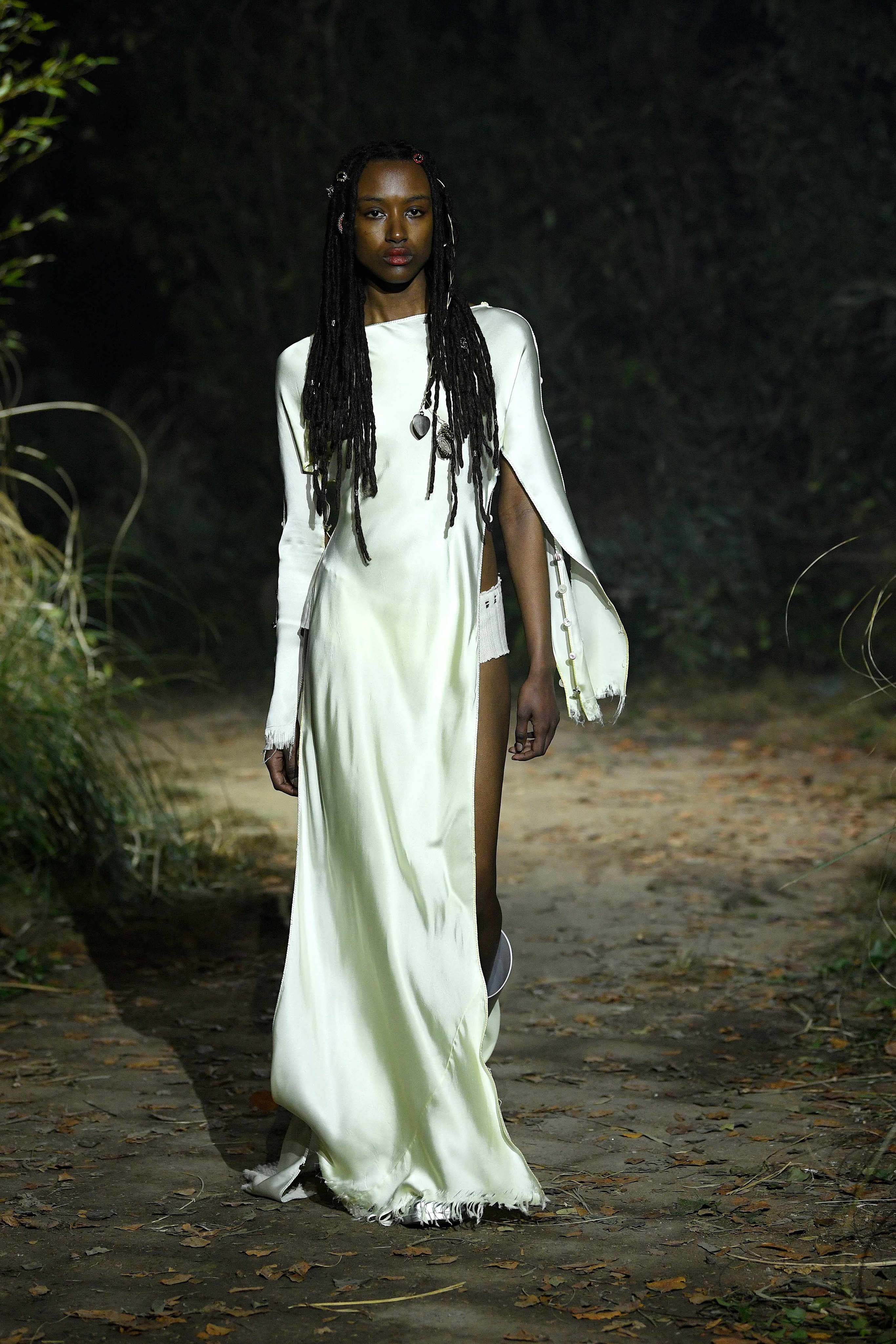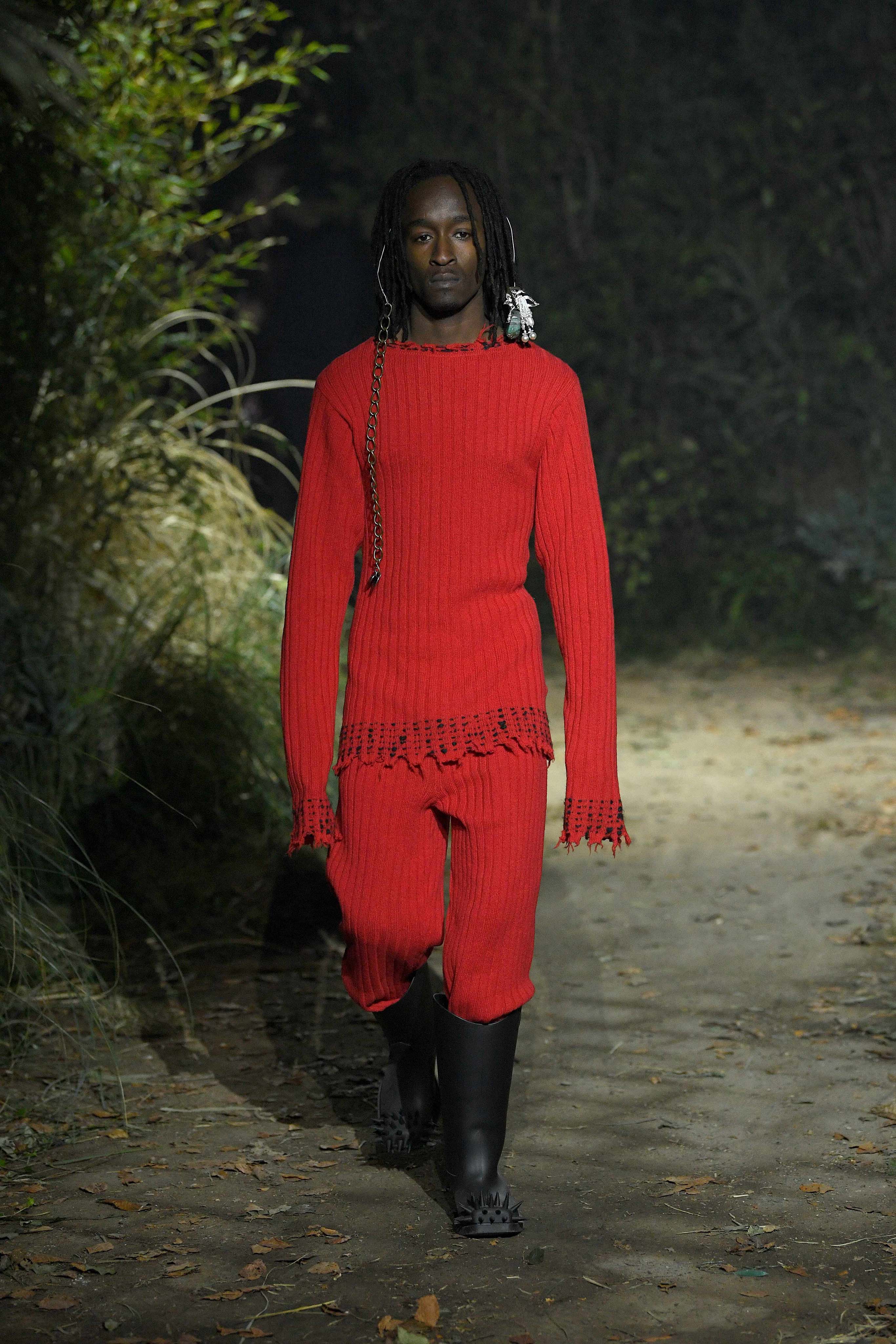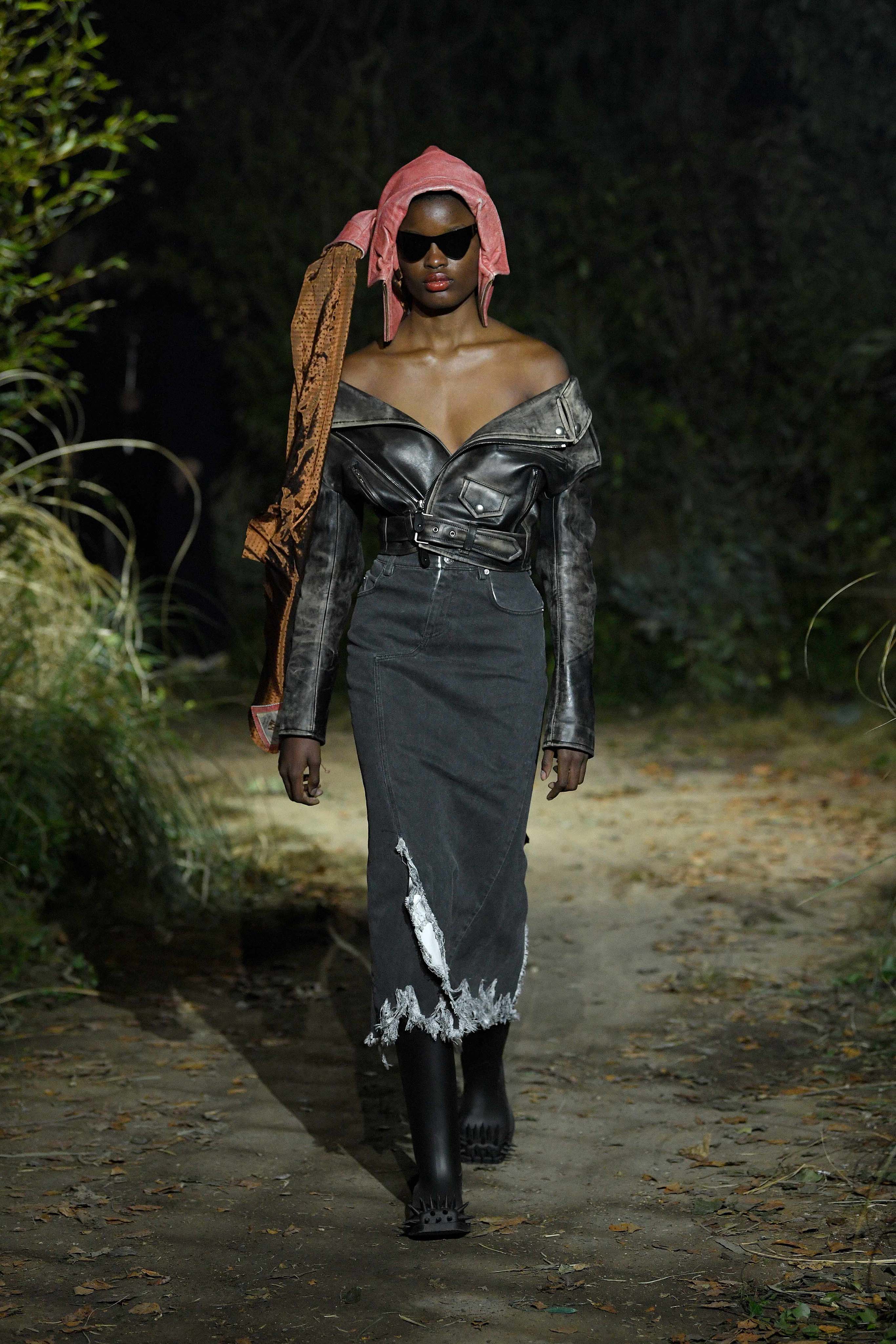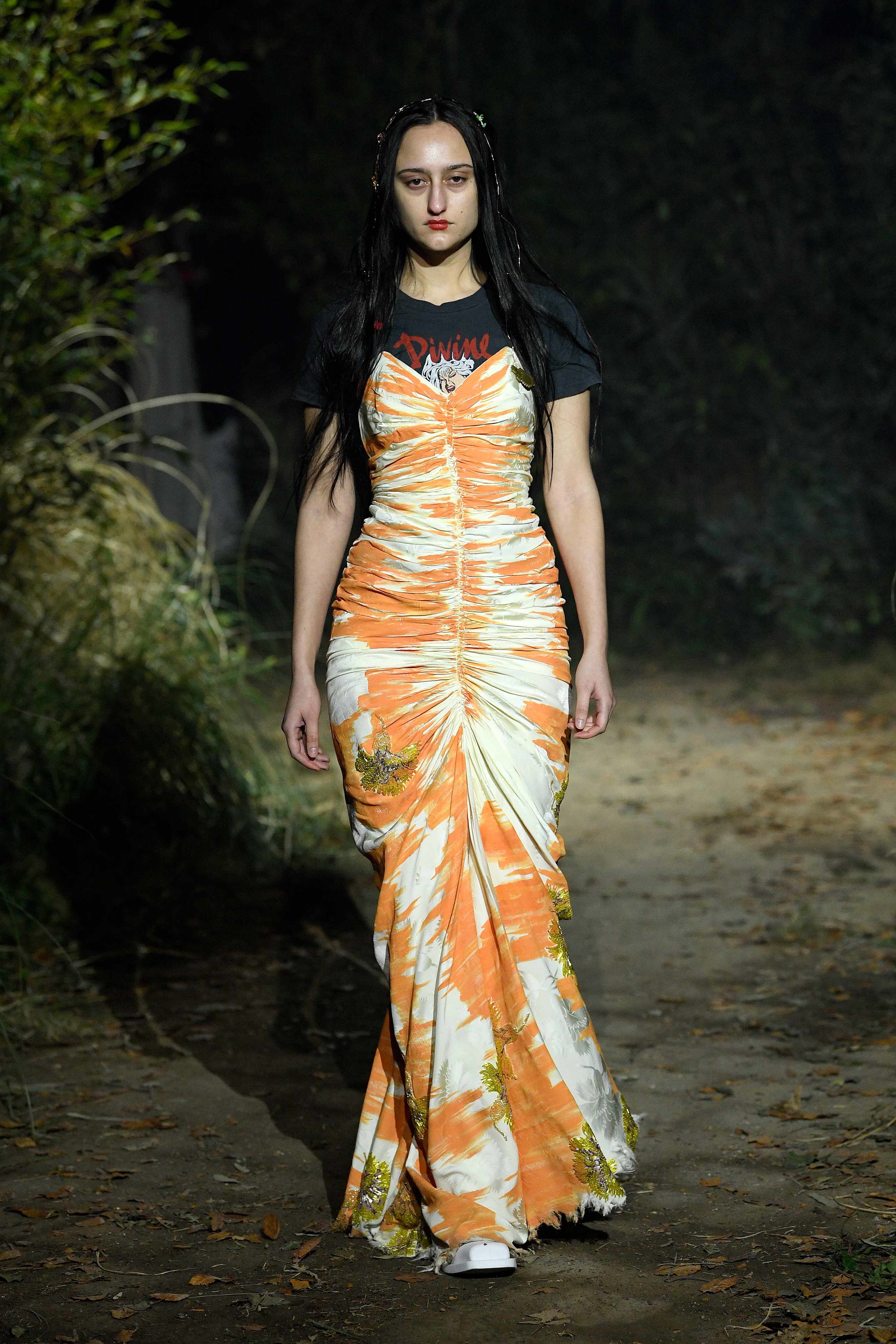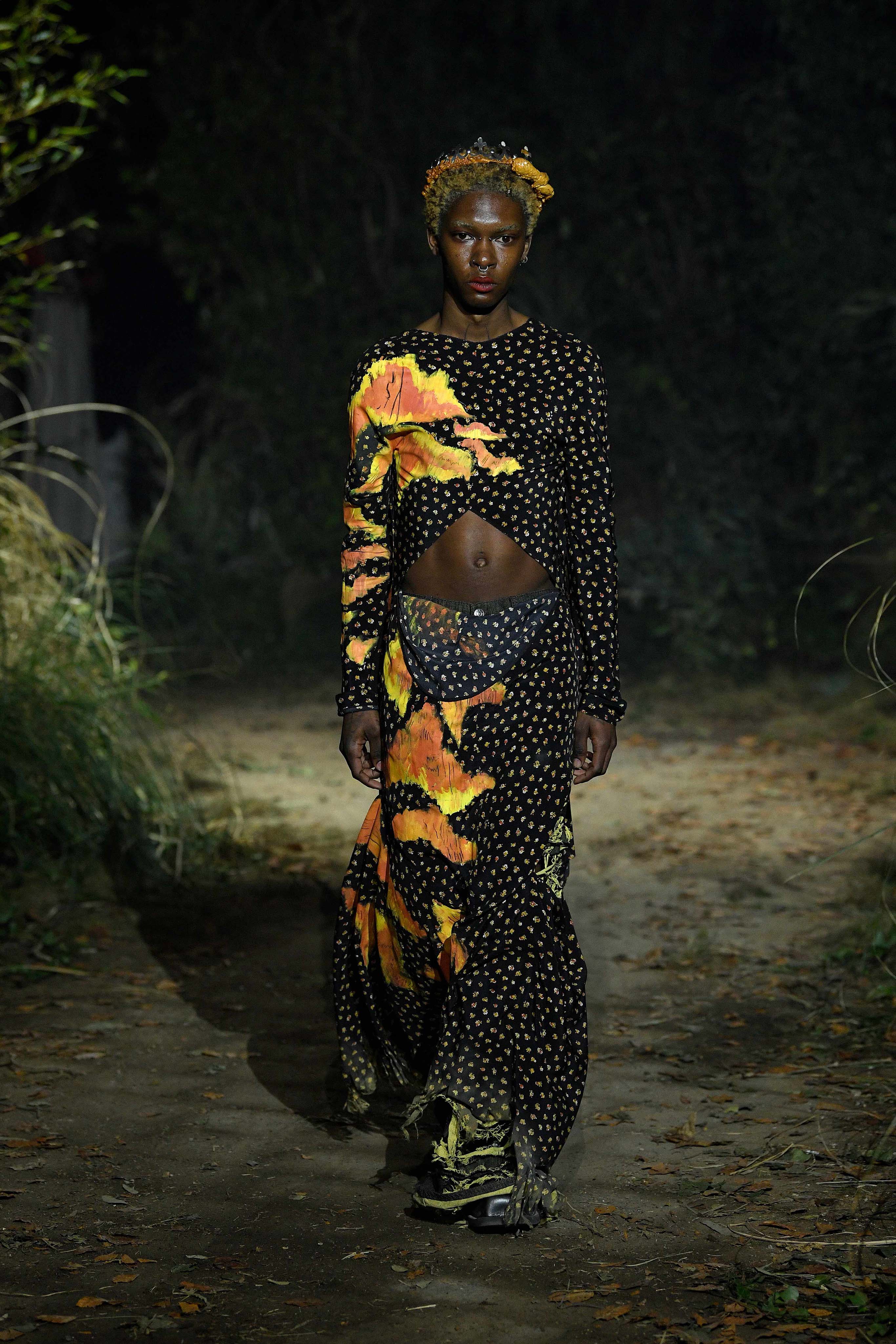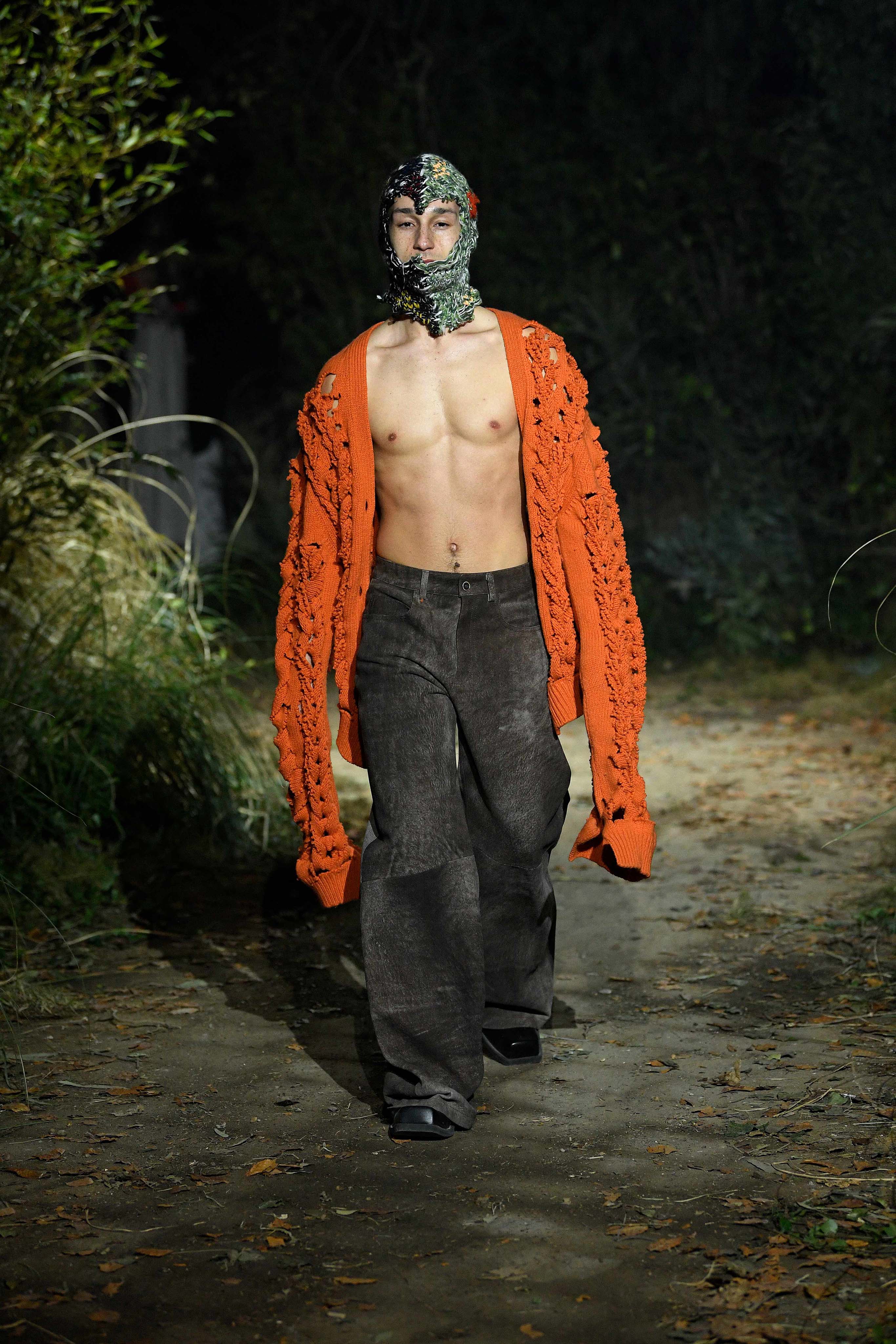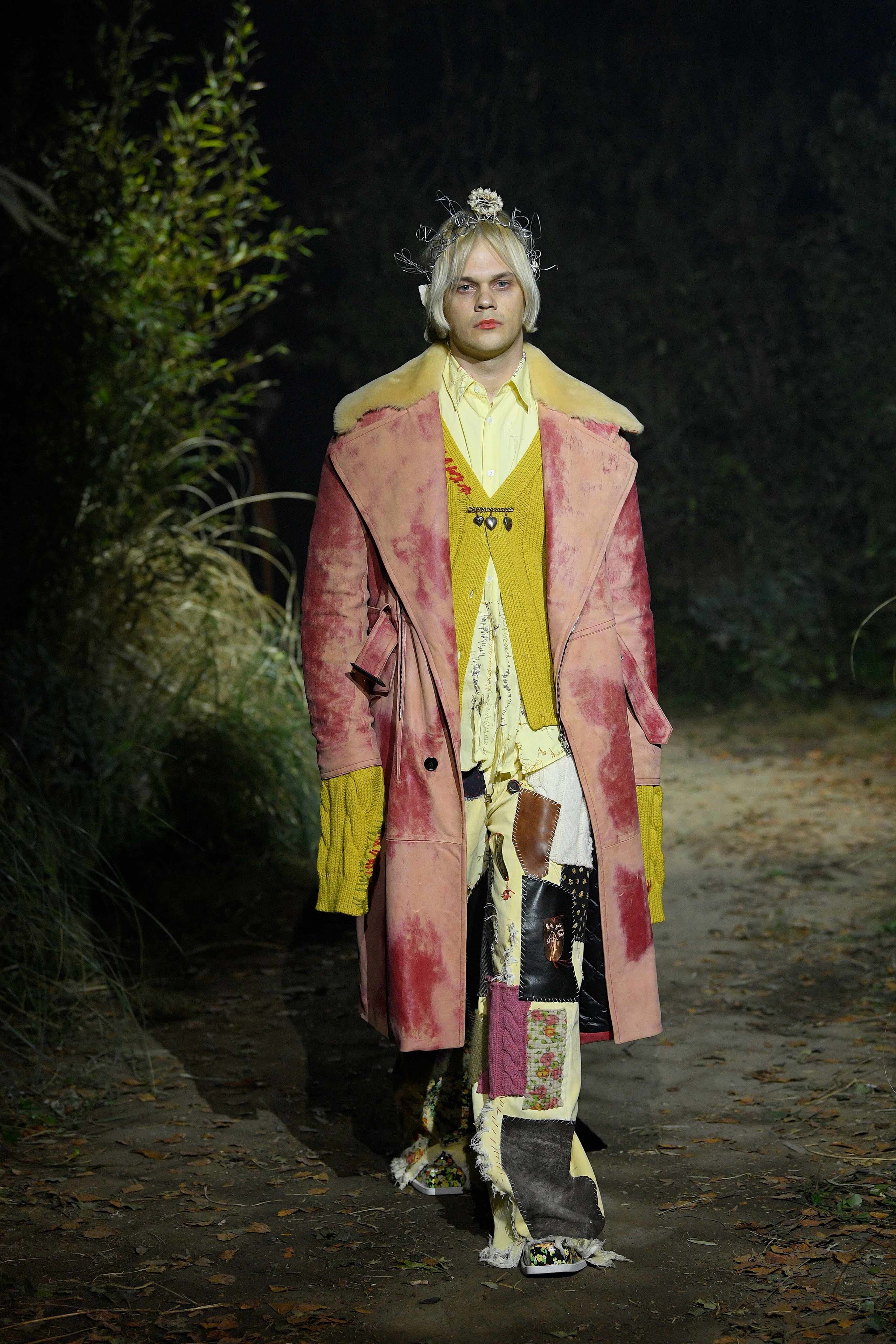 Jil Sander
There is a certain kind of woman who can wear a white Italian wool suit and never spill a single drop of red wine on it. That woman shops at Jil Sander. For AW22, Lucie and Luke Meier showed a collection full of the kind of pristine clothes that only the chicest, most pristine kind of modern-day swans can wear: double-breasted blazers and coats with hourglass silhouettes, caped gilets with covered fastenings, long cashmere tunics with origami-like bows, and whole lotta silk dresses and meticulously-crafted textures in a rainbow of whites (or ecru, off-white, butter, cream, mélange grey, as the designers put it). These are clothes that demand — and deserve — to be treated as preciously as the women who wear them. "A sharp collection with an overarching feeling of elegance," was how the show notes described it, adding that "every garment has the dignity and subtlety of couture, in fabrics and construction, and the vitality of the shifts between our need to glow and connect, the reality of our daily lives and our desire to play and change." The muted palette and standout materials — floral guipure, double-faced cashmere, feathery chenilles, hand-illustrated silks and knits crafted from four different silk and wool yarns — were the stars of the show. Each of them were given the clean, geometric lines and precision tailoring that has made Jil Sander a calling card for women in search of the kind of immaculate clothes that offer an elegant respite from the relentlessness of modern life. After all, though the Meiers may claim that their collection is rooted in the everyday reality of women's lives — we can't help but see these clothes as fantastical as bombastic ballgowns. That's because, for so many of the grown-up women who look to the house for warm minimalism — it would be a miracle to wear them without acquiring a stain or do. This is the kind of collection that lets them dream of that very scenario! OA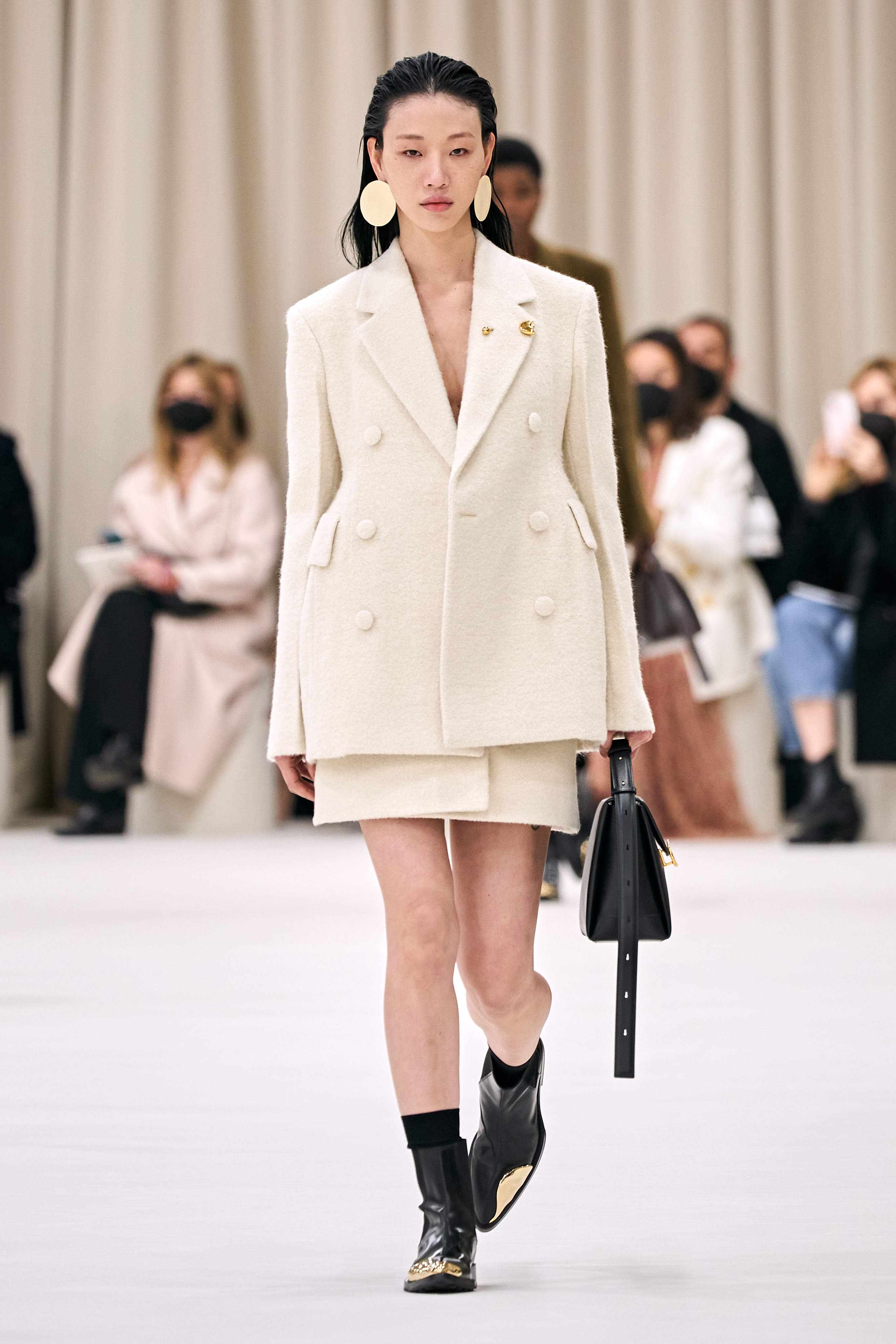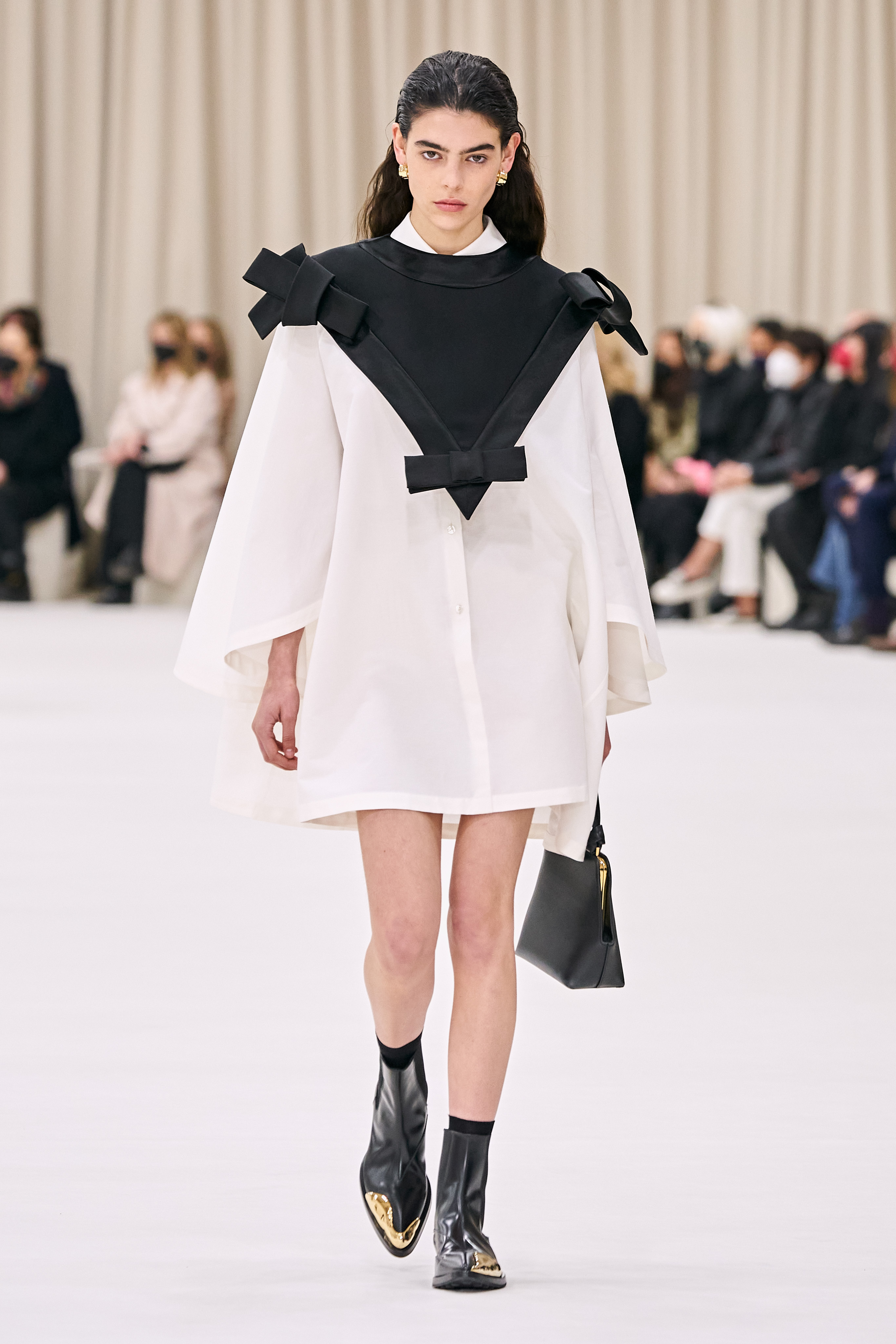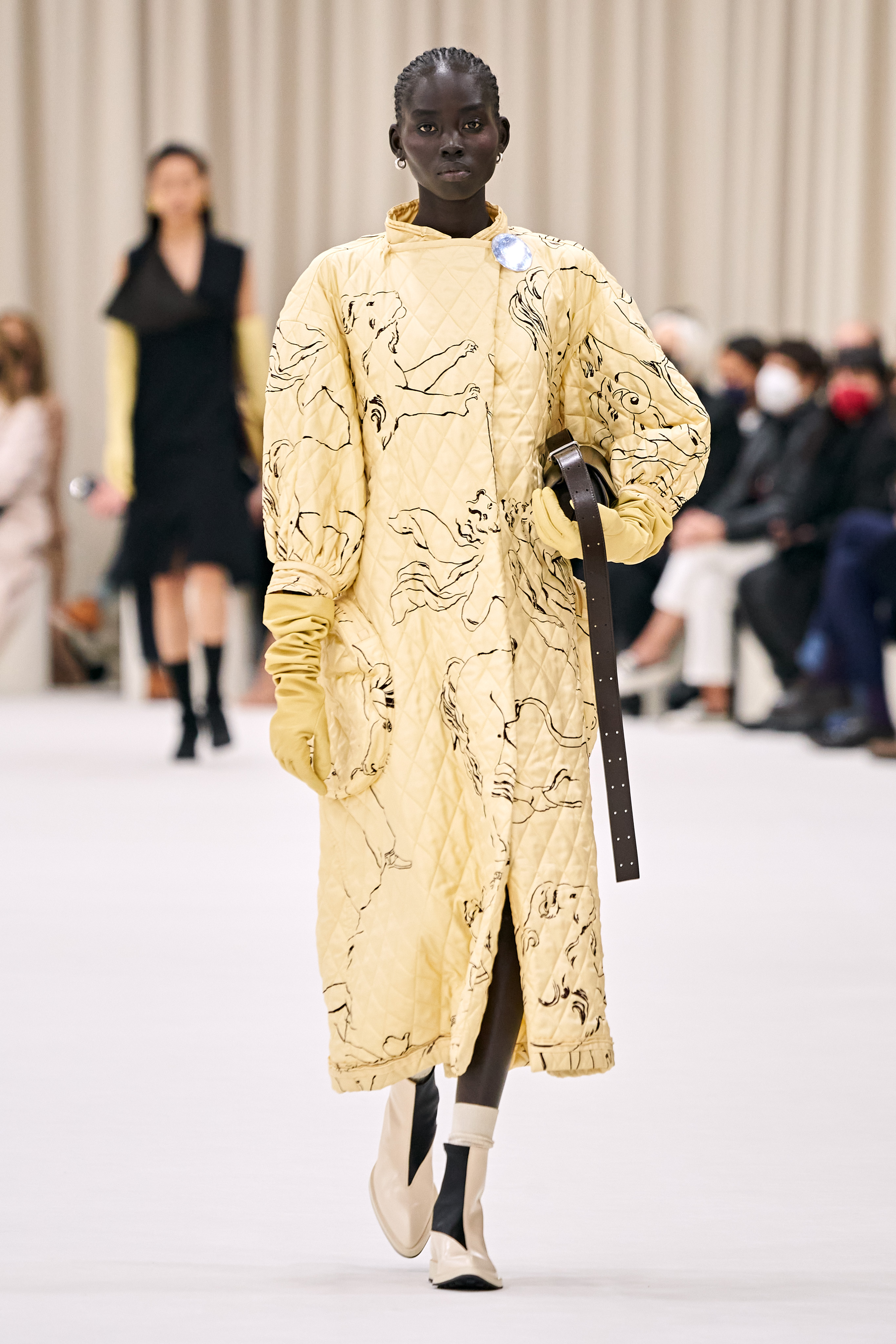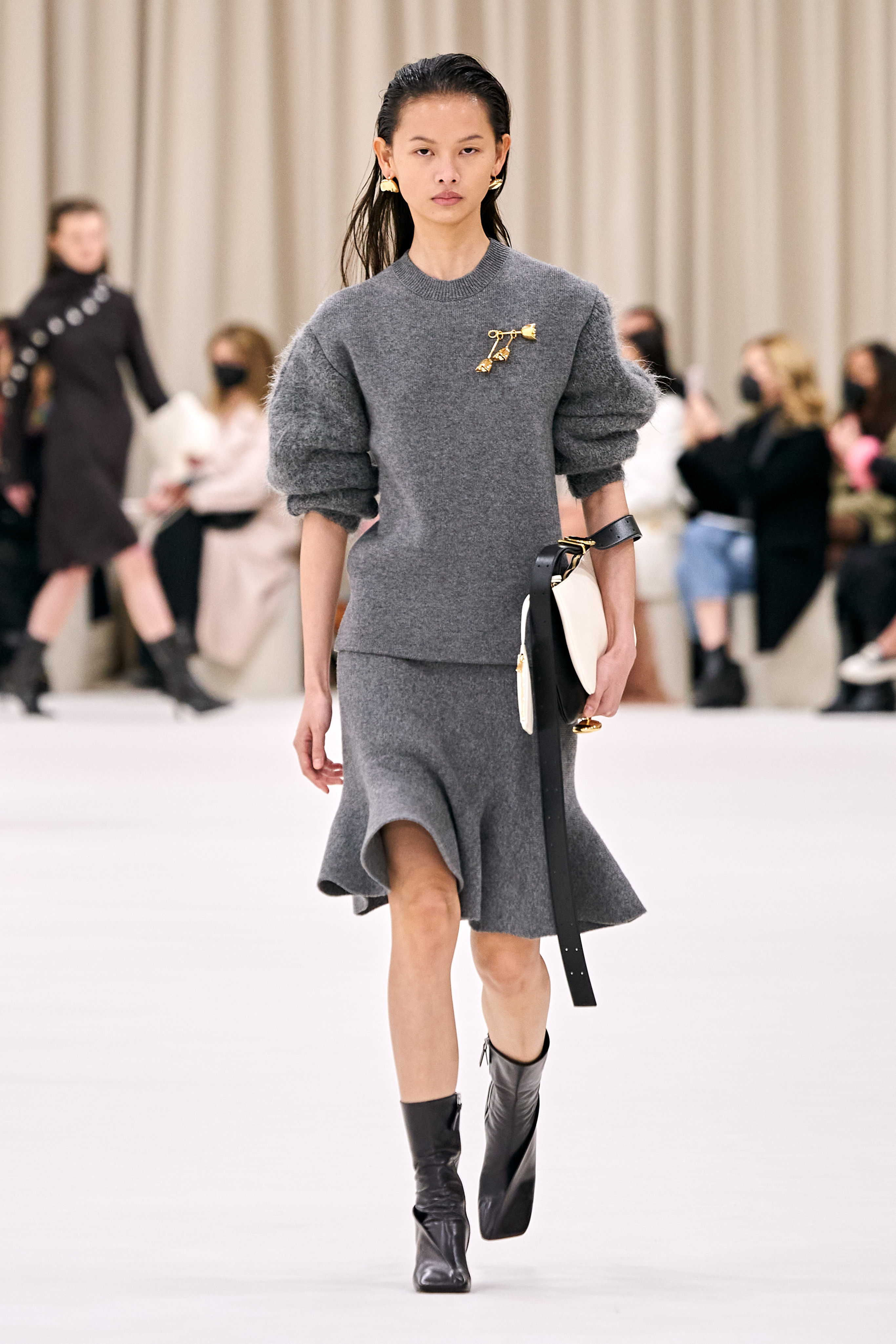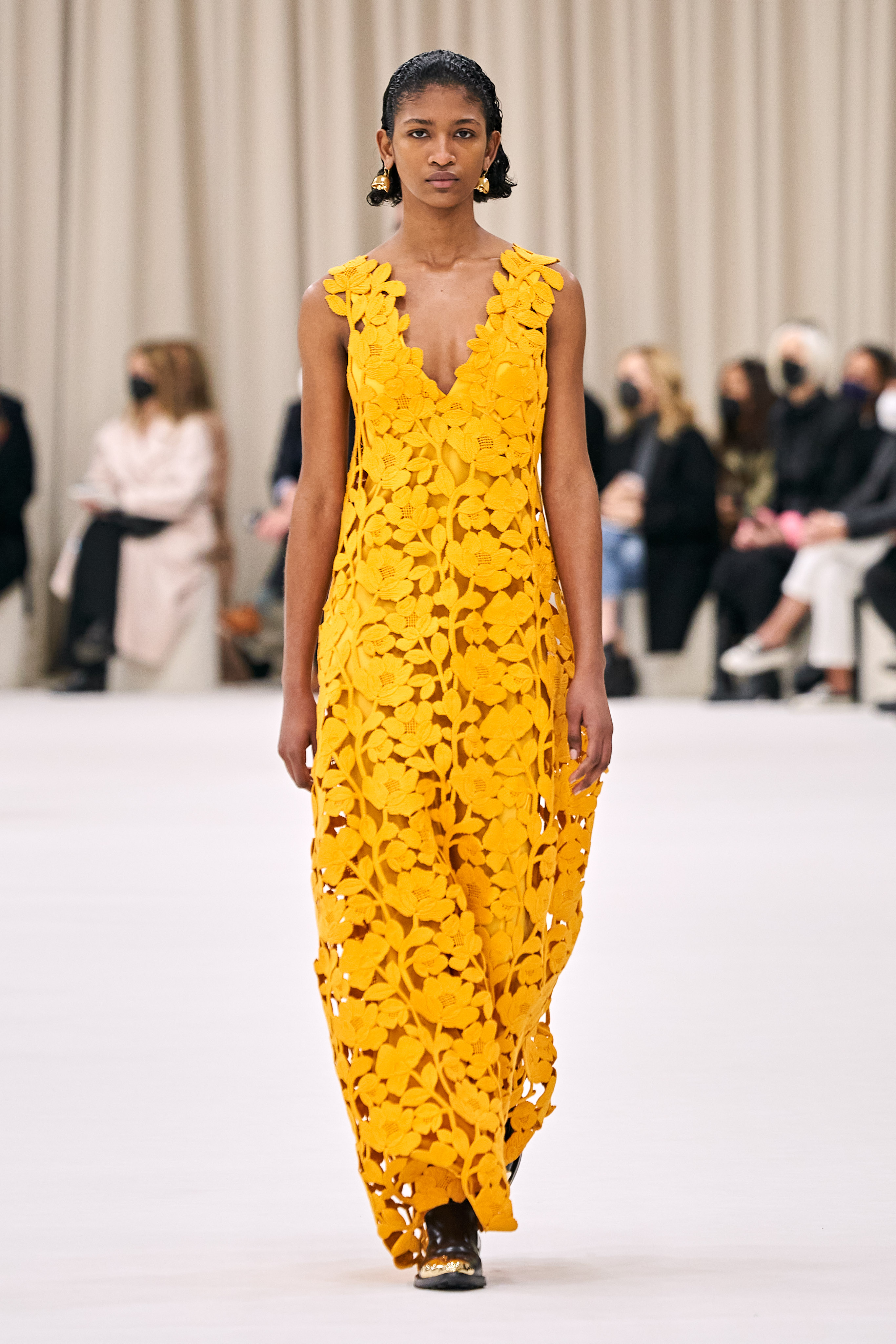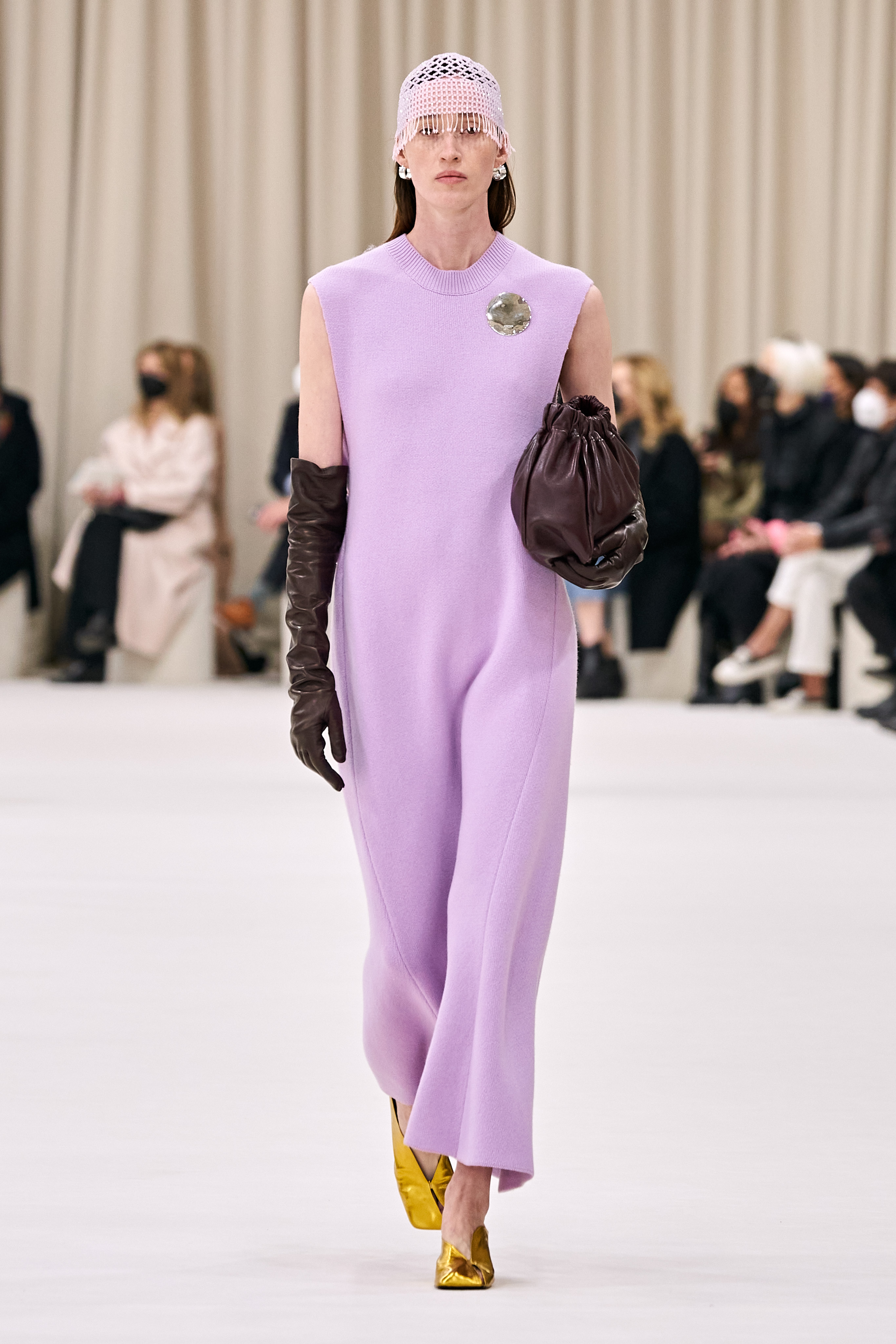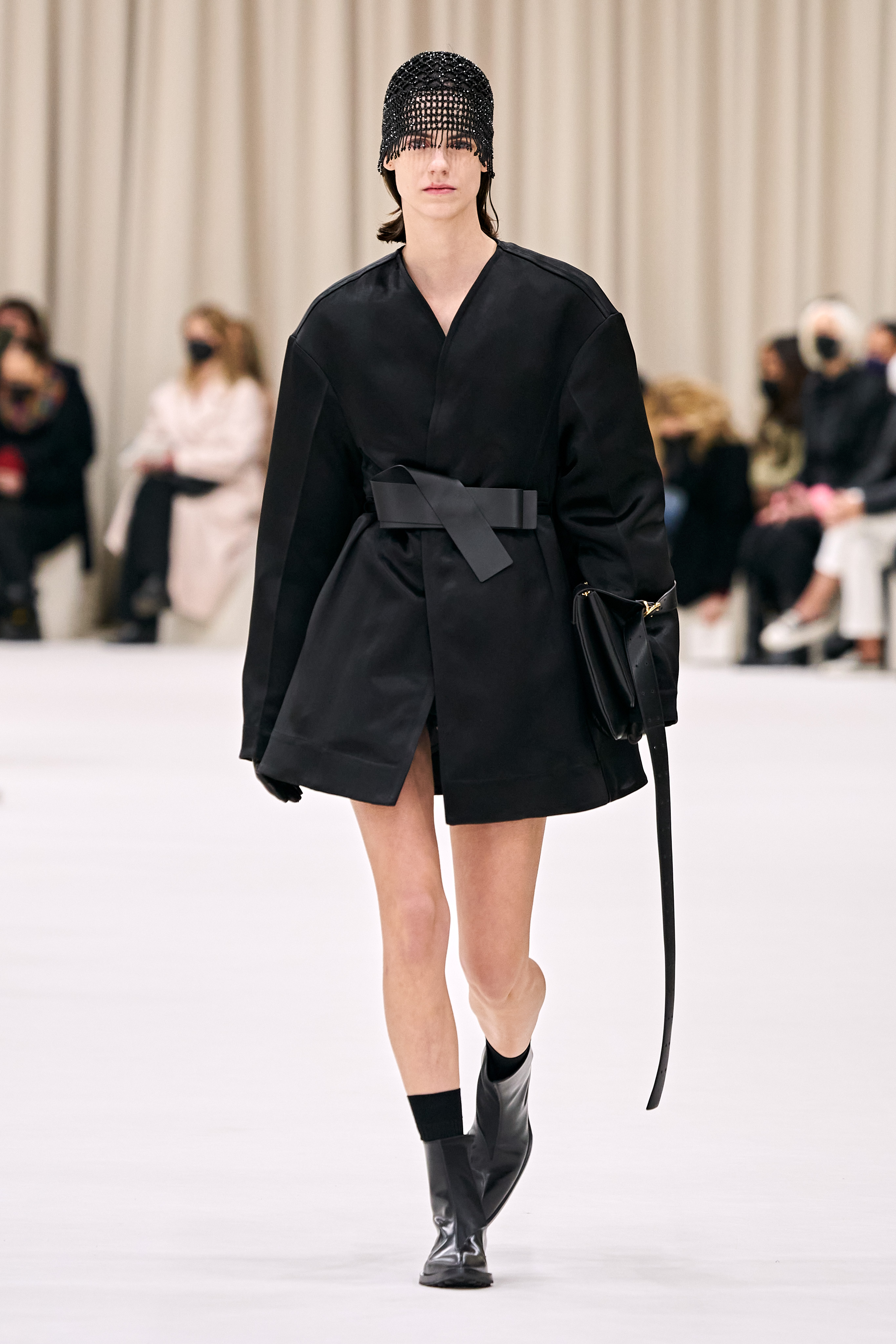 Ports 1961
Plays of contrast have figured widely across the collections presented in Milan this season – you know, concrete and chiffon at Fendi, butch tank tops and frou frou embellishements at Prada. At Ports 1961, the penchant for opposites we've seen so much of this season took on a new dimension, balancing out a prim elegance with a resolutely contemporary sensuality. In his latest collection for the house, Karl Templer looked to the chaste motifs of Victoriana – think double-breasted riding jackets, shirting with frilled lace collars, and weighty tonal aran knits – imbuing the stiff elegance of the era with the body-celebratory sexiness that's come to be a pillar for womenswear today. Hemlines were high across the board, whether on flounced leather skirts or box pleated tweed dresses, and any connotations of daintiness were backed up by bruiser-y black biker jackets. A wardrobe for the girl who can do both! MS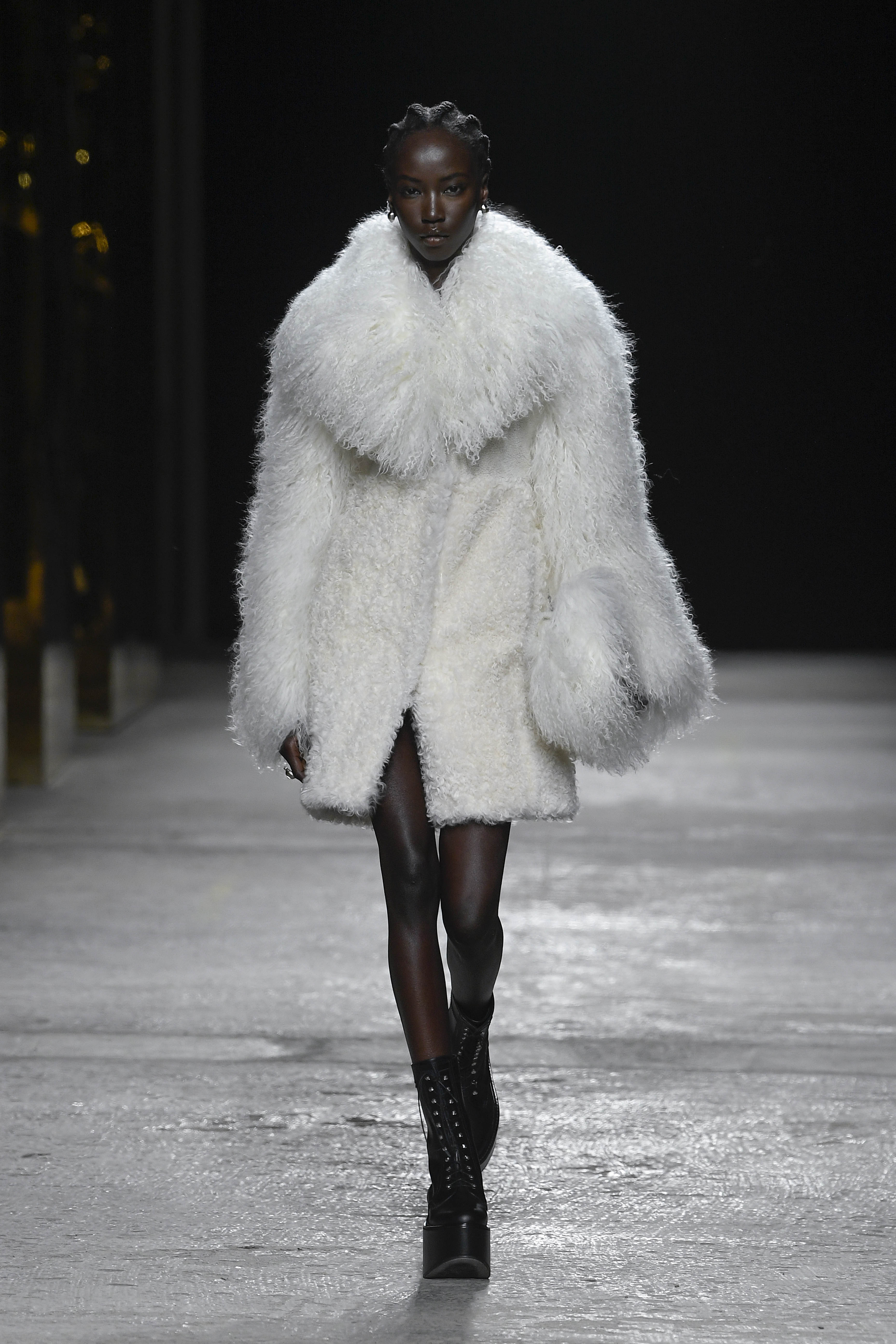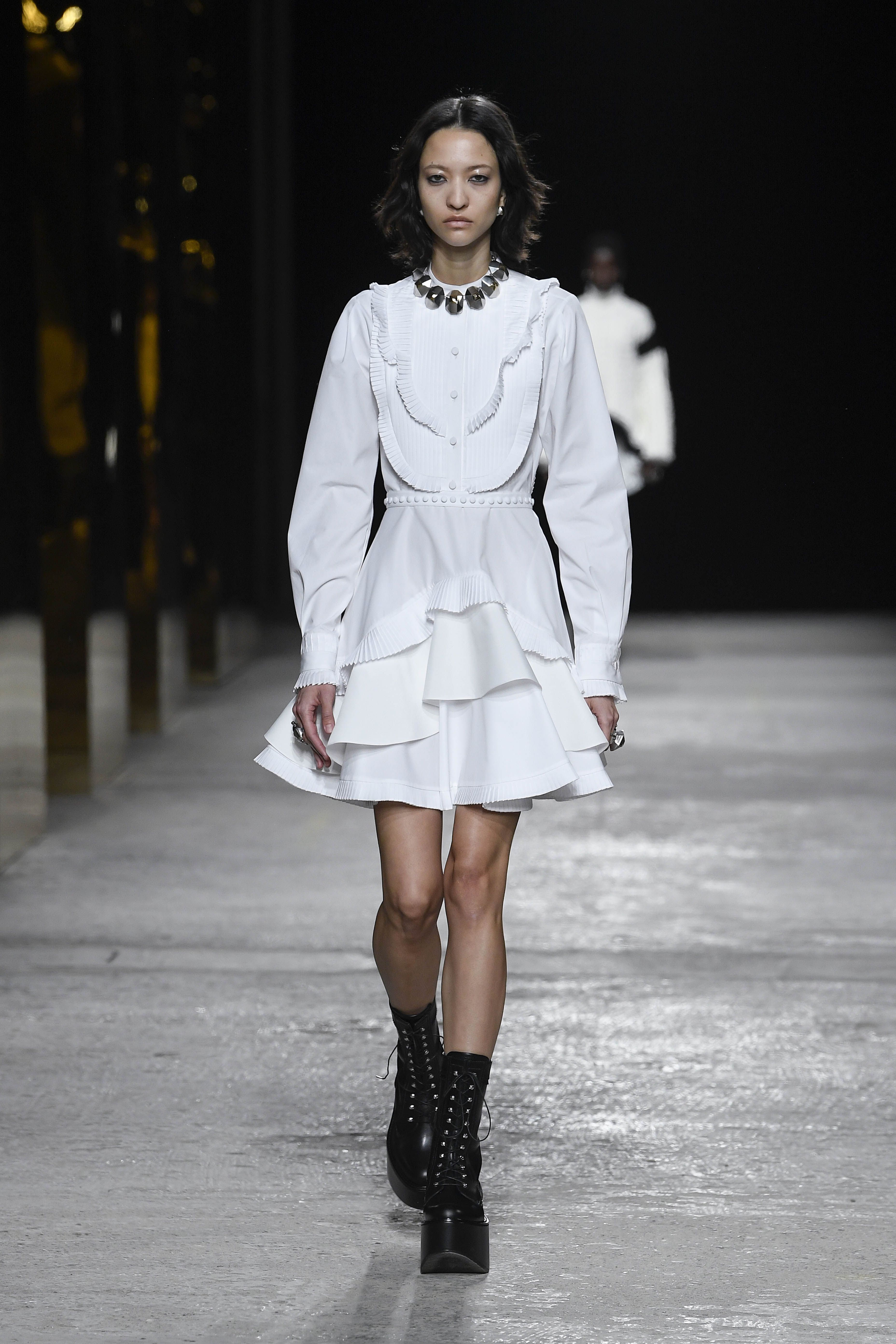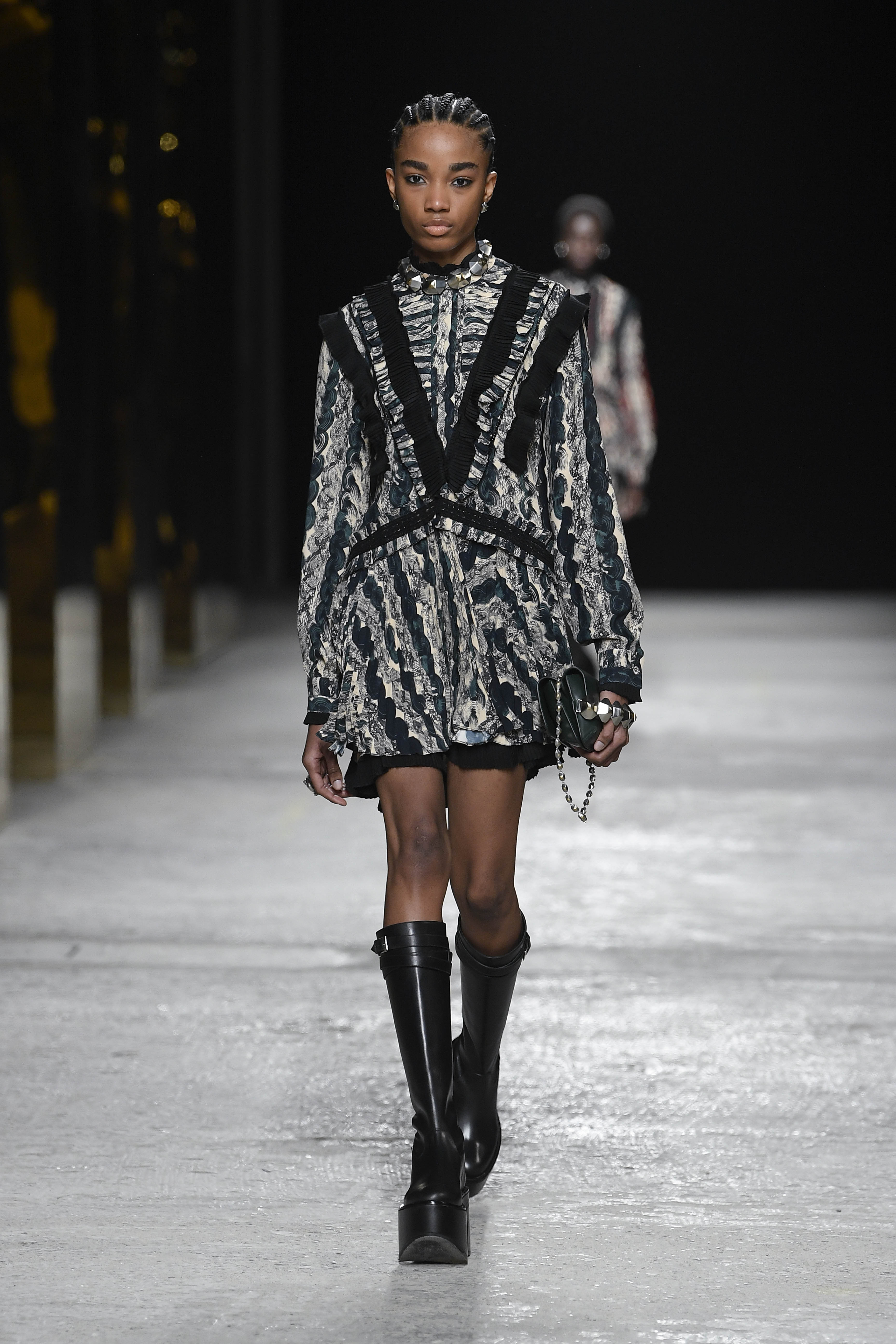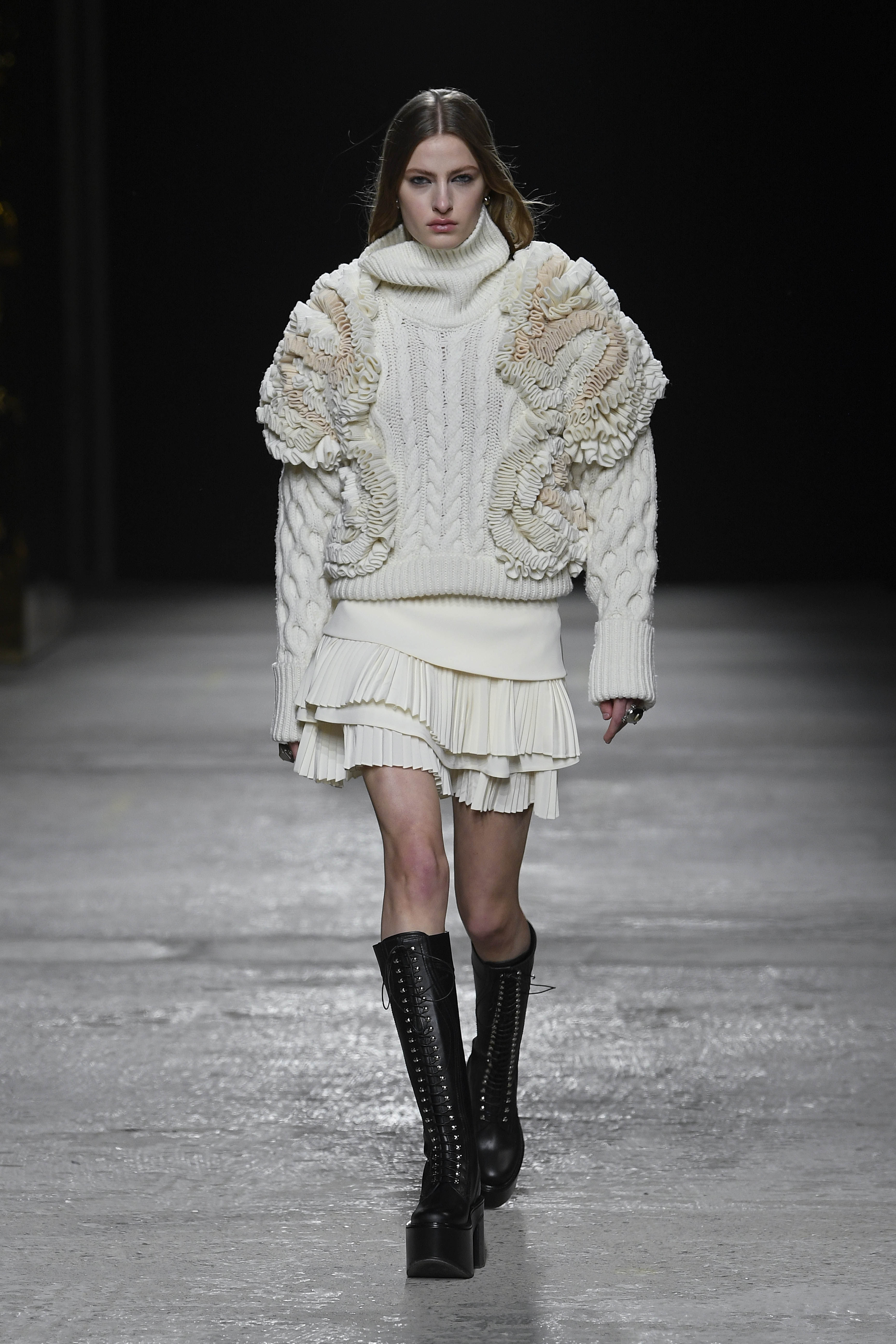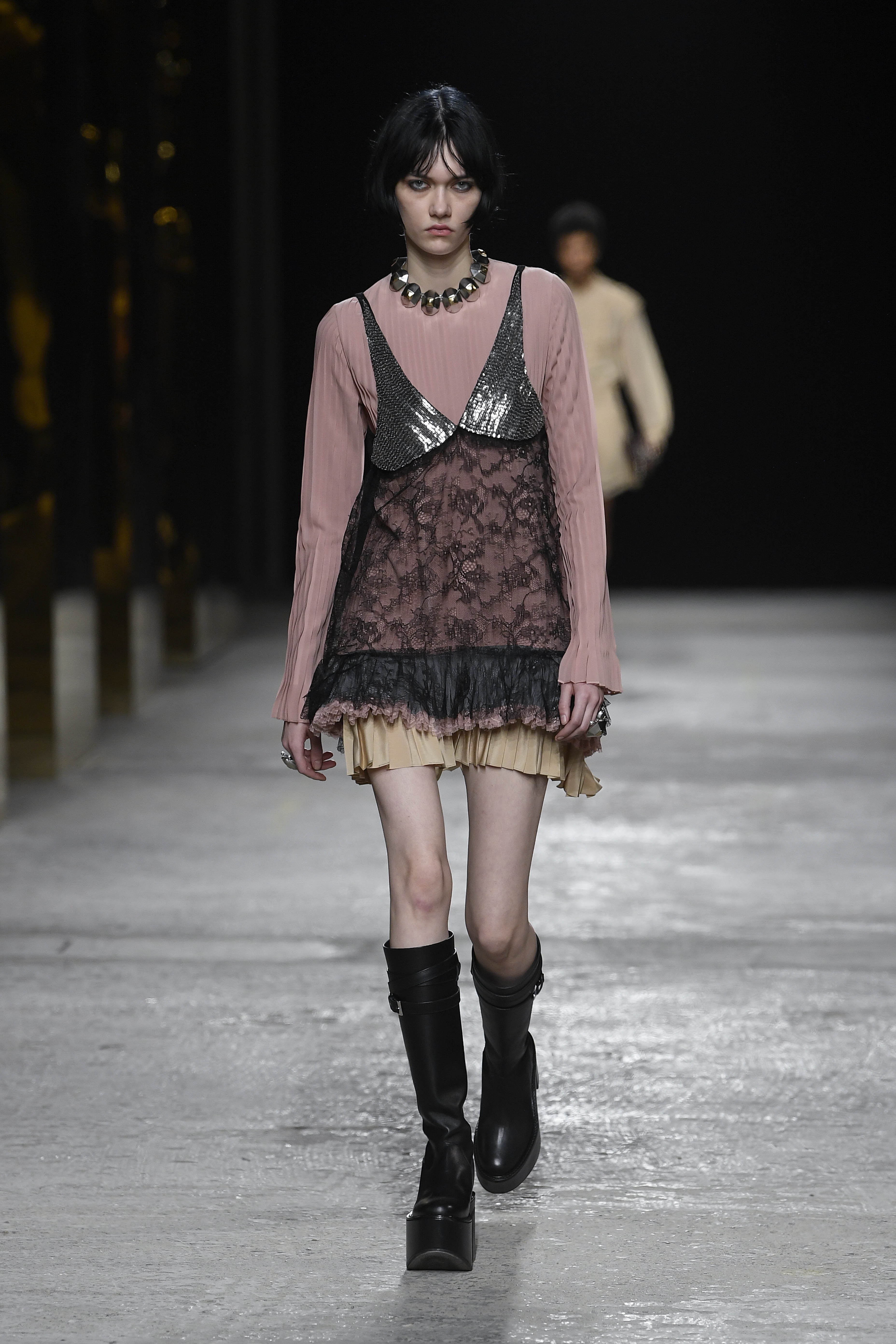 Gucci
One of the most striking things about witnessing Alessandro Michele's latest show for Gucci — the first physical one in over a year — was how much it tapped into a particular moment of the current zeitgeist for the early 2010s, and so-called Indie Sleaze. If you haven't already heard, there is a vibe shift coming! Through rose-tinted spectacles, that confusing, early SoMe era is coming back into the fore as a fashion reference. For this writer, who spent their youth trawling thrift shops along Brick Lane in London and Williamsburg in Brooklyn, here was a distinct sense of a kaleidoscopic undertaking of a classic 2010s thrift store: colourful 80s sportswear (adidas x Gucci, as it happens), ratty old furs, questionably oversized tailoring and plenty of heavyweight surplus military garb. All of these things comprised the secondhand destinations that defined that era of early-Tumblr hedonism, long before we could find it all online on slick resale platforms. And before it was considered sustainable to shop vintage, it was simply considered cool. For everything you need to know about the show, including the new adidas x Gucci collaboration, read our full review here. OA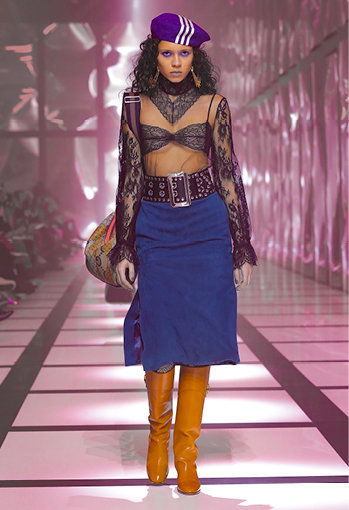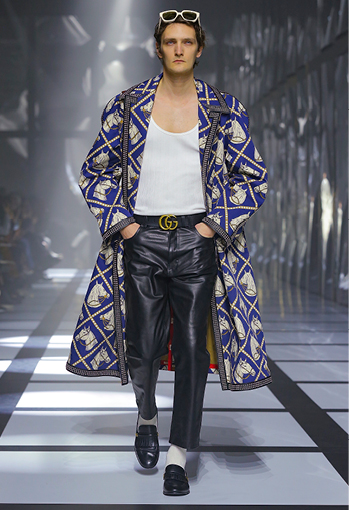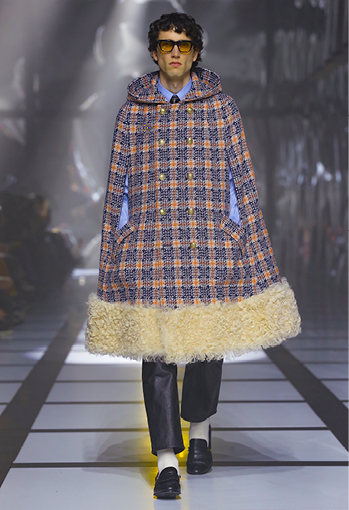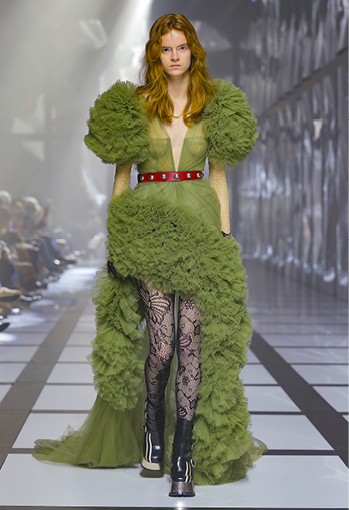 Onitsuka Tiger
In Andrea Pompilio's previous collections for Onitsuka Tiger, the designer has leaned full tilt into the poppy sides of sportswear, drawing on the sartorial category's reputation for bright, blary colour combinations and graphic lines. In his AW22 collection for the Japanese brand – its first physical show on the Milan Fashion Week schedule since the pandemic – he plumbed murkier depths, presenting an edit of monochrome looks that nodded to the generation of designers who brought Japanese fashion to the West's attention in the 1980s – and who continue to shape industry conversations today, like Rei Kawakubo and Yohji Yamamoto. Cocoon-like wool and padded outerwear cut a menacing figure, softened by fuzzy touches of fleece throughout. Charcoal knits with seemingly moth-eaten hems featured white flame graphics, and layered ruffled dresses and skirts featured sporty details like drawstring pulls that cinched the waist. MS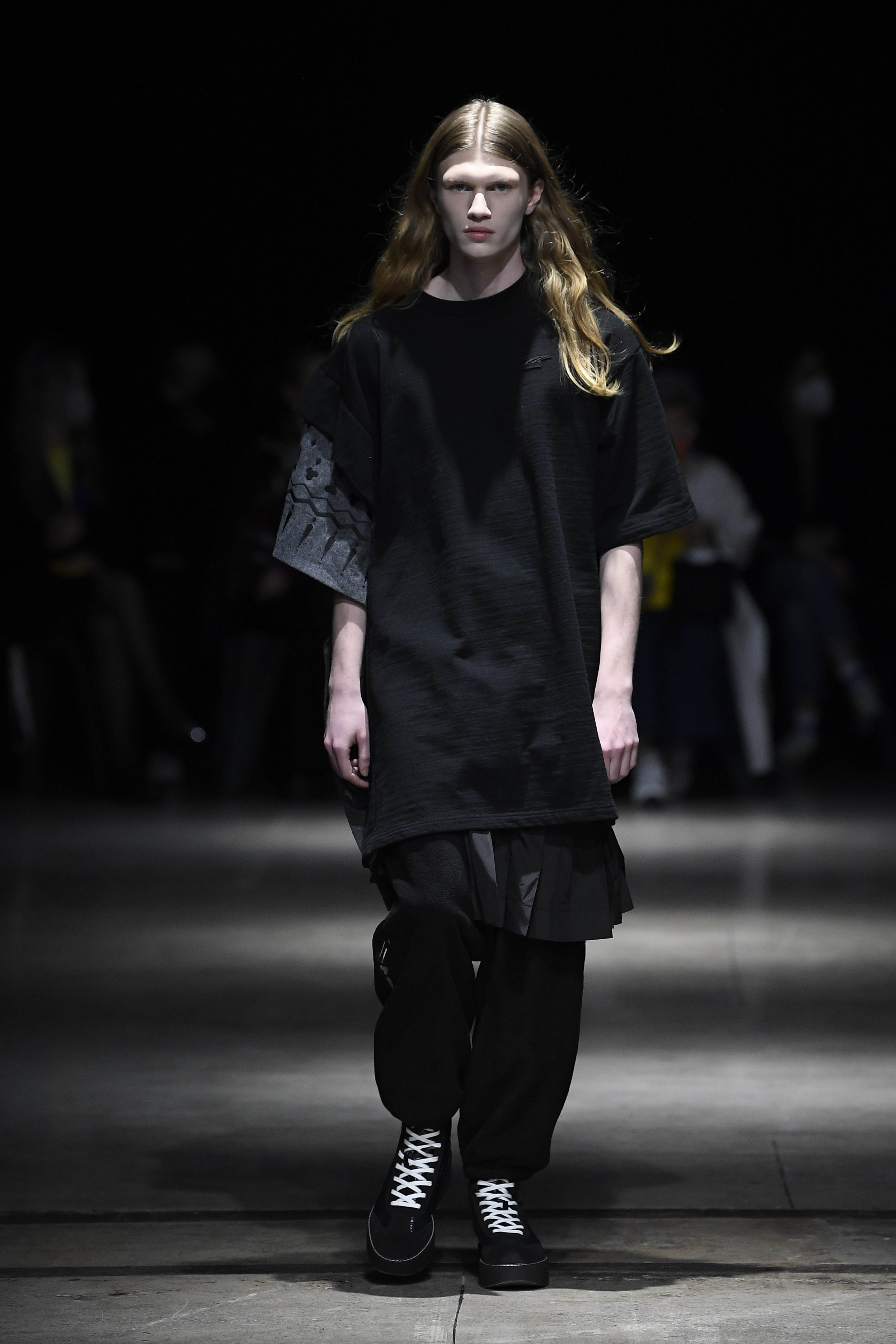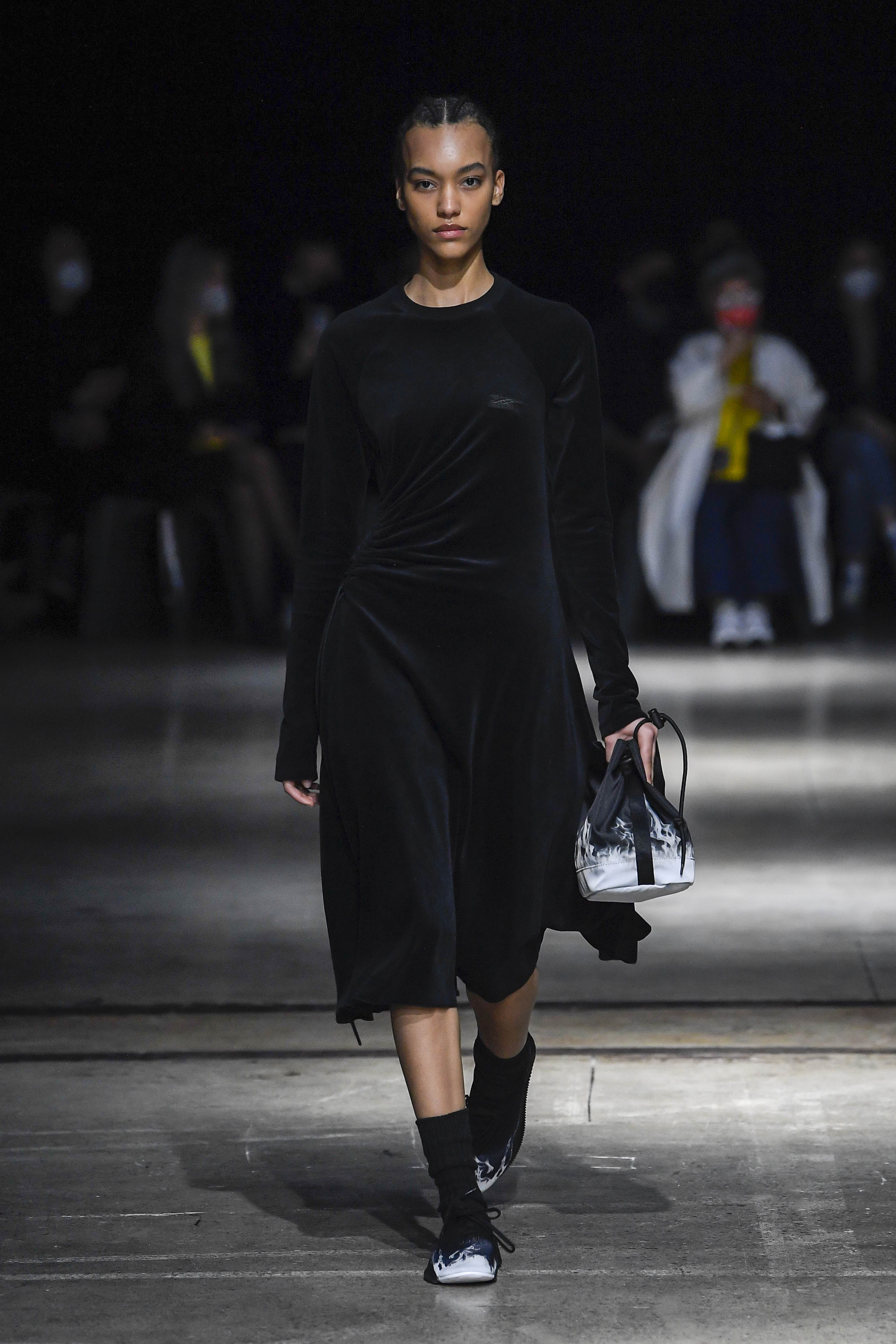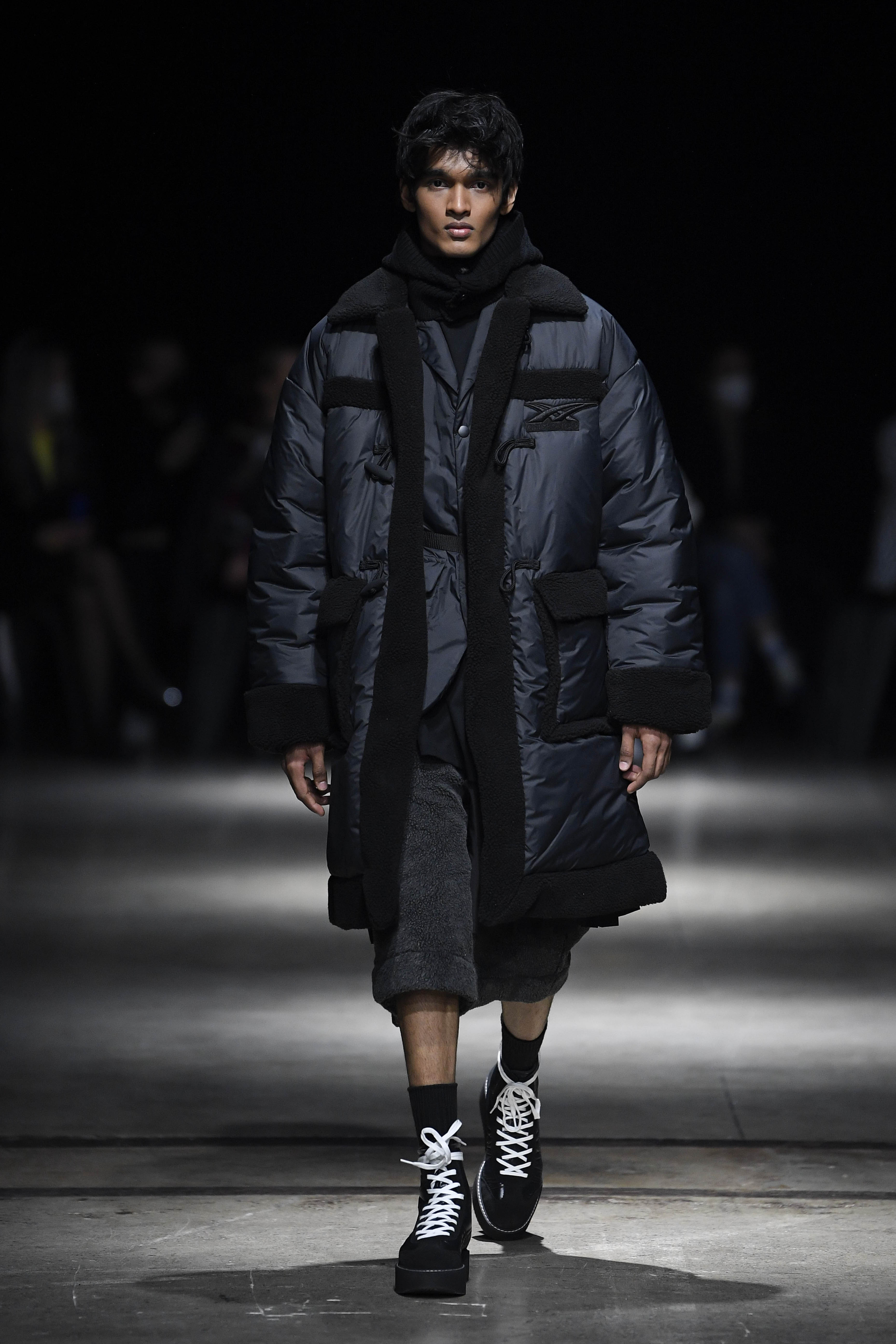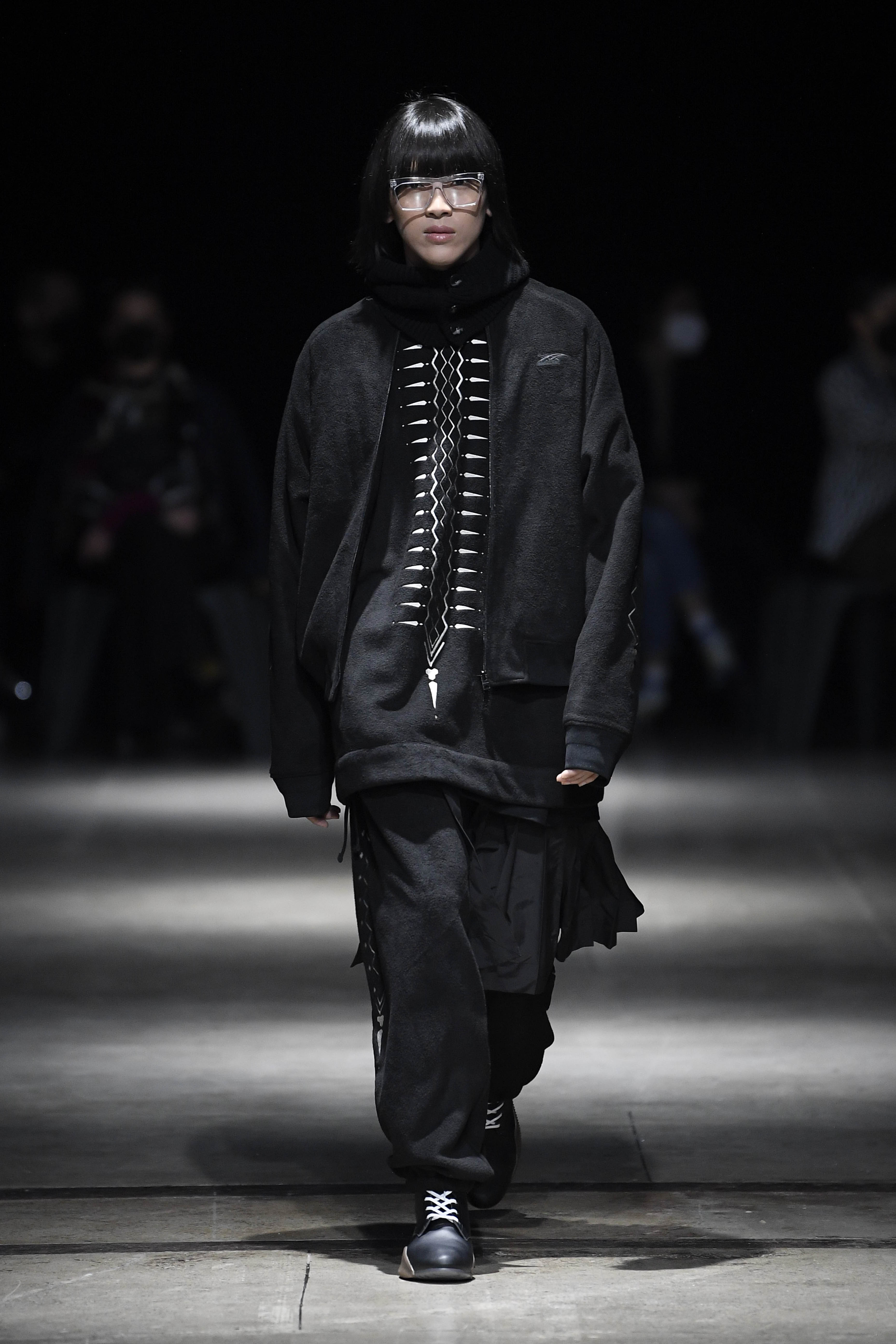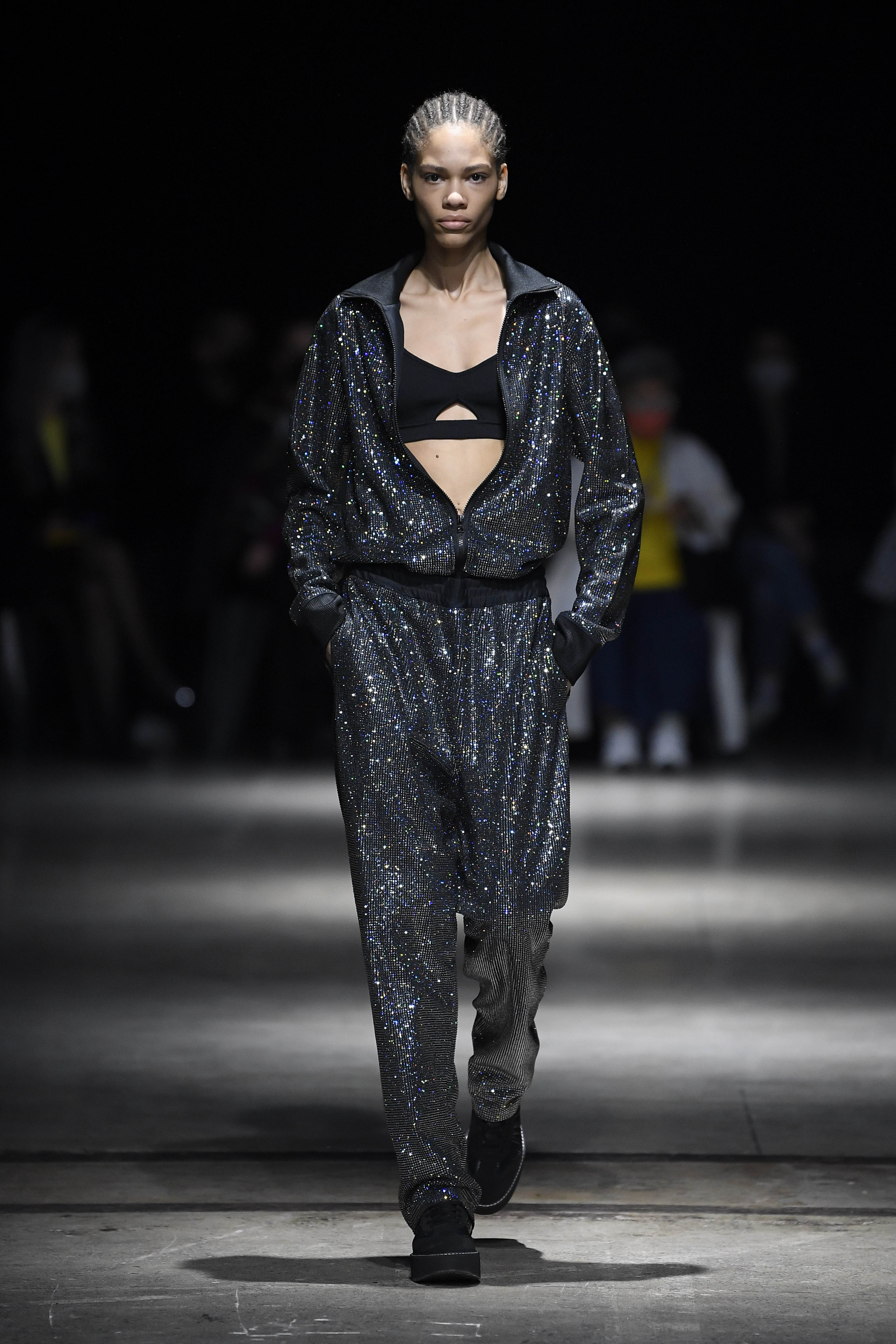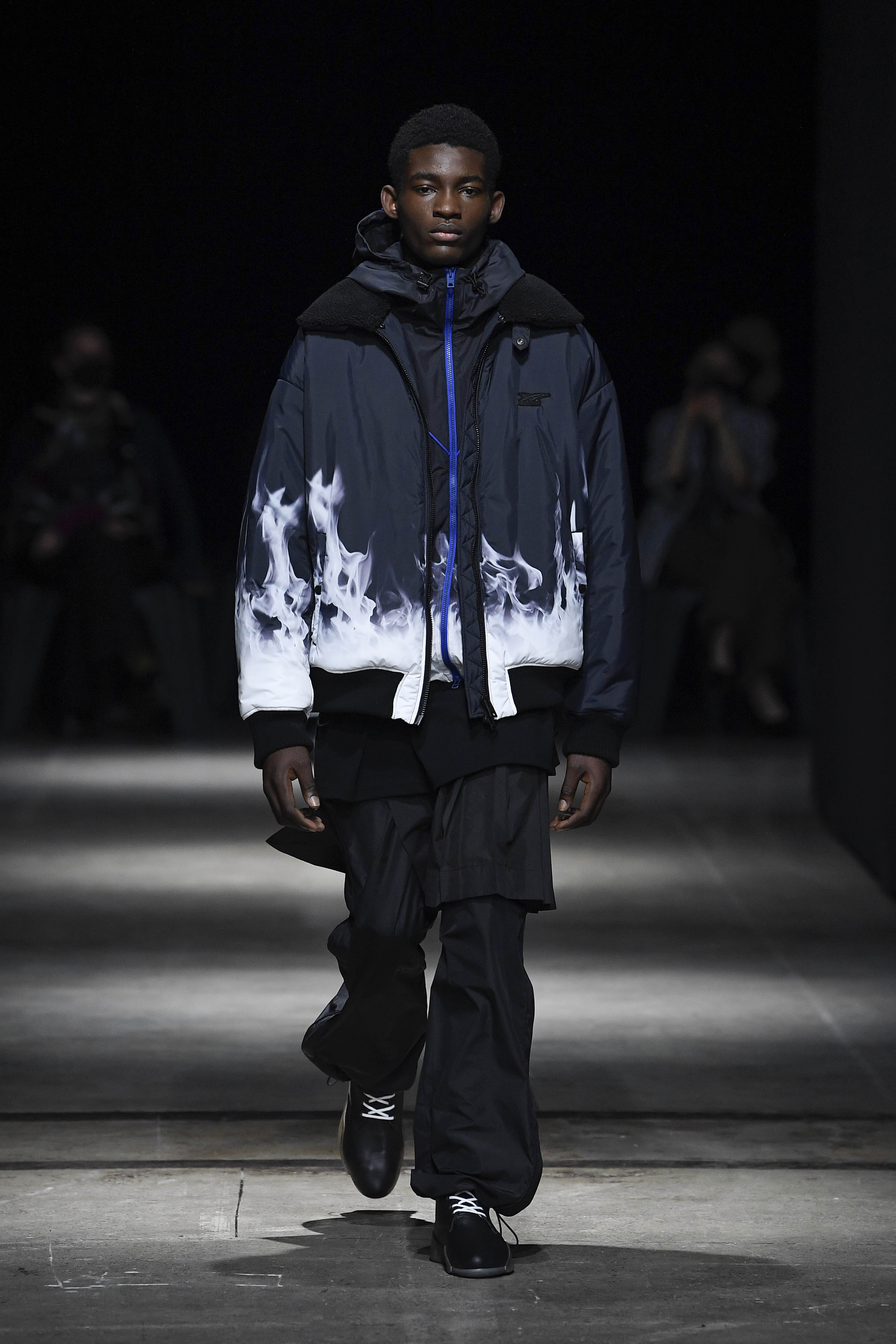 Prada
One of the questions that Miuccia Prada and Raf Simons have been asking themselves, and indeed us though various advertisements is: What feels like Prada? It's a difficult question, least so because Prada has never been one thing. Not like Chanel and its jackets, or Dior and its hourglass silhouettes. Prada is something of an attitude, a delicate harmony of spare silhouettes and decorative surfaces, or the high-low mix of nylon and cashmere; and that whole ugly-chic thing way before anyone else was doing it. Since they coupled up back in 2019, the two designers, a generation and gender apart, have been experimenting with each other's codes — or ideologies, as they called it this time. Though they may not have quite found the answer yet — and who knows, perhaps they never will — we should nonetheless count our blessings. AW22 marked their best — and certainly most extravagant — collection to date, a meditation on Prada's past, reframed with the urgency of today. Every look counted, urging you to discover what Prada feels like — by wearing it! Click here to read our full review. OA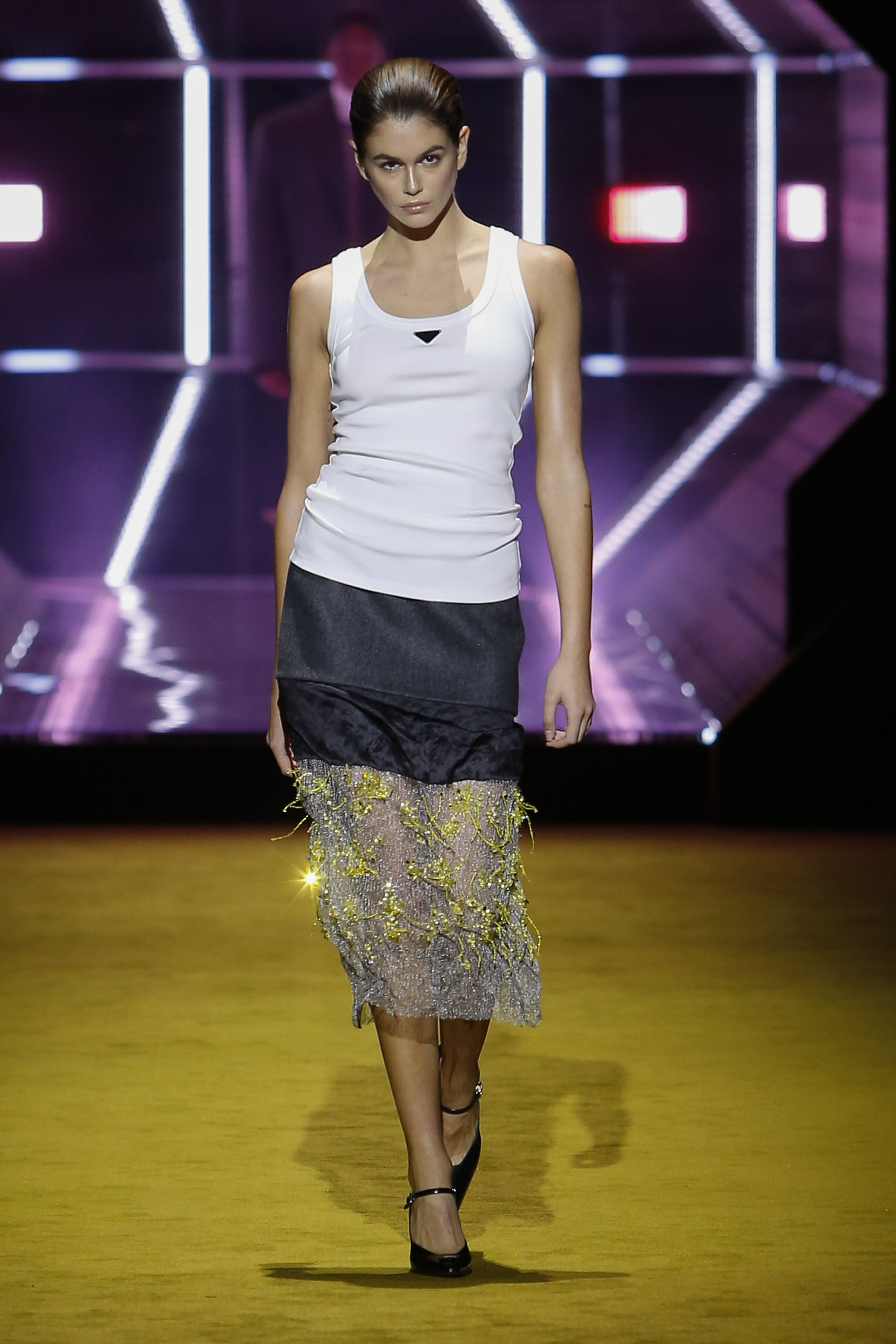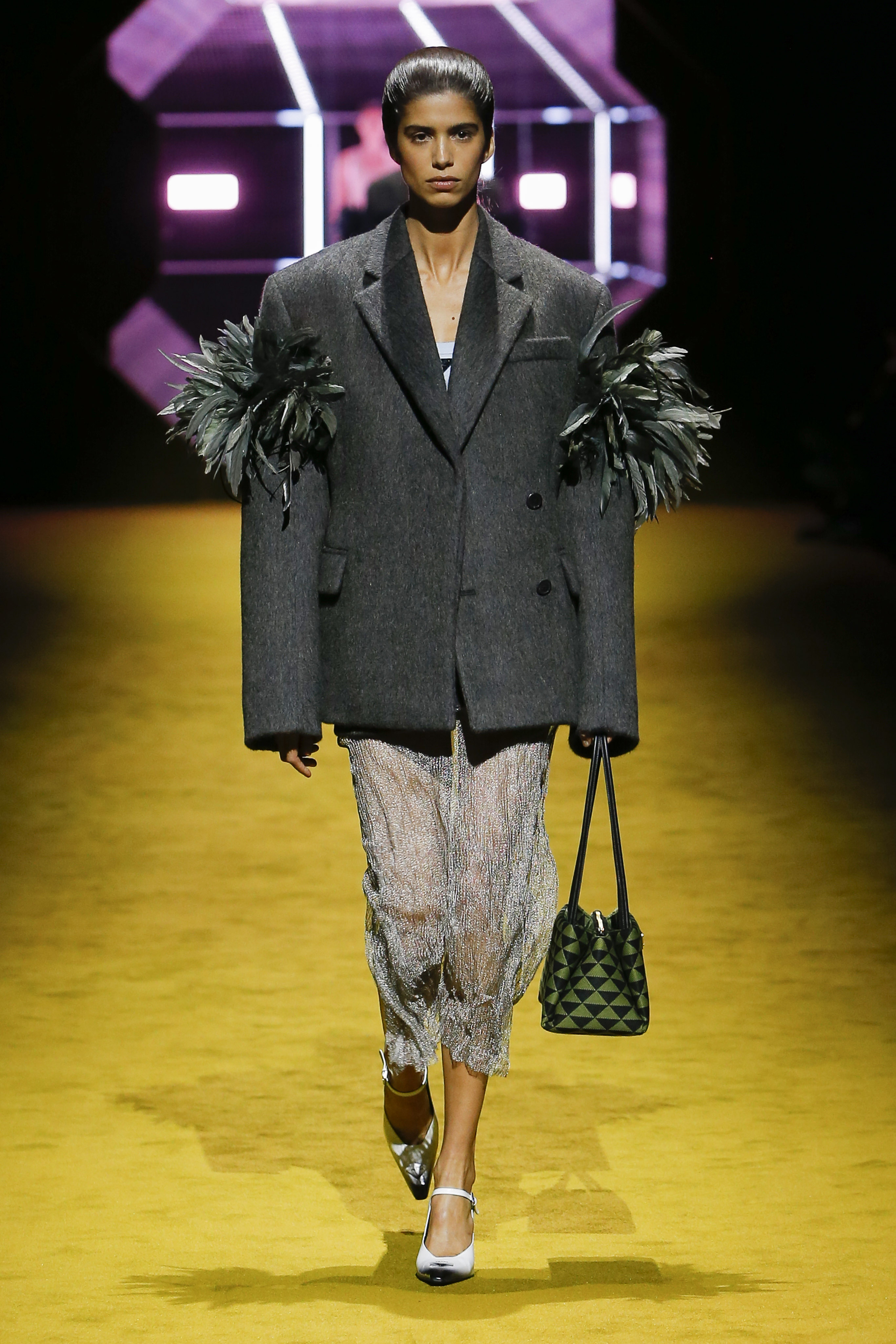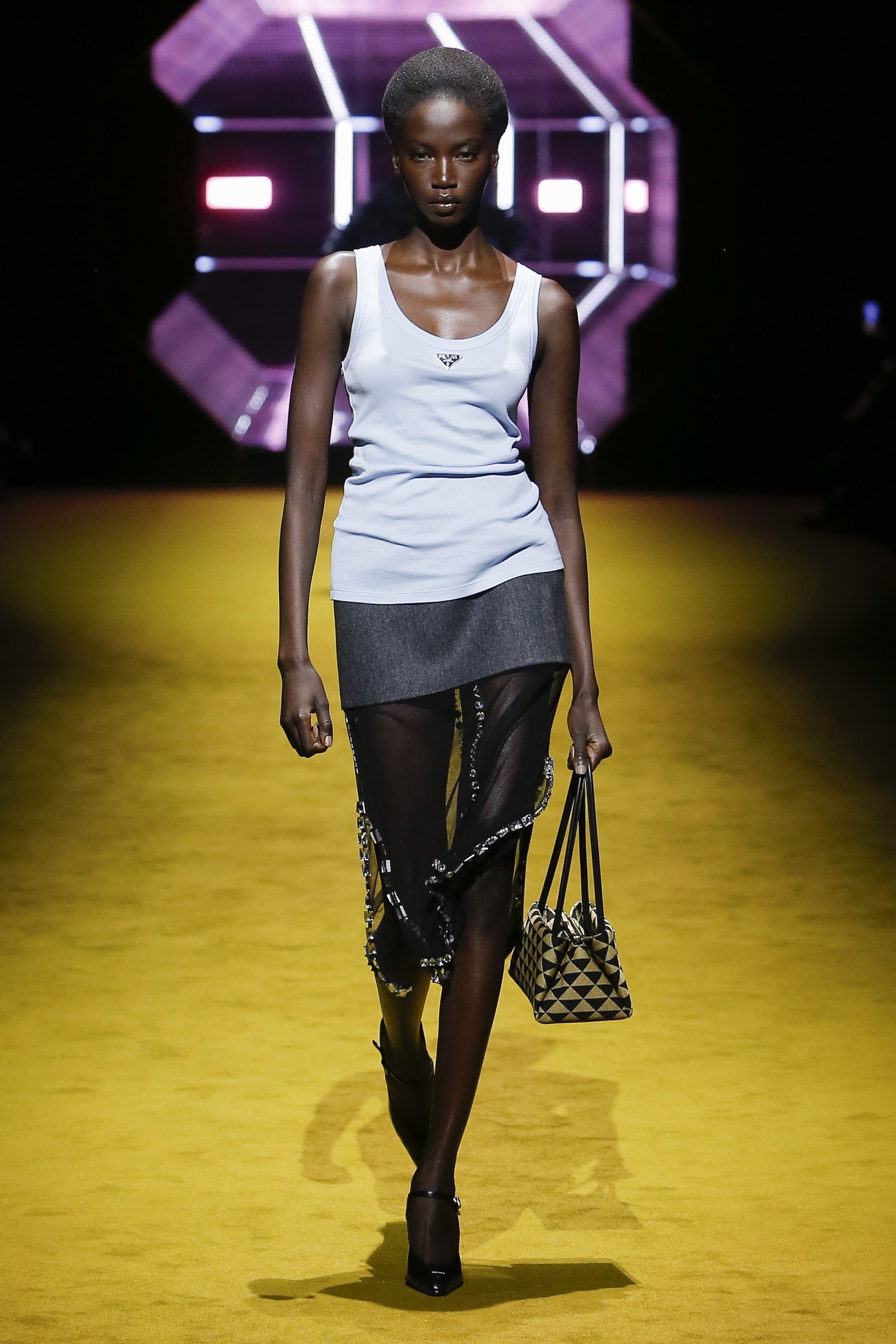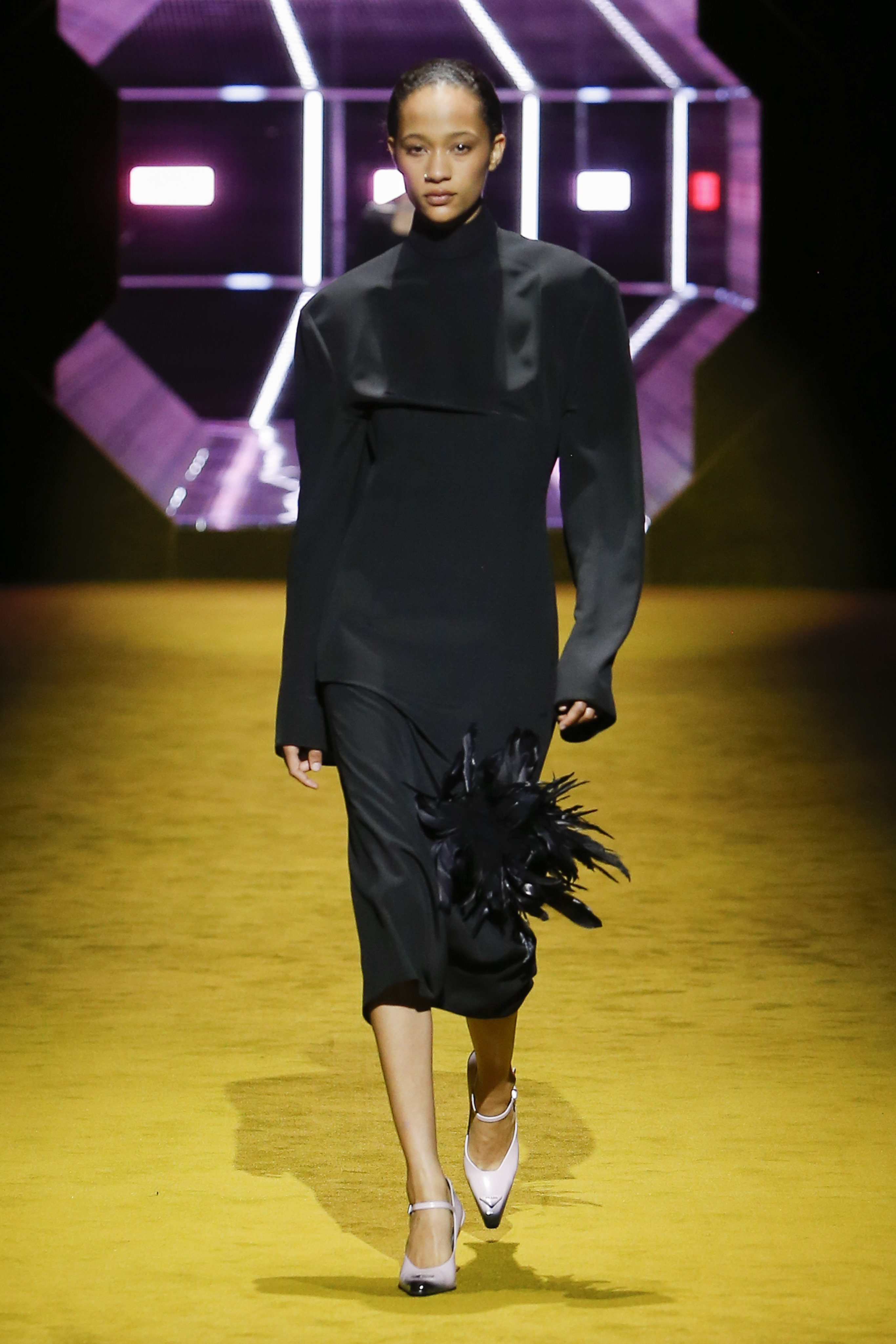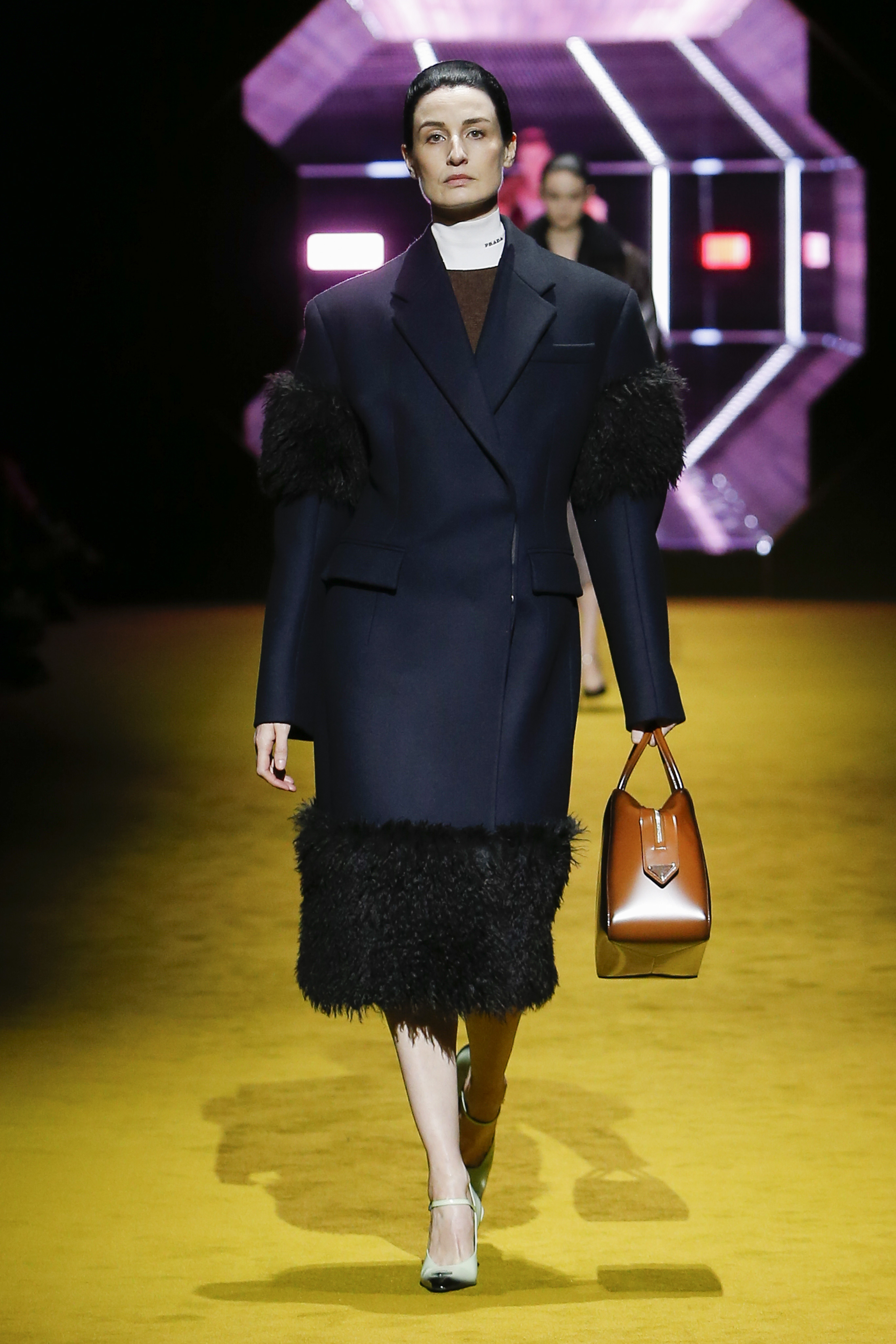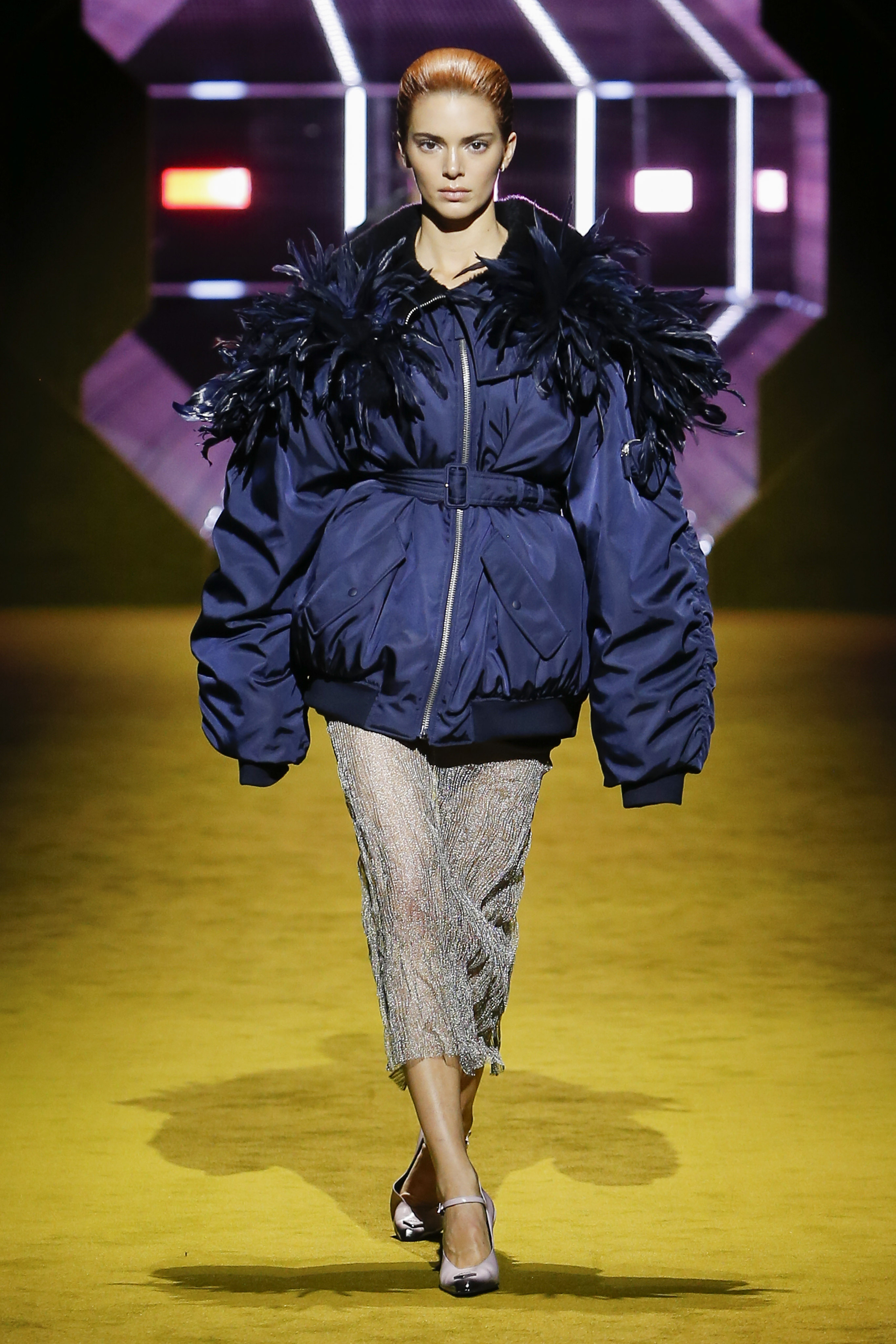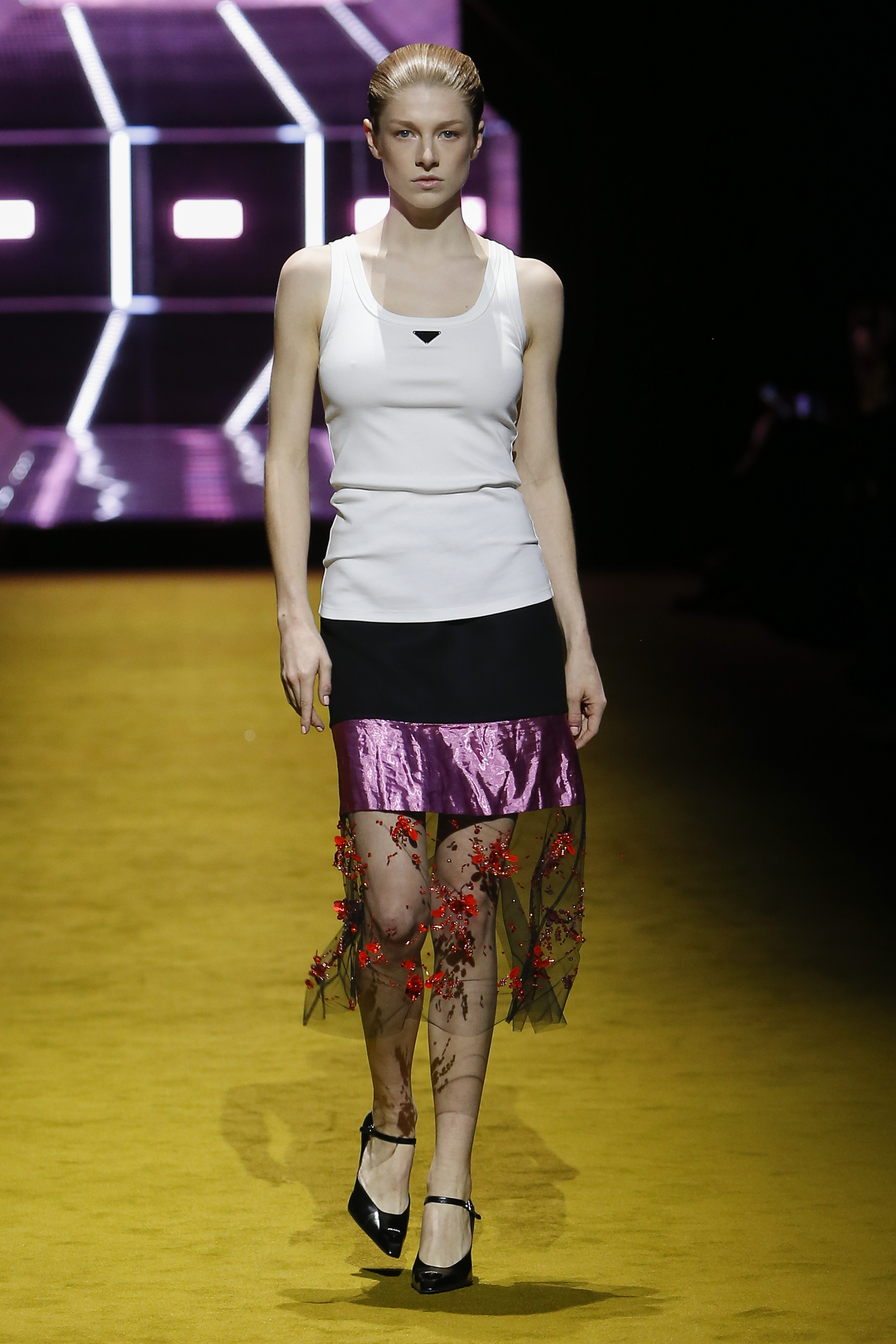 MM6
Often, MM6 Maison Margiela's collections present a decidedly off-kilter spin on everyday situations – the warped prints and silhouettes presented last season, for example, focussed on the delirium of our collective return to our city's streets. Yesterday, however, saw the anonymous design collective adopt a rather more muted tack for AW22. Rather than look to obscure the familiar, quotidian dressing became the core of the collection. And ink-hued tailored wool coat was styled with poppy sneakers – the product of a collaboration with French outdoor sports label Salomon – echoing the quirkily mismatched dress codes of Financial District commuters en route to the office, and blazers, boxy jackets and vest were crafted in scuffed pull-up leather, nodding to the sort you might see punks loitering in Camden or the East Village wearing.
This being MM6, though, a spirit of subversion and play permeated this season's offering. Tailored pieces had shrugged shoulders and boomerang-sleeves, resulting in moodily hunched silhouettes that countered the looks' potentially city-boy spirit, chunky leather derbies had intentionally worn-through toes, and prim taffeta tops and gowns were gleefully scrunched up. Elsewhere, a 5-zip jacket, a forest-green leather overcoat, a blazer, and a hoodie exhibited a witty new sleeve system – by which they were completely removed and replaced by a single large cut-out on the reverse of the garment's reverse, transforming the pieces into open-backed gilet-style pieces. They're the sort of pieces that you raise an eyebrow at when seen on a hanger, but that reveal the intelligence of their design when tried on – rather than ready-to-wear, think ready-when-worn. MS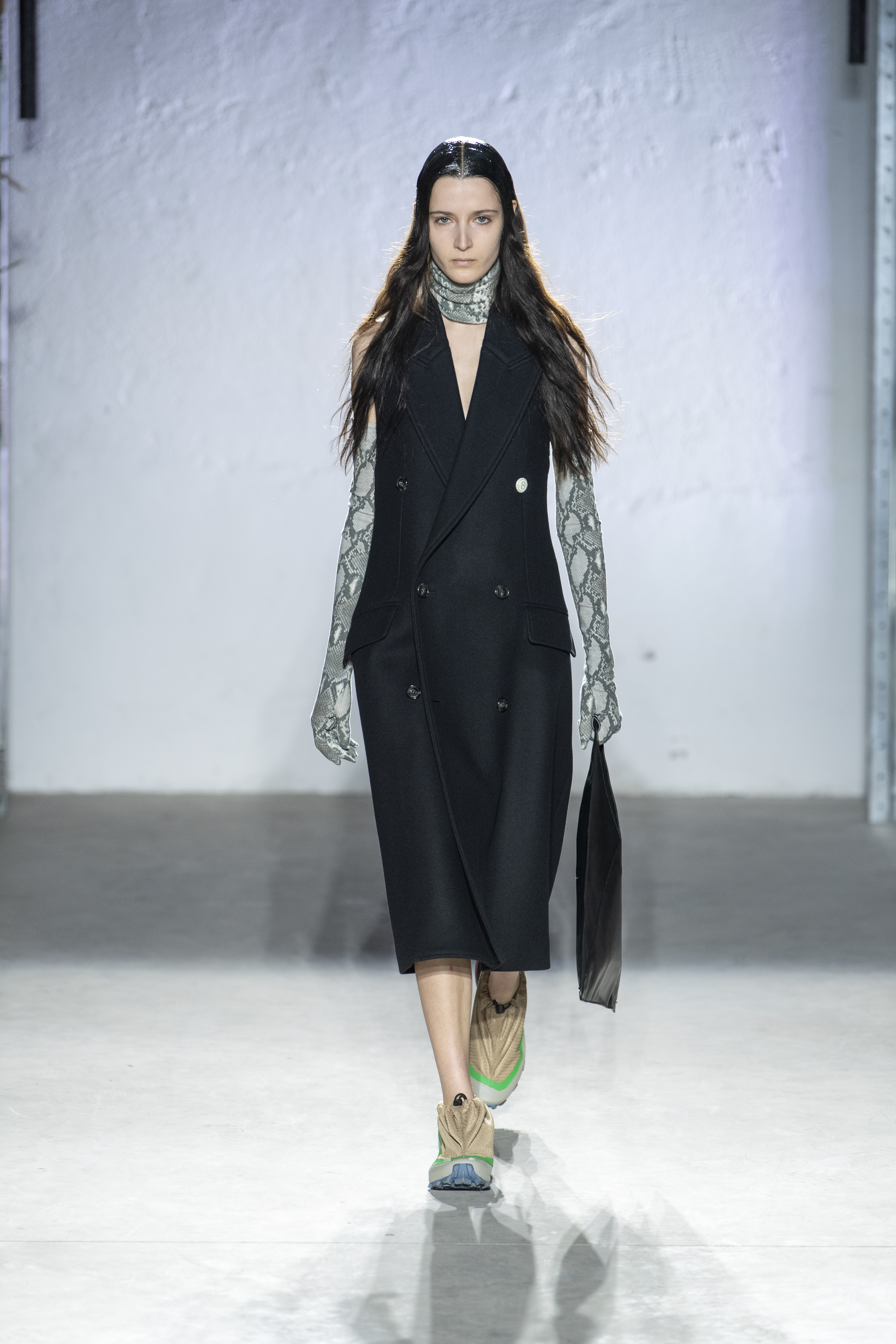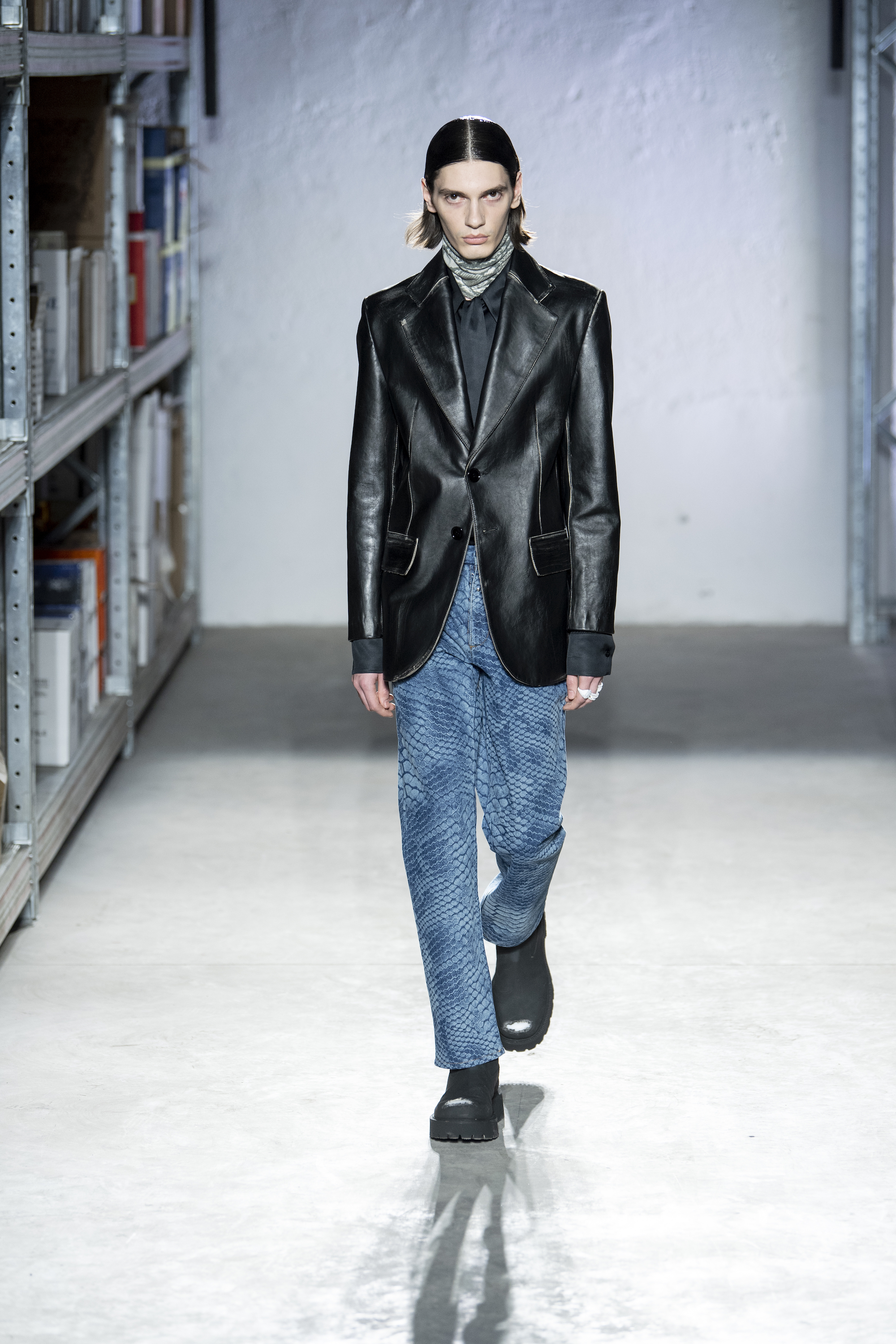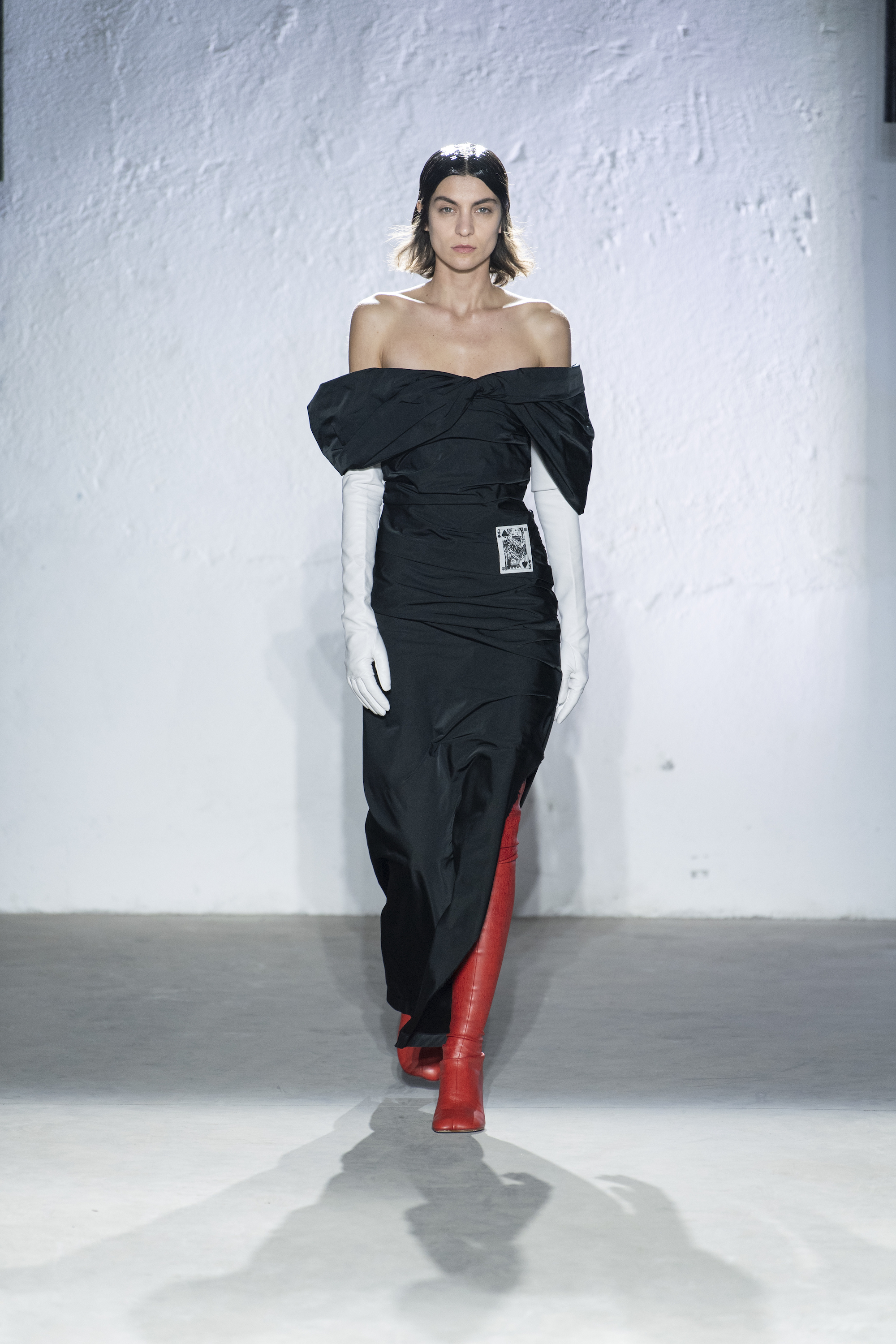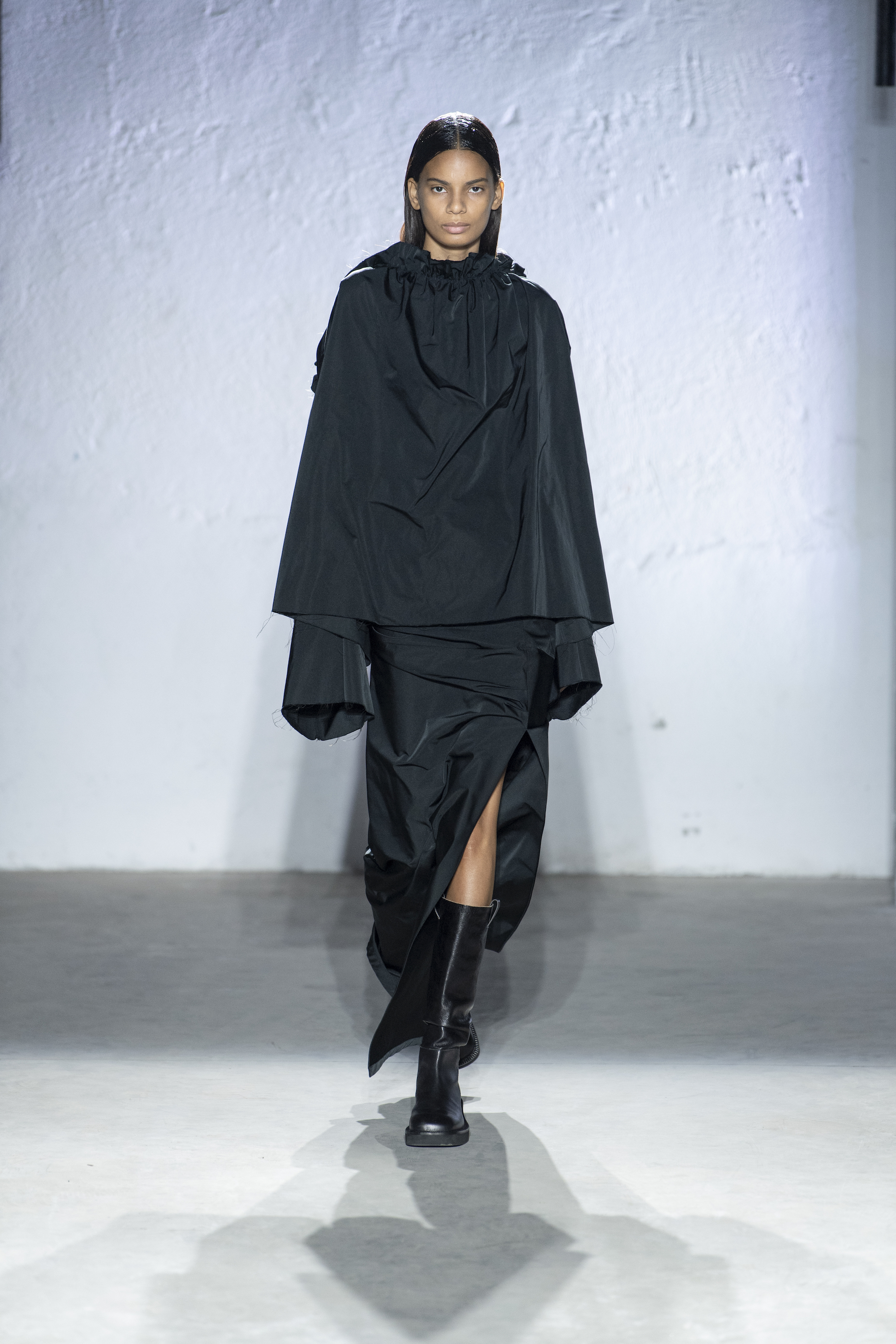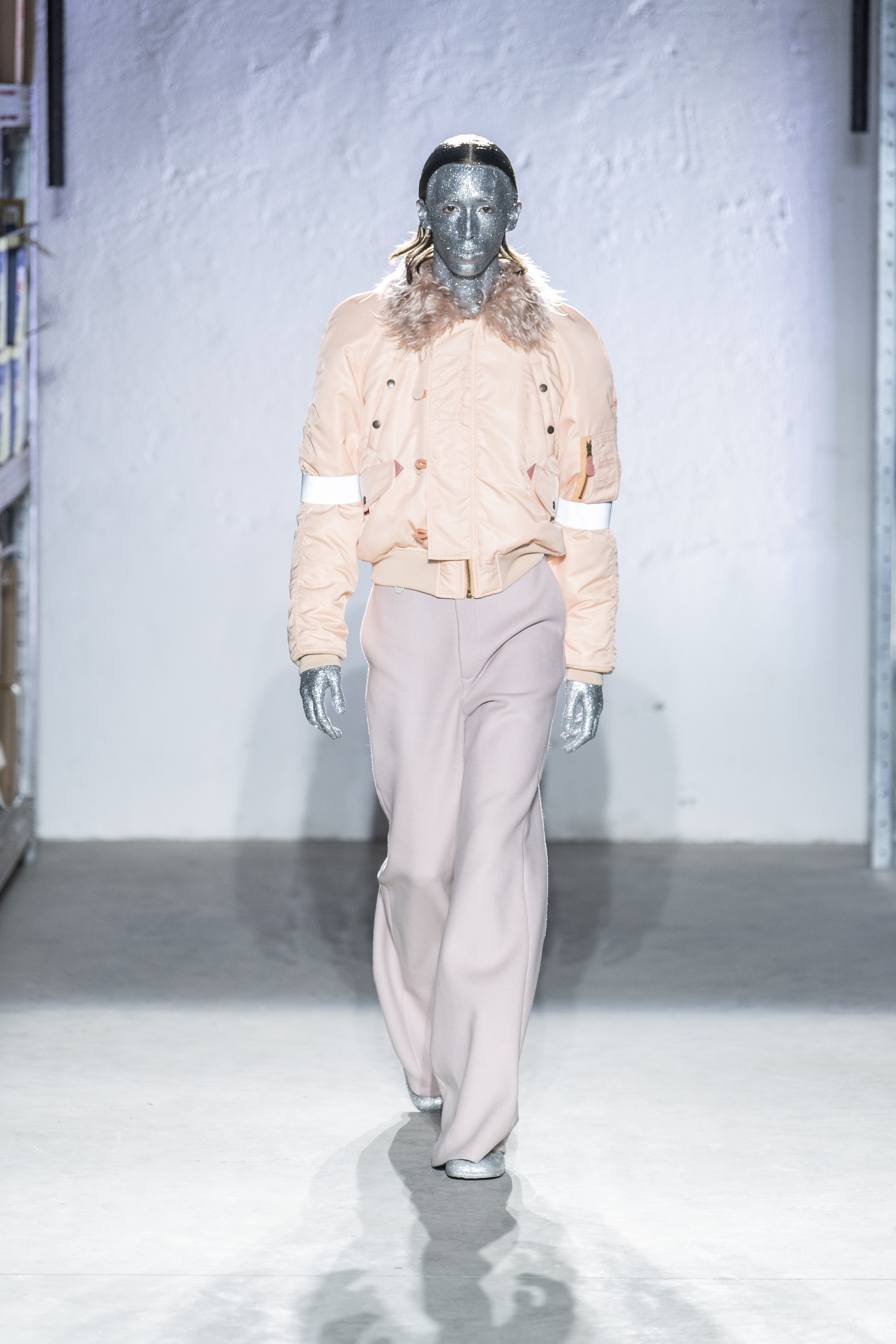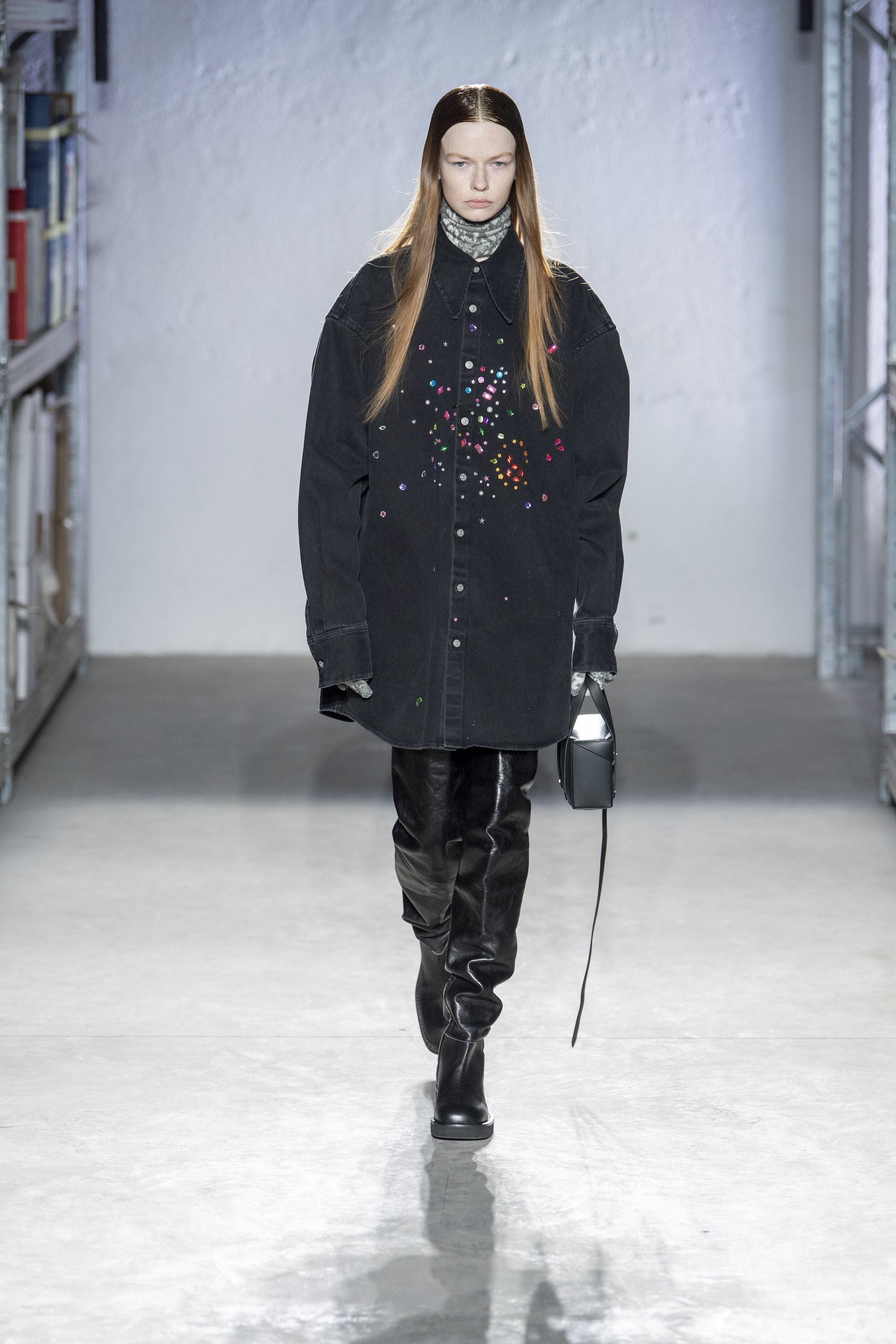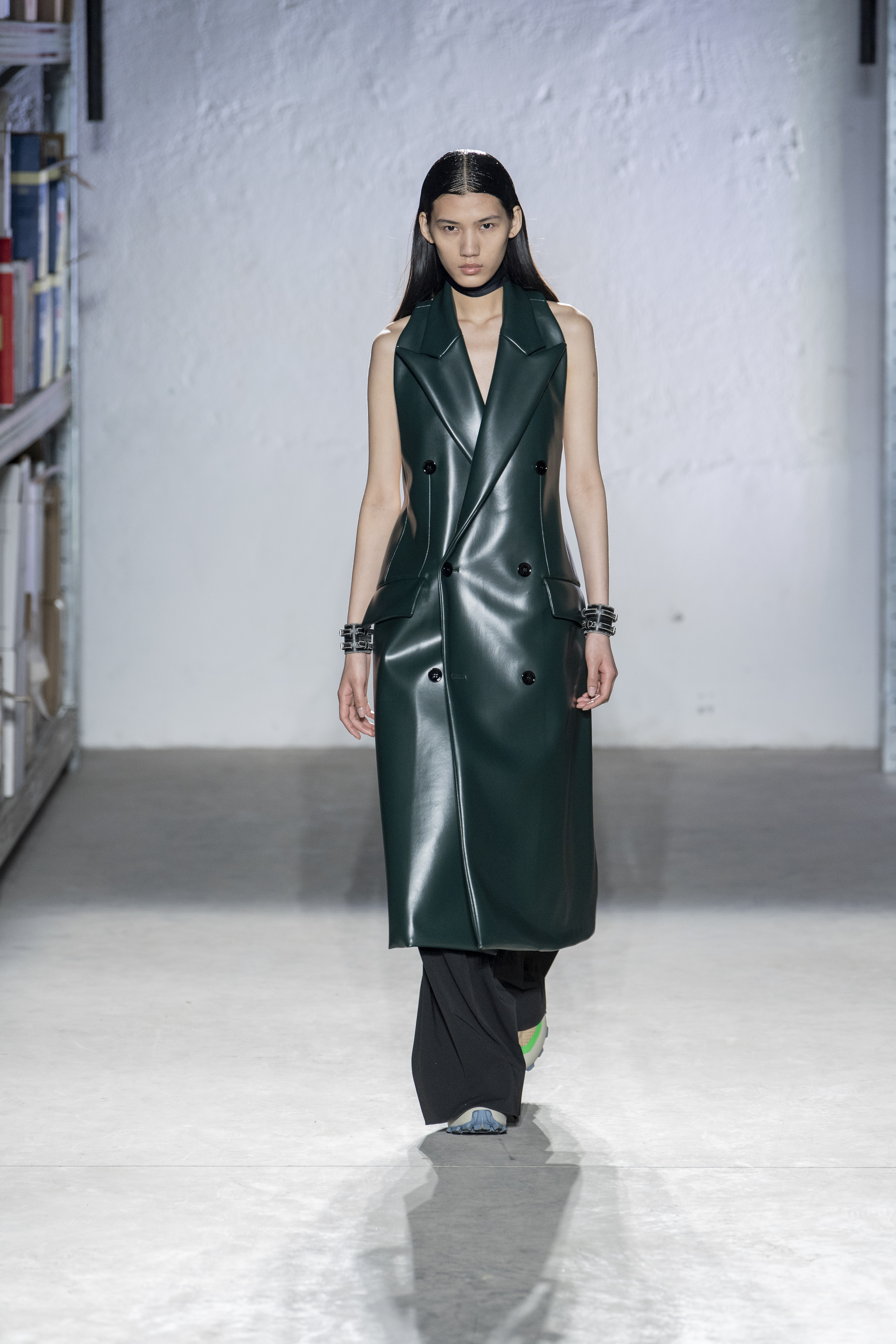 Emporio Armani
Just as stars need the darkness of the night sky for their light to be appreciated, sparkly, exuberant style often benefits from being placed next to a more muted counterpoint for its glamour to really be appreciated. That's the logic that the team over at Emporio Armani abided by this season, presenting a co-ed collection that was an "electric equilibrium of contrasts", a release reads. Where the womenswear looks – replete with lean embroidered outerwear, poppy silk blouses and pastel knit twinsets – oozed a bright, colourful sense of glamour, the boxy 3-piece tailoring, billowing coats and graphic-printed separates that comprised the menswear came in manifold shades of stony grey. That same same of contrast made itself felt in the textures that made up this season's offer – the high-shine of leg-cladding leather boots met fuzzy shearlings, rough-hewn tweeds sat alongside tech-y jerseys, and sombre velvets were decorated with shimmering beads. MS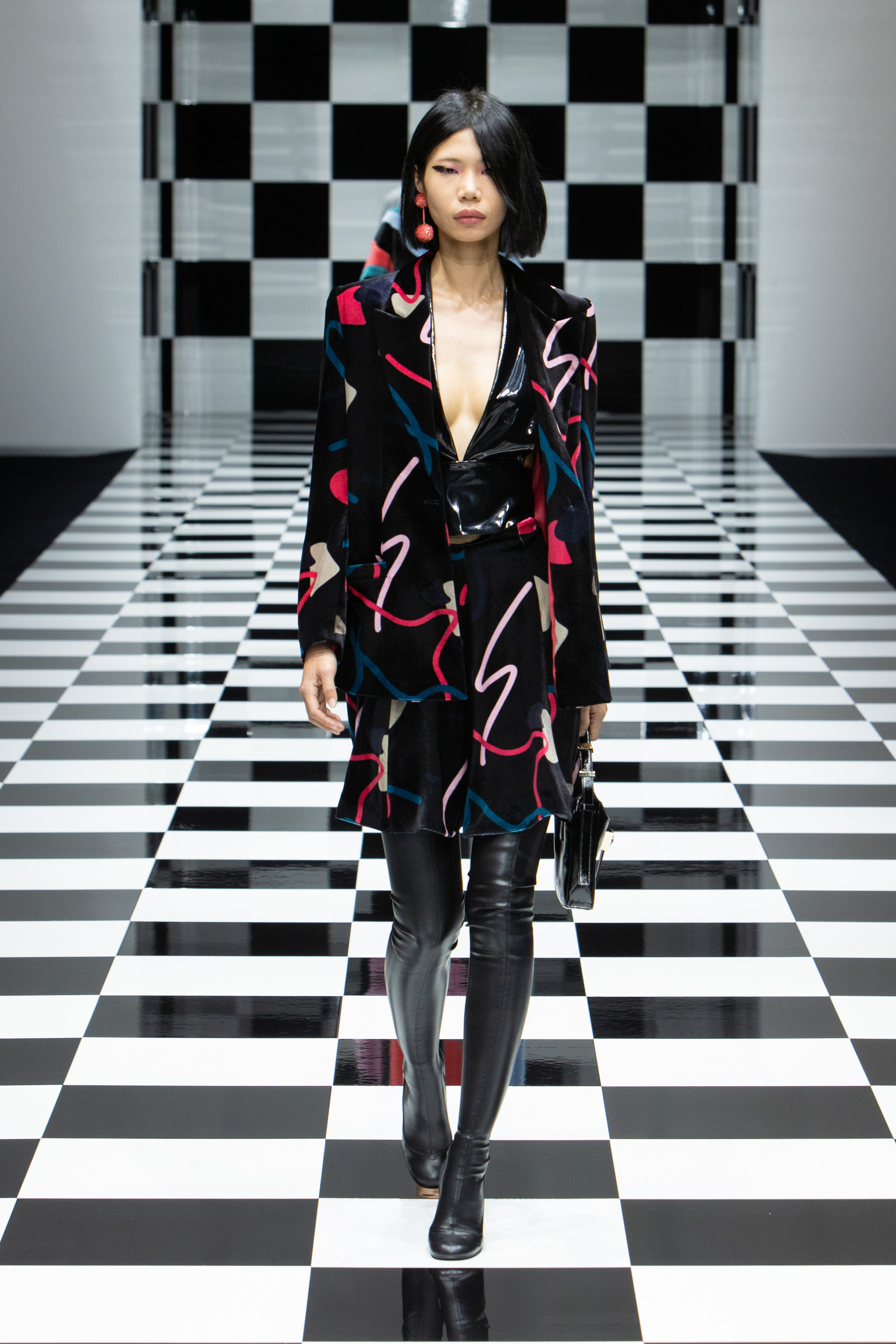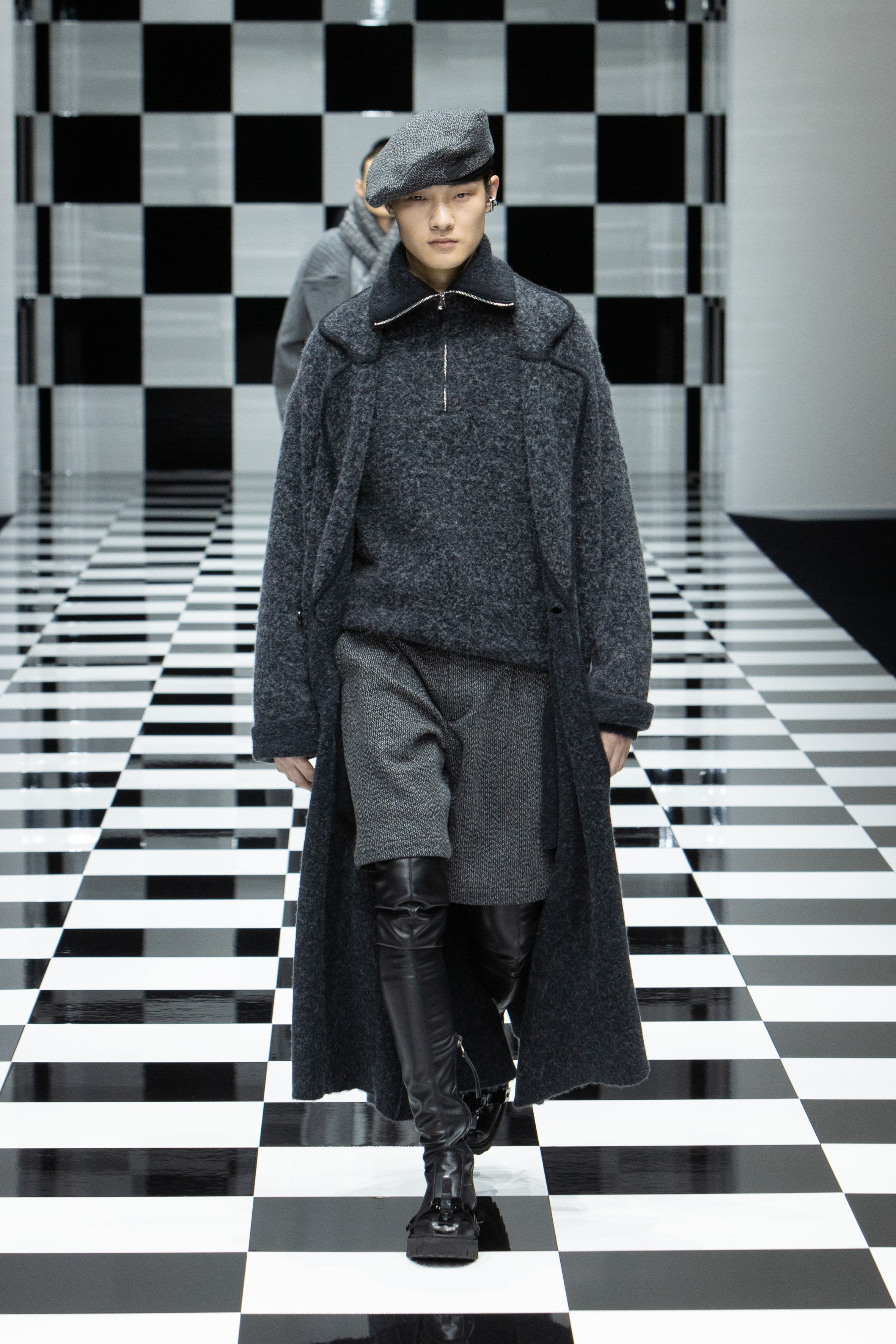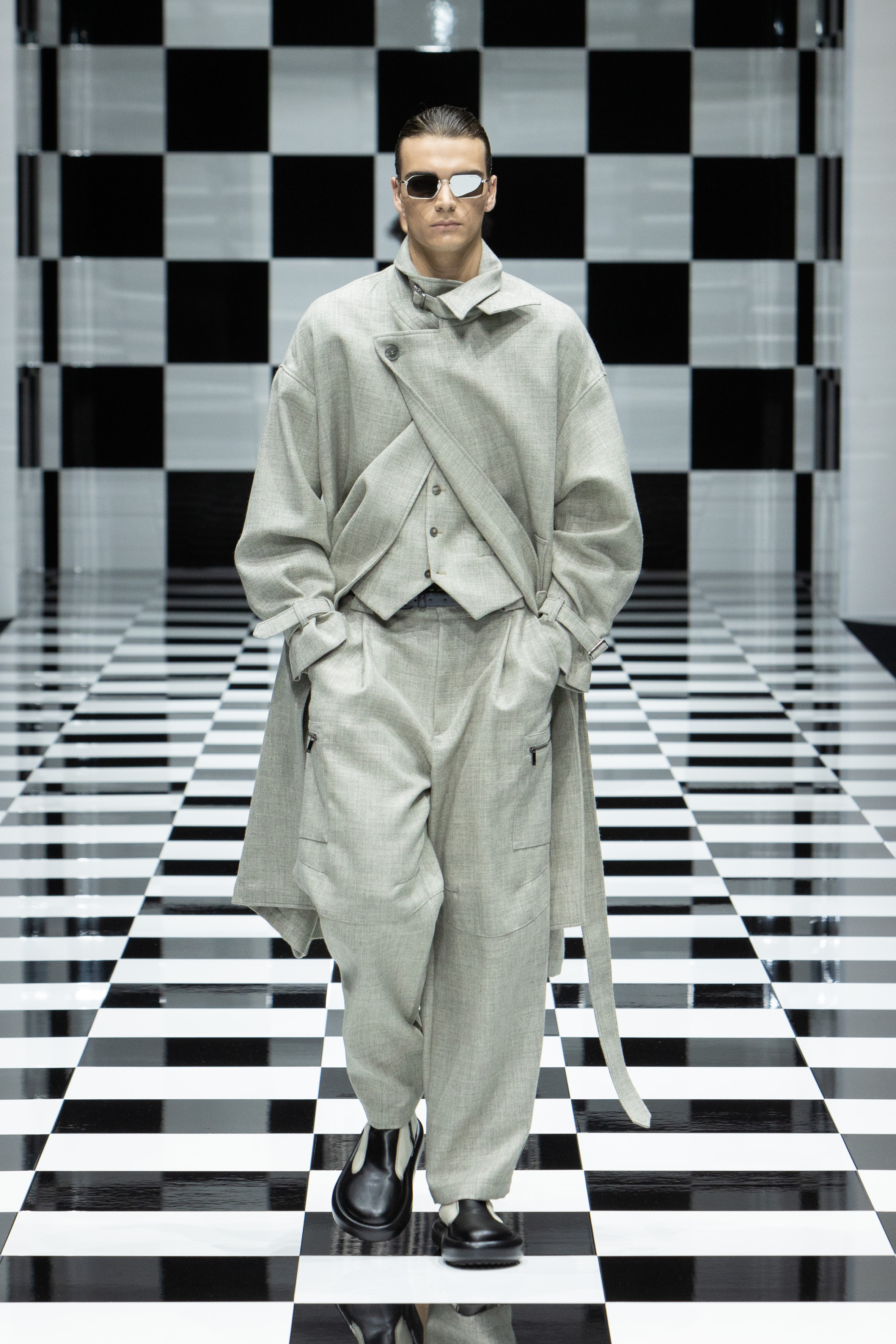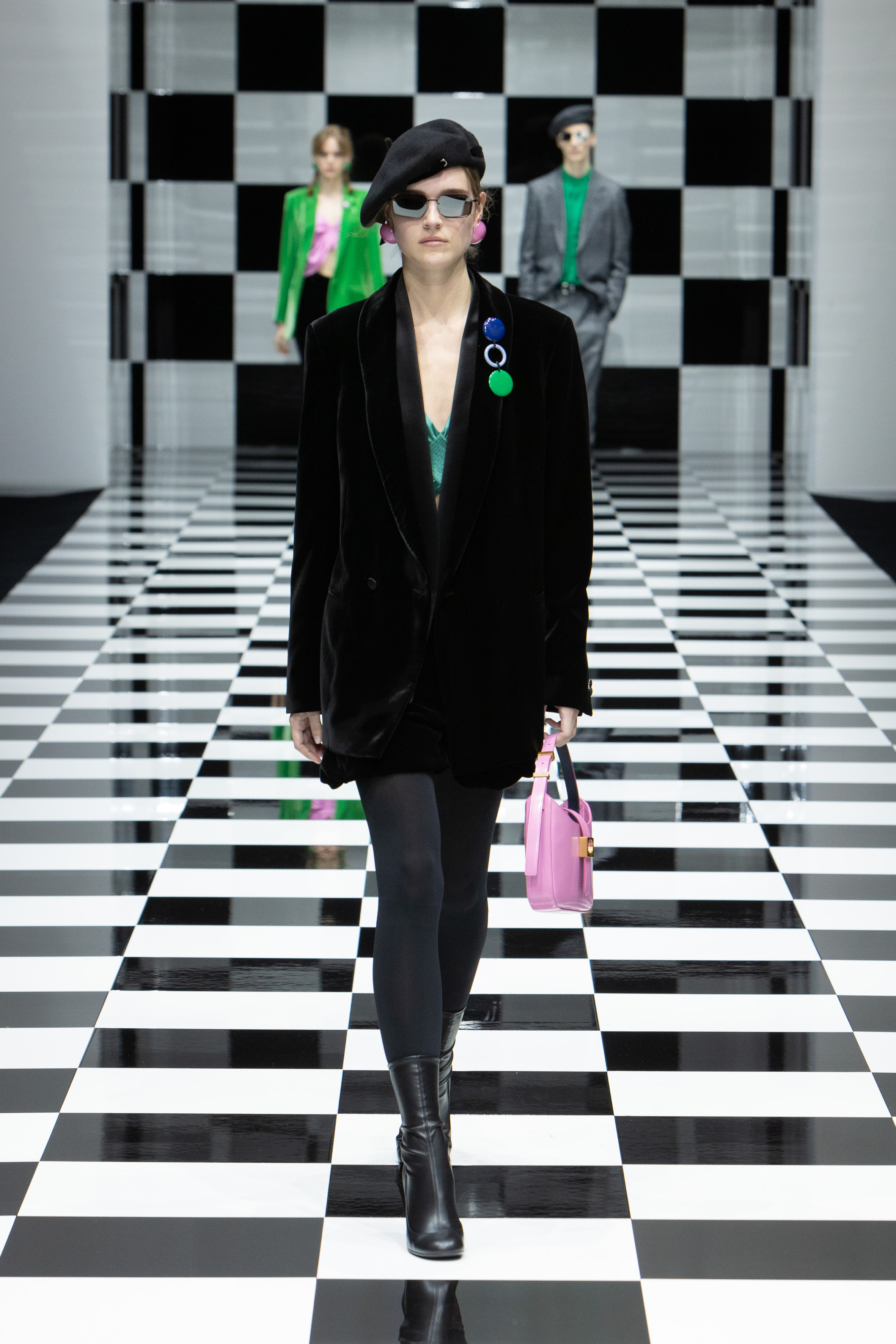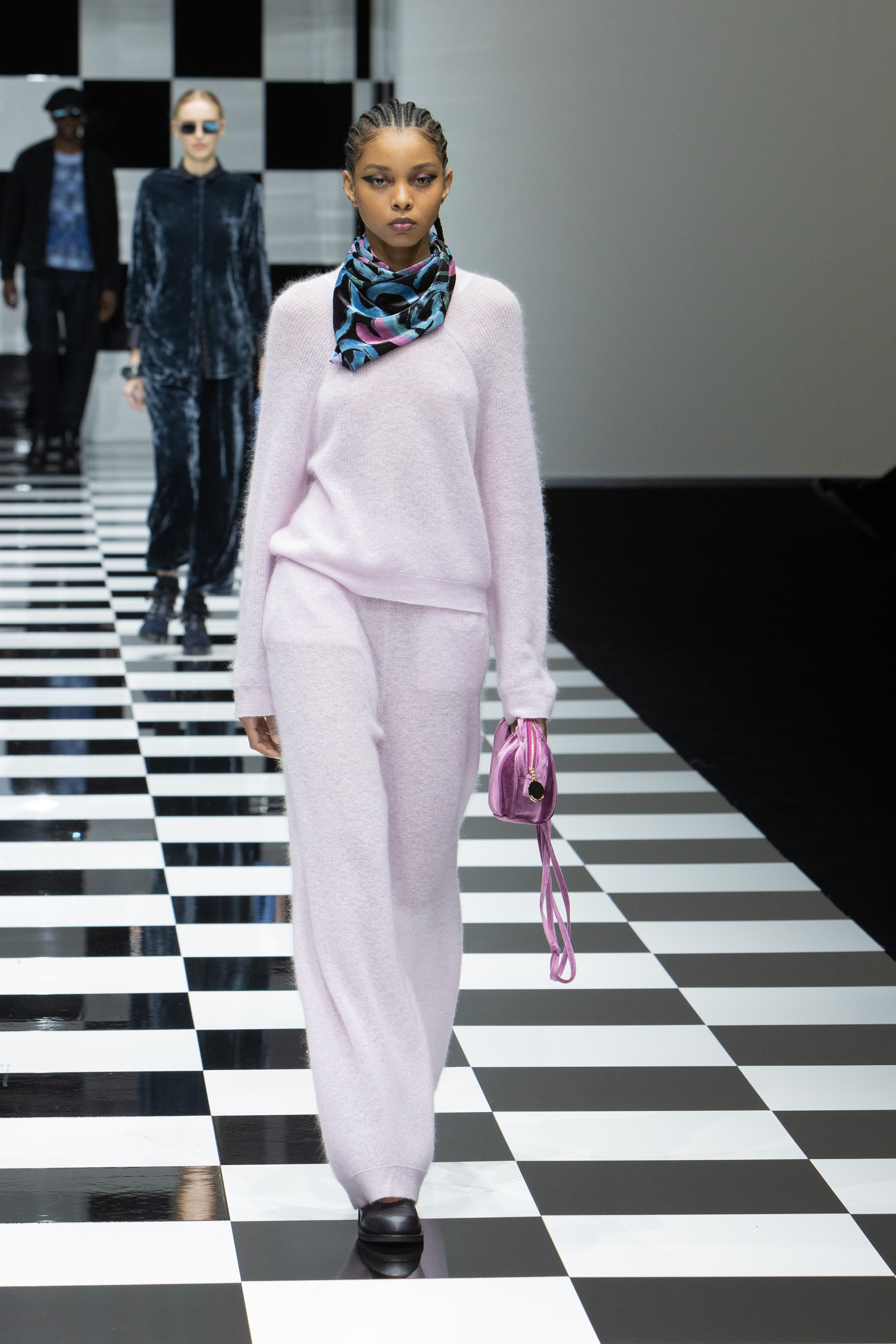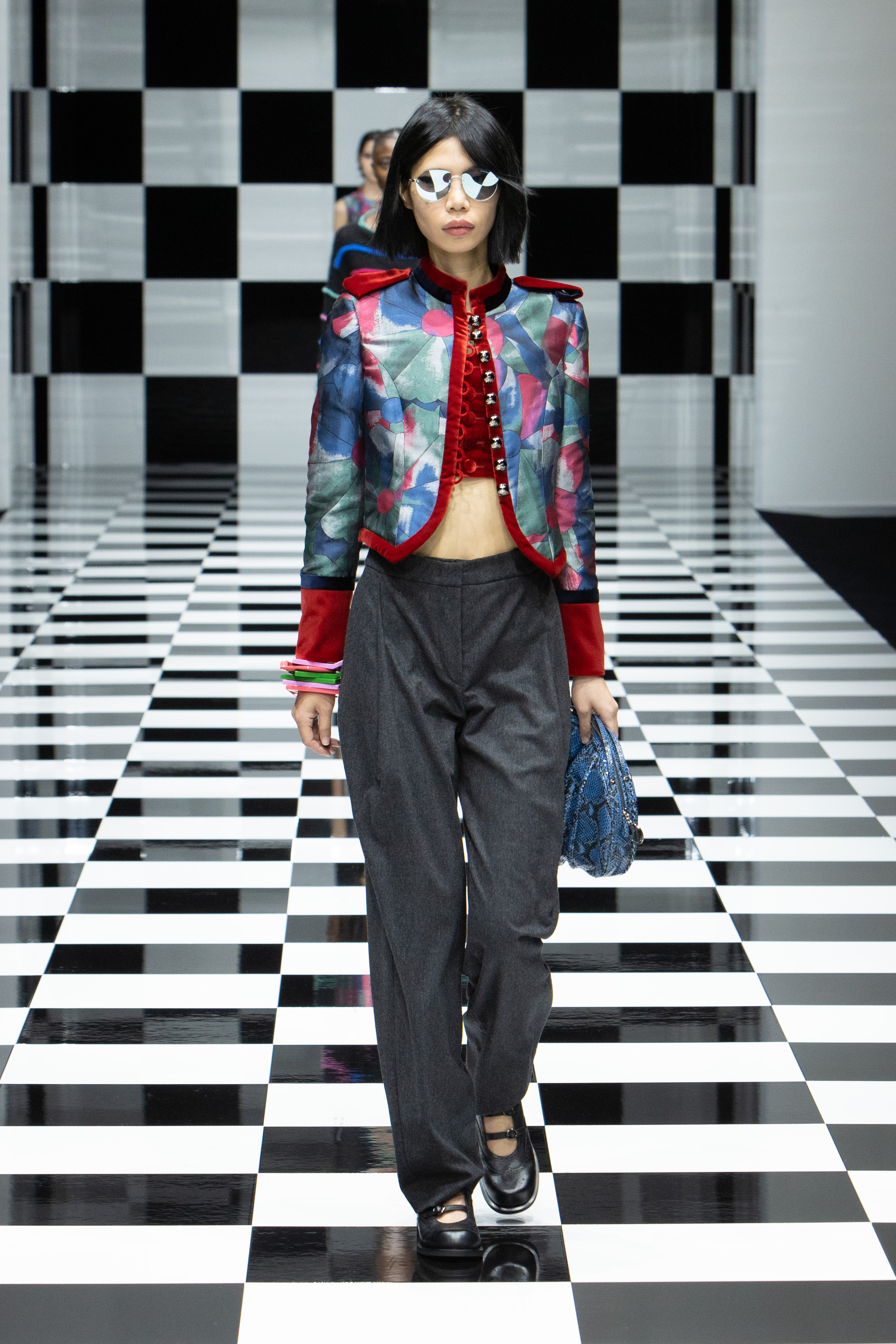 Blumarine
Few brands have surfed the Y2K wave quite like Blumarine, with creative director Nicola Brognano seizing the swell of nostalgia for the era among Gen Zers as an opportunity to breathe new life into the glittery Italian brand. Leaning heavily into the archive amassed during Blumarine's early 00s heyday – and aided by the Midas touch of stylist and i-D senior fashion editor-at-large Lotta Volkova – the label has established itself as a go-to for deliciously chintzy Y2K staples, such as butterfly crop tops, low-slung mini skirts, rhinestoned denim jeans. Indeed, Blumarine's always unabashedly been hot-girl brand – perhaps the most fitting ambassador we can think for it would be Euphoria actress Chloe Cherry, who appeared on the catwalk this season. For AW22, though, that girl blossomed into a fully-fledged woman.
"​​Grown-up in her self-confidence, the Blumarine woman opens up to a powerful, uncompromising sensuality, free from any preconceived idea about physicality," Nicolas said of his proposal for the season. "She's aware that seduction is first and foremost an attitude." While that didn't entail any trade-off regarding the brand's trademark hyper-femme sexiness, it was reinforced by a fresh toughness – peak-lapelled coats in scarlet and black wools brought an element of tailored rigour into the mix, while hulking faux furs in mauve and crimson, styled over mirror-finish PVC bodices and tie-up crop tops, contributed senses of eccentricity and volume. Elsewhere, hyper cute, itsy-bitsy silhouettes were balanced out by svelte velvet evening dresses (Eva Herzigova closed the show in sternum-bearing number) bringing a welcome day-to-night versatility to the Blumarine babe. MS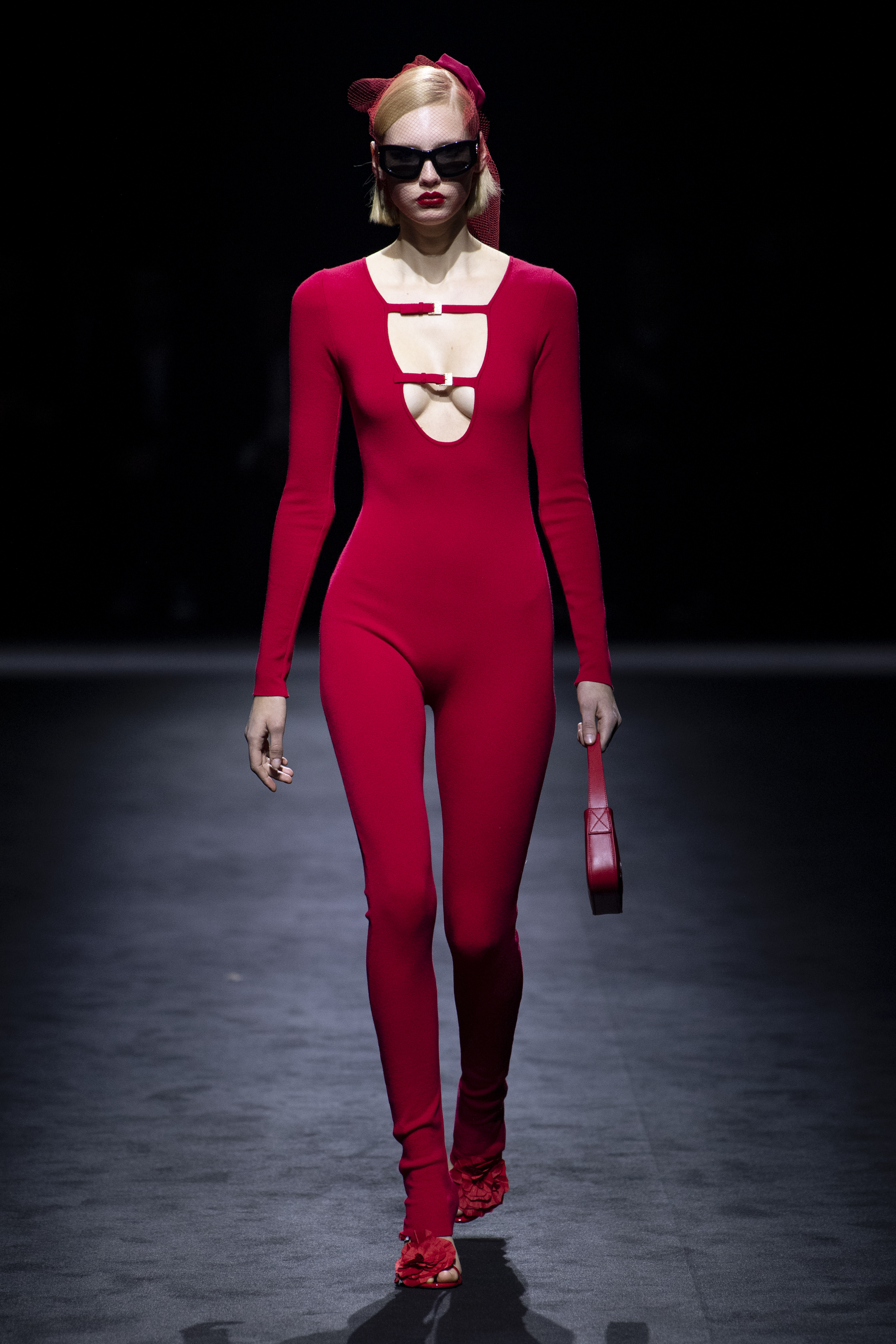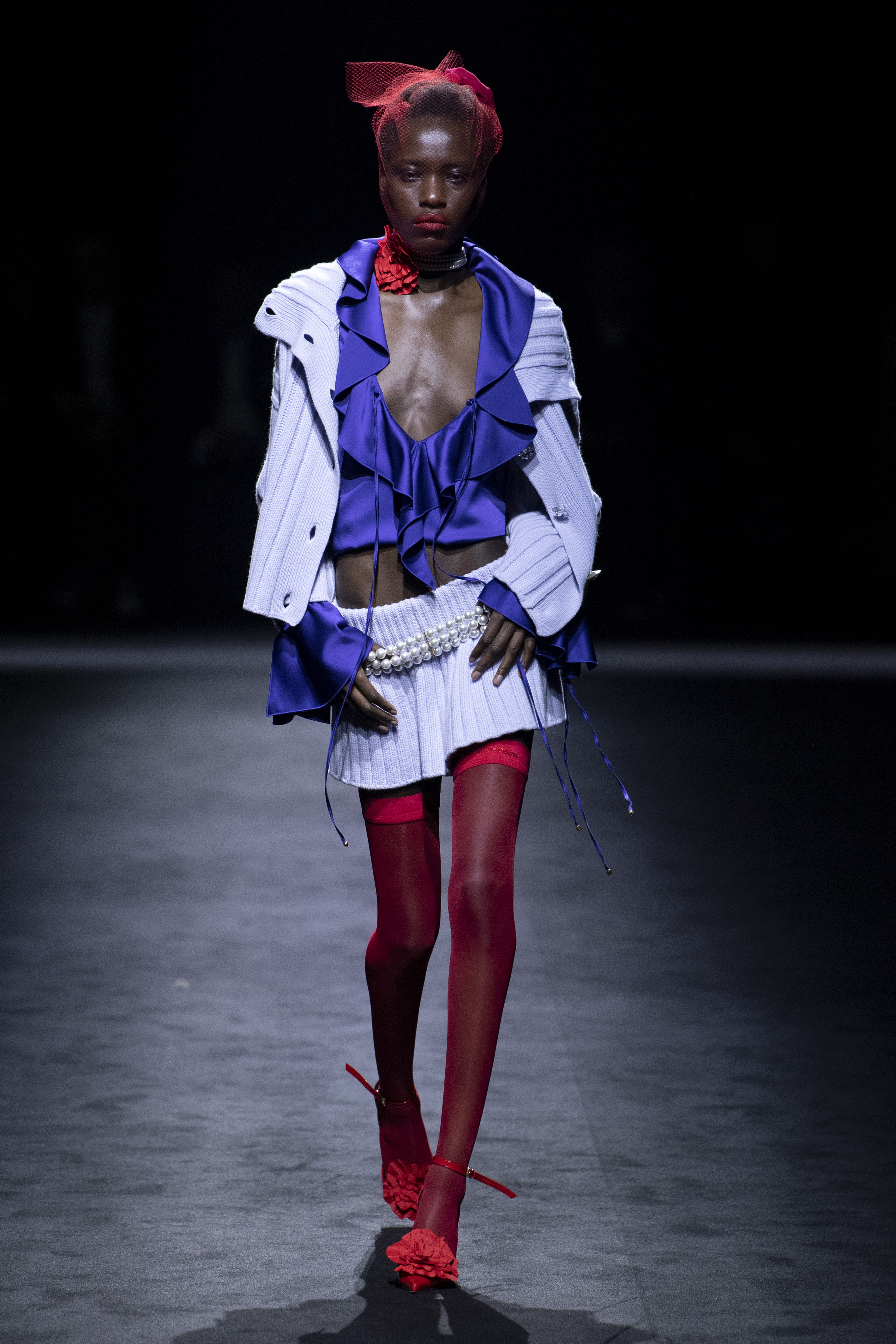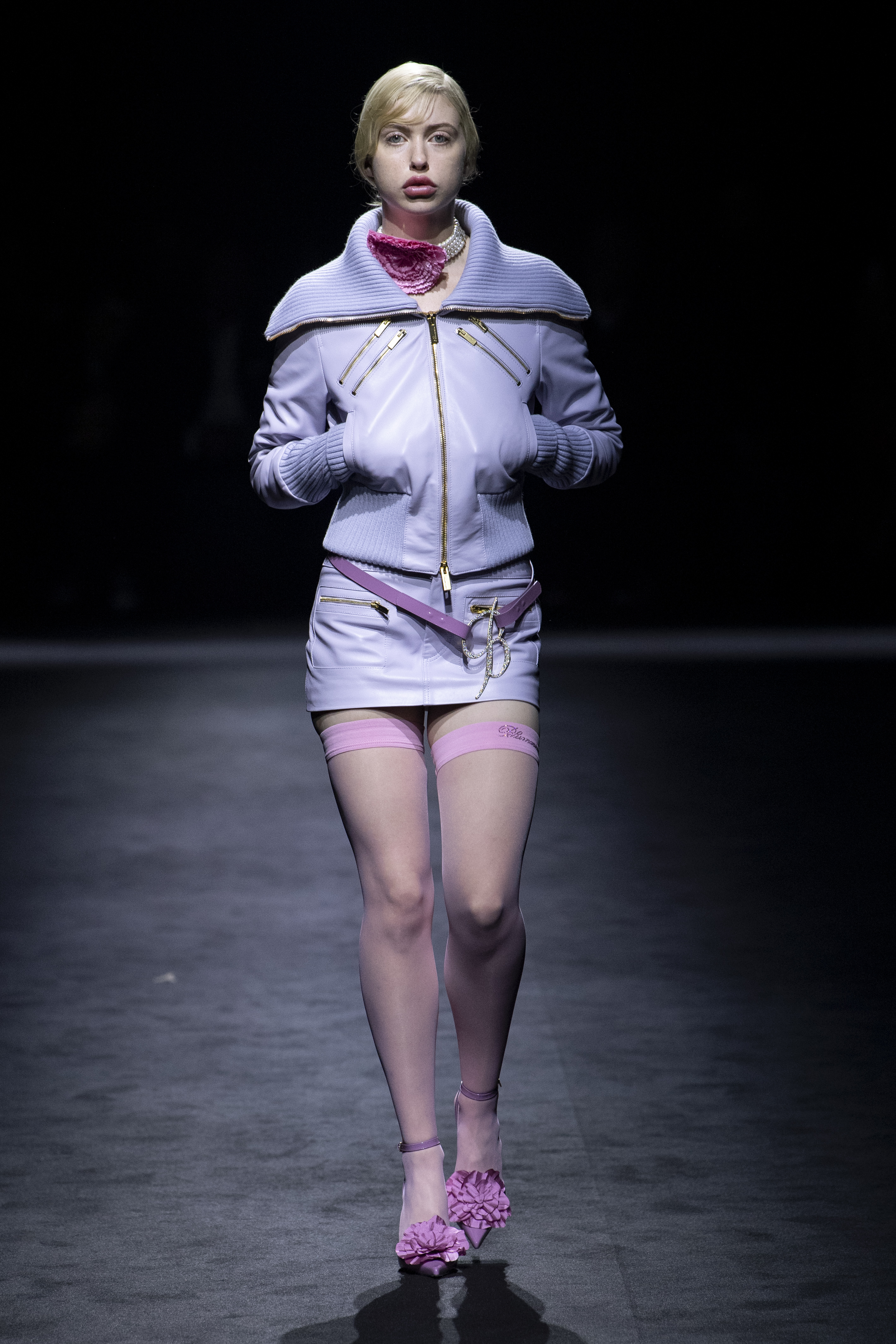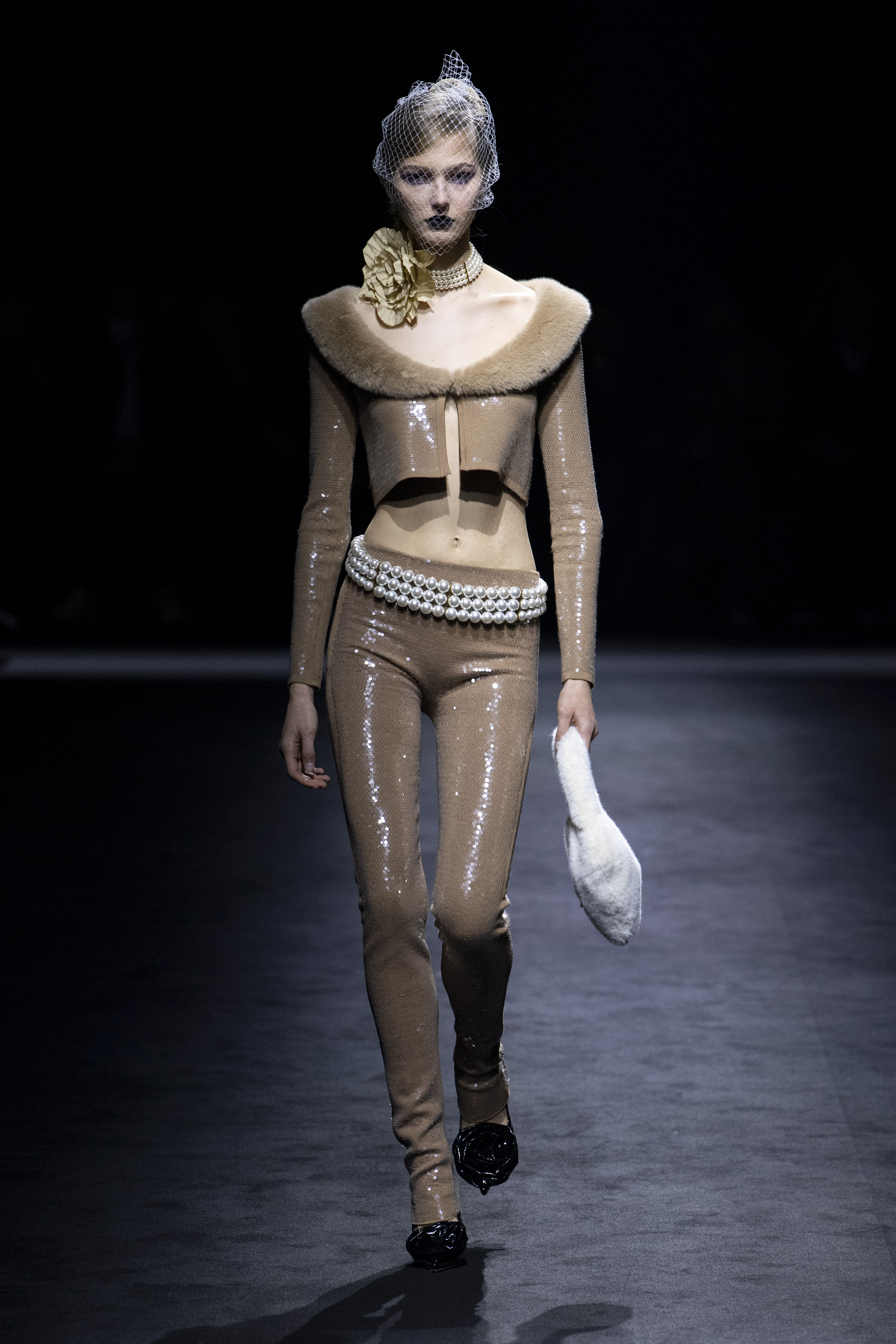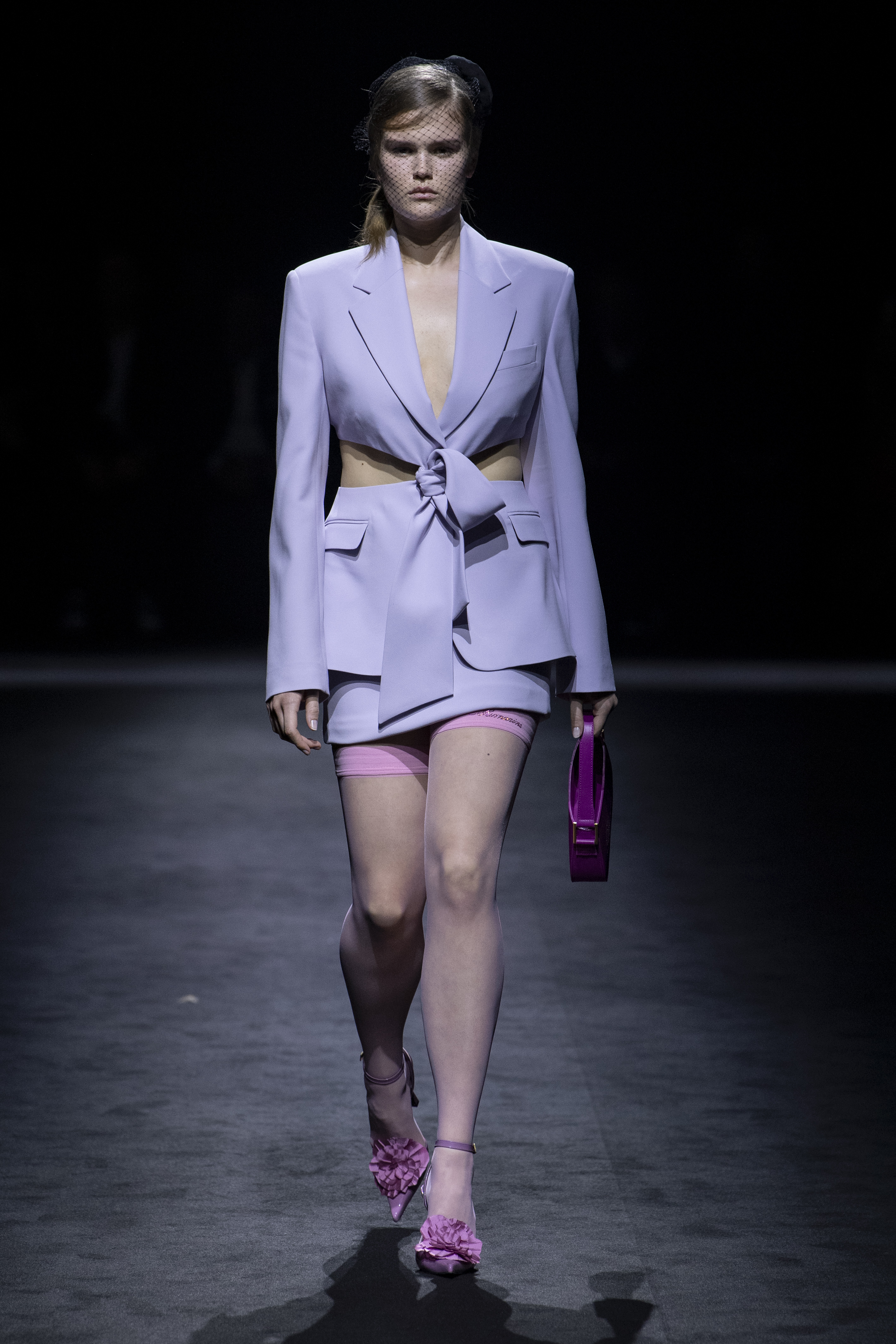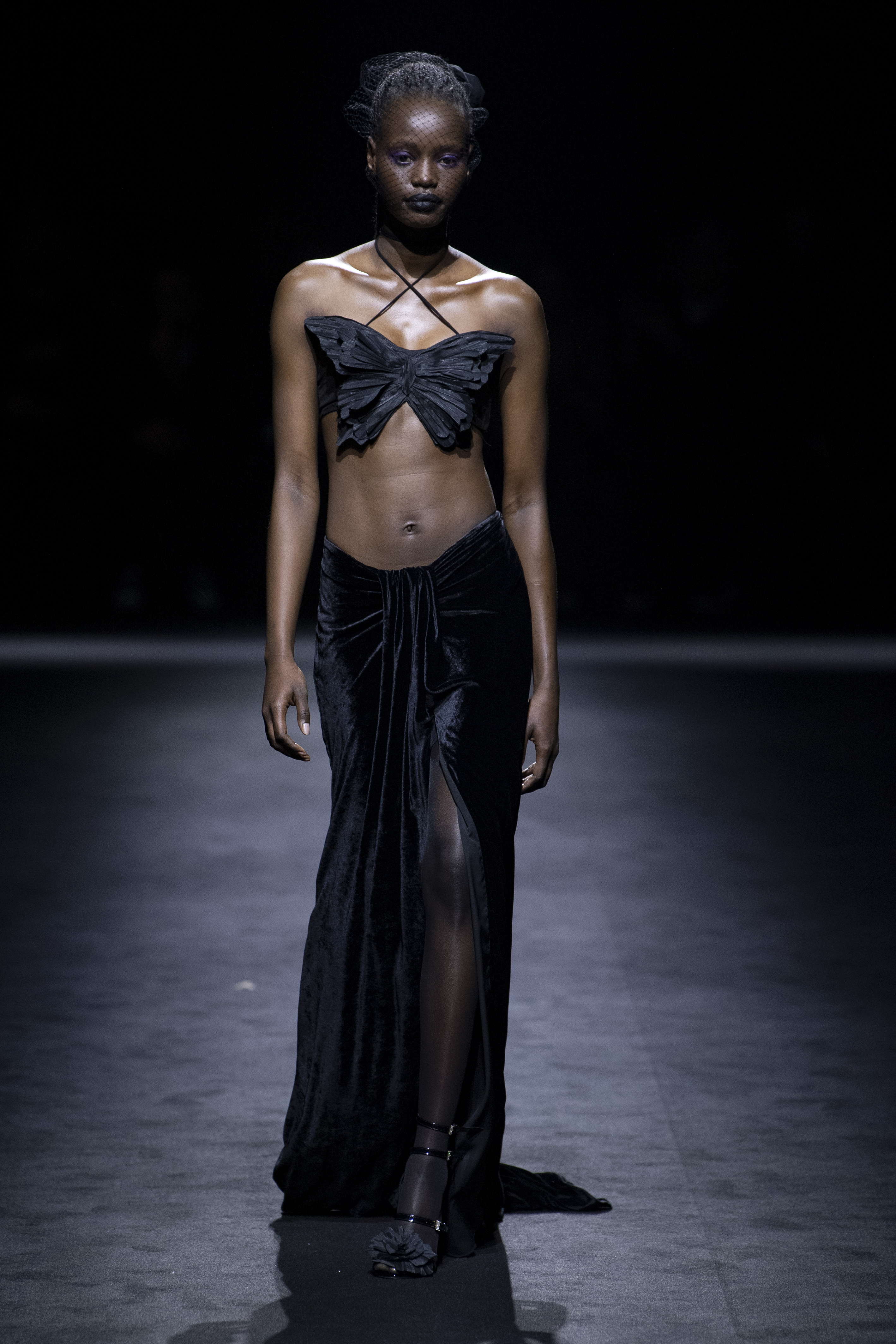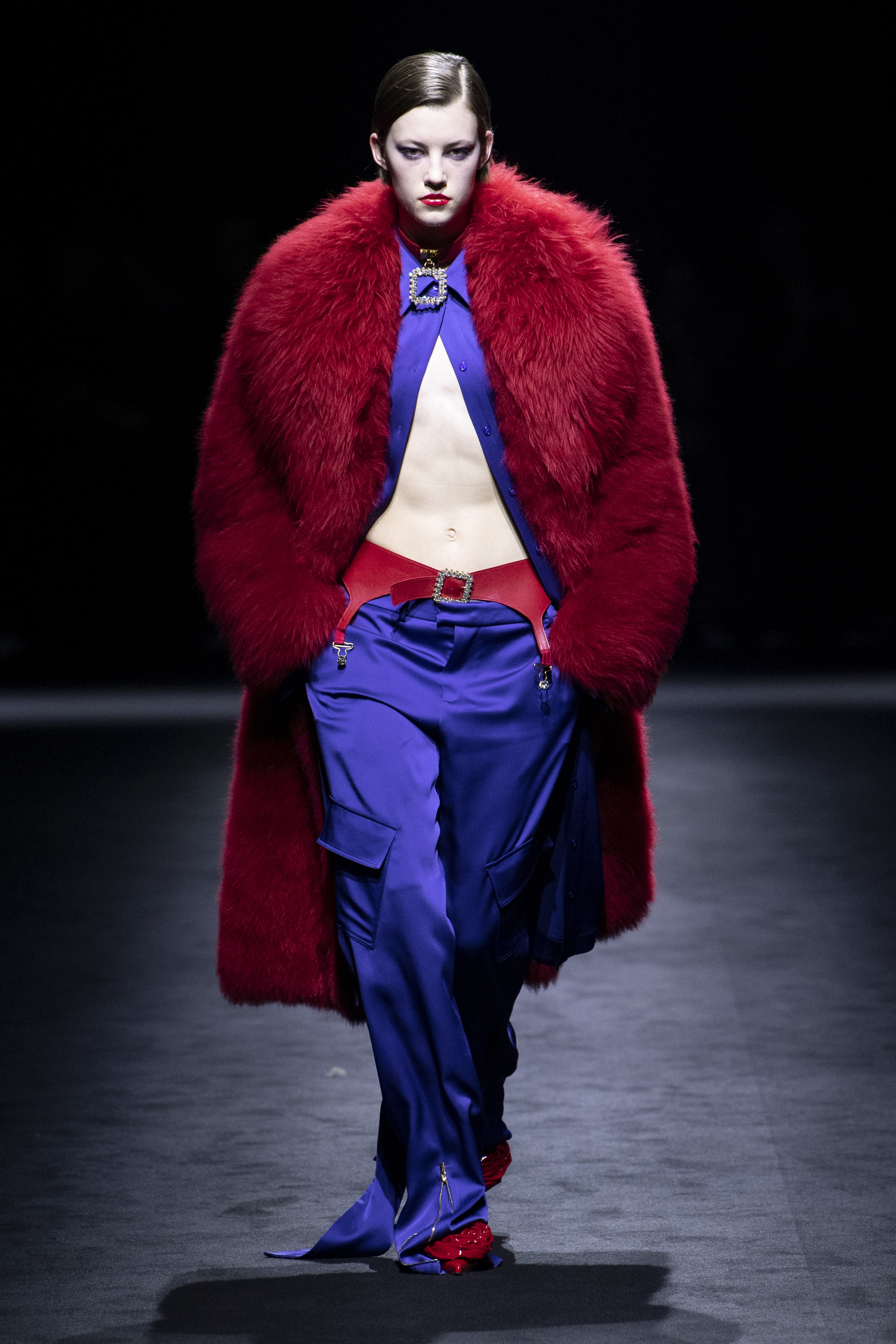 Moschino
One of the best things about Moschino is that when Jeremy Scott has an idea — say, the dusty opulence of country homes — he takes it to such extremes that even the most hard-nosed fashion skeptics can't help but smile. He is the rare instance of a designer with a wicked sense of humour, and though much of his work is ironic — ultimately it stems from a sincere appreciation of the power that fashion has to bring joy to otherwise depressing news cycles. His latest show, which took place on a Space Odyssey-inspired set, had the world's most famous models throwing Irving Penn vogueing shapes in cartoonish outfits that could well have been inspired by the "Be Our Guest" sequence in Disney's Beauty and the Beast. Country homes! Gilded interiors! Upstairs, downstairs! The starting point was Franco Moschino 1989 and 1990 cutlery brooches and hot-and-cold faucet handles as accents on ready-to-wear.
Ever one to hyperbolise, Jeremy took it further with models in all the trappings of Old Money interiors: plush velvet upholstery and tapestry gowns, Victorian clocks as becoming shift dresses, Louis XV chairs and gilt door knockers as embellishments on boxy jackets and tuxedo tailoring, silver trays as breastplates (with actual boobs moulded on them). Hell, there was even an actual coromandel worn as a perpendicular-edged dress! At one point, Kara Walker came down the catwalk in a gold gown with a giant ballroom harp trailing behind her, its crystal strings catching the light of photographers. And to top it all off. Stephen Jones created hats that brought the message home, albeit to a stately one: lampshades, feather dusters with specks of tulle dust, porcelain vases, gilt birdcages, library reading lamps. Finally, this being Moschino, witty slogans tickled the audience — a French maid's uniform came with "Maid in Italy", elsewhere was "Gilt Without Guilt". Regarding the latter, we couldn't have put it better ourselves. OA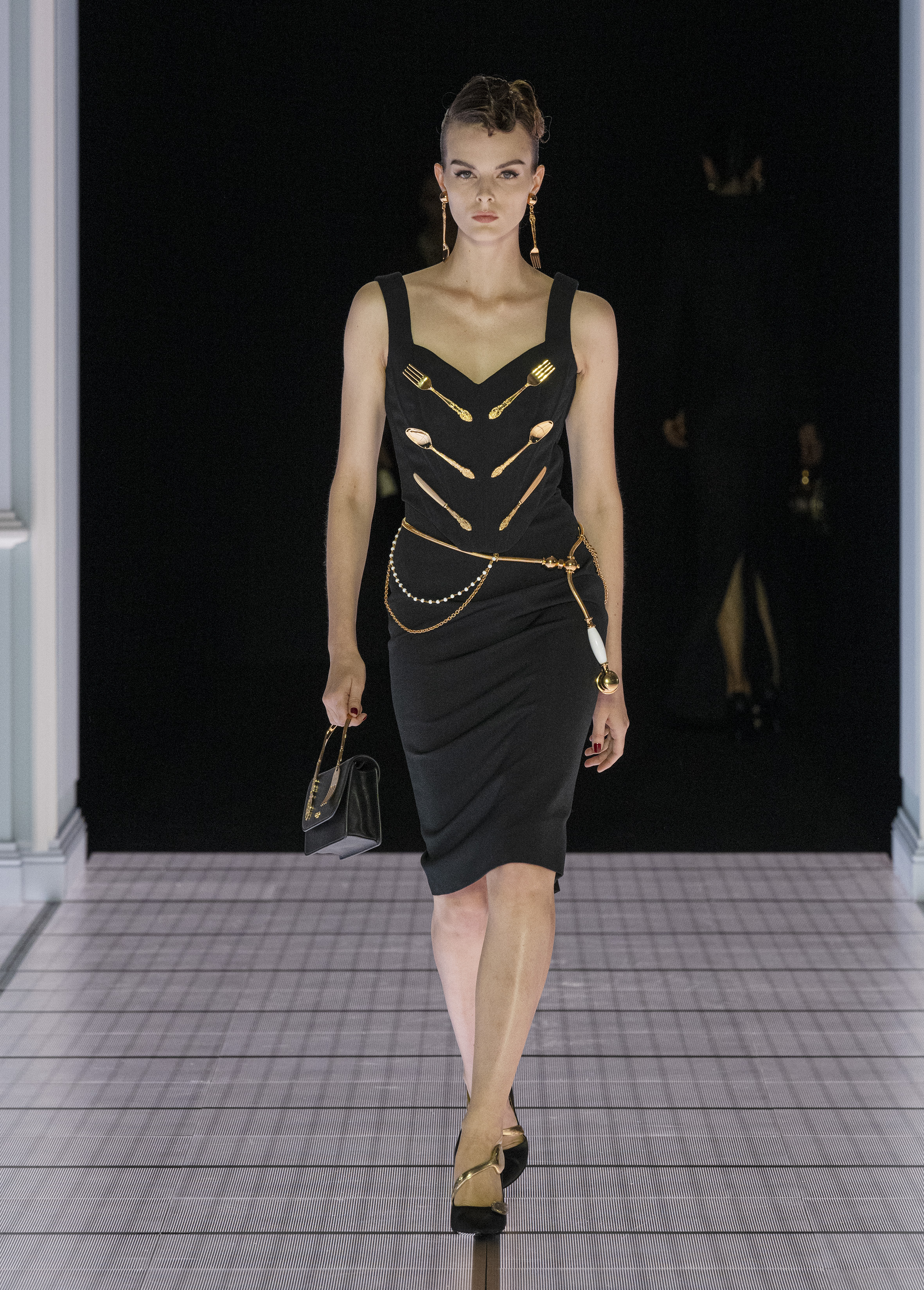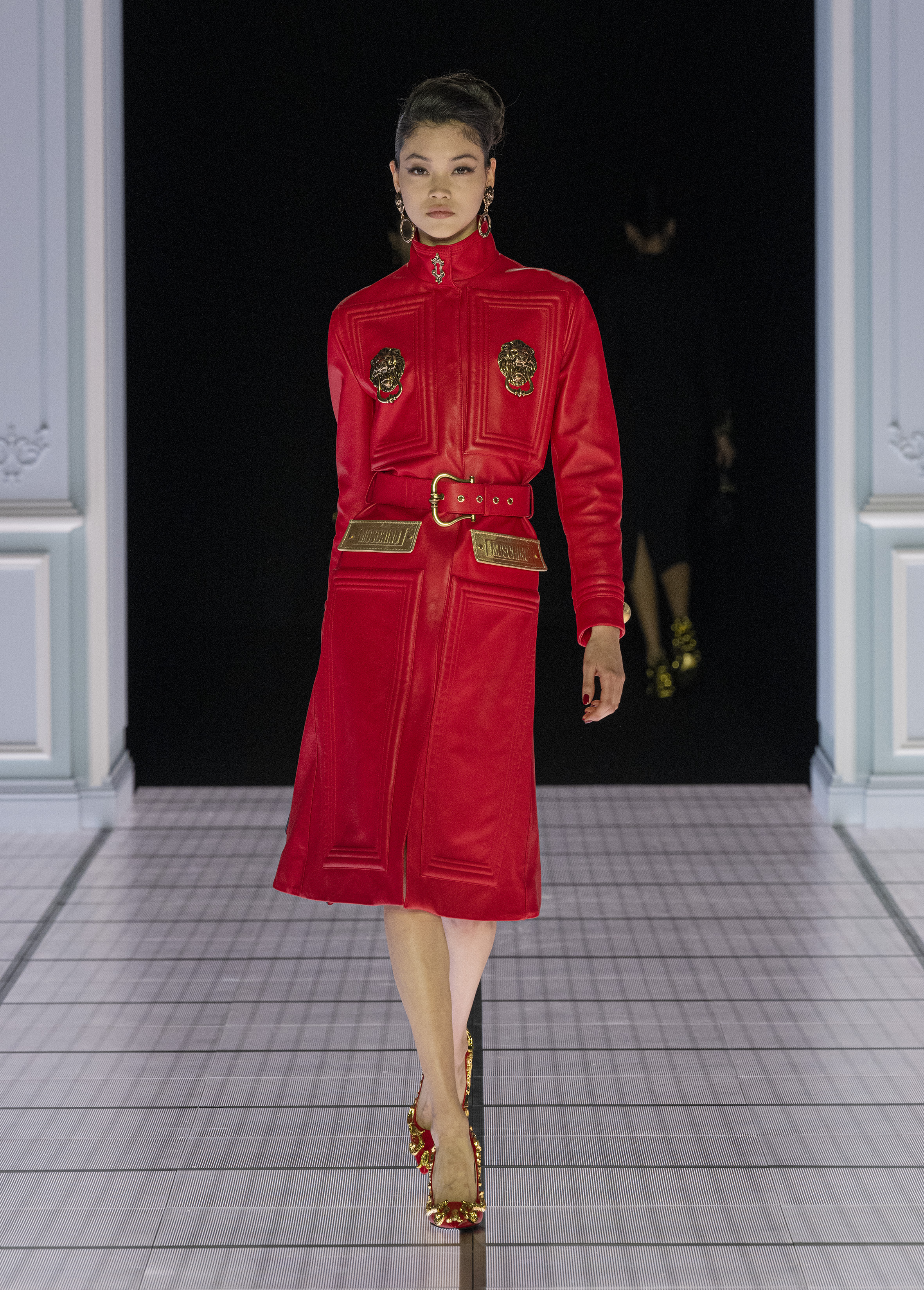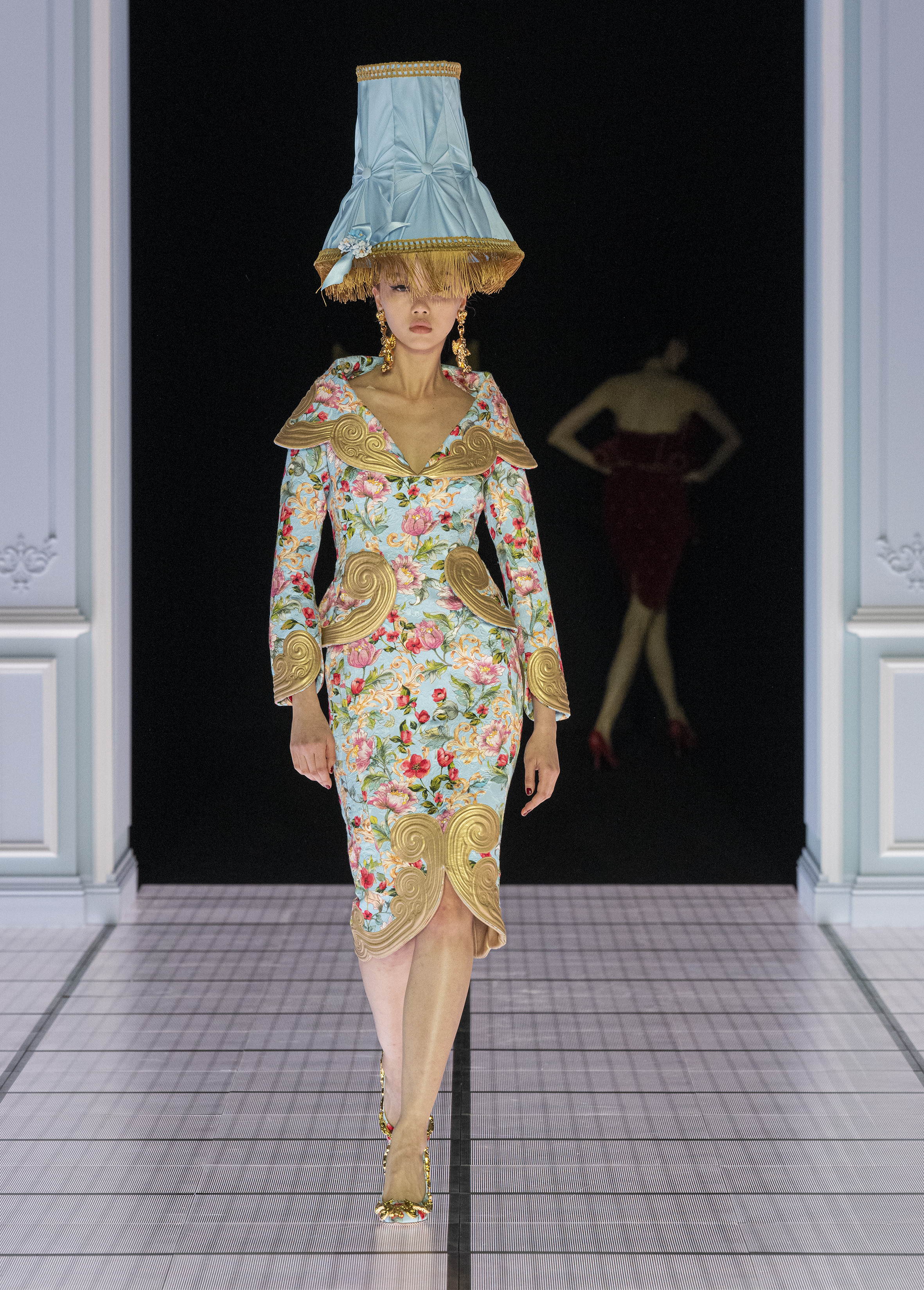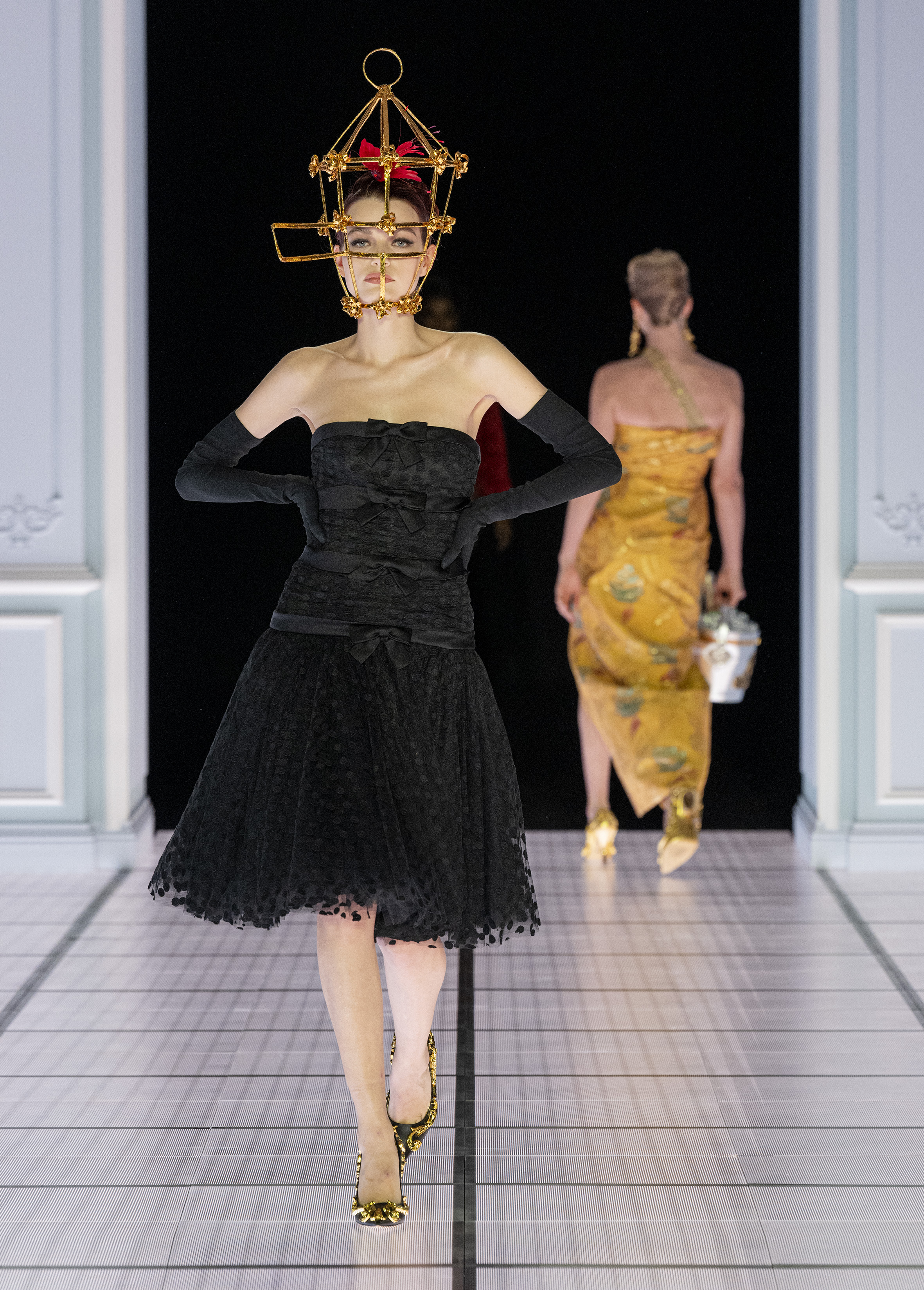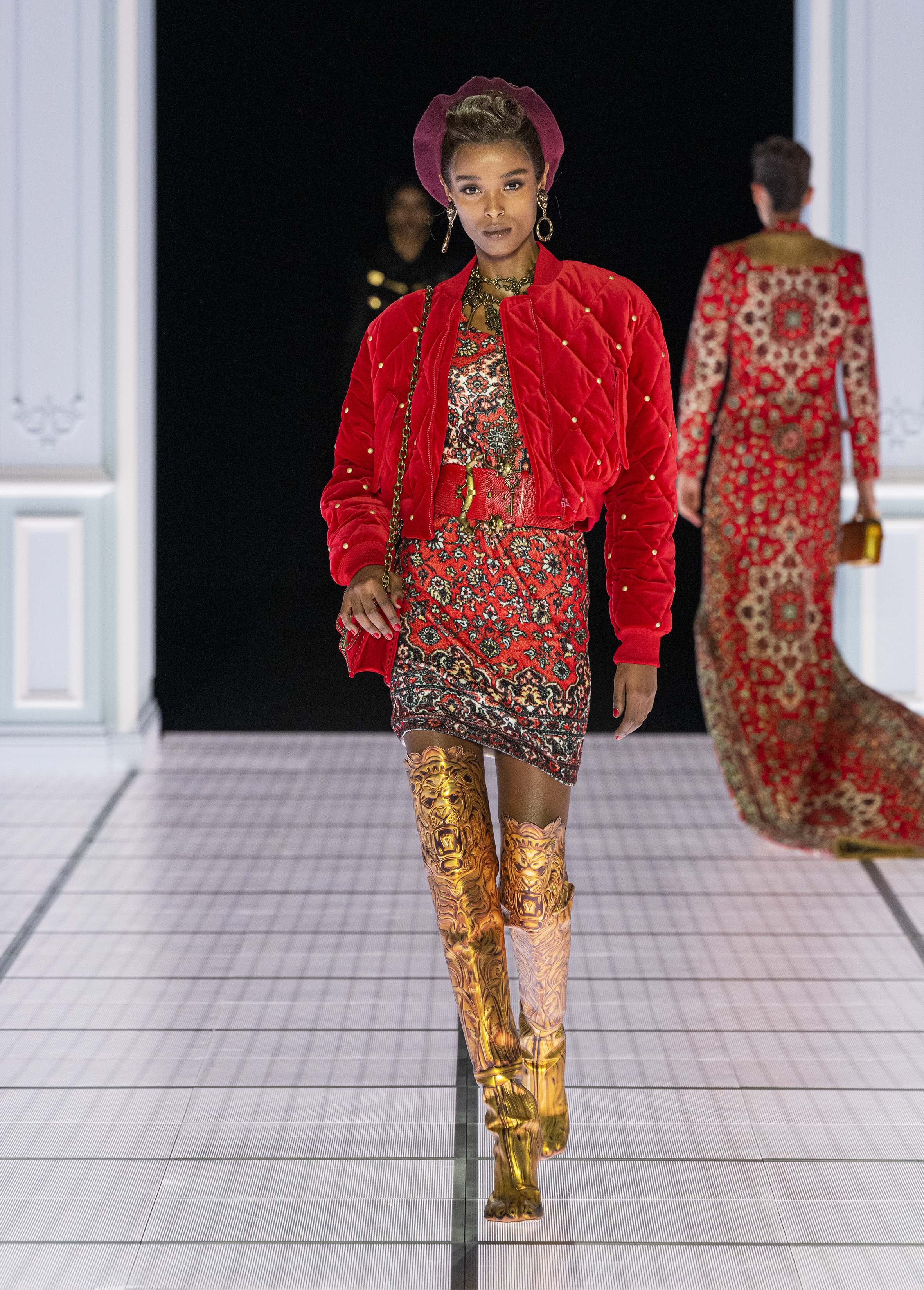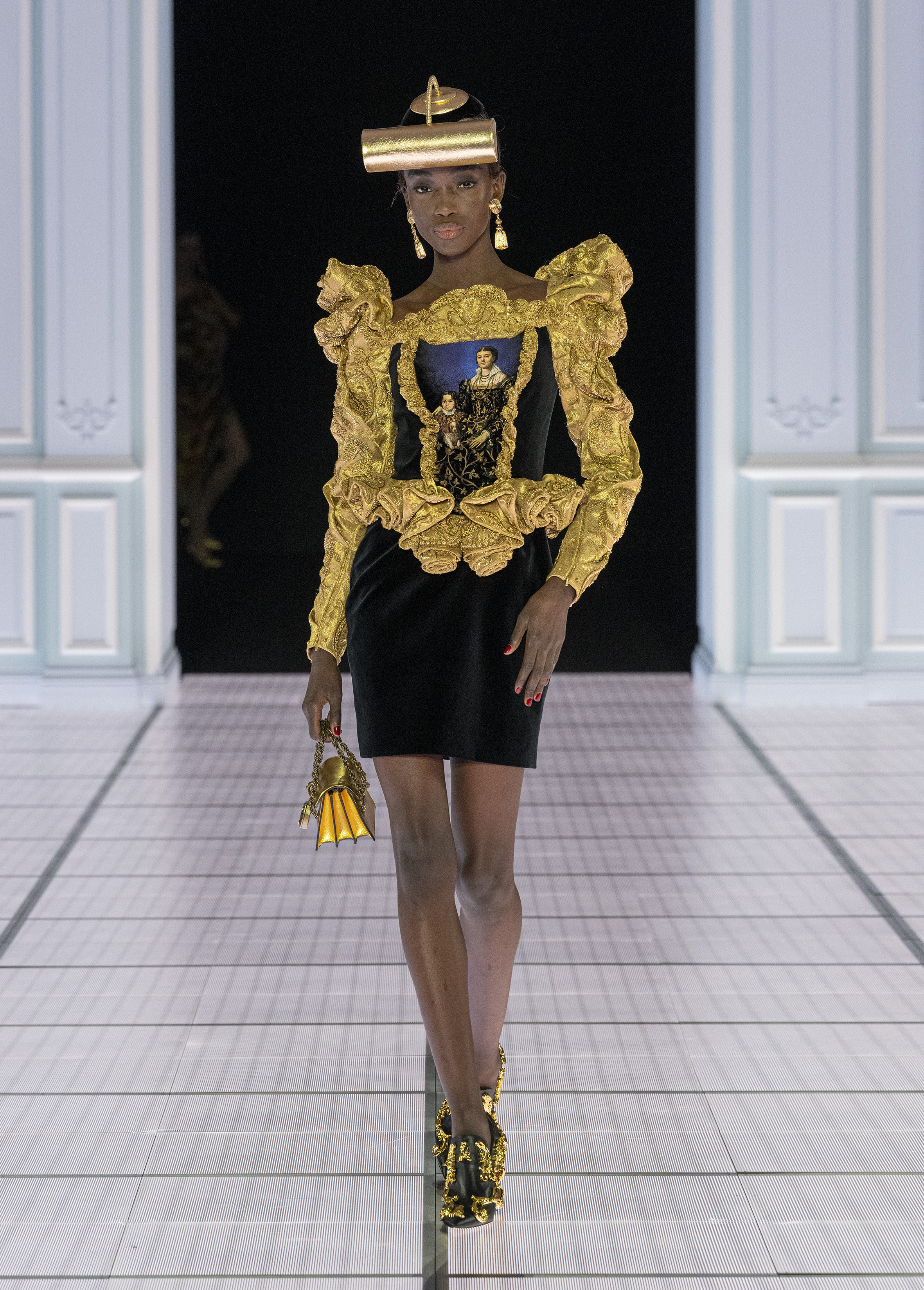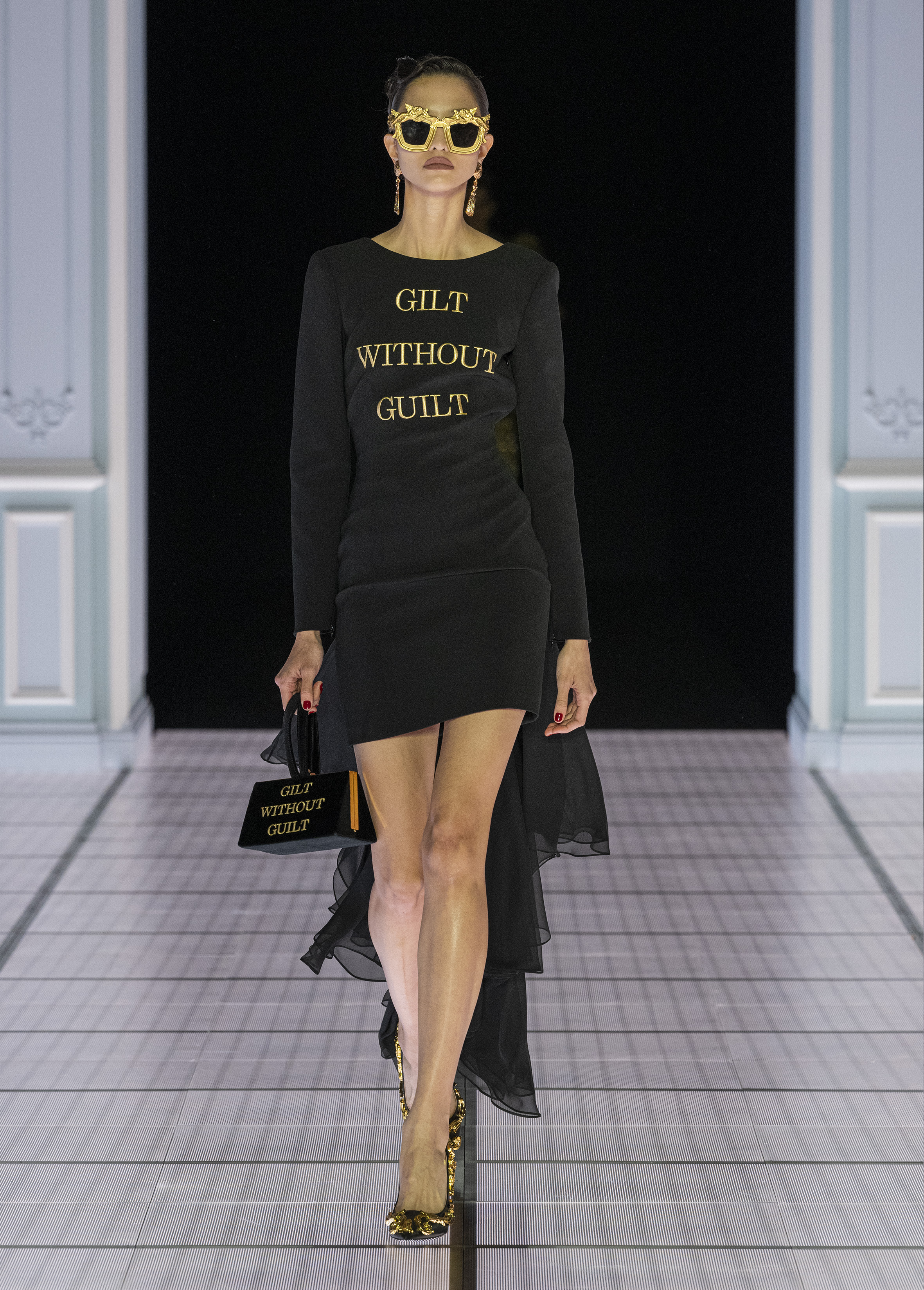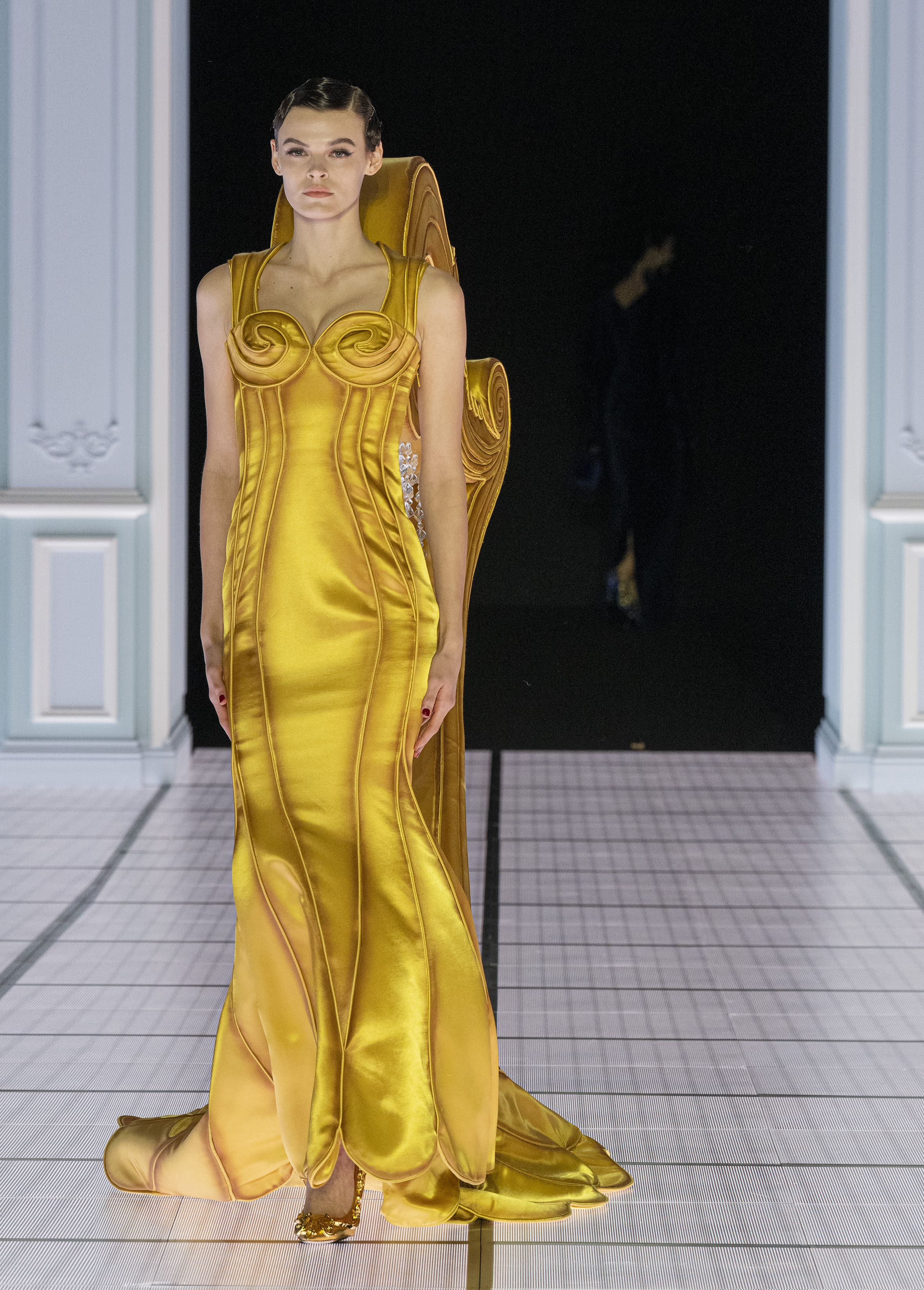 Diesel
We've said it once, and we'll say it again — Glenn Martens is the moment. After presenting knockout shows for Y/Project and Jean Paul Gaultier during Paris Fashion Week Men's and Couture Week respectively, yesterday saw the Belgian designer score a hattrick with his first-ever physical show for Diesel, the Italian lifestyle label he presented his very first collection for just last season. And what a show it was. Staged in a cavernous event space on the city's outskirts, the red-carpeted location was strewn with giant, thotty blow-up dolls, their backs suggestively arched to highlight the micro-minis and whale-tail thongs they sported.
A flair of that energy made itself felt in the collection itself, a Y2K-buffet which featured no shortage of itsy-bitsy belt-strap skirts in denim and leather – the latter bearing giant D-logo hardware, sure to be a hit among the 90s-nostalgic, logomaniac Diesel's calling out to– skin-tight acid wash jeans worn with thigh-high PVC boots, and cropped denim jackets. That overt sexiness was met with a rather more functional, harder edge in the form of motocross-style overalls, and overdyed shearling flight jackets, and flight-pant riffs on Diesel's instantly iconic two-in-one 'joots' (jean-boots, in case you were wondering). This being a Glenn Martens collection, there were naturally also moments allowed for balls-to-the-wall experimentations. Denim separated daubed in peeling marigold and royal blue paint, and a skirt with swerving zippered pleats echoed what you might reasonably expect to see on the Y/Project runway, while a suite of hulking coats in acid-hued shredded denim 'fur' brought a pop of extravagance into the mix. It was clearly a collection Glenn had fun design – and one that we sure as hell had fun seeing come to life. MS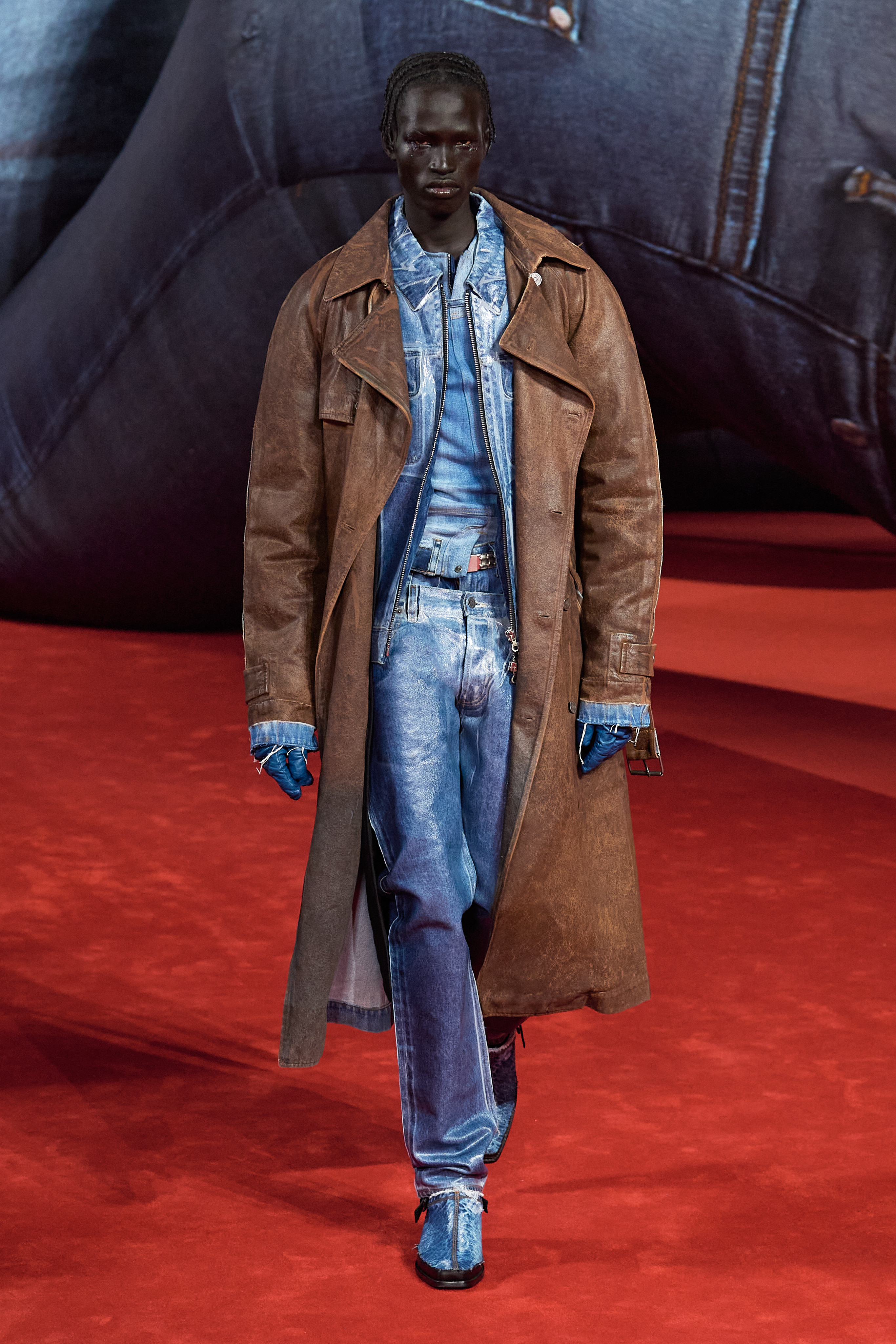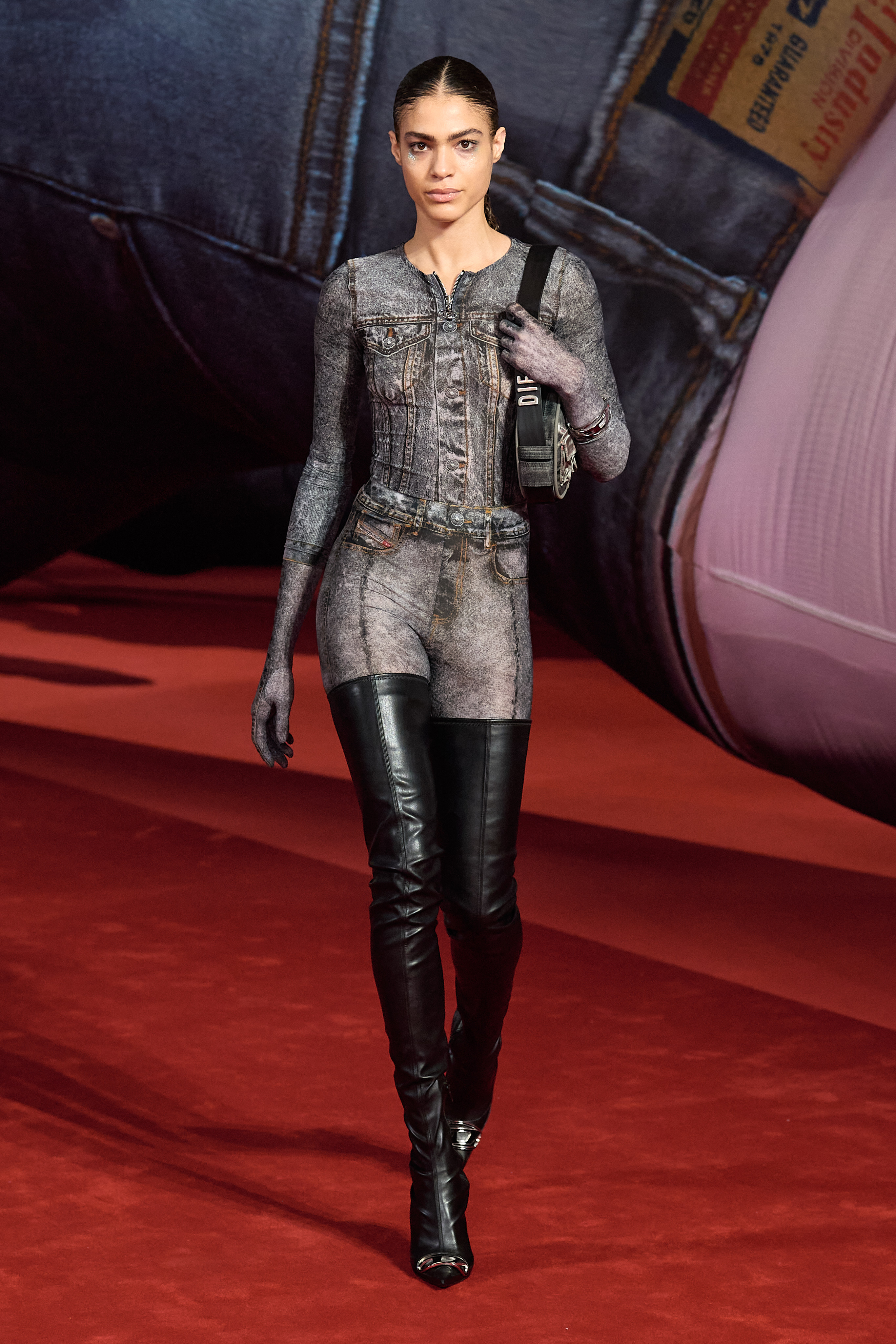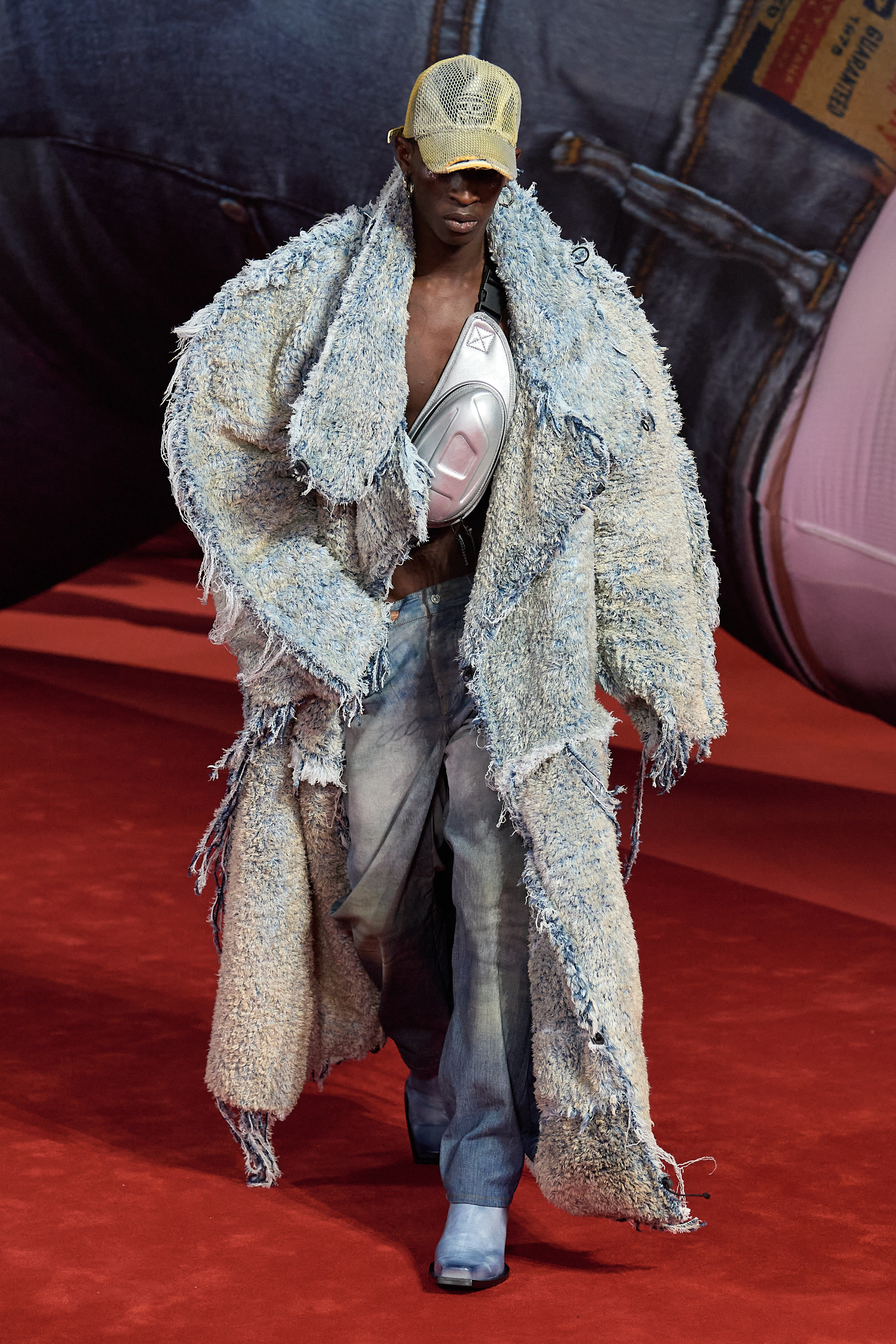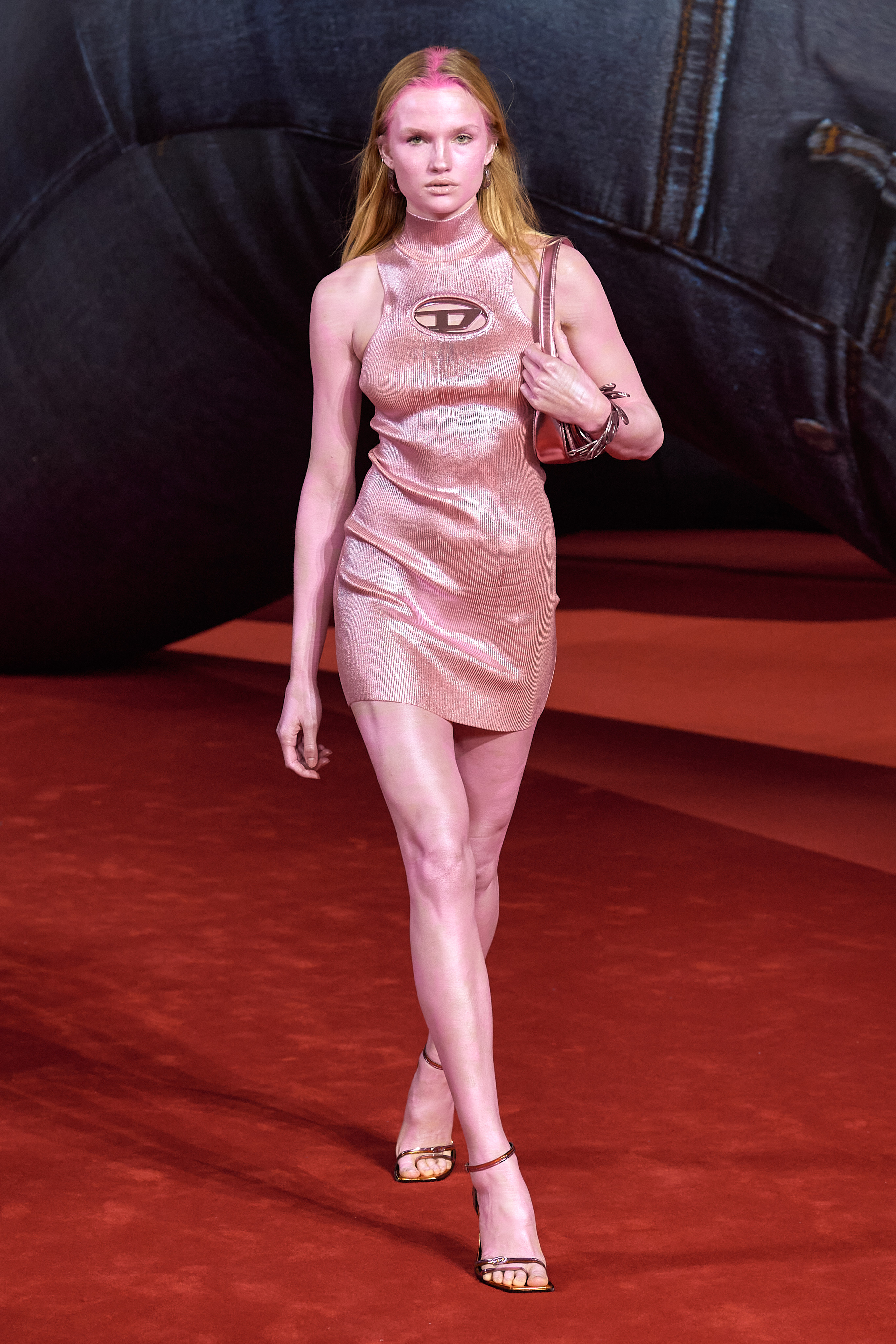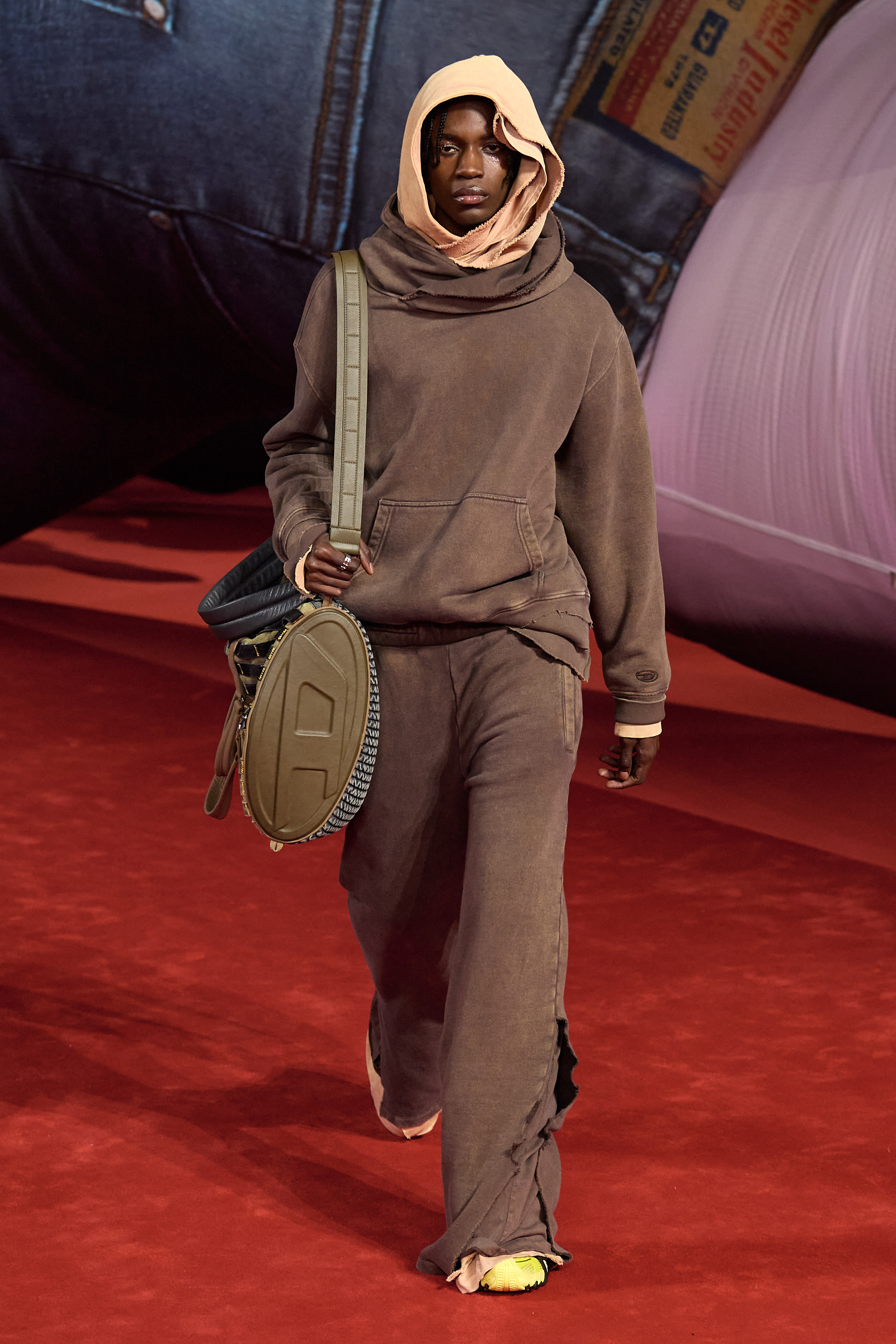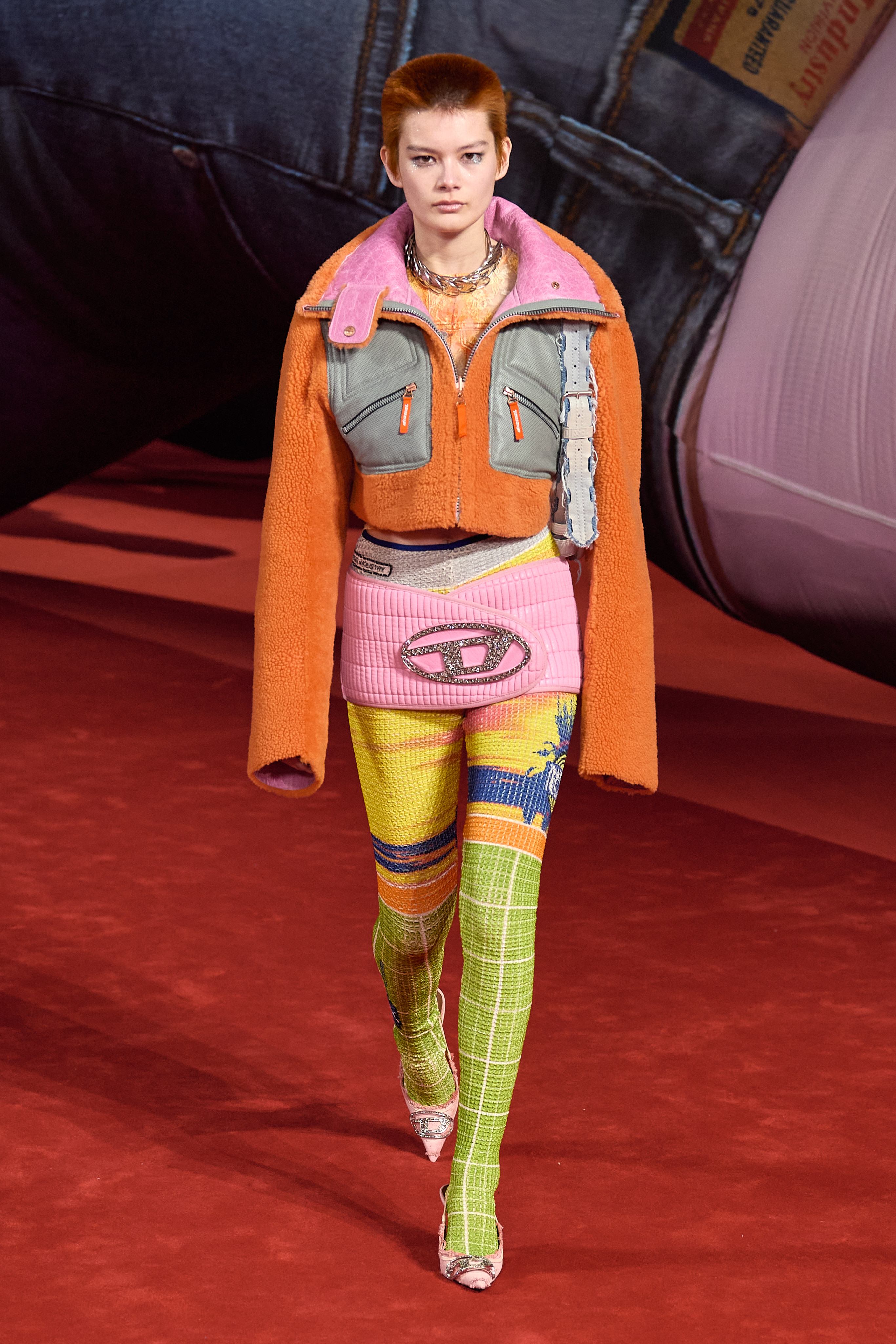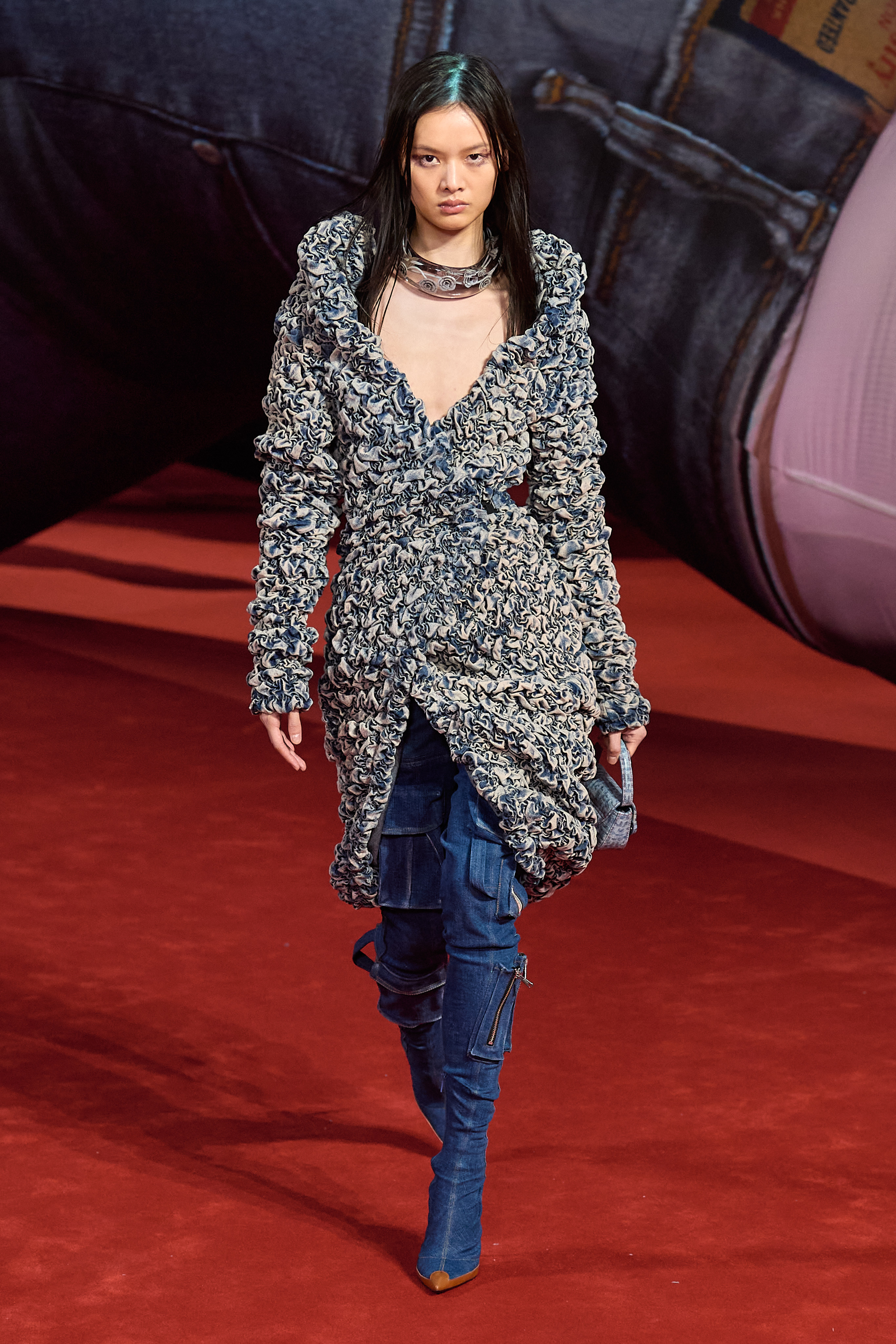 Fendi
Chiffon and concrete! Tough leather tailoring and lingerie! Hand-crafted hardness and delicate softness! Oh, the duality of womanhood! Kim Jones' latest collection for Fendi was a celebration of extreme opposites: the toughness of tailoring and the intimate softness of lingerie; the codes of masculine dress and hyper-femme details; the past and present of a fashion house on the precipice of a new future. It all started when Delfina Delettrez, a fourth-generation Fendi woman who designs the house's jewellery, walked into the design studio wearing a blouse stolen from her mother, Silvia Venturini Fendi. It turned out to be from 1986, from a collection that the late Karl Lagerfeld imprinted with references to his beloved collection of Memphis furniture and design objects. Naturally, Kim brought it up to date — via a prescient dose of Y2K. For the full story, click here to read our full review. OA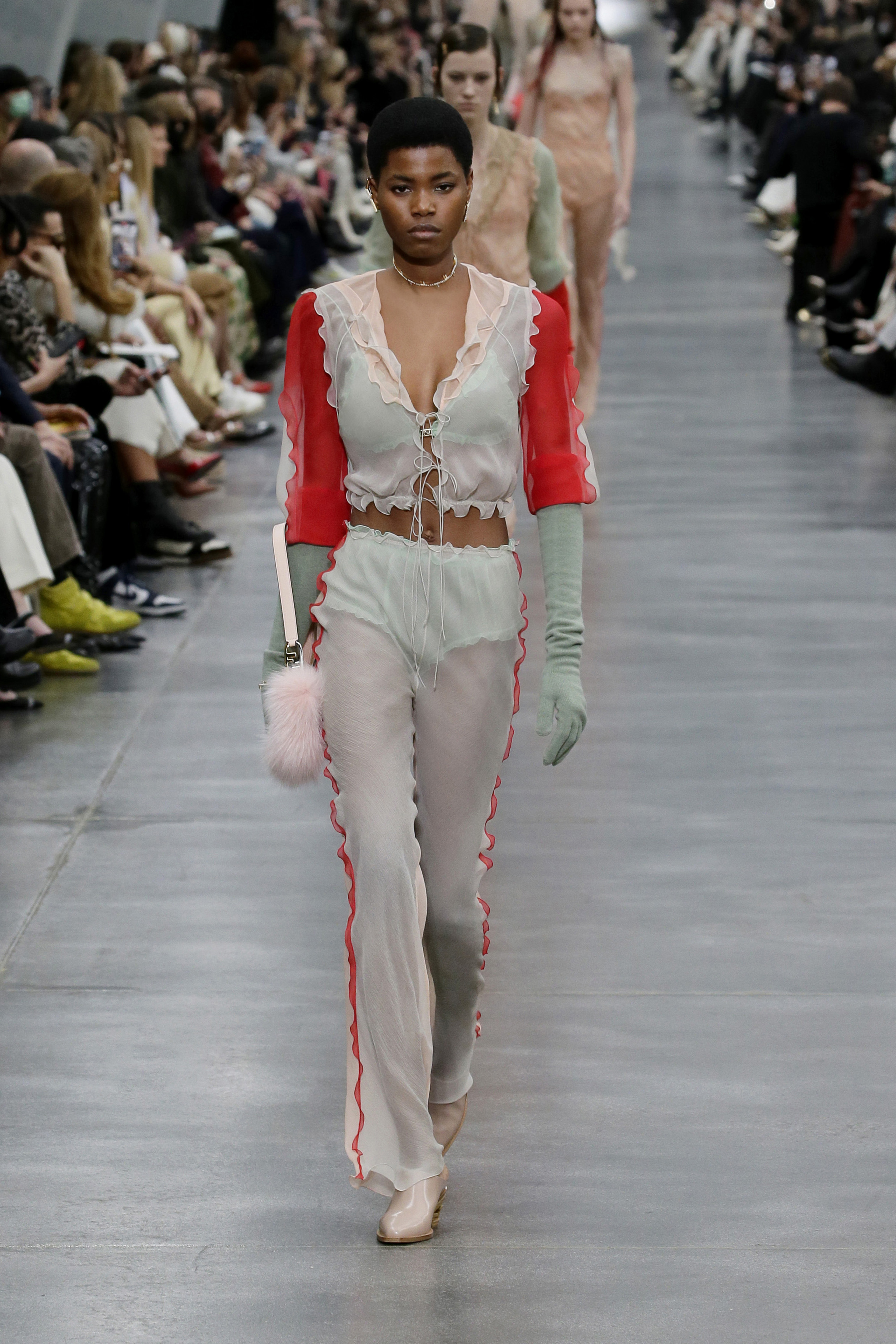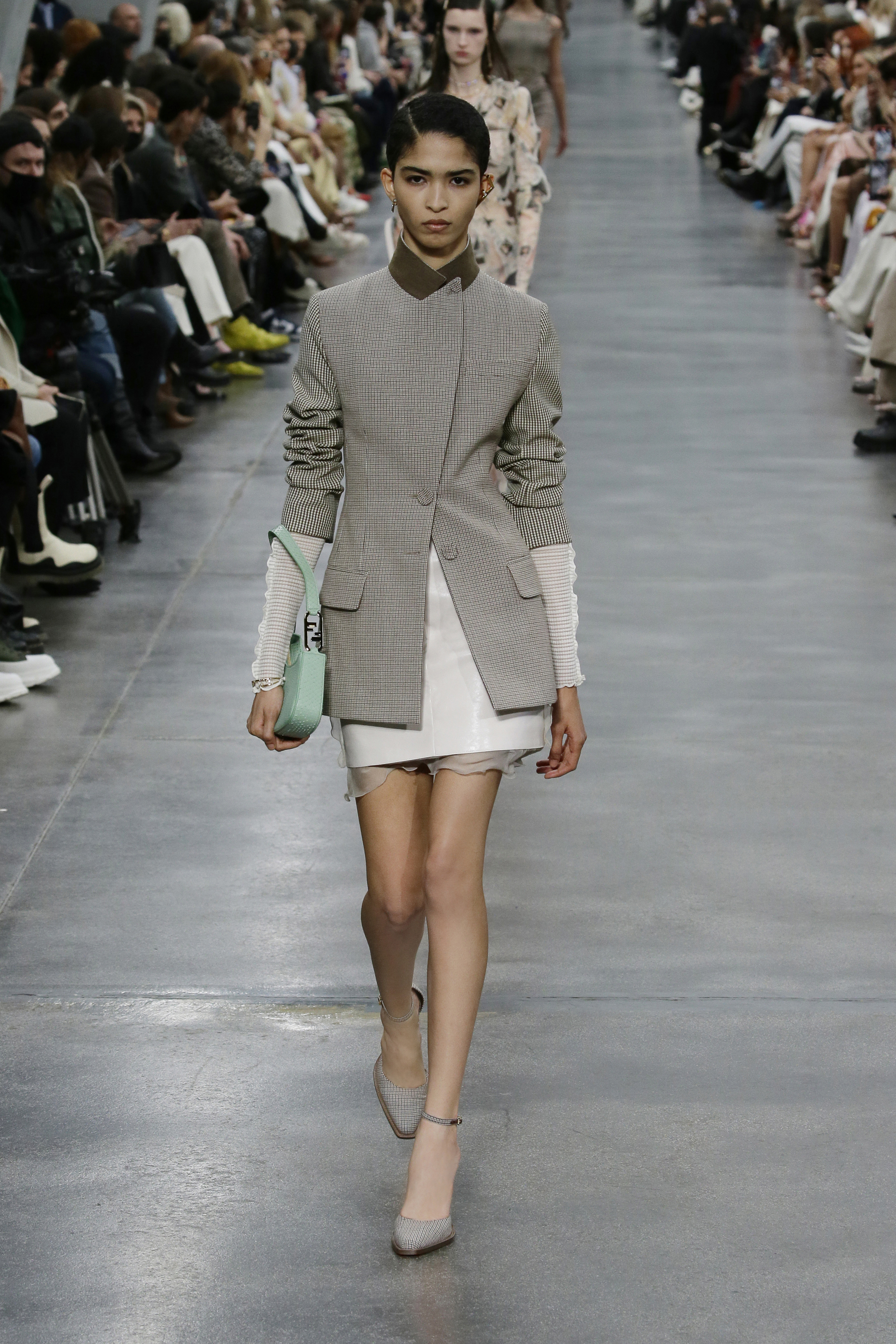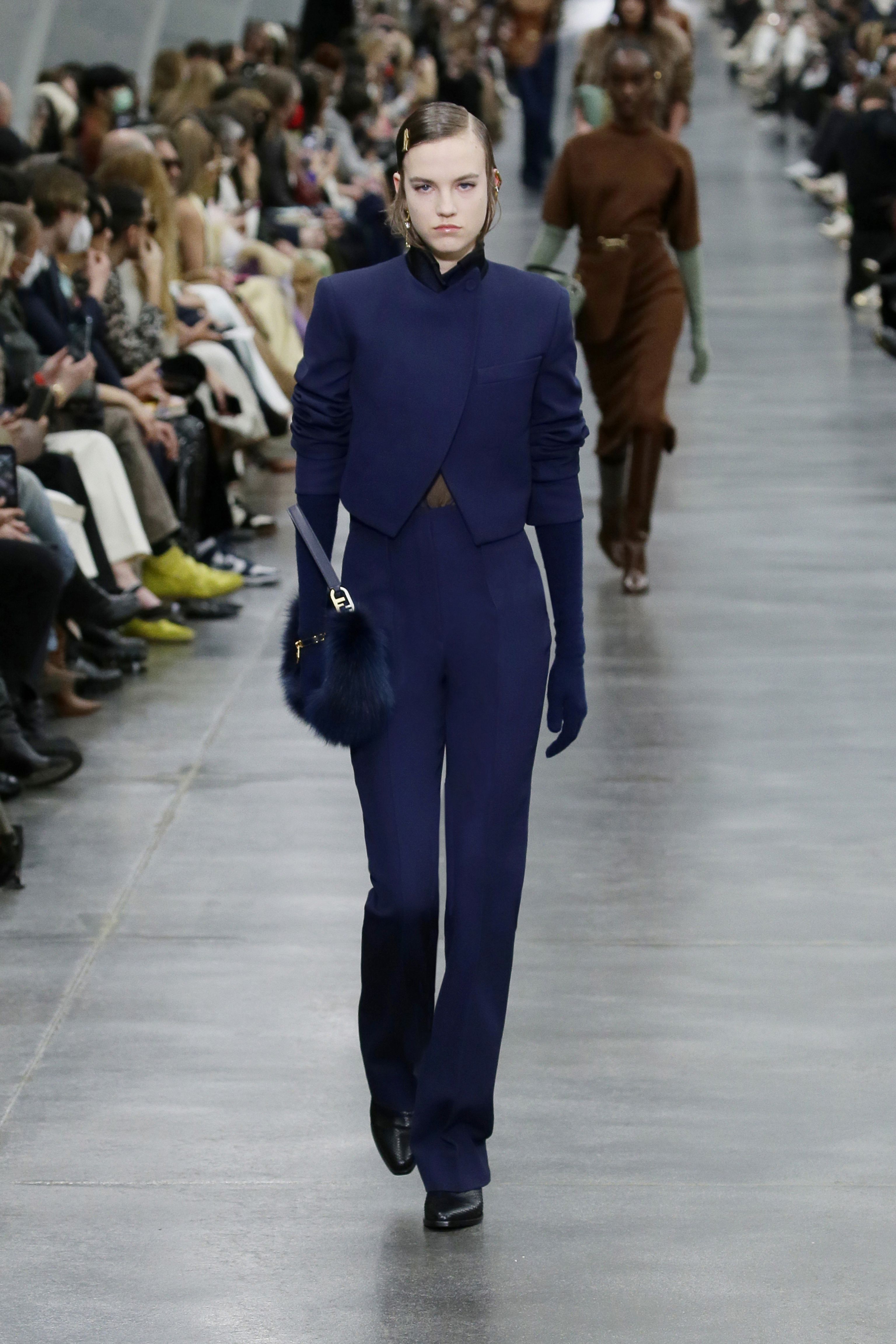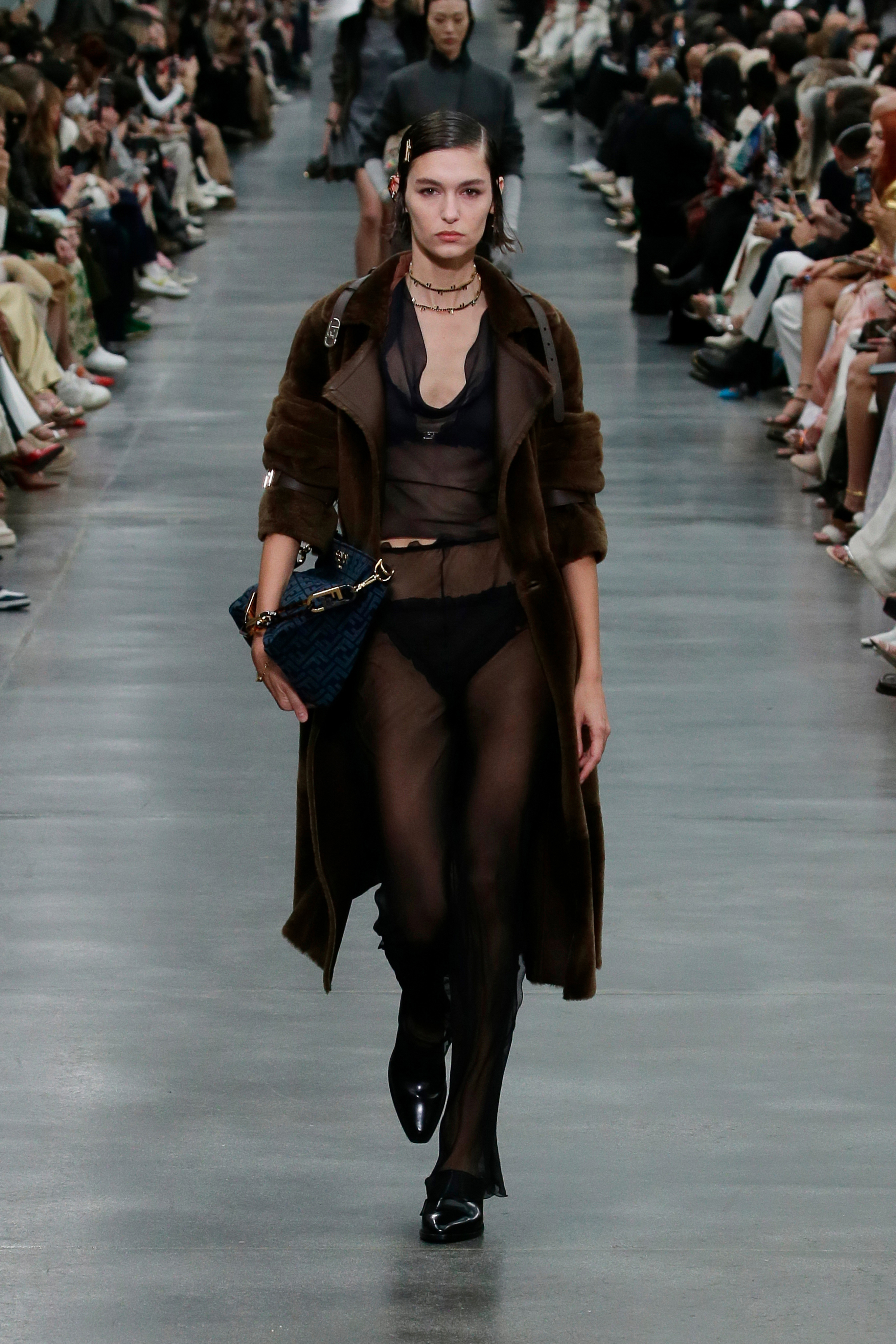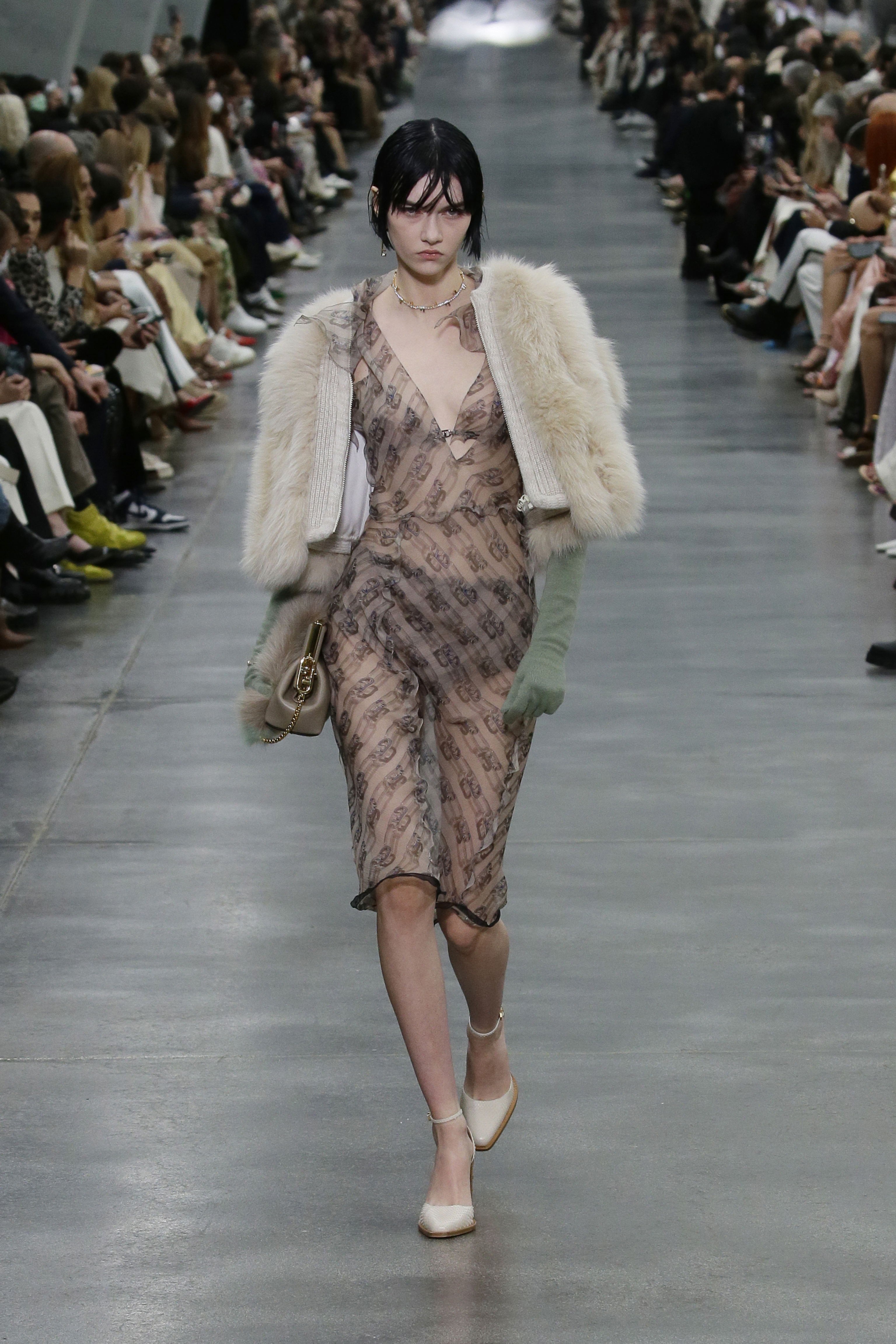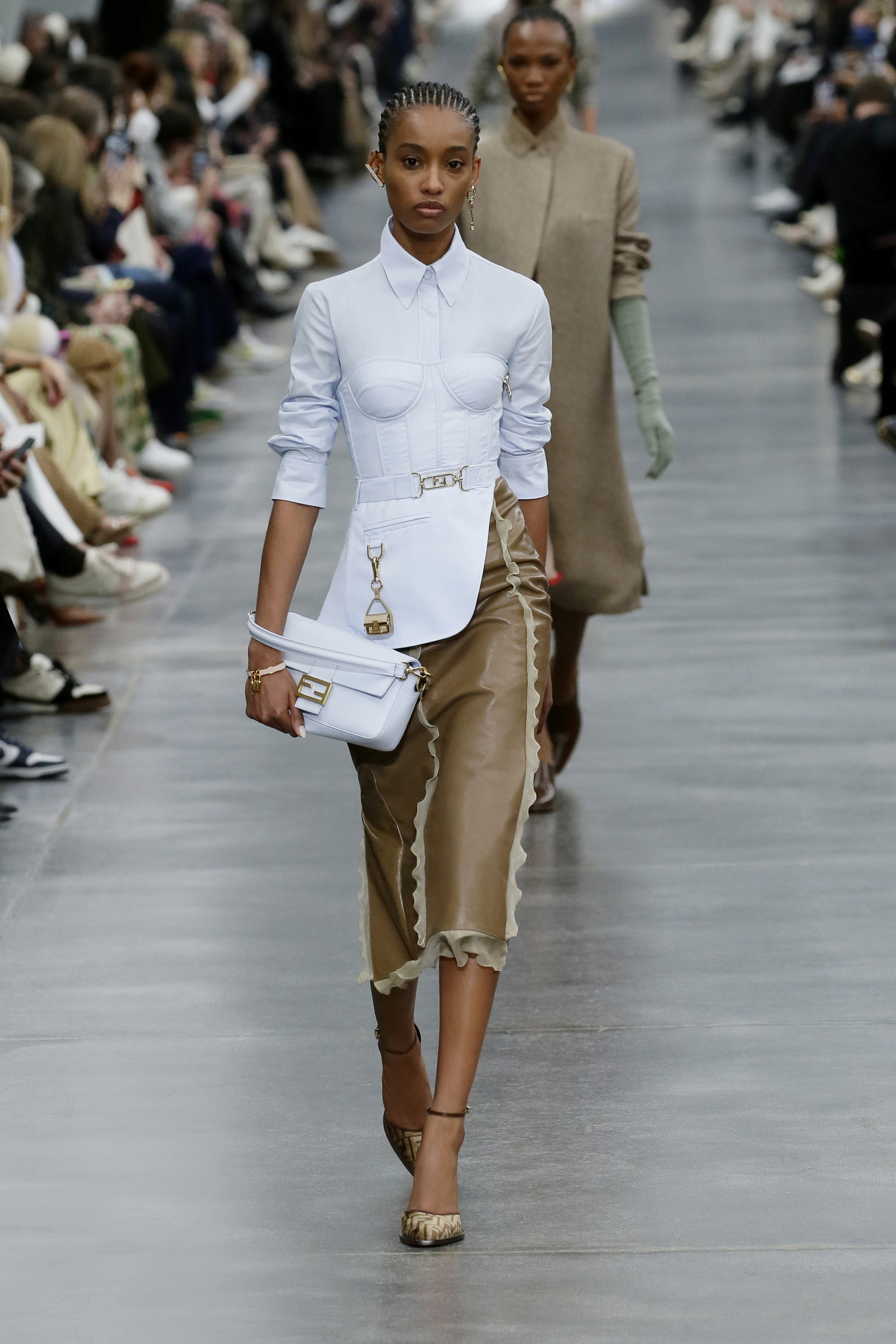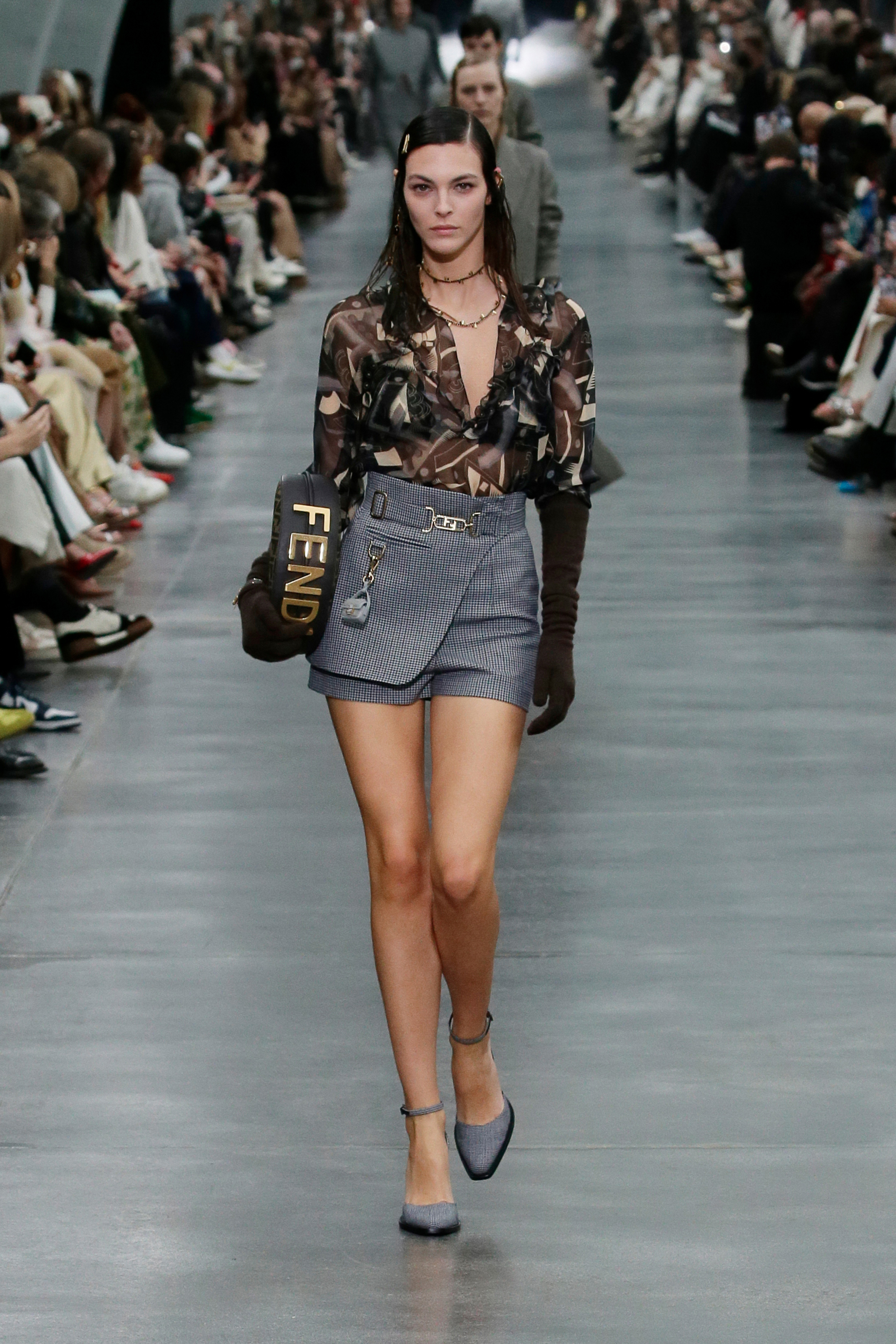 Del Core
Milan isn't necessarily a city you come to looking for new names. In recent seasons, however, one designer, in particular, has been making a convincing case for why that should change. Showing its first collection just a year ago, Del Core, the eponymous label founded by former Gucci designer Daniel Del Core, has wowed audiences at breakneck speed with its resolutely contemporary take on eccentric Italian glamour. The label's AW22 collection, titled Chrysalis Corrosion, was a testament to why; in a far-reaching celebration of craftsmanship, that encompassed everything from quadrilateral shouldered tailoring; an kaleidoscopic printed knit jumpsuit; a trailing split-back wool coat with hulking, linebacker sleeveheads; and gossamer gowns with stoned bishop sleeves that exploded at the wrist. That sense of heady romance was tempered by looks that brought a gritty cool into the mix – mini-dresses with suspender loops, from which extended hems sometimes hung; a domme-y PVC coat; thigh-high leather boots – as well as by the dazzling cast, with i-D faves Mona Tougaard and Adut Akech only amplifying the sparkle of the clothes. All in all, it made for a collection that showed bright hopes for a new generation of talent in Milan, with Del Core shining a light and leading the way. MS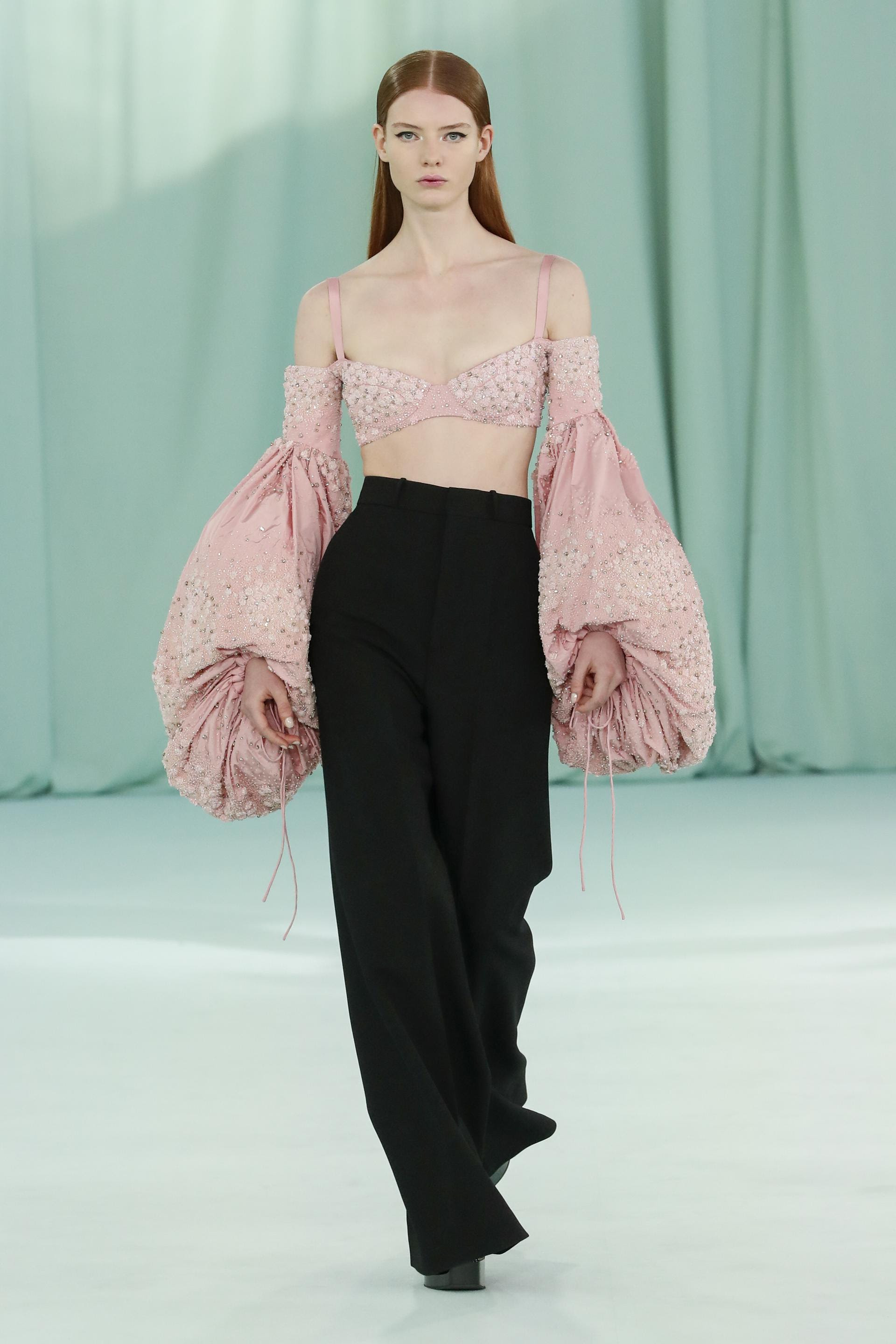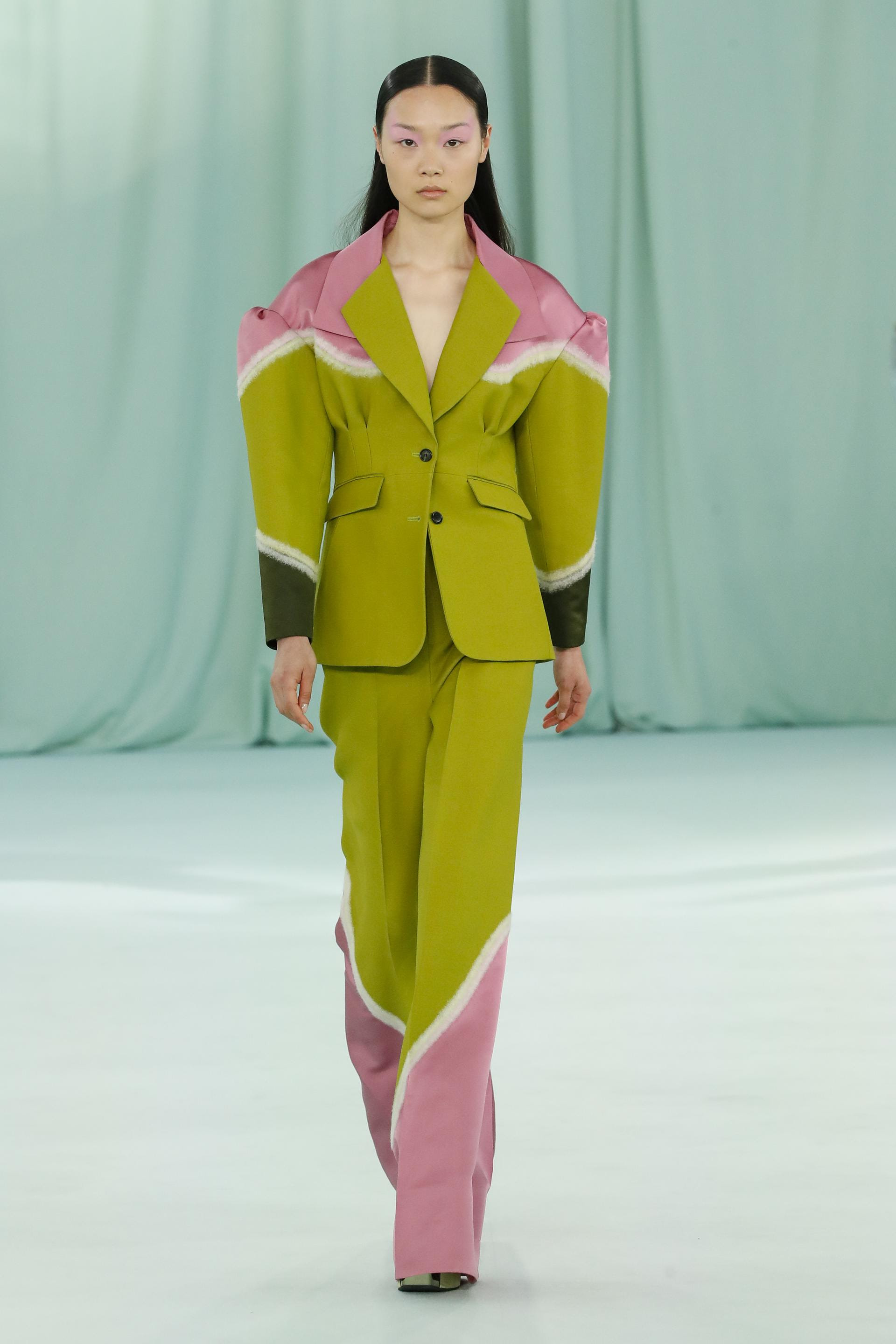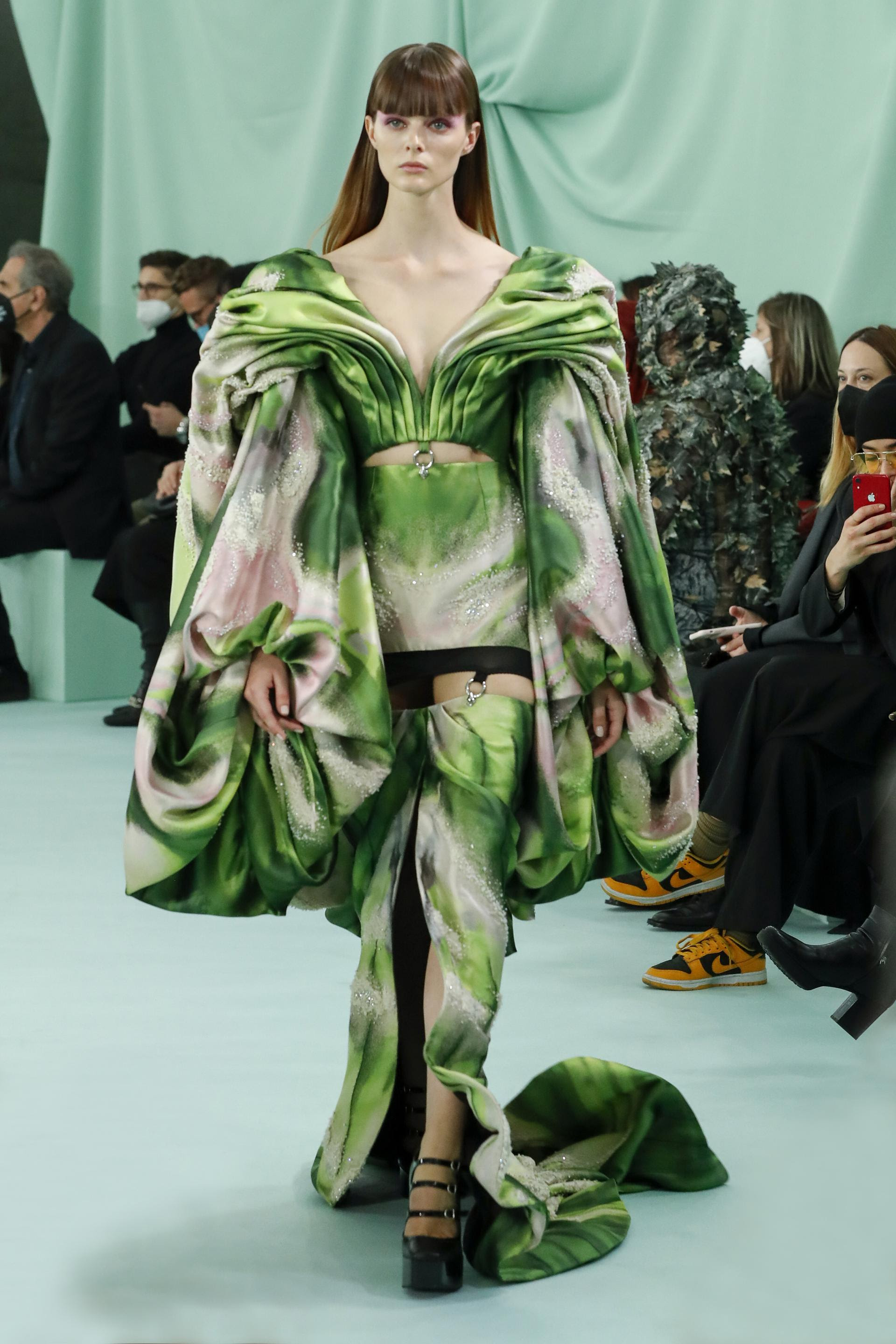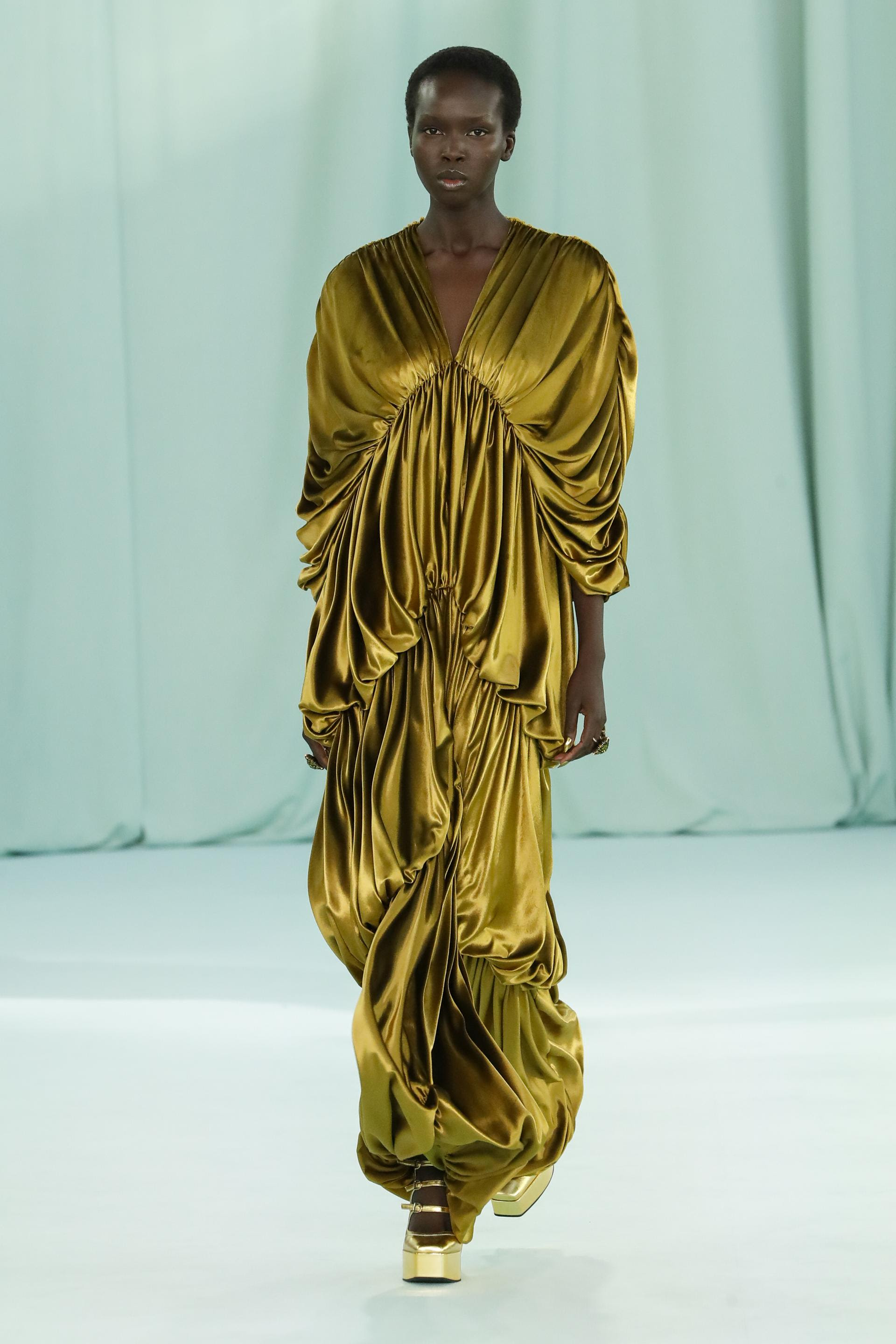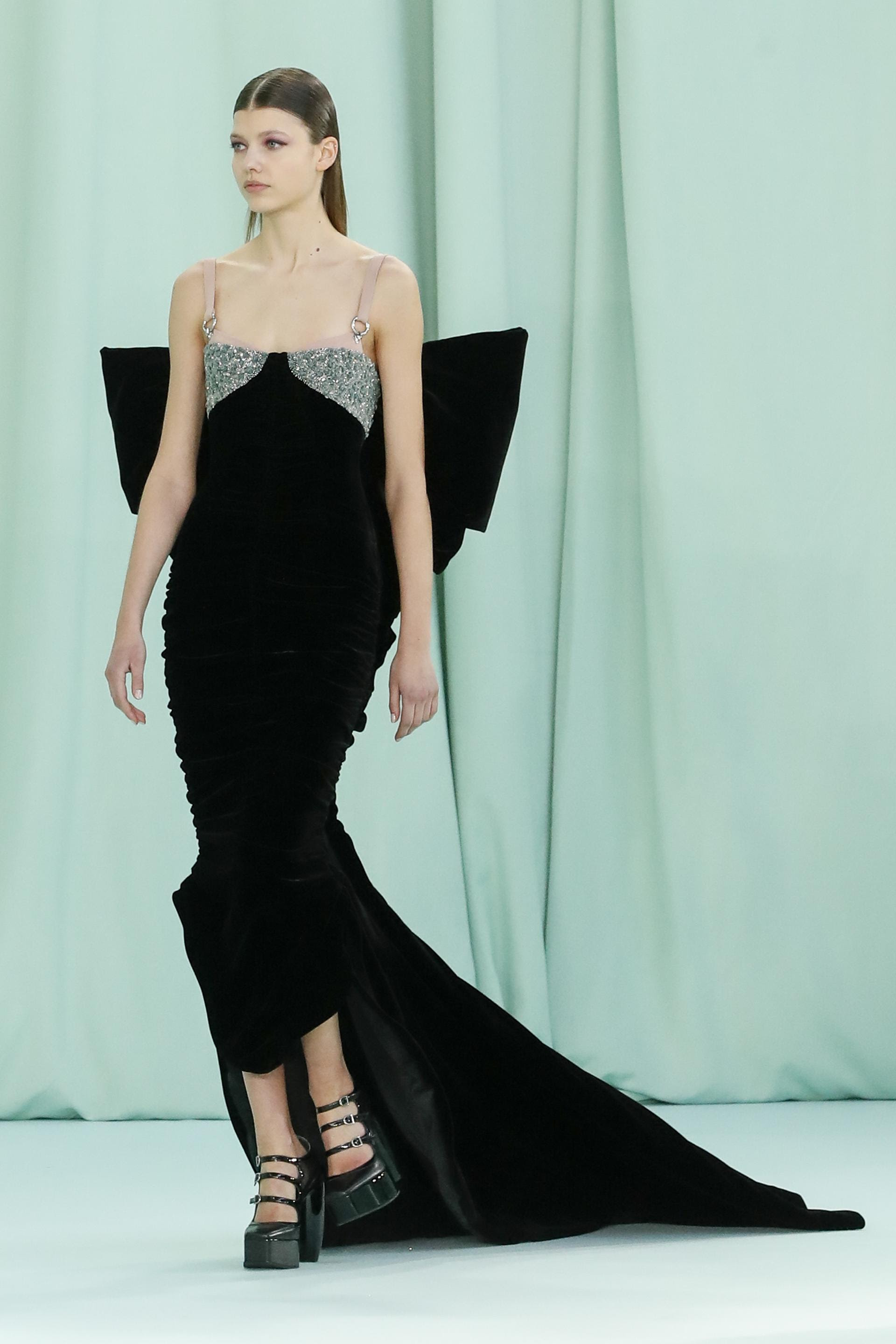 Gucci Love Parade Campaign
Of course, one of the most hotly anticipated moments of this week is the long-awaited return of Gucci to the Milan Fashion Week schedule. While we're not able to shed any light on what lies in store for their show tomorrow, the house has been kind enough to tide us over till then by launching its campaign for Love Parade, the collection that capped off its centenary year, presented live on Hollywood Boulevard, The campaign, shot by Mert Alas and Marcus Piggot, echoes the narrative of the collection and show itself – the idea of cinema as an inherently, with actors figuring as demi-gods within its pantheon – starring Beanie Feldstein, Deng Lun, Jared Leto, JJ Lee, Liu Wen, Miley Cyrus and Snoop Dogg, all candidly snapped during a lavish Bacchanalian soirée. With what's set to come on Friday, we're sure there'll be more to celebrate. MS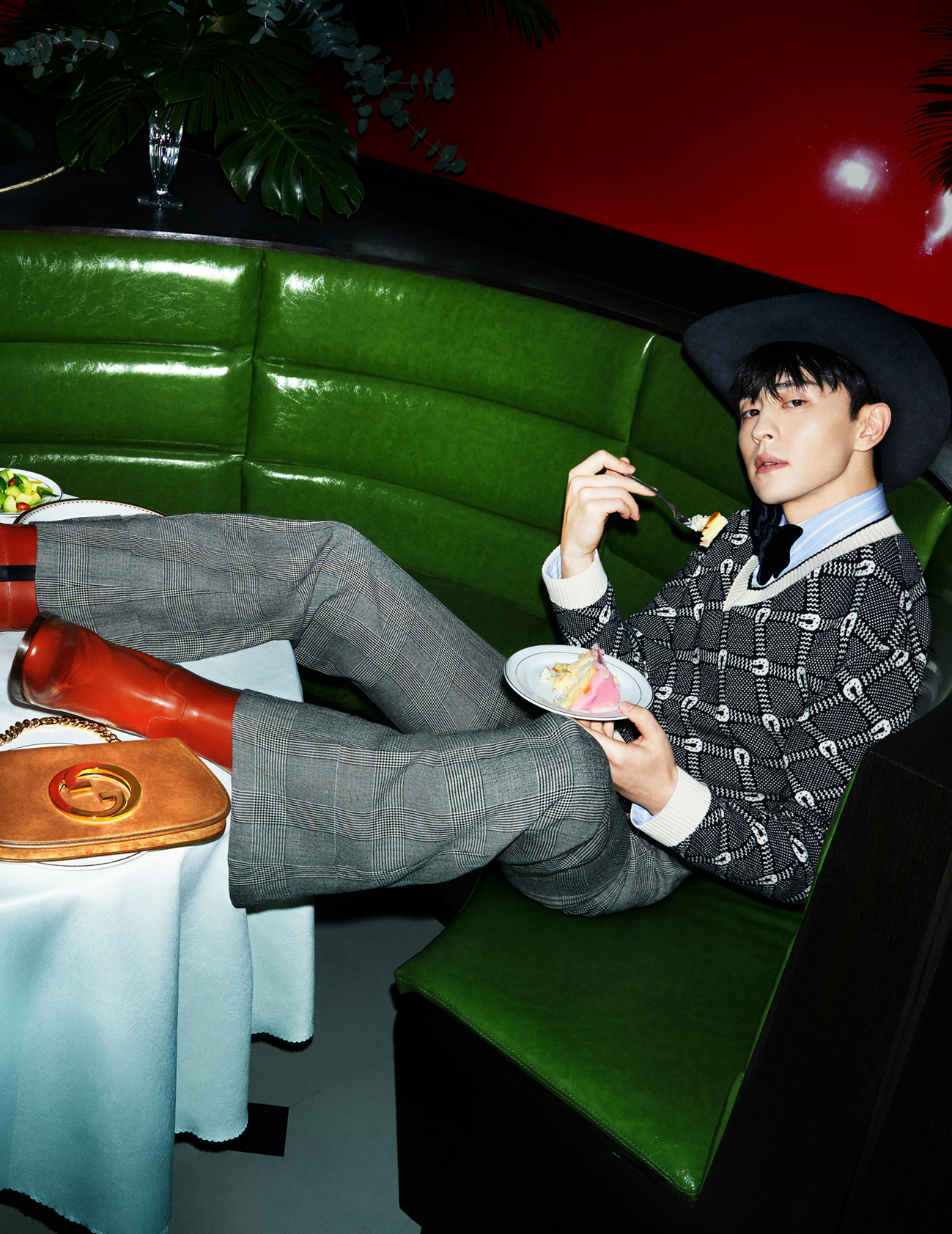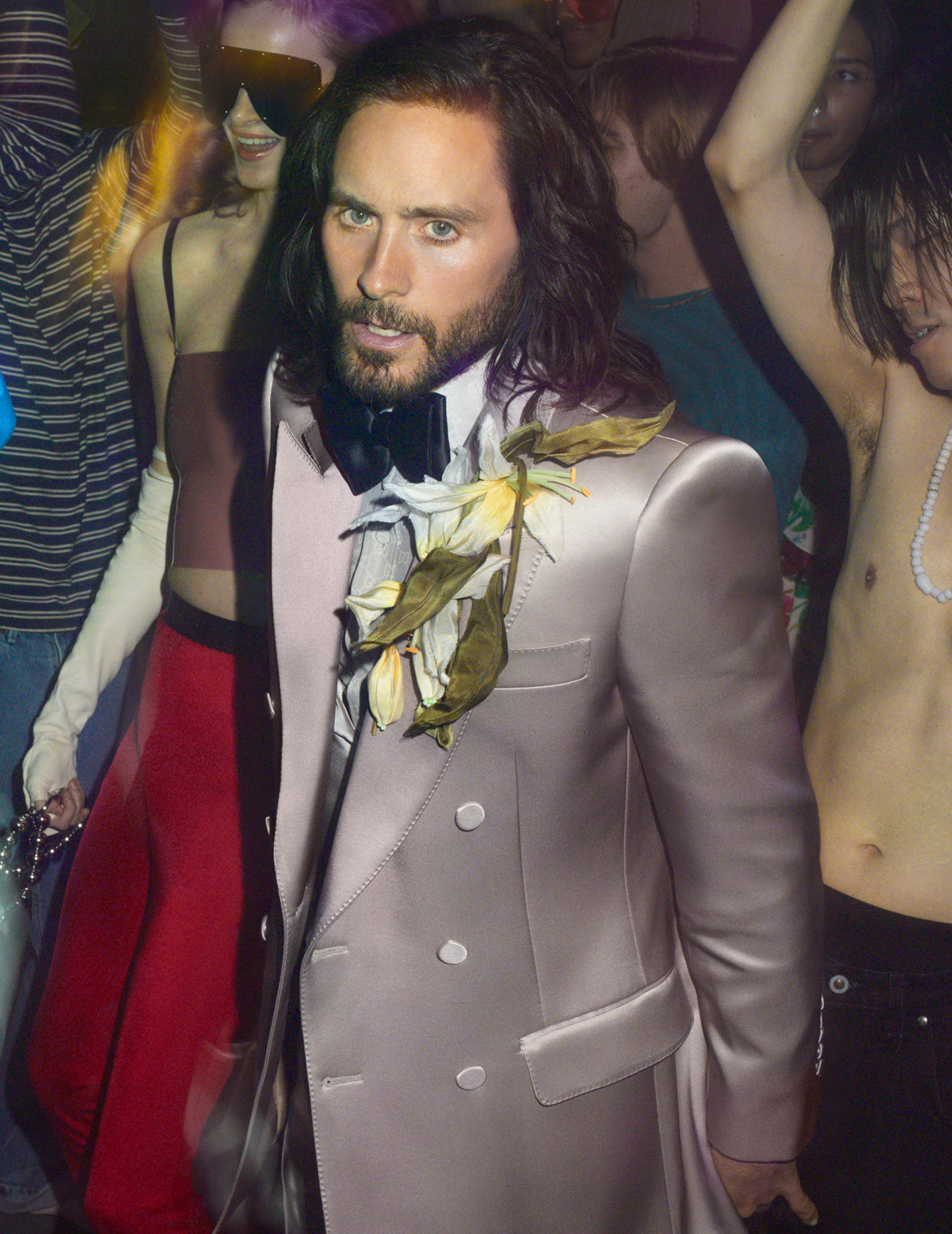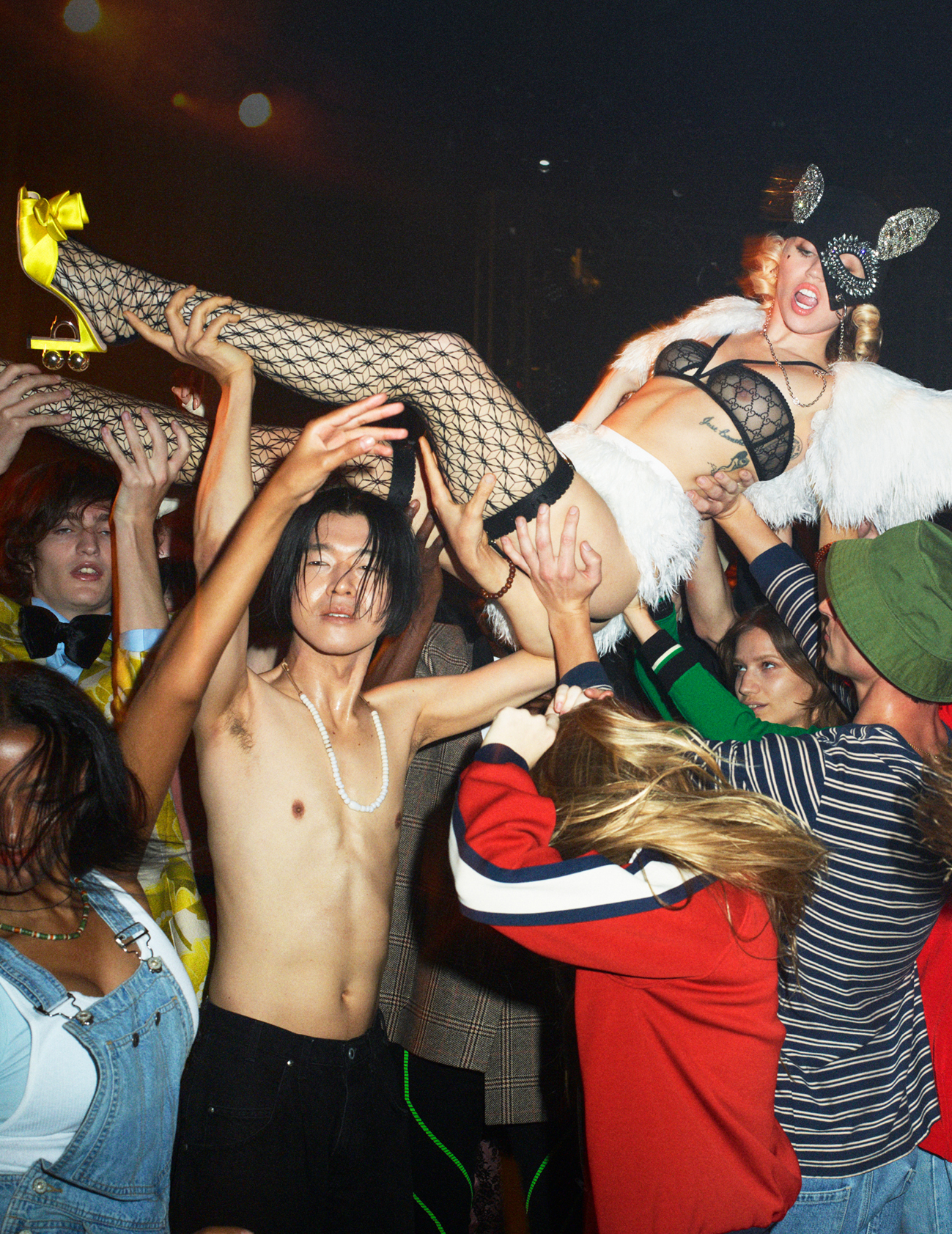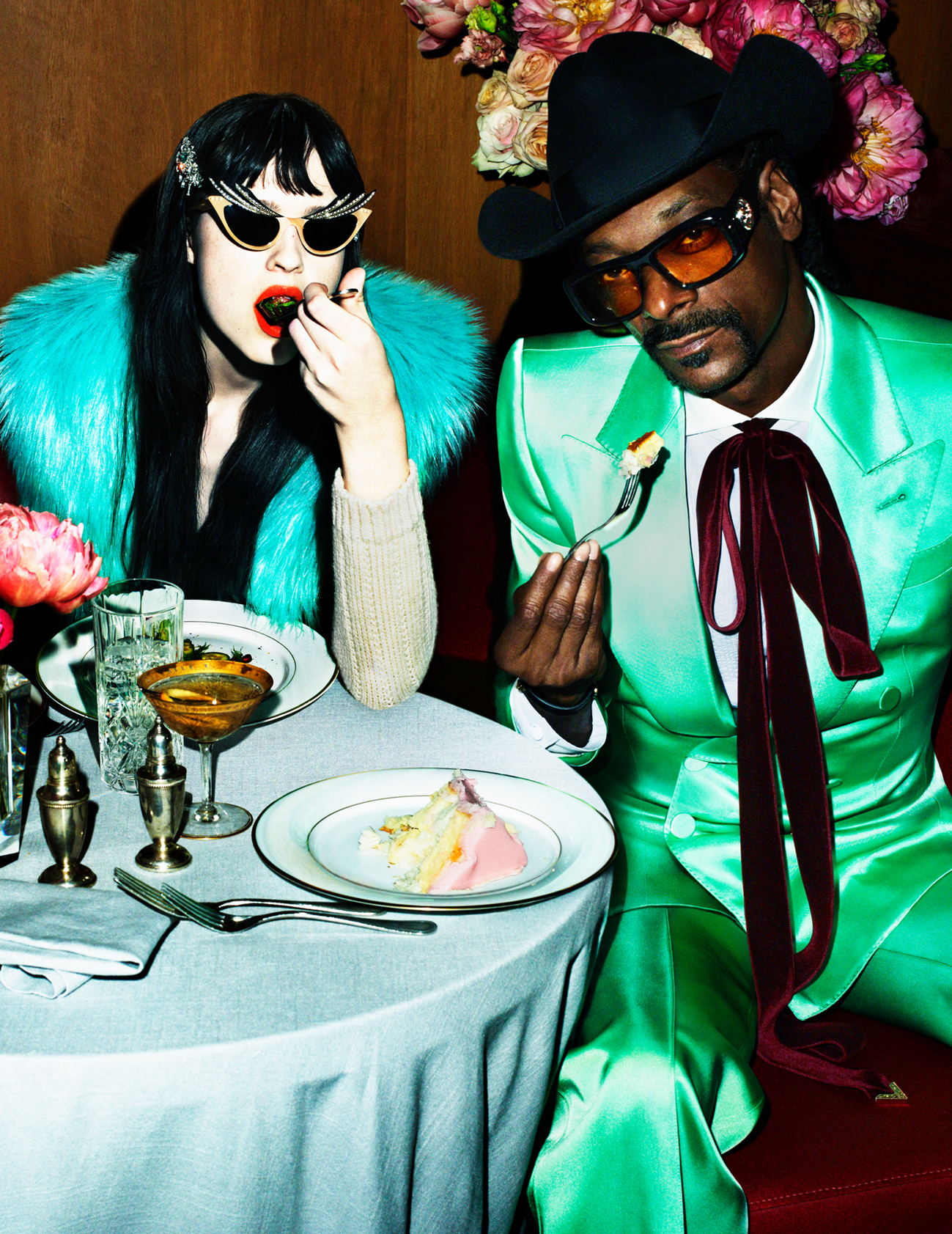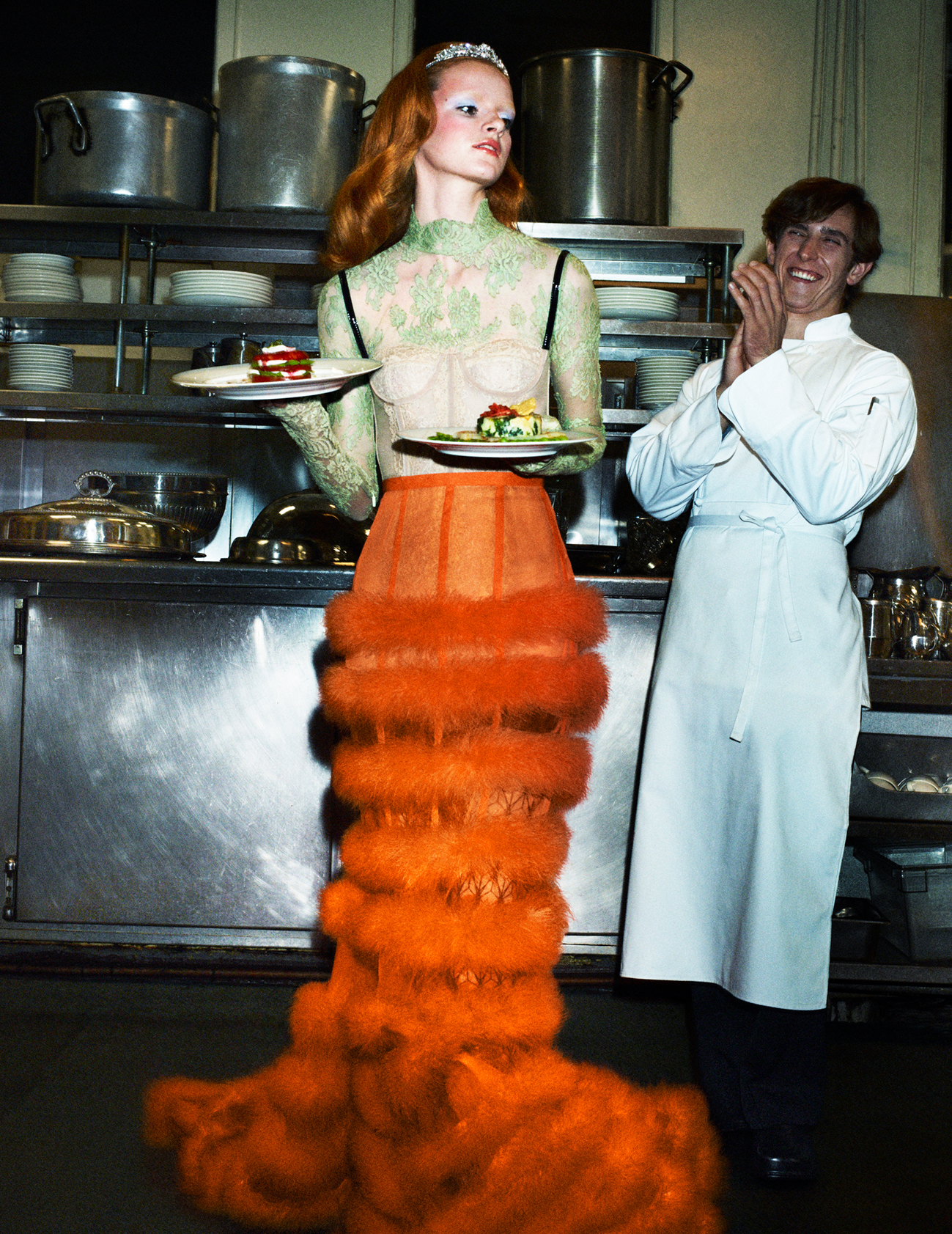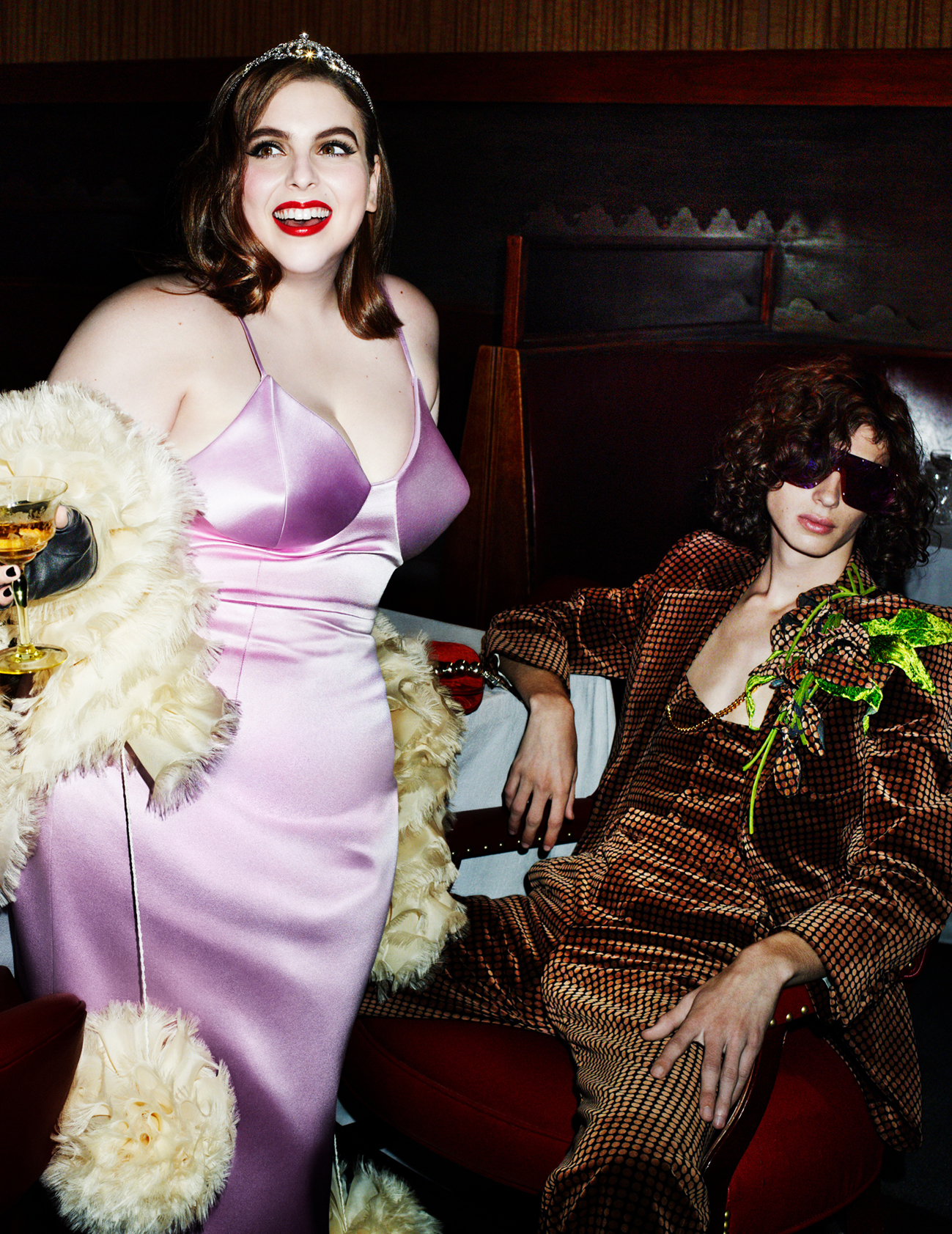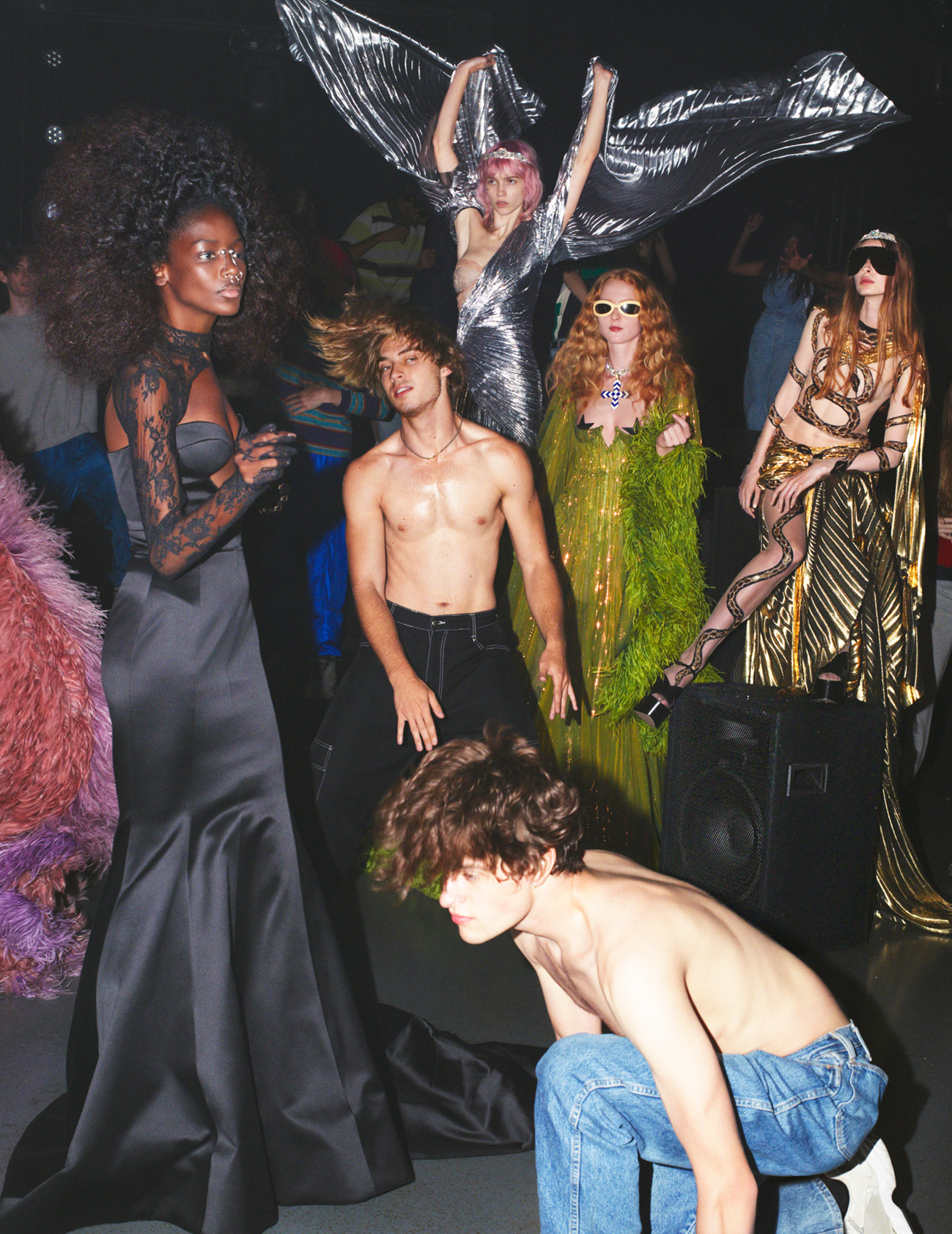 Raf Simons
Last season Raf Simons' collection pushed towards a kind of genderless ambiguity; it looked to the ascetic formalism of religious orders and their monochromatic and mournful colours and shapes, as if his model's were performing the last rite's for the youth cultures of Raf's own youth. At this stage of Raf's work with Miuccia at Prada, it might be apt to ask what not just what he has brought to the Italian house — which is obvious — but also what Miuccia has brought to him. And that, most obvious in this collection, was a sense of heightened elegance. The intensity is there, as it's always been, it's just shifted towards a new silhouette.
The opening two looks set the tone for this, a visored hat that draped down into an expansive deep blue wool cape, clutched at the chest. Elsewhere backpacks also expanded into cape-like proportions, or capes were worn back to front, or the hats from those opening looks, shorn of their capes, became furry visors. More than anything it resembled a ceremonial uniform from some obscure sci-fi. Even the chairs that made up the set – along with a huge chandelier – were elegantly draped in deep red fabric.
There was a hint of that stereotypical Raf print — splashed across blazers — but really this was Raf at his most Prada-esque, turning it towards something a bit more sinister in making it his own. So rather than pushing for anything too thematically restrictive — there were no show notes or quotes or explanations — it was focused on the clothes, their shape and silhouette and possibly most importantly, what they were made of, which seemed to be everything. The clothes came layered, starting skinny and long, and building up weight and shape through coats, caps, capes; it was predominantly black but rooted in those very Raf purples and greens, oranges. There were clashes of texture between the velvets, leathers, nylons, vinyls, wools and cottons, that seemed to bring each look alive. Those combinations were the heart of this collection, and maybe too at the heart of what is most interesting about Raf's work at the moment, which is his ability to find strange and serene new angles on the iconoclasm of his youth.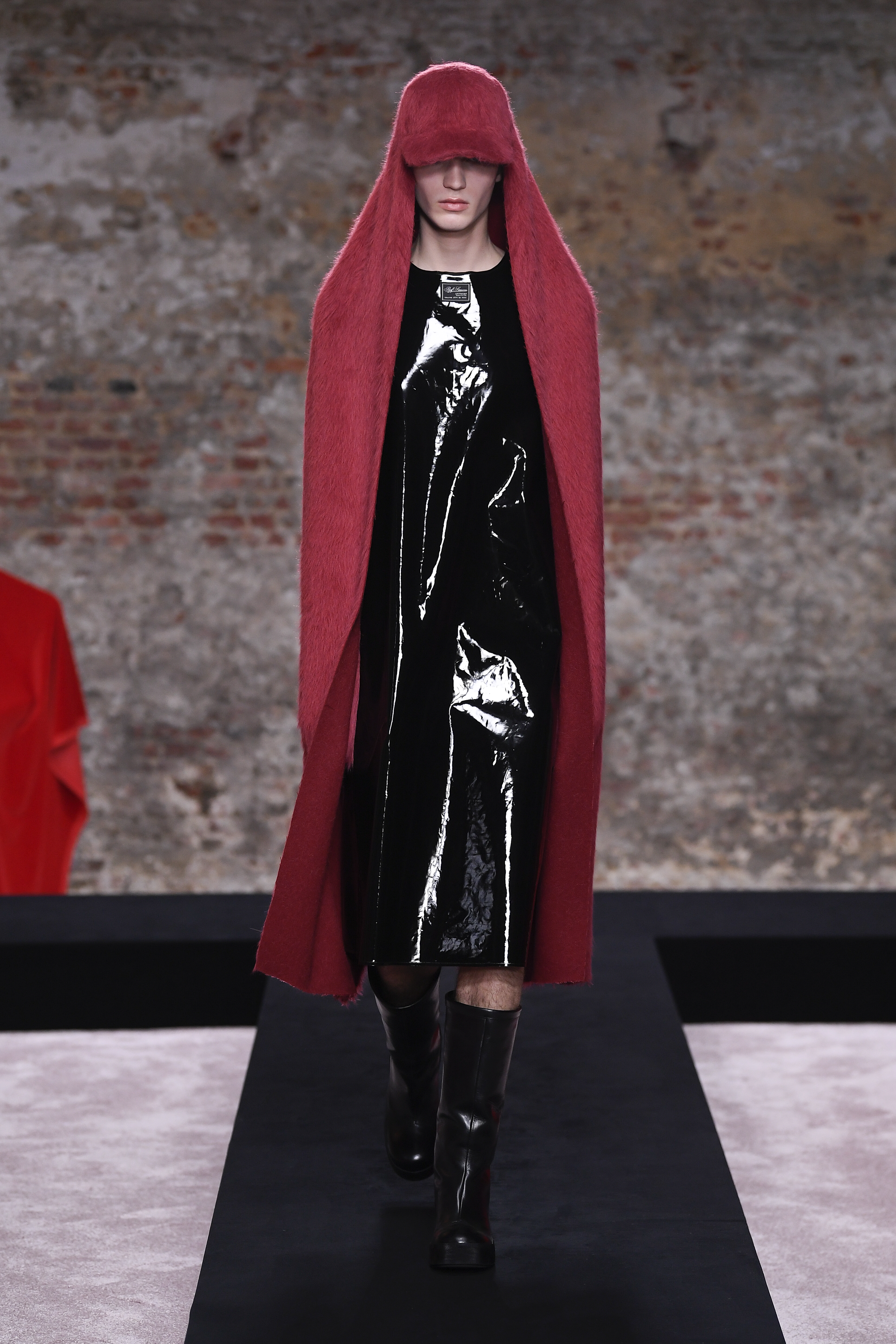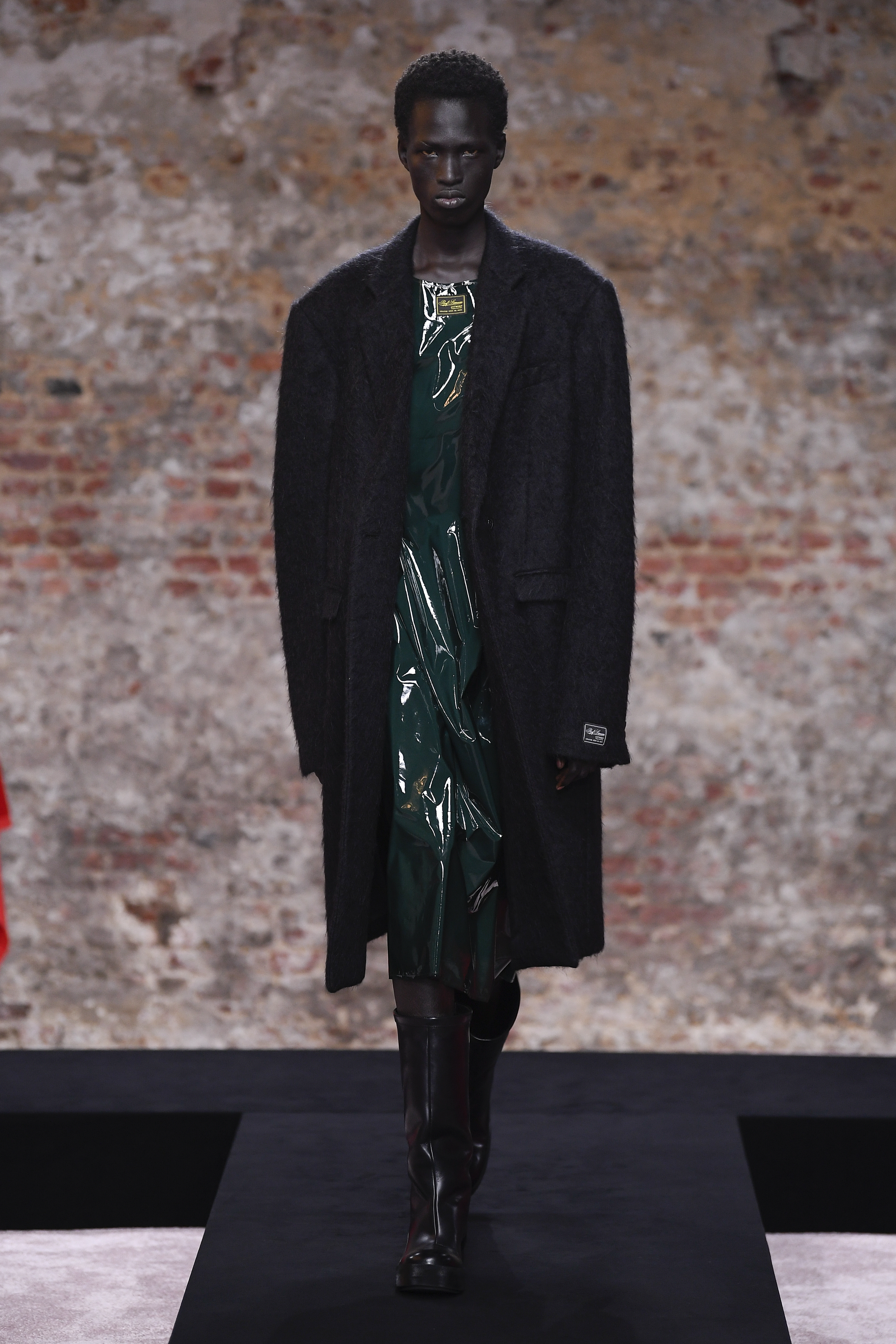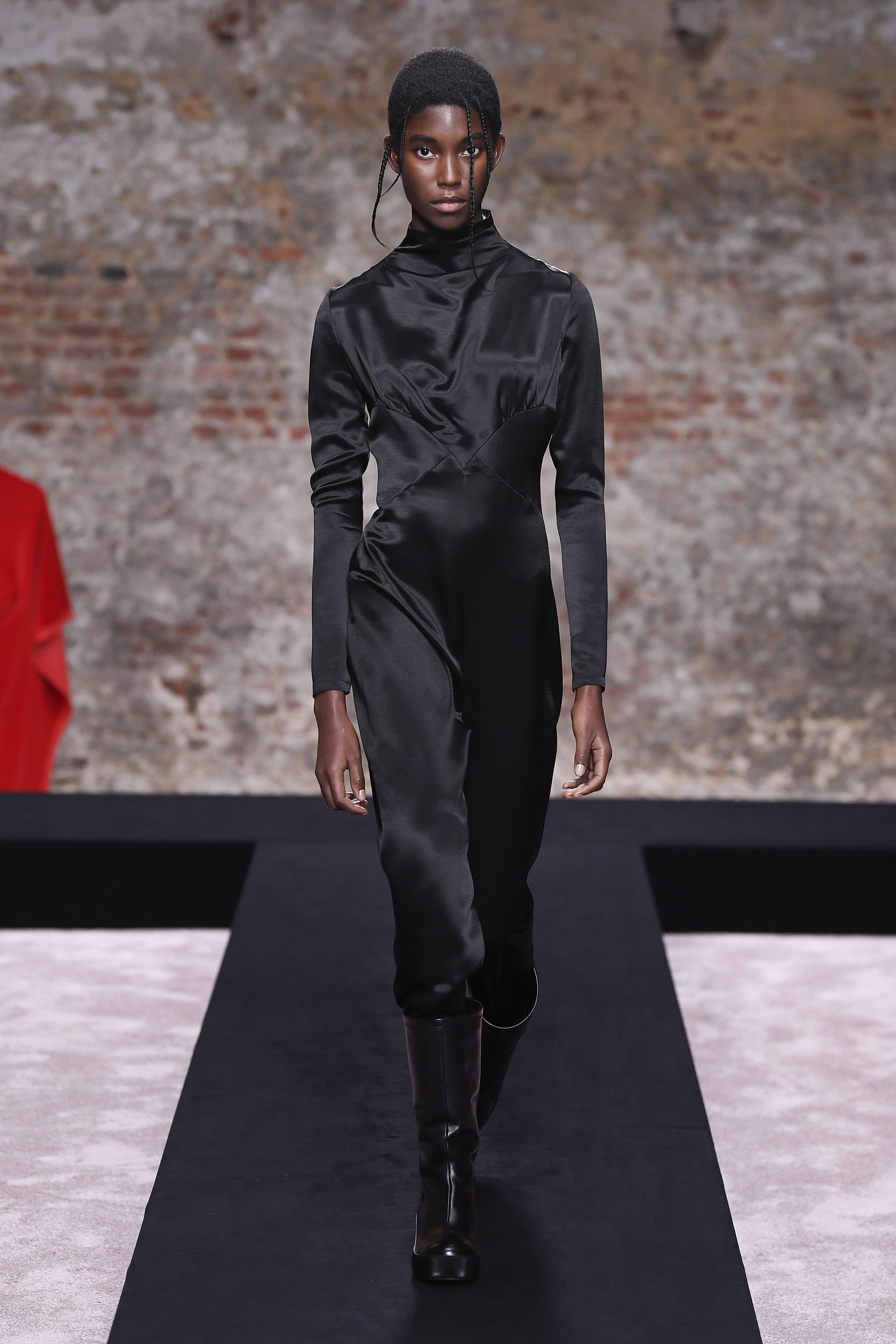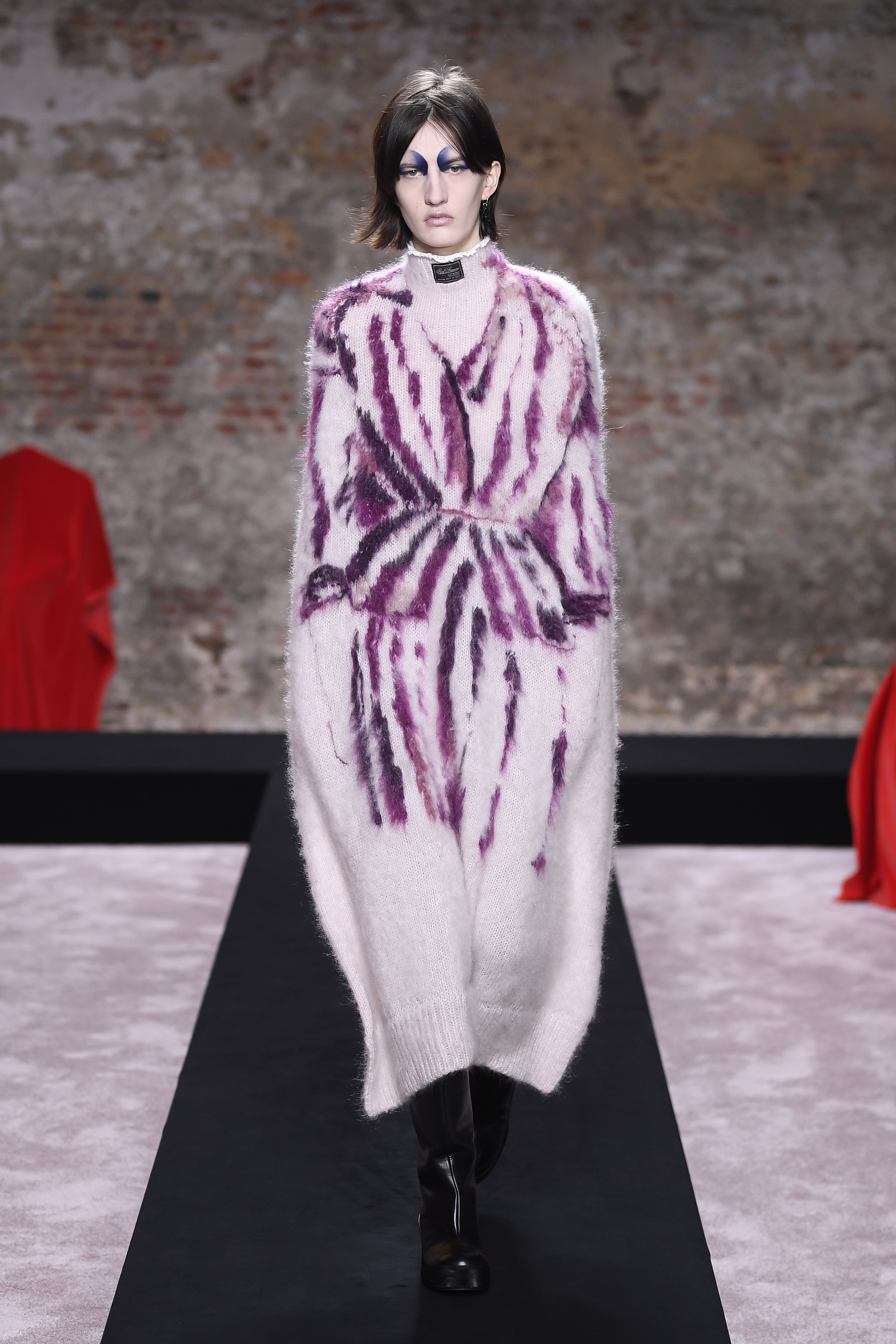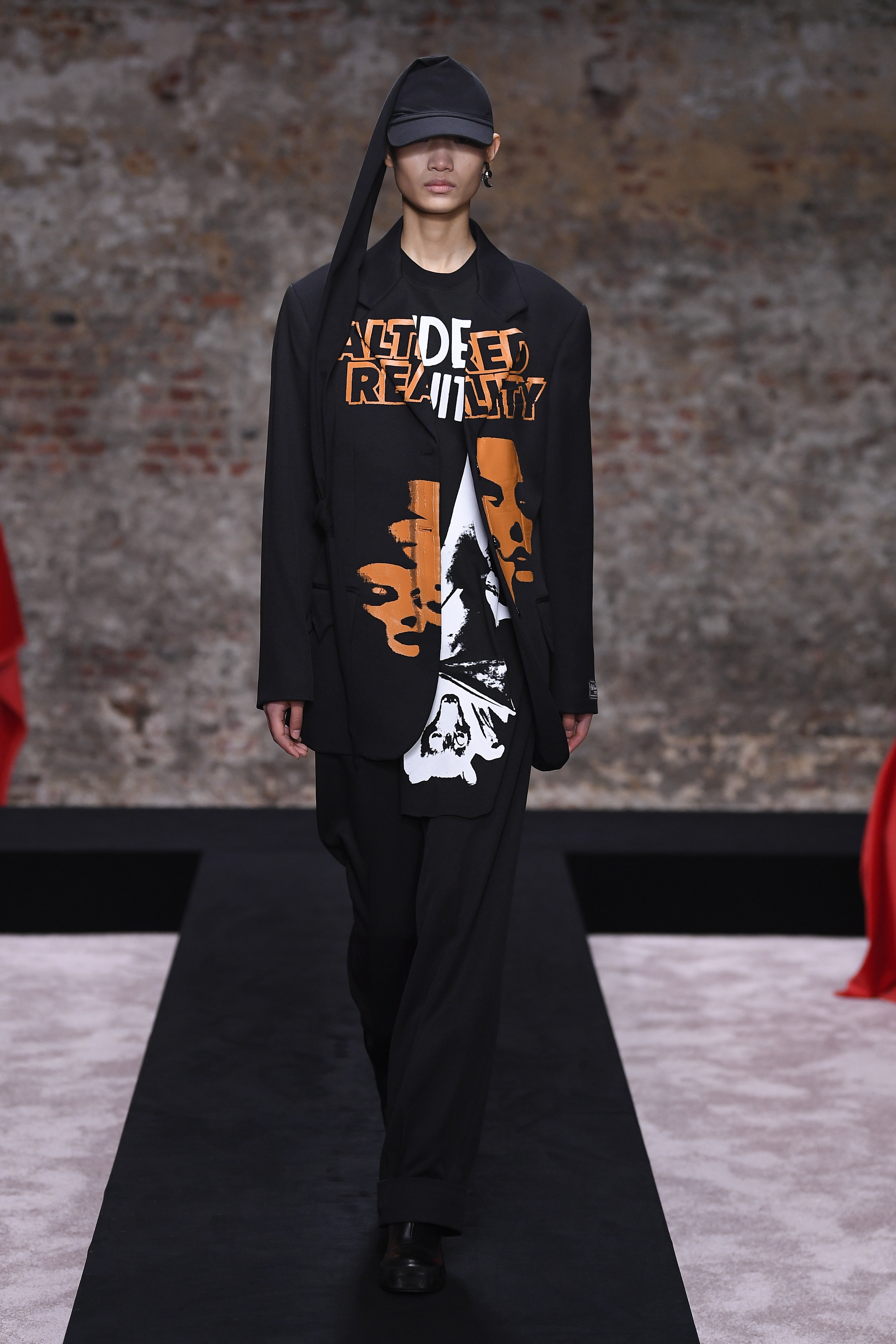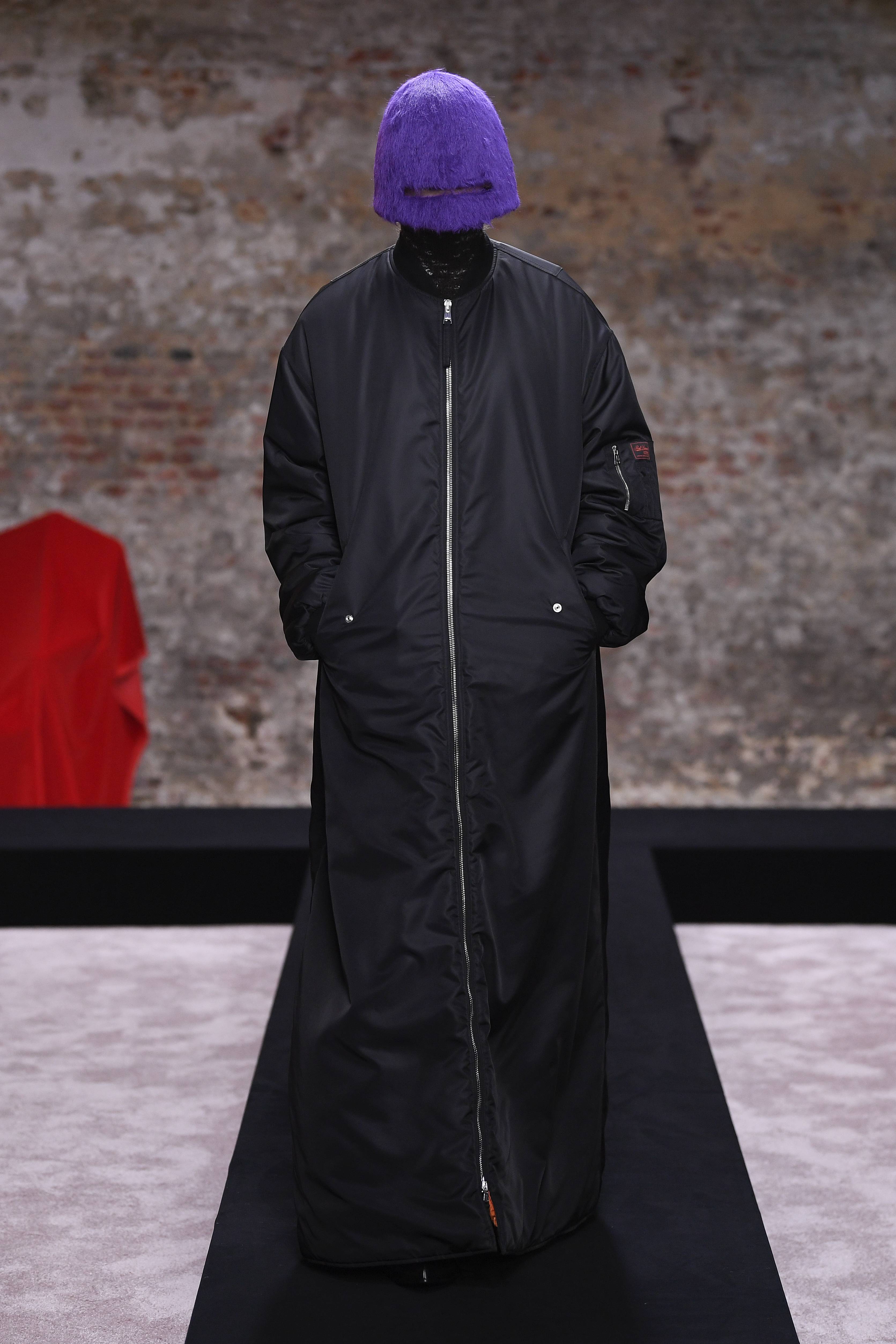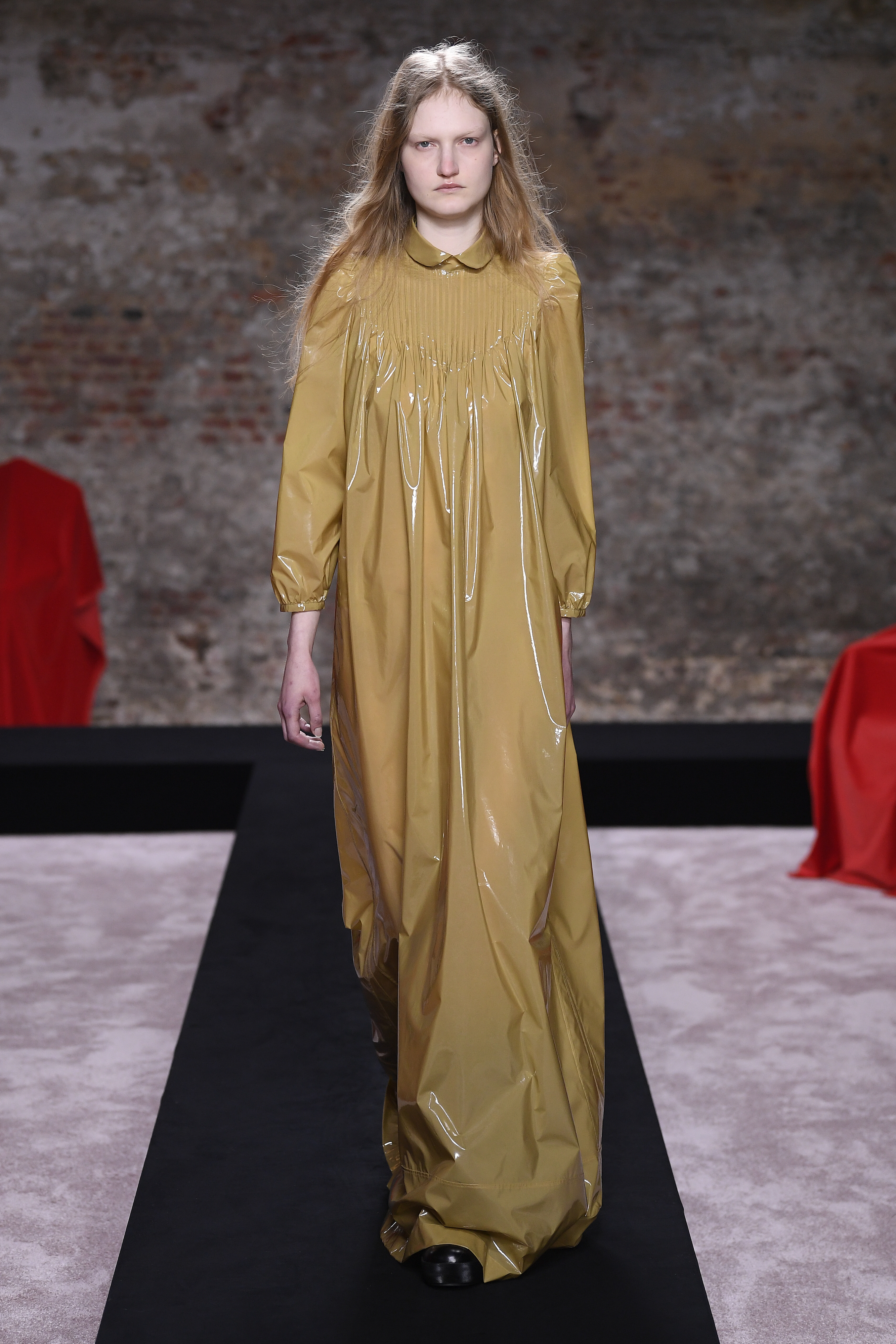 Follow i-D on Instagram and TikTok for more on Milan Fashion Week AW22.
Tagged: