Images courtesy of Loewe, Ludovic De Saint Sernin, S.S. Daley and LGN by Louis Gabriel Nouchi.
The boxer brief is dead
During the 2010s the boxer brief became synonymous with white metrosexuality. In 2022, we're moving past underwear's gender and class politics.
Images courtesy of Loewe, Ludovic De Saint Sernin, S.S. Daley and LGN by Louis Gabriel Nouchi.
In the 2000s and early 2010s, it was virtually impossible to find a teen fashion magazine that didn't ask the male celebrities adorning its pages the question that was apparently on all of our minds: boxers or briefs? The invasive query was posed to everyone from up and coming actors and teen pop stars, to politicians such as Bill Clinton (a briefs man), David Cameron (a boxers man) and Barack Obama (refused to answer). But, even more impossible to find, was a young heartthrob who didn't answer with the third unsaid option: boxer briefs.
In 2010, Robert Pattinson admitted to being a boxer briefs wearer, also known as trunks, ("do people even wear briefs anymore?" he asked), whilst Justin Bieber initially told a fan he was a briefs buyer before clarifying he meant boxer briefs. When ET asked One Direction, the band unanimously agreed the thigh-caressing underwear was their garment of choice. It makes sense given surveys have found that boxer briefs are the public's underwear of choice for men. For a long time, though, there was an underlying sense that they were the only correct answer. To say briefs was to appear childish and effeminate and to say boxer shorts was to be unstylish. But in the SS22 and AW22 fashion collections, both have been making a comeback. Is this merely a part of fashion's y2k revival or are they evidence of changing concepts of masculinity in the 2020s?
The question itself, "boxers or briefs?" is a strange one given it's unlikely a variant with female underwear would be posed to a woman, but Dr Shaun Cole, author of The Story of Men's Underwear, argues this is because women and men's underwear operate in different ways. "Women's underwear is more structural historically," he says, pointing out they're often used for shaping, support, or built to be hidden and as a result women are more likely to buy an array of choices to suit different outfits. "Men were not really encouraged to think about that because it fitted with the rhetoric that men shouldn't have an overt interest in fashion or their appearance and those who did were peculiar in some way." As a result, men tend to stick to one type of underwear and "wear them till they're falling apart."
Shaun argues gym culture began to change this. "In the 80s, 90s, 00s and into the 10s, men were in scenarios where they were taking their clothes off in front of each other and so, they began to think more about what they look like as they undressed." Many started buying underwear for themselves, rather than their mums or partners, and thus "men's underwear advertising became big business in the 80s and 90s and seeing images of semi-clothed male bodies on packaging encouraged an interest in what they were wearing under their clothes." According to Shaun, this led to a psychological kind of analysis when it came to their underwear choices: "If you wore briefs, you were perhaps much more uptight and constrained, whereas, if you wore boxers, you were more relaxed and free."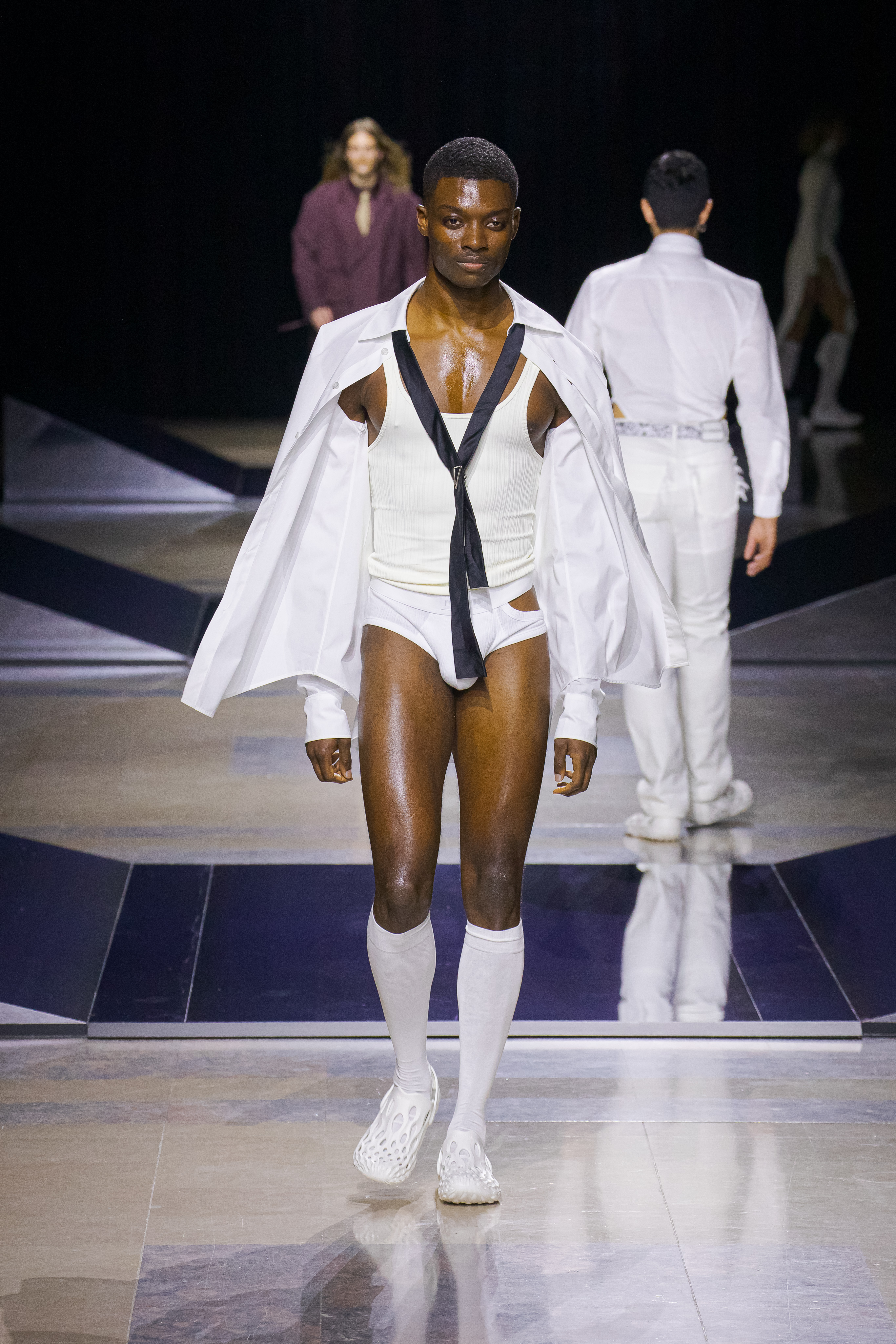 Male fashion took a dramatic turn in the late 80s with the AIDS crisis, and with it, a backlash against tight briefs. "Clothing that seemed to highlight the sexuality of the male being, emphasising the crotch, seemed to hint towards the risk and the unsafeness of the AIDS pandemic." Shaun notes that for straight men, and some bi and gay men, "bagginess became more popular as a way of hiding the body during a period of bodily crisis."
Around this time is when boxer briefs took off. Although the garment first made appearances in 80s Hollywood, adorning the likes of Richard Gere in American Gigolo, boxers quickly had a chokehold over the underwear industry in the 90s thanks to brands like Calvin Klein, pushed by those famed adverts featuring Mark Wahlberg. "They offered the support of a brief, without being too tight or revealing," Shaun says. It was a garment that offered a sexuality hidden by boxer shorts, without the now queer connotations of briefs.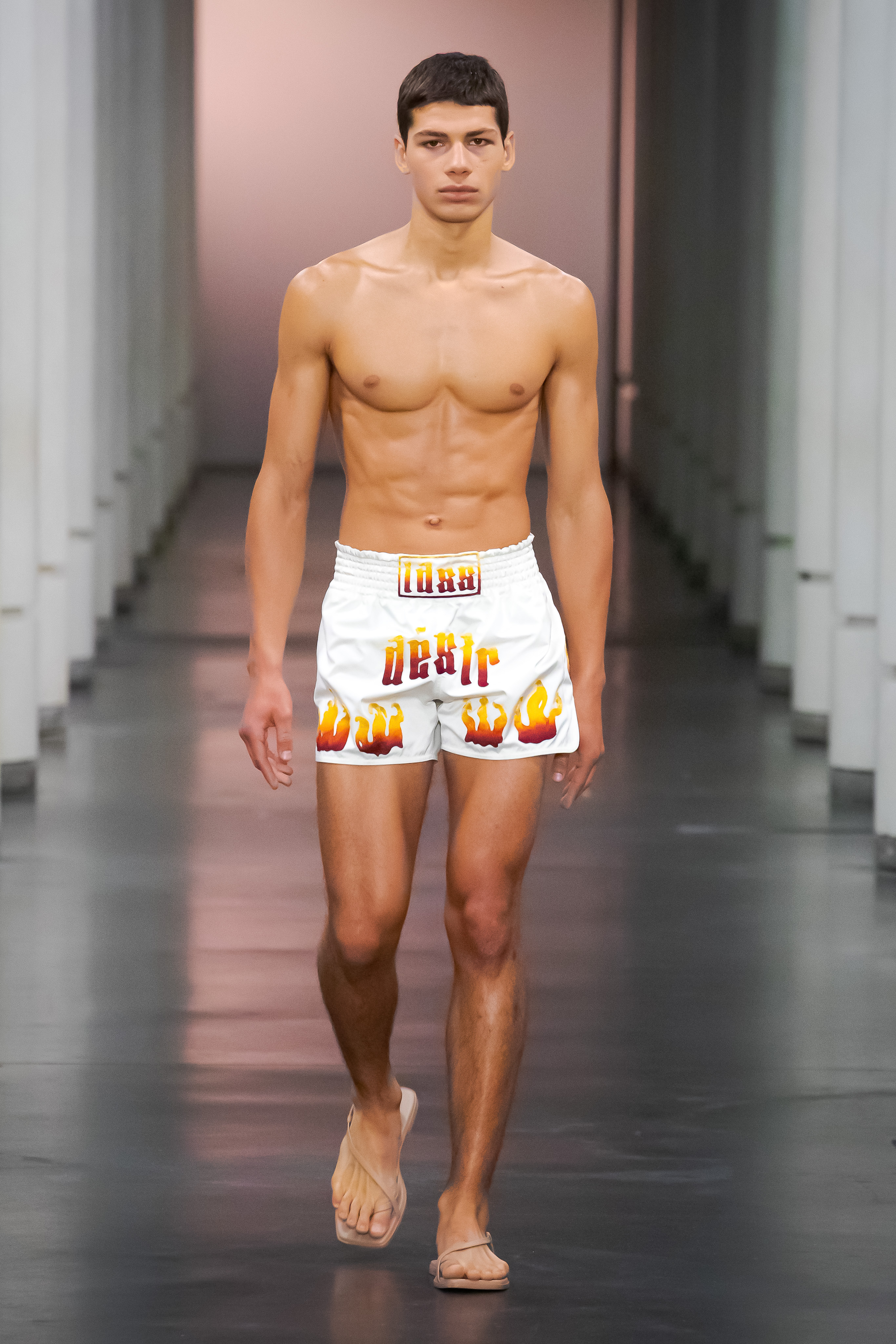 "It broke the binary of men's [everyday] underwear," says Shaun. "It became associated with the image of the groomed, preened, closely-shaven, tidy consumer that was the metrosexual." Although used originally as a label for men of ambiguous sexuality into fashion, metrosexual later became an identity employed by style-conscious heterosexual men. The fashion equivalent of "no homo", metrosexuality became a space for the straight-identifying man to still partake in activities deemed feminine without being considered queer. The boxer brief became part of his modus operandi.
But while queerphobia played a role in the downfall of the brief, perhaps class was behind the boxer short's demise. In the 90s and the 00s, the baggier underwear became associated with hip-hop culture and the style of exposed waistbands under loose-fitting jeans. The boxer brief began to be seen as the fashionable alternative, far enough away from those connotations. "However, in some ways, I also associate expensive woven boxer shorts with the upper-middle class," Shaun says. "There's the connotations of Black culture but also a white privilege. I think that's why this middle-of-the-road boxer brief became popular. It was a safe masculinity that transcended class. All men could wear it."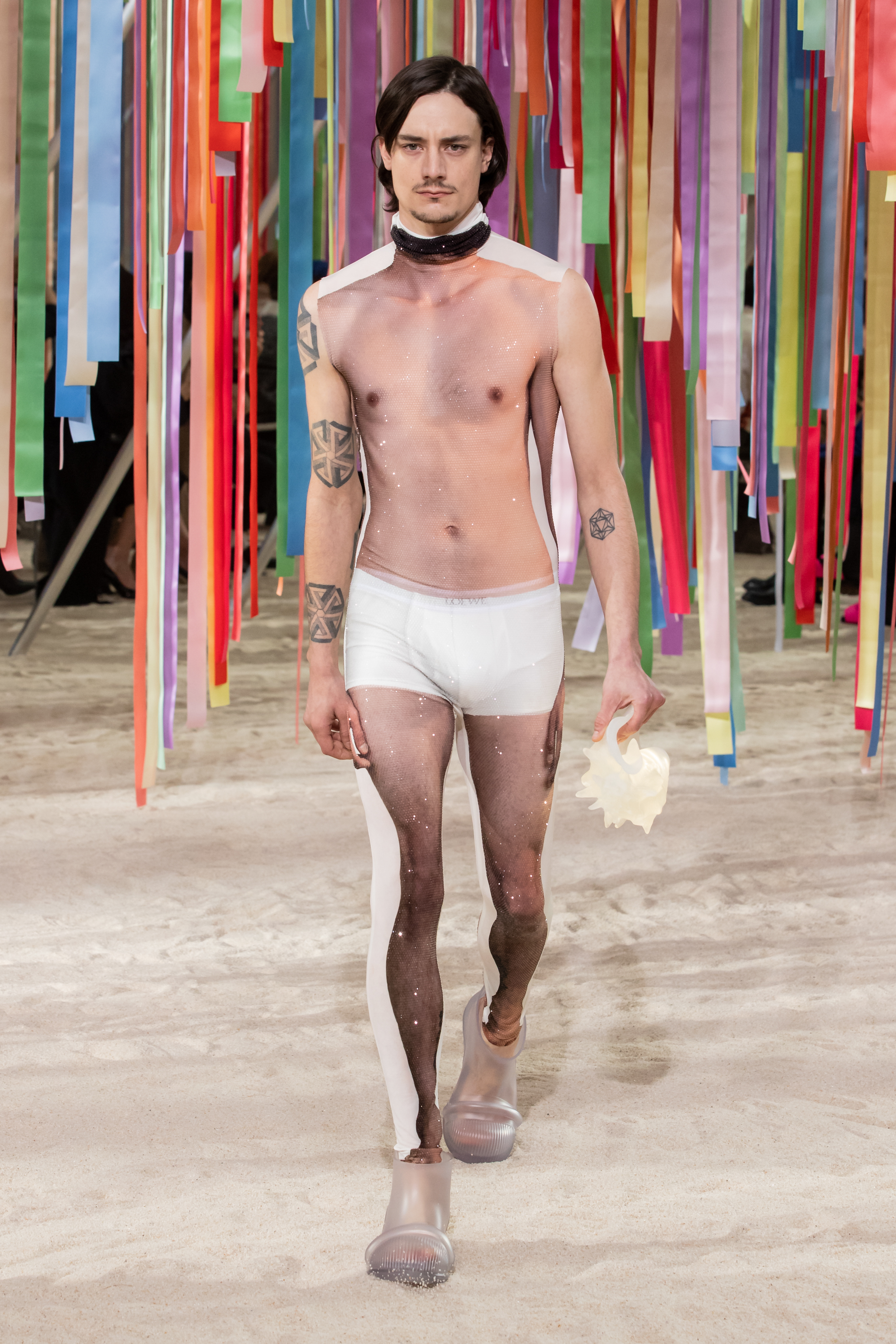 It was an everyman underwear, but boxer briefs were also very specifically risk-free of being considered queer or femme, Black working-class or privileged white upper class. In the question "boxers or briefs?", it was the ideal underwear, perhaps because it represented the ideal man.
In recent years our relationship to gender and masculinity seems to be changing. Non-queer identifying pop stars dabbling in aesthetics once only explored by LGBTQ+ people has created a discourse around the policing of queer fashions once shunned by the mainstream. But they're still evidence that the long-held heteronormative ideals of masculinity are being scrutinised and dismantled outside of the queer community, which can only be a good thing. The once adamant boxer brief wearer Harry Styles (who would only publicly be seen in a Y-front, or even a thong, as part of a comedy sketch or joke) advertised his merch in 2020 with a broodily sexy campaign in tighty whities. Since, the singer has become one of the biggest faces of a gender-fluid movement in fashion.
"Younger men are much more open to different forms of masculinity, moving away from a kind of hegemonic masculinity, which is all about machismo, heterosexual dominance, heterarchy and heteronormativity, and towards a more sort of fluid world with more trans queer awareness," Shaun says. "I think that's reflected on the catwalk." While Ludovic de Saint Sernin's AW22 collection was a more covered-up affair than usual, speaking to i-D the designer said he was inspired by the sexually-empowered styles of 00s icons like Lindsay Lohan and desires to create male equivalents that didn't exist at the time. With the previous collection, the brand promised a hot boy summer 2022, with muse Fernando Lindez in a button-up cardi and sheer trousers that revealed a pair of black briefs below. Another model took to the runway in ringlet briefs and a mini crystal mesh sarong. Elsewhere in the show, the brand's collaboration with Desir amalgamated in loose fit white boxer shorts printed with text across the crotch in Juicy Couture style and y2k Hot Wheels-esque flames along the edge.
Black briefs with a leather waistcoat and garter-held socks appeared on the runway of London designer S.S. Daley, while both LGN by Louis Gabriel Nouchi SS22 and Kardashian-fave ERL's AW22 played on the fact men wear their underwear "till they're falling apart", as Shaun says, with sensual rips in the sides of tight briefs and sporty boxer shorts. Over at Alled-Martinez AW22, models had inches of baggy boxer shorts in pastel cottons visible over tucked tees inscribed with the words "top", "bottom", and "vers" in cursive. "There's a history of underwear as outerwear, and we're seeing an exposure to playing around with ideas of gender and identity. That perhaps we don't have to fit into the previous conventions of sex and gender. That they don't necessarily have to match up," Shaun says. He notes Prada, and in turn, Miu Miu, has been a historically large voice in breaking down boundaries in fashion. In their first dabble in menswear since 2008, Miu Miu had all models, regardless of gender, with an exposed waistband of silky, cropped-but-baggy boxer shorts as they wore the brand's now distinctive slutty boarding school attire.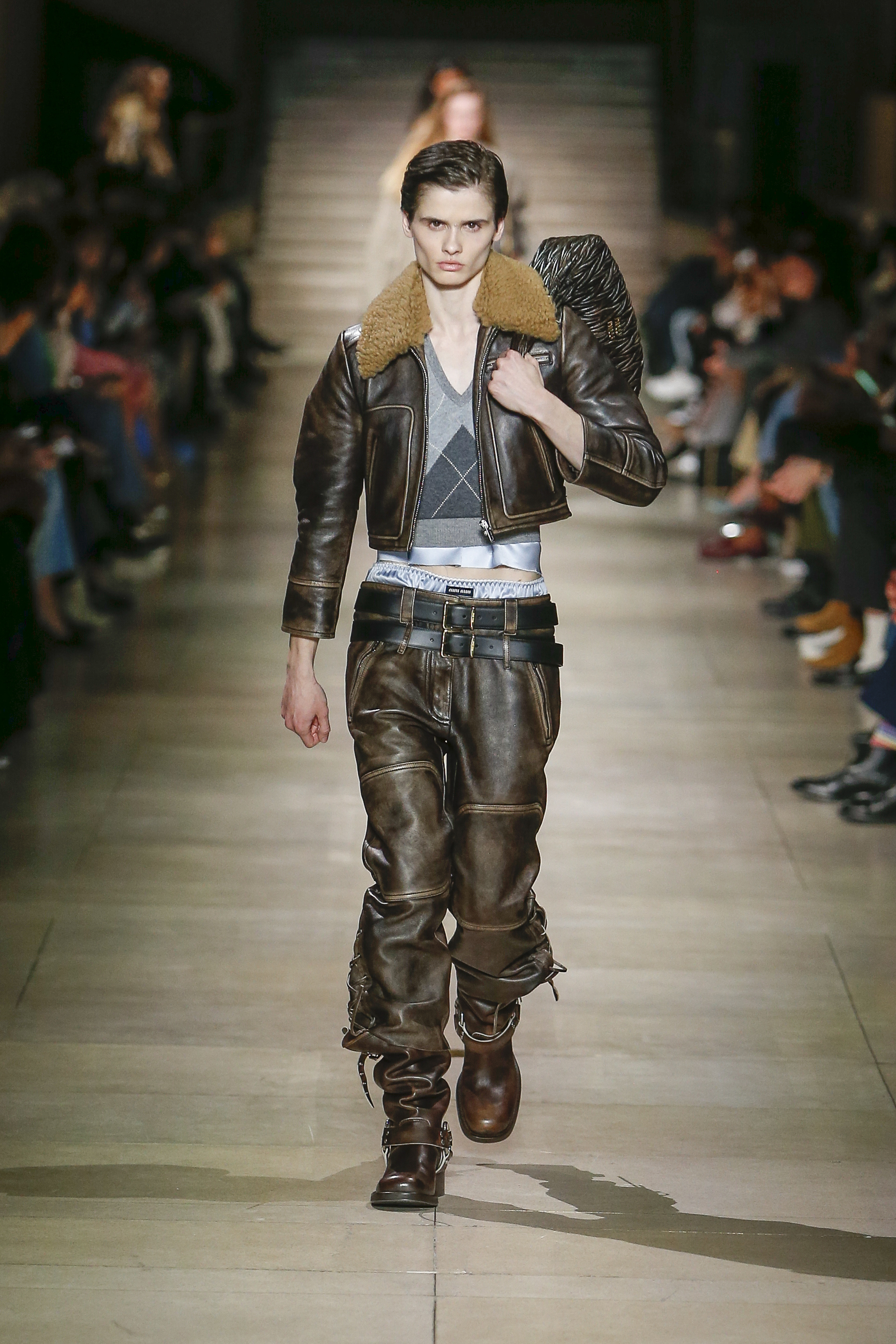 While this new inclusive masculinity is being showcased in the underwear on the runway, that doesn't mean boxer briefs have completely disappeared, just the ideals they once held. Amidst the white briefs under foggy translucent neon coats in Jonathan Anderson's middle-finger-to-the-metaverse AW22 collection for Loewe, was also a male model wearing the equivalent of the new naked dress: a garment printed with the body of a man wearing white boxer briefs. It felt like a comment on performing masculine ideals. Meanwhile, non-binary brand Lazoschmidl had trunks and boxer briefs with slashed cut-outs that emphasised a bulge even more overtly than briefs would, whilst Balenciaga AW22 had two models in nothing but boxer briefs, sunglasses and a tightly wrapped shawl, as if they stepped out of a queer circuit party and got caught in a snow blizzard.
Does this mean the idea of white heteronormative masculinity is a thing of the past? No. As Shaun points out, "the things going down the catwalk aren't necessarily going to be the bestsellers." But they are evidence that decades-established concepts of oppressive gender and class norms are being rejected more and more. There is hope that perhaps these ideas will filter down to the mainstream, with eBay recently noting that an Instagram post of men's mesh briefs from Rihanna's Savage x Fenty -- whose last show had the king of the twinks Troye Sivan in a pair of silk boxer shorts -- caused a 60% spike in their traffic for the search term "men's lingerie". Perhaps, then, in the near future, men's underwear won't be so closely tied to defining masculinity. Our next hurdle? Thongs.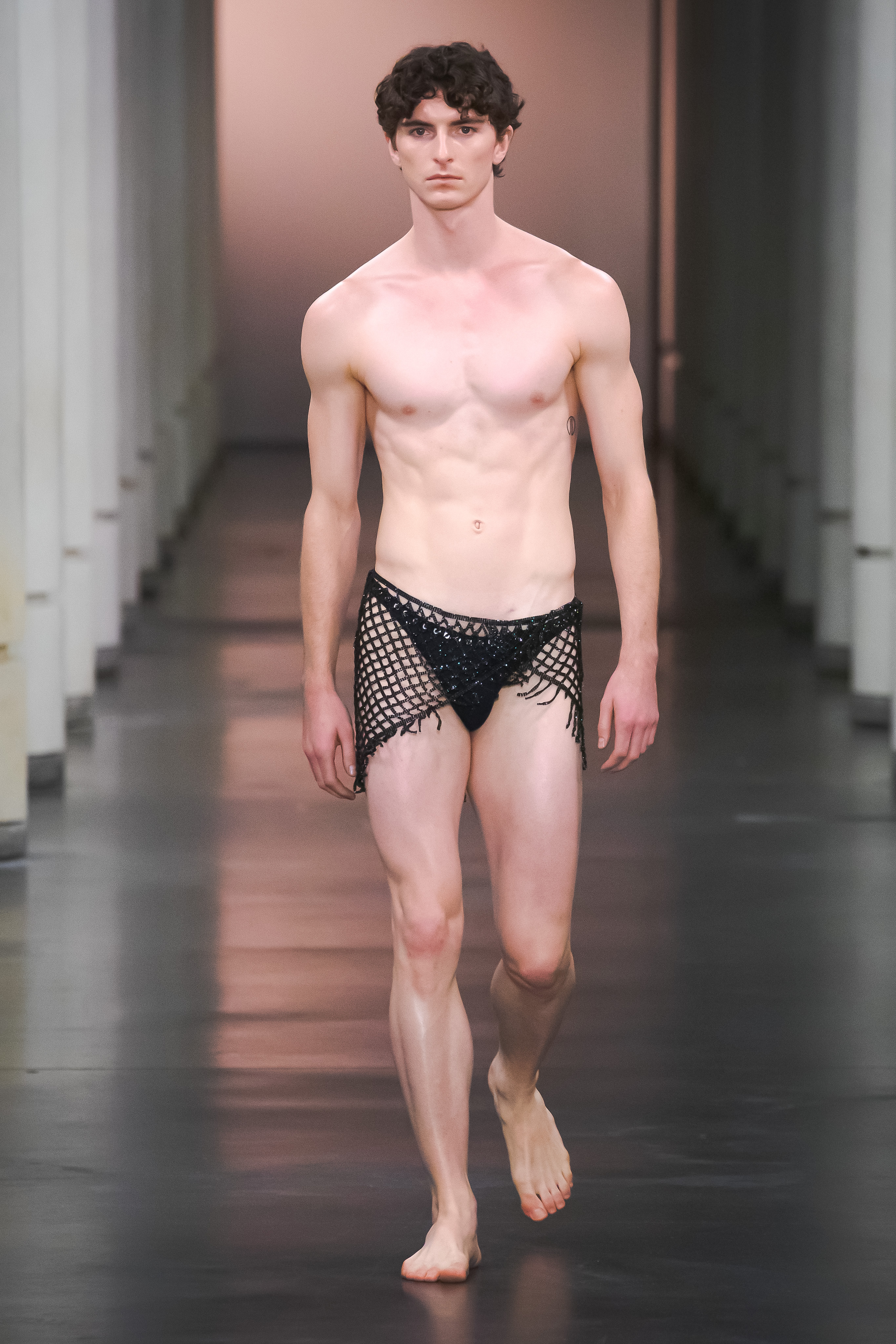 Tagged: