Meisel for McQueen and Prada NFTs: What's in Fashion?
Your one-stop-shop for this week's fashion news to know.
Though we may have spent much of the past week talking about the AW22 men's shows (check out our coverage here if you need to catch up!), that's not all that's been going down in fashion this week. Whether the auctioning of some truly iconic footwear grails for truly noble causes to the launch of Alexander McQueen's dazzling new campaign and Pradidas NFTs (!!), it's been a jam-packed a week here on Planet Mode. As ever, though, we're here with our handy list of all the juiciest bits — we know, we do spoil you! Here's what's in fashion.
Get your hands on Virgil Abloh's Louis Vuitton x Nike collab for a good cause
In an age where big-name branded partnerships crop up every other week, it's easy to forget who arguably sparked fashion's collaboration fever: Virgil Abloh. A man with an insatiable appetite for teamwork, the creative partnerships he brokered through Off-White, Louis Vuitton and under his own name have gone on to become veritable artefacts of contemporary design. One of his last, and arguable most significant, is the collaboration he initiated between Louis Vuitton and Nike — the hotly anticipated "Air Force 1". First revealed in June 2021, the instant-grail footwear blends the original silhouette and swoosh of the iconic shoe with LV's instantly recognisable Monogram and Damier check, along with Virgil's signature Helvetica air quote text on the midsole and tongue. As you can imagine getting your hands on a pair won't be quite as easy as nipping down to your local Louis V boutique. Indeed, only 200 pairs will be on offer, and all via London auction house Sotheby's. Running from 26 January to 8 February, bids will start at $2000. Steep as that may seem, it's all for the most noble of causes, with all proceeds going towards Virgil Abloh's "Post-Modern" Scholarship Fund, which supports the education of Black students worldwide. It's the perfect way to own a piece of Virgil's legacy, and help carry it forward. MS
Kenzo quits Instagram (well, sort of)
There is nothing more dramatic than an Instagram grid wipe. Remember when Taylor Swift did it in 2017 to signal the old Taytay was no more? Or when Bottega Veneta deleted their account completely? Given that we associate the photo-sharing platform with the documentation of memories and history, the sudden disappearance of an account inevitably leaves us scrambling to figure out what on earth it all means. Have they been hacked? Is there something new coming? The latest to do just that is Kenzo who removed all previous posts from their profile ahead of legendary streetwear designer Nigo's debut show this weekend. Since making the slate of the house's profile clean, new posts have emerged of musicians Pharrell and Pusha T sending congratulatory messages to the designer. In another, digital pink flowers (hello metaverse!) bloom across a baroque arched ceiling. Could this be an indicator of what to expect from the brand new Kenzo? Stay tuned to find out. TG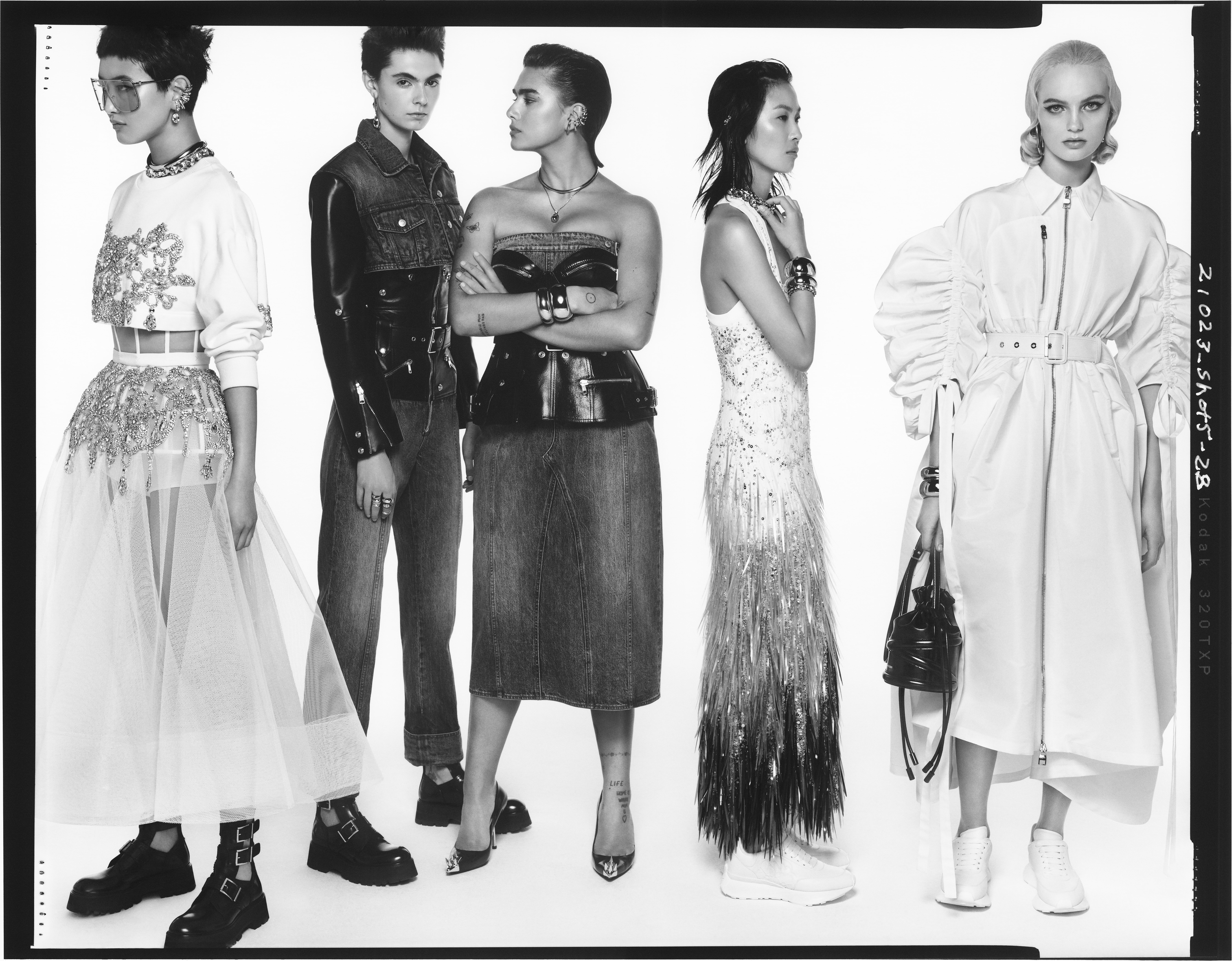 Alexander McQueen taps Steven Meisel for its SS22 campaign
The focus may have been on the menswear shows over the past week, but let this be a reminder that it's currently SS22 campaign season, too. If you're looking for a good reason then stop and pay attention, then let this be it. Steven Meisel, easily one of the most celebrated fashion photographers of our times, has lensed the latest campaign for Alexander McQueen, turning his camera on a new generation of iconic faces, including Celina Ralph, Anok Yai, Modupe Oluwalade, Fran Summers and Jill Kortleve. Shot in cool black-and-white, the collection's moody visual textures — inspired by the mercurial skies above the label's London studio — and explosive silhouettes, come to the fore, reflecting the poise and romance of Sarah Burton's vision for the house. It's giving icons only! MS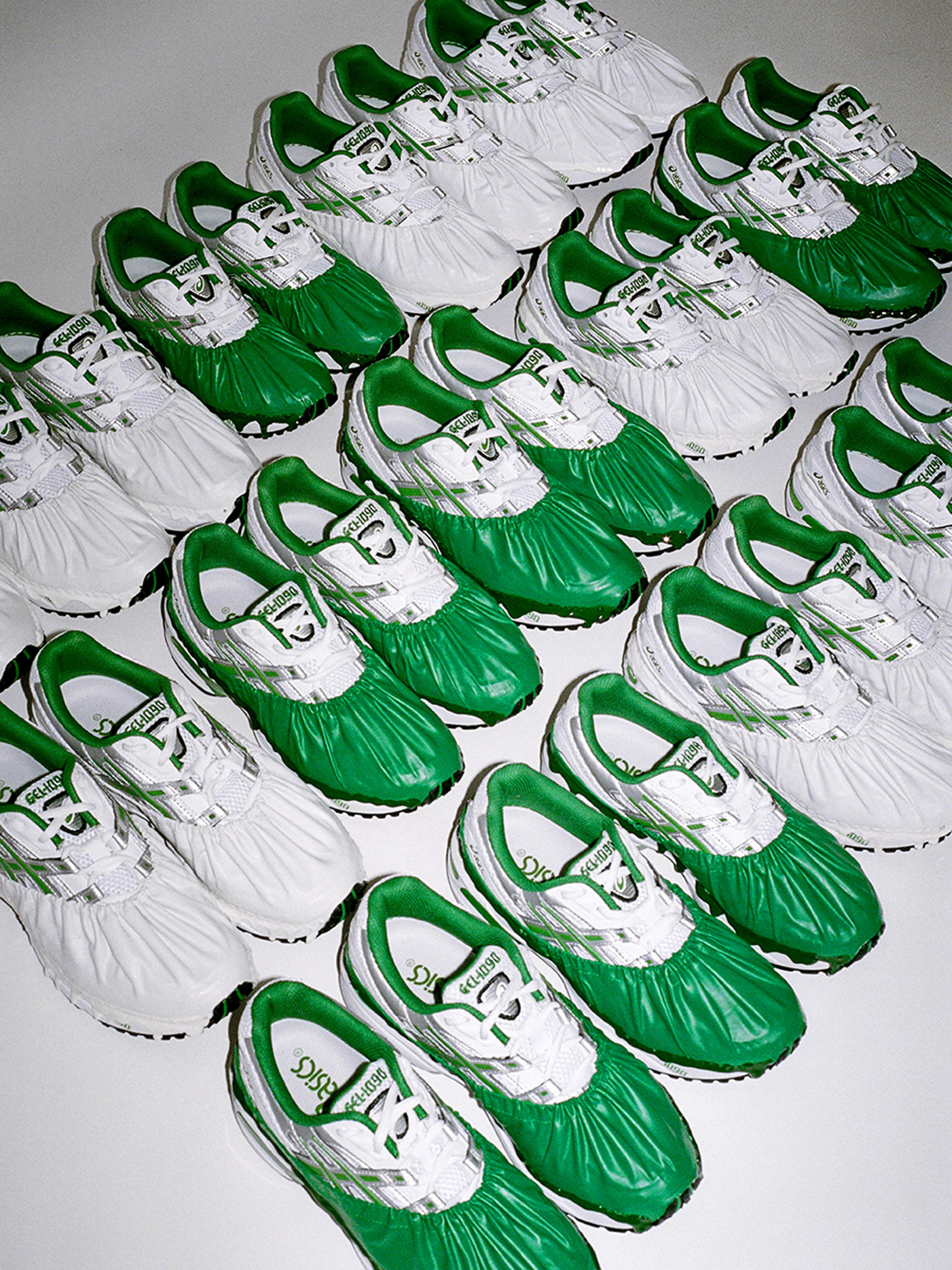 Asics and Kassl Editions are promoting a sound body and sound mind
Amid the mayhem of fashion month, we can sometimes forget to take a moment to pause and breathe. Here to remind us that looking after our mental health is just as important as our physical health is Japanese sportswear giants Asics, who have partnered with outerwear brand Kassl Editions on a super limited edition pair of GEL-1090™ sneakers, with all proceeds going to the mental health charity Mind. Only 30 pairs of the trainers – which have a unique shiny protective sheath over their upper available in clean white or bottle green to match the shoe's interior – are available, and will be auctioned off by luxury UK streetwear retailer END. "We believe that the sport sector has an important role to play in emphasising the link between physical activity and good mental health." says Emma Ihsan, head of corporate partnerships at Mind. "The funds and awareness generated through this activity will enable us to continue to provide advice, information and support so that no one has to face a mental health problem alone." If you want to get in on the auction action, all for a great cause, head to END. online from 22 to 29 January to place your bids! TG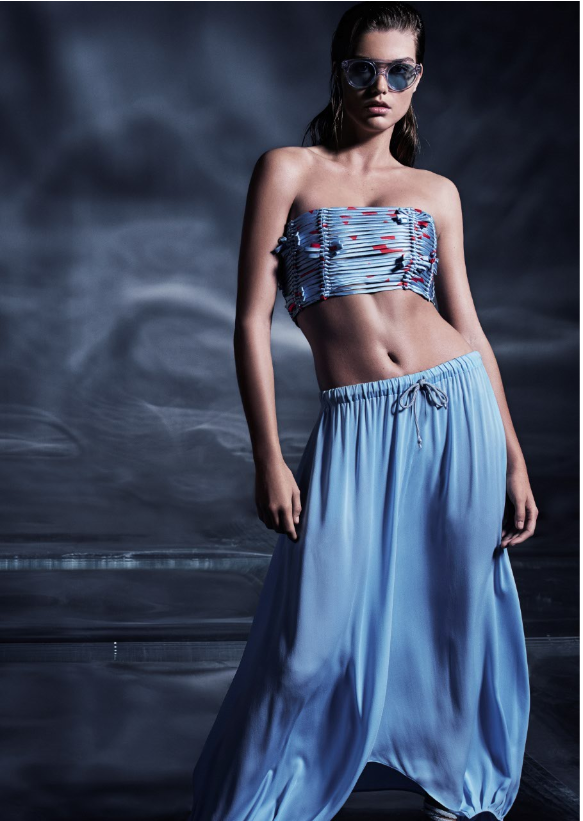 Armani's SS22 campaign ushers in the balmy summer nights ahead
While men's mary janes and visible boxer bands are the hot trends for the latter half of 2022, for spring/summer it's all about y2k-ra bandeau tops and informal, revealing suits. That's the style that was showcased on the womenswear and menswear runways of Giorgio Armani last autumn anyway, and a new campaign is here to remind us of just that. Shot by i-D fave photographer Mario Sorrenti, a stormy night sky is the moody backdrop for Dutch model Luna Bijl, who wears a purple and red beaded halter top with white billowy pleated trousers in one image, and a pair of extremely baggy, silk trousers with a matching bandeau top in another. Parker Van Noord shows off the best of the menswear, including an unzipped check bomber, a comfy navy jumper with an oversized leaf print, black-out sunglasses and slim tailored trousers. As hold out for the labels AW22 collections after the brand cancelled its shows due to the ongoing pandemic, you can check out the full Giorgio Armani SS22 collection catalogue online in the meantime. TG
Guess gets a new look from Gaga and Kim K favourite, Eli Russell Linnetz
If you're going to have a makeover, who better to enlist than Lady Gaga, Kim Kardashian, Kanye West and Teyana Taylor's go-to creative director, Eli Russell Linnetz — the polymath behind the brand ERL! A man who counts movie roles, music production, and even directing Ye's infamous "Fade" music video among his accolades, this week he was enlisted by American fashion label Guess to lead their new rebrand, shooting a campaign for a new line of garments that expand on the brand's archive and 80s heritage. Think distressed denims, corset tops and a whole lot of fringe! Eli's work is famously sensual — remember that iconic trippy nude shoot he did of Mother Monster in 2018? — so we expect the new look Guess will be suitably transgressive. Planned to launch with their AW22 collection, I guess we won't have to wait long for the brand's stunning new era. TG
Prada x Adidas enters the metaverse
Ok, so we'll admit that we're still grappling with what exactly the metaverse is — and what it means for fashion in particular — but if anything can get us excited for the virtual world's takeover, it's the news that Prada is a part of it. As part of an ongoing partnership with Adidas Originals (aka Pradidas), the two fashion powerhouses are joint-launching "a global, user-generated NFT art project, utilising Polygon Web3", a release reads. Yes, we know that none of these words are in the bible, but what it means in practice is that users of an interactive platform will be able to contribute to an NFT made up of 3000 individual tiles, which will then be lovingly assembled into a final artwork by digital artist Zach Lieberman. It'll then be auctioned off, with profits going to climate justice organisations Slow Factory and UNESCO SEA Beyond, and all 3000 tiles will be minted as NFTs that the original creators can actually sell. 'But wait, where does Pradidas come in?", you're probably thinking. Well, each tile — and of course the final piece — will be inspired by the duo's recent Prada Re-Nylon collection — "a sustainable, reimagined luxury sportswear collection, released in collaboration with Adidas." Welcome to the future, girls. At least it's chic! MS
Follow i-D on Instagram and TikTok for more fashion.