Maxine Ashley is ready to take pop music by storm
The Bronx-based artist, model, and Ariana Grande collaborator tells i-D about her eerie new track 'Runaway.'
Photo by Jason Milter.
Maxine Ashley has range. You might recognize the Bronx-born artist and model from one of her Fenty Beauty campaigns, or from her work with Pat McGrath, but Ashley has also made a name for herself making R&B and pop music. At only 25-years-old, her music career spans more than a decade. After Ashley was discovered on YouTube at the young age of 13, she found a fan in Pharrell Williams and went on to write alongside him on Ariana Grande's 2018 album Sweetener. Not one to shy away from the spotlight, Ashley has released a steady stream of her own music all along, incorporating aspects of the R&B she grew up listening to in the Bronx with a grab bag of genre-defying sounds and techniques.
Ashley's latest offering "Runaway," opens with an eerie and minimalist intro before turning into a dark pop ballad about emotional demons and hardships. The track's chorus features a hypnotic hook and soaring vocals. To celebrate the release, Ashley sat down to tell us about the single, her influences and all that she's learned throughout her wide-ranging career.
"Runaway" is dropping to coincide with your birthday on Sunday April 19, so Happy Birthday! What has the last year been like for you on a personal and professional level?
Thank you. This last year has had a lot of ups and downs. I moved out of my apartment. I've grown a lot. It's been crazy for everyone with the coronavirus, but I've been using this time to be reflective, productive and making as much content as possible. I've made so many songs, videos and I'm working on a secret project I am very excited about.
"Runaway" is a song about the damage emotional distance can cause on both ends of a relationship. Why was that important for you to address?
Basically, I made the song when I was in a very dark place in my relationship. We had just moved in with each other, I was battling a lot of demons. Being so young I didn't know a lot of stuff from my childhood would resurface. Things that I thought I had under control or I thought didn't bother me made me go a little crazy. So, we were just dealing with a lot at the time and didn't know how to be with each other while going through it. People don't talk about the hard work that it takes to be in a relationship. It's always extreme like "We either work or we don't," but people don't talk about working on yourself and growing through a relationship while being in it. We've learned a lot. But to simplify the song's meaning, It's about being hard-headed and both thinking we're right.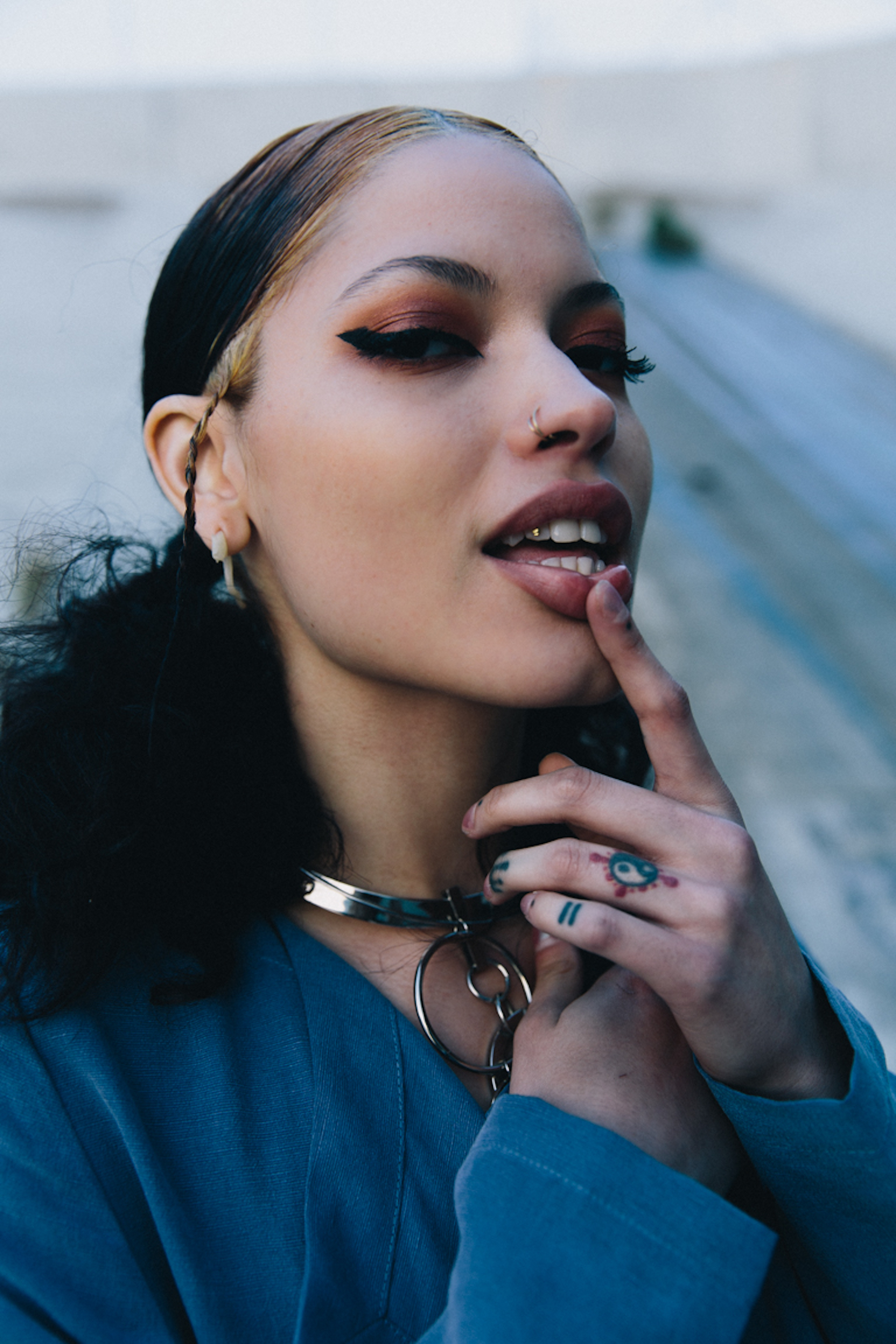 While "Runaway" and its themes were obviously brought to life a while ago, the idea of emotional distance and correcting it are amplified in our current moment. How are you maintaining your emotional connections during this time?
Honestly, I'm barely maintaining anything. I'm just trying to chill. I'm trying my best. Everything that is going on is completely insane! I almost can't believe it some days. I have been more into my art at the moment and diving into creating and expressing myself. All I can do is keep moving forward and adjust to the current situation. Nothing ever stays the same.
You incorporate not only influences from the music you grew up with in the Bronx, but from genres. When you sit down to write what's your method for picking out sounds and direction for your music?
My music choice is all over the place. Some days I'm feeling very emo and others I just wanna shake my ass. It's all about what I'm feeling that day, what I went through, what I experienced, maybe a story that somebody told me. What I try to focus on are the lyrics and messages behind what I'm saying, trying to be as honest as I can no matter the genre. I'm not always in the mood to make music because sometimes I have nothing to say. Sometimes I just want silence but when I do create, I like to freestyle with stuff and bring up anything that moves me emotionally, physically, or mentally.
"Runaway" is like a lot of your tracks in that it has a very distinct intro that builds the musical ideas found in the song. How do those intros help you focus and create your music?
A lot of the time when I create a song it starts from a freestyle. So, before I come up with any lyrics it's usually easy for me to hum through an intro then go off, almost like meditation.
A lot of times I'm also working with a producer and they like to start slow so we can build into the song dynamically. It really depends on the producer I'm working with, though. People don't realize it's not just me, but other minds that have a lot to do with guiding the mood of the song. I just interpret it and express myself the way I know how.
Like any good movie, I think things need a beginning, middle and end. People these days are too impatient. Music starts with the chorus nowadays, with no intro, and it's fueling this ADHD mentality. I feel we all are a bit ADD because of technology, but my music is where I get to slow down. It's why I have intros, middles and ends, my shit is a whole movie.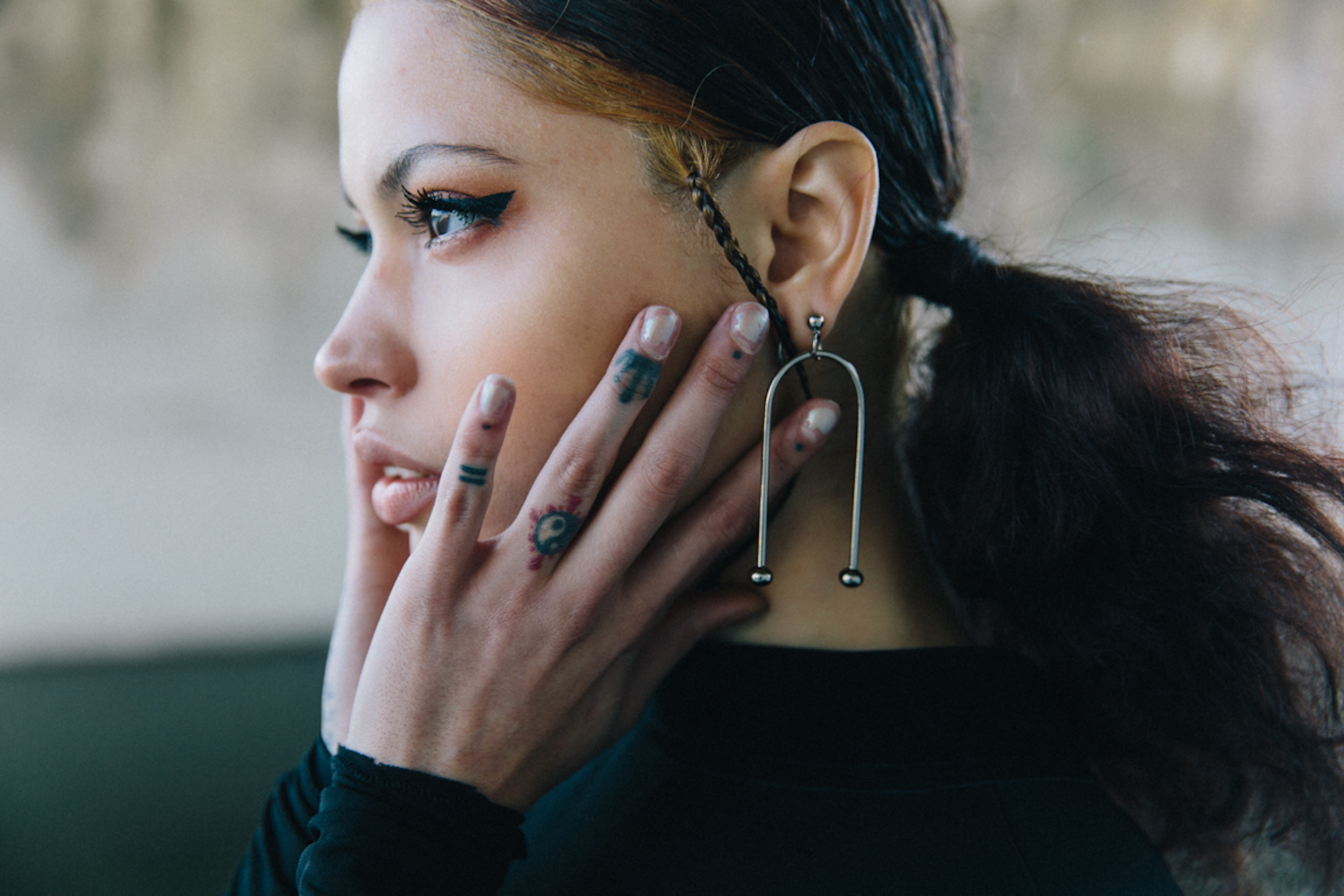 After years working in both the modeling industry and music industry, are there any skills or lessons you've picked up that they share?
Modeling and music are so polar opposite. Modeling, you either get the job and get paid or not. It's that black and white. It doesn't matter if I talk to anyone, which I do anyways, but music is more about relationships and talking to everyone! The music industry feels like a McDonalds playhouse [laughs]. The modeling industry to me is more of a simple, one dimensional thing. With music, you have touring, recording in the studio, making music videos and have so many layers to it.
From learning under the guidance of Pharrell Williams and getting a writing credit on Ariana Grande's Sweetener to working with Pat McGrath and Fenty, what does it mean to you to have had the opportunity to work with so many industry leaders?
"Grateful, surreal," are the two words that ring in my head. You don't realize when you're in the moment because you are working, but you take a step back and you realize these are your peers. These are the people I get to be associated with. It brings you a sense of accomplishment and a sense of confidence. You look at artists I'm working with and have worked with and it makes it more real. It makes your dreams attainable knowing you can reach that level. I feel content with what I have accomplished, but I'm still very hungry for more. Seeing others accomplish more fuels me to drive for the next step in my music career.