Watch the trailer for your next Netflix guilty pleasure teen film, Never Have I Ever
Buckle up for some steamy teen romance from the mind of Mindy Kaling.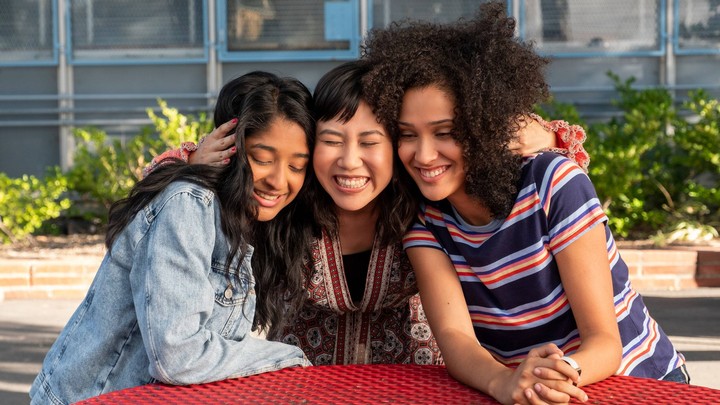 Still from Never Have I Ever via Netflix
Sophomore year is going to be the year for Devi Vishwakumar and her two best friends, Eleanor and Fabiola -- three leads in Netflix's latest Never Have I Ever. Or so they think. The girls just want to be "normal" teenagers -- even if that means having to date a guy who brings an onion to class as a snack. (It is a truth universally acknowledged that we will all go out with a version of this man at some point in our lives.)
Devi is indeed a typical teen: confused about her future, incredibly horny, and painfully uncool. In the new trailer, she pleads with her therapist for sex advice, practises kegels, and makes herself over as an "Indian Kardashian". Books are thrown through glass windows and lockers are kicked in. It's a turbulent time.
The character's exploits are based on executive producer Mindy Kaling's own childhood in suburban Massachusetts, which the comedian has described as "complicated" in her two memoirs."I was never the lead in the play. I don't think I went to a single party with alcohol at it," she writes in I s Everyone Hanging Out Without Me?, "No one offered me pot."
"I always felt I was missing out because of the way the high school experience was dramatised in television and song," Mindy explains in the book. In the new series, her protagonist is certainly battling with similar feelings.
"I'm not 'lost'," exclaims Devi, "High school's a dick." Truer words have never been spoken. Devi and her friends decide to rebrand, and claim the teen experiences that are rightfully theirs. Unfortunately, in Devi's case, this may involve surviving a coyote attack first.
Check out the official trailer for Never Have I Ever below, which will be speeding onto Netflix in just under two weeks on April 27. Rad.