Photo by Jason Squires/WireImage.
7 of Amy Winehouse's most iconic outfits
The singer's signature style goes beyond her towering beehive hair and winged eyeliner.
Photo by Jason Squires/WireImage.
It has been nearly a decade since Amy Winehouse's untimely death, but her unforgettable style continues to live on in both music and fashion. Winehouse is remembered for her iconic towering beehive hair, thick-winged eyeliner, patterned minidresses, and more.
A new exhibition opening January 17 at the Grammy Museum in Los Angeles titled, "Beyond Black — The Style of Amy Winehouse", takes a look at some of the music powerhouse's most iconic fashion moments. From the custom designed Moschino bag she carried to the 2007 Brit Awards to the never-worn Summer 2011 tour wardrobe created by her stylist Naomi Parry, "Beyond Black" gives viewers a closer look into the world of Winehouse. Select pieces will be auctioned off in November 2021 with proceeds benefiting the Amy Winehouse Foundation, an organization created by Winehouse's family to educate young people about drug and alcohol misuse.
In honor of the upcoming exhibition, i-D takes a look at some of the singer's most iconic style moments:
"Rehab" music video, 2006
In the music video for her 2006 award-winning song, "Rehab,'' Winehouse gives us a glimpse into her many different style personalities. The singer can be seen on-screen in patterned silk robes, gold nameplate necklaces, leather bomber jackets, and white blazer dresses, while singing one of her most popular hits. The autobiographical song, which speaks on Winehouse's experience of not wanting to go back to rehab, was so big it went on to win not only one, but three Grammy awards.
In leopard print at the Brit Awards, 2008
During the 2008 Brit Awards Winehouse took the stage with friend and frequent collaborator, Mark Ronson, dressed in a leopard Dolce and Gabbana pencil skirt that was worn instead as a miniskirt. Ronson and Winehouse met years earlier while working on Winehouse's hit 2006 album, Back to Black, with Ronson producing many of its songs including "Rehab," "Back to Black," and "Tears Dry On Their Own." The two also famously joined forces together in 2007 to cover British rock band, The Zutons', song "Valerie."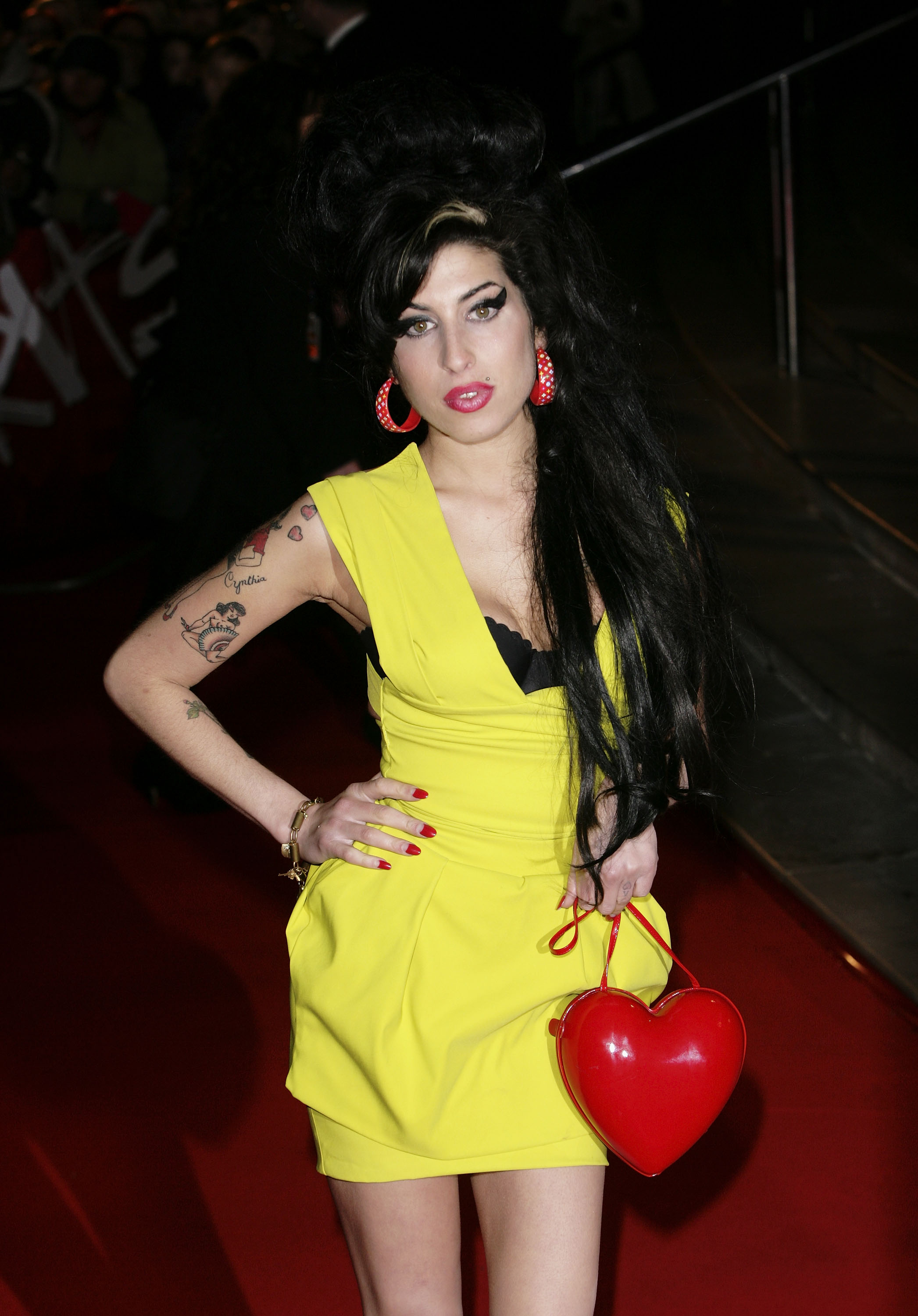 Dressed in Preen and Moschino for the Brit Awards, 2007
Winehouse walked the Brit Awards red carpet in 2007 carrying a heart-shaped leather Moschino bag (that was custom-made and designed especially for her, of course) while wearing a bright yellow dress. The bold, structured minidress was created by the London-based label, Preen, and was an early 2000s favorite among many celebrities including Rihanna and Gwyneth Paltrow. In addition to being dressed fabulously, that night Winehouse went on to win a BRIT Award for British Female Solo Artist.
In her signature white tank top at Isle of Wight Festival, 2007
Over the years, Winehouse's collection of simple white tank tops paired with belted denim pants and shorts became just as notable as her teased hair and bold makeup. Whether wearing this to perform on stage or to be photographed by paparazzi while out in London, Winehouse managed to breathe limitless personality into the most pared down of ensembles. For her set during the Isle of Wight Festival in 2007, the singer can be seen wearing one of these trademark tops with jean cutoffs and vibrant red nails.
Photographed for the cover of the Sunday Telegraph, 2004
Winehouse showed a softer side to herself while dressed in a cream colored floral dress and patterned head scarf when she was photographed for the Sunday Telegraph magazine in 2004. Winehouse, who was 21 at the time, had recently released her first studio album, Frank, which was said to have been named in-part after one of her musical influences, Frank Sinatra.
Wearing Custom Dolce and Gabbana for the Grammy Awards, 2008
Winehouse appeared on-screen during the 2008 Grammys wearing a custom made Dolce and Gabbana outfit paired with one of her signature hair accessories — flowers. Even more intriguing? Both Winehouse's performance of "Rehab" and her acceptance for Record of the Year was telecast via satellite from Hammersmith Studios in London. As it turned out, the singer's work visa was not approved in time to enter Los Angeles to attend the awards show, so she made the best out of the situation and instead performed from across the ocean.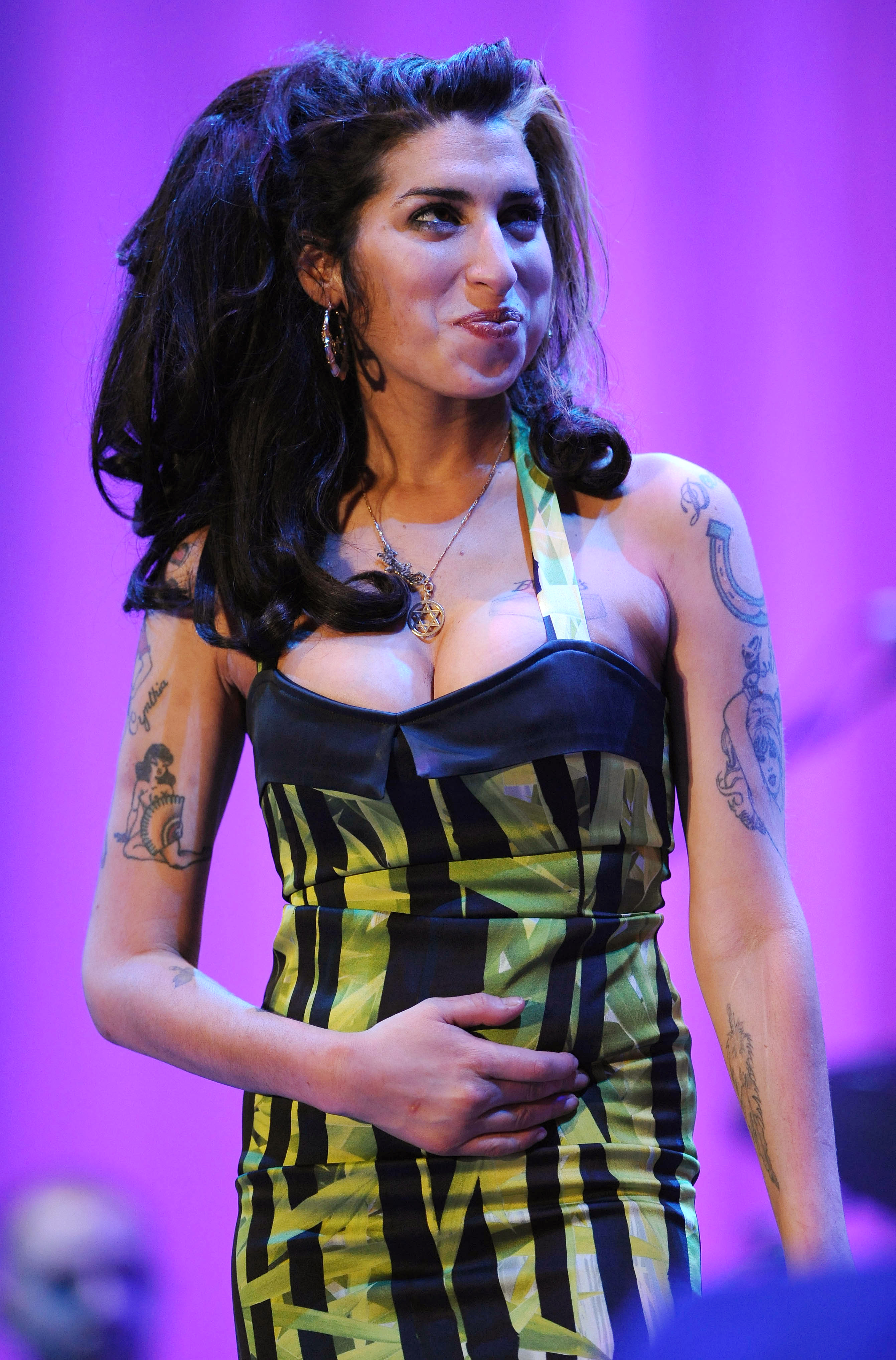 Wearing Naomi Parry at her final concert in Belgrade, 2011
Winehouse was photographed in 2011 while performing her last concert ever in Belgrade wearing a Naomi Parry designed minidress. Parry, who not only was Winehouse's stylist but also good friend, had met the singer years earlier at a gay bar in Soho. The two worked together for years, developing Winehouse's unforgettable style that was inspired by everything from Winehouse's grandmother and Brigitte Bardot to the 60s and gangsters' girlfriends. The looks usually featured pieces made by names such as Betsey Johnson, Luella, Fred Perry, and Moschino. Parry even designed a whole collection for Winehouse's would-be Summer 2011 tour which featured form-fitting dresses in vibrant patterns.