Jill Kortleve: "Excluding people? I just don't get it"
The Fenty-approved model talks to Rihanna about bringing some much-needed body diversity to the runway.
This story originally appeared in i-D's 'Rihannazine' Special Edition, no. 01, 2020. Order your copy here. For this one-off project, Rihanna put a series of questions to the women shaping culture today, and invited them to share their visions for 2020.
Can you introduce yourself?
I'm Jill Kortleve. I'm a model who's striving to expand the standards for models in the industry.
How do you want to go about doing that?
In the past, the standard for models has always been slim and I think that the most important thing is to be healthy, whether that's being skinny or a size 16. As long as you're healthy, that's what's important. I am very proud of working to make a difference and it definitely feels like the industry is shifting around me. People are really enthusiastic to work with models of different sizes.
What do you think your biggest personal or professional success has been so far?
Moving to New York in March. Of course, I didn't know what was going to happen, and everything has been really creative. So that's exciting.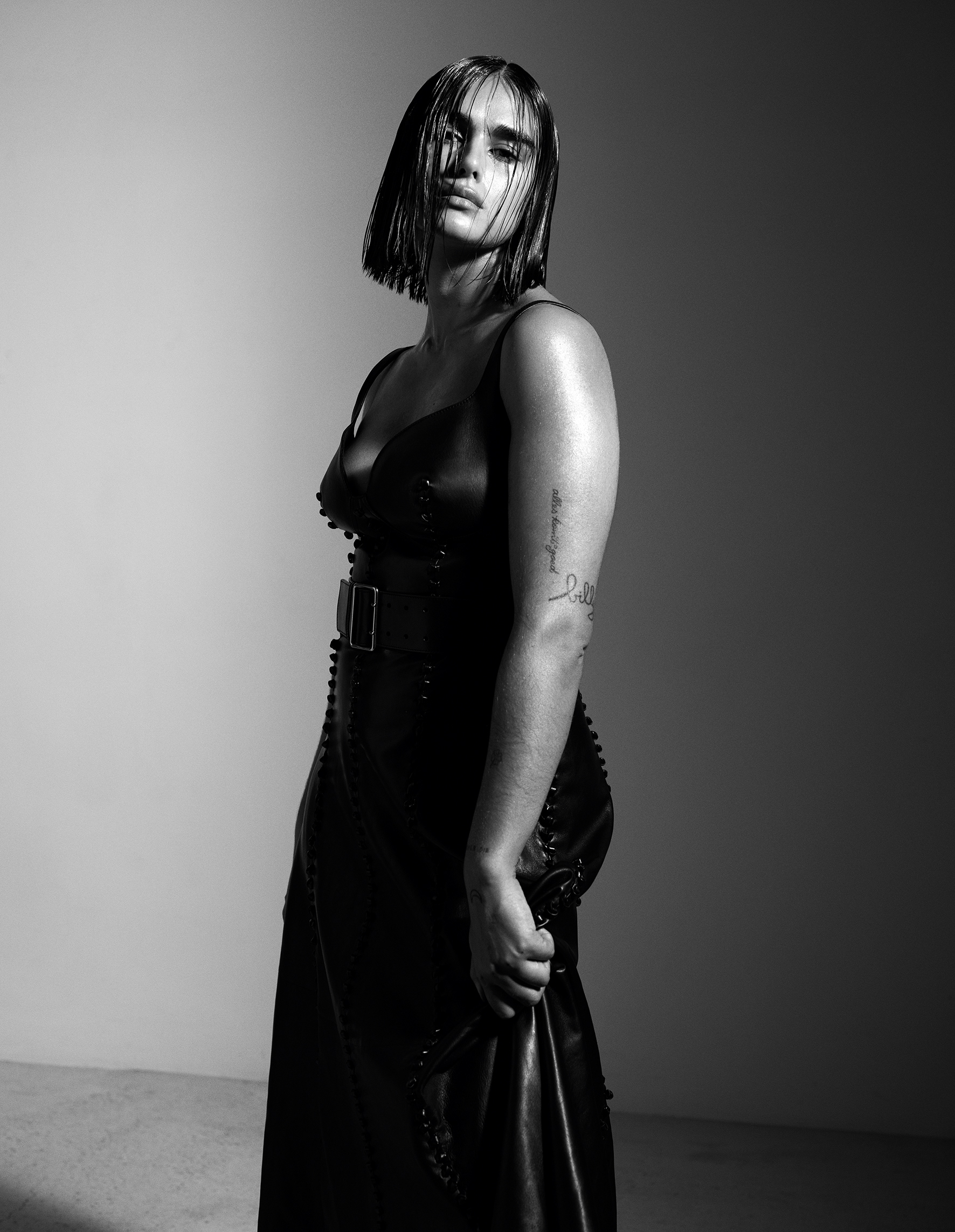 So the personal and the professional sort of came together?
It was a big risk, it was me just saying fuck it. But it's been really good – I'm really happy. It's still sometimes a little bit scary to be somewhere new, and it's a different culture. But it's good to get out of your comfort zone. It's always good to explore new things.
What has your biggest failure been? And how did you learn from it?
When I started working, I was forcing myself to be a straight-sized model. I wasn't true to myself. I did a lot of things that I didn't agree with and I stopped doing a lot of things I wanted to do. I was suffering mentally. I'd stopped listening to my body, and myself. I can see how miserable I was. I was lucky never to have had an eating disorder, but I see girls and guys all around me who do. It's definitely important to talk about it. It's still a taboo. But fashion sets such an example for people all around the world, so it's good that it's changing.
As we're heading into 2020, what are you taking with you into this year, and what are you leaving behind in 2019?
What I want to take with me? My career, and all the people I've gathered around me. The thing I want to leave behind? My messy apartment. I need a new apartment! Or I need to change myself into a person who likes cleaning. So that's what I'll leave behind – my messy habits.
If you could ask Rihanna one question, what would it be?
It would be when is the al… no, no I can't ask that. It would be, what date do you have blocked for the Savage 2020 campaign? I hope she's interested in working with me! It would be a dream.
What does Savage get right that so many other brands get wrong?
The inclusivity in their shows and branding is what every brand should be doing now. She really gets it. I feel like a lot of people outside fashion are really getting it, because they feel included. Excluding people? I just don't get it. That's why I love Savage x Fenty.
Credits
---
Photography Mario Sorrenti
Styling Alastair McKimm
Hair Duffy at Streeters.
Make-up Kanako Takase at Streeters.
Nail technician Honey at Exposure NY using Tom Ford Beauty.
Set design Jack Flanagan at The Wall Group.
Colourist Lena Ott for Suite Caroline.
Lighting technician Lars Beaulieu.
Photography assistance Kotaro Kawashima, Javier Villegas and Jared Zagha.
Digital technician Johnny Vicari.
Styling assistance Madison Matusich and Milton Dixon.
Hair assistance Lukas Tralmer, Dale Delaporte and Allie J.
Make-up assistance Kuma, Tomoyo Shionome and Megumi Onishi.
Nail assistance Tera Darden.
Set design assistance Mike Williams, Akaylah Reed and Amy Sabel.
Production Katie Fash.
Production coordinator Layla Némejanski.
Production assistance Fujio Emura.
Casting director Samuel Ellis Scheinman for DMCASTING.
Casting assistance Cicek Brown for DMCASTING.
Model Jill Kortleve at Muse.