Sandy Liang and Danny Bowien. Photos by Minu Han.
All the best looks from Sandy Liang and Danny Bowien's Lunar New Year party
The downtown designer teamed up with her best friend and Mission Chinese chef to ring in the Year of the Rat.
Sandy Liang and Danny Bowien. Photos by Minu Han.
On Saturday night friends and fans of New York-based designer Sandy Liang and Mission Chinese chef Danny Bowien fashionably gathered at Floret on the Lower East Side to celebrate the Lunar New Year in good fortune. The two are no stranger to collaboration, particularly with each other, as Bowien can often be seen walking the runway at the designer's NYFW shows. This time, they teamed up to festively ring in the year of the rat by sharing their favorite dishes from both Mission Chinese and Liang's family restaurant Congee Village.
Downtown creatives gathered in the airy restaurant space, which was decorated with red paper lanterns, embellished envelopes, and origami cranes, to savor the tasty bites and dance to DJ sets by i-D favorite Alice Longyu Gao, Matt FX, Kristine Reano, and Justin Hager. As to be expected, there was no shortage of looks, photographed by Minu Han below.
After the event, i-D caught up with Liang and Bowien to find about their favorite Lunar New Year dishes and their holiday traditions.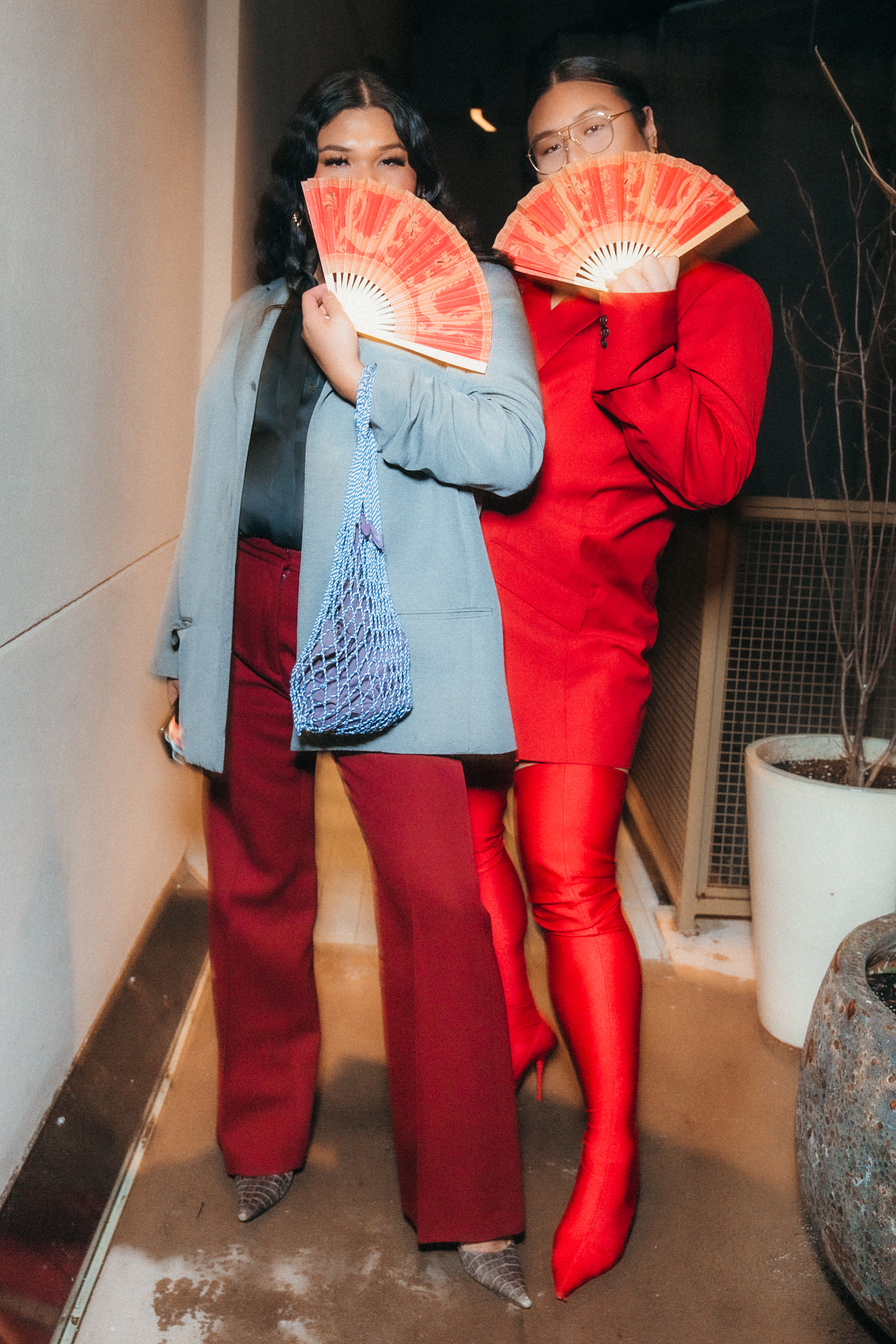 Could you tell us about some of the dishes that you made for the event?
Sandy: One time, Danny came over for dim sum with my family at Congee Village Flushing, and he loved the Char Siu So (barbecue pork buns). We knew it had to be a part of this joint celebration. Plus they're easy to hold and eat! We also had Dan Tat (egg custard tarts) that Danny topped with passionfruit! Don Tots are such an essential part of a dim sum meal.
Danny: The dishes that we made didn't have an actual tie to Lunar New Years, but were just inspired by our favorite dishes that we eat when we go to each other's restaurants. When I go to her dad's restaurant we always get the flaky roast pork buns. But they only serve them in the morning! So I wanted to serve them for this event. We collaborated on the Dan Tat. They are rich and decadent, and also a guilty pleasure.
When Sandy comes in I love making her eat spicy food, so I made the Mission Chinese Food wings and Forbidden Rice with black tea, sour plum, and inari. It was a mix of sweet and sour, and the rice is something everyone can enjoy because it is vegan.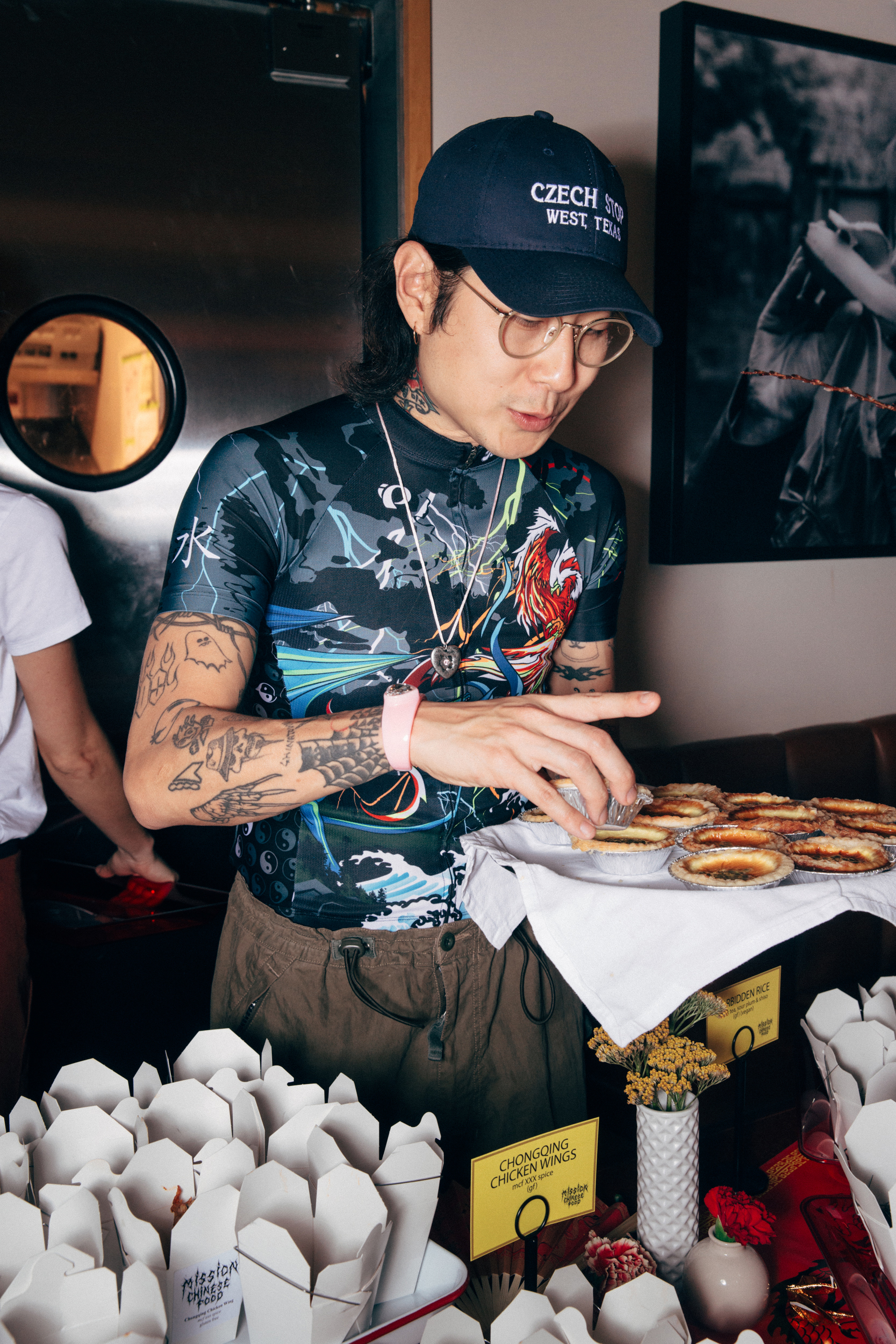 What are some of your Lunar New Year traditions?
Sandy: I love coming home to a decorated house! There are red envelopes and yellow cakes everywhere, with all this food laid out for our ancestors. I love the smell of incense burning. At midnight we eat Tong Yuan with birds nest. The next morning we wake up to our favorite CD of Chinese New Year music by Andy Lau and eat a vegetarian breakfast. Then we get our red envelopes! It's all my favorite.
Danny: This was the beginning of a new tradition. Last year we tried to do something, but we couldn't. Usually, I am at the restaurant since it is so busy. And last year, Mission Chinese opened in Bushwick.
What are some of your favorite things about the holiday?
Sandy: My family takes it so seriously. It's the one true holiday of the year that we are extremely passionate about. We all have to be home or my dad would absolutely kill us. I love being together and seeing everyone so happy. My dad is WeChatting all of his friends throughout the night "Happy New Year!"
Danny: I grew up in Oklahoma and was adopted, so I never had many experiences with the holiday growing up. When I moved to New York, I was able to experience so much more. I always loved the new year in general, the act of giving, the superstitious things around the new year. I went to Congee with my son for the New Year and during the Dragon Dance in the dining room, they put the red envelopes in the mouth. I love all of the colors around Chinatown. There is a sense of happiness.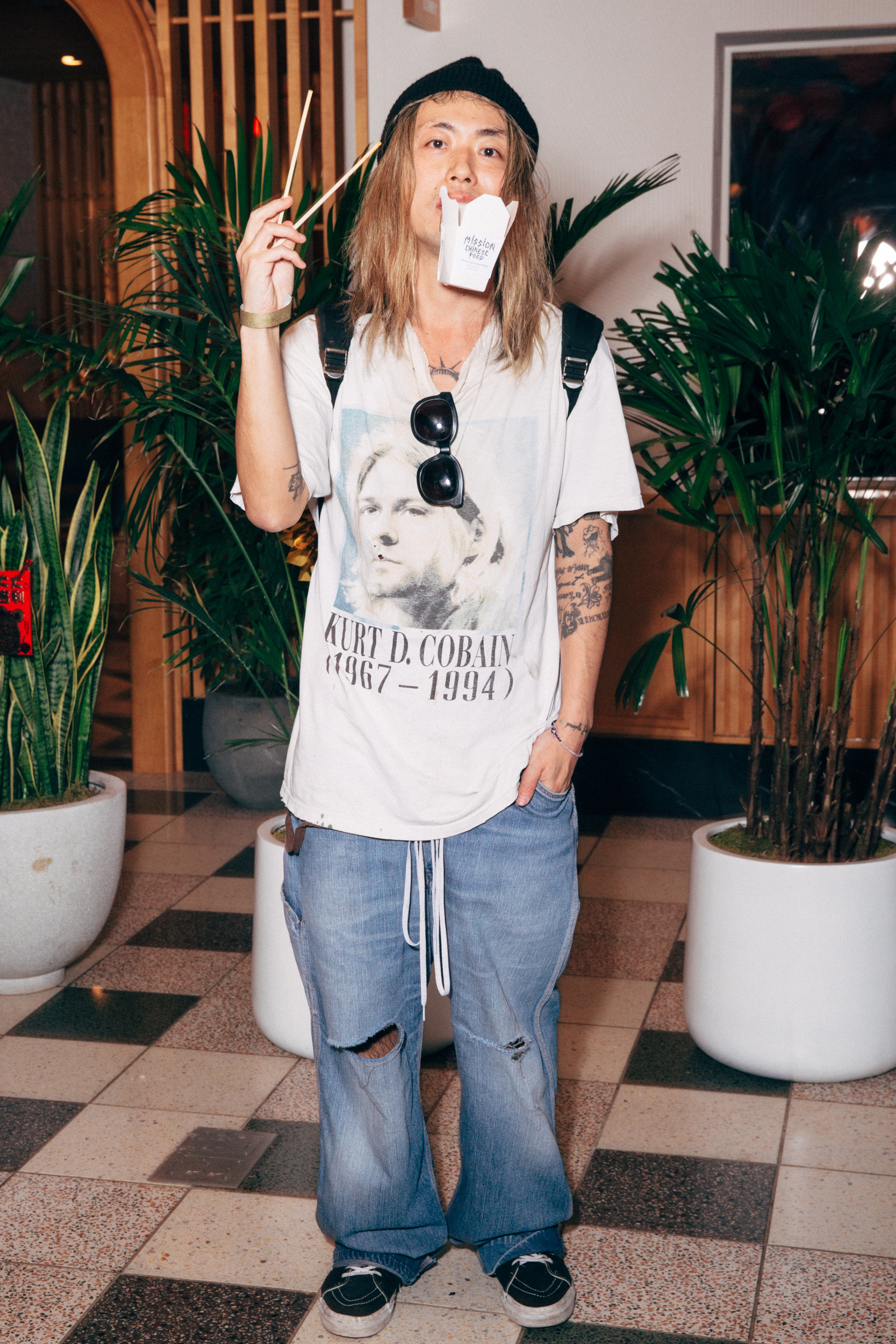 What are your goals for the new year?
Sandy: I can't think of anything right now...
Danny: I don't really try to set goals based around periods of time. I feel like most of the time, I never get around to it, but if I were it would be to be more present. Chefs tend to be always thinking ahead. Same with Sandy, always thinking ahead about the next collection. Where you are is never enough. My goal is to be okay with being a little bit more still and slowing down.