Could Tupac's hologram be the new face of Supreme?
Yes, you read that right.
|
17 February 2020, 11:47am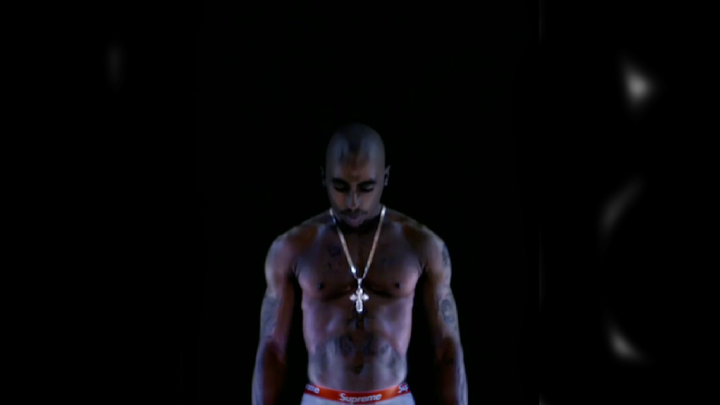 Supreme have the ability to nab pretty much anyone they want to front their campaigns. As legends of the streetwear realm, the brand's long standing reputation stretches back to their early days as a low-key skate shop in 1994 New York -- before they became responsible for switching up the way young people dressed in the 21st century. That influence is something the fashion world and pop culture knows all about, so it makes them an easy sell to anyone who wants to link up. The latest person to join that list of collaborators? Suitably 90s legend Tupac. Or at least a hologram of the late superstar.
Supreme's stores, both online and IRL, are currently on shutdown as they prepare for the imminent launch of their SS20 collection. In the meantime, they've started dropping tasters and teasers of what's about to drop on Instagram. Over the weekend, they flexed their collaboration with Nike on a pair of red box-branded Air Force Ones that are bound to become an instant sell-out. But last night, a new video appeared of Tupac's hologram wearing a pair of Supreme-banded boxers, performing live on stage. Was this a nod towards their new muse for SS20? A hint at a Tupac collaboration in 2020?
In the age of the AI influencer, with Lil Miquela and anime stars fronting fashion campaigns, the idea of Tupac's hologram being the face of Supreme wouldn't be too peculiar. After all, the Harlem-born rapper may well have crossed paths with the skate store in the two years that brand existed before his death in 1996. If circumstances were different, he might've been fronting their campaign in 2020 regardless.
It's the first time we've seen the Tupac hologram since it debuted at Coachella back in 2012. The company responsible for its creation went bankrupt shortly after (it cost in excess of $100,000), but the original blueprint lives on eight years later thanks to the streetwear label.
So what do you think? Are we about to get a whole season of Supreme drops modelled by a computer generated rap legend, or do the James Jebbia-helmed brand have something more tangible up their sleeves? Guess we'll have to wait and see when the doors to the store open once again in the coming weeks.