7 of Dennis Rodman's most iconic outfits
Rodman walked so Young Thug could fly.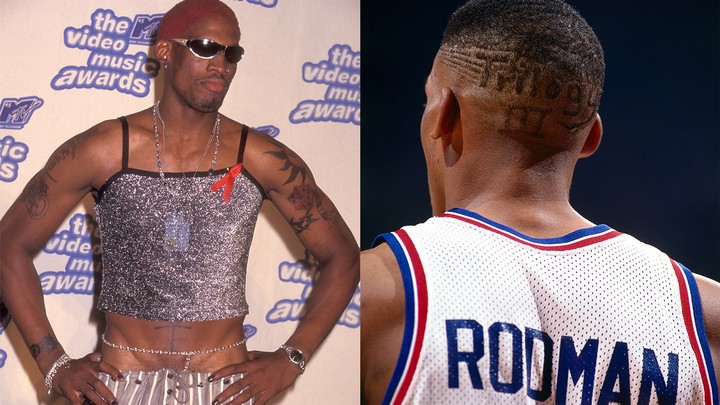 Imagery Ron Galella, Ltd./Ron Galella Collection via Getty Images (L) and Scott Cunningham/NBAE/Getty Images (R)
The idea of a celebrity of with multicoloured hair, countless tattoos and in-your-face face piercings would be shocking to absolutely no one in today's E-Boy/E-Girl-era. But during the 90s, 5-time NBA champion Dennis Rodman's boundary-pushing individual style not only defied what was expected of him as a superstar athlete, but provided a blueprint for the melting pot of gender-blurring looks we see across social media and popular culture in 2020.
For anyone tuning into Netflix's new series The Last Dance, a 10-part documentary focused on Michael Jordan and his multi-championship winning Chicago Bulls, the appearance of Rodman in the third episode revealed just how much the 6ft 7in athlete's fashion choices were at odds with those of his immaculately professional teammates, both on and off the court.
After growing up a shy, introverted child with an absent father, New Jersey-born Dennis initially found work as a janitor but was kicked out by his mother after a run-in with the police for an alleged theft. However, following a massive growth spurt he began to focus on basketball seriously, winning a college scholarship before entering the NBA draft and earning his first contract at the late age of 25.
Known for riling up opponents with his aggressive physical style of play, Dennis was something of an enigma to his fans. In an era where his peers were bound by the NBA's strict dress code, headlines within the macho sports world often labelled him as 'weird' or 'eccentric' for going against the grain with his ever evolving dye jobs, penchant for a BDSM-inspired leather looks and eye for a spectacular cross-dressing opportunity on the red carpet. In the twilight of his career Rodman summed up his approach to fashion, and life during a 1997 interview, telling USA Today, "I just took the chance to be my own man. I just said: 'If you don't like it, kiss my ass…' I'm the guy who's showing people, 'Hey, it's all right to be different.'" So strap yourself in as we take a run through some of the most iconic style moments from basketball's greatest nonconformist in his 90s heyday.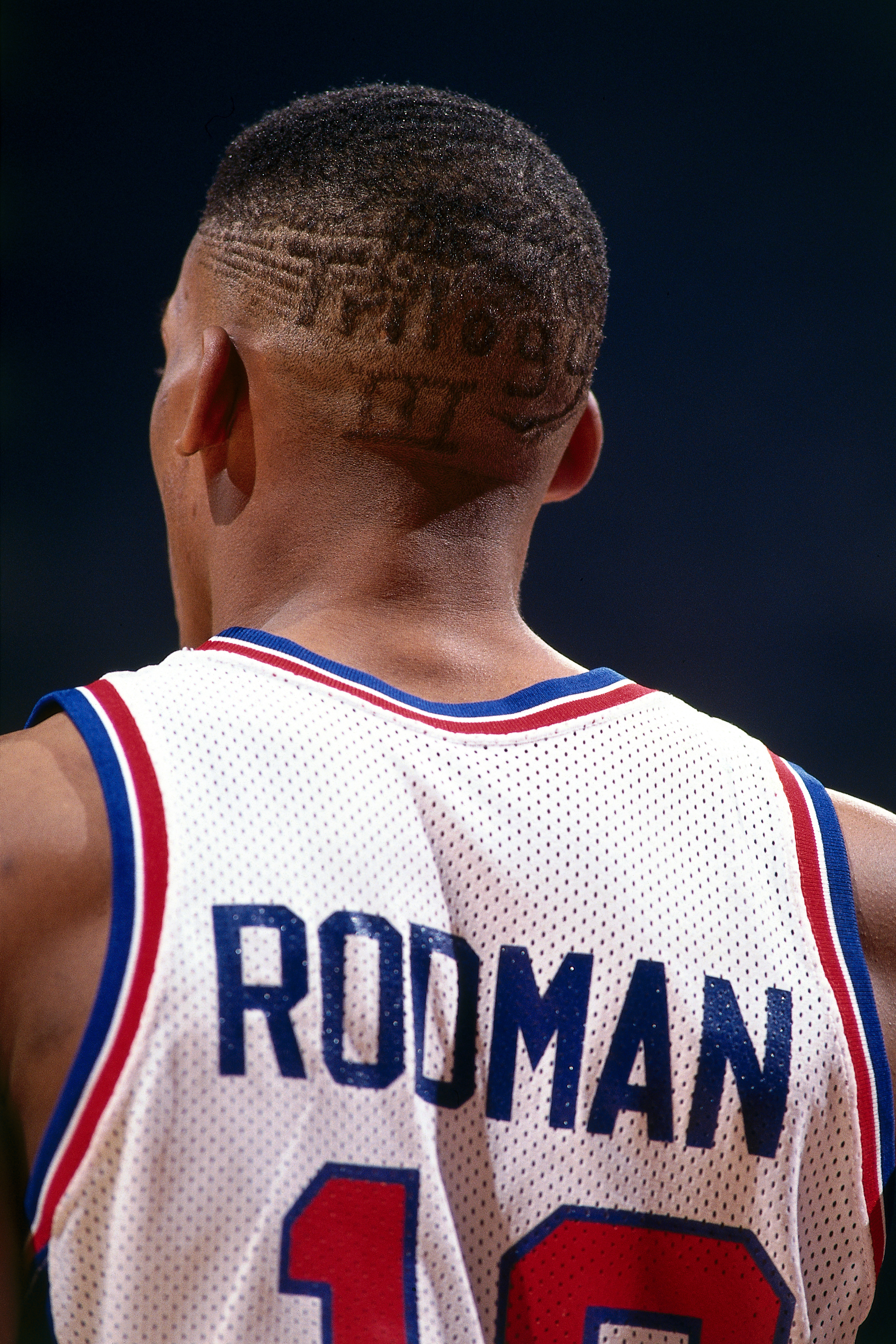 The Bad Boy Look, 1991
Before he was famous for his trademark experimental looks, Rodman made a name for himself as a highly intimidating defensive player on the dominant Detroit Pistons 'Bad Boys' team of the 80s, earning himself the nickname 'The Worm'. After winning back-to-back titles in 1989 and 1990, Rodman clearly believed the team would go all the way for a third year in a row. He even went as far as getting the word 'TRILOGY' shaved into the back of his hair, in what was perhaps the first indication of a love for self-expression. They fell short in the conference finals to the Chicago Bulls, but that confidence lives on forever.
His Madonna-assisted rebirth, 1993
Despite early success in his career, Rodman battled with depression and following a highly-publicised suicide attempt he was traded to the San Antonio Spurs to get a new start. It was here he debuted his first bleach blonde look, inspired by Wesley Snipes in the film 'Demolition Man'. During this time he began a short-lived relationship with pop icon Madonna, who reportedly taught him the value of being true to oneself, and began pushing him further with his style choices. Dennis later claimed that Madonna offered him $20 million dollars to impregnate her during their two-month relationship, because, Madonna.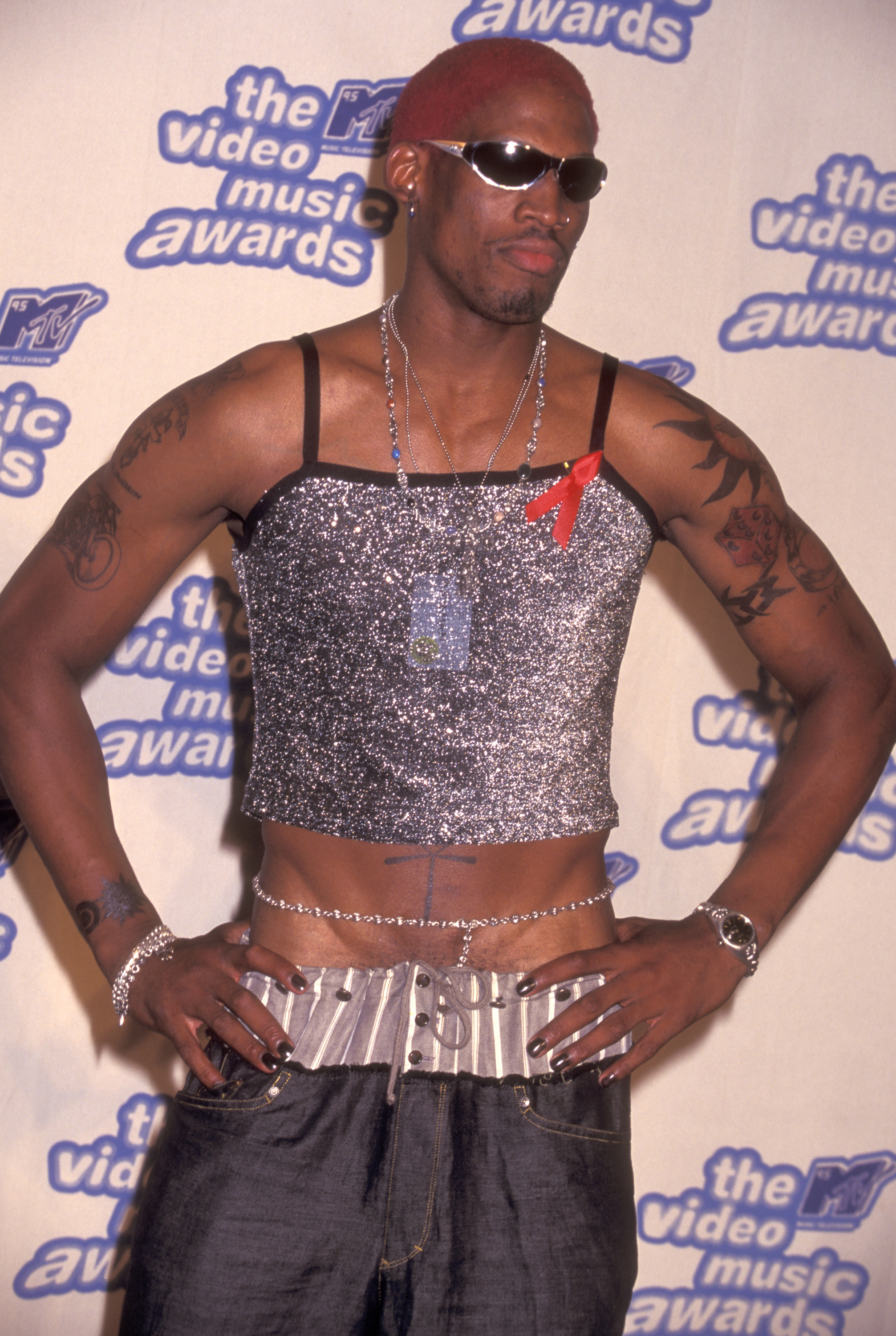 VMA Red Carpet, 1995
Rodman's open acceptance of the LGBTQ community was something never seen before in the straight-laced NBA. He was often spotted partying with friends at gay bars during his time at San Antonio, and began experimenting with drag looks, which he later explained in his autobiography had been a part of his life since he was a young boy. After claims that Dennis was manipulating the LGBTQ lifestyle for shock value to raise his profile, he used his appearance at the MTV VMA awards as an opportunity to clapback, by slipping into this sensational sequin vest paired with a red ribbon in support of AIDS awareness.
Something new, something borrowed, 1996
Never one to turn down a PR opportunity, Rodman turned up to a paparazzi-packed Fifth Avenue to promote his autobiography Bad as I Wanna Be in a horse-led carriage while wearing a full length white bridal dress with a veiled blonde wig to match. When questioned on his OOTD, he simply replied that he was marrying himself. If that's not self-love, we don't know what is.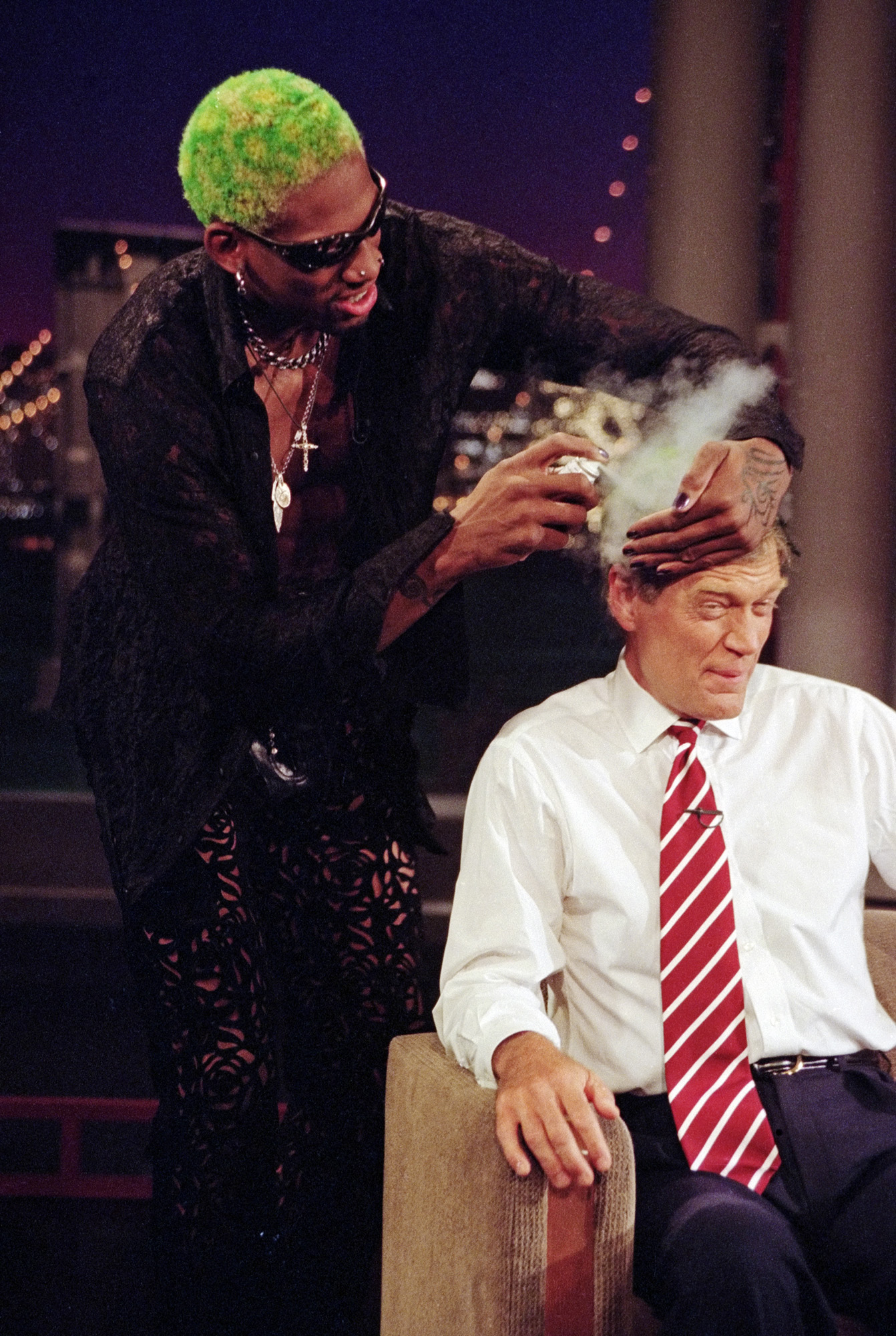 David Letterman Appearance, 1996
At the peak of his basketball career, Rodman took the hairspray primetime with an iconic appearance on The Late Show With David Letterman in 1996. He also seemed to have unwittingly created the popstar known as Billie Eilish that day with his wardrobe choices that day. Green hair? Check. Oakely wraparounds? Naturally. Silver choker? But, of course! So ahead of his time.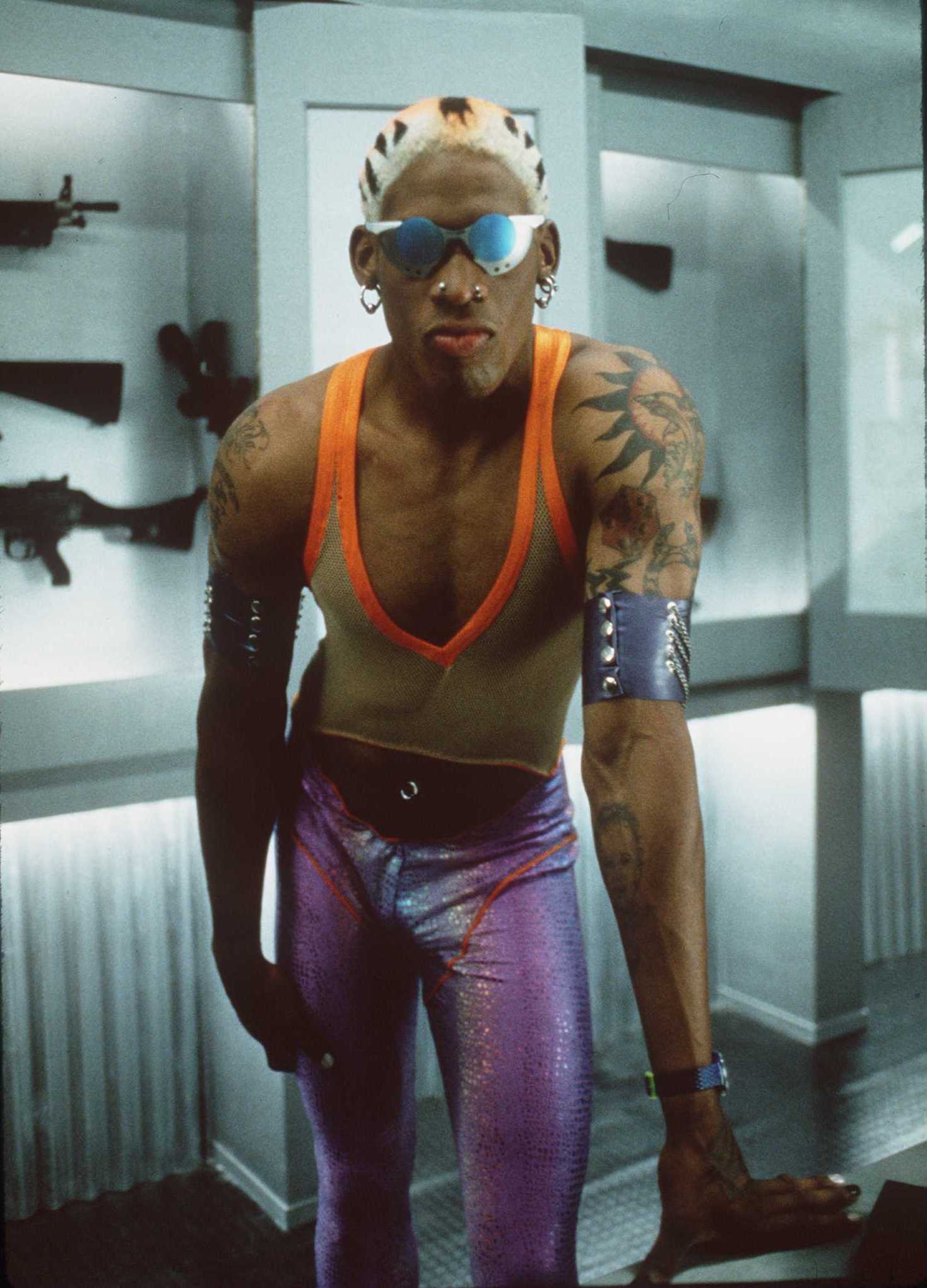 The PT by day, Raver by night look in 'Double Team', 1997
In the 90s you simply weren't a successful American sports star if you didn't try your hand at Hollywood. While his Chicago Bulls teammate Michael Jordan made a splash with the hugely successful Space Jam, Rodman starred as neon-raver-meets-steampunk weapons dealer alongside Jean-Claude Van Damme in Double Team, which earned him a Golden Raspberry nomination. The critics may have hated it, but middle aged Burning Man revellers are directly inspired by this look to this day.
Is that, leopard print? 1998
We started with a message-sending haircut, and we're going to end with one. During his time with the Chicago Bulls, Rodman was sometimes considered the third wheel alongside Jordan and his wingman Scottie Pippen. However, when Pippen missed the first half of what would be their final season together due to injury, Rodman rose to the occasion to help keep the team afloat. When Pippen returned, Dennis took a humble step back, and to show there was no ill will, got his teammate's number #33 dyed all over his hair. The Bulls went on to win their third consecutive world championship, cementing their status as one of the greatest sports teams ever. We love it when a story comes full circle!