7 of Bianca Jagger's most iconic outfits
She rolled up to Studio 54 wearing a Halston dress… on the back of a horse.
A regular at Studio 54, wife of a Rolling Stone, and confidant to Halston and Andy Warhol, it's clear why Bianca Jagger is often referred to as the it girl of the 70s. The Nicaraguan beauty, née Blanca Pérez-Mora Macias -- she legally changed her name to Bianca at age 16 -- moved to Paris to study political science. Soon after, however, she met future husband Mick Jagger at a Rolling Stones concert in the French capital. They wed in St. Tropez in 1971 and the rest is disco era history, with Bianca joining the ranks of the decade's jet-set and club scene. While in pop culture, the legend of Bianca Jagger is irrevocably wrapped up in the glitz and glamour of Studio 54 -- think Halston sequins, shouldered blazers and opulent chapeaus -- Jagger's real legacy is the incredible human rights work she's pursued since the early 80s, both through her namesake charity and as a Council of Europe Goodwill Ambassador, among other outlets. Here, we honor Bianca Jagger's legacy, both humanitarian and sartorial, with a selection of her most iconic looks of all time.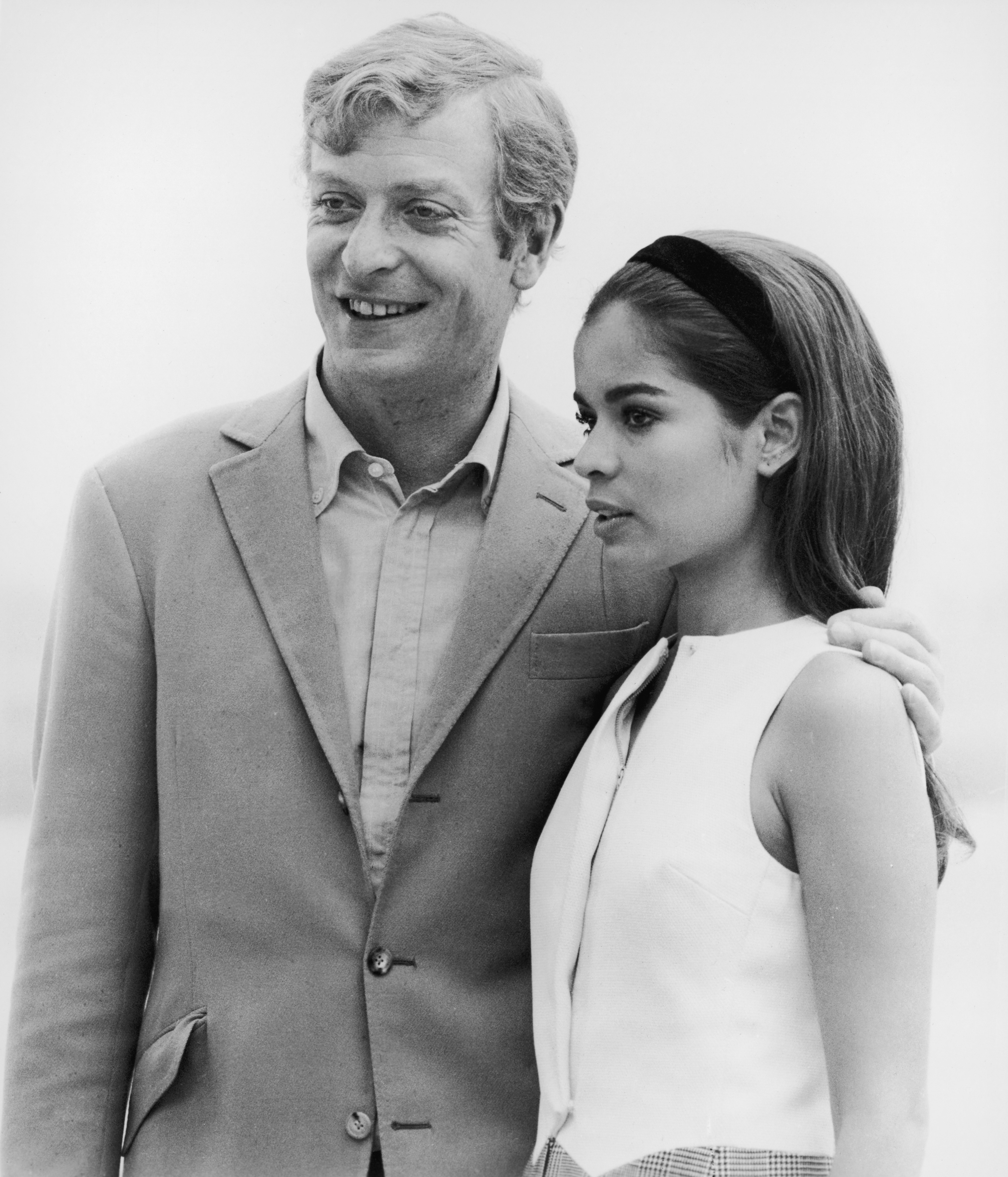 On set of The Italian Job, 1969
Long before pursuing humanitarianism full-time, Bianca Pérez-Mora Macias moved to Paris to study political science at the Paris Institute of Political Studies. Life, however, would take her in a different vocational direction before she founded The Bianca Jagger Human Rights Foundation, years later. In the late 60s, the Nicaraguan model and actress began her career with small parts in European film productions like Brit caper The Italian Job. Snapped on set alongside co-star Michael Cane, Bianca looks every bit the era's Mod girl, from the headbanded bouffant and zippered shift dress right down to her knee-high boots (not pictured).
Wedding suit in St. Tropez, 1971
Just over nine months after meeting at a Rolling Stones concert in France, Bianca and Mick Jagger wed during a whirlwind ceremony in St. Tropez on May 13, 1971. The small courthouse ceremony --open to the public, due to local law -- caused a media frenzy, with paparazzi flocking to snap a photo of the newlyweds and celebrity attendees, which included Keith Richards, Eric Clapton and two Beatles. The courthouse wedding was followed by a traditional Catholic wedding at the Church of St. Anne and an extravagant reception: a night of rock 'n' roll revelry at the chic Café des Arts. And of course, Bianca Jagger's wedding attire was just as unconventional and glamorous. She wore a bespoke Yves Saint Laurent column skirt topped with the designer's iconic 'le smoking jacket' and a white, veiled sun hat. It remains one of the most iconic wedding looks of all time and signalled two tropes that would become staples in Bianca's wardrobe: the suit and the opulent hat.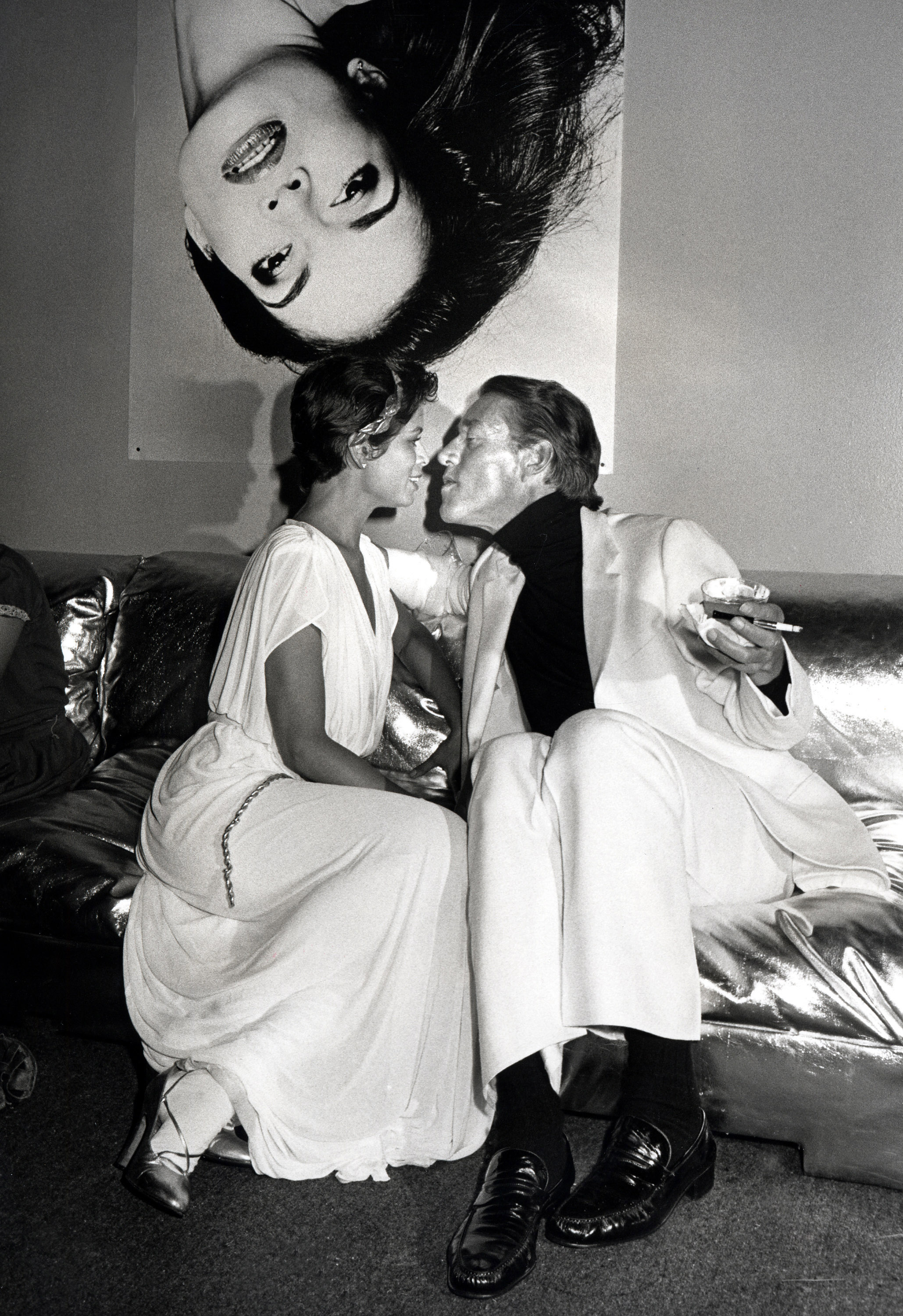 Halston, 1980
Legendary American designer Halston is often attributed with the creation of the 70s glam, disco look. Although Halston founded his namesake label in 1969, it wasn't until the 70s that he would meet his muse and friend, Bianca Jagger. The duo were frequently photographed together at Studio 54 or the annual Met Gala, Bianca always wearing Halston's designs. They were such good friends, that Halston hosted many of Bianca's Studio 54 birthday parties throughout the late-70s. The duo are photographed here at Bianca's 35th birthday celebration. Her dress is the epitome of Halston -- minimalist with a deep V-neck and Grecian draping.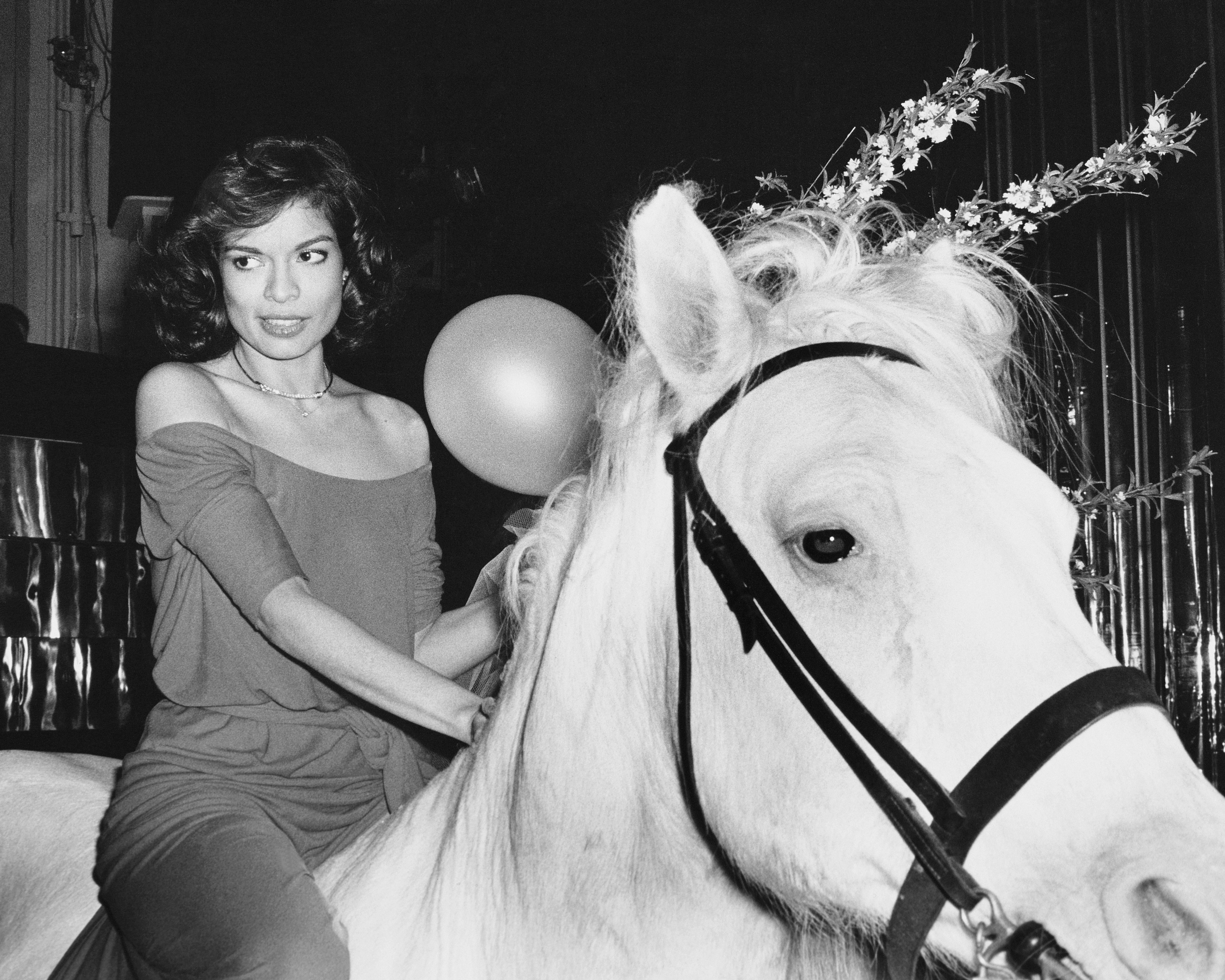 Birthday party at Studio 54, 1977
If Studio 54 was a kingdom, then Bianca Jagger was its queen. From 1977 to 1980, the infamous New York nightclub was a symbol of the decade's excess and hedonism. Its disco bacchanals were attended by a who's who of American fashion, music and art, from Andy Warhol and Cher to Tom Ford and Tom Jones. Amidst all the sex, drugs and celebrity, the most iconic photograph ever taken within the storied nightclub was of none other than Bianca Jagger, at her 32nd birthday celebration. Wearing a red, off-the-shoulder Halston dress, Bianca made a birthday entrance as extravagant as the club itself, by riding in on a white horse.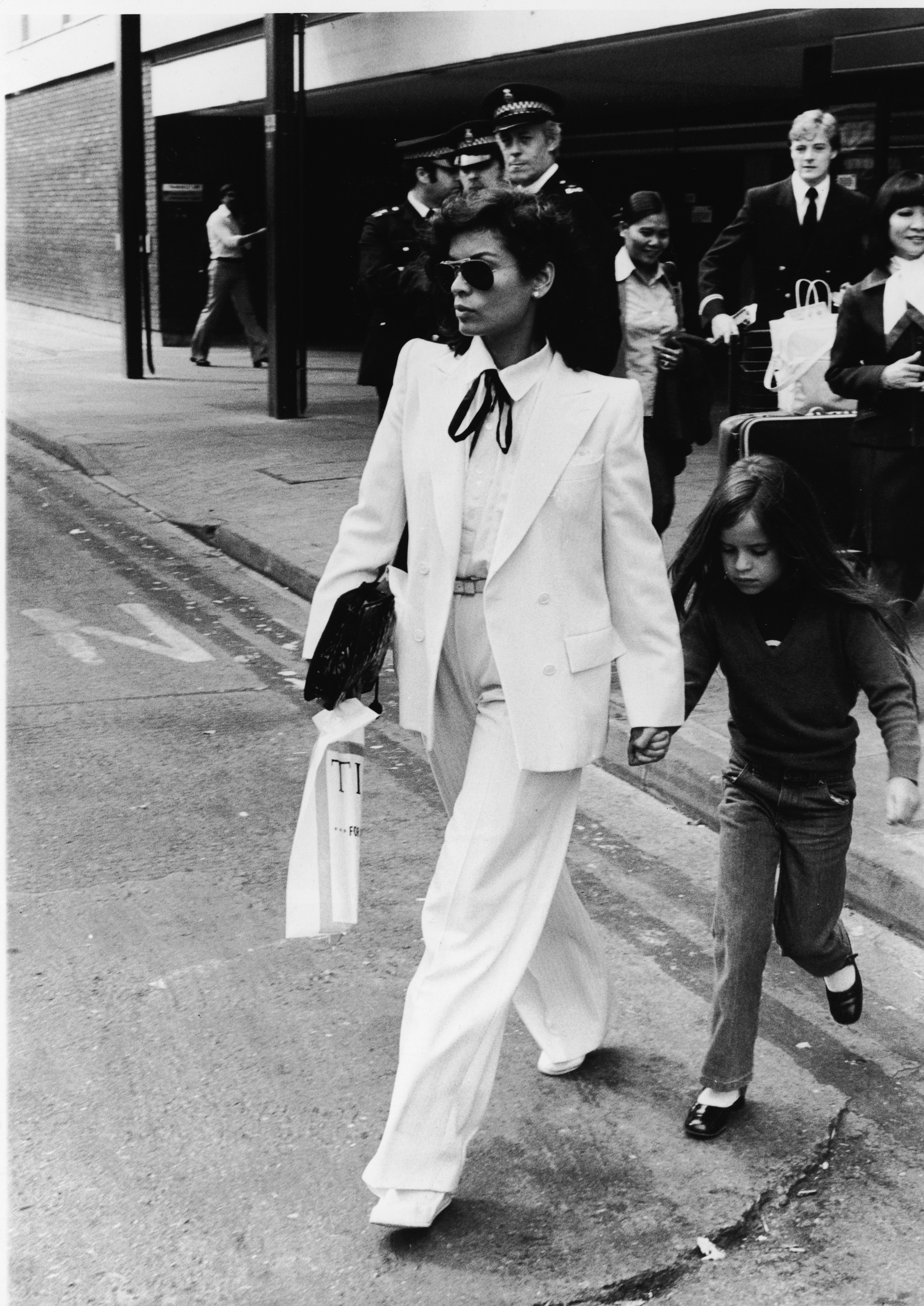 THE Suit, 1979
Bianca Jagger loved a good suit. She wore them to her wedding, to Studio 54, and, well, pretty much everywhere else. Papped crossing the street in London with her daughter Jade in the late-70s, she wears a white, double-breasted iteration with flowing wide-leg trousers. It's complete with a tuxedo-style shirt and delicate bow-tie.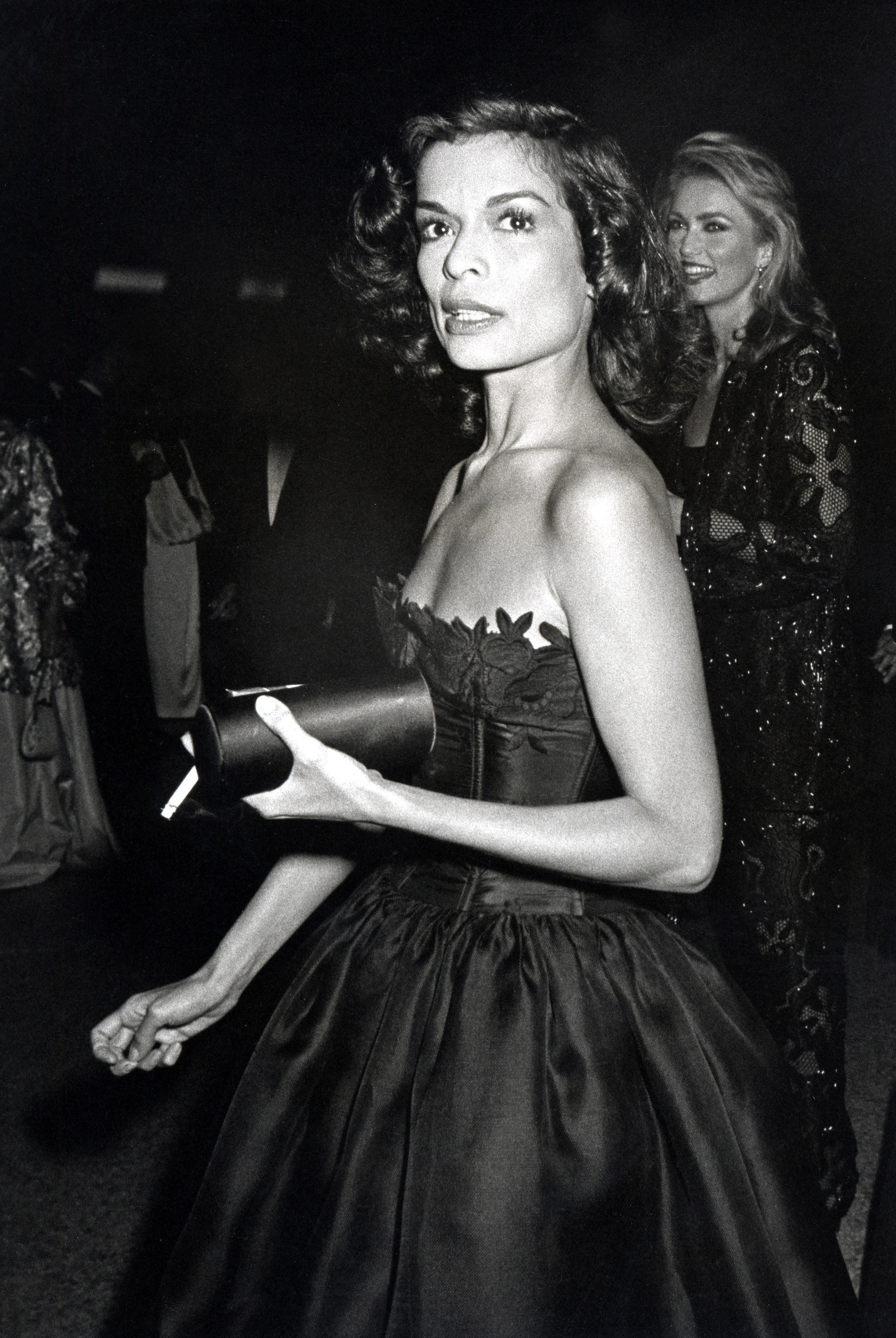 At the Met Gala, 1981
A true New York socialite, Bianca Jagger attended many Met Gala's throughout the 70s and 80s. To the 1974 ceremony, she wore a red sequinned dress with matching jacket. In 1977, she wore a metallic Halston number. To the 1981 gala, titled "The 18th Century Woman," Bianca followed the theme to a T, wearing a stunning hoop-skirted ballgown with corseted bodice.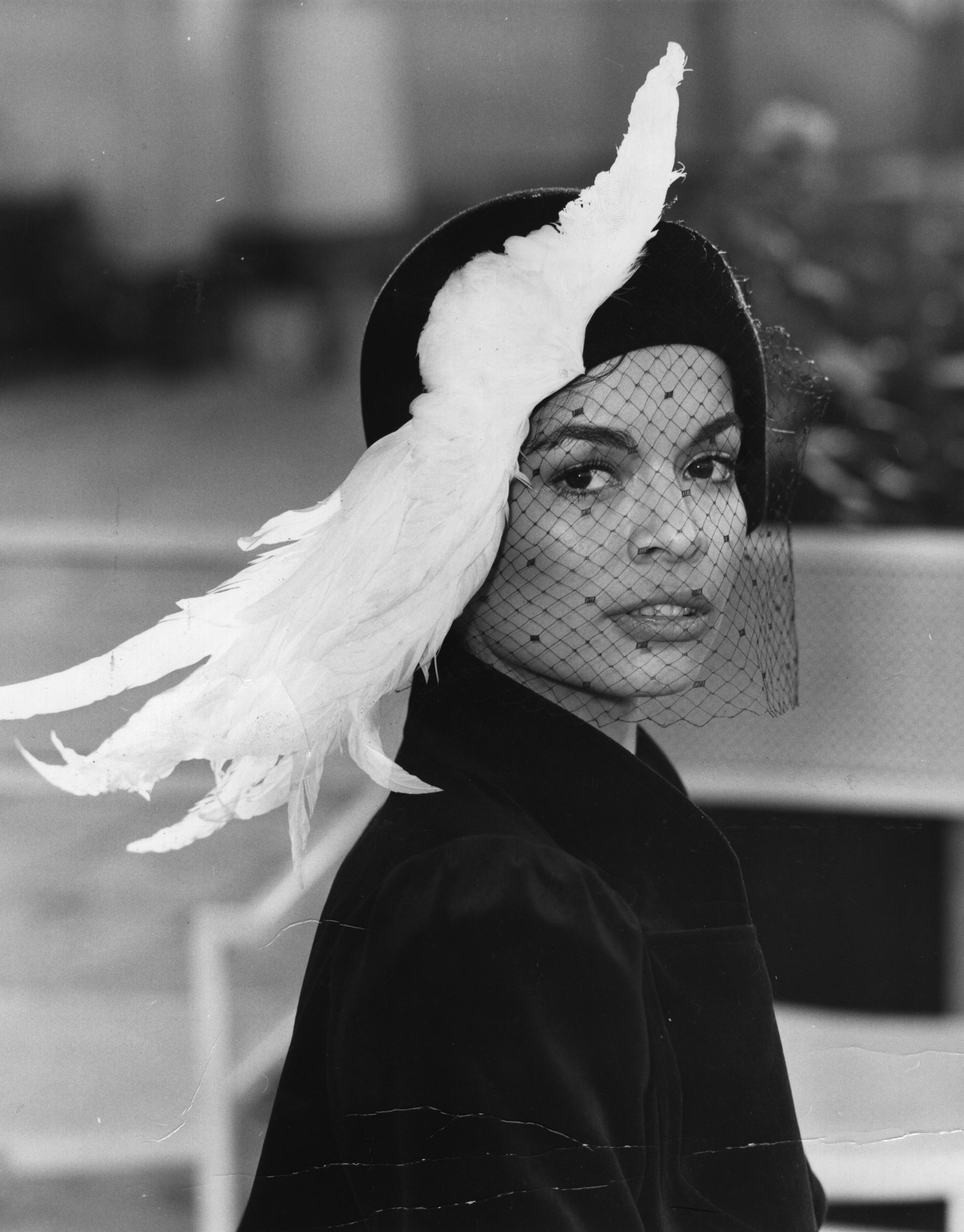 Hats, 1972
In addition to suits, Bianca's secondary sartorial signature was her opulent hats. She wore a rose-covered YSL hat to her wedding, a red sequinned beret to the 1974 Met Gala, and, here, to accept the Women of the Year Hat Award (of course), she wears a feathered pillbox hat of her own creation.