From left: Photo by Gie Knaeps/Getty Images; Photo by Rose Hartman/Archive Photos/Getty Images; Photo by Victor VIRGILE/Gamma-Rapho via Getty Images
Jean Paul Gaultier's most iconic 90s moments
As the house founded by fashion's 'enfant terrible' relaunches its ready-to-wear line under a new collective, we look back on JPG's defining era.
From left: Photo by Gie Knaeps/Getty Images; Photo by Rose Hartman/Archive Photos/Getty Images; Photo by Victor VIRGILE/Gamma-Rapho via Getty Images
Today, the House of Jean Paul Gaultier is relaunching its ready-to-wear line after a six-year hiatus. It comes 16 months after fashion's "maestro of mayhem", as journalist Georgina Howell dubbed him in the early 90s, took his final bow as the brand's designer, meaning that this iteration won't be designed by its namesake. Instead, the reins have been taken by a dedicated team from his atelier, with help drafted in from a rotating door of some of the hottest independent designers working today — Palomo Spain, Ottolinger, Nix Lecourt Mansion, Alan Crocetti and Marvin M'Toumo.

Since starting his own label in 1976, Jean Paul has been responsible for turning underwear into acceptable outerwear, making sailor fashion sexy and, more generally, paving the way for the designers to experiment with diverse and unexpected casting on the runway. He even dedicated an entire collection — AW97 — to the battle against racism. Named 'Fight Racism', the collection featured graphic prints of young antifascists with the slogan printed on their chests.
Indeed, with such rich history behind it, and with vintage JPG becoming increasingly collectable after a recent renaissance — partially precipitated by the Kardashians' love of all things mesh — there couldn't be a more perfect time for the revival of the label's ready-to-wear line than right now. Though it's a well-known fact that Jean Paul himself decided to step back from the category in 2014 after becoming somewhat jaded, with Florence Tétier (graphic designer and co-founder of Novembre Magazine) now serving as the Creative and Brand Director of the brand, the house is primed to re-enter the field. In an interview with WWD, Antione Gagey, JPG's general manager, described the relaunch as an opportunity "to celebrate Jean Paul Gaultier, its values, its archives and its history". And what better way to raise a glass to fashion's original enfant terrible than to look back on seven of the most show-stopping moments from his most iconic era, the 90s. Vive Gaultier!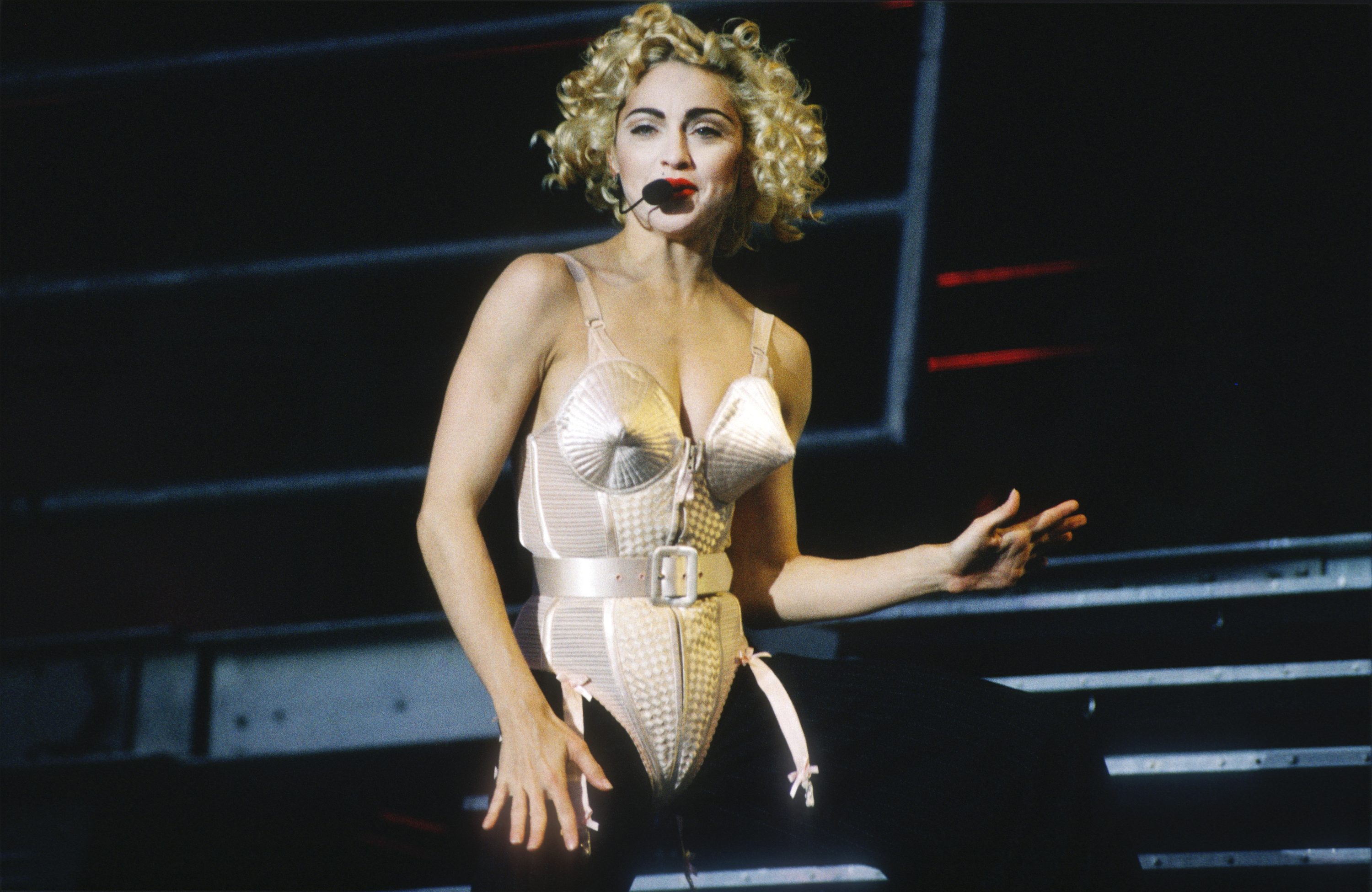 Madonna's conical corset from the Blonde Ambition tour, 1990
Back in 1989, when Jean Paul Gaultier was told by an assistant that Madonna had called asking for an audience, he was convinced they were playing a trick on him. They knew how obsessed he was with her, it just couldn't be true. But he soon found himself on the phone to the original Queen of Pop, leading to a match made in 90s fashion heaven. Naturally, Madonna already knew what she wanted: to have something made just for her which straddled Jean Paul's signature masculine-feminine crossover. Inspired by his love of the late 'queen of Paris punk' Edwige Belmore, Jean Paul conceived of a pinstripe suit — the apex of 80s masculinity — and a corset with the now legendary conical bra, which he'd debuted six years earlier for AW84/85.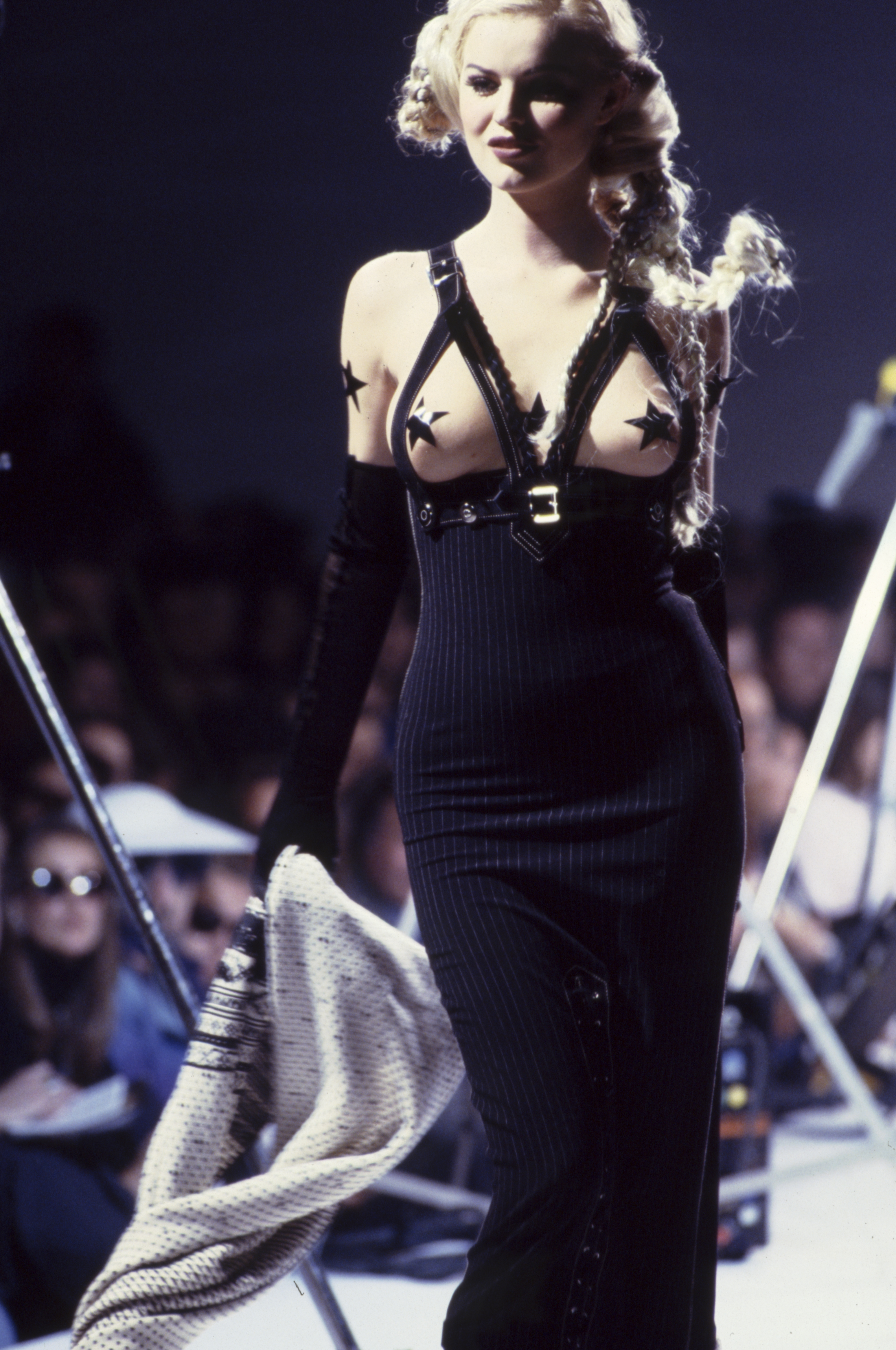 Eva Herzigova's cut-out dress, 1992
Thought harnesses on the runway were a new thing? Wrong! After all, you don't come to be known as fashion's enfant terrible without a sprinkle of kink here and there, as this look well proves. Presented on JPG's AW92 runway, this dress, so slick in its fit that the fabric may as well have poured over Eva's body, exemplifies the potent-yet-playful take on sexuality that runs as a throughline across the French designer's body of work. Styled with bicep-cladding opera gloves and with the Czech-Italian supermodel's bust proudly framed, there's a distinctly domme-y tone at play here, though there's no compromise on the elegance of the silhouette or the quality of the make. It speaks to a conceptual throughline that runs through Jean Paul's work — that no matter who a woman is or wants to be, she always has the right to be chic!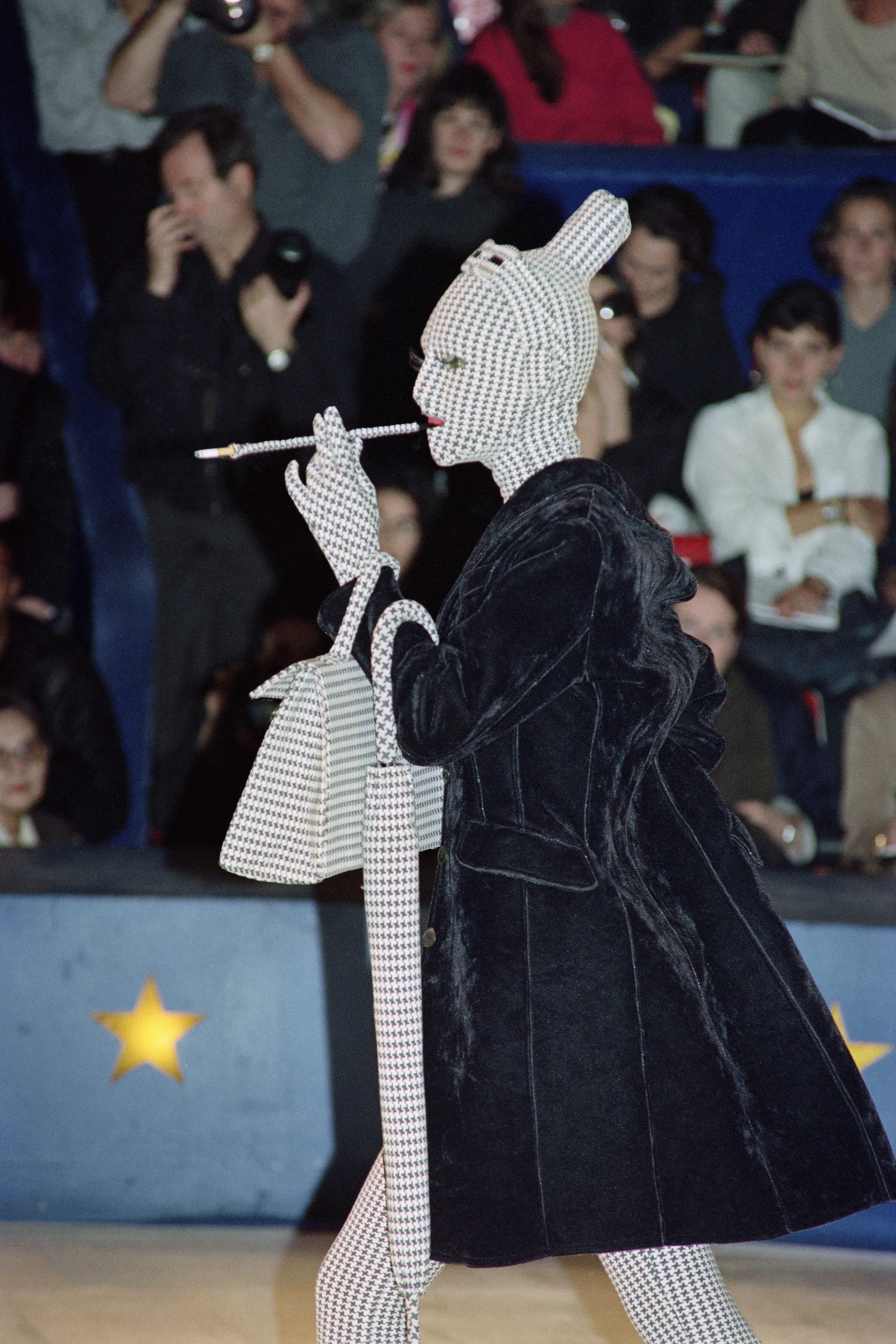 The Leigh Bowery-inspired houndstooth bodysuit, 1991
In an interview with i-D in 2018, Jean Paul proclaims his love for "the London way", which is to "make only your own style, your own creativity and be free to do what you want to do". When he took this idea back to Paris, it wasn't too popular, but that didn't stop him from making it his trademark approach to design. He spent his youth at legendary London nightclubs like Blitz and Heaven throughout the 80s where he met the performance artist Leigh Bowery. In an ode to Bowery's influence on fashion, Jean Paul sent down his own interpretation of a Leigh Bowery houndstooth bodysuit — which would subsequently go on to inspire Alexander McQueen for AW09 and Gareth Pugh for SS07.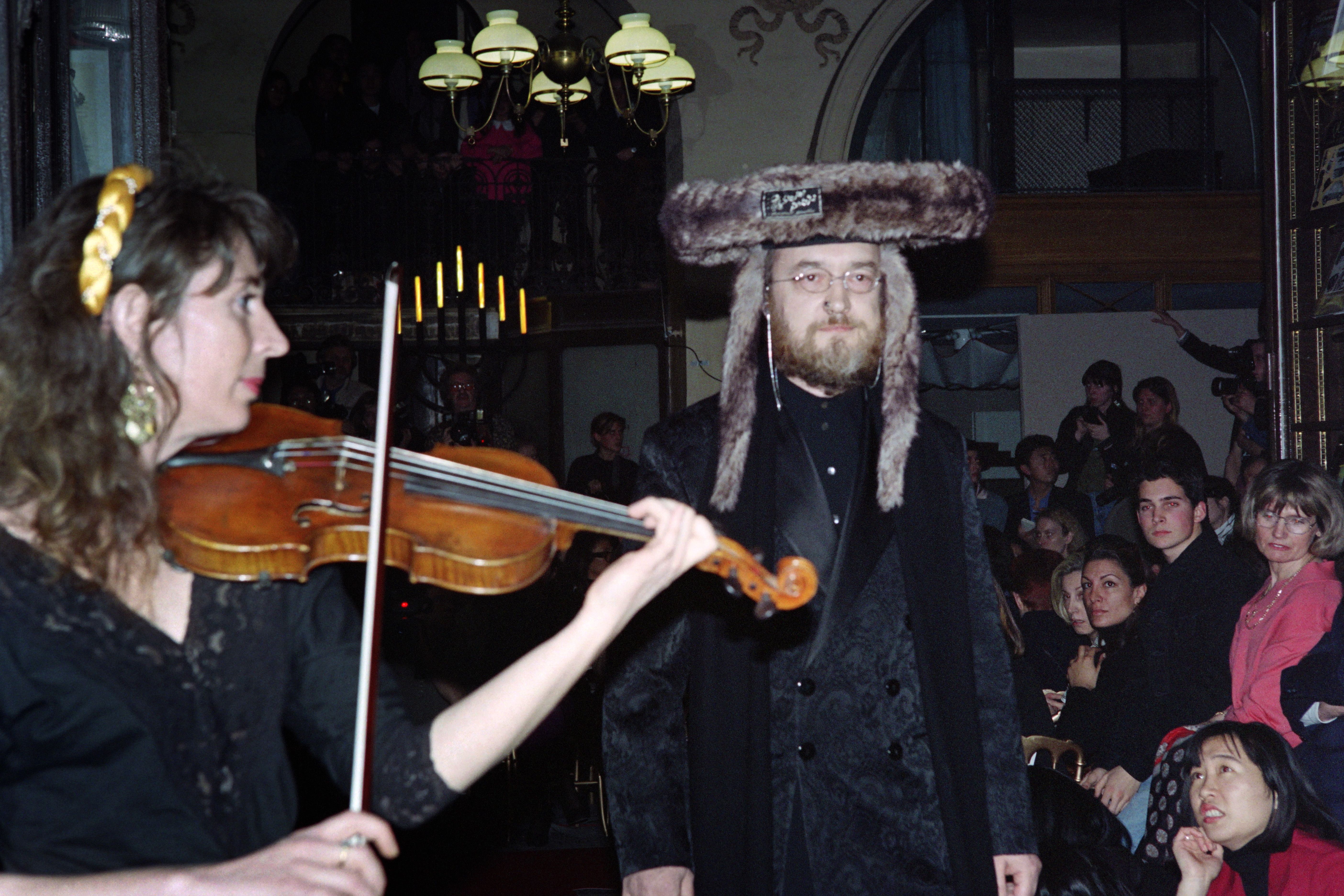 The 'Chic Rabbis' collection, 1993
For AW93/94, Jean Paul presented the 'Chic Rabbis' collection, inspired by the traditional dress of Hasidic Jews. Models in shtreimels and black suits sauntered to the sound of a violinist, who played live on the catwalk. The usual coterie of supermodels were there, but Jean Paul also decided to cast someone who visually embodied the cultural reference: an older bearded man. Throughout the 80s and 90s, the designer became known for his casting choices, which were pioneering in their diversity. "I'm fascinated by strong personalities, people who capture my imagination because they walk well in the street," Gaultier explained in a 2014 interview. "To show just one type of girl is a defect," he continues, "which is the thing I'm always fighting. One kind of beauty — NO. If I show a big girl, I'll always show a small girl." It is now legend that Gaultier once posted an ad in France's daily newspaper Libération looking for "atypical" models, adding that "the facially disfigured should not refrain from applying".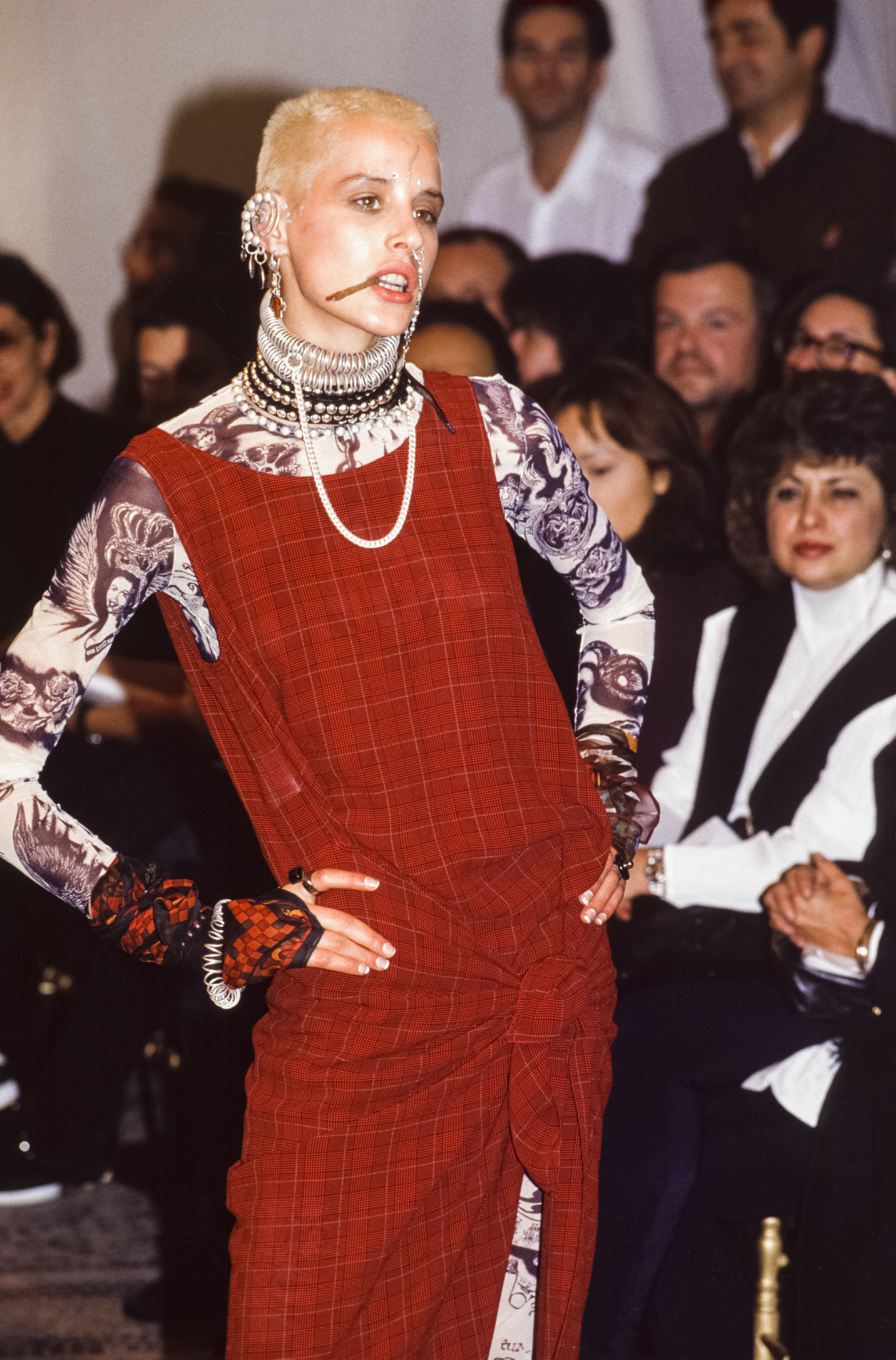 The mesh tattoo top, 1993
Back in 1993, Vogue heralded this iconic collection as "a startling vision of cross-cultural harmony". Although we'd now be more inclined to cringe at the somewhat appropriative looks that Jean Paul sent down the runway for SS94 (which could, in fact, be read as another nod to Leigh Bowery) it's certainly a vision of historical hybridisation. It also marked the introduction of Jean Paul's iconic mesh tops, which were inspired by a tattoo convention that he once found himself wandering around — today, they're some of his most sought after designs. The collection also features heavy notes of punk, grunge, and, in typical JPG style, a flurry of of 18th century men's jodhpurs and frock coats constructed in denim. How did he ever find room for it all?!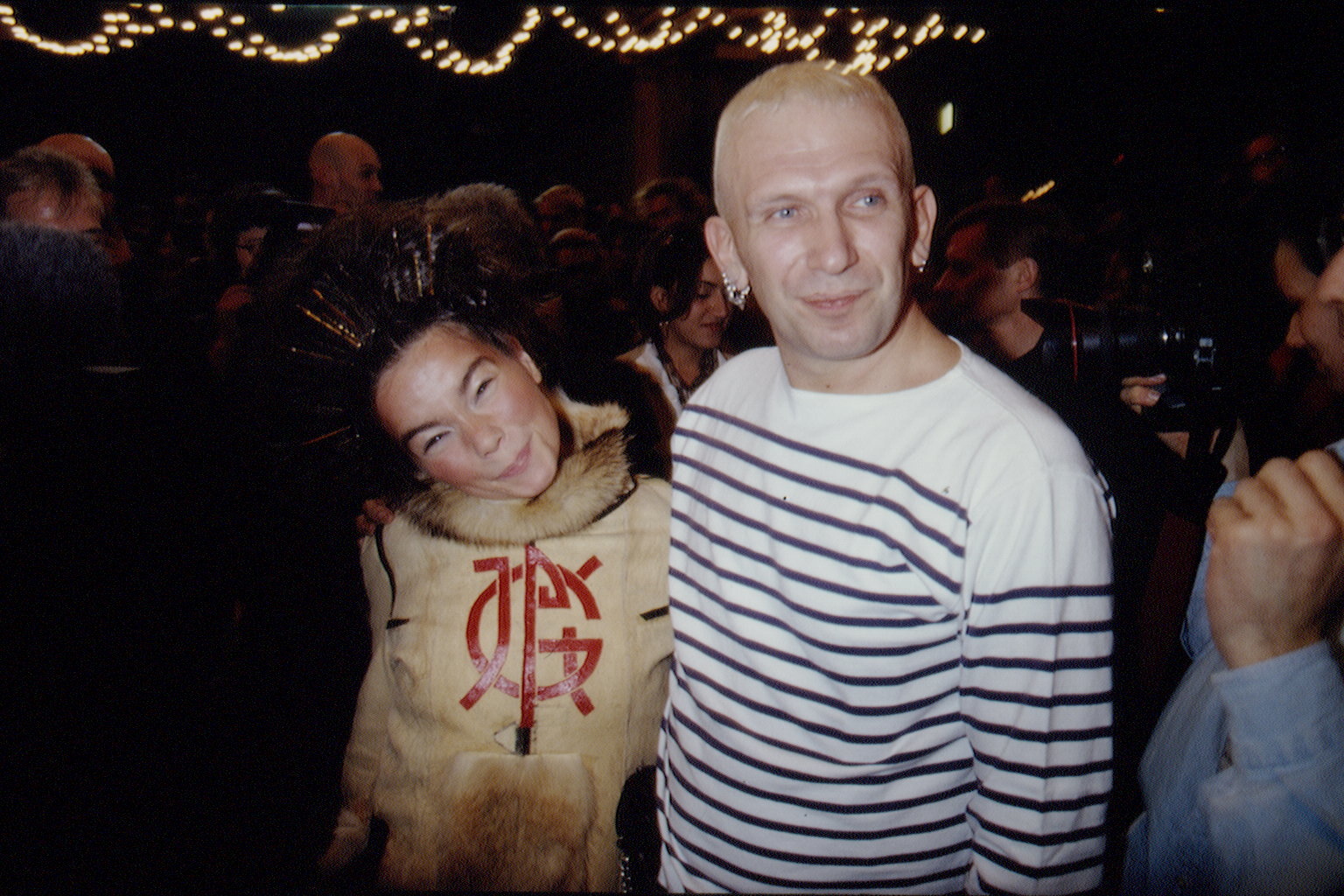 Björk!, 1994
Jean Paul's celebrity friends don't begin and end with Madonna. One year after Björk's appropriately named first solo album, Debut, took the music and fashion worlds by storm, she appeared in the designer's AW94/95 show which was about a magical train which stopped in a small village somewhere high up in some mountains. What else, duh?! As you'd expect of JPG, the show was a mish-mash of referencing, this time of various styles of traditional Arctic dress. Models trotted down a snow-covered runway (which almost tripped Kate Moss up), kitted out in a hell of a lot of fur, silk, wool and leather.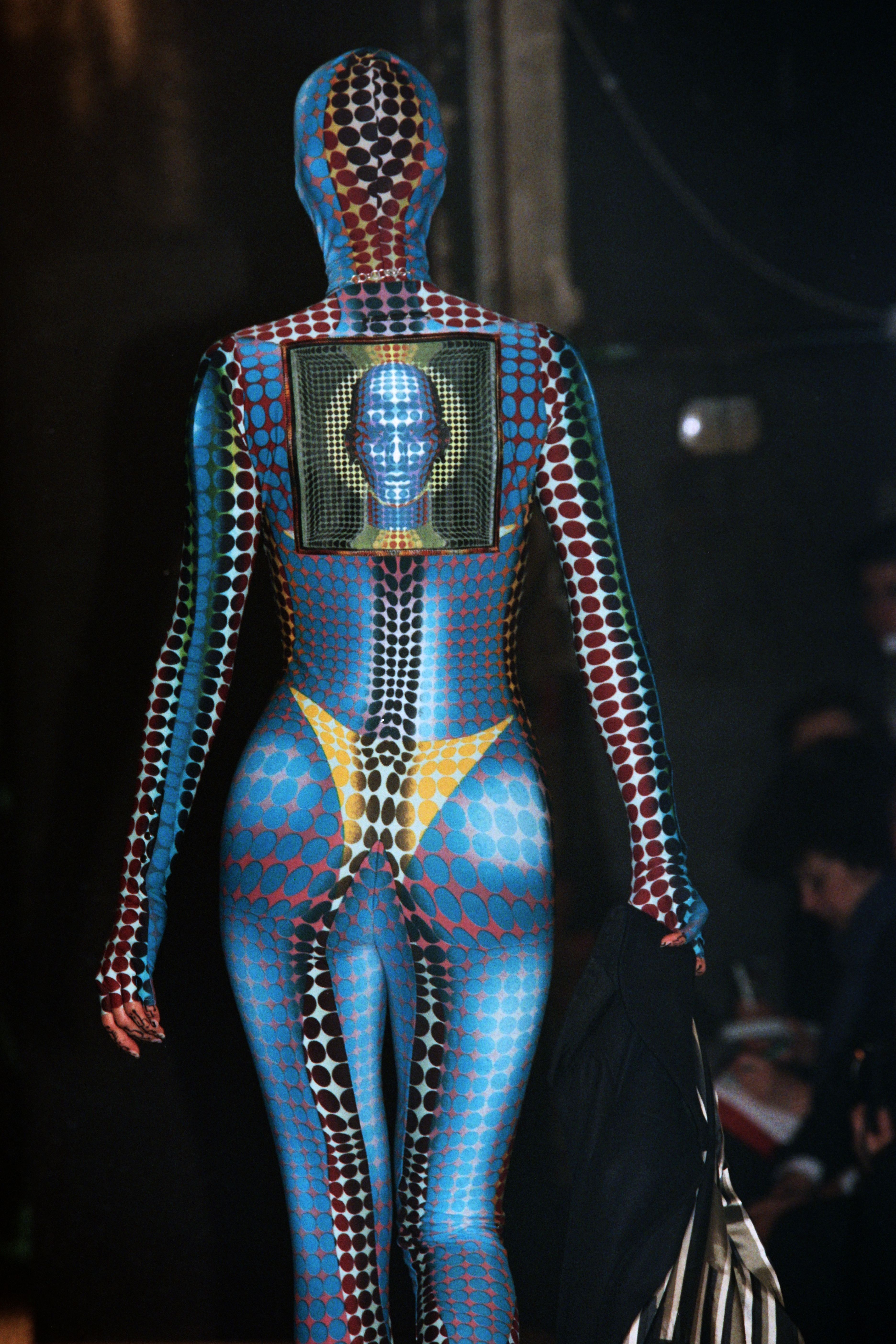 The op-art-inspired catsuit, 1995
Two women hurtle in on a motorbike. One of them gets off and clambers up a scaffold to a DJ booth. Jean Paul's AW95 'Mad Max' show has begun. As he was in the midst of designing costumes for Luc Besson's legendary film The Fifth Element in which Bruce Willis and Milla Jovovich battle a mysterious cosmic force, sci-fi was on his mind, meaning it was tech and cyber-heavy. Bodysuits inspired by Victor Vasarely's op-art paintings became the most memorable aspect of the show — now made super collectable by Kim K and Cardi B and partially responsible for the JPG-madness we're witnessing on Depop these days. Also in the show was Carmen Dell'Orefice, who walked with a live falcon on her arm and sported embellished football armour which lit up like a circuit board. Iconic indeed.
The trompe l'œil torso top, 1995
The following season, Jean Paul pushed his exploration of sci-fi polka dots yet further, this time translating it to menswear. This time, though, he brought his knack for trompe l'oeil print placement to the table — skills he previously flexed in the aforementioned Les Tatouages, and even as early as 1992, when he presented mesh tops printed with enviable sculpted torsos. The look sported here by Tanel Bedrossiantz is perhaps a little more figurative in its approach, though the infrared-style suggestion of what might lie beneath the longtime house muse's button-down shirt is no less direct.
JPG sets sail, 1998
In the promo video for JPG's new ready-to-wear line, Bella Hadid is wearing a big red ship on her head. In case you didn't already know, this debuted at the Haute Couture SS98 show, where he took us back to the Age of Enlightenment. It was a time of scientific advancement, the advent of modern capitalism and, of course, colonialism. 'Explorers' were sailing all around the world from Europe, 'discovering' new lands for them to take over — the ship serving as a nod to the continent's shameful past. Some say, though, that it was during the Enlightenment that fashion as we know it today — as a form of self-expression which could be accessed by the masses — first began to emerge, making the historical period the ideal subject for a fashion show.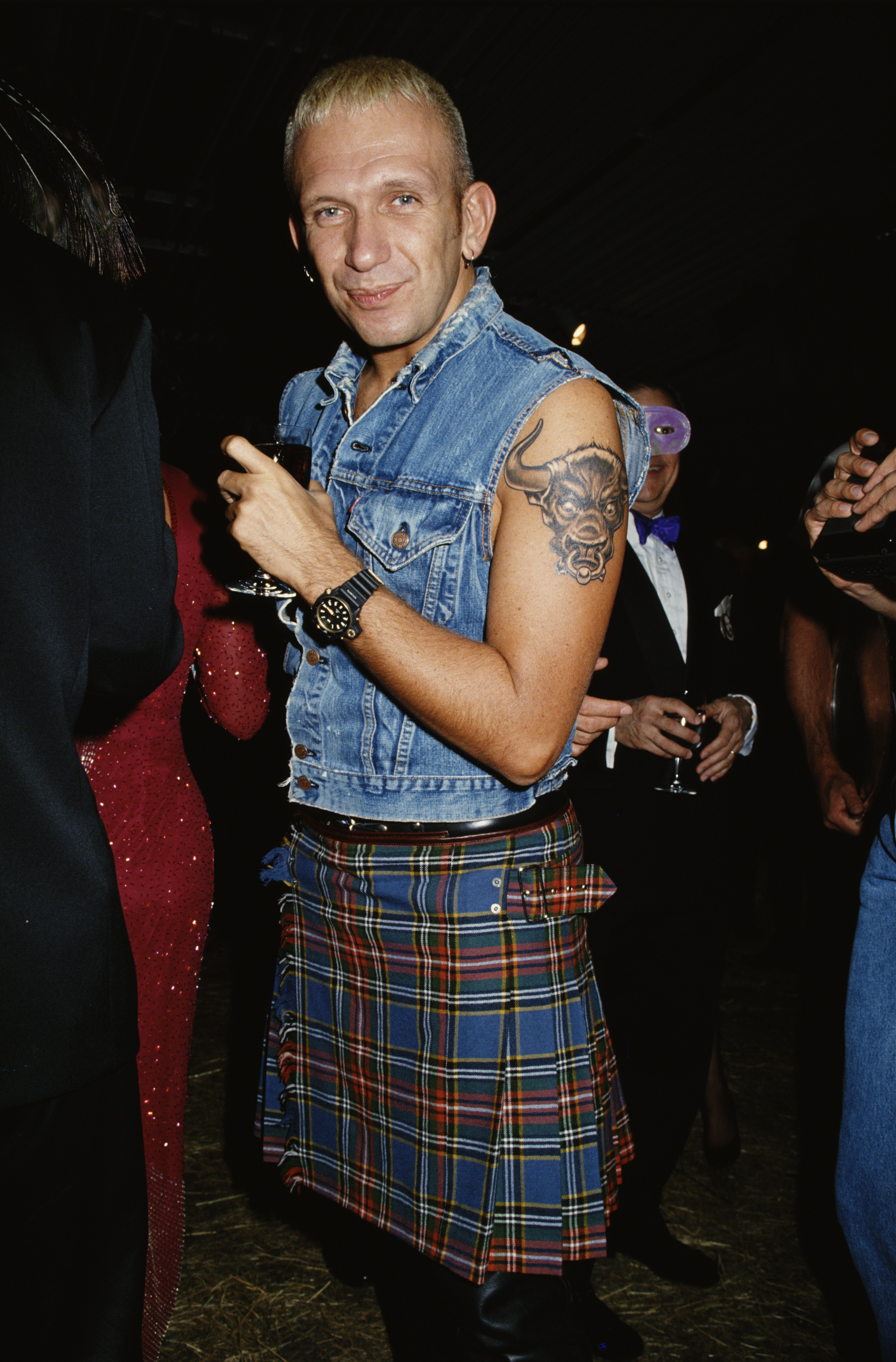 The man himself!, 1992
It would, of course, be remiss to write a list of Jean Paul Gaultier's most iconic looks from his most iconic decade, and not nod to the man himself. Indeed, as Florence Tétier pointed out when we spoke to her ahead of the label's launch, "everyone knows who he is!" Whether it's his marinière paired with a pleated black skirt or, as seen here, a denim vest and a punkish tartan kilt, JPG's personal style has made him one of the most instantly recognisable designers of our time. What's more, there are direct connections between what he wore and what we then saw on the runway. While we may never have seen a proper, French Navy-standard marinère from the designer, "he has done lots of stripes and marine-inspired pieces," Florence notes. "It's really cool to see the link between the way he dresses and the way he designs." On' t'aime, Jean Paul!

Follow i-D on Instagram and TikTok for more fashion.
Tagged: