Carhartt WIP's new movie will make you crave summer
The brand's stylish take on utilitarian garments make for the perfect uniform for a summer jaunt through the countryside.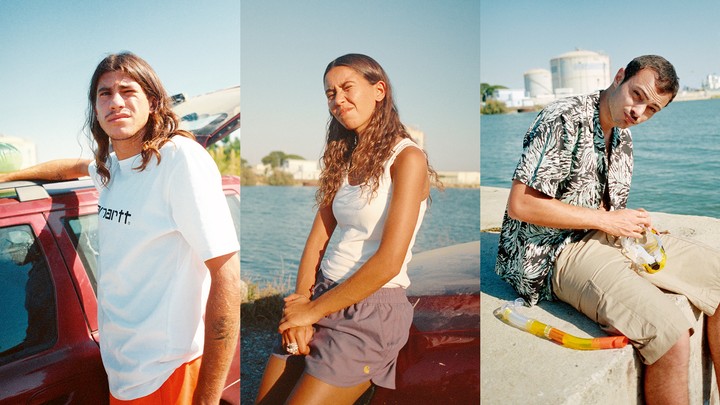 Photography Joaquim Bayle & Sylvain Sey
Spending summer in the city, there's little respite from the throng of heat reflecting off high buildings as a metropolis of millions go about their daily lives. To seek freedom, fresh air and tranquility, you're best to turn your back on it, and head to the countryside instead. It's here that the new movie from Carhartt WIP is set.
Like a dreamy vision of what the months ahead might look like, their campaign for summer comes with a languorous short film set in the quiet countryside surroundings of France, in the old post-industrial towns and villages of the country that are being reclaimed by nature.
It follows a handful of friends, who feel like visitors to this landscape, and the characters who spend their whole lives embedded in it: old men fishing by the lake on the banks of a factory; quiet women watching friends act like weirdos at the car wash.
Wearing pieces from the Carhartt WIP summer collection – think checked shorts, striped tees and cream dungarees – the central trio of friends, played by Nariman Bencherifa, Maxime Combes and Sofiane Bennacer, slip into this world. The groans of their car tyres being pushed along a dirt round sounds like the grunts of a wild animal. The spray of a car wash hose, used to wash down the movie's dusty boys, feels oddly reminiscent of sprinklers used to grow crops in a sun-soaked field.
There's a smart dichotomy between the movement and activity of these people and the stillness that defines the spaces they are exploring. The film itself is the work of two artists: Joaquim Bayle and Sylvain Sey, who together have crafted the film and images for Carhartt WIP's summer campaign.
They have a special tie to the brand too, having met while working in their store in Lille, France. Now, they frequently collaborate on projects, though this is the first time they've both worked with Carhartt WIP since they were hanging out in the shop together years ago – a full circle moment, you could say.
And that longstanding appreciation for what the brand does rings true: this is a love letter to aimless days spent wandering unfamiliar places with people you love, in environments that call for fashion both practical and stylish. The garments are a seamless part of the movie character's spirits.
This film, those outfits, will make you crave the coming summer, the first one in a while (we hope) with the real freedom to explore. Watch it in full below.
---
Credits
Written and directed by Joaquim Bayle and Sylvain Sey
Starring Nariman Bencherifa, Maxime Combes, Sofiane Bennacer
Produced by Antoine Watine
Production by Miles @miles.films
Casting directors Sarah Bouzi and Johanna Makabi
DOP Angelo Marques
Photo assistant Axell Katomba
1st camera assistant Adrian Bernard
2nd camera assistant Jorys Flory
Location manager Pascal Bonnefois
Location manager assistant Benjamin Guilloton
Location manager assistant Nancy Ferri
Sound engineer Mathias Scherrer
Stylist Aya Takeshima
Makeup & hair artist Zaza Burriasco
Editor Sarah Ceravolo
Composer & sound designer Antoine Boucherika
Audio mix Next Sound Lab
Colourist Eudes Quittelier
Photo editor Florian Debray
BTS director Robin Watine
Special thanks to Kafard Films, La Manade Laurent, Olivier Watine, Committ Films, Exotica, Alix, Eliott Brunet and Kraft
Tagged: