Kering are officially banning fur
The luxury conglomerate behind Saint Laurent and Balenciaga will no longer use animal fur in any of their brands' collections.
|
24 September 2021, 11:19am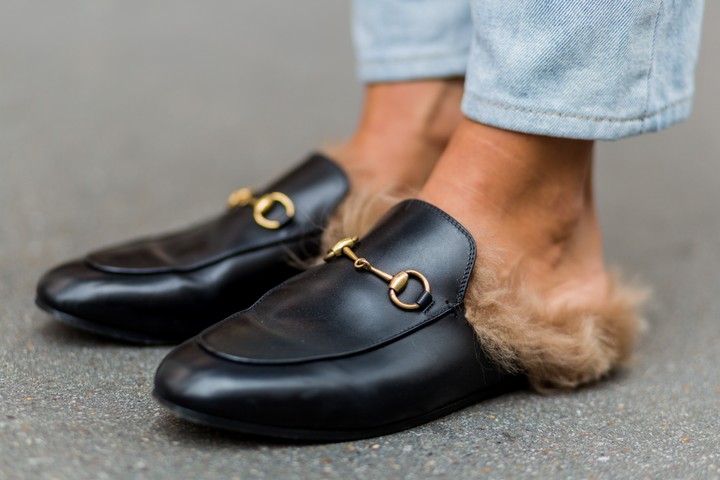 Wool-lined Princetown loafers by Gucci, the first Kering brand to go fur-free. Photo by Christian Vierig/Getty Images
The steady demise of fur in the fashion industry has just taken a great leap forward: Kering -- the parent company that houses luxury brands like Gucci, Saint Laurent, Balenciaga and Alexander McQueen -- has just announced that they will implement a total ban on animal fur in their brands' collections.
The ban will come into place for their AW22 season, with these garments due to be showcased at the top end of 2022. Already though, even ahead of the policy change, a number of Kering's brands have started to phase out or eradicate fur in their collections, with Bottega Veneta, Balenciaga and Alexander McQueen quietly doing so over the past few years, following on from Gucci's landmark announcement under Alessandro Michele's guidance in 2017. In fact, only a handful of Kering brands were still using fur this season.
The announcement was made by Kering CEO François-Henri Pinault, just as Milan Fashion Week kicked off. "When it comes to animal welfare, our group has always demonstrated its willingness to improve practices within its own supply chain and the luxury sector in general," he said in a statement. "The time has now come to take a further step forward by ending the use of fur in all our collections. The world has changed, along with our clients, and luxury naturally needs to adapt to that."
Kering has famously been framed as the game-changer when it comes to animal welfare in fashion. As mentioned earlier, Gucci was one of the first brands to take a conscious stand against using animal fur in their collections. Back in 2019, they also developed a certification standard for the suppliers they worked with on leather and feathers, breaking them up into Bronze (which meets European standards for animal welfare), Silver and Gold categories. The idea is that any animal that's part of Kering's supply chain is not subjected to feedlots or intensive farming. You can find out more about those standards here.
Many brands outside of the Kering group are following the same stance on fur. Valentino are phasing out its usage in their garments, and Oscar de la Renta have too. The latter did so after Billie Eilish collaborated with them on her Met Gala look, agreeing to wear the brand so long as they stuck to their word on fur usage. All in all, a progressive step forward to sustainable and meaningful change in the fashion industry.